Bridal Salons Answer All of Your COVID-Related Wedding Dress Concerns
When should you start shopping?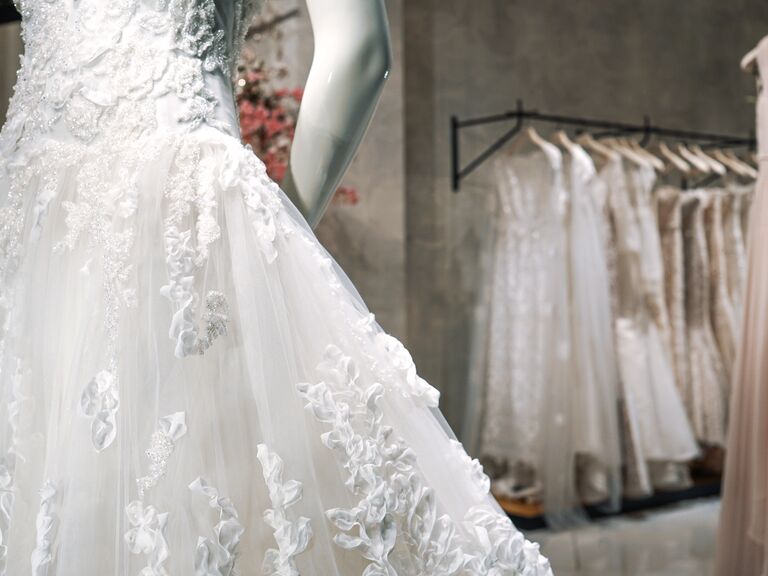 Creative Lab/Shutterstock
The coronavirus pandemic has resulted in the swift and mass hiatus of bridal salons, big brand retailers and everything in between so that the public can practice social distancing measures. However, couples are still planning their weddings, which means what do you do if your favorite bridal salon that carries that dream gown of yours is shuttered?
We spoke to stylist Beth Chapman of the White Dress Society for how to navigate this tricky time. "We don't want anyone to panic, because there will always be an option," she says. "Brides need to also show themselves grace in this situation. What's exciting about weddings these days is there are no rules. Especially in this situation where all those preconceived notions will go out the window. You should wear what you love. Wear it for whatever type of ceremony and wedding that you're having."
Many boutiques, though closed, are still taking virtual appointments and considering alternative measures to help brides continue to move forward in the planning process. Below, some of your primary questions are answered.
When do I start shopping amid social distancing?
"What's so important for brides, as they're hedging on postponement questions and planning, is they do not hit pause on the planning process," says Chapman. "From a shopping perspective, that means to keep gaining inspiration. Use this time to research the stores of where you want to shop when this is all over. It'll allow you to narrow down your selection and you'll be that much more focused and closer to making your decision when you go into the store."
Use social media and The Knot Marketplace to explore vendors local to your area where you will eventually go shopping. Then, narrow the list down based on designers, aesthetics and budget. "Brides are currently visiting a lot of stores," says Chapman. "And they need to do a better job of narrowing down what stores are right for them based on their personal style, on the look and feel of the wedding and where exactly they shop for their everyday clothes."
How do I know what types of shops are best suited for me?
The types of in-store experiences you typically prefer will help dictate your salon experience. "This is a great time for brides to think out and research the types of shopping environments that are best for them," says Chapman. See guidelines below for what might best reflect your typical shopping habits.
If you're a department store shopper:
"A store with a larger selection is good for you," says Chapman. Stores like Kleinfeld Bridal in New York City or Lovely Bride have a range of aesthetics and styles for the bride who prefers the Bloomingdale's or Neiman Marcus experience.
If you're a boutique shopper:
If you prefer curated collections and smaller boutiques, working with a salon for a 1-1 appointment is likely the best experience for you. Go to a place that provides the aesthetic you prefer, and offers the input of an experienced personal stylist.
If you're loyal to specific brands:
This is where your research is essential. If you know you want a gown by a specific designer who reflects your exact style, then seek out the salons where that brand is carried. Also, seek out a range of designers who can execute a similar style.
What about fabrics if I'm trying on gowns at home?
Some boutiques are allowing try-ons at home and they're taking all precautionary measures in accordance with the CDC's guidelines and the WHO's suggestions. "If we send dresses out to brides--and we're only doing this for brides who are marrying before November 2020--we are taking extra care of the garments," says Chapman, who has her own Connecticut bridal salon.
"We're letting the gowns sit for a few days when they return," she adds. "Then, we're thoroughly steaming them at a very high temperature to make sure they're disinfected before they go to another bride."
In short: a bride shouldn't be concerned about COVID-19 if she receives a dress to try on at home. The salons are already ensuring safety measures against the coronavirus, and all couples should follow guidelines on opening packaging and other items in accordance with the CDC. "That way, we make sure it's safe for us to handle… and for others," she adds.
I'm now having a winter wedding and I want to change the style of my gown. Help please?
This has been a common question for couples who've postponed to late 2020 into 2021 dates. While you may have initially anticipated a spring or summer wedding aesthetic (which might mean sleeveless gowns, breeze fabrics and more), know that there are ways to adjust your chosen gown for cooler climates.
The biggest secret weapon is this: "Make sure you're working with an excellent seamstress through the store or recommended by the store," says Chapman. "You can always purchase the gown and add a sleeve from the designer if you're now having a winter wedding. Or a detachable sleeve for the ceremony or the reception."
If your venue has changed, you still have options. "If you had purchased a huge ball gown and you're having a more intimate ceremony, maybe take out some layers of crinoline to keep part of the overall look and feel of the gown," she suggests.
What about alterations?
In-person alterations are frozen for most boutiques during this time. "The difficult thing we do is we have to touch people--whether it's trying on a gown or altering. This makes it very challenging," says Chapman. "Some bride's weddings are now postponed which frees up alteration spaces. We'll be able to fit everyone in."
However, flexibility is requested with scheduling as many brides will be requesting fittings and appointments once social distancing measures are lifted.
I don't have a gown and I'm marrying this fall.
It's time to take action. While knowing your situation, think about what kind of gown you really want for the wedding, including the parts of your body you want to accentuate. From there, talk to the boutiques you've narrowed down to take a look at inventory and the types of dresses that you desire.
Designers are arranging production to accommodate rush orders should that be the case. For some salons, inventory will be stocked in full size ranges as well.
If I've submitted an order, should I be concerned?
Again, talk to your salons directly. But the answer is no. "Retailers are going to do whatever they can, as are designers, to get your dress to you," says Chapman. Most salons are still shipping and handling deliveries while adhering to social distancing guidelines.
I'm getting married in 2021. What should I do?
Get started now. As a frame of reference, we encourage you to start the dress process nine months to a year before the wedding date. This, of course, is presumed under the average length of engagement, which according to The Knot 2019 Real Weddings Study, is 14 months.
Keep in mind that alterations are still part of the process. Plus, the boutiques and appointments will get rather packed once social distancing measures are lifted. The sooner you act, the better off you will be in the long run.
And if you're having an intimate ceremony now on your original date, wear the dress twice. "Now you have the opportunity to wear it twice!" says Chapman. "Talk to your bridal store because we offer a cleaning service."