Hunter McGrady Is on a Mission to Transform the Wedding Dress Shopping Experience
Here's what the body-positive activist and model (who's also a newlywed!) wants to change.
Here at The Knot, we believe every to-be-wed deserves to feel beautiful on the wedding day and throughout the wedding planning process. But for plus-size brides, the wedding dress shopping experience is oftentimes tricky, if not downright tough. According to The Knot 2019 Fashion Study for Size Inclusivity, size 12 brides and above face feelings of anxiety and self-consciousness during their dress appointments.
Just ask body-positive activist and our latest cover model Hunter McGrady, who knows firsthand where the industry is making strides and where work still needs to be done. Especially since she's experienced it herself.
"I saw the dresses that were available out there," McGrady says of wedding dress shopping with her maid of honor. "I wasn't incredibly impressed, because I wanted a very specific style that was only available in straight sizes." (Straight sizes are generally considered 00 to 12.)
McGrady's solution was to have her dream wedding gown custom made—an option that can be extremely expensive and is not a choice for many plus brides. But, in fact, a recent study in the International Journal of Fashion, Design Technology, and Education found the average size of an American woman is now between 16 and 18—a statistic that oftentimes isn't remotely reflected in bridal stores.
This means plus-size brides will have to account for extra preparation as they schedule their dress appointments. According to our study, plus-size brides are twice as likely to call salons ahead of their appointment to ask about dress availability. Once scheduled, one in four brides sizes 12-36 reported bringing slimming undergarments to the shop, while only one in 10 brides sizes 0-10 reported doing the same.
Due to the lack of choices during the in-store shopping experience, plus-size brides' confidence levels are impacted. These brides were nearly twice as likely to report self-consciousness before going dress shopping, and one in four plus-size women even had to give themselves a pep-talk prior to trying on wedding gowns.
Because of these challenges during the dress shopping experience, plus-size brides are far less likely to buy the gown from a local bridal salon. Only 30 percent of brides sizes 12 and up reported purchasing from a local bridal salon; In fact, one in four plus-size brides end up purchasing their wedding dress online.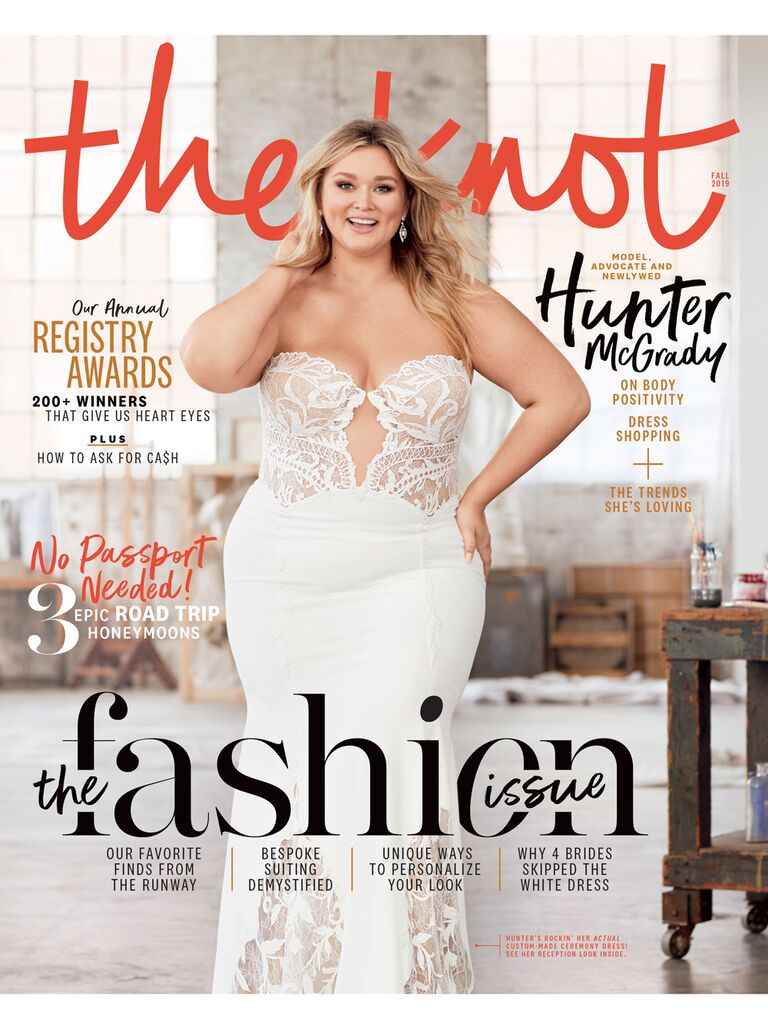 However, that could change with increased discourse around the topic of inclusivity. In fact, the majority of plus-size brides say they would've enjoyed their wedding dress shopping experience (with purchases even) had their local stores provided a larger size range of dresses. This call to action goes beyond the in-store experience with only 2 out of every 5 brides believing wedding-related magazines and media are doing a good job of representing women of all shapes and sizes.
Hence, why McGrady's work is so important. The supermodel, who married in June, has devoted her career to giving plus-size women (and women of all shapes and sizes) the representation they deserve. She's the creator of the hashtag #AllWorthy on Instagram and is one of the curviest women to appear in the Sports Illustrated Swimsuit Issue. Today, she's still championing self-love.
"Inclusivity to me is...making sure everybody feels seen, regardless of shape and size, race, height, gender," McGrady tells The Knot. "I think that being the first size-inclusive model on The Knot magazine shows that we're headed in the right direction."
For more on McGrady's dress shopping experience, thoughts on body positivity, and advice on how to practice self love, read her full Q&A with The Knot below.
Q: Why is it so important to you to discuss inclusivity?
For so long, one kind of beauty has been represented, but it's important to see women of all sizes on billboards, on television and in magazines. I never had that when I was younger. I've always had broad shoulders and wide hips. I wasn't able to look up to somebody who had my body type. Growing up, I wanted to see someone I could relate to.
A lot of brides tend to make wedding planning about weight loss. All of the sudden it becomes, "I have to lose weight for my day." And I'm like, listen, your fiancé loves you just the way are. You are the person they want to marry—and that's super powerful. Accept yourself as you are and enjoy the wedding planning journey; don't make it about getting down to a certain size. It's important to be healthy, but it's also important to love yourself.
Q: How would you like to see bridal fashion change?
I wasn't able to shop at a bridal salon because any dress I would have picked probably didn't come in my size. In my experience, every plus-size wedding dress looks like it was made to cover up or disguise certain areas of the body. But not all plus-size women want to hide their bodies. I wanted a dress that was formfitting; I wanted to feel sexy. I'd love to see more of those kinds of options available for women of every size. I'd also love to change the way plus-size women are treated when they go into a bridal salon. It can be so disappointing to go dress shopping only to realize the store doesn't have even one dress that will zip up. I think the way brides are talked to is also very important. It could be as easy as a consultant saying, "You're beautiful as you are. Let's work together to figure this out."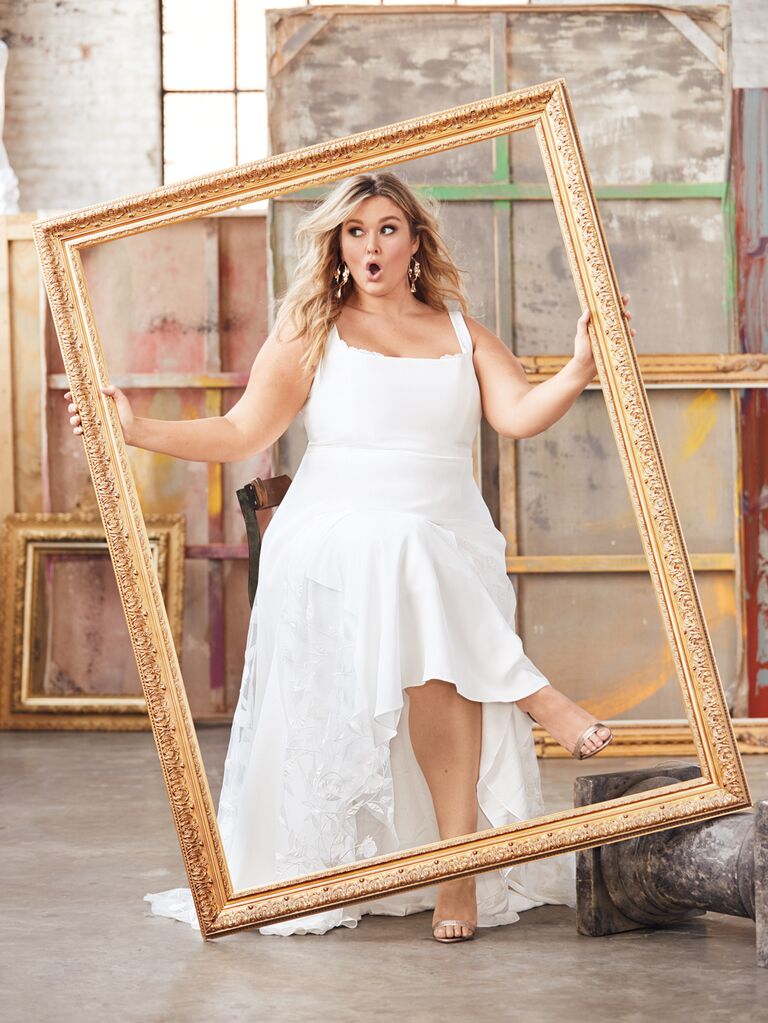 Q: What was your dress shopping experience like?
I went dress shopping with my sister when she was engaged last year. She landed on a gorgeous Watters gown. I loved her dress, but I saw the other options that were available and I wasn't impressed. I realized I had to go to the custom route to get the style I wanted, because every other dress in my size would hide the things I wanted to accentuate.
I'd worked with Watters on a photo shoot before, and Xay (the creative director) and I hit it off. She's amazing and she gets my vision. I told them when I shot with them, "I'm coming to you when I get engaged." And here we are.
Q: What's your secret to feeling confident in your own skin?
A lot of brides go into dress shopping expecting a big moment where they put on a gown and everyone cries and applauds. But if you're plus size, that may not be your experience. It may take one, two or even three tries to find something you love. You may have to drive further to find a store that carries your size, or you may have to order dresses online. But don't get discouraged. At the end of the day, it's about marrying the love of your life.
Self-love is all about getting into the right headspace. Look at yourself in the mirror and say, "Regardless of what happens today, I am beautiful. My partner wants to be with me for the rest of my life. I am worthy. I am enough."
To see more, pick up The Knot Fall 2019 Fashion issue (hitting newsstands Monday, July 29, 2019).