The Best Places to Buy a Suit for a Wedding, Online or In Person
Whether you're getting measured in person or shopping from your couch, these suiting destinations will have you looking sharp at your next wedding.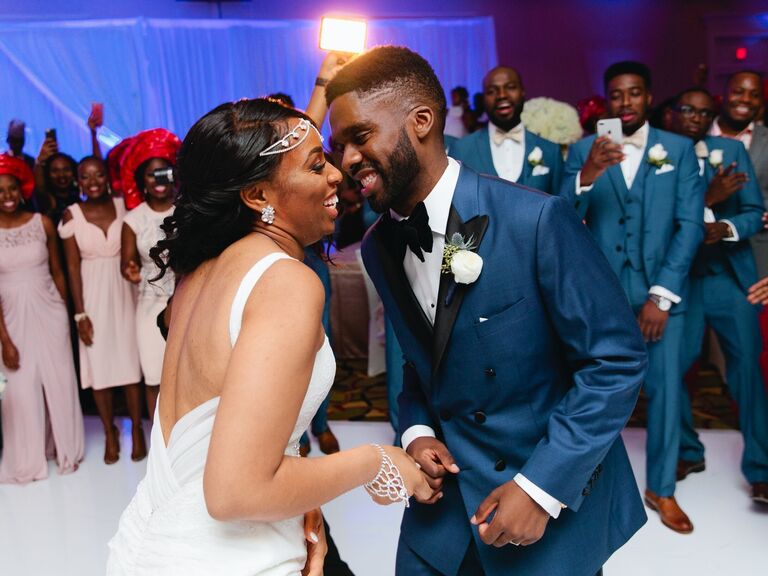 Photo: Jackson Wedding Studios
We have included third party products to help you navigate and enjoy life's biggest moments. Purchases made through links on this page may earn us a commission.
Maybe you're walking down the aisle this year and maybe you just have a refrigerator door full of Save The Dates. In either case, there's a good chance, "BUY WEDDING SUIT" is listed somewhere on your 2023 wedding to-do list. Maybe you're picking up your first and maybe you're just looking to refresh a well-worn arsenal (respect–there are some 2023 trends worth incorporating into your search). Whatever your reason may be, it's definitely not an endeavor navigated blindly. Fear not–we've done the work for you. These days there are more exciting and accessible suiting brands out there than ever, from reliable off-the-rack mainstays to made-to-measure titans (and I've tried quite a few of them myself). Shopping for suits isn't only easy these days, it's also fun. I'm here to let you in on some of my favorite suiting spots in the world of menswear today, the sort of places that help you look good in your suit and feel good about the experience of buying it.
Best Places to Buy Suits for a Wedding
What makes a great suiting destination? I'm glad you asked. It exists close to the intersection of quality, style, accessibility, and fit. Oftentimes it's hard to get all four pinned down and concessions have to be made. For example, Japanese made-to-measure house Kashiyama made my favorite suit I own, but they only measure first-time clients in person. This isn't a problem if you live near one of their four brick and mortar stores or in a city in which they hold one of their traveling trunk shows. But it makes it hard to recommend them as a (pardon the pun) one-size-fits-all suit shop. Suitsupply, another favorite of mine, has an online portal and retail locations across the country, but their best suits tend to land in the higher end camp.
As a result, it's hard to point to one single spot as the best place to buy a wedding suit. I'm not here to offer a best-of ranking so much as provide you with a select handful of some of my favorite places to buy a suit these days. Any one of these locations is going to take care of you and then some when it comes time to suit up for your next wedding, be it as a groom or a guest.
Price Range:
$ - $500 and under
$$ - $500-$1000
$$$ - $1000+
1. SuitSupply
Look, like I said, this isn't a ranked list….BUT if it were, Suitsupply would be damn near the top. In terms of quality, style, fit, and accessibility, it's got pretty much everything (even if some of its more desirable suits skew a bit pricey). Suitsupply offers made-to-measure suiting (allow 2-3 weeks for delivery) as well as off-the-rack, which can be altered on-site if purchased in-store. Both are available online or in person at any of their many brick and mortar locations across the country (listed on their website). They offer basic entry-level suiting as well as more experimental suit cuts and fabrics, making them the perfect destination for suiting novices and veterans alike. If you're looking for a simple black suit, they've got you covered. And if you're looking for something wavier like a double-breasted linen number or a silk suit with shorts in an Italian cut, you'll leave happy and well-dressed. In short, they should be the first store you look through when buying a wedding suit in 2023.
Best For: All dress codes
How To Shop: Online or In Person
Price Range: $$-$$$
Size Range: Made-To-Measure
2. Men's Wearhouse
Men's Wearhouse has a relationship going all the way back to junior prom for a lot of folks. The brand is there for all your special moments and is an American menswear staple for a reason, with their hundreds of retail locations across the country providing simple, easy suits for rent and for purchase to people of all ages. With so many new names in the suiting world these days, it can be easy to forget about the original. I'd encourage you not to. The brand has upped their made-to-measure game in recent years, now offering some tremendous options in a wide range of fabrics, styles, and price points. However, if you're looking to keep it to off-the-rack suiting, fear not. Men's Wearhouse still has a plethora of great options at affordable prices.
Best For: Cocktail Attire, Semi-Formal, Dressy Casual
How To Shop: Online or In Person
Price Range: $
Size Range: Varies based on product but stocks numerous extended size ranges across product line
3. J. Crew
J. Crew revolutionized off-the-rack suiting in 2008 with the introduction of their now-iconic Ludlow suit. After a lull in the 2010s, they're back and better than ever after a rebrand and creative overhaul in 2022. The brand's Ludlow suit, with its slim cut and skinny lapels, is still available in addition to the more traditional Crosby suit and the relaxed Kenmare cut. For years now they've been the spot to get dressed well and quick—ome things never change.
Best For: Semi-Formal
How To Shop: Online or In Person
Price Range: $-$$
Size Range: 36S-48L
4. The Black Tux
Those looking to suit up temporarily should turn their eye to The Black Tux. While most of their suiting is available for purchase, their bread and butter is tux and suit rentals. There are retail locations across the country but I'd personally recommend their online services, which are more than enough to get the job done. For a fraction of what you'd pay to keep a suit (without all the extras like shoes and accessories) you can rent one of their selections and get a full look delivered to your door. Once you've recovered from tearing up the dance floor at the reception you just mail it back, simple as that–no dry cleaning required.
Best For: Black Tie
How To Shop: Online
Price Range: $
Size Range: Sizes vary by style
5. Todd Snyder
Todd Snyder may be the menswear revelation of the last decade. Think of their offerings as elevated J. Crew, the sort of classic prep-adjacent Americana that never goes out of style. The brand's suiting isn't necessarily their main focus but it's not to be slept on. Their tux offerings are nice but the real gem is their selection of versatile semi-formal suiting, the sort that you can buy for a wedding and then find an excuse to wear a couple of times a month for years to come.
Best For: Semi-Formal
How To Shop: Online
Price Range: $$-$$$
Size Range: 36-46
6. Kashiyama
Offering some of the best made-to-measure suiting out there, Kashiyama is a rising juggernaut in modern suiting. Of the big names in the space they may be the most customizable, largely due in part to their reliance on in-person fittings (it's a little tough to tell a computer that you want a double-breasted suit that makes you look like a Miami Vice villain whereas the employee taking my measurements knew exactly what to do when I told him that–and boy, did he deliver). They're a bit harder to get an appointment with due to scarce retail locations and limited-run trunk shows, but if you're able to book some time with them they come with my highest possible recommendation.
Best For: Cocktail Attire, Semi-Formal
How To Shop: In Person
Price Range: $$-$$$
Size Range: Made to Measure
7. Bonobos
Bonobos offers a few suiting cuts but if you ask me the reason to hit up the brand for a wedding suit is their signature Jetsetter. Available in a range of colors, the Jetsetter suit is a sartorial Swiss army knife. It can do anything, the sort of versatile jacket and pants pairing that can take you from work to a night out with friends to the wedding and then right back to the office Monday morning. If you're looking to only have one suit in your closet, this is the one you're looking for.
Best For: Semi-Formal
How To Shop: Online or In Person
Price Range: $$
Size Range: 36S-48L
8. Giuliva Heritage
Celebrities like Chris Pine are quickly turning Italian hub Giuliva Heritage into a household name. The brand is responsible for reviving classic '70s-style high-end European tailoring for the modern era. We're talking bright colors, wide lapels, and left-field fabrics like velvet and corduroy. If you're looking to channel a bit of Mick Jagger or Jimi Hendrix in your next wedding suit, this is who you call..
Best For: Formal, Cocktail Attire
How To Shop: Online
Price Range: $$$
Size Range: EU44-54
9. Banana Republic
Ever since their rebrand in late 2022, Banana Republic has been one of the most exciting big-name brands in menswear. One of the highlights of this new creative direction, which draws heavily from the brand's early days, has been their suiting. It's among the most impressive off-the-rack suiting available at big box retailers today. Truth,I proudly wear the pinstriped flannel suit I picked up from themat every opportunity (I didn't even have to have it altered!). Their standard fare is reliable and high-quality but the real hits come in their archival cuts, which feature everything from flowy linen pants (perfect for beach and destination ceremonies!) to double-breasted mock denim.
Best For: Cocktail Attire, Semi-Formal, Beach/Destination
How To Shop: Online or In Person
Price Range: $-$$
Size Range: Varies by item
10. Anthony Sinclair
If it's good enough for James Bond, it's good enough for you. British sartorial archive/retailer Mason & Sons has kept the brand that originally outfitted Sean Connery for his run as the world's most famous superspy alive in recent years. They offer a deep archive of some of the most iconic suits of the Conner era and in doing so make classic British tailoring available to the masses. You can get a Saville Row quality suit from the comfort of your couch (just allow a few weeks for delivery–most of their suits are made to order).
Best For: Formal, Cocktail Attire
How To Shop: Online
Price Range: $$$
Size Range: 36-46
11. Haute Butch
Haute Butch makes killer suits for customers who might not have a body type that fits the one most menswear outfitters cater to. They draw inspiration from classic suiting cuts but stock a bevy of fun, kitschy fabric options in addition to more standard fare, though the highlight of their line is the Diplomat. It's a tuxedo with a truly unique silhouette, anchored by a wide shawl collar with an angular finish. Haute Butch is as versatile as they are affordable, with the one downside being that most of their business is conducted online rather than in person at retail locations. Still, they serve their clientele well and will certainly have you rolling up to your next wedding looking sharp.
Best For: Black Tie, Formal, Cocktail Attire
How To Shop: Online
Price Range: $-$$
Size Range: XS-6X