Here's the Real Definition of a White-Tie Wedding (Plus Exactly What to Wear)
Spoiler: It's even fancier than a black-tie wedding.
We have included third party products to help you navigate and enjoy life's biggest moments. Purchases made through links on this page may earn us a commission.
What in the world of wedding attire is white tie? Also referred to as full dress, white tie attire is actually the most formal of any wedding (or event) dress code—even more so than black tie—and stems from over two centuries of Western evening wear tradition. White tie attire, arguably the rarest dress code these days, is reserved for super-special occasions like royal banquets, state dinners and über-formal weddings.
We know a white tie event sounds a bit extra for a wedding, but you never know when you'll need to suit up for a white-tie wedding or other special event. Anyone who doesn't know what white-tie wedding attire entails (no pun intended), read on.
Black Tie vs. White-Tie Events
Ok, first things first. What is the difference between a black-tie and white-tie event? As mentioned above, white-tie attire is a step up from black-tie attire, reserved for the fanciest of events. While you certainly dress up to the nines at a black-tie event, for a white-tie occasion, it really comes down to attention to detail and extra touches. For men, dressing for a white-tie wedding could mean adding dinner gloves and a top hat to their look, while for women, it means wearing a long, formal evening gown with lots of jewelry and maybe even a pair of gloves of her own. These extra elements might seem a bit over the top for a black-tie event, but you'll fit right in at a white-tie event. The more regal and refined you dress for a white-tie wedding, the better.
Grooms and Male Guests Should Wear:
What does a man wear to a white-tie wedding?
Think: New Year's Eve at Downton Abbey. A long black (or midnight blue) jacket with tails that fall to the back of the knee, a white cotton or piqué shirt, white piqué vest, formal black shoes and white piqué bow tie. Don't forget about the pants: Trousers should match the color and fabric of your coat and tails, and often feature a subtle satin or grosgrain stripe along the outer seams. Although rules surrounding the color of your bow tie and other accessories used to way more strict, nowadays it's more common to see men add some personality with a patterned bow tie or striped pants. Feeling fancy? White gloves are even appropriate for a white-tie wedding (though definitely not common anymore—and we're guessing you don't have a pair of white dinner gloves lying around). When in doubt, look for tux rental options (try Men's Wearhouse or Jos. A. Bank, for example.), since white-tie attire tends to be pricey.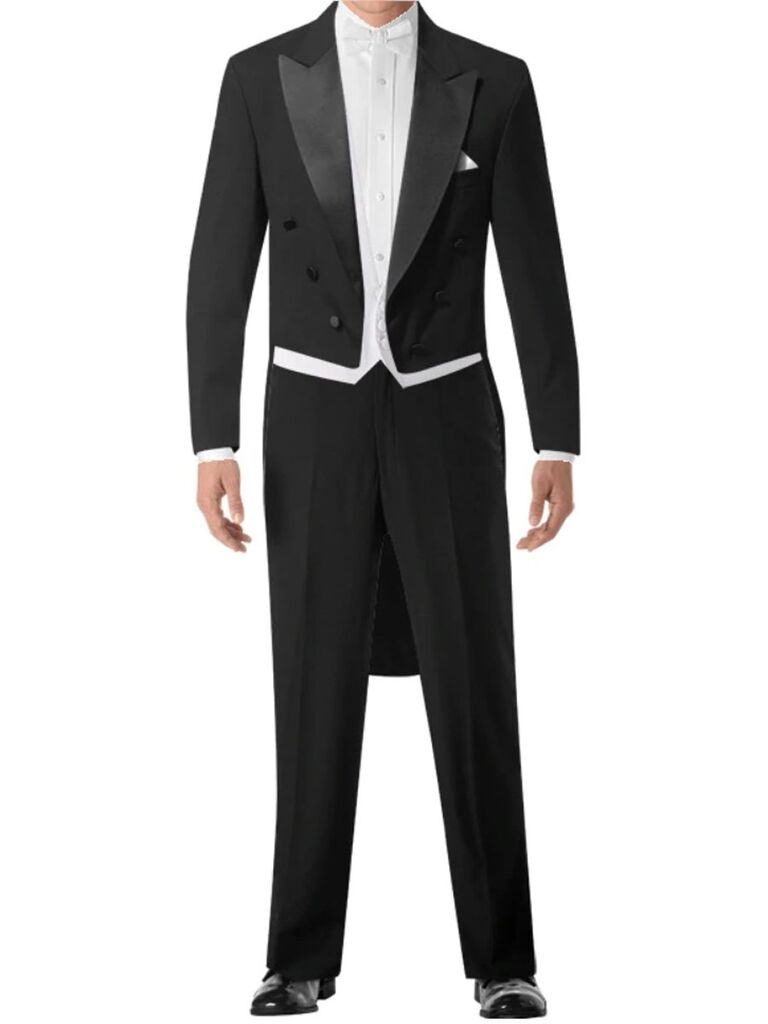 Joseph & Feiss black full dress tailcoat, from $175 to rent, MensWearhouse.com
Look sharp in this dapper tuxedo with a traditional white bowtie. A sleek jacket with tails and matching black dress shoes are a must for white-tie wedding attire. To complete the look, add a top hat for extra flair and you'll fit right in.
Brides and Female Guests Should Wear:
What does a woman wear to a white-tie event?
Think: The Oscars. Skip the cocktail or knee-length dress for a white-tie occasion and opt for a formal, full-length A-line, sheath or ball gown. Compliment your white-tie dress with glamorous makeup, gorgeous jewelry and styled hair. Again, gloves are appropriate, but not required (if you're channeling Jackie O. or Queen Elizabeth II, go for it). When it comes to white-tie attire for women, the main distinction from black tie is that full-length dresses are pretty much nonnegotiable (whereas, at a black-tie wedding, you could get away with a chic, glamorous cocktail dress or jumpsuit). And when in doubt, look for dress rental options, (check out Rent the Runway).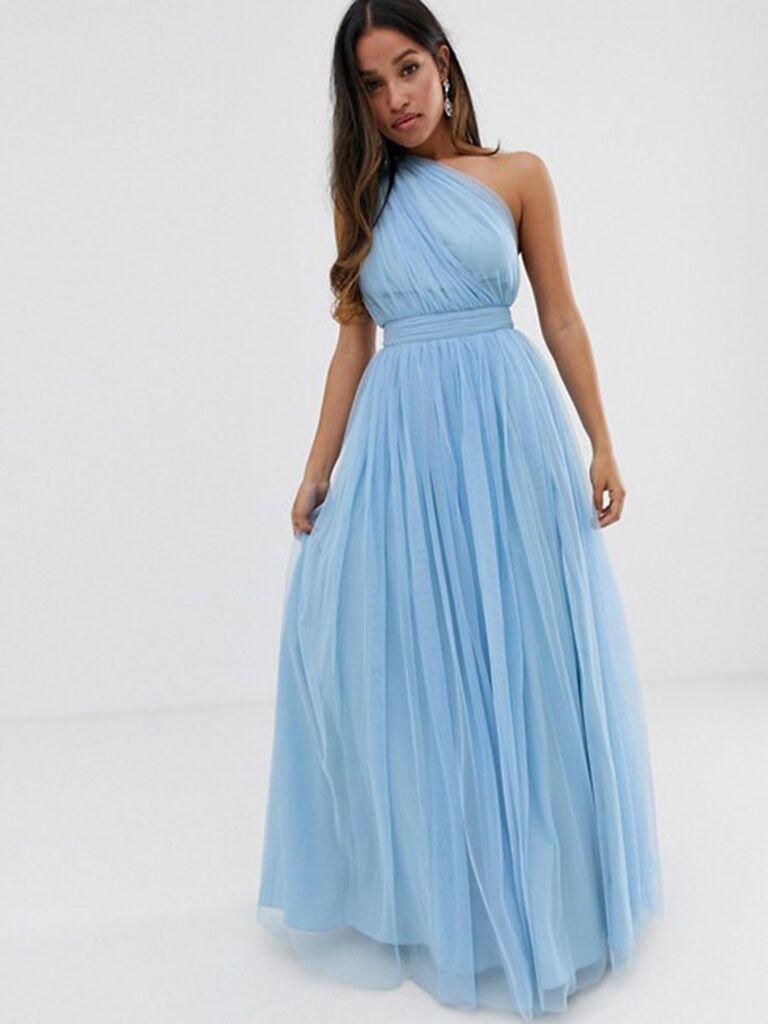 ASOS Design petite tulle one-shoulder maxi dress, $103, US.Asos.com
This enchanting, floor-length powder blue gown is the perfect way to show up for a wedding-tie wedding. Style your hair so that it shows off the one-shoulder neckline and be sure to pair it with some sparkly jewelry.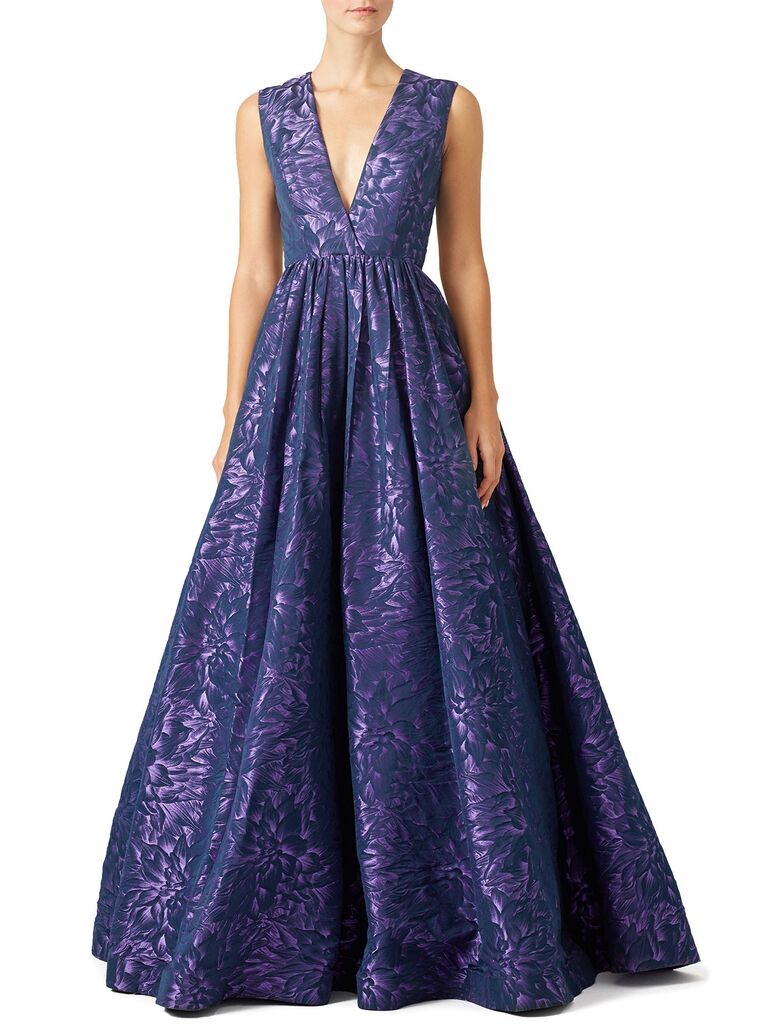 Monique Lhuillier Tena gown, $150 to rent, RenttheRunway.com
An A-line gown like this is ideal for any fancy white-tie event. The flattering deep V-cut neckline and lovely midnight blue pattern top off the style, ensuring you'll look like the belle of the ball.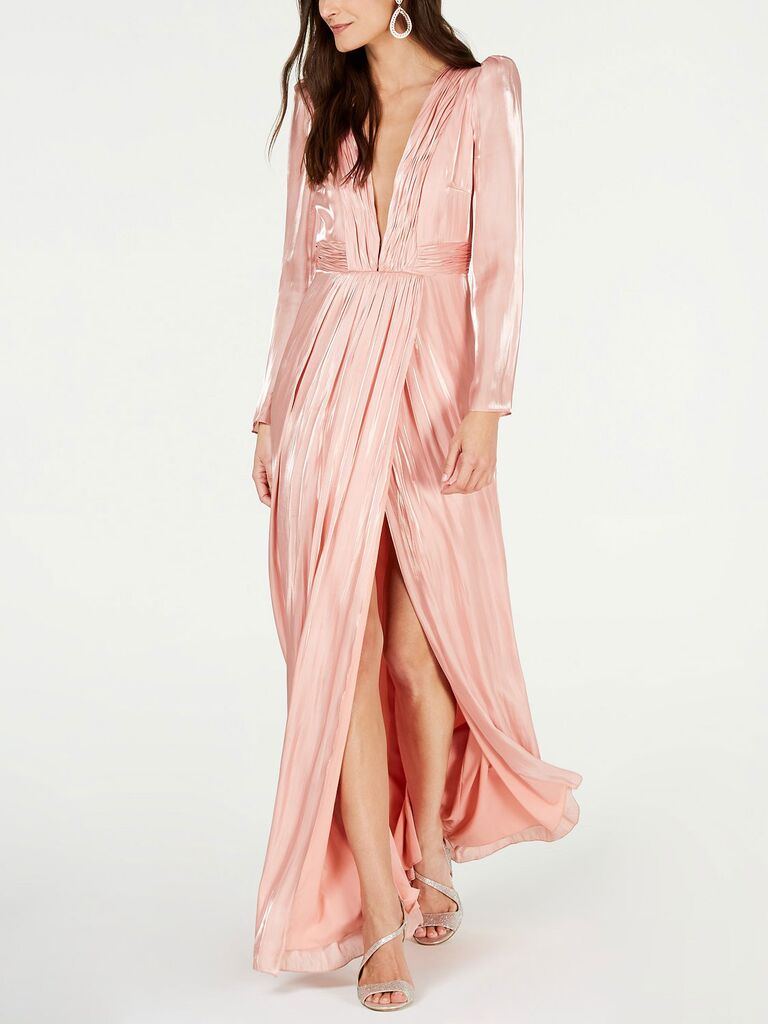 Rachel Zoe Rosalie pleated deep-V gown, $595, Macys.com
This shimmery, blush-covered gown is an absolutely stunning choice for a white-tie wedding. All you need are some fancy shoes and glamorous jewelry to complete the elegant style.
When it comes to dressing up for a white-tie event, this is your chance to pull out all the stops. Follow our above tips to ensure you dress to impress at your next fancy occasion.