22 Bridal Shower Cake Toppers for Every Bride-to-Be
These designs will add the perfect finishing touch to any celebration.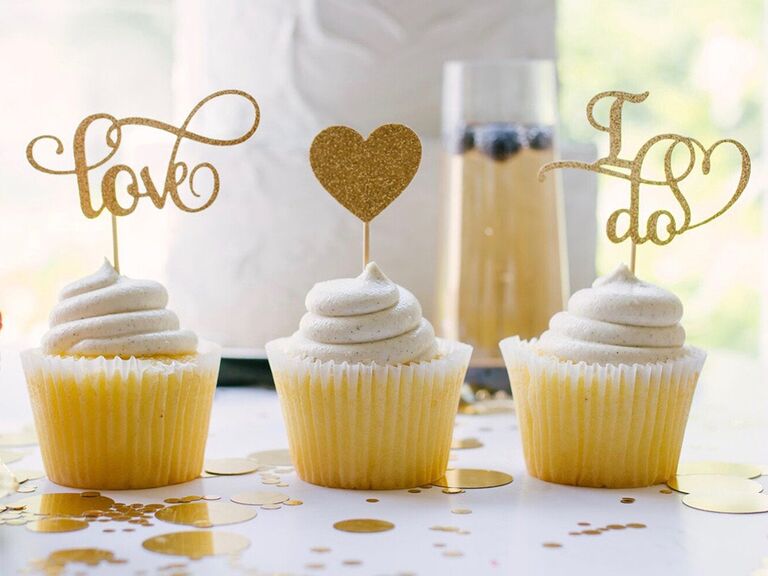 We have included third party products to help you navigate and enjoy life's biggest moments. Purchases made through links on this page may earn us a commission.
When you're shopping for bridal shower decorations, there's one item you should definitely add to your list: a cake topper. A bridal shower cake topper is guaranteed to make the party's cake truly stand out. If the bride isn't into cake, don't worry—you can opt for cupcake toppers for your dessert table instead.
Whether you prefer something elegant, rustic, simple or silly, there's a cake topper to match your party's theme. Here are our best picks.
The Knot Shop She Said Yes! Acrylic Cake Topper in White
We love this simple and sophisticated "She said yes!" acrylic cake topper. The piece measures 6 inches by 8 inches and is also available in black. Add this festive topper to any type of cake for a bridal shower, bachelorette party or engagement party.
Big Dot of Happiness Bride Squad Cupcake Decoration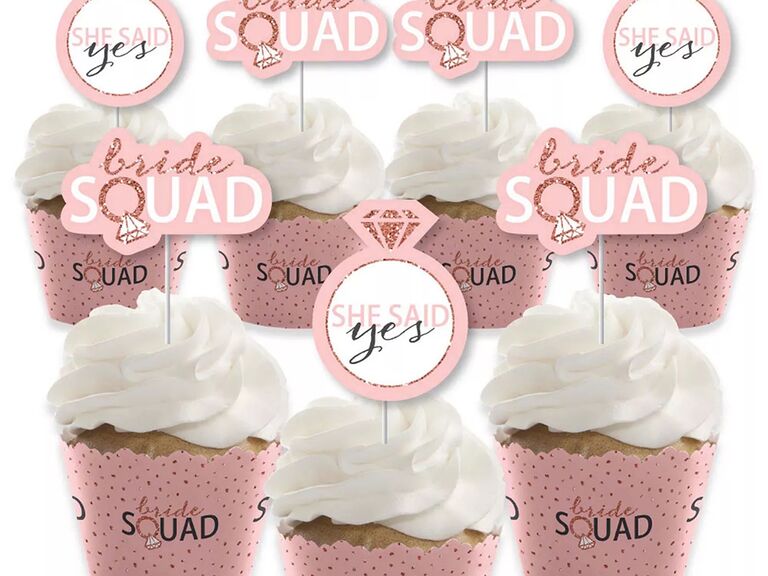 Opting for cupcakes instead of cake? Grab these rose gold cupcake toppers and wrappers along with the rest of your party supplies. This kit features "bride squad" and "she said yes" toppers, making them perfect for a bridal shower or hen party.
Oaky Designs Future Mrs. Cake Topper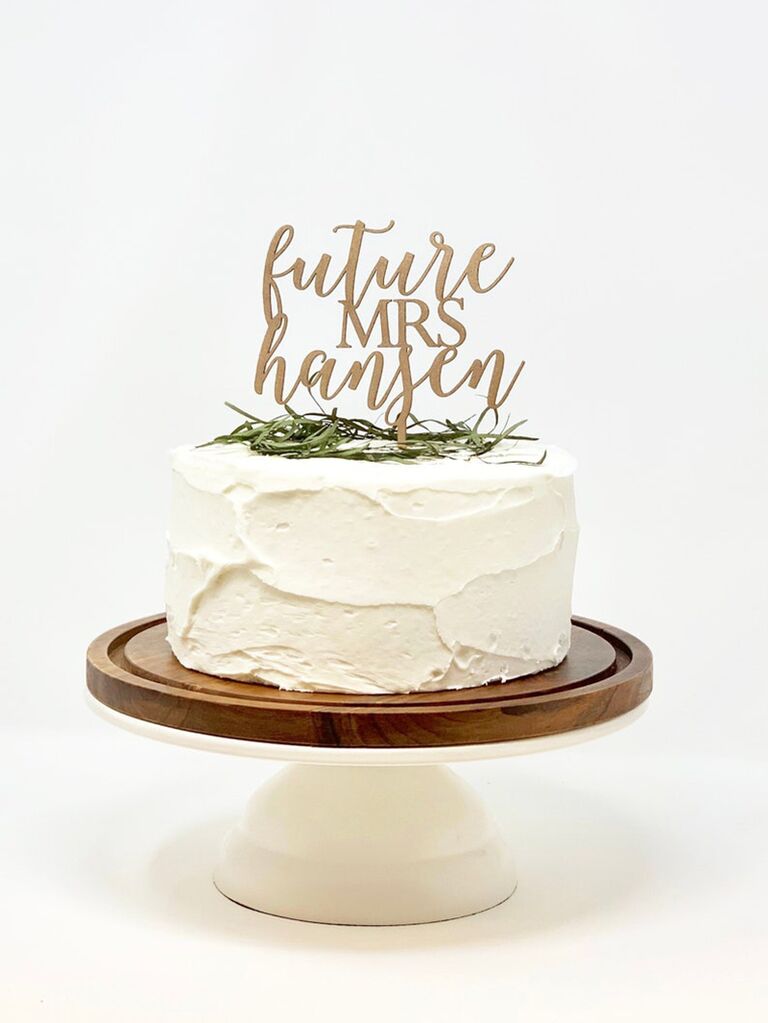 This wood cake topper will represent the bride's new last name in style. Personalize this 5.5-inch by 7-inch piece with her soon-to-be last name if she's changing it, and add it to your party decor for the perfect touch.
The Knot Shop Baseball Wedding Cake Topper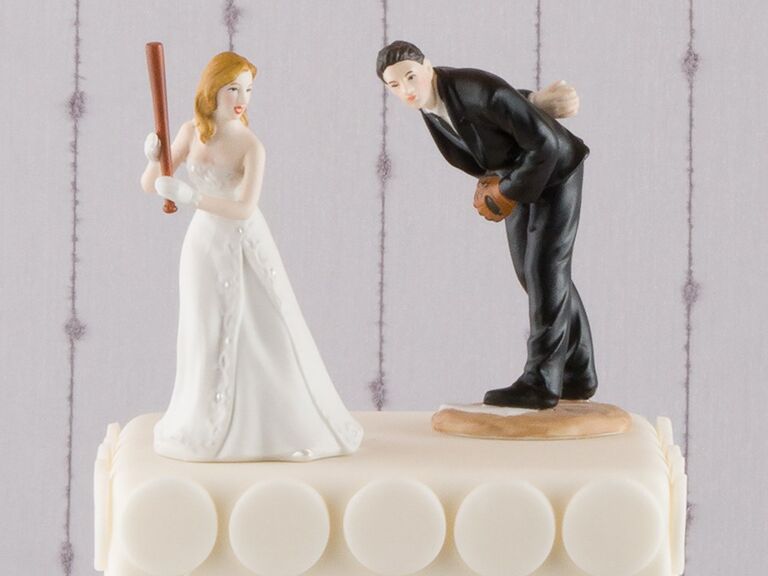 This home run-themed cake topper is the perfect piece of cake decor for couples who love baseball. The best part? You can personalize the hair color of the bride and groom to perfectly match the happy couple. This topper would also make a great engagement party gift.
Mint to Be Us Custom Script Rustic Wedding Cake Topper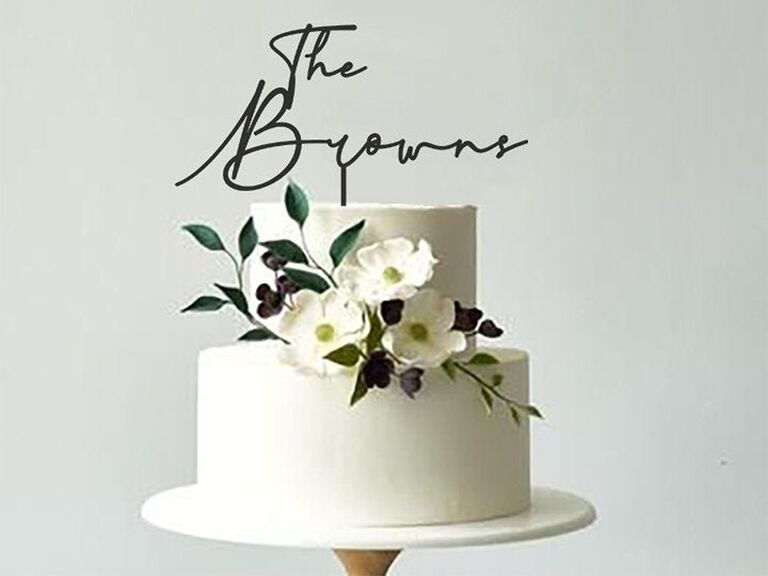 What better way to commemorate the bride's relationship than with a custom cake topper of her new family name? This modern cake topper comes in nine colors and would be a beautiful addition to any size or color cake. If the bride isn't changing her name, don't worry—you can choose any custom wording you'd like.
Ngo Creations About Damn Time Wedding Cake Topper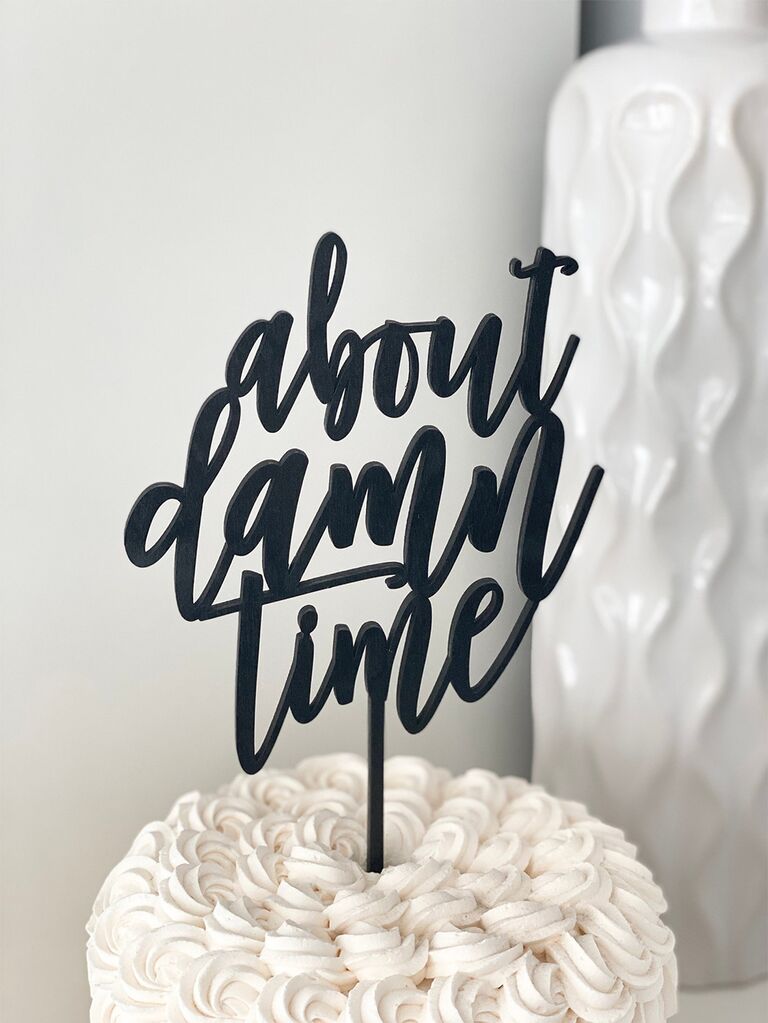 Keep it real with this funny "about damn time" cake topper, perfect for couples who are finally tying the knot. Choose from a handful of color finishes, including silver glitter and gold glitter options.
The Letter Loft Eucalyptus Wire Wedding Cake Topper
We can't get enough of this stunning wire cake topper encased in faux greenery. This floral cake topper can be personalized with the couple's initials, which are surrounded by a wire heart and faux eucalyptus. It's perfect for a boho-themed celebration.
The Knot Shop Personalized Mod Heart Acrylic Cake Topper in Black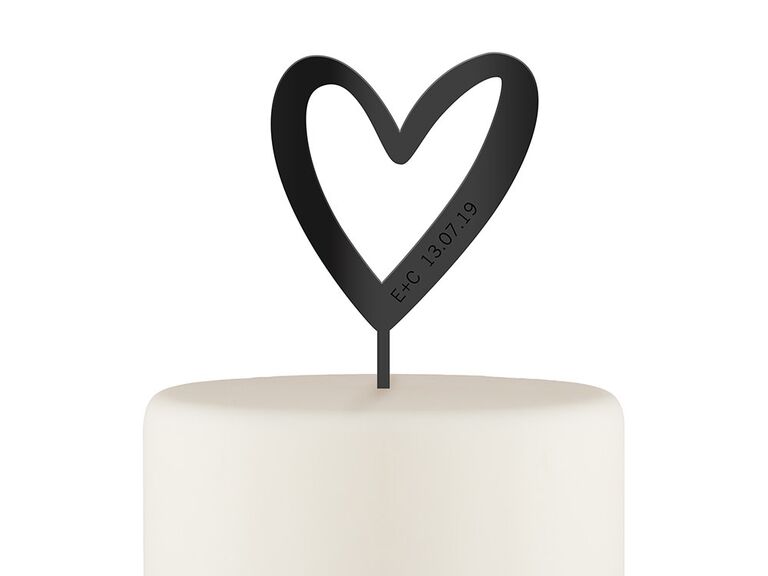 Celebrate the happy couple's love with this simply symbol. Carved from acrylic, you can personalize this sweet cake topper with a name, initial or word for an extra-special touch.
The Knot Shop Interlocking Bear Hug Cake Topper Figurine Set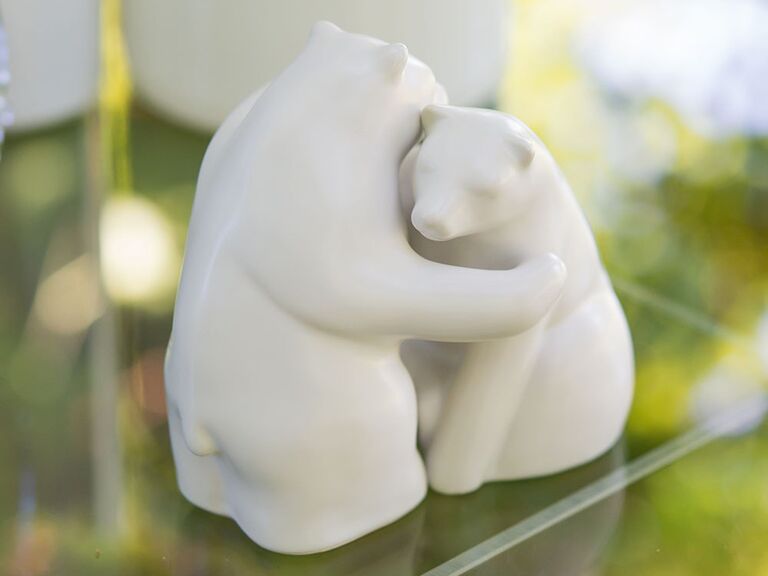 This one is for the animal lovers. Grab these adorable white porcelain interlocking bears for the top of your bridal shower cake. This delicate figurine set would make a great engagement cake topper, too.
Sugar Crush Co. Bridal Shower Cupcake Toppers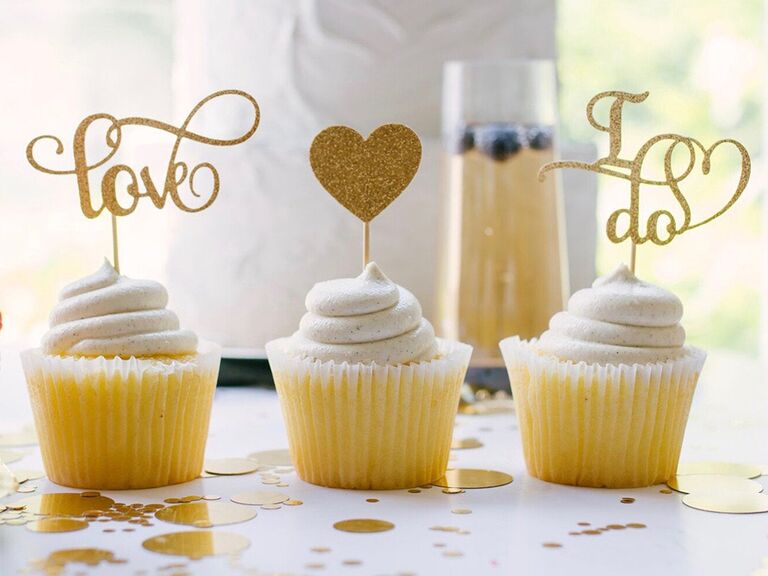 Make your cupcakes pop with this set of sparkly cardstock cupcake toppers. Sold in bunches of six, each set comes with the "love," heart and "I do" topper designs.
Party City Rose Gold Future Mrs. Cake Topper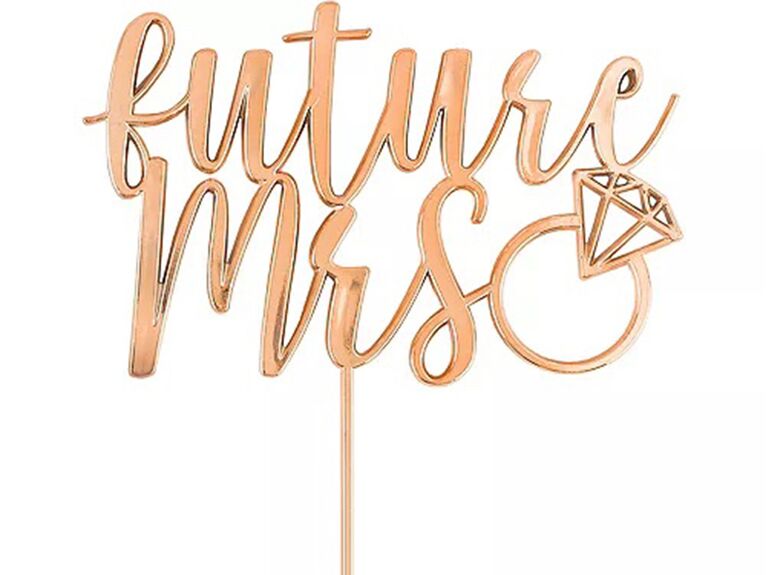 Celebrate the future bride with this bride-to-be cake topper. This rose gold cake decoration could also be used at a bachelorette party or engagement party thanks to the tiny diamond ring embedded in the script.
Ngo Creations Mutual Weirdness Forever Wedding Cake Topper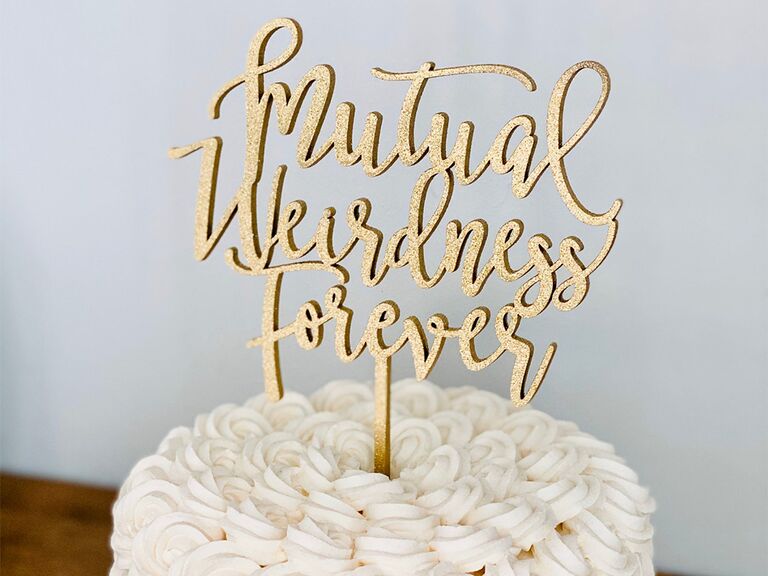 Spotlight the mutual weirdness shared between the bride and her future partner with this fun and silly cake topper. This cheeky design will definitely put a smile on your guests' faces.
Letters to You Star Wars Cake Topper May the Force Be With Us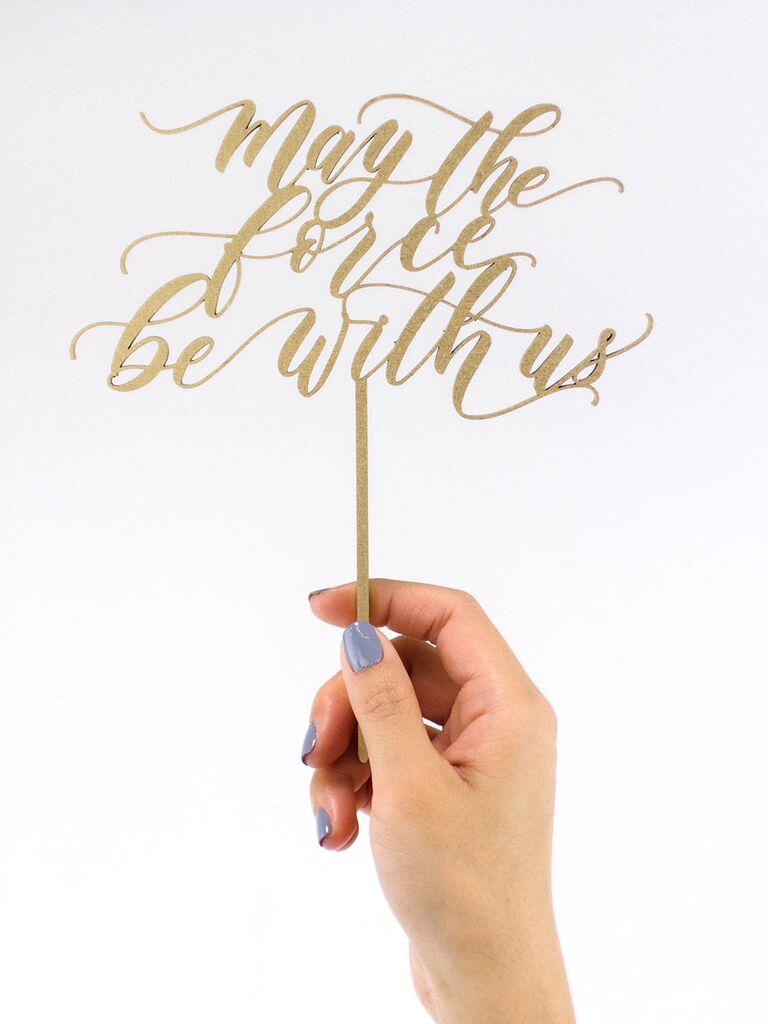 If the bride and her partner are super into Star Wars, you'll definitely want to order this cake topper. The hand-lettered, digitized and laser-cut wooden cake topper features a well-known reference from the movie.
The Knot Shop Natural Wood Cake Topper Decoration
Live out your fairytale dreams with this gorgeous "happily ever after" cake topper. The piece's blush pink and green tones will add natural charm to your party decorations. This topper would be perfect for a wedding shower, wedding reception or even a wedding anniversary celebration.
Letters to You Double Happiness Chinese Wedding Laser Cut Cake Topper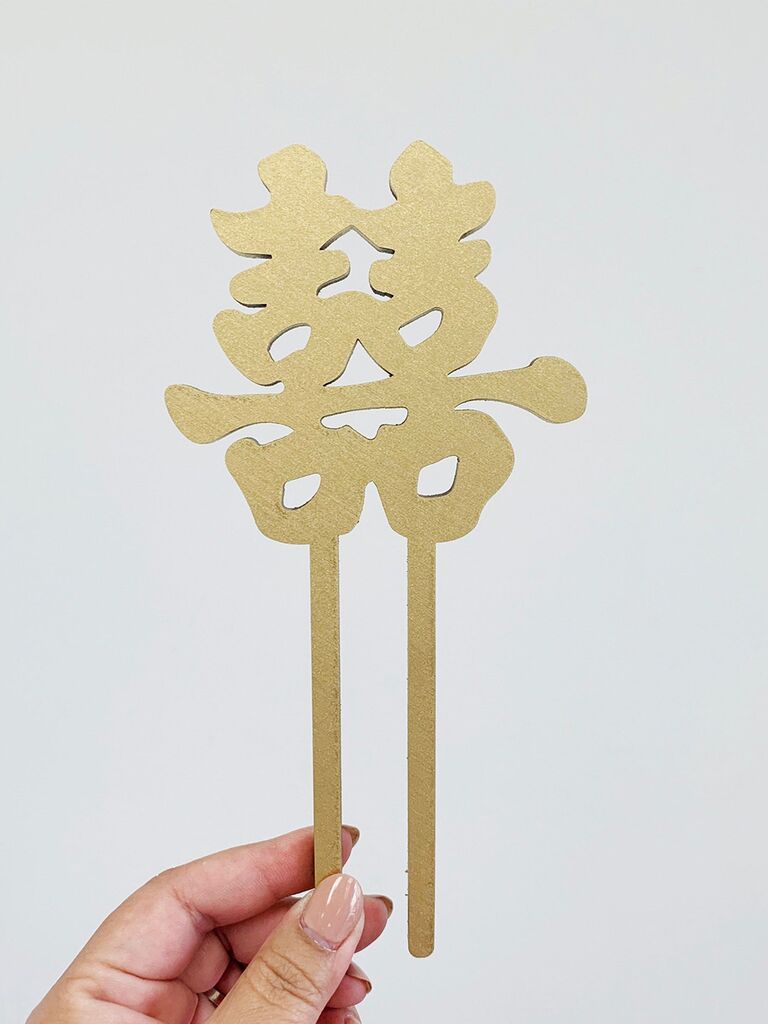 The happiest days of the couple's lives are ahead of them. Add this double happiness cake topper to the party's cake as a way to simply and tastefully express your excitement.
Kate Aspen "Love" Cake Topper in Gold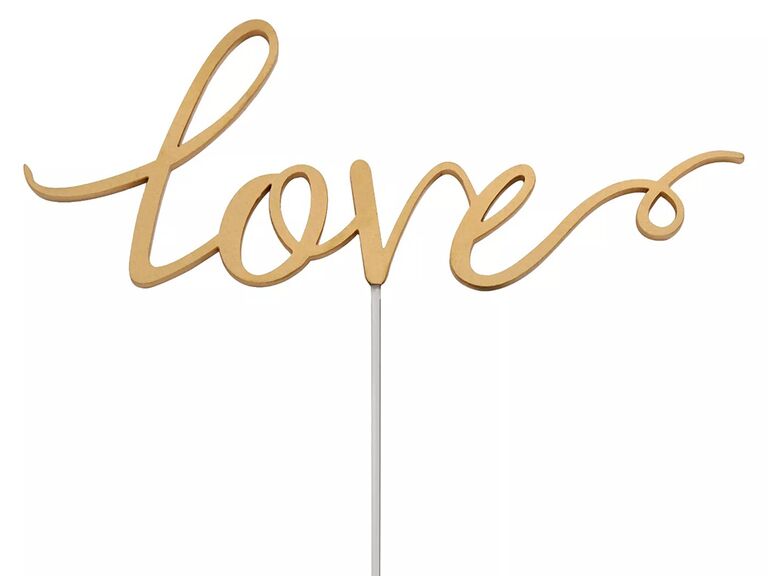 Keep it short and sweet with this gold acrylic cake topper. The cursive "love" offers a subtle finishing touch to any sweet treat.
Coppice & Crafts You Me & the Dog Cake Topper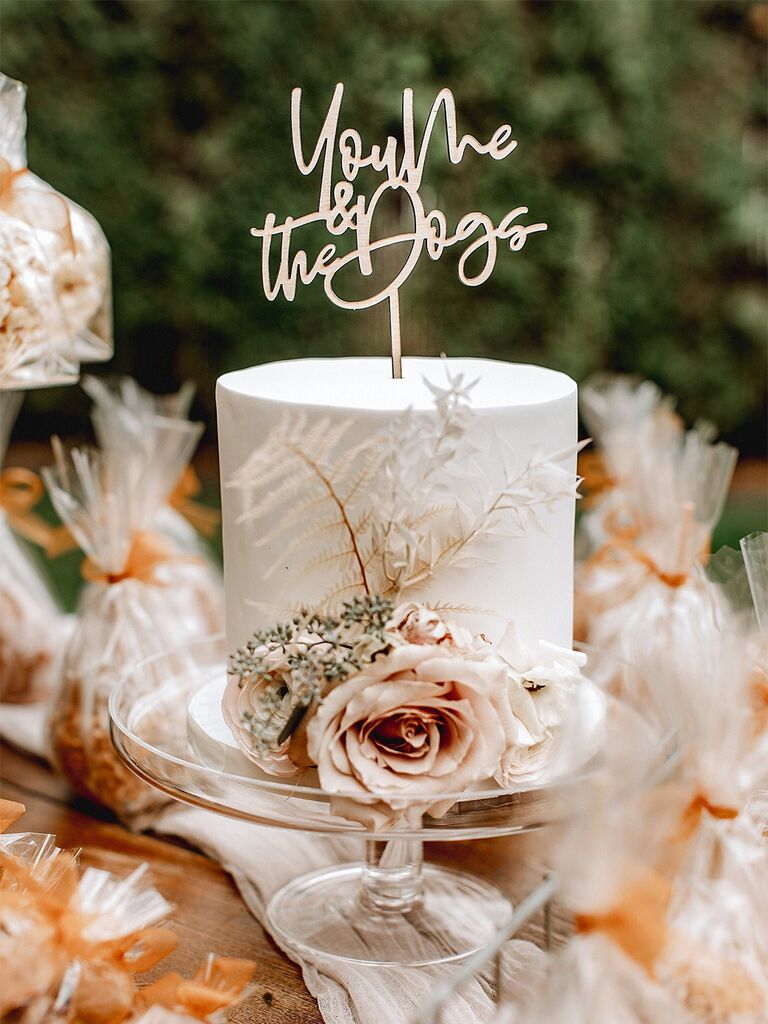 Don't forget about the bride's fur baby. This cake topper is a must-have for all couples who love their pets and want to include them in their wedding celebrations.
Party City African-American Bride & Groom Wedding Cake Topper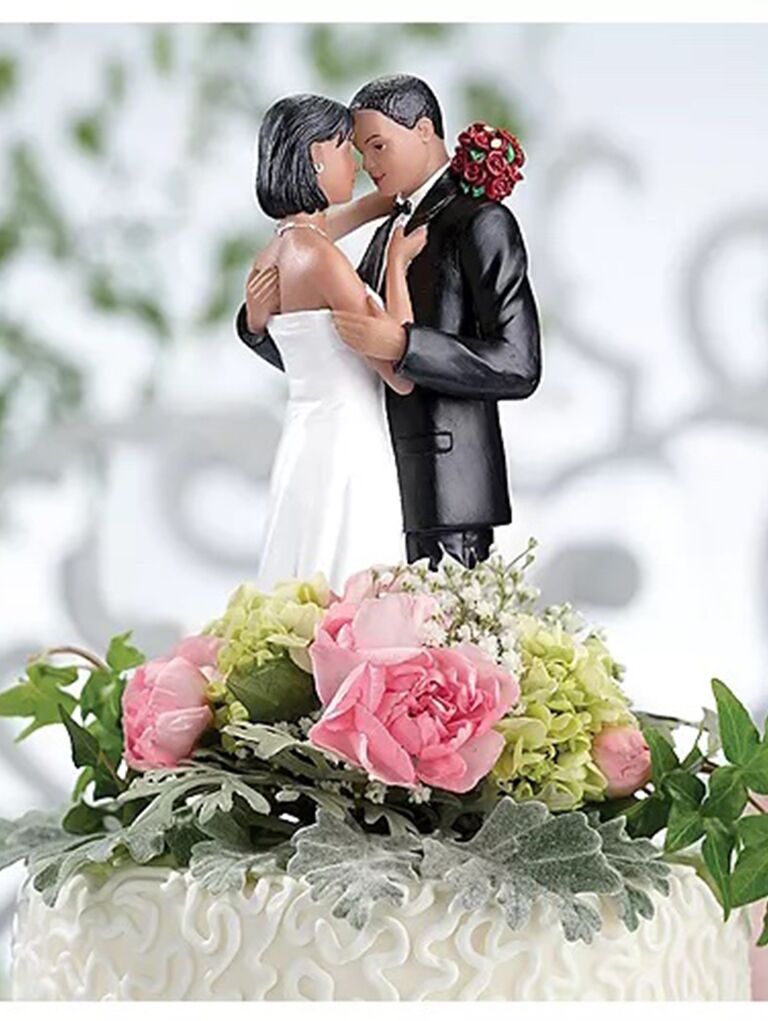 This beautiful resin cake topper of a couple having a private, tender moment is perfect for the bride who's really romantic. If it feels a bit too fancy for the bridal shower, consider gifting it to the happy couple for their wedding.
Foxblossom Co. Decorative Monogram Floral Cake Topper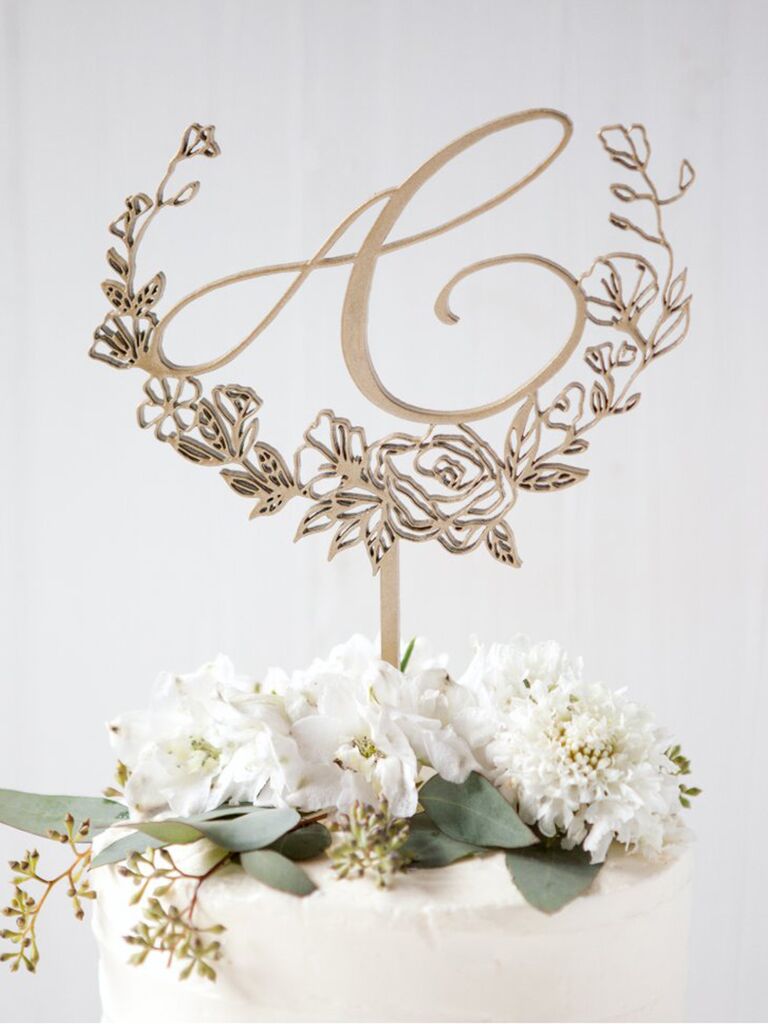 Go bold with a simple monogram cake topper. This delicate calligraphy initial measures 5 inches by 6.5 inches, and would add the perfect final touch to your cake.
Yippee Daisy Let the Adventure Begin Cake Topper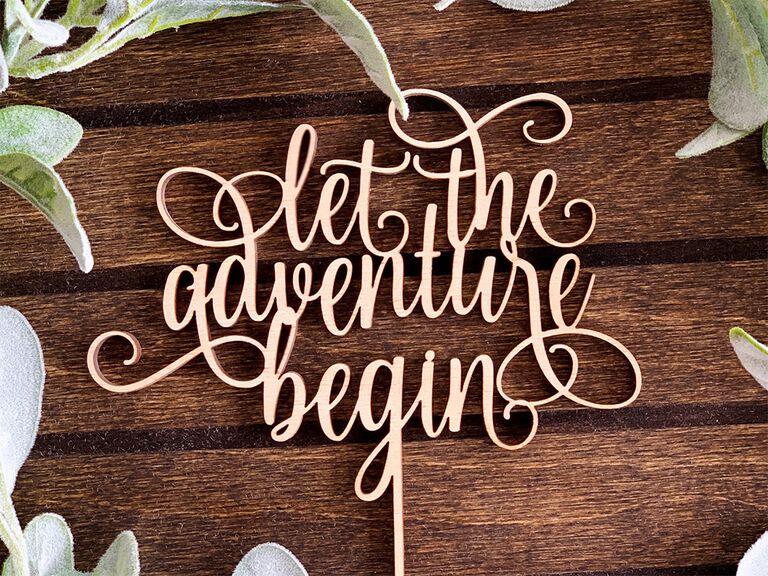 Celebrate the journey the bride and her future spouse are about to embark on after they say "I do." This rustic cake topper would look great on any cake, and is perfect for the adventurous couple that loves to travel.
Foxblossom Co. High-Class Artisan Wire Wedding Cake Topper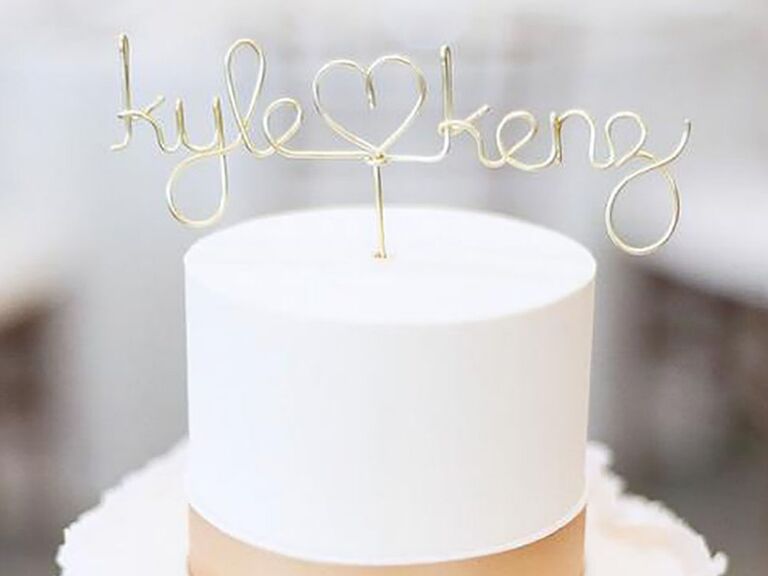 Make a statement with a personalized wire custom cake topper. This handmade topper can be used more than once, so be sure to let the bride know she can use it for her wedding, too. A variety of wire colors are available to pick from.
RSVP Party Decor Custom Bridal Shower Cake Topper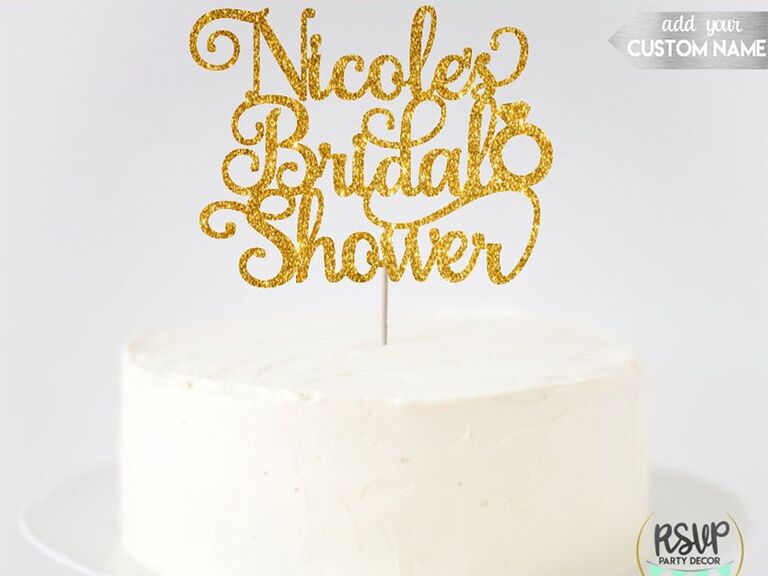 Grab this custom glitter cardstock topper for your bridal shower. These cake toppers are made with real glitter and will add some much-needed sparkle to your dessert table.