30 Gorgeous Bridal Shower Cakes You (and Your Guests) Will Love
Get inspired by these creative ideas.
A bridal shower is a day of celebration for the bride's closest loved ones before the wedding. While the menu might not be as elaborate as it will be for other prewedding events (like the rehearsal dinner), guests will appreciate having light bites and desserts to snack on throughout the event. Since the wedding shower is traditionally planned by the maid of honor, bridesmaids or mother of the bride, it's up to the host to organize catering—including the bridal shower cake.
While the dessert doesn't have to be a surprise, it should delight the bride. Whether you include her favorite colors, a sentimental cake topper or you source it from her favorite bakery, there are plenty of ways to make the bridal shower cake memorable. So, if you're looking for fresh bridal shower cake ideas, you've come to right place. We've rounded up 30 bridal shower cakes to get your creativity flowing. Gather your favorite ideas here, then work with a caterer or pastry chef to bring your bridal shower cake vision to life.
Hand-Painted Greenery
Hand-painted art is one of the biggest wedding cake trends of 2021, but this can carry over to bridal shower desserts too. This white cake has an intricate floral design that makes it look almost too pretty to eat. With a piece of edible art like this, your guests will be seriously impressed.
Something Blue
You don't have to wait until the big day to incorporate something blue. A blue bridal shower cake is a thoughtful nod to tradition. We love the pastel ribbon added to the top of this confection for a pop of contrasting color.
Bridal Shower Cupcakes
Cupcakes are a no-fail alternative to a traditional wedding shower cake. Ask your baker to decorate the tops with ornate floral designs for an elegant finish.
Tiered Bridal Shower Cake
If the bride prefers extravagance, you might consider getting a large tiered cake for the prewedding party. This creation has a textured white base with colorful icing flowers and leaves adorning all three tiers.
Gold Glitter Accents
Glitter is always a good idea, especially for a wedding shower. This three-tier white cake has rounded pastel shapes decorating each level, but it's the gold glitter accents that garner all the attention.
Ice Cream Bridal Shower Cake
We can't help but scream for this creative ice cream bridal shower cake. Upgrade your dessert by topping it with an upside-down ice cream cone and a layer of drizzled white chocolate dripping down the sides. For even more sweet options, offer guests mini ice cream cones in addition to your main baked good. Consider your sweet tooth satisfied.
Floral Appliqués
This ethereal bridal shower cake is perfect for an elegant garden party or fairytale-themed celebration. Dainty flower appliqués covering the one-tier cake make this look like a work of art.
Square Tiers
Bridal shower cake designs don't have to be traditional. For something that feels modern, consider a bold black bridal shower cake with square tiers. Add bright flowers and sprigs of greenery to balance out the edgy base.
Bridal Shower Macarons
Cake isn't for everyone. Switch things up with a delectable spread of light and crispy macarons at your bridal shower. This dainty dessert is highly encouraged for a Parisian-themed soirée.
Semi-Naked Bridal Shower Cake
Not totally sold on the naked cake trend? Go for a semi-naked confection instead. This bridal shower cake idea is perfect for a rustic party theme.
Bridal Shower Cake Pops
More cake is always a good idea. In addition to a small bridal shower cake, offer guests dessert to enjoy on-the-go. Cake pops are an easy treat to snack on while mingling and playing games.
Dove Decorations
Doves are synonymous with weddings because they represent love, peace and devotion. Incorporate this meaningful symbolism into the wedding shower by placing sugar doves on your cake. We have a feeling this unique accent will wow all of your guests.
Bridal Shower Donuts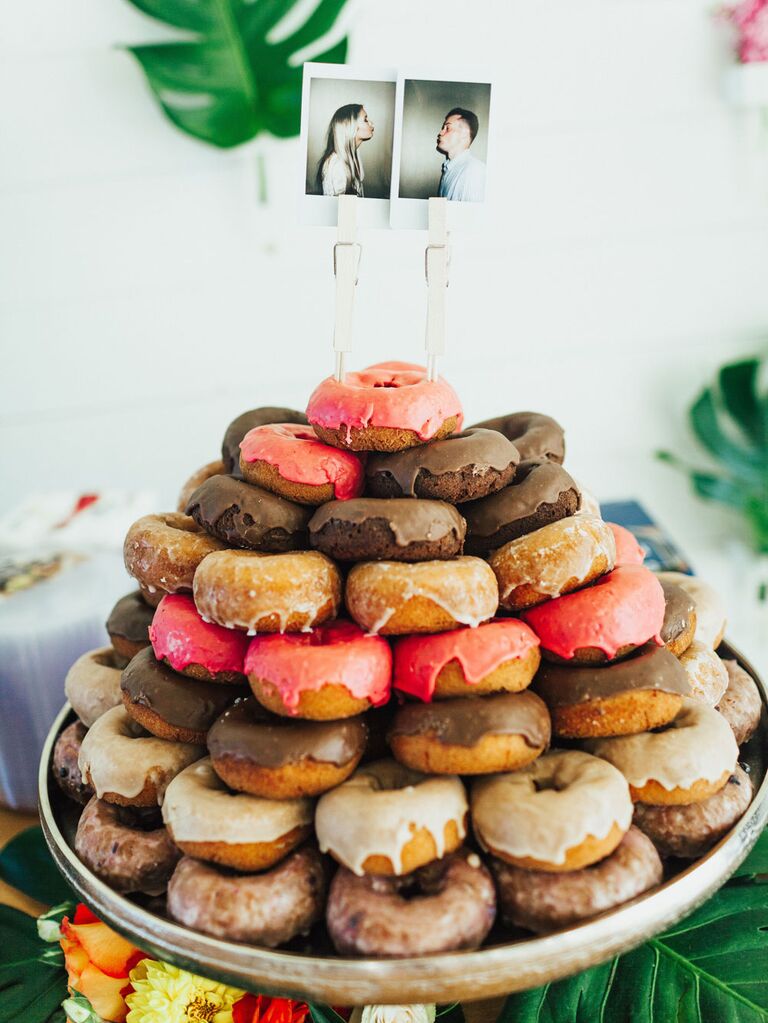 Looking for even more alternative dessert ideas? Go for a scrumptious spread of donuts. Not only are these treats Instagram-worthy, they're easy for guests to grab throughout the celebration. Plus, a donut spread can be an easy DIY project if you're looking to flex your creative skills. Find our donut wall tutorial here.
Gold Foil Flowers
For a treat a twist, ask your caterer to decorate your bridal shower cake with gold foil flowers. A pop of metallic shine will give the confection a chic finishing touch.
Ruffle Frosting
Textured blue buttercream frosting is a pretty add-on to a bridal shower cake, and the itty-bitty wood heart toppers are a fun finish.
Buttercream Ombré
You don't need multiple tiers to get a trendy ombré effect. This cake is perfect for the playful bride, especially when topped with a festive banner.
Pale Green Sugar Flowers
You can't go wrong with sugar flowers on a wedding cake, and this vine detailing is no exception.
A Naked Bridal Shower Cake
There's no rule that says your bridal shower cake has to be frosted. Bright yellow lemon filling and a few full pink peonies are all the add-ons this naked cake needs in order to shine.
Metallic Gold Ikat Print
This one is for a glamorous bride-to-be. The ikat print in metallic gold is a stand-out detail, perfect for those who like bold patterns. Pair with other sweet treats for a big "wow" moment.
Peach Bow Tie Cake
Nothing says "bridal shower" like a pastel cake covered in bows. A few small cookies (in the same hue) and a fresh flower arrangement create a beautiful dessert display.
Monogram Cake Topper
Personalization is always a thoughtful touch. Give a nod to the couple's new beginning by putting their monogram on top of the bridal shower cake.
Fresh Berries
Celebrate a summertime bridal shower with a light bridal shower cake that includes fresh, in-season berries.
Small Floral Accents
One stand-out detail, like a blush sugar dahlia, makes a statement on this bridal shower cake without looking look too over-the-top.
Watercolor Frosting
Celebrating an art guru? Bring their favorite work to life on the bridal shower cake to surprise them. Take a cue from this painted cake, which was inspired by Claude Monet's "Water Lilies" series.
Fresh Flowers
Elevate your summer bridal shower cake by arranging fresh flowers on the highest tier. This creation has a bright vanilla-lemon flavor with in-season raspberry filling.
A Waffle Bridal Shower Cake
How about breakfast for dessert? This waffle bridal shower cake would be an instant crowd-pleaser.
Hand-Painted Buttercream Icing
This bridal shower cake with hand-painted strokes on the buttercream icing is almost too pretty to eat. (Key word: almost.)
Cereal Bundt Cake
Your eyes aren't deceiving you—those are, in fact, Rice Krispie treats baked into this beautiful bridal shower bundt cake.
A Southwestern-Themed Bridal Shower Cake
If you're celebrating your bridal shower with sun and cacti, try a Southwestern-inspired embroidered bridal shower cake like this one.
A "You + Me" Bridal Shower Cake Topper
Regardless of whether the to-be-weds will be attending the shower together, a sentimental "You+Me" cake topper is a sweet finishing touch.