33 Gorgeous Bridal Shower Cakes Everyone Will Love
Get inspired by these creative confections.
If you're reading this, you've volunteered (or been selected) to figure out the dessert for your loved one's bridal or wedding shower. And since bridal shower cakes can go in so many directions for the theme, color, flavor and decor, it may seem daunting to narrow down which one would delight the guest(s) of honor the most. We suggest including favorite colors, a sentimental cake topper or you source it from their favorite bakery to make the shower cake memorable. But if you're looking for fresh bridal and wedding shower cake ideas, you've come to the right place. We've rounded up 33 tasty and beautiful bridal cakes to get your creative juices flowing.
In this article:
Simple Bridal Shower Cakes
Not everyone wants an over-the-top bridal shower cake at their event. Look at these eight delicious desserts that are simple yet striking.
1. Gold Glitter Accented Bridal Shower Cake
Glitter is always a good idea...when you don't have to clean it up. This three-tier white cake has rounded pastel panels decorating each level, but it's the gold glitter accents that garner all the attention.
2. Buttercream Ombré Wedding Shower Cake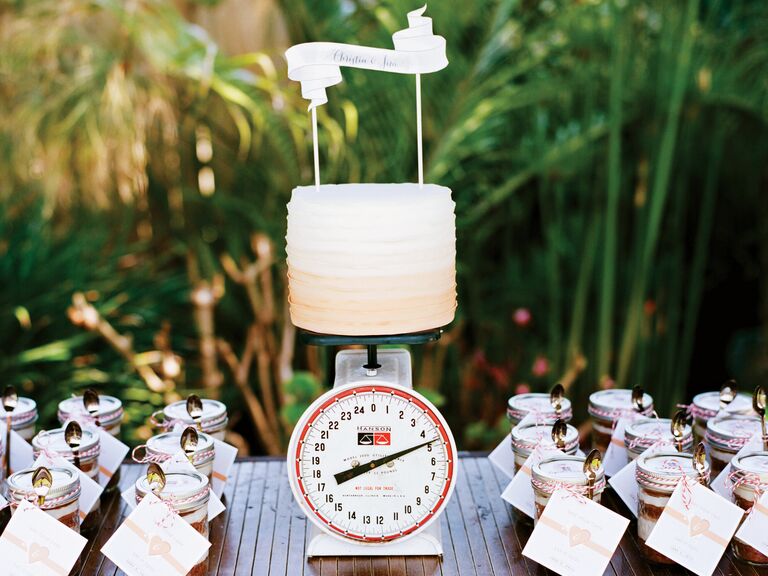 You don't need multiple tiers to get a trendy ombré effect. This cake is perfect for the playful bride, especially when topped with a festive banner.
3. Naked Bridal Shower Cake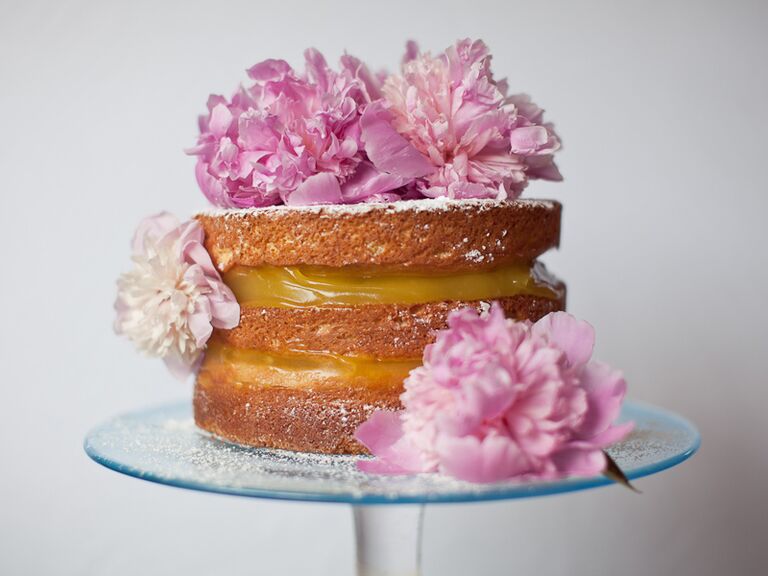 No rule says your bridal shower cake has to be frosted. Bright yellow lemon filling and a few full pink peonies are all the add-ons this naked cake needs to shine.
4. Tri-Colored Wedding Shower Cake With Monogram Topper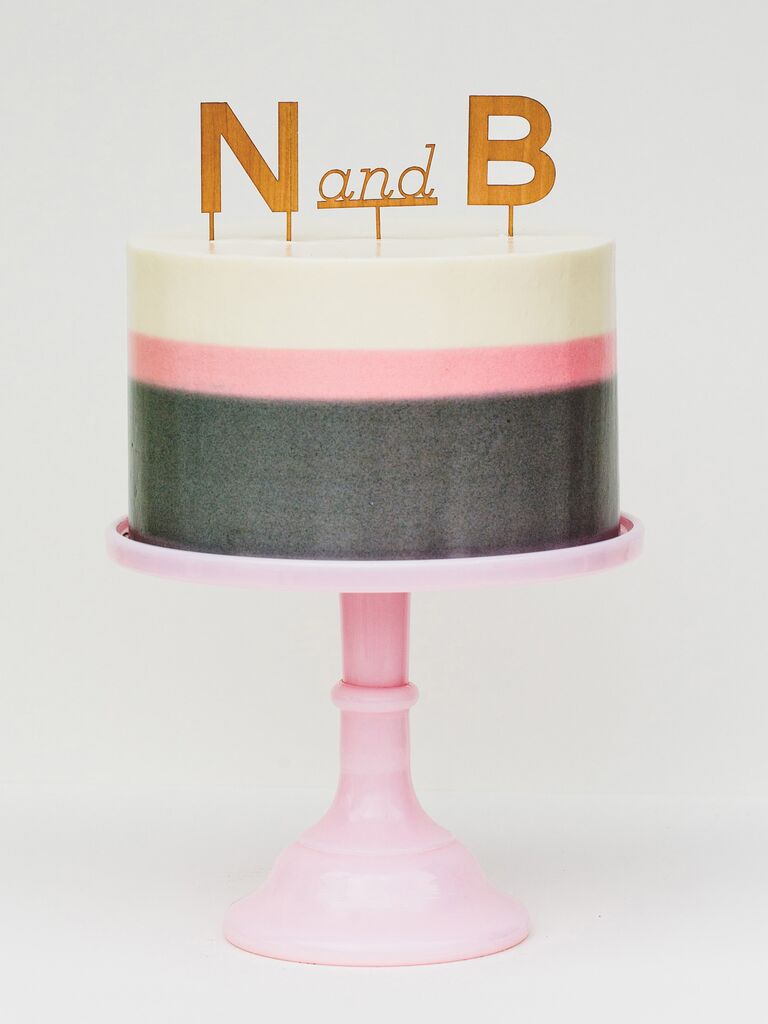 Personalization is always a thoughtful touch. Nod to the couple's new beginning by putting their monogram on top of the bridal shower cake.
5. Naked Fresh Berry Bridal Shower Cake
Celebrate the summertime with a light bridal shower cake that includes fresh, in-season berries. We think a three-tier sweet is plenty for a large bridal shower event.
6. Abstract Wedding Shower Cake
The fresh pink blooms perfectly accent this blush and mauve cake. If the to-be-weds will be attending the shower together, a sentimental "You+Me" cake topper is a sweet finishing touch.
7. Yellow Bridal Shower Cake With White Flowers
One stand-out detail, like white flowers, makes a statement on this pale yellow bridal shower cake without looking look too over-the-top. This cake's look is ideal for anyone throwing a spring shower.
8. Blush Pink Wedding Shower Cake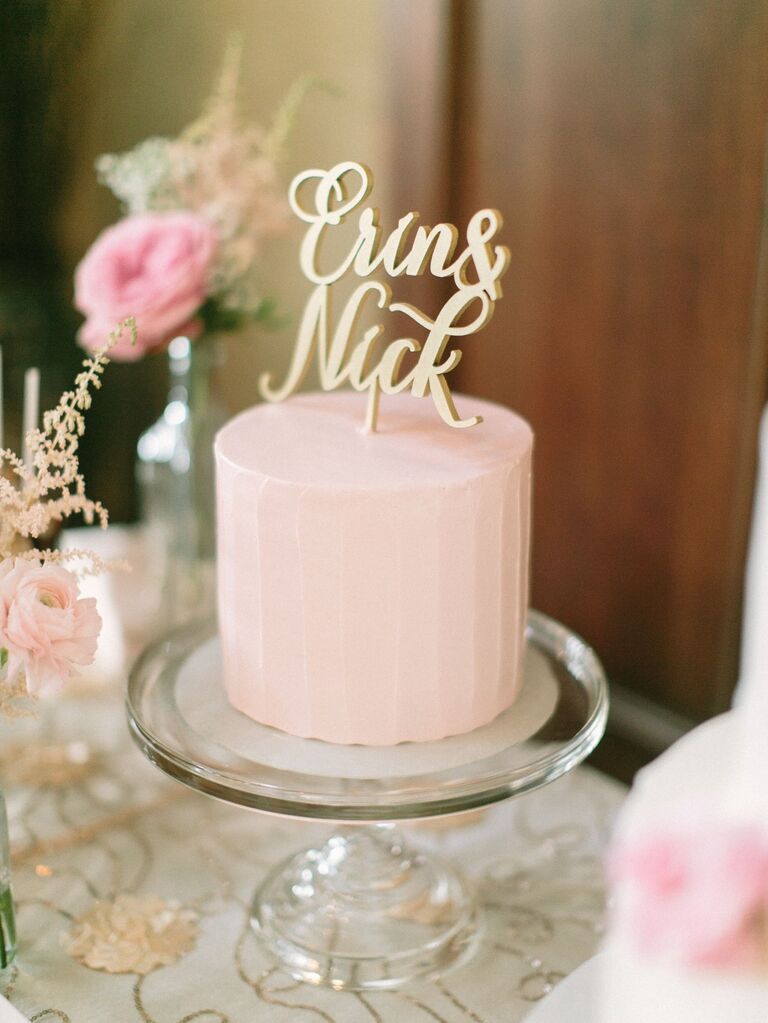 If you want to go the simple bridal cake route for the exterior, get creative with your cake's flavors. This happy couple had an almond-flavored cake with raspberry jam and chocolate ganache filling.
Funny Bridal Shower Cakes
These cakes might not be "haha" funny, but they are a fun way to have an unconventional treat for the to-be-wed(s) of honor. Check out these four cakes to inspire some out-of-the-box thinking.
9. Crispy Rice Treat Bundt Bridal Shower Cake
No, your eyes aren't deceiving you. Those are crispy rice treats and fruity dyno-bites baked into this beautiful bridal shower bundt cake.
10. Rainbow Sprinkle Bridal Shower Cake
If the soon-to-be-wed loves topping all their desserts with sprinkles, this is the perfect idea for them. Ask the baker to cover the bridal shower cake in tasty rainbow sprinkles and create a unique flavor like lemon funfetti.
11. Colorful Wedding Shower Cake With Personalized Topper
For couples who love all things funky and quirky, give them an eclectic wedding shower cake that will fit their personalities. We think the custom illustration of the to-be-weds' faces is the icing on the cake.
12. Naked Funfetti Bridal Shower Cake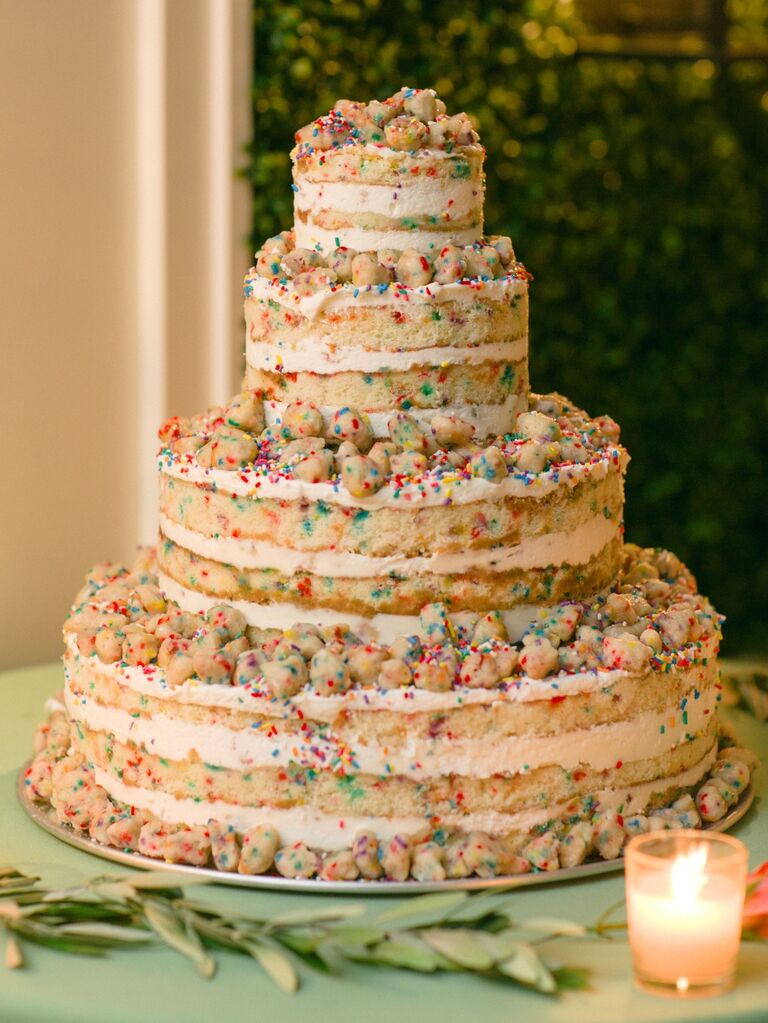 You might have noticed by now that we love a vibrant-colored dessert as a funny bridal shower cake idea. Here's another example of how just because it's a naked cake doesn't mean it has to look plain.
Rustic Bridal Shower Cakes
Planning a rustic-themed shower and need cake options that fit with your decor? Then look at these six ideas to ensure your cake hits all the key rustic elements.
13. Nature-Inspired Bridal Shower Cake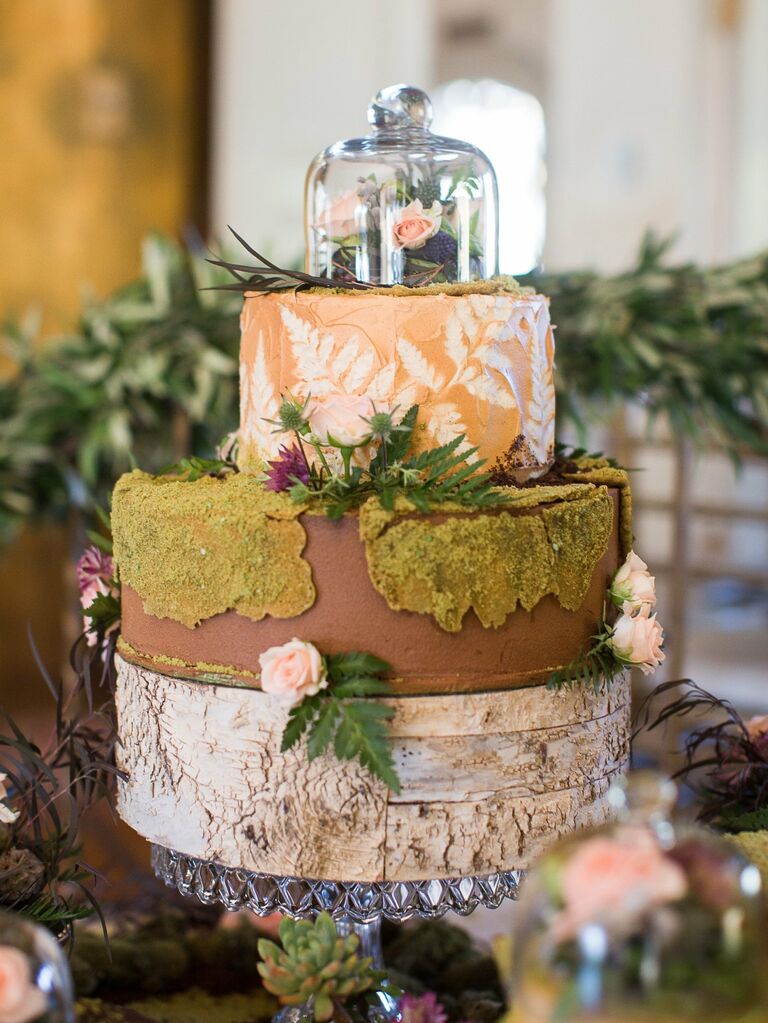 Each layer of this three-tier was decorated with the rustic theme in mind. The wood, moss and foliage come together in a beautiful and cohesive way that's eye-catching.
14. Carrot Bridal Shower Cake With Greenery
The carrot cake is decorated with greenery and fresh berries grounding it in a natural aesthetic. The dessert table aids the rustic vibe with the moss and succulents surrounding the cake stand.
15. Birch Bark Bridal Shower Cake
You can't really go wrong by adding wood in some form or fashion to your rustic bridal shower cake. This dramatic dessert had birch bark around each tier and autumn hues to honor the season the wedding shower was held.
16. Cowhide-Inspired Bridal Shower Cake
Dried foliage is often used for rustic decor so don't be afraid to ask it be incorporated into the cake. The cowhide pattern can also lean a little country, if you want to combine themes.
17. Burlap-Decorated Bridal Shower Cake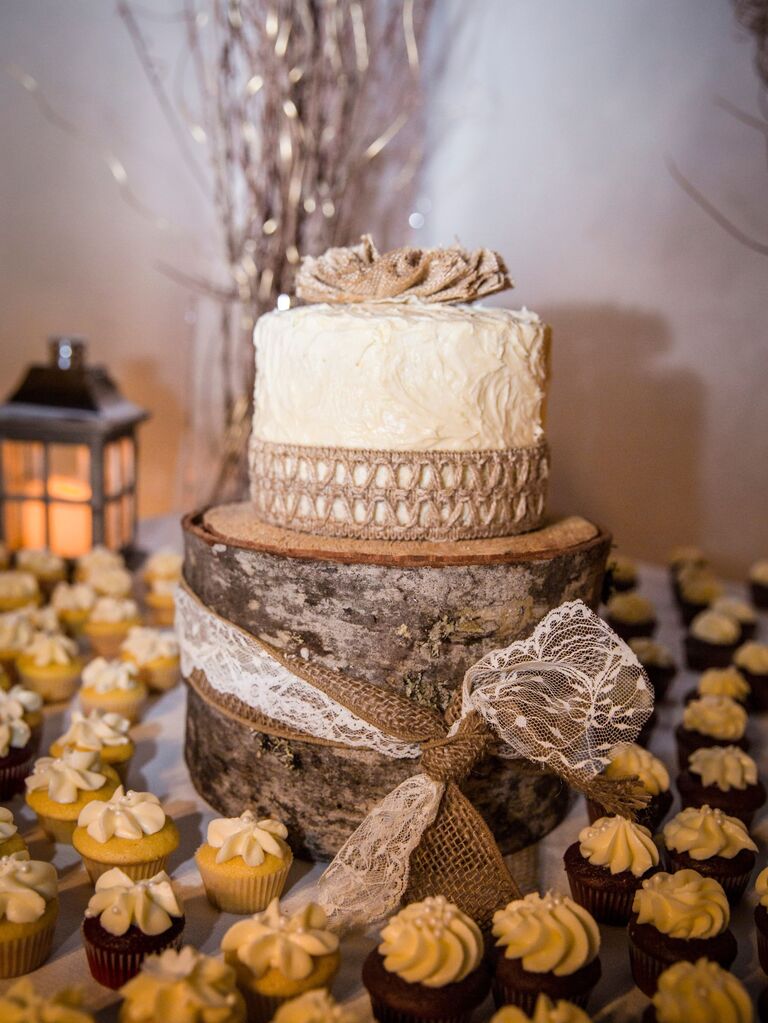 Burlap is a classic rustic element that works well with this simple white bridal shower cake. The cake is a duplicate of the one the couple ate during their favorite date night.
18. Rust-Colored Bridal Shower Cake
Have the bridal shower cake catch the eyes of every guest with a rich frosting color. Our favorite part of this cake is the gold-painted imperfect edges of each tier.
Elegant Bridal Shower Cakes
If the person of honor wants their shower cake to be as elegant as their wedding cake, you might be anxious about achieving that goal. Look at these refined sweets that will leave guests in awe.
19. Chic Orchid Bridal Shower Cake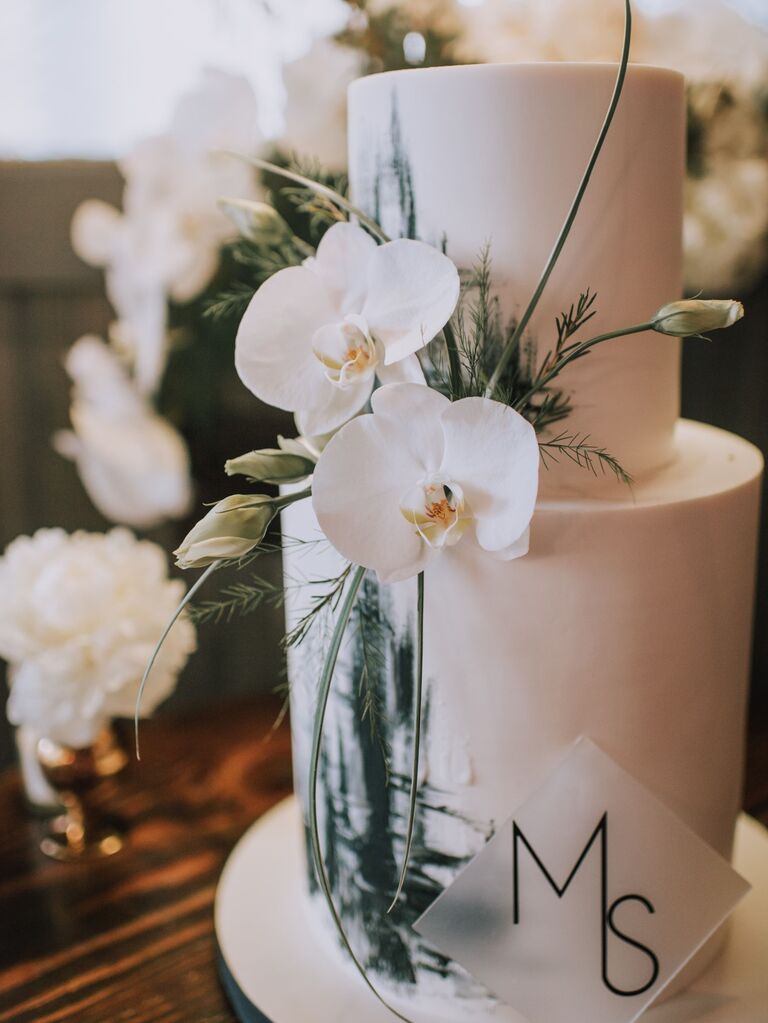 This white cake seems simple, but the black hand-painted abstract pattern and orchids elevate it. Use the custom acrylic plaque to display the couple's monogram or the honoree's initials.
20. Hand-Painted Greenery Bridal Shower Cake
Hand-painted art was one of the biggest wedding cake trends, but this carries over to bridal shower desserts too. This white cake has an intricate floral design that makes it look almost too pretty to eat. With a piece of edible art like this, your guests will be seriously impressed.
21. Rose Three-Tiered Bridal Shower Cake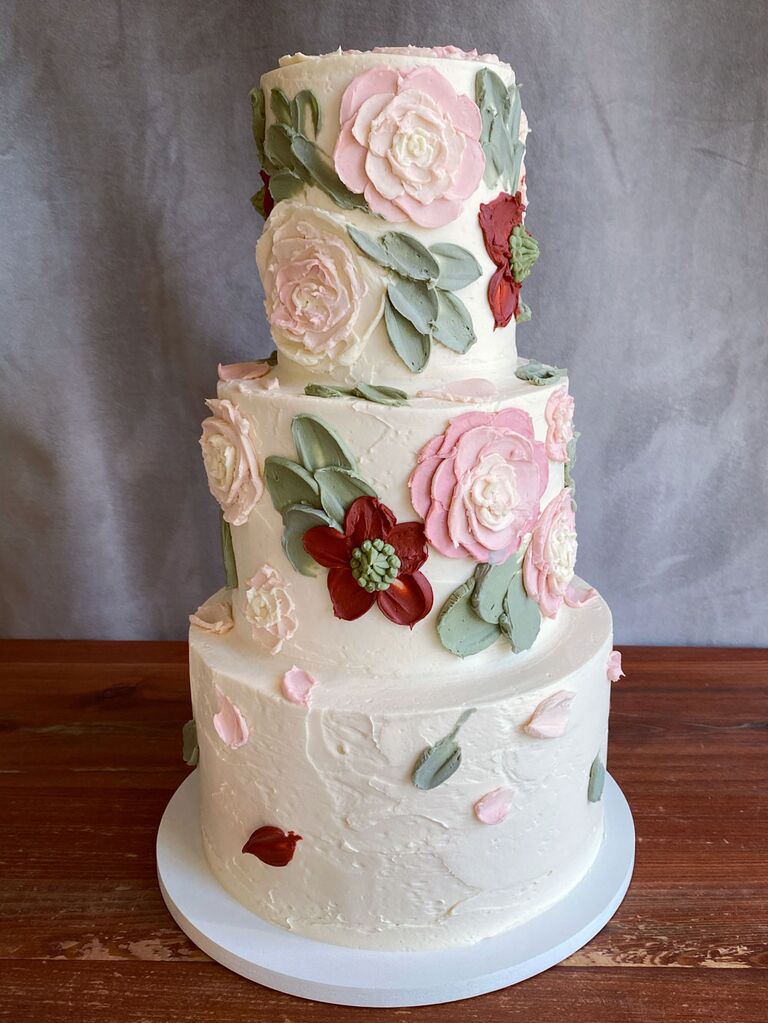 If the bride prefers extravagance, you might consider getting a large tiered cake for the prewedding party. This creation has a textured white bas, colorful icing flowers and leaves adorning all three tiers.
22. Pale Green Sugar Flower Bridal Shower Cake
If you're planning a shower where there will be a central color used throughout, consider incorporating that color on the cake as well. Plus, you can't go wrong with sugar flowers on a wedding cake, and the vine detailing is no exception.
23. Peach Bow Tie Bridal Shower Cake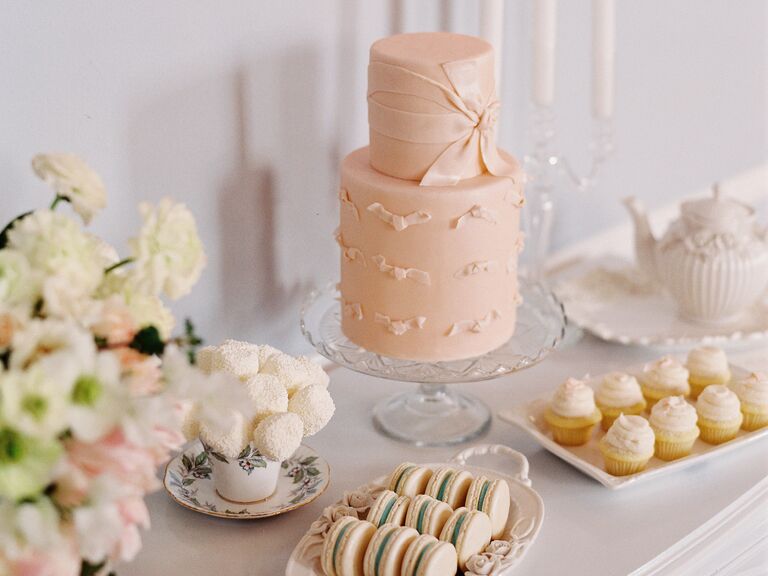 Nothing says "bridal shower" like a pastel cake covered in bows. A few small cookies (in the same hue) and a fresh flower arrangement create a beautiful dessert display.
24. Fresh Flower Adorned Bridal Shower Cake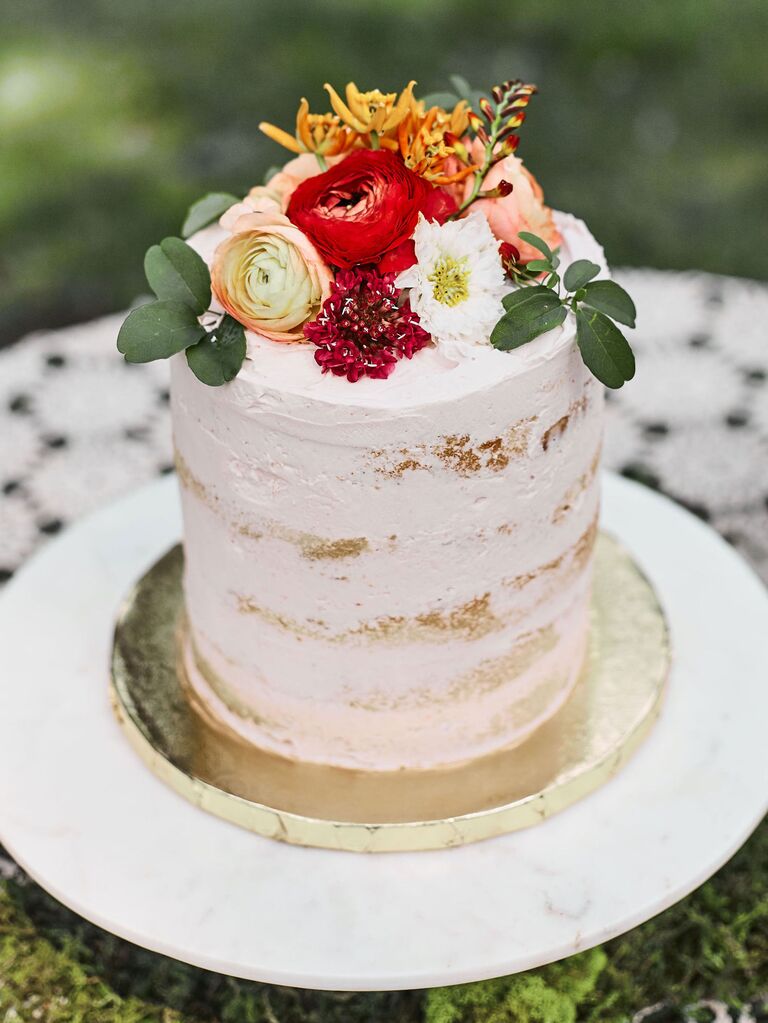 Elevate your summer bridal shower cake by arranging fresh flowers on the highest tier. This semi-naked creation has a bright vanilla-lemon flavor with in-season raspberry filling.
25. Hand-Painted Buttercream Bridal Shower Cake
This bridal shower cake with hand-painted strokes on the buttercream icing and the fuchsia-colored blooms makes it pop. We love that the macaroons scattered around the cake are the same color as the main confection.
26. Jewel-Toned Bridal Shower Cake
The cake is simple, but the adornments take it to a different level. The color scheme for the bridal shower was jewel tone, so the pink and blue flowers and gold balls fit within that scheme perfectly.
Unique Bridal Shower Cakes
Not only do these cakes bring drama, but they also are breathtaking desserts you'll want to take pictures of to show your friends later. Use the seven unique wedding and bridal shower cakes below to influence your event's main sweet treat.
27. Something Blue Bridal Shower Cake
You don't have to wait until the big day to incorporate something blue. A blue bridal shower cake is a thoughtful nod to tradition. We love the gold flakes added to the tiers of this confection for a pop of contrast.
28. Square Tiered Bridal Shower Cake
Bridal shower cake designs don't have to be traditional. For something modern, consider a bold black bridal shower cake with square tiers. Add bright flowers and sprigs of greenery to balance out the edgy base.
29. Wedding Shower Cake With Dove Decorations
Doves are synonymous with weddings because they represent love, peace and devotion. Incorporate this meaningful symbolism into the wedding shower by placing sugar doves on your cake. We have a feeling this unique accent will wow all of your guests.
30. Metallic Gold Ikat Print Bridal Shower Cake
This one is for a glamorous bride-to-be. The ikat print in metallic gold is a stand-out detail, perfect for those who like bold patterns. Pair with other sweet treats for a big "wow" moment.
31. Southwestern-Themed Bridal Shower Cake
If you're celebrating the bridal shower under the sun and among cacti, try a Southwestern theme. The cactus, wood and colorful skull complement this Southwestern-inspired embroidered bridal shower cake perfectly.
32. One-Tier Bridal Shower Cake With Wildflowers and Physalis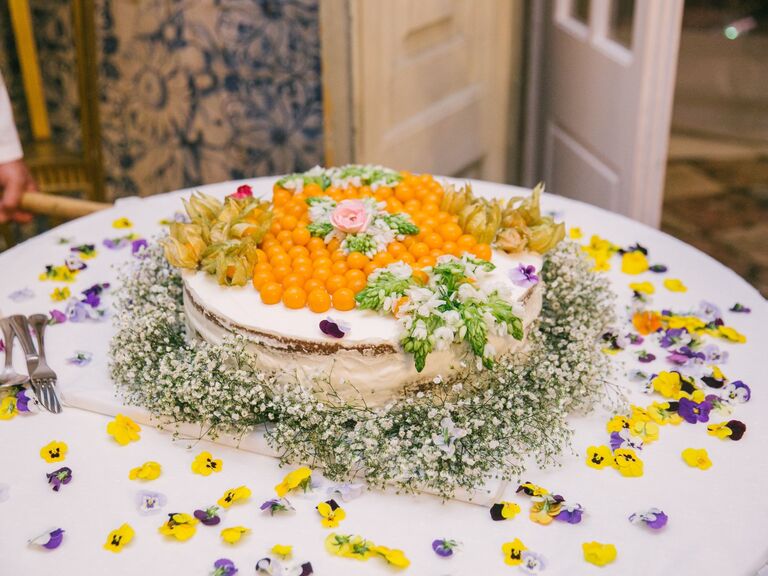 This ethereal bridal shower cake is perfect for an elegant garden party or fairytale-themed celebration. The fresh florals and physalis covering the one-tier olive oil cake make this look like a work of art.
33. DNA Wedding Shower Cake
If the to-be-weds love or are involved in the science field, try to include that passion in the wedding shower cake's theme. The couple had their DNA isolated and used a cross-section of the sequence on each layer of the cake. You might not be able to tell, but there are three tiers––one tier had one person's DNA, the other was the partner's DNA and the final tier had a combination of the two.