36 Sweet Bridal Shower Desserts That Celebrate the To-Be-Wed
Your sweet tooth will be aching before you reach the end.
There are a lot of duties involved with planning a bridal shower, and one of those includes picking out the bridal shower desserts. And if you're in the process of looking at your 14th bakery, you know there are a plethora of classic and new desserts for bridal showers to choose from. I suggest the first thing you do is ask the to-be-wed what her favorite desserts are so you can narrow down your search––and if she has a favorite bakery, you've hit the jackpot.
But even after doing that, you may not know how many confections to get, how to decorate your bridal shower dessert table and what you want the sweets to look like. Luckily, you've found the right article. I've interviewed a professional pastry chef to answer all your questions and gathered 36 photos to inspire you. Keep reading and try your best to not attempt to eat the desserts on your screen. And if you make it through this roundup still hungry for more sweet dessert inspo, pick up a copy of The Knot Magazine. Each issue is packed with wedding inspiration ranging from desserts to fashion and more.
In this article:
What to Include on a Bridal Shower Dessert Table?
There are so many different routes you can go with the bridal shower desserts. This is why I contacted Pastry Chef Rachel Davis of Holler Treats, who has years of baking experience and loves using non-traditional ingredients, to give some tasty suggestions for your celebration. Chef Davis sees the bridal shower as a "small scale practice run" of what will be displayed on the big day, which she believes is the perfect reason "to be creative and have fun in a (hopefully) less stressful environment." This means you don't have to only have cakes and cupcakes on your bridal shower dessert table. Consider having pies, doughnuts, ice cream sandwiches, macarons and much more to satisfy every sweet tooth.
Chef Davis says hosts should always aim for seasonal produce when deciding on their desserts and their flavors. For example, for spring bridal showers, Chef Davis suggests using rhubarb and berries. "Some things I love: strawberry rhubarb streusel pie, strawberry rhubarb hand pies, Buttermilk vanilla cake with hints of orange blossom and rhubarb jam or mixed berry jam and savory asparagus cream cheese hand pies."
How Many Desserts Do You Need for a Bridal Shower?
It's best practice to have about five different desserts at the bridal shower to account for guests wanting to try a little of everything. If the bride really wants a cake at the event, definitely include one small cake and mini desserts to supplement it.
"For gatherings with 20 to 40 guests, you can have a beautifully decorated small-tiered cake that'll wow your friends. Tiered cakes can be easily customized to fit the vibe you're aiming for and can have different flavor palettes on each tier. For a guest list of 40 people, I'd suggest a two-tier cake with an 8" bottom tier and a 6" top tier," Chef Davis says.
When it comes to flavors, she suggests "a bottom tier with a luscious lemon cake, tangy lemon curd filling and a silky smooth vanilla Italian meringue buttercream. For the top tier, I'd recommend a buttermilk vanilla cake, a mixed berry compote with hints of lemon and cinnamon and a vanilla Italian meringue buttercream to bring it all together for a mixed berry pie á la mode moment."
How Many Mini Desserts Per Person at a Bridal Shower?
For the bridal shower mini desserts, Chef Davis expects two to three small bites per person. "This is where you can get creative with desserts, and people can try more things. For a guest list of 40 people, I'd suggest 20 mini chocolate crackle cookies, 20 mini ganache brownies, 20 mini raspberry waffle cone blondies, 20 strawberry rhubarb hand pies and 20 mini marionberry hand pies," Chef Davis advises.
Find all the vendors you need
Meet every kind of expert from bakers to bartenders and more.
Bridal Shower Dessert Table Ideas
The bridal shower desserts aren't the only thing you consider. As the host, you also have to think about the table set up or decoration. Look below for seven ways you can beautifully display your confections.
Modern Bridal Shower Dessert Table
A simple yet elegant bridal shower dessert table can never be wrong. I love how the cake stands are clear acrylic, which makes it seem like they're floating. Plus, the floral accents and candles bring a romantic mood to the dessert area.
Rustic Bridal Shower Dessert Table
Throwing a rustic-themed bridal shower? Use greenery and wood to achieve the look. And can we please talk about how adorable the Cookie Monster sign is?
Pink and Purple Bridal Shower Dessert Table
For a cohesive look, have all your desserts and table decorations share the same color scheme. This is perfect for brides who have multiple favorite colors.
Simple Bridal Shower Dessert Table With Chalkboard Sign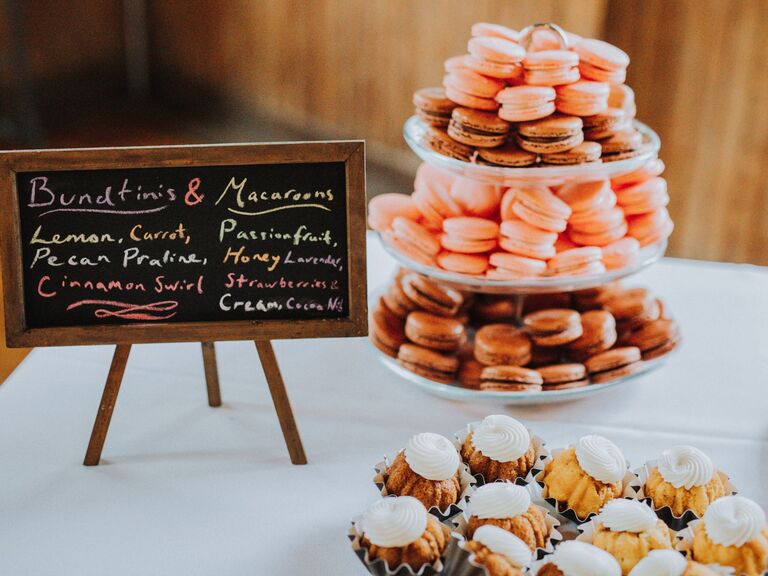 If you're throwing a DIY celebration, give the feeling of homemade with a chalkboard sign. I love how the hosts used colorful chalk because it complements the hues of the sweets.
Vintage Bureau Bridal Shower Dessert Display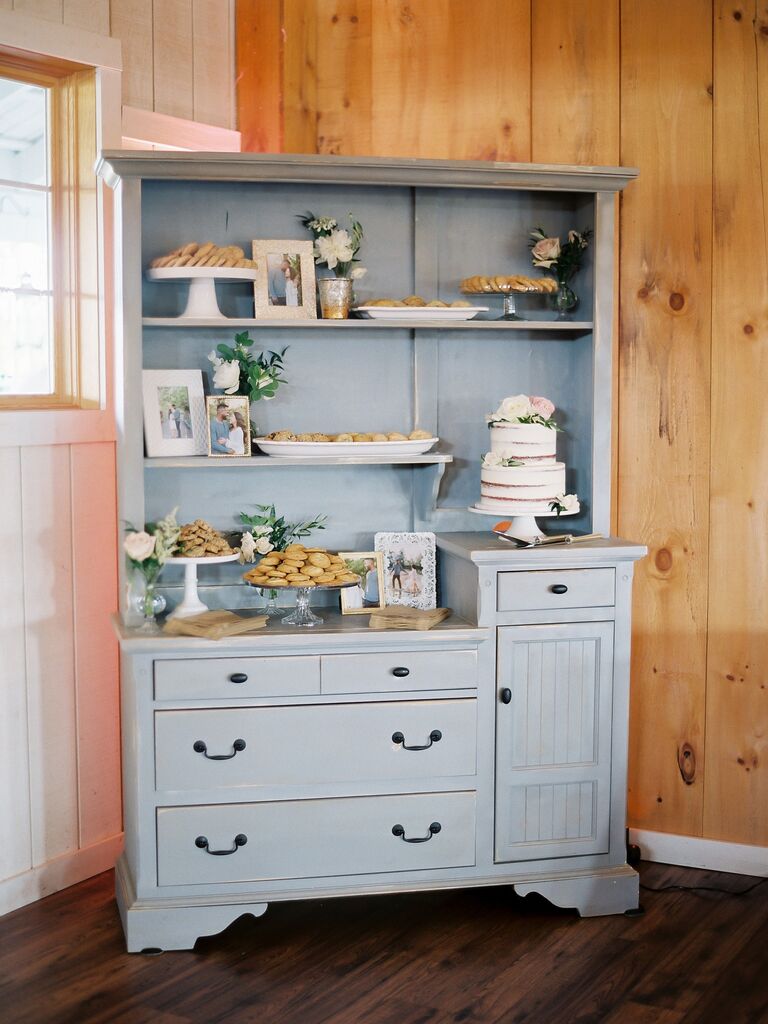 No one said the dessert display has to be a table. Think outside the box and use whatever (stable) surface you own to present the confections.
Chic Pale Green Bridal Shower Dessert Table
For a bohemian and laidback feel, include natural details, woven placemats and wooden pallets. The pastel green and white blend in well with the tan decor.
Vibrant Floral Bridal Shower Dessert Table
Let the bridal shower desserts share the spotlight with your table decorations. Having beautiful and striking blooms in eye-catching vases will automatically lead your guests to the dessert area.
Mini Bridal Shower Dessert Ideas
Not all your bridal shower desserts need to be big and over the top. Offer small handheld treats so guests can walk around and socialize while they snack.
Macarons and Lip-Shaped Chocolate Bridal Shower Dessert
Surprise your guests with something unique. These ombre white chocolate lips and raspberry macarons are stand-out confections everyone will want to take a picture of.
White and Pink Cheesecake Bridal Shower Dessert
Keep it chic and simple with cheesecake bites dipped in chocolate. Ask your caterer to make a cheesecake based on the bride's favorite flavors.
Individual Cherry Pie Bridal Shower Dessert
Country-themed bridal showers should definitely have several types of pie on the dessert menu. Cherry, apple, pecan, pumpkin and key lime are just a few flavors you can serve.
Blue, Yellow and White Cake Pop Bridal Shower Dessert
Instead of having a traditional cake, serve cake pops. To separate each flavor the cake pops were decorated in blue, yellow and white.
Mini Cannoli Bridal Shower Dessert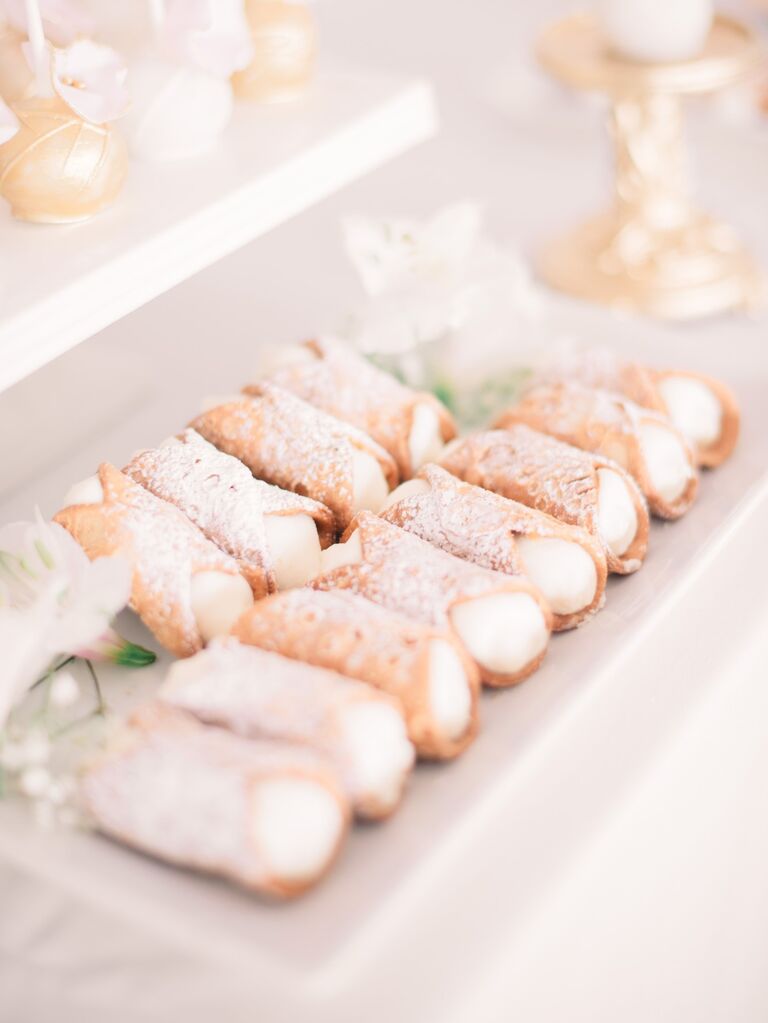 I think cannolis work great for tea party bridal showers since they lean into the finger food category. Other Italian desserts you can add to the bridal dessert table are tiramisùs and gelato.
Raspberry Tart Bridal Shower Dessert
Small desserts will always be party favorites because they aren't messy and they're easy to eat. Order berry tarts are a great option for people having summer bridal showers.
Personalized Pink and Green Macaron Bridal Shower Dessert
I love these personalized pink and green macarons. Some treats have palm leaves imprinted on top, while others had the couple's initials.
Bridal Shower Dessert Tasting Plate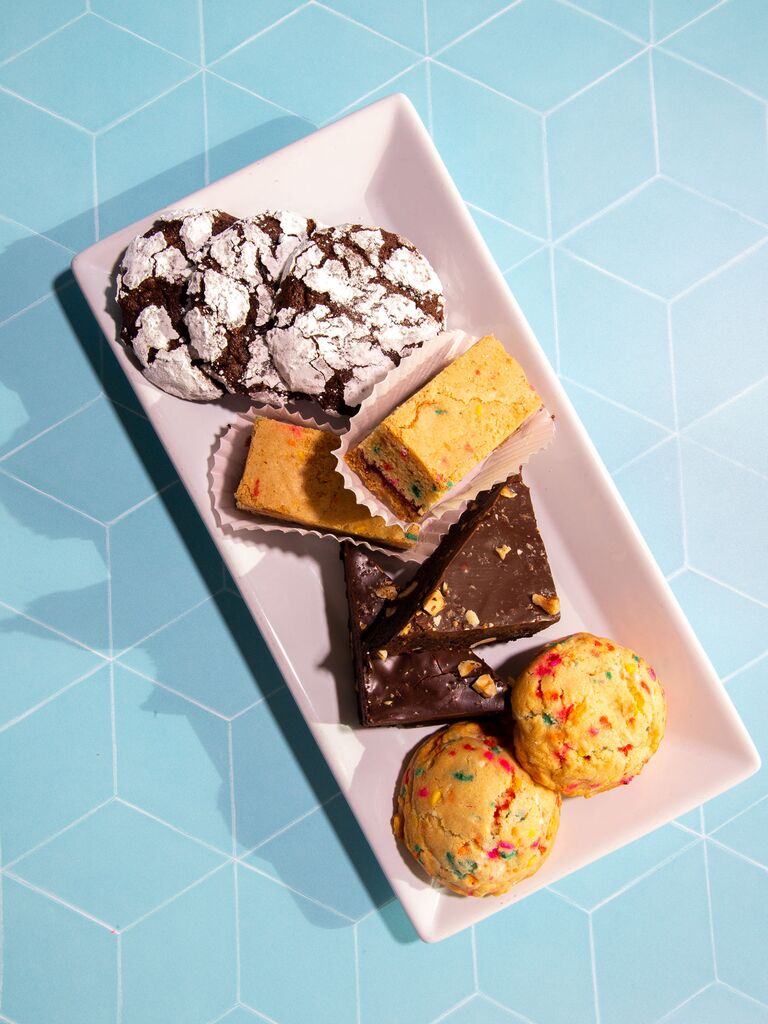 Instead of a dessert table or buffet, consider serving dessert-tasting plates. This plate includes chocolate crackles, hazelnut ganache brownies, sprinkledoodles and raspberry waffle cone blondies.
Tart á La Mode Bridal Shower Dessert
People usually consider tarts fruit-based desserts, but you can order rich sweets too. Offer chocolate tarts with a scoop of vanilla bean ice cream at the bridal shower.
Cinnamon Roll Pop Bridal Shower Dessert
I've never met any person that doesn't like cinnamon rolls. Of course, you can serve them in regular size, but why not mix it up and have them as bite-sized pops?
Easy Dessert Ideas for a Bridal Shower
If you're looking for desserts you can easily order or make yourself, you've come to the right place. Consider having one of these eight sweet treats at your loved one's bridal shower.
Custom Chocolate Candy Bridal Shower Dessert
Have a bowl of custom-made chocolates at the dessert table or hand them out as bridal shower party favors. No matter how you serve them, people will love the extra thought you put into them.
Rice Krispies Treats Bridal Shower Dessert
Have a tiered display of Rice Krispies Treats at the bridal shower. These are the original flavor but try chocolate drizzled, strawberry, birthday cake or caramel.
Assortment of Doughnuts for Bridal Shower Dessert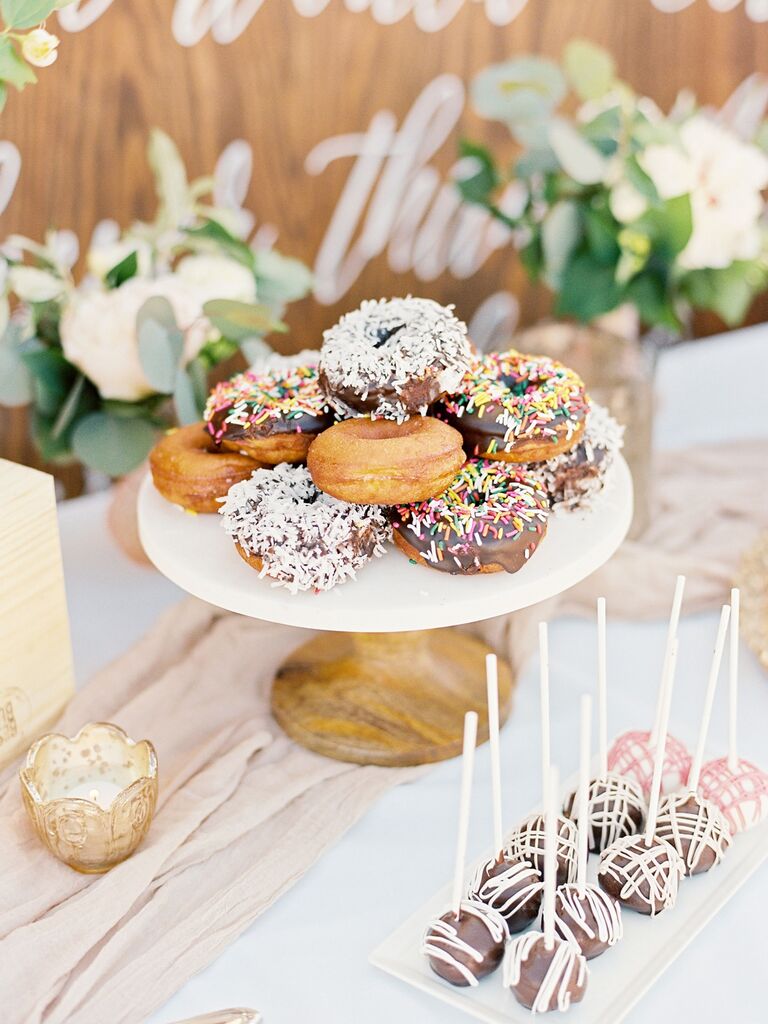 I have an unhealthy obsession with doughnuts, so I consider these a must-have at any bridal shower. Plain, chocolate rainbow sprinkles and chocolate coconut shaving doughnuts were the highlights at this dessert table.
Bridal Shower Dessert With Custom Toothpick Signs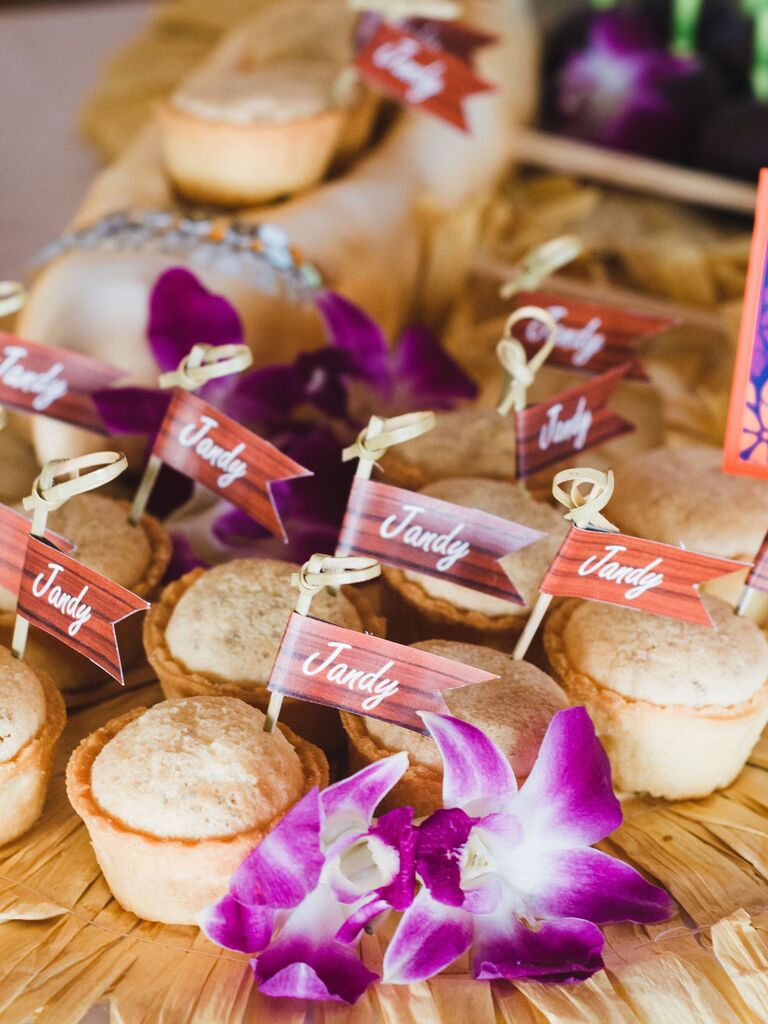 An easy way to personalize the desserts is by adding the bride's or the couple's names to them. At this event, the to-be-weds' names were combined and added on tiny flags.
Vanilla Cheesecake Bridal Shower Dessert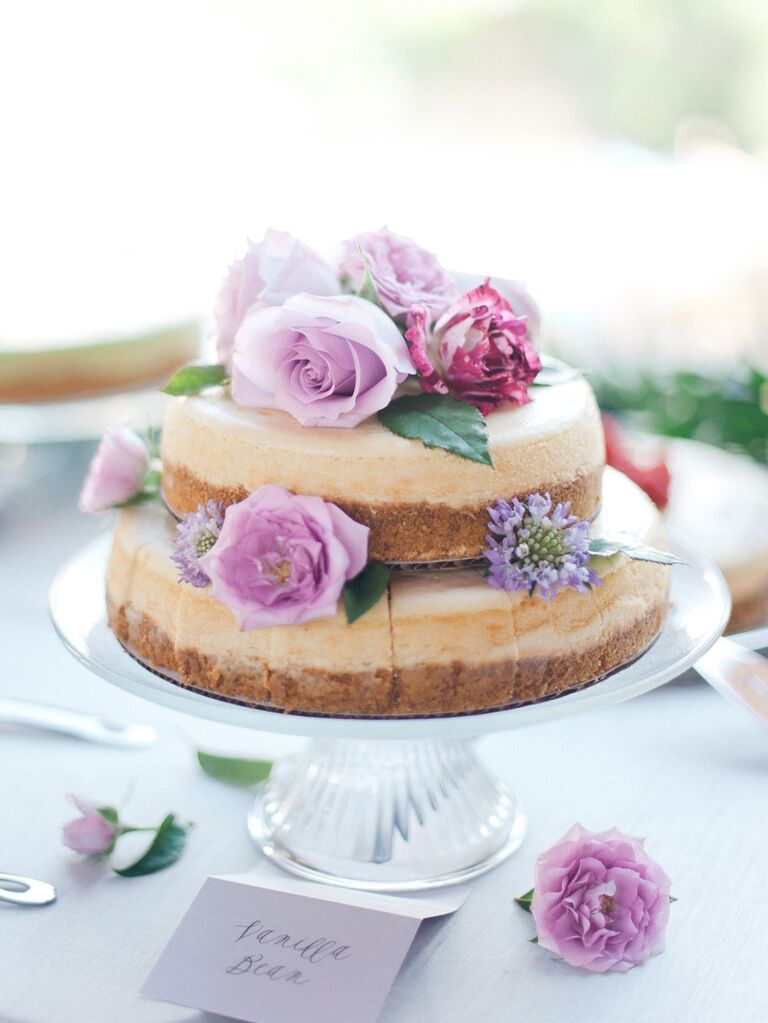 At this pastel celebration, a simple vanilla cheesecake was served. To add some flair, purple roses and other blooms adorned the confection.
Chocolate Cupcake Bridal Shower Dessert
Handing out cupcakes is always a great bridal shower dessert idea. Just like a regular cake, you can choose a variety of fillings and frostings.
Doughnut Hole Bridal Shower Dessert
Yes, doughnuts are already handheld desserts, but why not make them even smaller? Serve doughnut holes as a quick and on-the-go treat.
Shortcake With Mixed-Fruit Bridal Shower Dessert
Take advantage of fresh fruits at your disposal and serve a seasonal dessert. A shortcake, mixed berry and homemade whipped cream dessert won't disappoint.
Churro Bridal Shower Dessert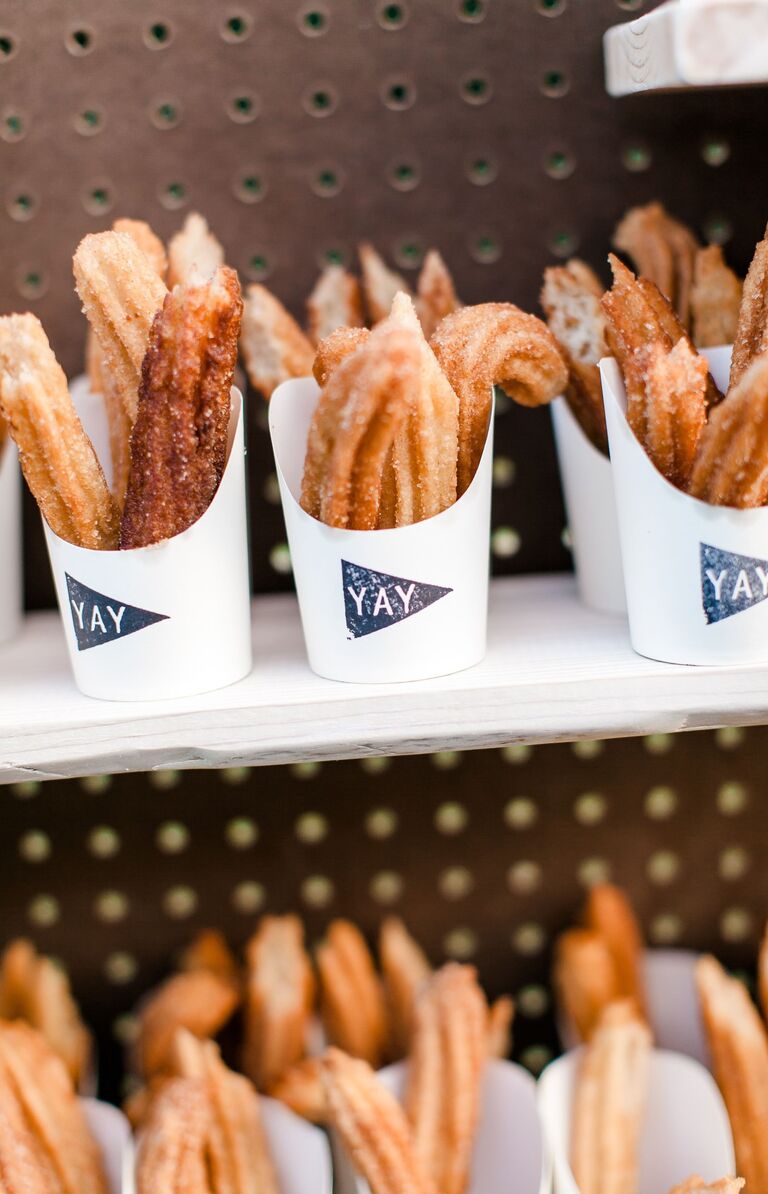 A light, crisp and airy sweet will always be a hit at any party. Offer a variety of dipping sauces like dulce de leche, chocolate and caramel.
Cute Bridal Shower Dessert Ideas
You might be wondering why these particular desserts are in the cute category. Well, it's because they elicit an "awww" or someone wanting a snap a picture of it, of course.
Pink and White Sugar Cookie Bridal Shower Dessert
These scallop sugar cookies look simple at first glance, but I love how each has a subtle heart design. Plus, every cookie has a unique pattern (kind of like a snow flake) while sticking to the same theme.
Ice Cream Sandwich Bridal Shower Dessert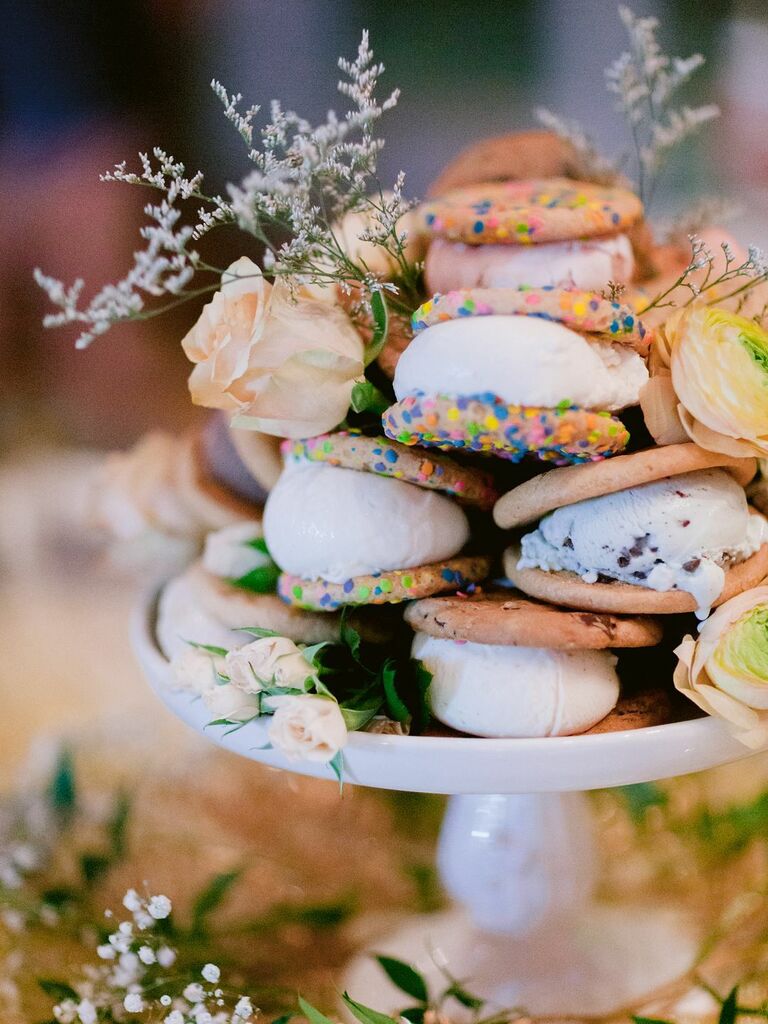 Who would've guessed ice cream sandwiches would become an accepted adult party dessert? Just make sure you only serve these if you're having an indoor event since they will melt quicker in warm climates.
Geometric Green Bridal Shower Dessert
This mesmerizing emerald green bridal shower cake is definitely a showstopper. The flowers are the perfect accents for a jewel-tone bridal shower.
Custom Cookies With Pet Bridal Shower Dessert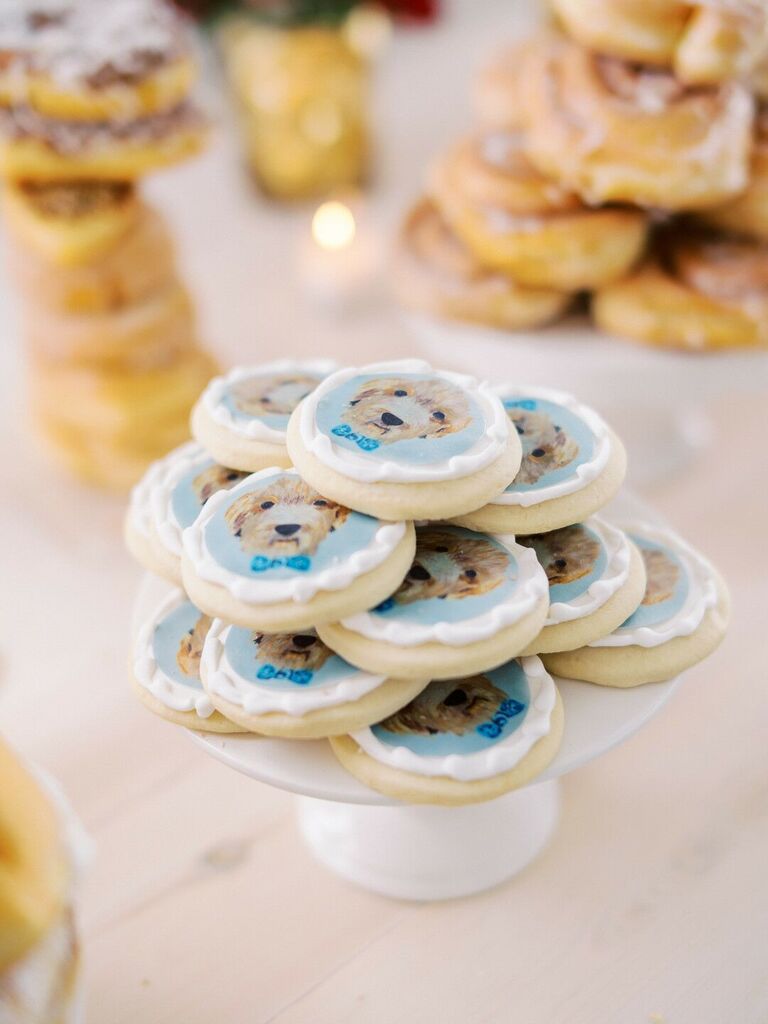 If the guest of honor's pooch is all they can talk about (which is completely understandable), surprise them with cookies featuring their furry friend. And if the pet will be at the bridal shower, get custom dog treats made too, as a sweet gesture.
Assortment of Whoopie Pies for Bridal Shower Dessert
Serve a childhood classic with a whoopie pie station. There are five flavors displayed at this event, which proves there are endless options out there.
Trendy Vintage Bridal Shower Dessert
Lambeth cakes, also known as piped vintage cakes, are a top wedding cake trend right now. These over-piped desserts are a luxurious treat the bride-to-be and guests will love.
Couple's Monogram on Bridal Shower Dessert
If the happy couple has created their monogram by the time of the bridal shower, include it somewhere on the dessert table. At this event, the baker handpainted the couple's monogram on the macarons.
Sweet Cupcake Topper on Bridal Shower Dessert
Just because they're small doesn't mean you can't add decorations. Add cupcake toppers that say sweet phrases to get everyone in the mood for love.
Custom White Sugar Cookies for Bridal Shower Dessert
I love these elegant and romantic bridal shower cookies. The ring-shaped cookies that read "Mrs." are definitely my favorite.
Pearl-Inspired Bridal Shower Dessert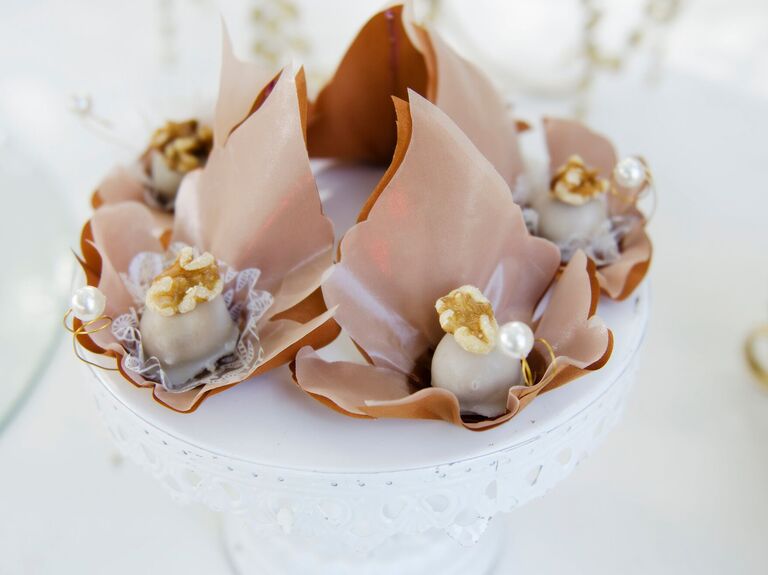 What says the "world is your oyster" more than an oyster-shaped dessert? The white chocolate dessert sits in a paper wrapper and is adorned with a small faux pearl.