8 Important Questions You Should Ask a Makeup Artist
Before you book a pro for your wedding day beauty, get answers to these important questions.
So you've combed through social media and your favorite magazines to find all the wedding day beauty inspo, but what comes next? You're now tasked with finding a beauty professional who can bring your vision to life. But before you book your beauty pro, there are some important questions to ask your makeup artist. You want to make sure you feel comfortable and confident about your wedding day look, which is why choosing the right vendor is so important. Asking your beauty professional these questions during your initial consultation will ensure that there are no surprises the day of your wedding, so you can focus on what really matters: celebrating the love between you and your partner.
1. Do you have a portfolio of your work I can look at?
Why you want to know: Whether it's a traditional portfolio or their profile on Instagram, always look through a makeup artist's previous work before officially hiring them for your wedding. It will help you get a feel for their skill level and the looks they specialize in. Be wary if they don't have a portfolio for you to look at. Even if you're just booking a trial, you should still have an idea of what they can do.
2. Do you have a list of references I can call?
Why you want to know: References are important for finding out everything a portfolio can't tell you, like if they're professional, t punctual and easy to work with. Your makeup artist will be with you and your wedding party for hours, so you'll want to know exactly what you're signing up for.
3. Will you bring your own products or will I be responsible for supplying them?
Why you want to know: If you have specific brands or products you never stray from, or if you have allergies to certain ingredients, using your own may be the safest bet. Beauty professionals usually use their own (clean) brushes unless you ask them to use new brushes and tools. If you want them to use brand new tools, make sure you communicate it early.
4. How do you charge? By the hour or per person?
Why you want to know: If you have a large wedding party, it's worth looking into a makeup artist that doesn't charge per person. Logistics like how they charge, the payment method they prefer, and when they expect payment should be discussed early. That way, there are no surprises on the day of your wedding.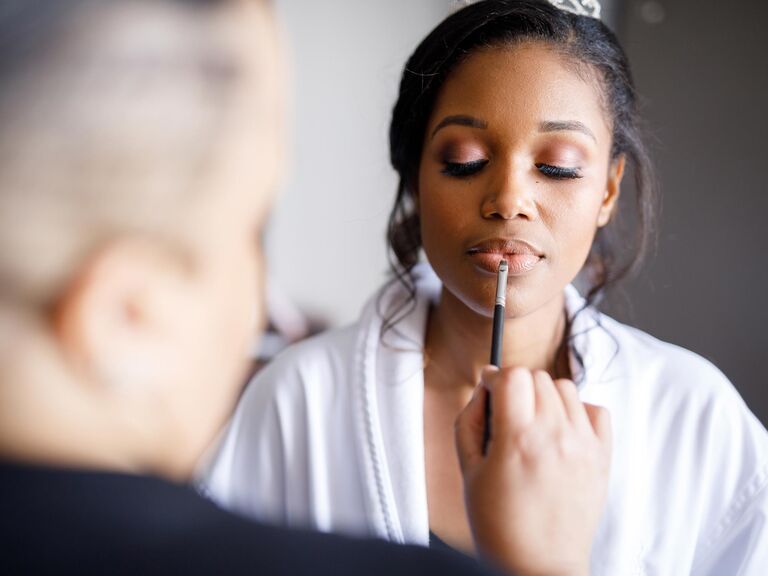 5. Will I have to travel to you or can you work on-site?
Why you want to know: Most makeup artists will come to where you're getting ready, but you should confirm their travel policy before hiring them. If they won't work on-site, be sure to budget enough time in your schedule to allow for travel time to and from the studio.
6. Will you do a trial before my wedding?
Why you want to know: A trial will give you the opportunity to communicate exactly what type of makeup look you want for your wedding day. You'll get to see firsthand how your makeup artist works and you'll have an estimate of how long your look will take—an important factor for scheduling on your wedding day.
7. Do you have a team of assistants or will you be the only artist that day?
Why you want to know: Depending on how big your wedding party is, you may need a makeup artist that works with one or more assistants. An artist that has a team can make you the priority and have their assistants work on the rest of your party. It will also minimize the time it takes for everyone to get ready. Win-win!
8. What will happen if you're sick or have an emergency on my wedding day?
Why you want to know: Emergencies happen all the time, but does your makeup artist have a set plan in place if they're unable to make it on your wedding day? They might have another artist that will replace them or assistants that can take over their duties for the day. Be sure to ask if they will give you a refund in the event they have to cancel.