11 Things You Should Know Ahead of Your Wedding Makeup and Hair Trial
According to wedding beauty experts.
All eyes are going to be on you at your wedding, so you want to make sure you feel your best. How can you guarantee that happens? By scheduling a wedding makeup trial and wedding hair trial before the event. Whether you're going full glam or keeping things more natural, a test run is always a good idea. Not only will it ensure you and your beauty pros are on the same page, it's also an opportunity to see what your dream style looks like (and see how it holds up throughout the day).
Bisi Eissen, a multi-award winning licensed cosmetologist, certified makeup artist, certified permanent makeup artist, certified lash extensions technician, and the owner of the Crystal-Eyez Makeup & Beauty Lounge in Chicago, says some to-be-weds opt out of the trial because of the additional cost. But she says there are ways to make it work. "Instead of skipping out on the trial, consider scheduling your trial on a day when you have an occasion where you need your makeup/hair done anyway—perhaps the day of your engagement shoot, bridal shower, or maybe even the day of your bridal gown fitting," she says. "That way, you really get to see how it all comes together."
We recommend scheduling your beauty run-through about three to six months before your wedding day so that you have time to make any changes if you need. To make sure you get the most out of the meeting, it's best to be fully prepared. To help, we tapped pros for their best wedding makeup trial and wedding hair trial tips. See their expert advice for your wedding glam trial, and then head over to The Knot to book a pro in your area.
What is a wedding hair and makeup trial?
Think of your wedding hair and makeup trial as a dress rehearsal. Your pros are going to style your tresses and apply your chosen makeup look so you can see how it looks and feels. "This will give you an early preview of what your wedding day makeup and hair will look like, to avoid any surprises on your wedding day," Eissen says.
How much does a wedding hair and makeup trial cost?
There's no set answer to this, unfortunately. The cost of wedding hair and makeup trials varies depending on the vendor, timeline and number of trials. "The cost of a trial can range from anywhere from free to the same cost as it'd be on your wedding day," Eissen says. "More commonly, it's a fraction of the wedding day cost."
Ijeoma Ezinne Chimezie, owner of Ijeoma Ezinne Beauty in Bloomfield, agrees. "A general rule of thumb that's used by some makeup artists is the trial/preview is half the price of the wedding day beauty service," she says. "Depending on your location, the experience of the artist, both of these prices can vary." Call your hair and makeup pros to get their rates before heading over so there are no unwanted surprises at the end of the appointments.
When to Book Hair and Makeup Trial for Wedding
Schedule an appointment three to six months out from your wedding day. This will ensure you have time to properly test out your dream look and make any changes if necessary. While experts agree you really only need to book one run-through, you can schedule more if you'd like. For example, if you're torn between two looks or want to try something a little different the second time around, an extra appointment might help settle your nerves. Plus, it'll give you more time to bond with your beauty pros.
Expert Wedding Hair and Makeup Trial Tips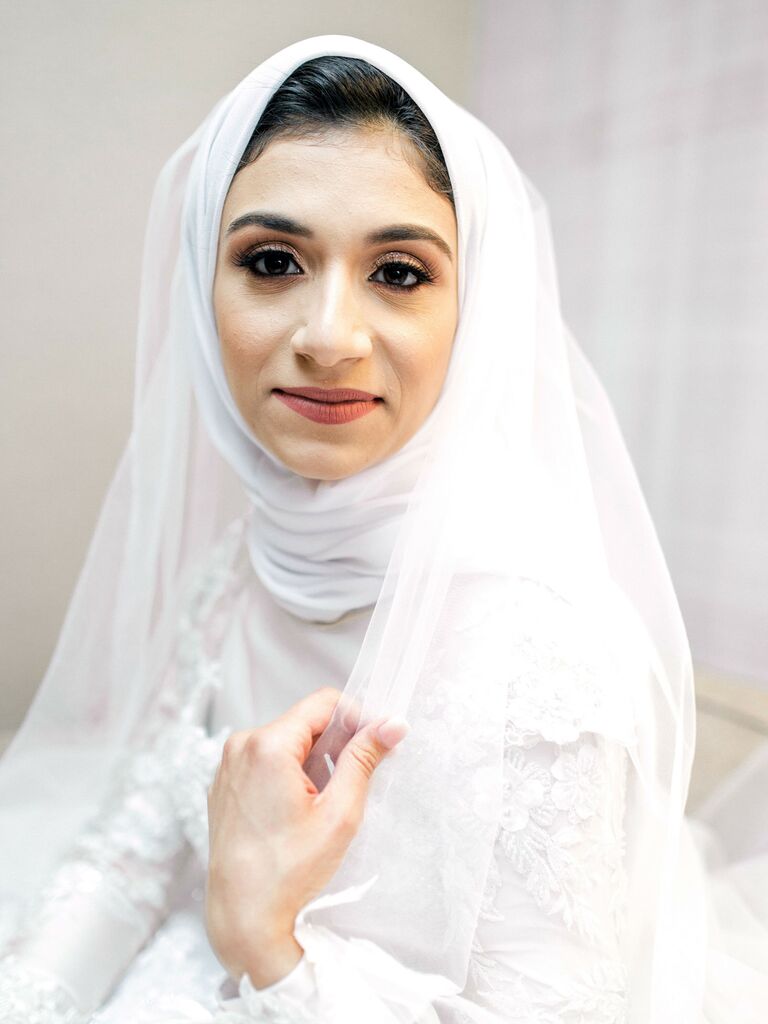 Once you've booked your wedding beauty trial, make sure you're properly prepped. Read through expert tips to ensure you get the most out of your appointment.
1. Call Ahead of Scheduling Your Wedding Hair and Makeup Trials
You don't have to go into your trials completely blind. Chimezie says many beauty pros are happy to hop on the phone to chat (some even offer free preliminary consultations too). "The goal of this call is two-fold: to establish rapport with a prospective [to-be-wed] and to also learn about their vision and provide insights that will help their planning process."
2. Find Inspirational Photos of Hair and Makeup
When it comes to hair and makeup, it can be hard to figure out the exact look you want. Brittany Lo, founder and CEO of Beautini in New York City, suggests creating an inspiration board of beauty looks you like. Maybe you gravitate towards elegant, classic styles, or maybe you're a fan of laid-back, boho vibes. Whatever looks you pick, explaining what you like about them to your stylist will help them understand your preferences. "Label them for your stylist," says Emma Fitzgerald, owner of Salon Trés in Chicago. "For example, write 'These bangs are everything,' 'This part is on point,' or 'Swooning over this color.'" It's also totally fine if you like something in photos but don't like it on yourself—that's what a trial is for!
3. Schedule Your Wedding Makeup Trial and Wedding Hair Trial Together
If possible, see if you can schedule your hair and makeup appointments on the same day so you can see how it all comes together. Plus, it'll give you a much needed break from all that wedding planning stress. Fitzgerald also recommends planning something fun in the evening so you can show off your professionally-done glam. Host a dinner with friends or family or go out for drinks. Don't forget to take lots of pictures!
4. Come Alone (or With One to Two Trusted VIPs)
It may be tempting to bring your whole wedding party along for your beauty trial, but they can interfere with the trial. "As your stylist, we need to hear you," Fitzgerald explains. "It's never a good idea to have several other people giving their opinion." If you really want c company, bring one or two trusted peeps to help offer support. Remember: your pros want to hear your thoughts, not the unsolicited opinions of your friends and family members.
5. Take Note of What You Didn't Like About Past Looks
Have absolutely no way to articulate what you like? Another helpful way for you to communicate what you're looking for is to describe what you don't want. Have you been in a wedding party where you disliked how you looked? Tell the stylists why you felt that way, Lo says. Your trial will be much more efficient if your stylists know what to stay away from, and you won't need to wait until each look is finished to figure out what you don't like about it.
6. Arrive With a Clean Face and Hair
This one may seem obvious, but it's so important. Come to your hair and makeup trial with clean hair and no makeup on so that your pros can start with a blank canvas. You'll also get to see exactly what you'll look like on the day of your wedding.
7. Bring Your Makeup Bag
If there's a foundation that sits on your skin perfectly or a certain product you wear every single day, bring it to your hair and makeup trial. Even if the artist has their own products, it's important for you to feel comfortable with your makeup so that you can enjoy the day. Share this tip with bridesmaids who are nervous about getting their makeup done or have sensitive skin.
8. Purchase Accessories and Hair Extensions Beforehand
It's important for the stylists to know exactly what they'll be working with on the wedding day, so be sure to bring any accessories to your trial. If you're inspired by photos with long, thick hair, but have thin, short hair, consider investing in clip-in extensions. They blend easily into your own hair and create a fuller look. And if you decide you want to wear a hair piece after your trial? Just let your stylist know so they can think about how to incorporate it into your style.
9. Have Realistic Expectations
One of Fitzgerald's biggest tips is to be critical of the images you find on social media and pinterest. "Many inspirational photos intentionally show one or two angles," she explains. Remember most hair pictures are staged to make the hair look full, shiny and perfectly styled. Psst: It's also nearly impossible to detect extensions in a filtered photo. That's why it's important not to compare your natural hair to pictures you see online. Come in with pictures you like and listen to your stylist's honest feedback about what's attainable given your hair's length, fullness and texture. "Have straight hair that won't hold a curl? No problem," Fitzgerald says. "Stay in your texture lane: Wear your hair the way it wears best and you'll feel your best."
10. Don't Do Anything Too Drastic
While your trial is a great opportunity to test out different looks, be cautious. You don't want to use a brand-new makeup that causes your skin to break out or dye your hair a completely different color at home. Leave all your desired changes (big or small) to the pros. But keep your timeline in mind. Don't do something drastic with so little time left if you don't like the way it comes out. "One should never cut bangs or change the part of the hair right before a special event," Fitzgerald says. "Similarly, one should never wear their hair in a way they know won't last." (Like rocking curls when you have naturally stick-straight hair.)
11. Schedule Another Trial if You Weren't Happy With the First
Many to-be-weds will only need one beauty run-through to nail down their look. However, if you weren't 100% pleased with your look after your trial, Fitzgerald recommends scheduling another one. "Maybe you didn't feel like yourself, maybe it was too much, maybe there wasn't enough fullness," Fitzgerald says."No matter how minor the detail, the time to make adjustments isn't the morning of your wedding." Call your pro and schedule a follow-up so the morning of your wedding runs smoothly.