The 24 Best Broadway Love Songs for Your Wedding
You and your guests will be singing along to these show tunes.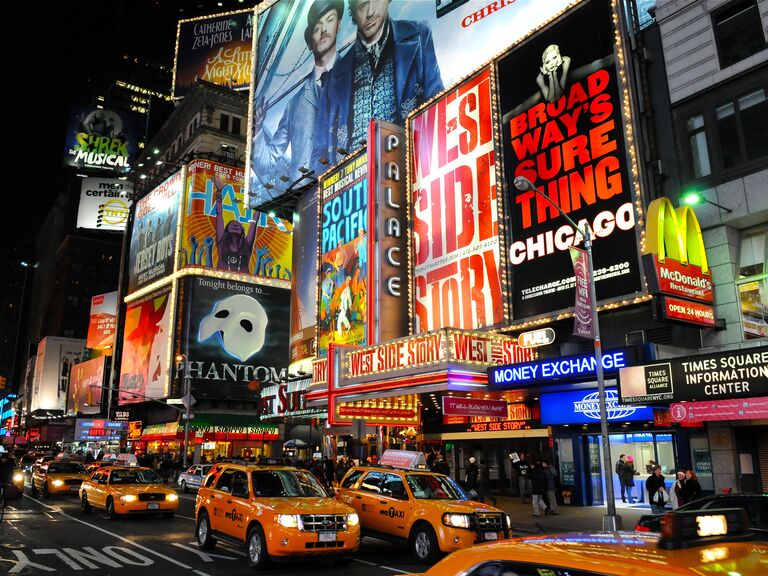 Lauren Orr / Shutterstock

There's nothing like the shining lights of a Broadway musical. If you love theater, these wedding songs encapsulate true love in the unique way that only show tunes can. Whether you pick them for you processional or first dance, or add them to your reception playlist, these romantic songs will make you and your guests swoon. Broadway love songs are also a great way to infuse your big day with some of your interests, if you're a theater buff.
Don't forget to ask your wedding band or DJ to play one of these Broadway love songs to add a touch of drama and fun to your ceremony or reception.
"One Hand, One Heart," West Side Story
Lyrics you'll love: "Make of our hands one hand/Make of our hearts one heart/Make of our vows one last vow/Only death will part us now/Make of our lives one life/Day after day, one life/Now it begins, now we start/One hand, one heart/Even death won't part us now/Make of our lives one life"
Whether you choose an instrumental version or the one with the wedding-vow lyrics, this song from the iconic Romeo-and-Juliet retelling makes for a truly romantic and emotional processional song.
"All I Ask of You," The Phantom of the Opera
Lyrics you'll love: "Let me be your freedom/Let daylight dry your tears/I'm here, with you, beside you/To guard you and to guide you/Say you love me every waking moment/Turn my head with talk of summertime/Say you need me with you now and always/Promise me that all you say is true/That's all I ask of you"
This song from Andrew Lloyd Webber is from one of the most iconic musicals of all time—and it's all about devotion. This song also has vow-like undertones, so it could be fun to incorporate into your wedding ceremony if it's meaningful to you.
"I Turned the Corner," Thoroughly Modern Millie
Lyrics you'll love: "I turned the corner when I met you/When I met you/Was our encounter planned/Destiny's guiding hand?/Fortune or fate, it's grand/The way you make me feel"
This duet between Millie and Jimmy is all about falling in love unexpectedly, but immediately knowing that it is fate. This could be a fun song for when you or your spouse walk down the aisle.
"I'll Cover You," RENT
Lyrics You'll Love: "Open your door, I'll be your tenant/Don't got much baggage to lay at your feet/But sweet kisses, I've got to spare/I'll be there, and I'll cover you"
With its debut in 1996, RENT focuses on some serious themes, but features lovely and modern songs throughout. "I'll Cover You" has a lot of sweet lines about doing anything for the person that you love. It's a great song to incorporate into your ceremony or reception playlist.
"It Takes Two," Into the Woods
Lyrics You'll Love: "At home I'd fear/We'd stay the same forever/And then out here/You're passionate, charming, considered, clever/It takes one/To begin/But then once you begun/It takes two of you"
This love song and duet is from Into the Woods, with music and lyrics composed by Stephen Sondheim. It comes at a point where the characters are starting a new adventure—one that they can't do without each other. Sounds fitting for a first dance!
"So in Love," Kiss Me Kate
Lyrics You'll Love: "Even without you/My arms fold about you/You know darling why/So in love with you am I"
One of the more original musicals debuting in 1948, Kiss Me Kate is based on Shakespeare's Taming of the Shrew, and it's Tony Award-winning too! This title speaks for itself: This song is as romantic as it gets and is another great first dance song.
"If I Would Ever Leave You," Camelot
Lyrics You'll Love: "Summer, winter or fall!/No, never could I leave you at all!"
Find your kind of venue
From barns to ballrooms, discover reception venues that feel like you.
No matter the season, this song would also be great for a first dance. The tune emphasizes commitment and is totally swoon-worthy!
"Do I Love You Because You're Beautiful," Cinderella
Lyrics You'll Love: "Are you the sweet invention of a lover's dream/Or are you really as wonderful as you seem?"
Rodgers and Hammerstein's Cinderella is as charming and whimsical as fairytale musicals get, putting a new spin on the Grimm Brothers classic. This song's underlying theme is about love that's too good to be true—another beautiful song for a first dance!
"We Go Together," Grease
Lyrics You'll Love: "When we go out at night/And stars are shinin' bright/Up in the skies above/Or at the high school dance/Where you can find romance/Maybe it might be love"
Everyone will be singing along to this retro show tune, including the scat portions. When Danny Zuko and Sandy finally come together, this song is the result, with an upbeat tune and the lyrics "We'll always be together" repeated towards the end. It's a great song to play for a special dance with your wedding party members.
"Helpless," Hamilton
Lyrics You'll Love: "You got me helpless/Look into your eyes, and the sky's the limit/I'm helpless/Down for the count, and I'm drownin' in 'em"
This is a particularly romantic tune from the hit musical—it's all about Eliza and Alexander meeting for the first time, and the beginning of their love-at-first-sight romance. When you know, you know! This song could be a cute grand entrance or cake-cutting song.
"I Do," Mamma Mia!
Lyrics You'll Love: "Oh, I've been dreaming through my lonely past/Now I just made it/I found you at last/So come on/Now let's try it/I love you/Can't deny it/'Cos it's true/I do, I do, I do, I do, I do"
This cheeky song is about marriage and saying "I do." It's full of love and perfect for your entrance to the reception or even after your first kiss!
"Till There Was You," The Music Man
Lyrics You'll Love: "There was love, all around/But I never heard it singing/No, I never heard it at all/'Til there was you"
Falling slowly in love may be one of the best feelings, and The Music Man's "Till There Was You" proves it's worth waiting for. This song would also be lovely for a first dance.
"A Whole New World," Aladdin
Lyrics You'll Love: "Every moment, gets better/I'll chase them anywhere/There's time to spare/Let me share this whole new world with you"
This Disney classic found a new home on the stage in 2011 with the debut of Aladdin the musical, but this classic love song is still a favorite. Whether you prefer the movie or the musical, you'll want to add this song to your reception playlist!
"A Heart Full of Love," Les Misérables
Lyrics You'll Love: "A heart full of love/A heart full of you/A single look and then I knew"
Les Misérables took the Broadway world by storm in the 1980s. Choose this tune, whether with lyrics or an instrumental version, as a unique wedding processional song.
"You Matter to Me," Waitress
Lyrics You'll Love: "Come out of hiding, I'm right here beside you/And I'll stay there as long as you'll let me/Because you matter to me"
You already know that a musical with Sara Bareilles behind it is going to have catchy tunes, and "You Matter to Me" is no exception. It's an emotional ballad and absolutely beautiful— perfect for your first dance!
"Seasons of Love," RENT
Lyrics You'll Love: "How do you measure? Measure a year?/In daylights/In sunsets/In midnights/In cups of coffee/In inches, in miles, in laughter, in strife/In five hundred twenty-five thousand six hundred minutes/How do you measure a year in a life?/How about love?"
Even if you haven't seen RENT, Broadway fans know and love "Seasons of Love." This iconic song is all about measuring time in love, which is a great sentiment to start the rest of your lives together. We love this as an upbeat recessional song.
"As Long as You're Mine," Wicked
Lyrics You'll Love: "As long as you're mine/Come be how you want to/And see how bright we shine/Borrow the moonlight/Until it is through/And know I'll be here/Holding you"
This song from Wicked is all about passionate love and living in the moment, and being true to yourself. It's another great first dance or slow song.
"The Last Night of the World," Miss Saigon
Lyrics You'll Love: "A cry that tells us love goes on and on/Played on a solo saxophone/It's telling me to hold you tight/And dance like it's the last night of the world"
This tragic love story of romance in a war-torn country, Miss Saigon's "The Last Night of the World" is an emotional tune about not letting go of each other. With swooping instrumentals and a solo saxophone, this beautiful song is a nice slow song to incorporate into your wedding.
"All I've Ever Known," Hadestown
Lyrics You'll Love: "Suddenly the sunlight/Bright and warm/Suddenly I'm holding the world in my arms/Say that you'll hold me forever/Say that the wind won't change on us/Say that we'll stay with each other/And it will always be like this"
Hadestown tells a version of the Greek myth of Orpheus and Eurydice, and the lyrics depict sudden, unlikely love that you want to hold onto. It's more pop and upbeat than some other love songs, with a beautiful message nonetheless. It's a sweet processional song, but great for the reception playlist too.
"Something to Believe In," Newsies
Lyrics You'll Love: "Till the moment I found you/I thought I knew what love was/Now I'm learning what is true/That love will do what it does/The world finds ways to sting you/And then one day decides to bring you/Something to believe in"
This duet between Katherine and Jack is Newsies' shining love song. Both don't believe that they would ever find love as they have, but when you find that person, it does give you hope like nothing else. It's another great song for your first dance if you love the musical!
"Some Enchanted Evening," South Pacific
Lyrics You'll Love: "Some enchanted evening, when you find your true love/When you hear her call you across a crowded room/Then fly to her side and make her your own/Or all through your life you may dream all alone/Once you have found her, never let her go"
This 1949 Broadway musical was a smash hit, so it's no surprise that songs like "Some Enchanted Evening" are still played over 70 years later. This sweeping ballad could be used as a transition from the beginning of the reception to the first dance!
"Without Love," Hairspray
Lyrics You'll Love: "'Cause without love/Life is like a beat that you can't follow/Without love/Life is Doris Day at the Apollo/Darling, I'll be yours forever/'Cause I never wanna be/Without love"
This upbeat pop ballad from the musical Hairspray celebrates the unlikely love between Tracy and Link, and Penny and Seaweed, who finally get to all be together during this final number. After all, what is life without love? Play this song during cocktail hour, dinner, or your cake cutting!
"Only Us," Dear Evan Hansen
Lyrics You'll Love: "And what came before won't count anymore/We can try that/You and me/That's all that we need it to be/And the rest of the world falls away"
The acclaimed musical Dear Evan Hansen swept Broadway when it first came out, and is being released as a film in 2021 as well. This song works nicely for a slow song during the reception.
"The Next Ten Minutes," The Last Five Years
Lyrics You'll Love: "As the time ticks by/And if we make it till then/Can I ask you again/For another ten?/And if you in turn agree/To the next ten minutes/And the next ten minutes/Till the morning comes/Then just holding you/Might compel me to/Ask you for more/There are so many lives I want to share with you/I will never be complete until I do"
You and your spouse will want to be together forever, starting with the next ten minutes and then the next ten minutes after that, and so on. This charming song is about spending all of your time with someone you love, and sharing every moment with them. It's definitely a meaningful song for your processional.