13 Broadway Songs Perfect for Your First Dance
Give your regards to Broadway with these picks.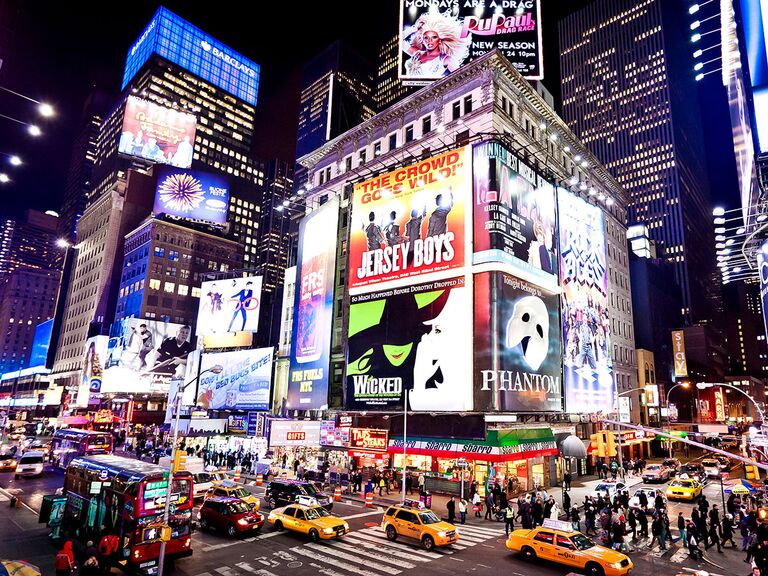 iStock
If you're a show-tune-loving couple, why not pick a Broadway song for your first dance? Choose an upbeat or slower number, then feel free to make it your own, whether it's cutting it a little shorter or even changing pronouns (maybe he to she). Here, some of our favorite Broadway songs that are perfect for your first dance (take a listen in our Spotify playlist, below).
1. "Some Kind of Wonderful" from Beautiful
This Carole King number has first dance written all over it, whether it's her more soulful rendition or the upbeat version by The Drifters. You'll swoon at the romantic lyrics.
Lyrics You'll Love: "I just know when I'm in your embrace/This world is a happy place/And something happens to me/That's some kind of wonderful"
2. "One Hand, One Heart" from West Side Story
Despite the tragic ending, West Side Story is one of the most famous love stories to hit the Great White Way. When Maria and Tony say "I do," it's with this song.
Lyrics You'll Love: "Make of our lives one life/Day after day, one life/Now it begins, now we start/One hand, one heart"
3. "Till There Was You" from The Music Man
A sweet classic, this tune is all about how the world is made better once you found the one you want to grow old with.
Lyrics You'll Love: "There were bells on the hill/But I never heard them ringing/No, I never heard them at all/Till there was you"
4. "Can You Feel the Love Tonight" from The Lion King
This Disney musical has been delighting audiences on Broadway for 20 years, and the song about the lead character falling in love is the sweetest in the show.
Lyrics You'll Love: "Can you feel the love tonight?/You needn't look too far/Stealing through the night's uncertainties/Love is where they are"
5. "Some Enchanted Evening" from South Pacific
Drawn to each other from across the room when you first met? This South Pacific hit is the song for you.
Lyrics You'll Love: "Some enchanted evening, when you find your true love/When you feel her call you across a crowded room/Then fly to her side and make her your own"
6. "People Will Say We're in Love" from Oklahoma
This fun show tune is about a couple falling for each other, despite their differences, and just not being able to hide it.
Lyrics You'll Love: "Don't dance all night with me/'Til the stars fade from above/They'll see it's all right with me/People will say we're in love"
7. "Beauty and the Beast" from Beauty and the Beast
With the recent release of the live-action Beauty and the Beast movie, this tune—whether it's the Broadway or John Legend version—is becoming increasingly popular for a first dance.
Lyrics You'll Love: "Certain as the sun/Rising in the east/Tale as old as time/Song as old as rhyme/Beauty and the Beast"
8. "As Long As You're Mine" from Wicked
For all those Wicked fanatics out there, "As Long As You're Mine" is the ideal song to sway to with your Elphaba or Fiyero.
Lyrics You'll Love: "My wildest dreamings/Could not foresee/Lying beside you/With you wanting me"
9. "All I Ask of You" from The Phantom of the Opera
The lyrics in this romantic duet are like beautifully written vows and are what two people should be saying to each other on their wedding day.
Lyrics You'll Love: "Say you love me every waking moment/Turn my head with talk of summertime/Say you need me with you now and always/Promise me that all you say is true/That's all I ask of you"
10. "A Whole New World" from Aladdin
An adventurous couple ready to take on the world together? Then this Disney classic is a perfect pick.  
Lyrics You'll Love: "A whole new world/A dazzling place I never knew/But when I'm way up here/It's crystal clear/That now I'm in a whole new world with you"
11. "You Were Meant for Me" from Singin' in the Rain
This sweet (and short) upbeat number is about finding the person that was meant just for you.
Lyrics You'll Love: "But I'm content/The angels must have sent you/And they meant you just for me"
12. "Embraceable You" from Crazy for You
Covered by many of the greats (including Frank Sinatra and Ella Fitzgerald), this adorable number is a romantic choice for a first dance.   
Lyrics You'll Love: "I love all/The many charms about you/Above all/I want my arms about you"
13. "Do I Love You Because You're Beautiful" from Cinderella
The Rodgers and Hammerstein musical about everyone's favorite princess features some lovely music paired with beautiful lyrics. The prince sings this song when he first meets his princess.
Lyrics You'll Love: "Are you the sweet invention/Of a lover's dream/Or are you really as/Beautiful as you seem"
Looking for your reception band? Find one right here.