24 Disney Wedding Ideas To Happily Ever After
Pull inspiration from your favorite fairy tales to decorate your own happy ending.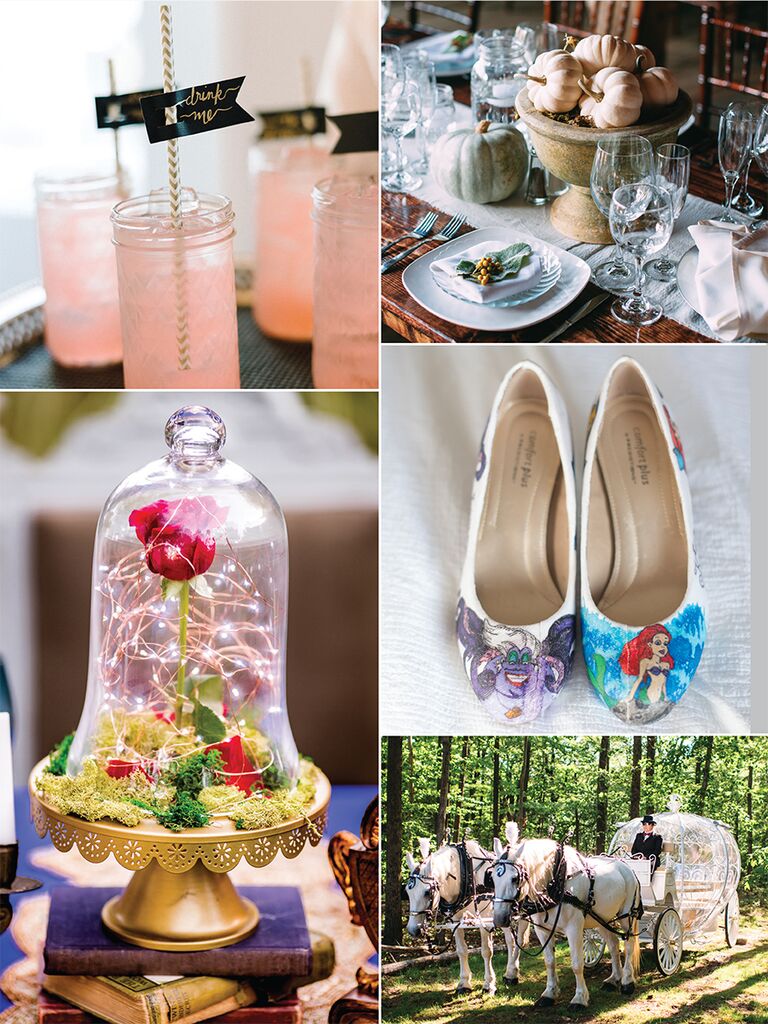 Michelle Lange Photography; Rebekah J. Murray Photography; Daniele Carol Photography; Jessica Oh Photography; Raelyn Elizabeth Photography
We have included third party products to help you navigate and enjoy life's biggest moments. Purchases made through links on this page may earn us a commission.
If you love everything about fairy tale endings, from swoon-worthy ballgowns to enchanting carriage rides into the sunset, we've got a few ideas for you. There are subtle ways to tie the magic you love about your favorite Disney movies into your wedding day without going over the top—or being too cliché. 
Did you grow up fascinated by Beauty and the Beast's enchanted rose? Hello centerpiece inspiration. Maybe Alice In Wonderland is sparking some cocktail hour ideas (think: calligraphed "drink me" straw tags). Here are 19 ways to elevate sweet Disney details into wedding-worthy decor. 
1. Collect Disney-Themed Wedding Ideas
You aren't the first, and you certainly won't be the last person to want to add a little Bibbidi Bobbidi Boo to give your wedding a Disney enchantment. Instead of trying to reinvent the Disney wheel, head over to your new favorite online destination, the Disney wedding page. Yes, this does exist. Here you can linger over Disney dream boards, the Ever After blog and real couple stories to pull endless inspiration.  
2. Get Married at The Happiest Place on Earth
What's more Disney than getting married at Disney World, Disney Land or any of the many amazing Disney properties around the world? Yes, it is absolutely possible to get married at a Disney location, including Disney resorts around the world, Epcot and even on a Disney cruise ship. One of the most unique locations is Disney's Wedding Pavilion, located on an island surrounded by water with a backdrop of the Cinderella castle. To book a Disney wedding venue, visit the Disney wedding website. 
3. Hire a Disney Wedding Planner
You won't have to spend endless hours coming up with Disney wedding ideas if you work with a Disney wedding planner. If you want to book a Disney wedding venue, you'll be assigned a Disney wedding planner. Your planning team can create a Disney theme wedding based on your favorite Disney movie -- imagine a whimsical Alice in Wonderland themed wedding -- and help you choose all the accessories you need to create the most magical day possible. Your wedding planner will also help you with all the other important facets of a wedding, like choosing your florals, entertainment, catering, photography, and videography.
4. Say Yes to a Princess-Inspired Dress
Did you know that each year Disney releases the official Disney Fairy Tale Wedding Collections through Allure Bridals? Well, they do. If your childhood was spent dreaming of the gorgeous dresses of Ariel, Tiana, Aurora, Belle and other Disney princesses, then this is the collection for you. You won't find the exact same dresses (you are your own princess, anyway), but you'll enjoy those same elegant and beautiful elements that will make you feel like you're in a fairy tale when you walk down the aisle.   
5. Wear Disney-Themed Accessories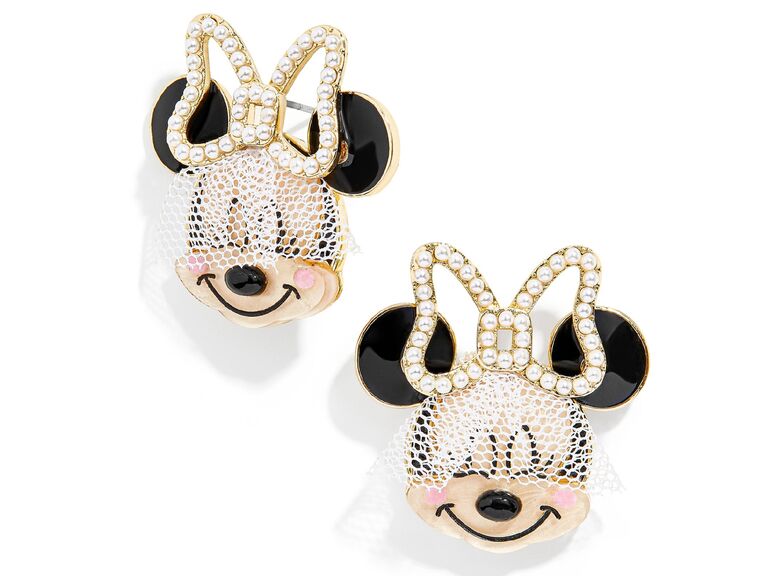 A princess-worthy dress isn't the only way to channel Disney vibes in your wedding attire. These super-cute Minnie Mouse studs are a sweet and subtle alternative (or addition) to that beautiful ball gown.
Disney X BaubleBar Bridal Minnie Mouse studs, $46, BaubleBar.com
6. Enchanting Invitations

Add a play on words into your wedding invitation suite that nods to a magical evening. A phrase like "Dinner and enchantment to follow" is sophisticated yet wondrous. 
From: A Romantic, Disney-Inspired Wedding at Rock Island Lake Club in Sparta, New Jersey
7. 'Beauty and the Beast' Magic Rose Centerpiece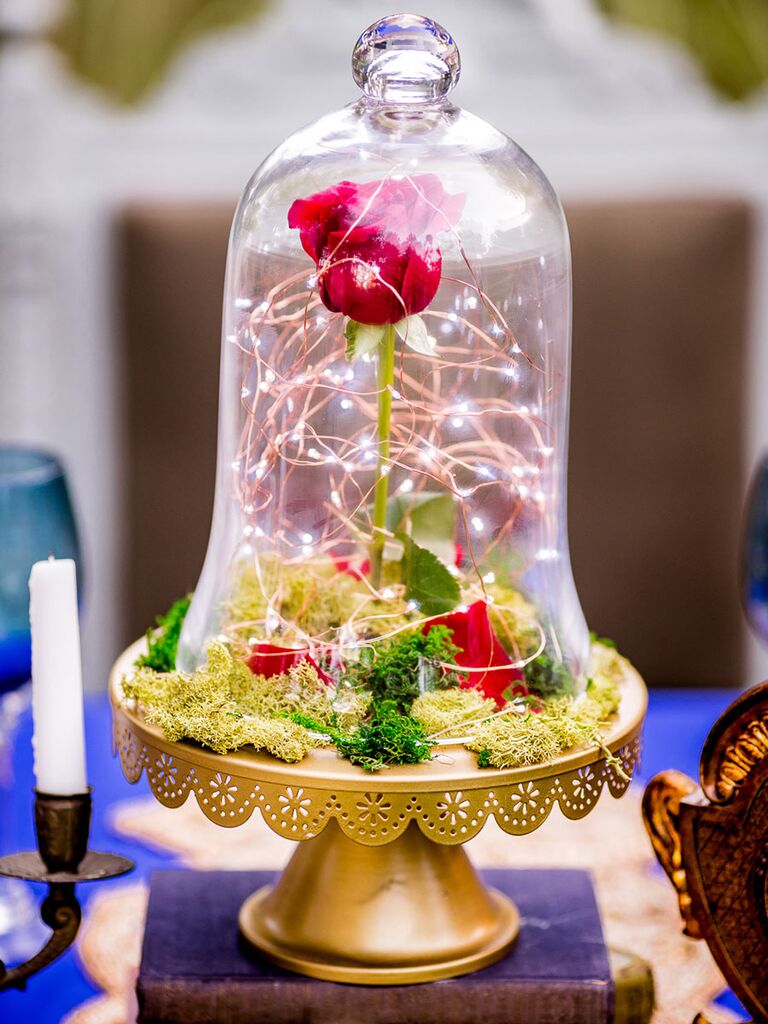 Style a few rose centerpieces under a glass dome with a small string of twinkle lights for an elevated floral idea with just a hint of Beauty and the Beast vibes.
8. A "Be Our Guest" Guest Book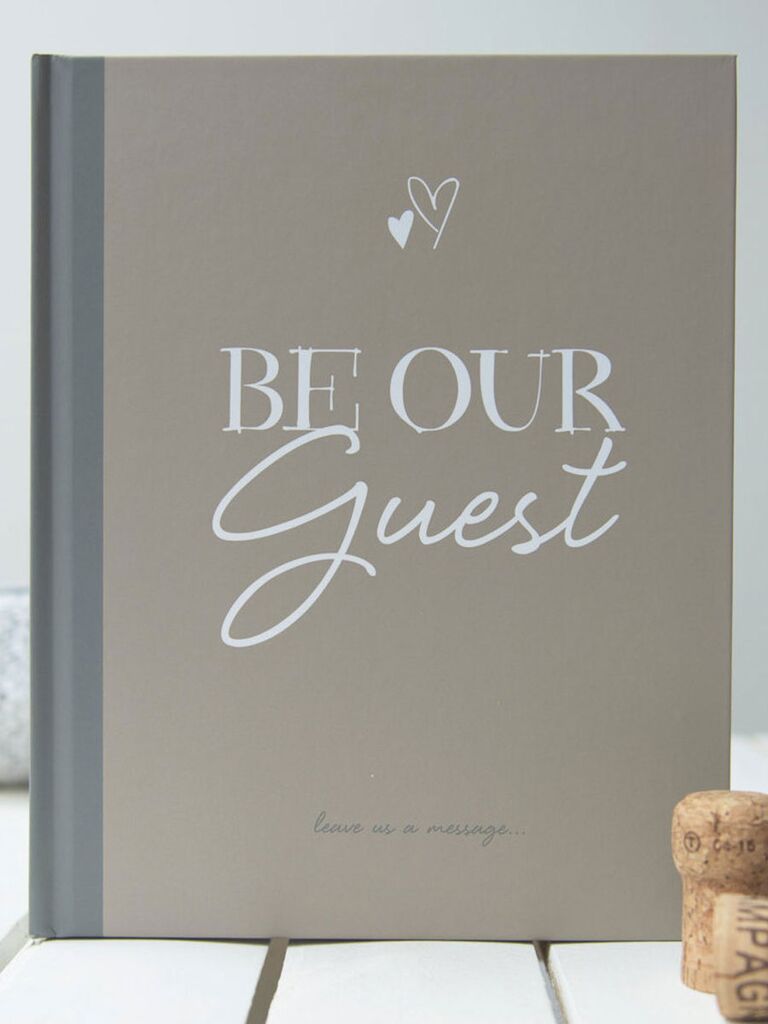 A guest book is a small under-the-radar detail, but everyone is sure to see it. 
Illustries Be Our Guest wedding guestbook, $24, Etsy.com 
9. "Drink Me" Cocktail Hour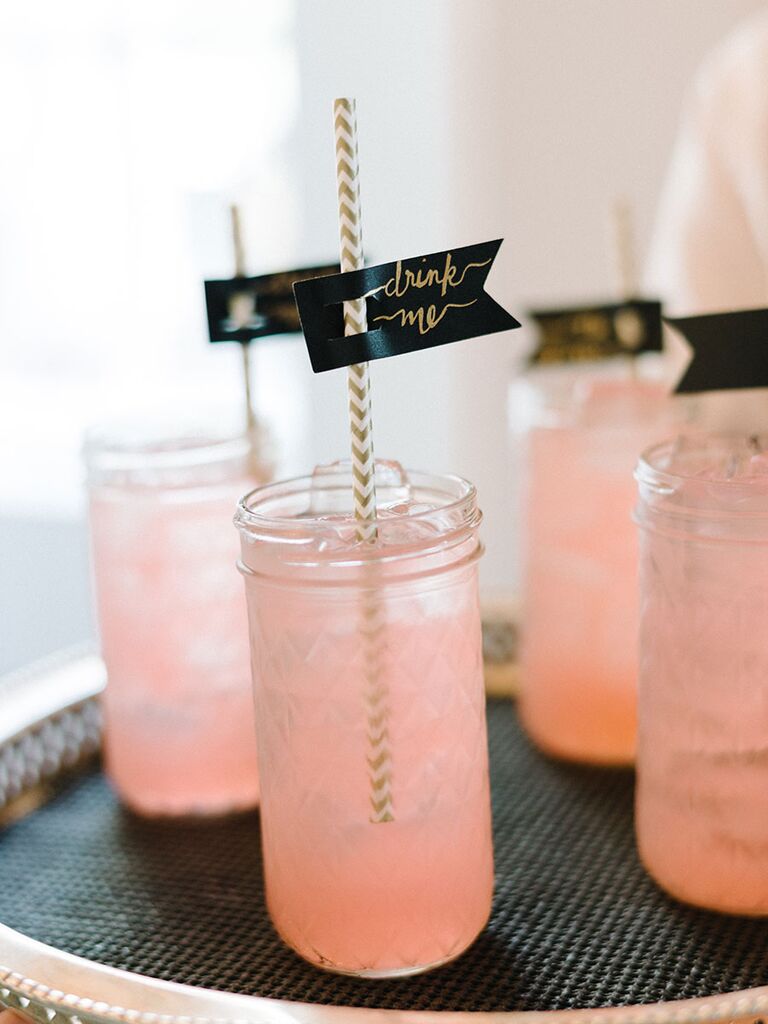 Treat your guests to a signature cocktail that Alice might be found sipping on with the Mad Hatter. 
From: A Vintage, 'Alice in Wonderland'-Inspired Wedding at Ryland Inn in Whitehouse Station, New Jersey
10. Belle-Inspired Wedding Gown
A yellow ombré wedding gown is the perfect nod to a classic Disney princess. 
11. A 'Cinderella' Blue Birds Wedding Cake
A small spool of pink ribbon is the perfect accessory for this bird-embellished wedding cake. 
12. Aisle Sign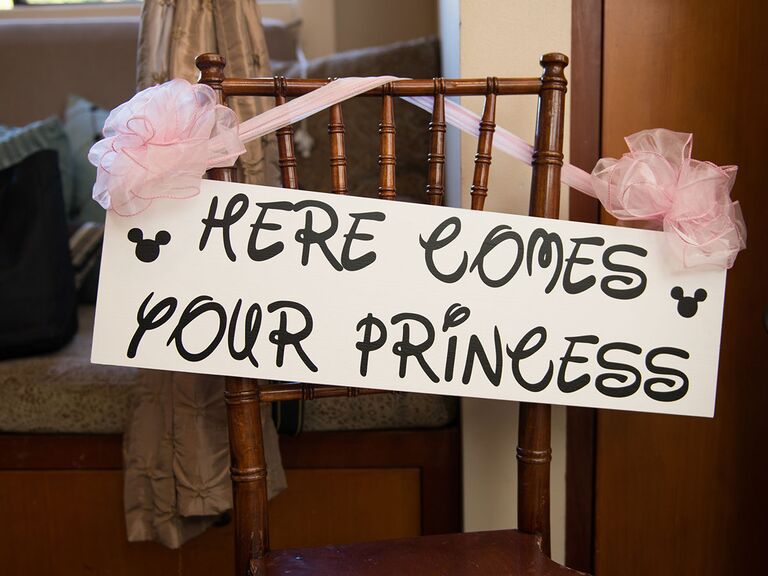 For a DIY idea, stencil a phrase like "Here comes your princess" on a sign and ask one of your smaller attendance (like ring bearer or flower girl) to walk with it down the aisle.
From: A Classic Vineyard Wedding at Paradise Ridge Winery in Santa Rosa, California
13. An 'Alice In Wonderland' Sign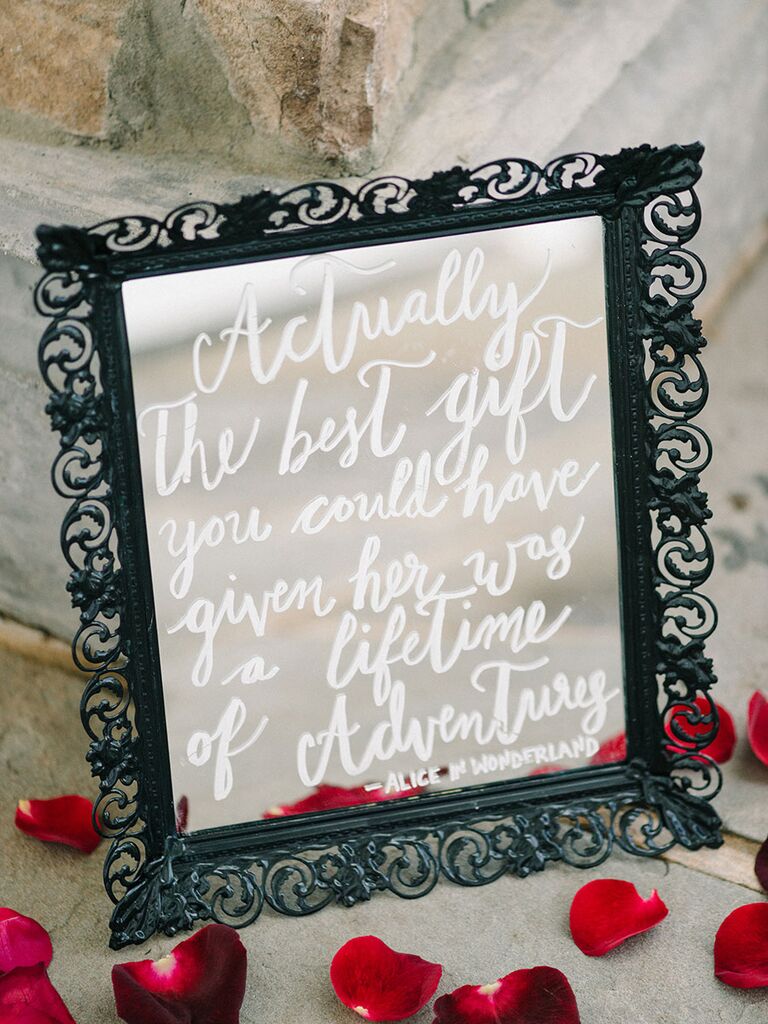 Pull a quote from your favorite Disney story and have it calligraphed onto a mirror or sign. A decor piece like this can adorn a cocktail bar area or guestbook table.
From: A Vintage, 'Alice in Wonderland'-Inspired Wedding at Ryland Inn in Whitehouse Station, New Jersey
14. 'Cinderella' Pumpkin Centerpieces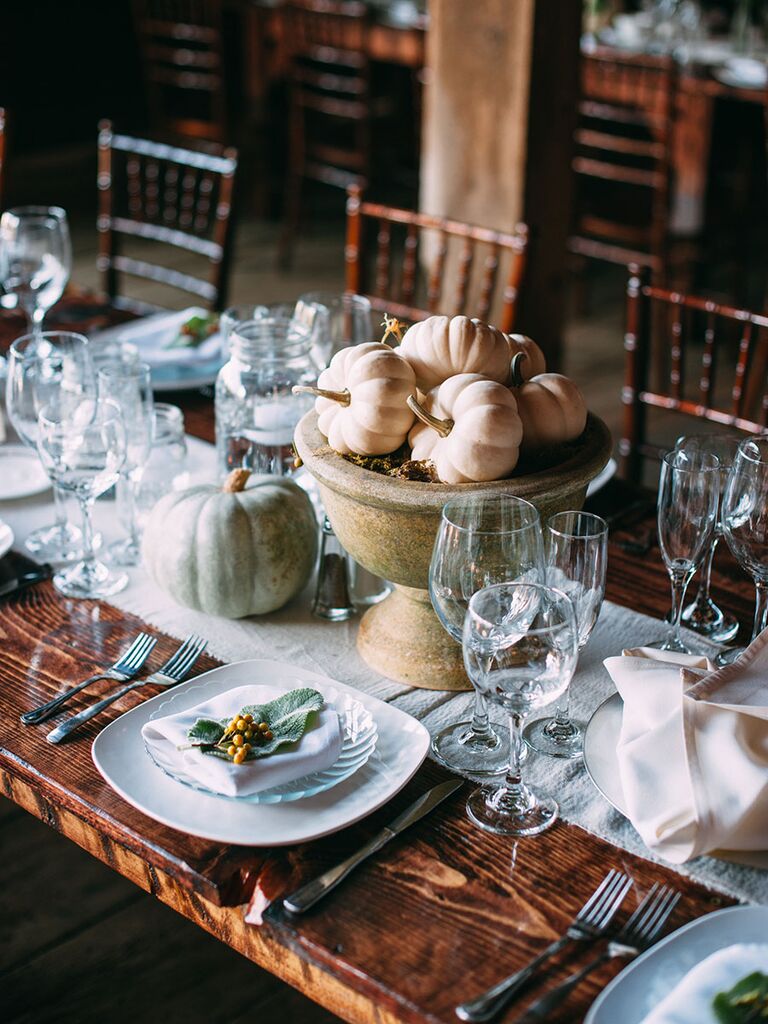 For a glamorous spin on the pumpkin patch moment in Cinderella, create a few centerpieces out of small white pumpkins elevated on a pedestal stand.
From: A Rustic, Glamorous Wedding at Riverside on the Potomac in Leesburg, Virginia
15. An 'Alice In Wonderland' Save-the-Date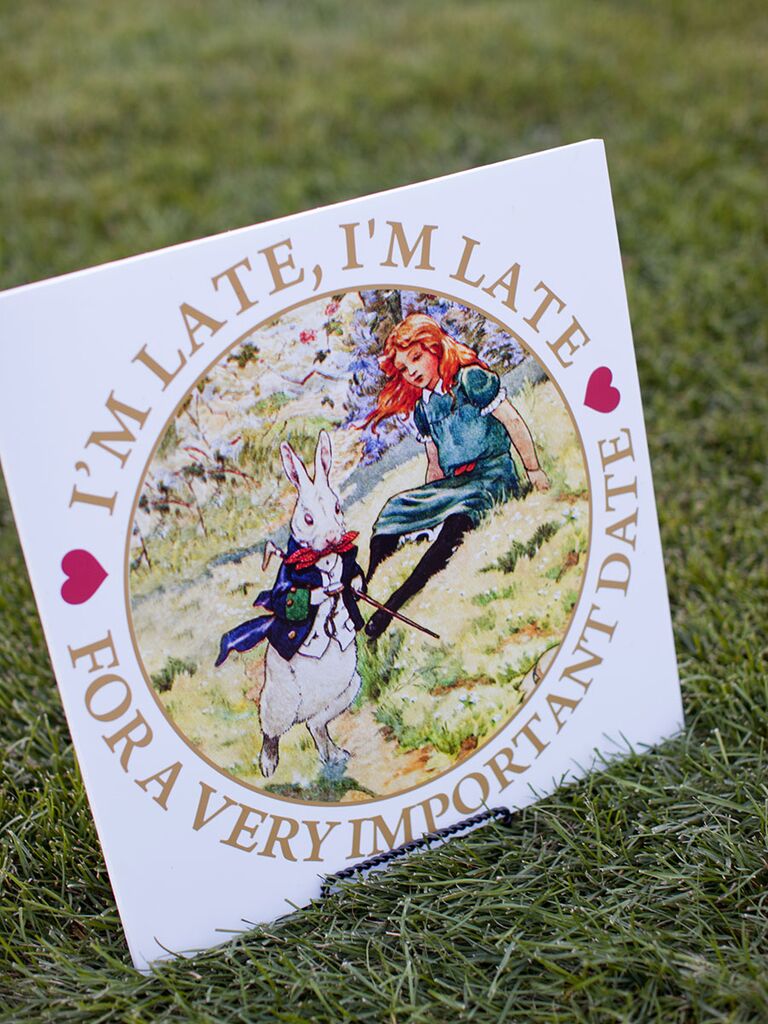 This play on words couldn't be any more appropriate. 
From: An 'Alice in Wonderland'-Themed Wedding at Hudson Gardens in Littleton, Colorado
16. Happily Ever After Vow Book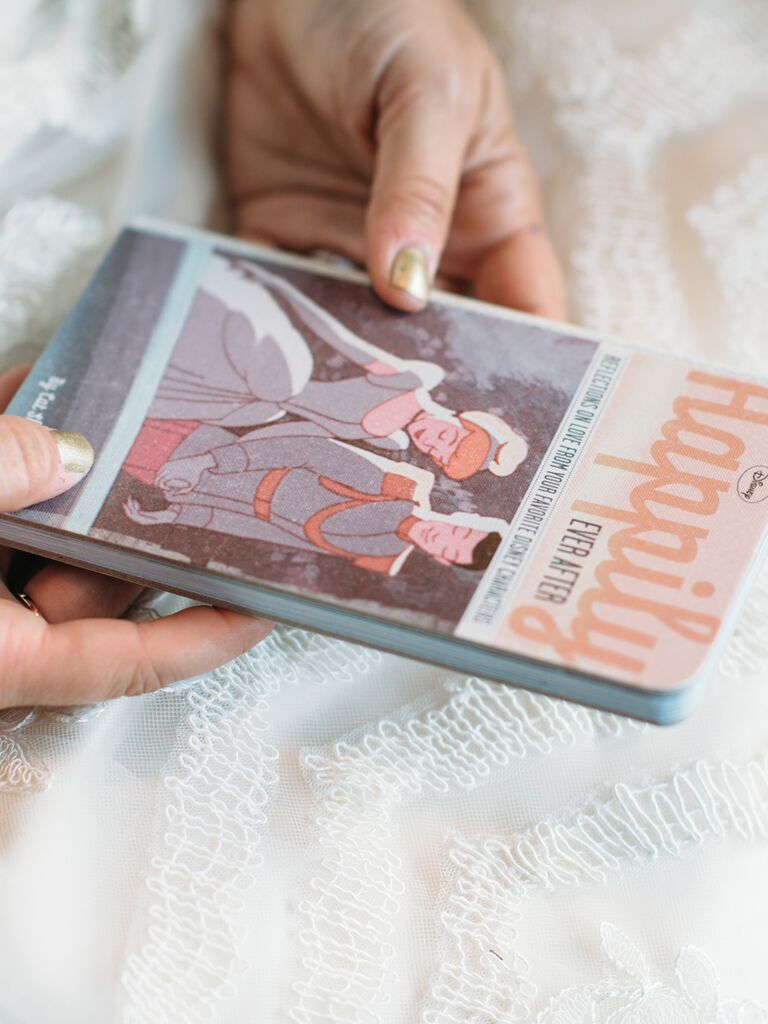 Tuck your vows away in a Happily Ever After book. It's a sweet, small detail that can be shared between just you and your partner.
From: A Romantic, Disney-Inspired Wedding at Rock Island Lake Club in Sparta, New Jersey
17. 'Little Mermaid' Shoe Illustrations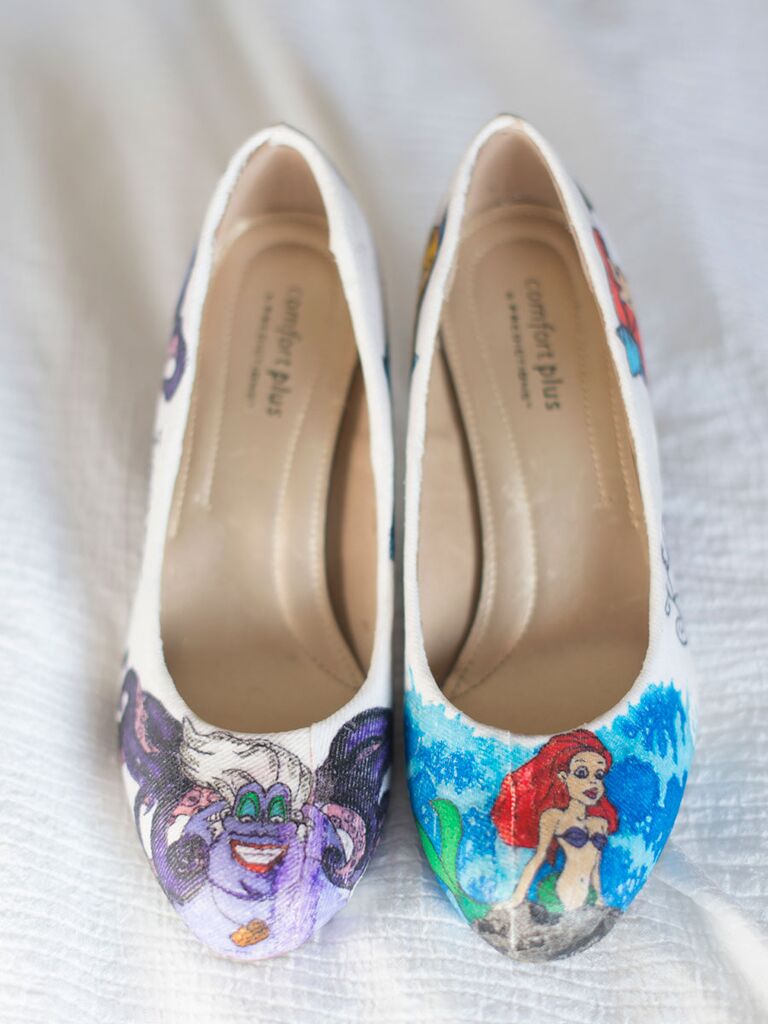 A pair of white canvas shoes are the perfect canvas for some Disney-inspired illustrations.
From: A Frozen-Inspired Winter Wedding at Belsolda Farm in Marquette, Michigan
18. 'Beauty and the Beast' Candelabras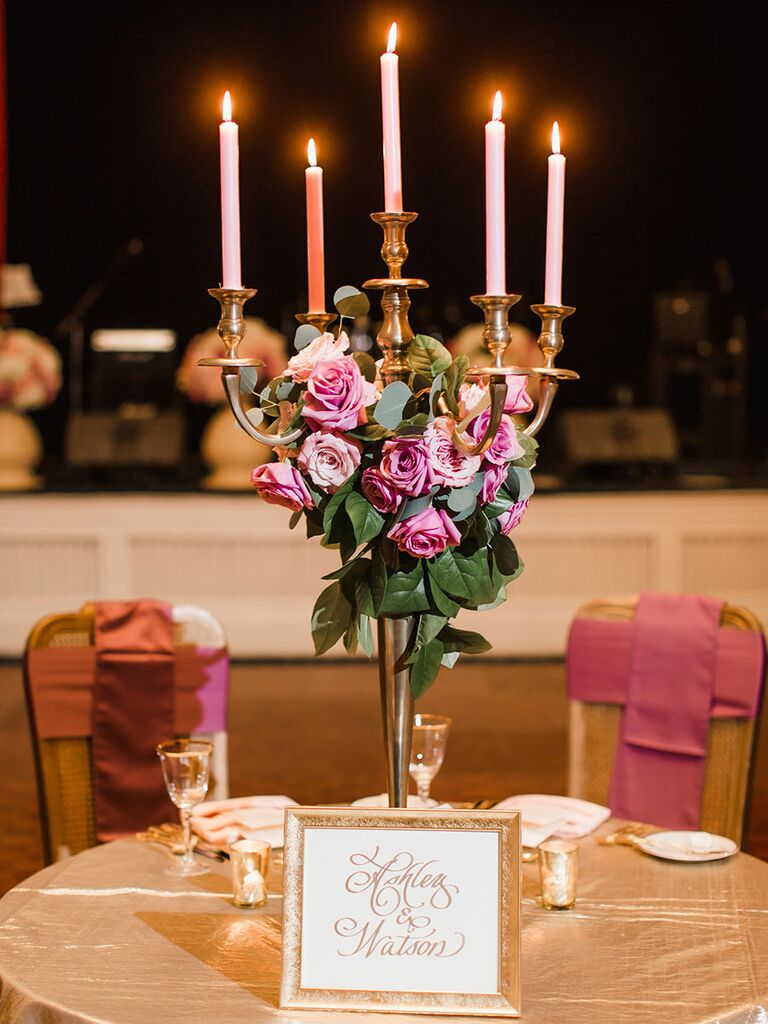 How sweet it this? Adorn your sweetheart table with a tall, antique candelabra reminiscent of the Lumière character from Beauty and the Beast. 
From: A Romantic, Love-Inspired Wedding at the Jefferson in Richmond, Virginia
19. 'Alice In Wonderland' Cake Display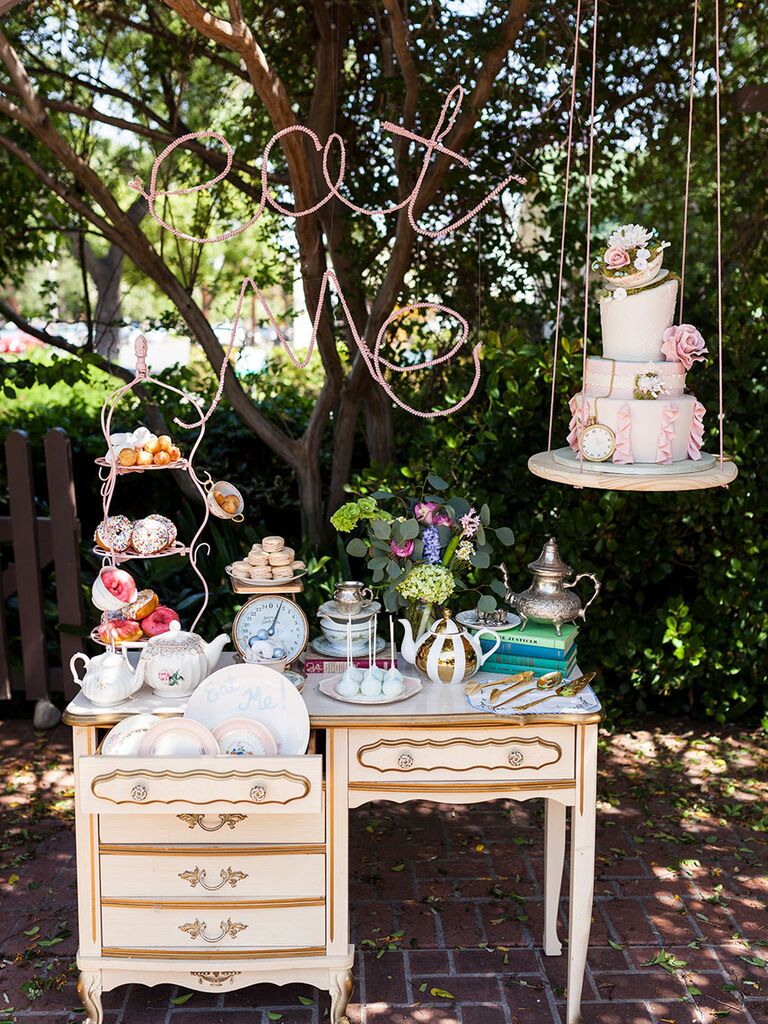 From: A Whimsical Garden Wedding at the McCharles House in Tustin, California
20. Whimsical Accessories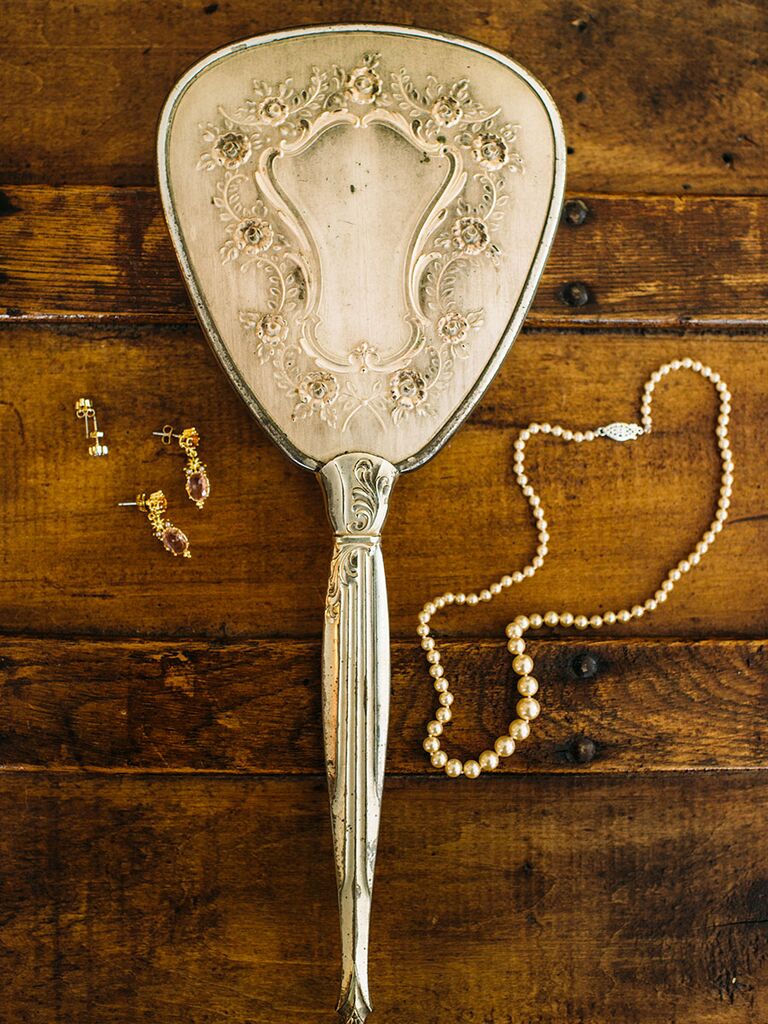 Get ready in style, like a true Disney princess would. 
From: A Romantic, Disney-Inspired Wedding at Rock Island Lake Club in Sparta, New Jersey
21. Apple Escort Cards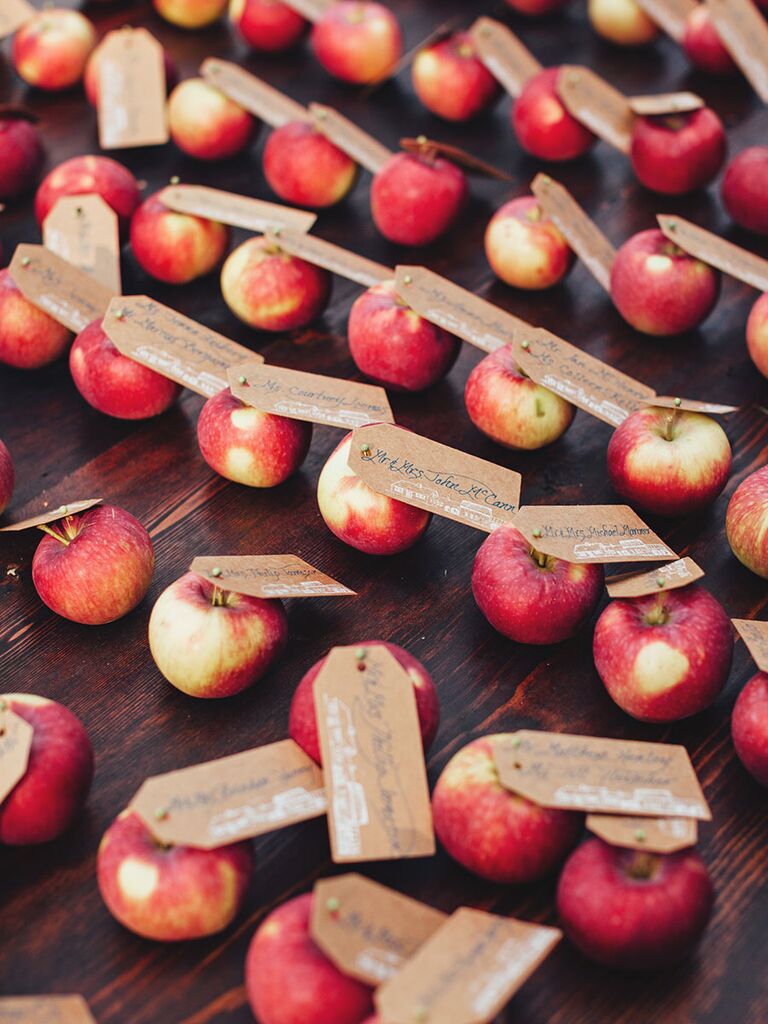 Point guests in the direction to their seats with an enchanting apple display—an edible version of the Snow White apple. 
22. Alice In Wonderland Centerpiece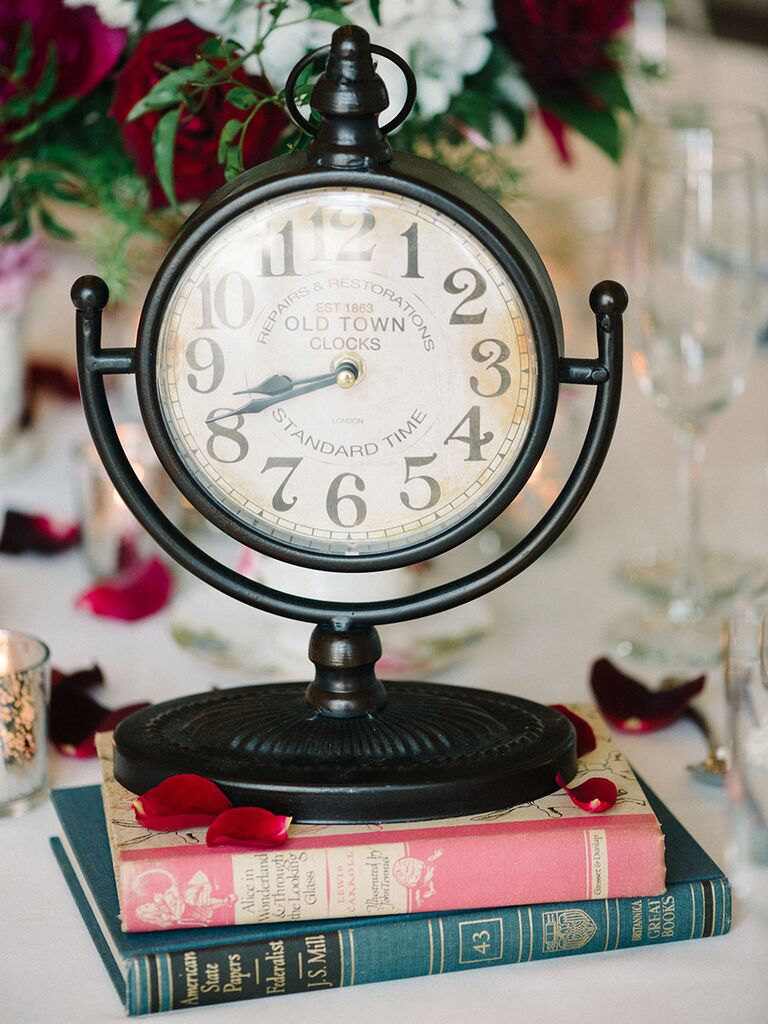 This piece of decor could actually work double duty, either as a nod to Alice In Wonderland or Cogsworth from Beauty and the Beast.

From: A Vintage, 'Alice in Wonderland'-Inspired Wedding at Ryland Inn in Whitehouse Station, New Jersey
 23. Cake Topper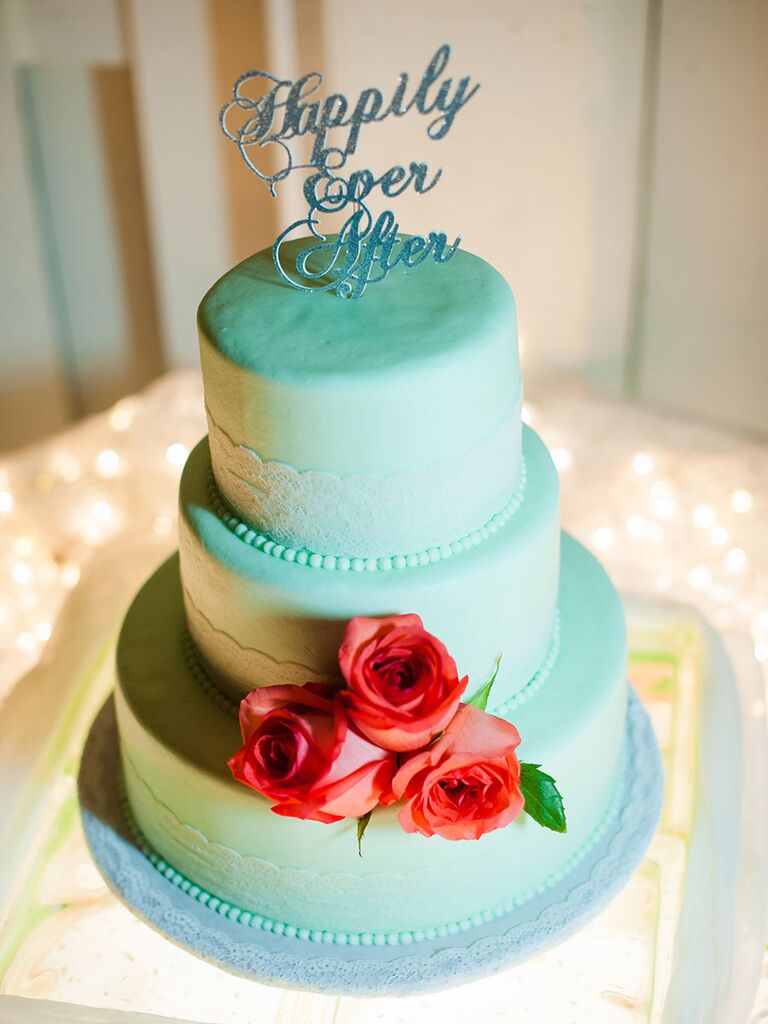 We doubt there's a more fitting cake topper anywhere else in the land.
From: A Romantic Beach Wedding at the Sandbar Restaurant in Anna Maria Island, Florida
24. Grand Exit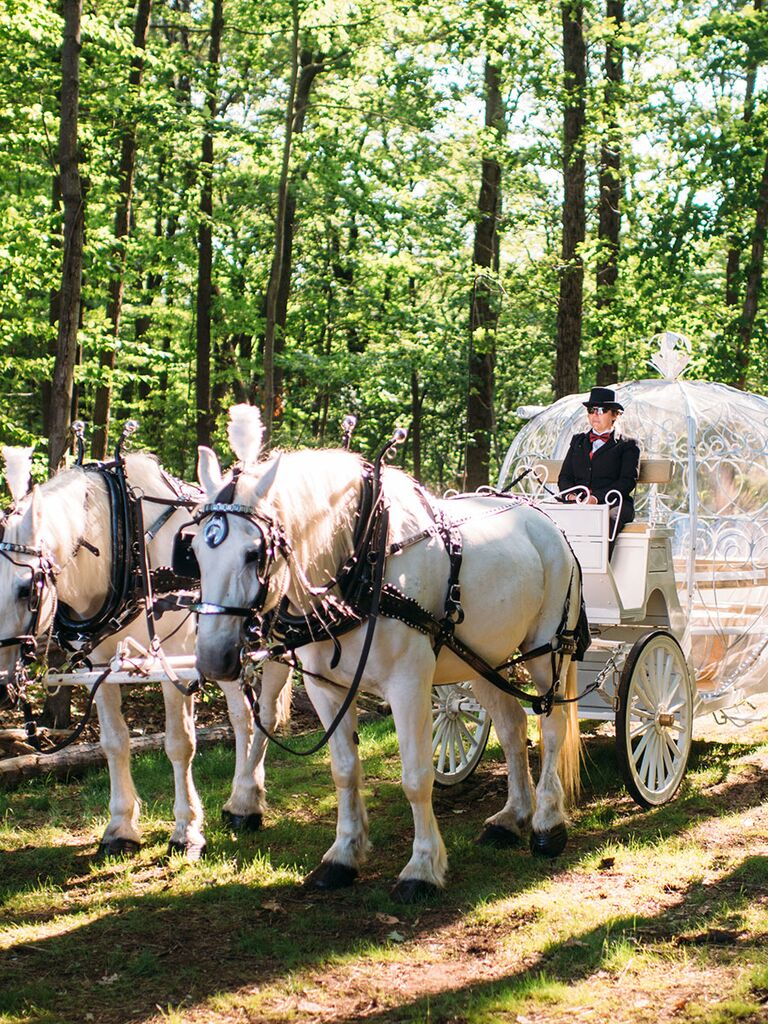 Who needs sparklers when you've got a chariot?
From: A Romantic, Disney-Inspired Wedding at Rock Island Lake Club in Sparta, New Jersey
Want more? Here are some enchanting Disney proposal ideas fit for a real-life princess as well.