Here's the Proper Timeline for Wedding Thank-You Notes
Express your gratitude to guests—in a timely manner–with these top tips.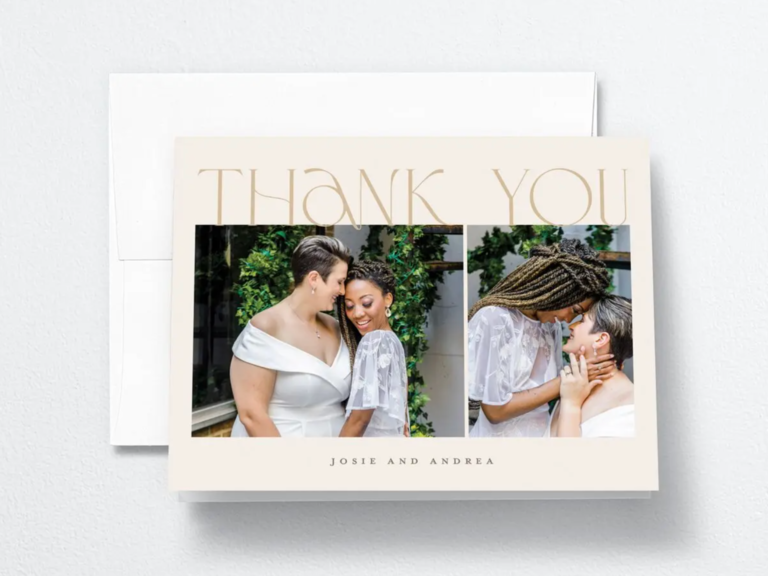 Photo: The Knot Invitations
Wedding planning is filled with a ton of to-dos that help make your dream day a reality. While many center around the celebration itself, one of the most important happens outside of the big day: writing your wedding thank-you notes. Figuring out the proper wedding thank-you notes timeline can be puzzling, which is why we're here to help. After all, you've probably started receiving wedding gifts well in advance of your big day for events like engagement parties and wedding showers (and some from early-bird shoppers), and you may continue to be treated by loved ones long after you've left the altar. Still, there are some important stipulations when it comes to sending out your thank-you notes in a timely manner and you'll want to abide by these simple guidelines in order to ensure your guests feel loved and appreciated. (Remember: Don't forget to thank your vendors with some special notes as well.) Below, we're outlining everything you need to know about the timeline for sending wedding thank-you cards as well as answering a few burning questions you may have, like how late is too late to send a note of appreciation.
In this article:
When's the right time to thank wedding guests?
All things considered, you should aim to get all your thank-you notes in the mail by three months after your wedding. While wedding thank-you card etiquette dictates that you technically have a year from the day you receive your present to thank the gift giver, it's good practice to get your notes of appreciation out sooner, if you're able. Send late wedding thank-you cards and guests may assume you've forgotten about their gift or presence at your wedding before your note hits their mailbox, which can cause hurt feelings or breed resentment.
To set up for success from the start, consider buying thank-you cards around the same time you create your wedding registry. That way, you can be sure you have ample stationery on hand as gifts begin to roll in and you'll never be caught without a way to express your gratitude. Pro tip: You can even snag thank-you cards from The Knot Invitations that perfectly coordinate with your wedding invitations for an Insta-worthy stationery suite.
Can you thank guests for gifts before the wedding?
You can absolutely thank guests for gifts ahead of your big day—in fact, we encourage it! Sending out thank-you cards as you receive gifts will lighten your load a bit, so you're not sending out hundreds of notes in the weeks following your wedding (when you should be enjoying a blissful time as newlyweds). Keep in mind that you typically won't receive all your wedding gifts in one fell swoop. Some may come earlier at an engagement party or shower, some may be mailed to your home in the months leading up to your wedding.
By expanding your wedding thank-you card time frame and sending out thank-you cards as you receive gifts (within two weeks of getting it, to be exact), you'll ensure every guest is thanked in a timely manner and free up more room in your schedule to enjoy that just-married bliss. One caveat to keep in mind: If a guest buys you something for your wedding shower and then gifts you cash (or another item off of your registry) at the wedding itself, you may end up writing them two thank-you notes. For this reason, many couples choose to write notes centered around two primary gifting occasions—after the wedding shower and after the wedding—to make certain they have all their bases covered.
Is it ever too late to mail wedding thank-you cards?
We know better than anyone that wedding planning can be hectic—and sometimes that extends to after the big day. Between your long-awaited honeymoon and other fresh-from-the-altar milestones (think: buying a home together, adopting a pet or having a child), writing wedding thank-you notes can fall by the wayside. The good news? It's never too late to express your gratitude to those you love. While it may feel a bit awkward or embarrassing to send out an exceptionally late thank-you note, these are people who love you and your spouse, so they're sure to appreciate the sentiment no matter how tardy it is.
When writing belated wedding thank-you cards, be sure to focus your message on how much you appreciate the thoughtfulness of their gift and their presence at your celebration. It's best to avoid making any excuses for why the note is late—a short and sweet "newlywed life got away from us" is fine, if you feel like you want to acknowledge your tardiness. The benefit of a little time passing is you can be more descriptive and detailed about how much you're using and loving the item they gifted you. Details like what you've been making with the cookware or just how comfy the towels are will go a long way in making up for your delay in correspondence.