7 Thoughtful Ways to Thank Your Wedding Vendors For Being Awesome
Your pros deserve it.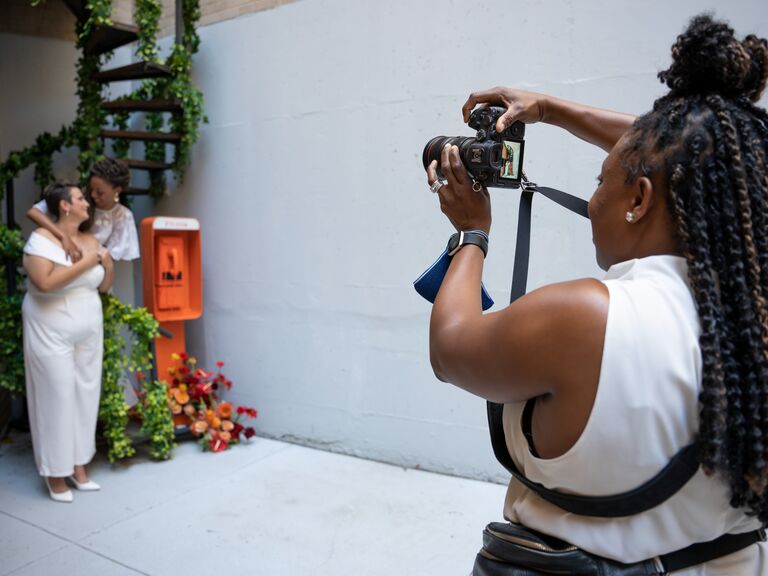 Photo: Jess Kane for The Knot
We have included third party products to help you navigate and enjoy life's biggest moments. Purchases made through links on this page may earn us a commission.
Your wedding pros will support you from the day they're hired until the end of your reception—many beyond that. Since they're an integral part of your wedding day, you'll want to take the time to sincerely thank your vendors for their hard work and dedication to your nuptials. There are a variety of ways to express your gratitude, whether it's a gracious, in-person thank you or vendor thank-you gifts, all the way to supporting their businesses after your wedding day. The way you say thank you to wedding vendors is up to your discretion (especially if they've gone above and beyond to make your day special). Here, we've outlined how to thank your wedding vendors for being awesome by finding the best vendor thank-you gifts, as well as our favorite cards and acts of kindness to express your gratitude. Get inspired below and start planning your thank-you message to your pros.
1. Write a Thank-You Card
Writing thank-you notes for wedding vendors is one of the best ways to let them know you appreciate their hard work. Your card should be personalized to them—while you can (and should) write notes for all of your vendors, make it sincere by highlighting certain things they did that stood out to you.
If you're looking for thank-you note wording for wedding vendors, consider this template:
"Dear [Name], Thank you so much for being part of our wedding day! We loved getting to work with you to bring our dream to life. We appreciate your help in creating unforgettable moments that will last a lifetime. [Address specific moments here.] Our love and gratitude, [Your names]."
Ultimately, your thank-you notes for wedding vendors should address why you're grateful for their work. Write your cards in advance, and put aside time at your reception to pass them out. Your pros will be grateful to read your kind words. When it comes to the actual cards you give out, there are plenty of customizable options that they'll adore. Find our favorite picks below.
The Knot We Do Thank-You Cards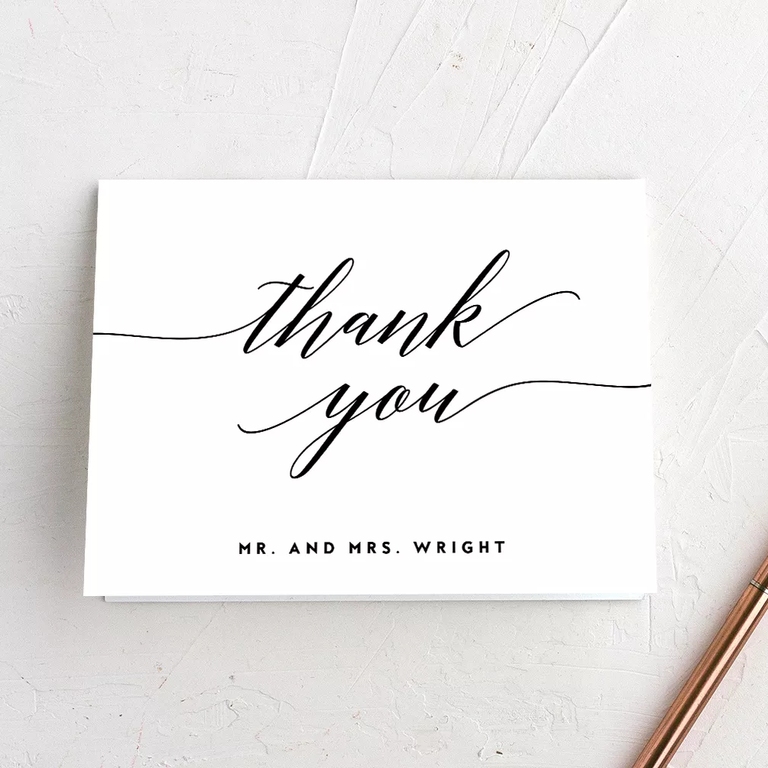 Keep it sweet and simple with this calligraphy thank-you card. Personalize it with your names, and use the blank interior to express your gratitude.
The Knot Eclectic Adornment Thank-You Cards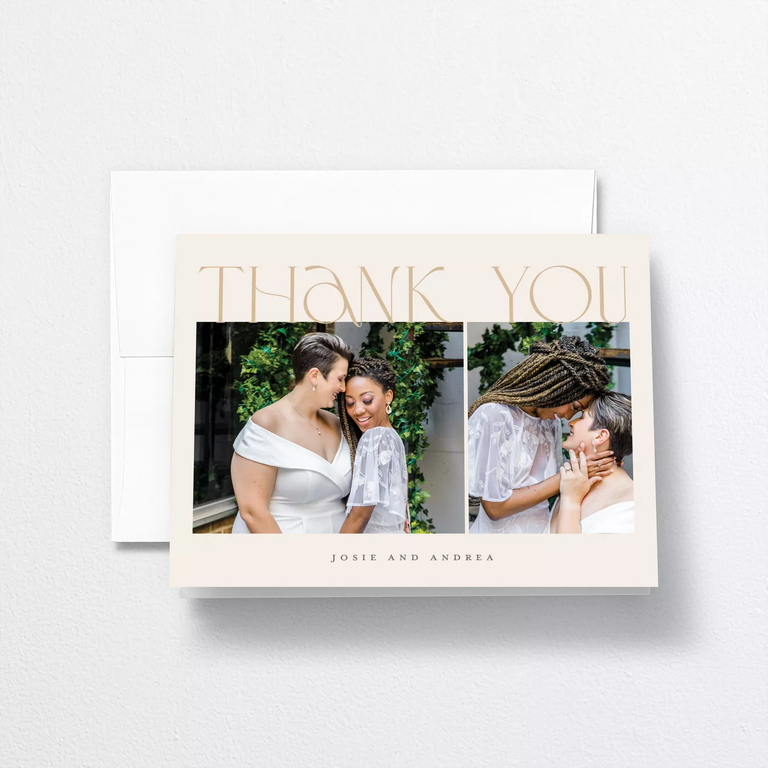 Show off your favorite wedding photo with this wedding thank-you card. Plus, you can customize this stationery to match your wedding suite for a cohesive design.
The Knot Simply Us Thank-You Cards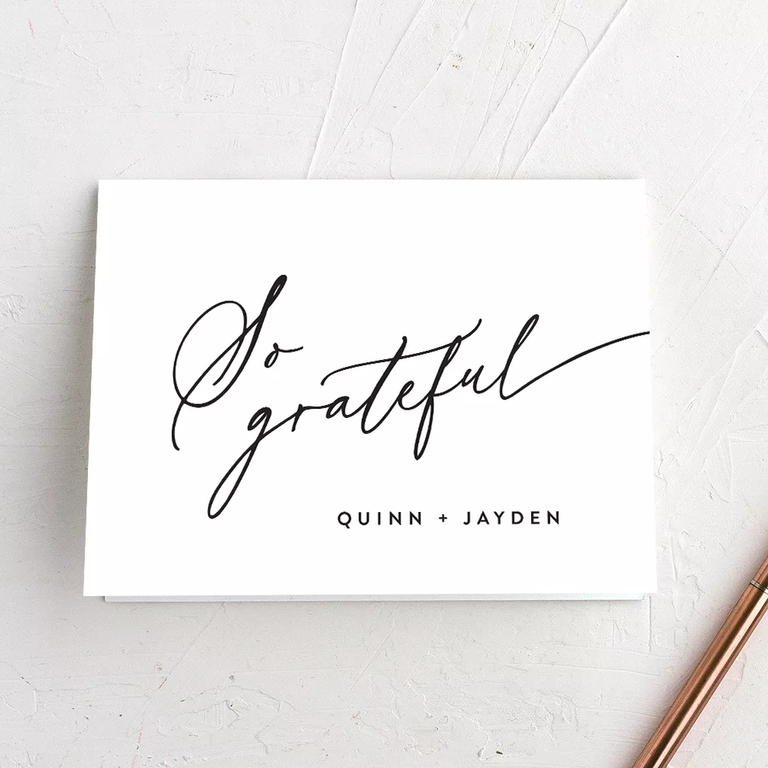 If you're so grateful for your pros, this card is a must. The minimalist design is chic and modern, so if that fits your wedding style this card is a no-brainer.
Petal Paper Co. Thank-You Card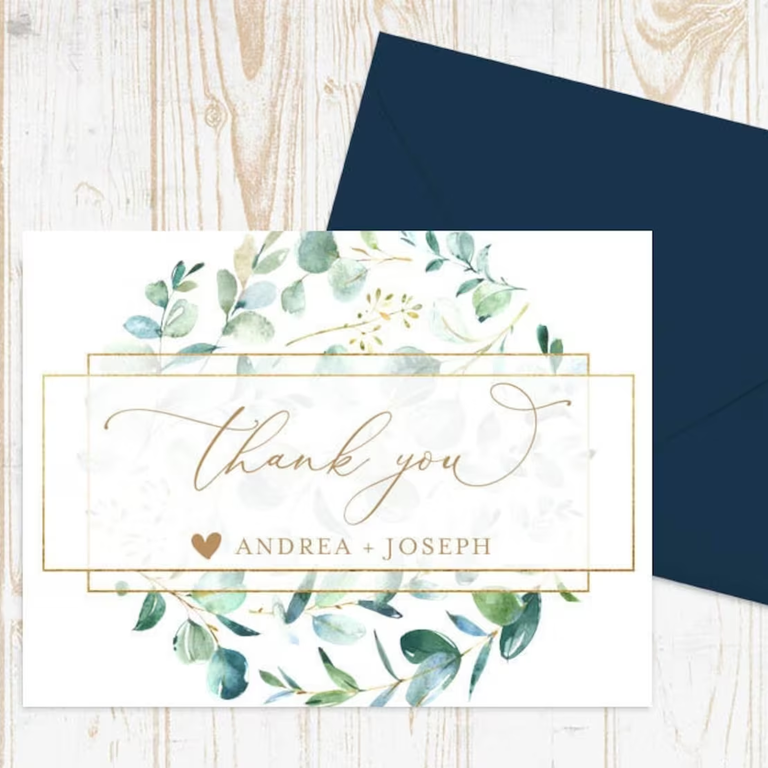 This wedding vendor thank-you card is a beautiful option for any of your pros, but especially for your florist. The watercolor design is stunningly simple, and the envelope color can be customized to your preference.
The Knot Vibrant Floral Thank-You Postcards
Wedding postcards are also great options for writing thank-you notes. This pick can be personalized with a wedding photo, and it includes space on the back for your handwritten note.
2. Send Them a Gift
If you had a particularly exceptional experience with a wedding vendor, express your appreciation by getting them a gift. Keep in mind this isn't mandatory—vendor thank-you gifts are often best given in combination with a good review and a tip. But if you feel inclined, you can purchase a present for those that exceeded your expectations. To keep things simple, consider getting your pros a pre-made gift basket, a bouquet of flowers or a gift card. We've rounded up our favorite thank-you gifts for wedding vendors below, so browse our ideas to get inspired for your team of pros.
For Your Photographer and Videographer: Cute Coffee Mug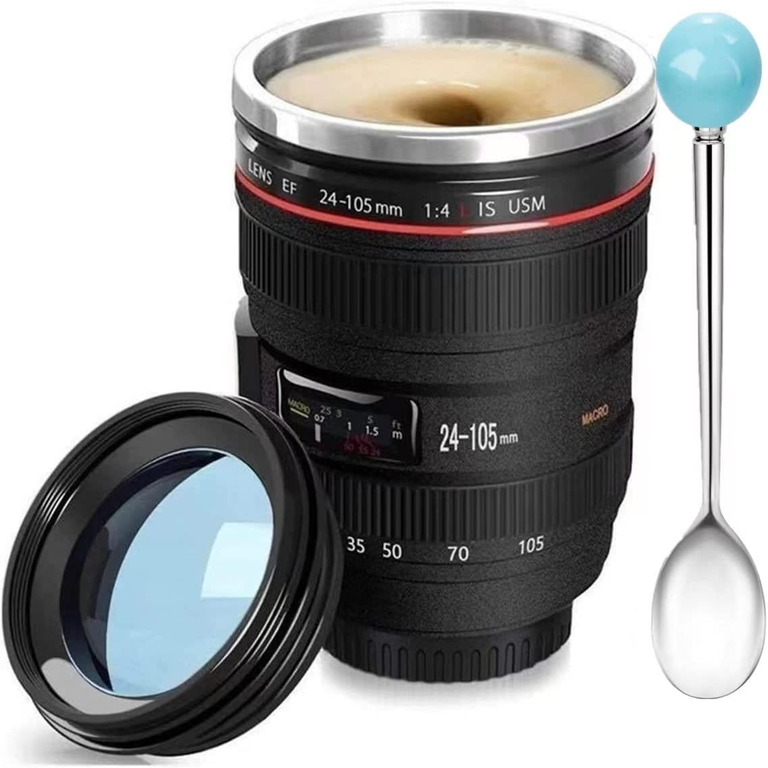 Photo and video pros often burn the midnight oil shooting weddings and editing, so caffeine is often just as important a tool as a camera and tripod. This camera lens travel coffee mug is sure to get a chuckle out of your photographer and/or videographer. Include a gift card to Starbucks or a local coffee for an added bit of appreciation.
For Your Planner and/or Venue Coordinator: Succulent and Candy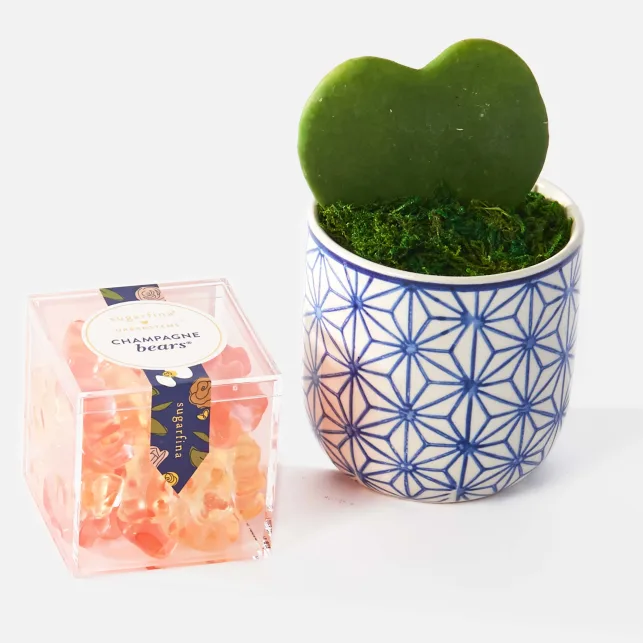 If your planner and/or venue coordinator has gone above and beyond, it's worth sending them a little something as an additional thank you. We love this little heart-shaped succulent, which is displayed in a pretty pot and paired with champagne-flavored gummies. It's thoughtful and celebratory—a perfect combination (just like you and your planner!).
For Your Florist: Spa Gift Card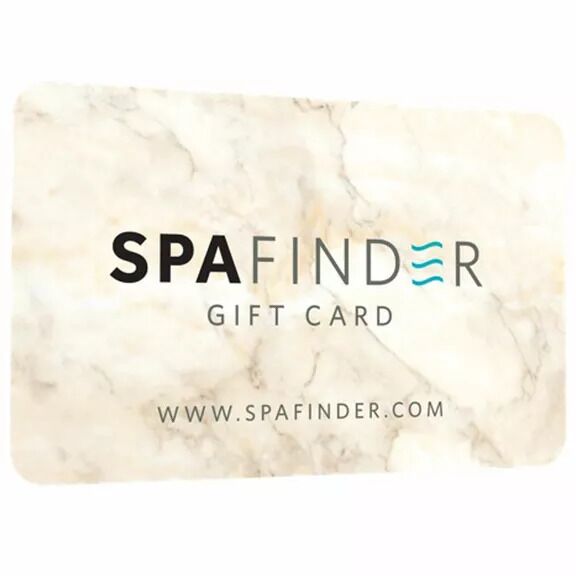 Giving a bouquet of flowers to your florist is probably a no-no, but a gift card that can be used at a local spa? A major yes. Florists are constantly on their feet and working with their hands, so a massage, manicure or pedicure will certainly be appreciated.
For Your Music Pros: Basket of Goodies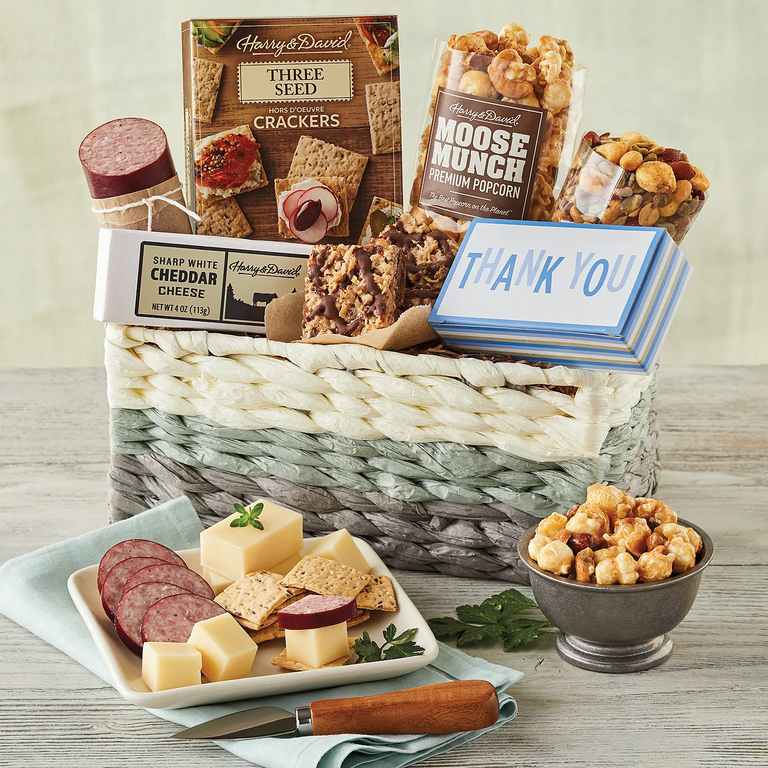 Whether you'd like to send extra thanks to your DJ, band or ceremony musicians, an edible gift is a surefire hit. We love a food basket that includes a variety of sweet and savory treats to satisfy everyone's palates.
For Your Officiant: Leather Journal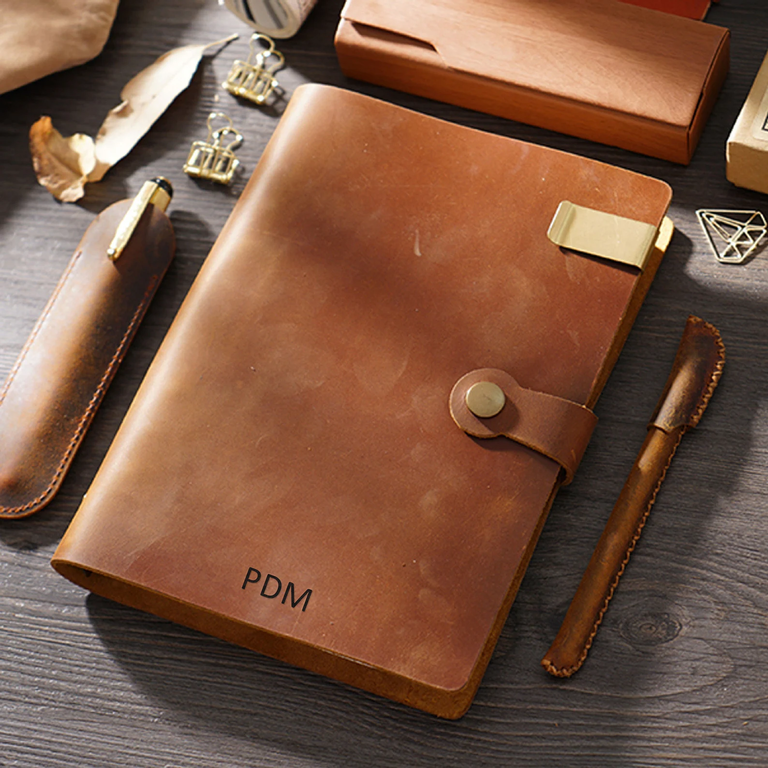 You've likely gotten to know your officiant pretty well during your engagement, and vice versa, so a thoughtful gift is a great way to show your appreciation. A leather journal makes a classic and useful keepsake, and we love how this one is available in several colors and can be monogrammed for a personal touch.
For All Your Pros: E-Gift Card
Having trouble finding a fool-proof gift you know your pro will love? You can never go wrong with an Amazon gift card. They'll appreciate the gesture, and then can use your present to buy anything they want, whether it's for their business or their own personal enjoyment.
For All Your Pros: Something to Sip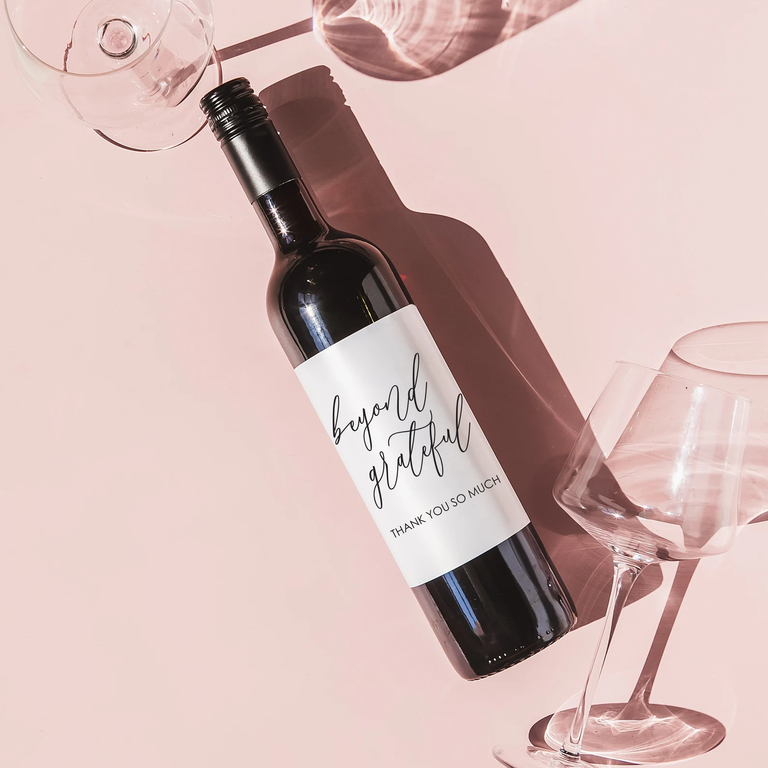 If you're looking for a vendor thank-you gift you know they'll use, purchase them your favorite bottle of wine. To make it even more personalized, stick on a custom wine label that thanks them for their role in your wedding day. (PS: These can also serve as favors for your guests or wedding party too.)
3. Leave a Tip After Your Wedding
Although it's not mandatory, thanking wedding vendors by leaving a tip is highly encouraged—especially if they've gone above and beyond to make your day special. As you make your wedding budget, consider including an estimated gratuity block in your overall spend. Tips should generally be evaluated on a case by case basis. (Don't stress—we break down the numbers here.) While tips for some vendors, like your hair and makeup artist, are common, it's a gesture all of your pros will appreciate. Have your monetary gifts organized in envelopes before your wedding day, that way you can distribute them accordingly. (For example, you should tip your beauty pro once your look is complete, while you can wait until the end of the night to tip your DJ or band.)
Not only is a tip a great way to thank your team for their hard work, it won't go unappreciated. Since many of your wedding pros are small businesses, they'll be grateful for the thought behind your gift.
4. Write a Review
One of the best vendor thank-you gifts you can give is a review. Plenty of couples find their pros online—and if they use a tool like The Knot Marketplace to find their wedding team, there's a good chance they'll head to the reviews to see what other couples are saying. If you had a great experience with your vendors, go to their online storefronts and write a few lines about your experience with them. Share the ways they went above and beyond, and include your favorite aspects of working with their business. Your pro will be so thankful for your words.
5. Share Their Work Online
Business owners often build their clientele through word-of-mouth. To spread the word on how awesome your pros were, share their work online (and don't forget to tag them). Giving your vendors exposure on your social media account is a great way to say thanks, especially if you loved your wedding photos or were blown away by their event design skills. No matter your follower count, your pros will appreciate your digital support. Plus, if you have any friends or followers who are in need of vendors or wedding inspiration, your post will help them and your pros.
6. Purchase a Gift Card From Their Business
You don't have to stop working with your pros once your wedding day is over. Keep their skills in mind for any future life events where they could be utilized (like a business event or a family photoshoot). Purchasing a gift card or re-booking them in the future is one of the best ways to say "thank you." Not only will you continue to strengthen your relationship with that pro, you'll support their business in the best way possible. They'll be thrilled to work with you again.
7. Offer to Be a Reference
Wedding vendors sometimes ask clients to serve as references for testimonials. If you had a great experience with your pros, offer to be a resource for them in the future. By doing so, they can either feature your review directly on their site, or they can direct potential clients to you so you can answer their questions and speak with them in depth about your experience. Your pros will be thrilled to receive this offer. Not only will it help them continue to grow their business, having reliable references on hand is a gift that will keep on giving long after your wedding day.