The Definitive Guide to Buying Postage Stamps for Your Wedding Invitations
It's the final step before mailing your stationery.
We have included third party products to help you navigate and enjoy life's biggest moments. Purchases made through links on this page may earn us a commission.
You worked so hard to pick out beautiful invitations, so make sure you finish them off right with a great wedding stamp. If you're wondering whether you really need special stamps for your wedding invitations, think about it this way: Do you want your wedding invitations to make an impression the moment your guests pull them out of the mail? If the answer is yes, then you've probably already put a lot of thought into the weight and size of the invitation, the quality of the envelope and even the penmanship of the address. A carefully chosen stamp will add the perfect finishing touch to your mail. Not sure where to start? Here's a comprehensive guide to buying postage stamps for your wedding invitations, as well as some of our favorite options from the United States Postal Service.
How Much Do Wedding Postage Stamps Cost?
The cost of stamps for your wedding invitations depends on a few different things. First, you'll need to consider the weight, shape and size of your mail. Heavier or oddly shaped invitations will require more expensive postage. The location you're mailing to and speed of delivery are also important factors. If you want to send your invites first class (which we recommend to ensure that guests have enough time to respond and prepare), expect to spend a little bit more on your wedding stamps. Similarly, if you're sending any of your invitations outside the US, postage will be more expensive.
Currently, a single first-class stamp for invitations weighing up to one ounce costs $0.58. These are also known as forever stamps (more on that in a second). If your stationery is on the heavier side (read: between one and two ounces), a single first-class stamp costs $0.78. While that may not seem like a big deal at first, that's a $20 difference if you're buying stamps for 100 invitations. Aside from these prices, your envelopes must be flat, rectangular, letter size and made of paper. They also shouldn't have any attachments such as string, buttons, wax seals or clasps.
If your invitations are an unusual shape or bigger than the standard size, you can expect to shell out a little bit more on postage. An oddly sized invite, for example a square envelope weighing less than an ounce, costs $0.88 to mail (and $1.08 if it's between one and two ounces). A large rectangular envelope costs $1.16 if it weighs less than an ounce and $1.36 if it's less than two ounces. Postage stamps for postcards are a little cheaper than invitations, so mailing save-the-date or wedding announcement postcards should only set you back $0.40 a piece. But, they must be rectangular and no bigger than the standard size.
With all that in mind, what's the cheapest way to get stamps for your wedding invitations? If you've already purchased your stationery, avoid incurring any extra costs by using plain paper envelopes without embellishments like ribbon or string—otherwise, you'll need to add an outer envelope to each invitation. If you haven't already bought your wedding invitation suite, pay attention to things like weight and shape during your search. The Knot Invitations has lots of beautiful paper invites that are rectangular in shape and not too heavy.
If you're shopping online, you can save on shipping by buying your wedding stamps in bulk. Or, avoid shipping costs altogether by visiting your local post office to buy postage in person. One last tip: If you're buying forever stamps, you can maximize your budget by purchasing them early on—they'll maintain their value even if the cost of postage increases in the future.
What Are Forever Wedding Stamps?
As we mentioned already, forever stamps are used to mail standard wedding invitations weighing less than an ounce. These special stamps for wedding invitations hold their value forever (hence the name: forever stamps), regardless of increasing postage costs. But that's not all—the USPS has lots of different forever stamp designs that are perfect for wedding invitations. Western- and Star Wars-themed stamps are just a few of the unique options they have on offer at the moment. But, designs are always subject to sell out or change, so if you see something you like, it's best to stock up now. There's also a limited selection of wedding-themed postage stamps that'll add a romantic touch to your envelopes.
How Many Stamps Are Required for Wedding Invitations?
If your wedding invitations are standard size and weigh less than an ounce, they'll each require a single forever stamp valued at $0.58. If a forever stamp isn't enough to cover the cost of postage, you can purchase additional stamps in smaller denominations (i.e. 5 cents or 10 cents) to add to the envelope and make up the difference. Don't want multiple stamps crowding your envelopes? The USPS also offers single stamps for wedding stationery weighing up to two and three ounces.
When you're buying your postage stamps, don't forget about other aspects of your stationery. If you're also sending save-the-dates and RSVP cards, you'll need to buy stamps for those items as well. This means you'll need at least three stamps per invitation suite. It's also a good idea to pick up a few extras in case of any mistakes while addressing your wedding invitations.
If you're not quite sure what size stamps you'll need for your wedding invitations, a member of staff at your local post office will be happy to help. Just bring one ready-to-mail envelope complete with all the inserts and they can advise you on postage. This is an especially important step if your stationery isn't the standard size (letter size) or shape (rectangular). If you're working with a professional stationery designer, they can also be an excellent resource when it comes to finalizing the postage and mailing invites.
Should Stamps Be Included With RSVP Cards?
If you're wondering whether or not you should pre-stamp your RSVP cards, the short answer is yes. It's considered proper etiquette to include a stamped and addressed envelope along with your RSVP cards. This won't just make things a whole lot easier for your loved ones, it also guarantees a faster response time for you and your future spouse.
Of course, there are a few clever ways to cut costs when it comes to RSVP postage. Instead of requesting traditional written responses, try asking guests to RSVP on your wedding website instead. You can still send response cards to any less tech-savvy loved ones, like your grandparents. Or, if you really want to collect written responses, replace the traditional card and envelope with RSVP postcards. As we mentioned earlier, the cost of a standard postcard stamp is just $0.40.
Where to Buy Wedding Postage Stamps
There are several places you can shop for wedding stamps, including the USPS website, your local post office, Etsy and Amazon. The USPS website provides an estimated shipping time of five to seven days for in-stock items, so you should plan to leave a little extra time for your stamps to arrive after ordering. Amazon is a good place to buy wedding postage stamps in bulk, while Etsy boasts lots of cool collectibles and vintage forever stamps that'll help set the tone of your invitations. Shipping varies on both of these sites, so make sure you read the fine print. When buying wedding postage stamps online, we recommend leaving a little extra wiggle room than the estimate provided to allow for any unforeseen delays.
If you're short on time or don't want to risk any unexpected shipping problems, the best place to buy wedding stamps is in person at the post office. It's a good idea to call ahead and ask a member of staff if they have the kind of stamps you're looking for (and make sure they have enough).
Our Top Tips for Choosing Your Wedding Stamps
Not sure how to decide on the best stamps for your stationery? If your wedding has a theme, take inspiration from that. There are lots of unique options on the USPS online store, from nature-inspired stamp designs to holiday-specific options. You could also play up the location of your big day. The US Post Office regularly offers stamps connected to US states, but you can also get creative. Hosting your wedding in Hawaii? How about wedding stamps featuring a picture of a palm tree or the sun?
Another route you can take is to pick out postage stamps that express your relationship in some way. You could choose a design that reflects the location of your first date or where you first met. Or, go for a stamp that shows off one of your shared interests, whether that's hiking, astrology or animals. If you're still not finding the one for you, it's always a safe bet to choose something that represents love. The USPS' wedding-themed stamps add a romantic touch to any envelope.
Our Favorite USPS Wedding Stamps
Want some more inspiration? We've got you covered. While custom wedding stamps might be a thing of the past, the United States Postal Service still has some really cool stamps for wedding invitations. Check out our favorite picks below.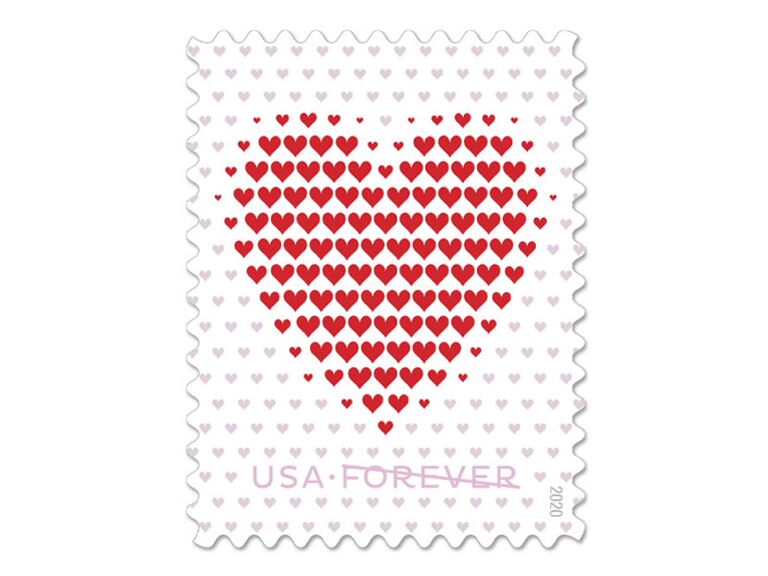 Anyone on the hunt for heart-themed stamps for wedding invitations can stop their search right here. This adorable postage stamp features a red heart made up of even smaller—you guessed it—red hearts!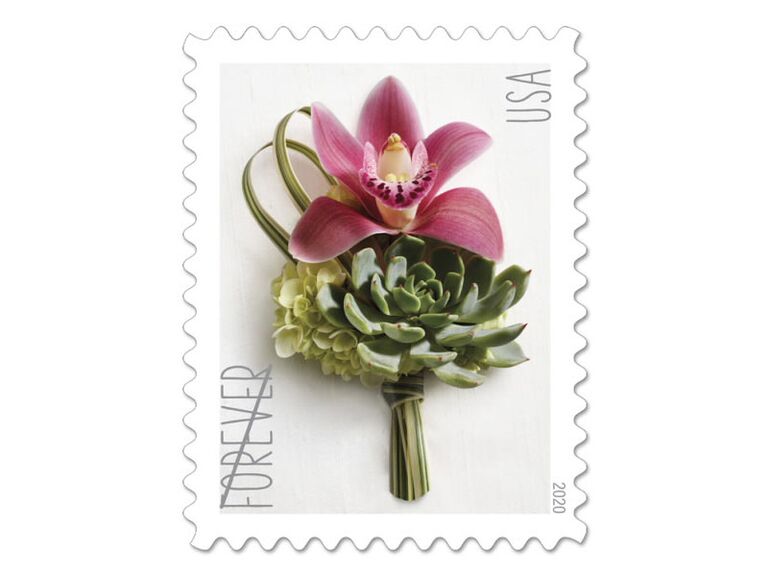 There's no shortage of decorative postage stamp designs for your wedding invitations at the USPS store. This pretty floral option is titled "Contemporary Boutonniere."
Here's another nice forever stamp that embraces the love/wedding theme. This romantic pick feels playful and modern, spelling out "love" in bright block letters. Use it as an invitation or save-the-date stamp for your special day.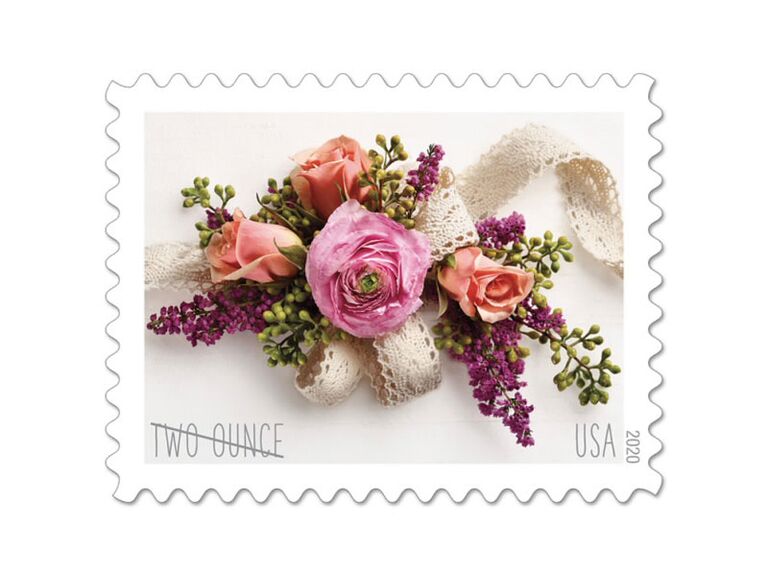 Need a two-ounce stamp for your bulkier wedding invitations? We're quite taken by the romantic blooms on this wedding-ready design.
Planning a Star Wars-themed wedding? Or maybe you both just love the iconic franchise? Either way, these Star Wars invitation stamps will add a fun, personal touch to your wedding invitations.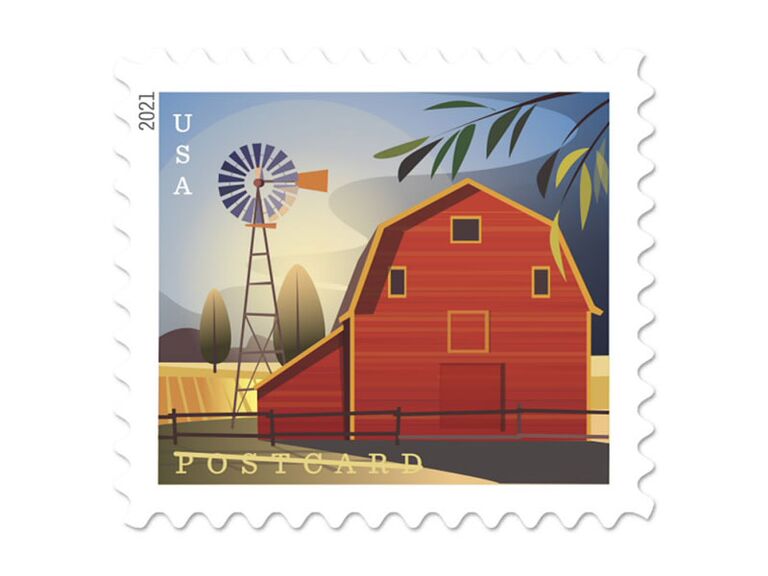 This postcard stamp is perfect for RSVP or save-the-date postcards if you're planning a country wedding. It features a picture of a traditional red barn.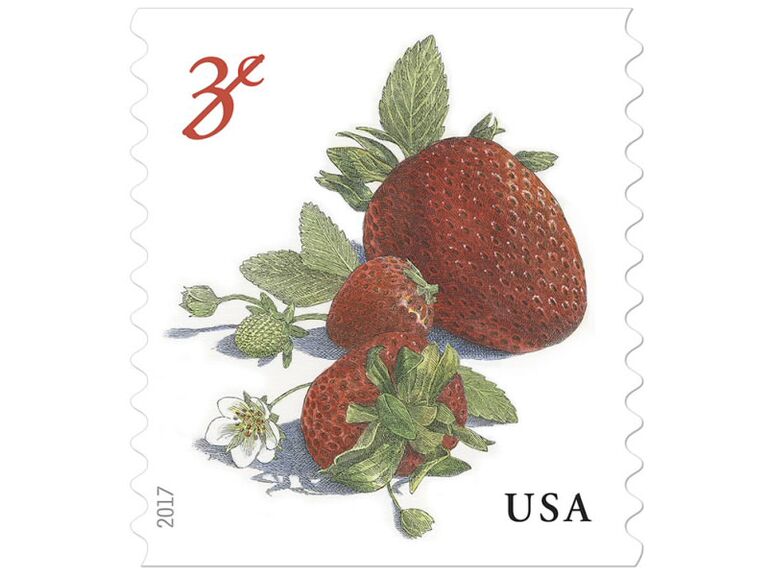 If the cost of sending your wedding invites is coming in just over the mark, you can add stamps in 1-, 2-, 3-, 5- and 10-cent increments to increase the postage value. Note: These strawberry-themed 3-cent stamps are only sold online in coils of 3,000 or 10,000, so you may want to pick them up in your local post office instead.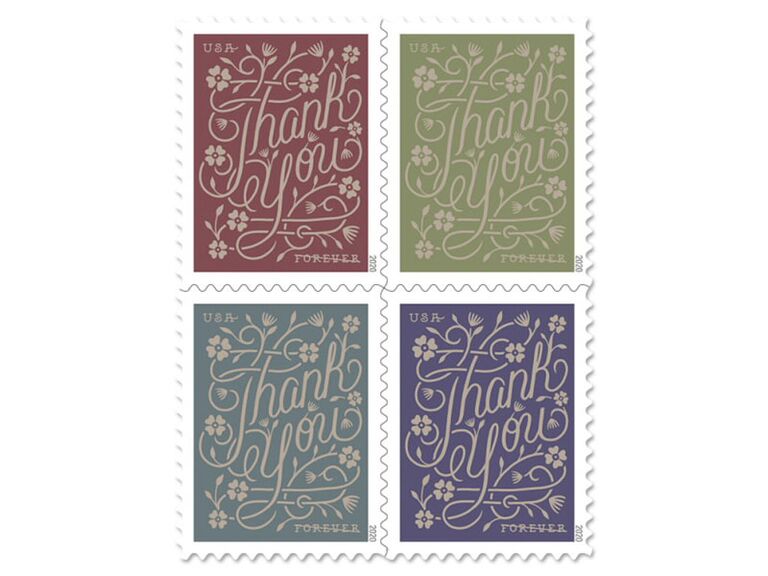 Save time after the wedding by picking up stamps for your thank-you cards now too. These on-theme thank-you stamps feature an elegant script and pretty blooms.