The Wedding Thank-You Card Etiquette Rules You've Got to Follow
Show your guests appreciation without hesitation.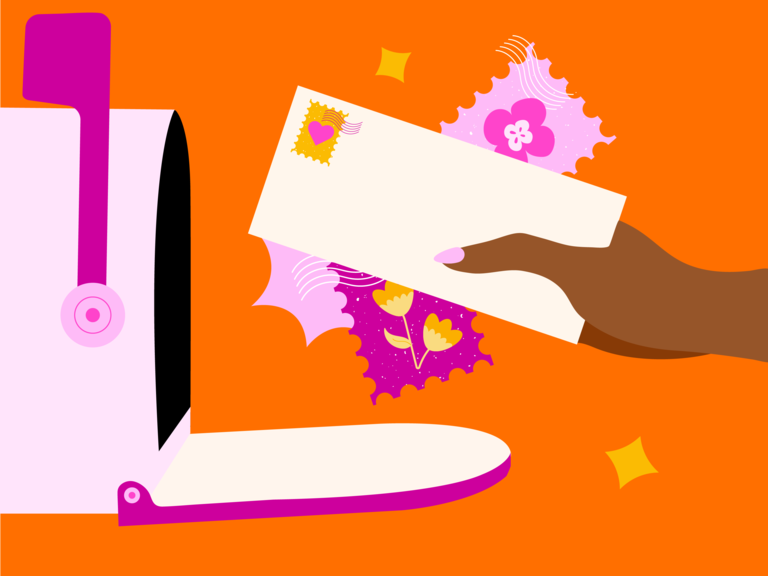 Illustration: Natalie Romine
You did it! Major props for getting through your engagement gift thank-you notes and your wedding shower thank-you notes (with minimal hand cramps, we hope)—now it's time for the grand finale: wedding thank-you notes. But before you put pen to paper, there are a few wedding thank-you card etiquette tips to brush up on. While wedding thank-you note best practices have evolved over the years, some things never change, like the fact that sending thank-you notes is one of the most important aspects of pulling off a great wedding. But beyond that, you might wonder if every guest gets a card or if handwritten wedding thank-yous are even necessary anymore in the digital age. Not to worry—if you've got wedding thank-you card etiquette questions, we have answers. Here, we've outlined our golden thank-you card etiquette tips and tricks to follow when it comes to showing your gratitude.
In this article:
Are wedding thank-you cards necessary?
So, do you really have to send wedding thank-you notes? The answer is yes—plain and simple. While sending thank-yous may seem time-consuming, it's imperative to take the time to write a special message to each guest to show your appreciation for their generosity. It's proper etiquette to thank your guests for sending a gift and attending your big day, and this is one wedding rule that won't go away. The best way to make sure you remember to get writing: scoop up some pretty thank-you cards by The Knot to have on hand as gifts start arriving.
Who gets a wedding thank-you note?
Every guest who attends your big day gets a wedding thank-you note, even if they don't give a wedding gift. For the rare giftless guest, simply thank them for their presence at your celebration. Keep in mind that buying a wedding present is highly encouraged—whether it's a registry item, a monetary gift, a honeymoon fund donation or something else—but it's not mandatory. And guests technically have up to a year after your wedding day to give a gift, so your present might arrive later than expected. Regardless of the gift status, though, every guest should receive a thank-you card.
When should you send wedding thank-you cards?
Guests will be tickled to receive your sweet note anytime, however, it's recommended to send wedding thank-you cards within two weeks of receiving a gift if it arrives before your wedding. Then, for all gifts received after, aim to send thank-yous within three months of your wedding date to express your gratitude in a respectful, timely manner. We explain why (and answer more thank-you card timing etiquette questions) in our full wedding thank-you note timeline.
What goes in a wedding thank-you note?
Wedding thank-you cards are just like any other gratitude note—meaning they should mainly include a big "thank you" first and foremost, but there are a few other elements you should consider as you ponder what to write in wedding thank-you cards. When writing your message, start by addressing each guest who attended (or signed the gift's card) by their name. Express your gratitude for their presence on your wedding day and mention any gifts received by name. Jot down a line or two about why you like the gift and how it'll be used—especially if they gave a monetary gift. Taking the time to personalize each thank-you note will show guests your appreciation for their generosity.
Can you thank your wedding guests digitally?
Today, more couples are opting for digital communication. (In fact, virtual RSVP cards are one of the biggest stationery trends of the moment.) That's not to say that paper stationery will ever go out of style, though. It's still recommended to send some things in the mail, like formal invites and thank-you cards. There's truly nothing sweeter than getting snail mail and guests definitely will notice (and appreciate) the extra care it took you to sign, seal and deliver your thank-yous. But wedding thank-you note etiquette is evolving and there are digital options (or other eco-friendly options) for just about every form of paper you'll need to give guests.
So, yes—technically you can send digital wedding thank-you cards if you want, especially if you're focused on your wedding's environmental impact, but nothing replaces a classic handwritten thank-you note. Whatever you do, though, do not text your wedding thank-you notes. (Yes, we've really seen it all.)
Should you thank guests after every wedding event?
Thank-you cards for wedding gifts are a must, but it's also important to send gratitude notes for additional presents received, too. Loved ones will start to lavish you with presents from the moment you get engaged and throughout milestone prewedding events like showers, which means you'll need to thank them in a timely (and appropriate) manner every time you unwrap a package. You'll need to write thank-you cards after every wedding event (save for your bach party, unless your friends bought you something special for it). In other words, every single engagement gift, wedding shower gift and wedding gift should be individually acknowledged. So even if one person gave you three gifts—one at your engagement party, one at your bridal shower and one at your wedding—you should still write them three separate thank-you notes acknowledging each one. It's for this reason that we recommend starting early and sending out thank-yous as you receive gifts to avoid adding "muddle through a giant pile of thank-you notes" on your postwedding to-do list. Need help? Read our guides to engagement party thank-you notes and wedding shower thank-you notes.
*Sarah Hanlon contributed to this article.