Every Wedding Dress Designer from A to Z (And What They're Known For)
We've outlined design styles, price ranges and more—all in one place.
As fun as it is to shop for a wedding dress, you might quickly realize that the world of bridal fashion is even bigger than you thought. One way to narrow your search for your dream wedding dress (because we know it can get overwhelming) is to zero in on a wedding dress designer or two whose looks speak to your personal style. You might even already be familiar with a few household names, but if not, don't worry. You don't have to be a fashion guru to find a bridal designer you love—that's what we're here for. We're sharing all of the must-know bridal designers in this handy list, along with each designer's specific styles, price range, location and more. Use it to keep tabs on your favorites or to familiarize yourself with new wedding dress designers before you head to your first dress shopping appointment.
In this article:
How to Choose a Wedding Dress Designer
Spend time gathering inspiration.
Even if you're not looking for a specific bridal designer yet, the first step in any wedding dress shopping journey is inspiration. Do you like sleeves or no sleeves? Fitted silhouettes or roomy ball gowns? Start pinpointing your ideal look by grabbing a wedding magazine, checking out online Real Wedding galleries or following wedding dress brands on Instagram. Take note of dresses that stand out to you and if they have any similarities or are by the same designer, then use that as a starting point when deciding which bridal salons you want to visit.
Skimming the latest wedding dress trends is another way to familiarize yourself with bridal designers, especially if you're interested in couture wedding dresses. Most wedding dress designers release a new collection at least once a year (and sometimes multiple collections per year), so even if you don't end up wearing a style from their current collection, there's a good chance you'll find another design by them that you like.
Ask your friends.
Word of mouth should never be underestimated, even when you're shopping for a wedding dress. If you have fashionista friends or relatives who have already gone through the process, especially if it was somewhat recent, they could be full of knowledge when it comes to designers you haven't heard of before.
Think about your current closet.
From Vera Wang to Anthropologie, there are so many luxury designers and ready-to-wear brands who are also part of the bridal fashion realm. If you have a go-to designer whose clothes make up a majority of your everyday closet (or your inspiration boards), do some research to see if they've ever branched into bridal design or evening wear. Even if they haven't created traditional wedding looks, you might be able to find something you love anyway—and don't forget about their shoes, jewelry or other accessories.
Leave it to your bridal stylist.
In the end, you might not choose a dress by the wedding designer you originally planned, and that's okay. It's completely fine to go into your dress shopping appointment with the name of a designer you'd love to wear—in fact, it will help your bridal stylist understand your wedding vision and overall aesthetic. But it's also important to keep an open mind throughout your search. Your stylist might recommend other designers who are better suited for your budget, wedding style or timeline, so be sure to take their expert suggestions into account.
Wedding Dress Designer Glossary
Ready to learn about all the wedding designers you could possibly want to know? Use this A to Z list to brush up on who's who in bridal fashion.
Alexandra Grecco
Combining simple, minimalist style with a hint of whimsy and romance, Alexandra Grecco wedding dresses are perfect for modern brides. Launched in 2014, her collections are often filled with airy details, like 3D floral appliqués, illusion lace and ruffled sleeves without being overly girly. Designs are handmade in New York City in sizes 00–20, with other sizes available.
Price range: $2,500 to $7,800
Headquarters: New York, New York
Allison Webb
If you're a fan of J.Crew or Tory Burch designs, chances are you'll find an Allison Webb wedding dress that you love—the wedding dress designer has experience working for both brands. For her namesake label, Allison Webb focuses on chic, understated wedding gowns with a hint of glamour (think feathers and beading) balanced with feminine lace, embroidery and tulle. As part of the JLM Couture brands, she's also the head designer for Ti Adora by Allison Webb and Lucia Bridal.
Price range: $500 to $7,999
Headquarters: New York, New York
Amsale
Beloved for their classic-with-a-twist feel, Amsale wedding dresses are ideal for anyone who wants something timeless and celeb-approved. The label, founded by the late Amsale Aberra more than 30 years ago, has been worn by many famous faces, including Ayesha Curry, Bethenny Frankel and Hilaria Baldwin. Chief Creative Officer Sarah Swann and Designer Michael Cho are carrying on the tradition of the brand's structural designs, often made from sleek fabrics like duchess satin, crepe and silk taffeta. The brand is also known for its two other labels, Nouvelle Amsale and Little White Dress, along with bridesmaid dresses and evening wear.
Price range: $1,900 to $3,300 (Nouvelle Amsale) and $4,200 to $10,000 (Amsale)
Headquarters: New York, New York
Anne Barge
Classic brides will love Anne Barge's elegant yet modern wedding dresses. Sophisticated details, like illusion lace necklines, fit-and-flare silhouettes, button-down backs and long trains are at the heart of each collection, resulting in a timeless couture feel. In addition to the signature Anne Barge collection, Creative Director Shawne Jacobs also oversees Anne Barge Blue Willow Bride, Anne Barge Curve Couture, Anne Barge Black Label and the Little White Dress collection. Famous names who have worn Anne Barge include Jessica Clarke Higgins, Taraji P. Henson and Lauren Alaina.
Price range: From $2,000+
Headquarters: Atlanta, Georgia
Berta
Known for statement-making gowns that accentuate your curves with plunging necklines, bustier bodices and daring low backs, Berta is a must-know wedding dress designer if you're going full glam on your big day. Eye-catching embellishments like feathers, intricate beading and sheer panels are all signatures of this international bridal house, which releases multiple collections each season, including Berta Couture, Muse by Berta and Berta Privée.
Price range: Inquire for pricing
Headquarters: Israel and New York, New York
BHLDN
If you regularly shop at Anthropologie, Free People or Urban Outfitters, consider this wedding dress brand your first order of business when it's time to look for your gown. Owned by the same parent company, BHLDN is a favorite for its laid-back, trendy and fun approach to bridal fashion. Offering a mix of in-house wedding dress designs and hand-selected styles from other bridal designers, BHLDN prioritizes size inclusivity and wearability—there's something for every wedding style, whether you're planning a big celebration or an intimate elopement. BHLDN is also a go-to for your wedding day shoes, accessories, bridesmaid dresses and prewedding looks.
Price range: $300 to $3,000
Headquarters: Philadelphia, Pennsylvania
Carolina Herrera
Viewed as one of the most iconic American luxury designers of the last few decades, Carolina Herrera launched her first wedding dress collection in 1987. You'll be in excellent company by wearing a Carolina Herrera dress, since countless famous names have worn the designer's gowns on the red carpet and down the aisle, including Caroline Kennedy, Olivia Palermo, Idina Menzel, Jessica Simpson and even Bella Swan in "Twilight." Perfectly tailored silhouettes, exquisite lace, bows and floral appliqués are just some of the bridal house's signature details.
Price range: Inquire for pricing
Headquarters: New York, New York
Casablanca Bridal
Founded in 1997, Casablanca Bridal has become one of the most popular wedding dress designers in bridal salons across the country. With three different labels, including Casablanca Bridal, Beloved by Casablanca and Amare Couture, there's a gown for every body type, wedding style and budget. Whether you want a fairytale wedding gown or a flowy chiffon dress that's easy to wear for a low-key beach ceremony, this is a great place to start.
Price range: $1,000 to $3,000
Headquarters: Anaheim, California
Claire Pettibone
Wedding dress designer Claire Pettibone infuses her namesake label with whimsical and vintage-inspired elements to design gowns that are ethereal and unique. She's known for branching beyond the typical white wedding dress, often creating designs with colorful embroidery, patterns and 3D embellishments. With experience dressing multiple famous clients, including Cameron Diaz, Nikki Reed and Elizabeth Moss, Claire personally oversees the making of every gown, which are all handmade on-site at her Los Angeles atelier.
Price range: $2,500 to $3,500 (Romantique collection) and $4,000 to $15,000 (Couture collection)
Headquarters: Los Angeles, California
Costarellos
Fun, flirty and a little unexpected, Costarellos wedding dresses are ideal if you love boho luxe style. Balancing classic, streamlined silhouettes with details like crochet lace, tiered tulle skirts, and puffy statement sleeves, Costarellos puts a contemporary spin on traditional bridal design for a result that's sophisticated but not stuffy.
Price range: Inquire for pricing
Headquarters: Athens, Greece
Danielle Frankel
From menswear-inspired designs and exposed corsets to simple slip wedding dresses with bubble sleeves, Danielle Frankel wedding dresses are a must for brides who love memorable, fashion-forward pieces. In addition to her statement gowns, Frankel often incorporates separates into each collection—think bridal trench coats, belts, pants and other items that can be re-worn long after the wedding day.
Price range: $1,890 to $16,000
Headquarters: New York, New York
David's Bridal
As one of the most popular wedding dress brands in the country, David's Bridal is a household name for wedding dresses, flower girl dresses and evening wear. The brand has more than 300 stores nationwide, making it easy to find a location near you—and extremely useful if anyone in your wedding party, like a bridesmaid, is out of state but needs to shop in person. David's Bridal offers a range of sizes (from 0 to 30W) and styles from their multiple in-house labels, including DB Studio, Melissa Sweet, Oleg Cassini and Galina Signature. Along with your wedding dress, David's Bridal is a great place for bridal shoes, accessories, wedding undergarments and little white dresses.
Price range: $100 to $2,000
Headquarters: Conshohocken, Pennsylvania
Eisen-Stein
Sexy and feminine at the same time, Eisen-Stein wedding dresses bring a fresh perspective to the romantic bridal aesthetic. The designer duo push the edge with bold details like sheer bodices, plunging necklines and high slits that add wow factor to traditional designs. Beading, crystals, feathers and pearls often accent their collections for a hint of glamour and luxe.
Price range: Inquire for pricing
Headquarters: Tel Aviv, Israel
Elie Saab
A favorite among royalty, celebrities and high-end brides, an Elie Saab wedding dress is perfect for formal dress codes and grand events. The Lebanese couture wedding dress designer often adorns his gowns with opulent but elegant details, like hand beading, full tulle skirts, dramatic capes and statement sleeves, setting the scene for a truly wow-worthy moment on your wedding day.
Price range: Inquire for pricing
Headquarters: Paris, France and Beirut, Lebanon
Elizabeth Fillmore
Effortless and chic, an Elizabeth Fillmore wedding dress will have you looking polished without the fuss. Easily wearable styles, like bias slip cut dresses and bridal separates, are staples for this modern designer—wear one of her pieces if you want to be the cool bride who nails the balance between trendy and timeless.
Price range: Inquire for pricing
Headquarters: New York, New York
Essense of Australia
With hundreds of gowns and several in-house labels to choose from, there's bound to be at least one Essense of Australia wedding dress that matches your vibe and budget. The gowns embody an overall romantic style, with lace appliqués, off-the-shoulder necklines and fit-and-flare silhouettes carrying through all of the collections. Essence of Australia, along with its sister labels Marina Liana and Stella York, is available in hundreds of bridal retailers across the country.
Price range: $500 to $1000+
Headquarters: Lenexa, Kansas and Perth, Australia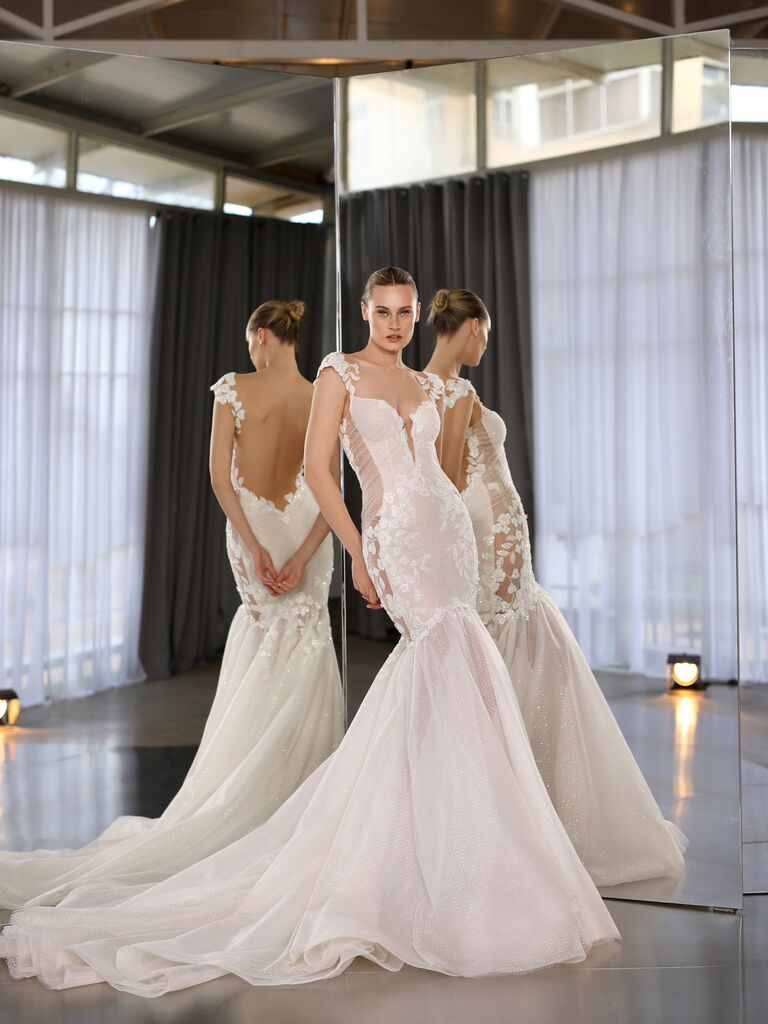 Galia Lahav
If you want to feel like you're walking your very own red carpet on your wedding day, a stunning Galia Lahav wedding dress is your answer. The designer's lavish couture gowns are made for a once-in-a-lifetime moment, with details like sheer cutouts, elaborate beading, sparkle tulle and extra-long trains featured heavily in every collection. If your style leans slightly more whimsical and sweet, try the GALA by Galia Lahav collection instead, which has the same show-stopping qualities as the couture collection at a more accessible price point.
Price range: $4,000 to $7,000 (GALA) and $7,000 to $20,000 (Couture)
Headquarters: Tel Aviv, Israel
Galvan
Featuring sleek silhouettes and bridal separates accented with unexpected accents (think fringe trim, silk jacquards and monochromatic sequins), Galvan is a wedding dress brand you'll want to know if you consider yourself an understated yet fashion-forward bride. understated. Since the bridal launch in 2018, Galvan has made its name among the fashion and Hollywood sets, with the team of four female designers focusing on empowering women through their clothes.
Price range: $300 to $3,500
Headquarters: London, England
Gracy Accad
Pairing playful and elegant elements together, Gracy Accad is known for her airy, feminine wedding dresses. Using dainty bows, floral embroidery, timeless A-line silhouettes and other classic details, she creates gowns that look equally chic for a garden wedding or a city hall elopement.
Price range: Inquire for pricing
Headquarters: New York, New York
Hayley Paige
Instantly recognizable from TLC's "Say Yes to the Dress," Hayley Paige wedding dresses have become some of the most popular bridal gowns of the last decade. From lilac tulle ball gowns to tiered ruffle skirts and all the sparkle, these designs are great for brides who want to have a bit of fun with their look.
Price range: $2,500 to $7,999
Headquarters: New York, New York
Honor Bridal
If you think traditional wedding dresses aren't your thing, Honor will serve up all the unexpected, cool bride vibes you could ever want. The designer is known for their fashion-forward take on the standard white wedding dress, adding unique details (like colorful bows) and shortening hemlines to tap into the more whimsical side of bridal fashion.
Price range: Inquire for pricing
Headquarters: New York, New York
Ines Di Santo
Statement floral prints, grand ball gowns and pretty lace embellishments—if any of these sound like your style, chances are that you'll love Ines Di Santo's luxury wedding dresses. The designer, who has more than 30 years of bridal experience, is famous for her red carpet-worthy gowns featuring her signature combo of feminine and dreamy elements. While her couture designs have been worn by dozens of famous names, including Jenny McCarthy and Serena Williams, the Ines by Ines Di Santo label gives you the option to have an equally stunning gown at a more affordable price.
Price range: From $3,000 (Ines by Ines Di Santo) and $6,000 to $15,000 (Bridal Couture)
Headquarters: Toronto, Canada
Jenny Yoo
Along with her wedding gowns, bridal designer Jenny Yoo is just as (if not more) known for her iconic bridesmaid dresses, which include the incredibly popular velvet 'Logan' dress and dozens of pretty floral prints. With her two bridal labels, Jenny Yoo Bridal and Jenny by Jenny Yoo, you'll find plenty of modern romantic details, like flowing skirts, flattering square necklines, figure-hugging slip gowns and flirty midi hemlines. If you need a last-minute wedding dress, check out the brand's ready-to-ship options.
Price range: $200 to $600 (ready-to-ship) and $900 to $4,500 (made-to-order)
Headquarters: New York, New York
Justin Alexander Signature
Pulling inspiration from Old Hollywood glamour and silver screen heroines, Justin Alexander Signature wedding dresses are designed for the bride who appreciates luxury and elegance with a contemporary twist. Styles range from understated crepe gowns to elaborate gowns accented with beading, lace, removable capelets or statement straps.
Price range: Inquire for pricing
Headquarters: Springfield, New Jersey
Lela Rose
Straddling the line between sophistication and whimsy, Lela Rose wedding dresses are the perfect reminder that your bridal look can be fun and chic. Tea-length hemlines, timeless A-line silhouettes and ladylike embellishments (like pearls and oversized bows) are just a few of Lela Rose's signature details, echoing the preppy elements of the designer's ready-to-wear label.
Price range: Inquire for pricing
Headquarters: New York, New York
Lihi Hod
Combining classic silhouettes with sultry, feminine elements, Lihi Hod nails the sexy-but-sophisticated bridal vibe. The couture designer incorporates details like lace appliqués, 3D embellishments, statement sleeves, belts and off-the-shoulder necklines to bring a luxe, contemporary look to her collections.
Price range: From $5,000
Headquarters: Tel Aviv, Israel
Maggie Sottero
With three in-house labels—Rebecca Ingram, Maggie Sottero, and Sottero and Midgley—this wedding dress brand covers all the bases. Whether you're dreaming of a simple boho chic gowns or a statement dress to give you a couture-inspired look, you'll have plenty to choose from at a variety of price points. Founded in Sydney, Australia, Maggie Sottero designs are now sold in dozens of countries around the world.
Price range: $800 to $1,300 (Rebecca Ingram), $1,200 to $2,400 (Maggie Sottero) and $1,400 to $4,00 (Sottero and Midgley)
Headquarters: Salt Lake City, Utah
Marchesa
Take a cue from some of the most iconic A-list brides, including Blake Lively, Nicole Richie and Julianne Hough, by wearing one of Marchesa Bridal's couture wedding dresses for your special day. Along with red carpet gowns and evening wear, the luxury brand is known for its dreamy wedding dresses, often adorned with flowery appliqués, feminine bows and tulle. The Marchesa Notte collection embraces a similar design aesthetic at a slightly lower price point.
Price range: $7,000 to $12,000
Headquarters: New York, New York
Monique Lhuillier
Mixing timeless bridal styles with trend-setting designs that break the mold, Monique Lhuillier is one of the most famous wedding dress designers in the world. Lhuillier infuses her bridal collections with a refined sense of playfulness, using pastel floral prints and colorful dresses to complement her more classic designs, which often feature ball gown skirts, high necklines and long sleeves for a regal effect. The ready-to-wear label, ML by Monique Lhuillier, is filled with dresses that are perfect for elopements, rehearsal dinners and prewedding events.
Price range: Inquire for pricing
Headquarters: Los Angeles, California
Morilee by Madeline Gardner
Designed with brides of all styles, body types and budgets in mind, Morilee by Madeline Gardner takes the best elements of timeless bridal fashion and incorporates them into modern day designs. Across its numerous in-house labels, including the plus-size collection Julietta by Madeline Gardner, the wedding dress brand specializes in elegant gowns featuring hand-stitching, beautiful lace and flattering silhouettes.
Price range: From $1,000+
Headquarters: New York, New York
Oscar de la Renta
Rising to fashion fame in the 1960s, the late Oscar de la Renta became one of the most successful and recognizable couture designers of all time. Today, the legacy brand is still beloved for its colorful, energetic approach to fashion, including bespoke celebrity red carpet looks and wedding dresses. Oscar de la Renta gowns are hallmarked by their often larger-than-life details, from giant bows and floral prints to flared trumpet skirts, feathers and more. Famous Oscar de la Renta brides include Amal Clooney, Jenna Bush and Katherine Heigl.
Price range: From $8,000+
Headquarters: New York, New York
Reem Acra
Classic with an opulent edge, a Reem Acra wedding dress will make you feel like pure royalty on your special day. For her namesake bridal label, the Lebanon-born designer specializes in grand ball gowns and heavily embellished styles, with a dash of the unexpected, like statement veils and colorful dresses.
Price range: From $4,000+
Headquarters: New York, New York
Savannah Miller
With her understated, simple gowns, Savannah Miller is one of our favorite wedding dress designers for brides in search of a truly effortless look. Miller's designs are loved for their subtle boho-meets-romantic aesthetic, with details like slinky fabrics, cowl necklines, spaghetti straps and floaty sleeves being staples in nearly every one of her collections.
Price range: Inquire for pricing
Headquarters: London, England
THEIA Couture
Drawing inspiration from Mother Nature and ancient mythology ("Theia" is the Greek goddess of light), THEIA is designed for the modern bride who wants to feel empowered and radiant with an edge. The designer's collections often include eye-catching accents, from allover fringe to colorful patterns, angular pleats and intricate beaded embellishments. Some of the most famous celebs have worn THEIA for red carpet events, including Oprah, Amy Poehler, Taylor Swift and Meghan Markle.
Price range: From $1,200
Headquarters: New York, New York
Vera Wang
Known for being a master of both cutting-edge looks and timeless designs, Vera Wang debuted her first bridal collection in 1990 after gaining fashion experience working at Vogue and Ralph Lauren. In the last few decades, Wang has designed some of the most memorable couture wedding dresses ever, from Victoria Beckham's corset ball gown to Ariana Grande's fitted silk look. In addition to bridal, her brand expands into bridesmaids, menswear, haute couture, accessories and multiple collabs (including the Vera Wang x The Knot stationery collection).
Price range: Inquire for pricing
Headquarters: New York, New York
Viktor&Rolf Mariage
Eye-catching structural elements, non-traditional silhouettes and avant garde embellishments are at the heart of each Viktor&Rolf Mariage collection. This high-end brand isn't for the shy bride, but that's why we love it. Be prepared to turn heads with a memorable wedding fashion moment in one of these unexpectedly elegant designs.
Price range: $3,000 to $6,500
Headquarters: Amsterdam, The Netherlands
Watters
As a leading wedding dress designer for more than 30 years, Watters dresses can be found in bridal boutiques throughout the country. The flagship label is a mix of classic and romantic dresses, with design elements like tulle skirts, illusion lace bodices and sweetheart necklines rounding out the collection. Willowby by Watters is effortlessly boho and ethereal, while Wtoo by Watters is flirty and demure.
Price range: $900 to $2,500 (Wtoo), $1,000 to $3,000 (Willowby), and $1,900 to $5,000 (Watters)
Headquarters: Dallas, Texas