The Most Iconic Wedding Dresses Of All Time
Get dress inspiration from the A-listers who wowed on their wedding days.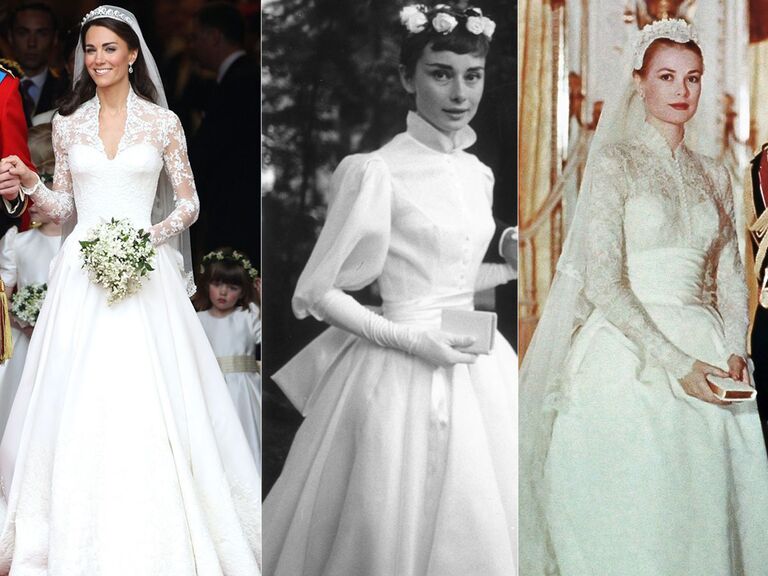 Chris Jackson/Getty Images; Ernst Haas/Getty Images; Gamma-Rapho/Getty Images
You've seen them in black and white photographs, on glossy magazine pages and even on TV: the most iconic wedding dresses of all time. From royalty and A-list celebs to influencers and bloggers on the rise, these brides had the world's eyes on them as they said their "I do's" and they looked fabulous doing it.
If these pretty classic wedding dresses leave you feeling inspired for your own wedding, you're in luck. Even without a team of trained professionals or couture designers at your beck and call, you can recreate these iconic looks. Whether you want to emulate 1950s glamour a la Grace Kelly, bring an edge to tradition like Olivia Palermo or stun in a high fashion, Kim Kardashian-inspired number, we've found a wedding dress for you.
Relive the prettiest wedding dresses in pop culture below, and then shop our picks to bring the look to life for your wedding.
Beautiful Wedding Dress Inspiration
Kate Middleton's Long-Sleeved Wedding Dress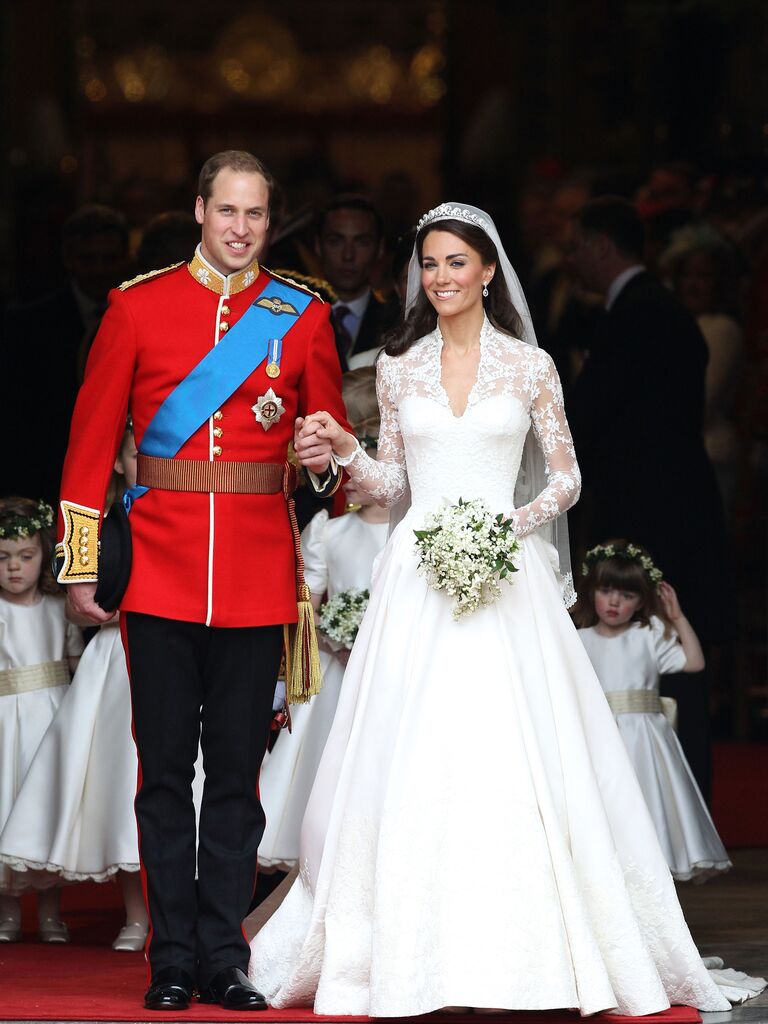 It's the dress that launched a thousand imitations. Kate Middleton's beautiful wedding gown was designed by Sarah Burton, the creative director of Alexander McQueen, and was a perfect balance between tradition and modernity. With an ivory satin and appliquéd lace bodice, lace long-sleeves, a low neckline and a full skirt, Kate's gown has many components that are easy to incorporate into your own dress of choice.
To bring the essence of the Duchess of Cambridge's regal style to your own wedding, look for a dress with a plunging neckline, lace sleeves and an A-line skirt.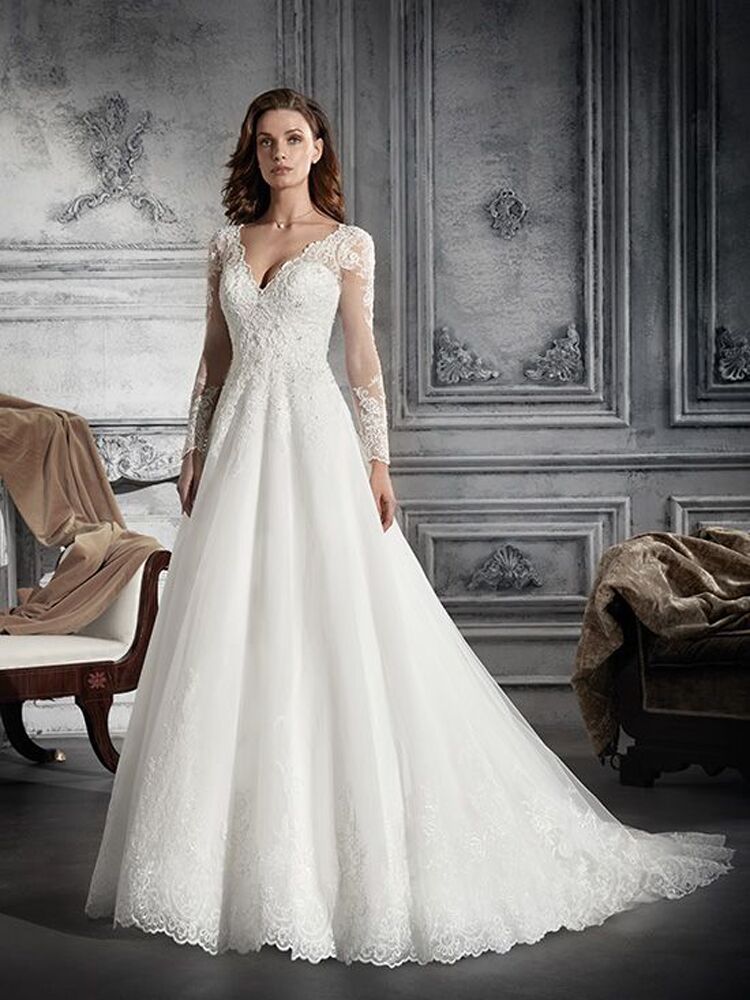 Wedding dress by Demetrios
Meghan Markle's Boat Neck Wedding Dress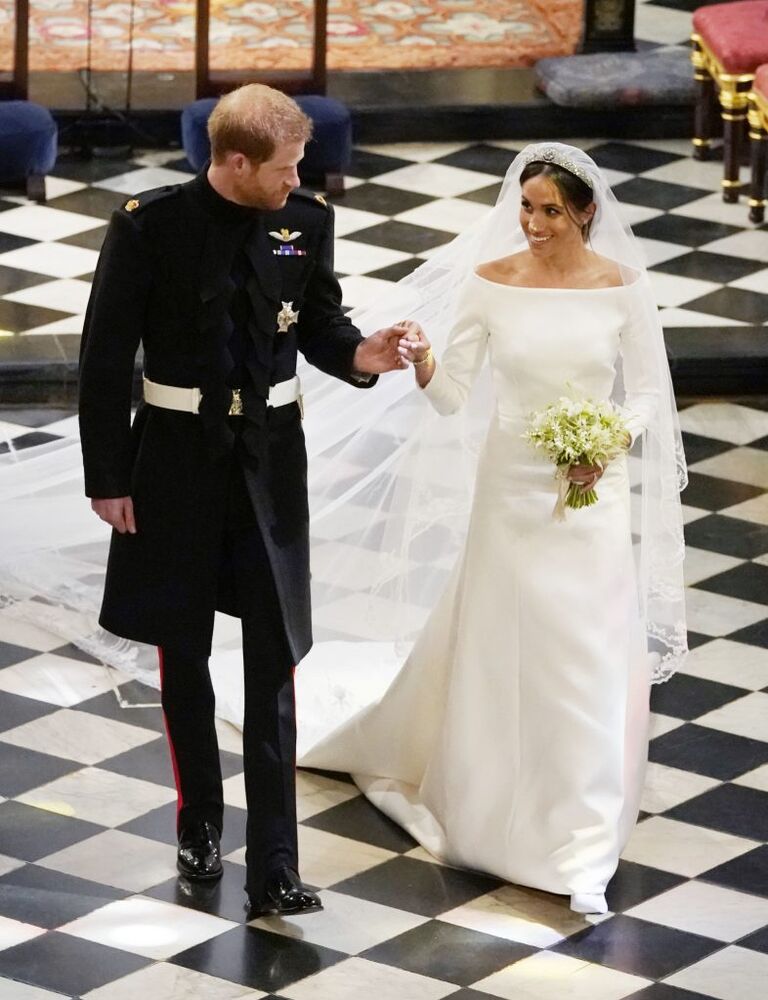 Seven years after Kate and William's nuptials, royal fans were treated to another Windsor wedding—this time between Prince Harry and Meghan Markle. The former Hollywood actress donned a three-quarter sleeved, boat neck Givenchy creation. Her simple silk gown was accented with a 16-foot veil that was embroidered with flowers representing her two homes: California and Kensington Palace.
If you want to recreate the Duchess of Sussex's elegant look, shop for a simple dress with a scoop neckline and long sleeves.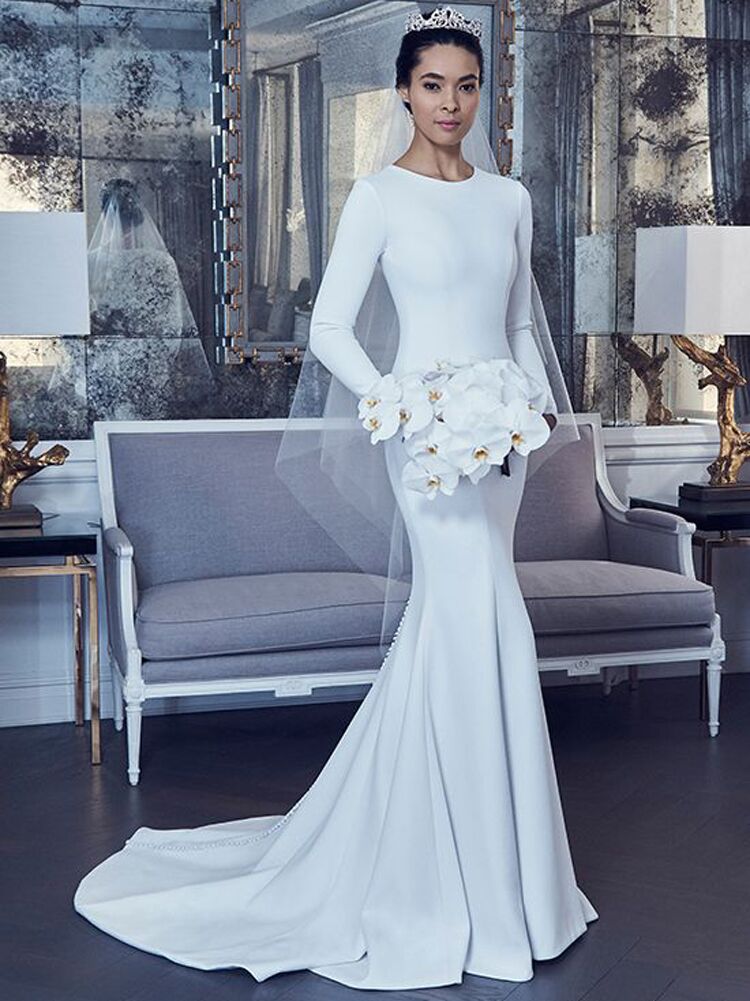 Wedding dress by Romona Keveza
Jacqueline Kennedy's Ball Gown Wedding Dress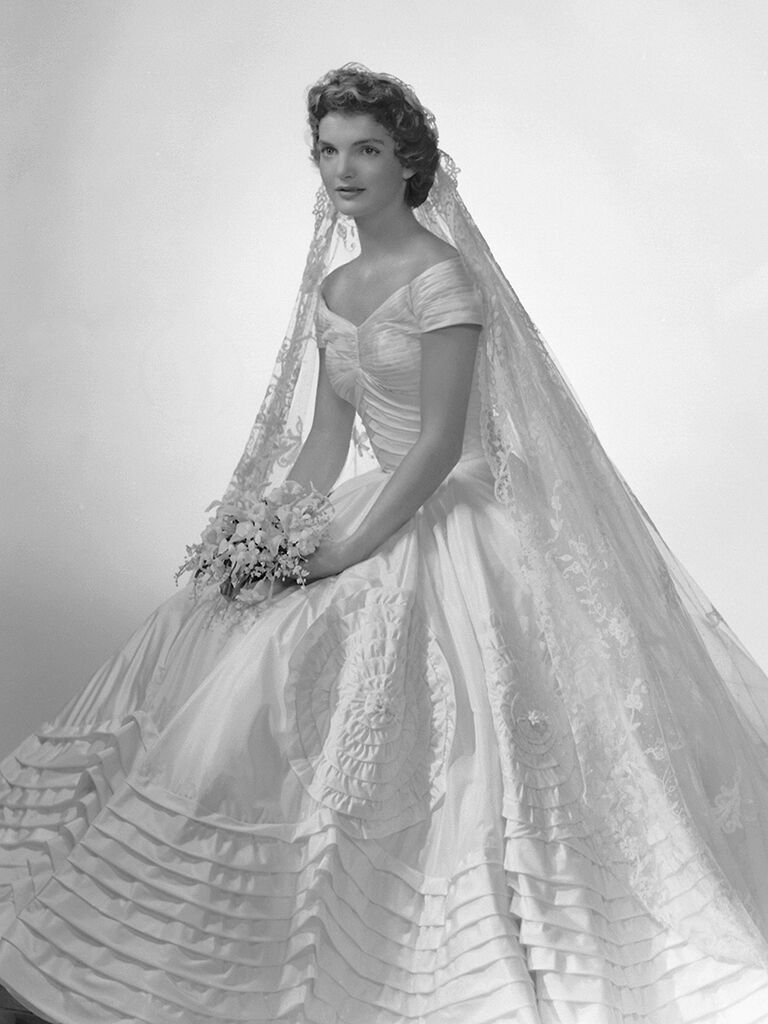 First Lady Jacqueline Bouvier, arguably one of the most recognizable style icons of all time, wed John F. Kennedy in a bouffant ball gown in 1953. The creation by New York City-based designer Ann Lowe was made from nearly 50 feet of ivory silk taffeta. Jackie's pretty wedding dress was full of sentimental touches: her skirt featured wax flowers woven into the seams while her veil was passed down to her by her grandmother.
To recreate the look, consider adopting the portrait neckline—not only does it draw attention to your collarbone, it adds a feminine touch to the silhouette of the gown.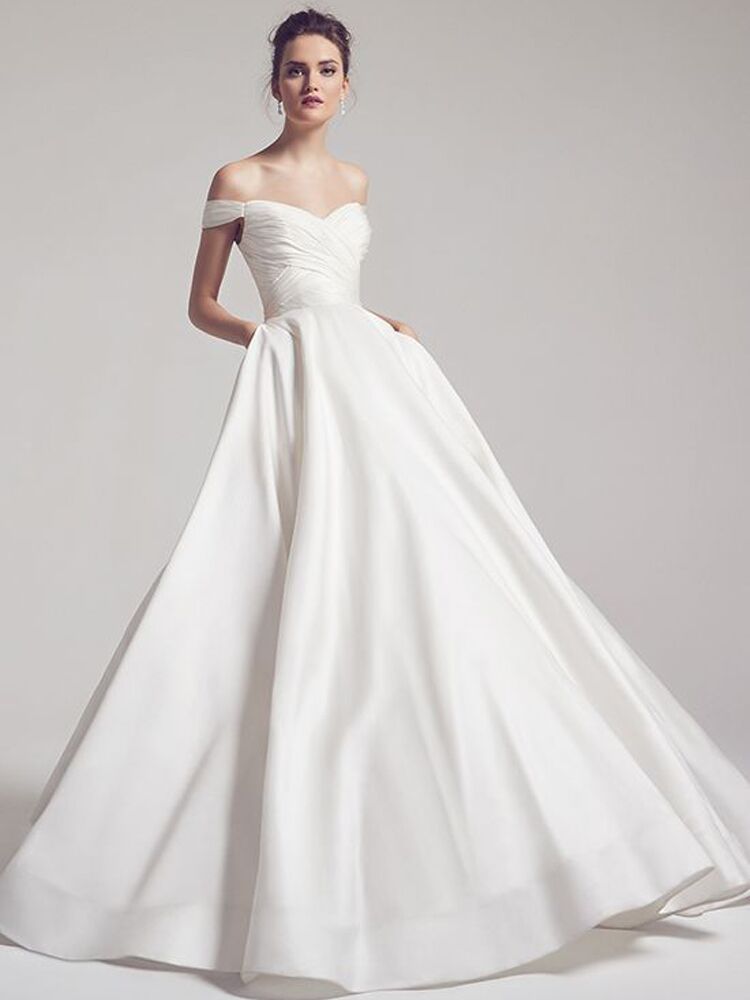 Wedding dress by Anne Barg
Olivia Palermo's Three-Piece Wedding Dress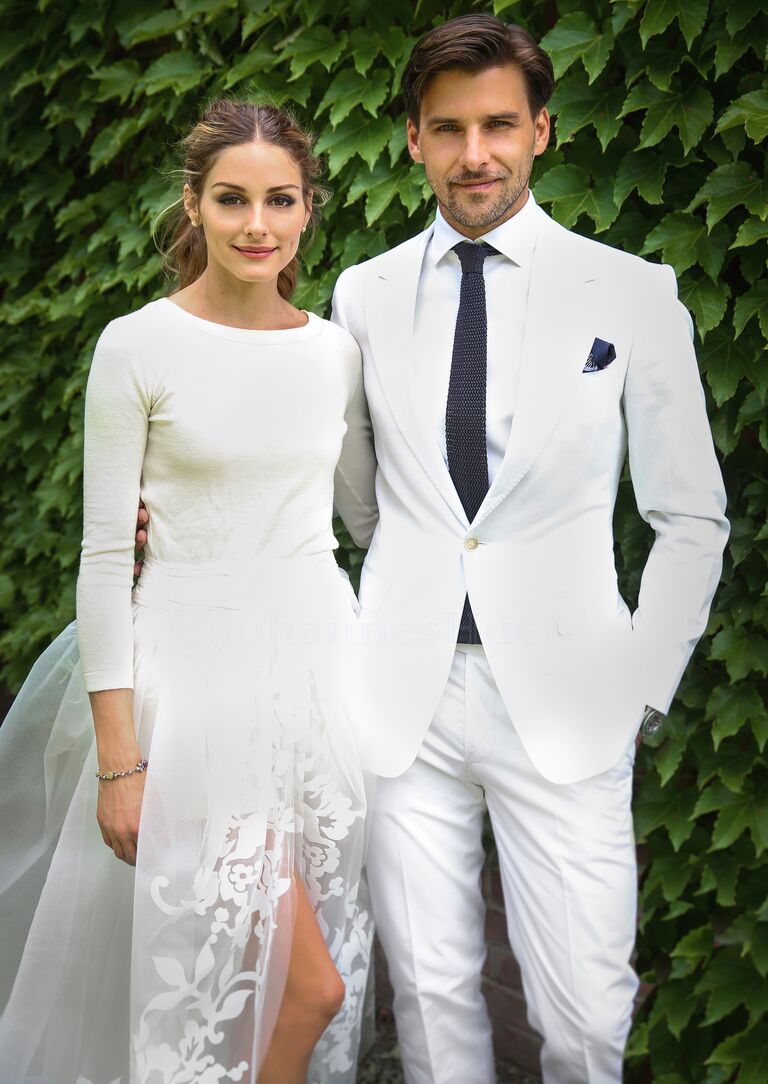 The socialite and former MTV personality broke from tradition with her wedding ensemble, while looking effortlessly-chic in the process. Palermo's three-piece dress by Caroline Herrera included a cream colored cashmere sweater, white shorts and a tulle skirt overlay.
To channel Olivia's bridal look, search for a gown that has two different fabrics on the bodice and skirt to create a two-piece effect. Be sure to also look for a dress with sleeves and a flowing skirt. Added elements like beading or embellishments will help to add a unique touch.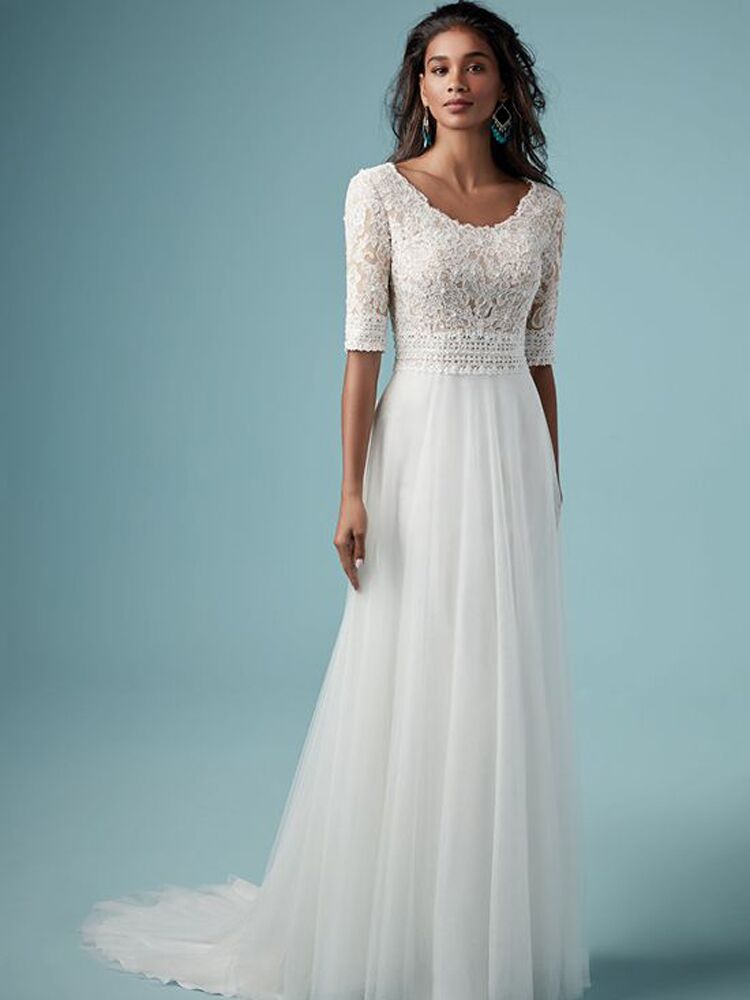 Wedding dress by Maggie Sottero
Kate Moss's Sheer Wedding Dress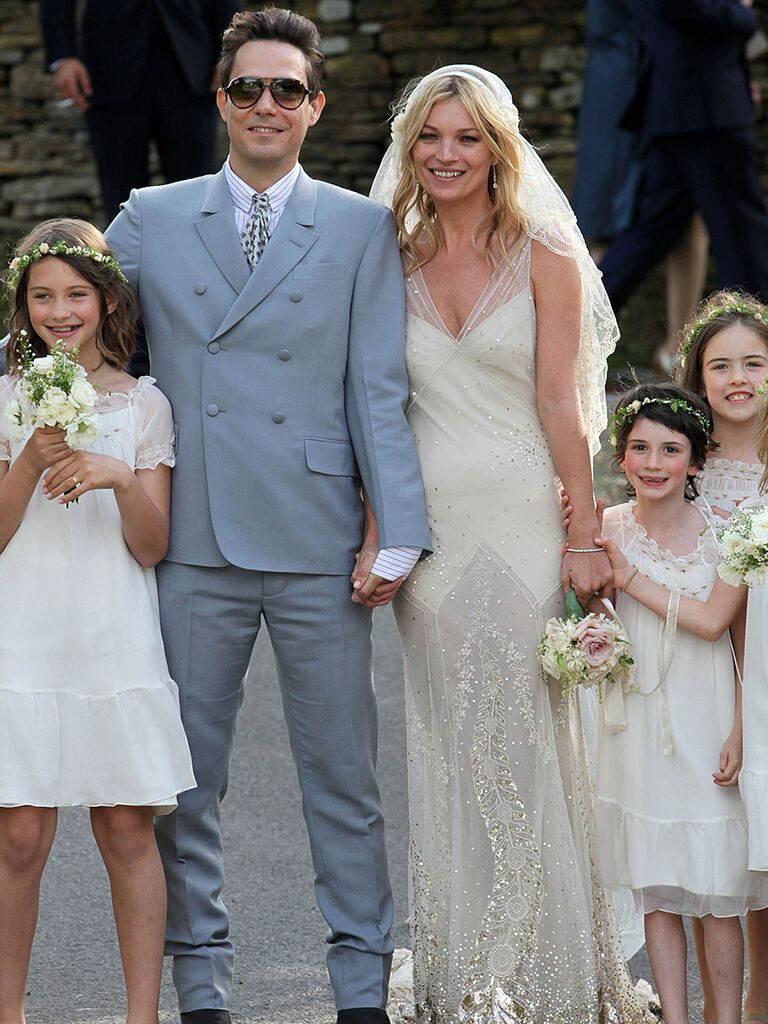 Given Kate Moss's famed career as a supermodel, it's no surprise her bridal ensemble looked as if it came straight from the runway Her custom champagne-colored John Galliano gown dazzled with metallic and rhinestone embellishments and a sheer overlay that made for a unique neckline.
To emulate Moss's boho-glam style, keep an eye out for sheath dresses with sheer overlays that are embellished with glittering beadwork.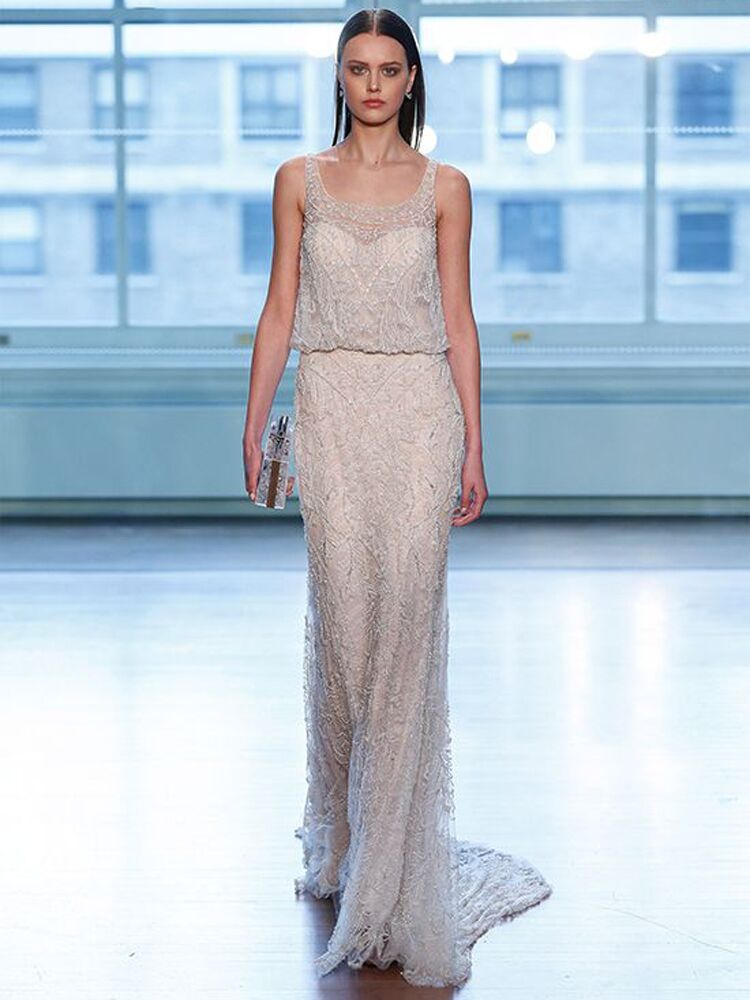 Wedding dress by Justin Alexander
Grace Kelly's Regal Ball Gown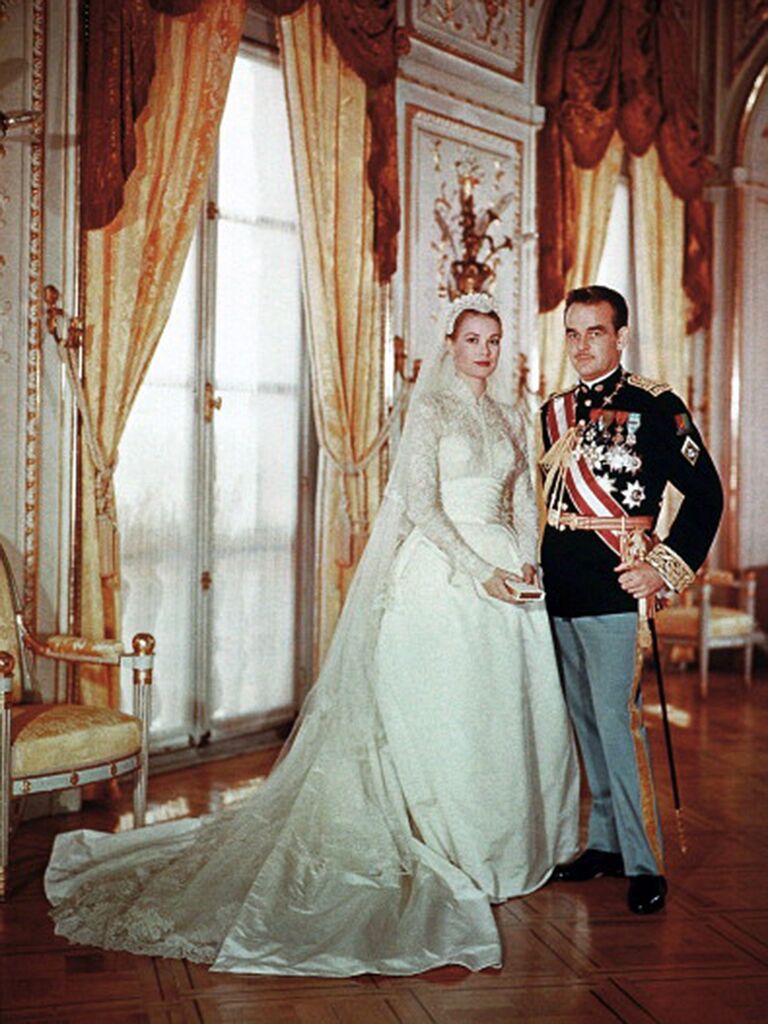 Grace Kelly's satin and lace gown made by the wardrobe department at MGM is considered one of the most beautiful wedding dresses of all time. With rose point lace details, seed pearl accents, a fitted long-sleeved bodice and a flared skirt, the gown was an elaborate creation that was constructed in four separate parts.
If you've dreamed of looking like the Princess of Monaco on your wedding day, shop for a full ball gown that has a high neckline and long, lace sleeves.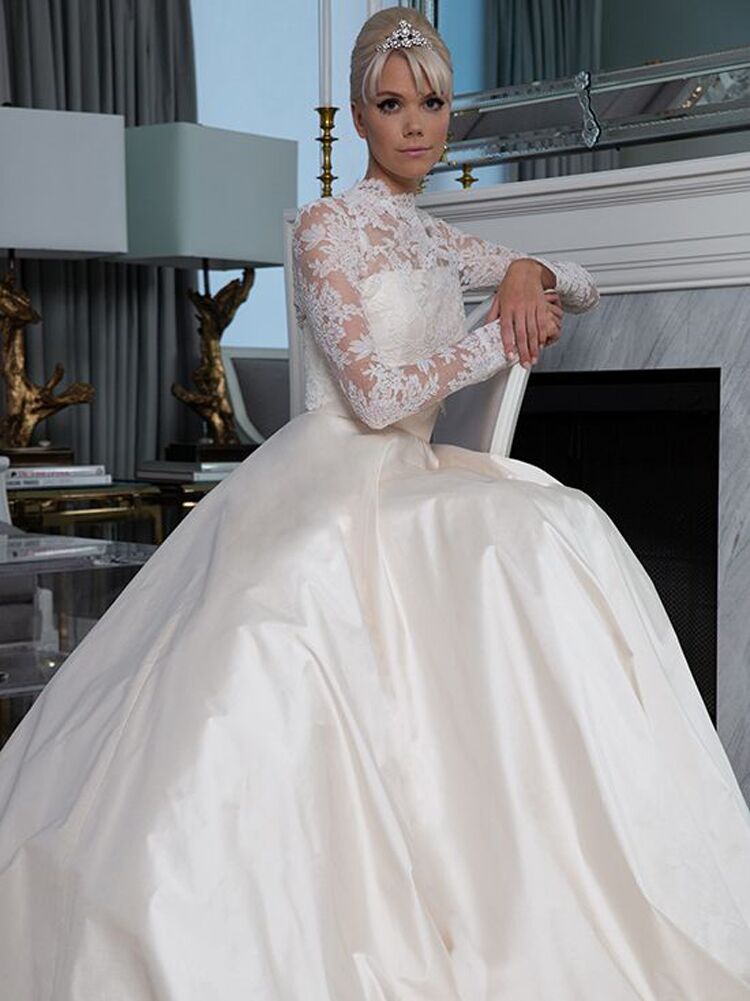 Wedding dress by Legends Romona Keveza
Sofia Vergara's Detachable Skirt Wedding Dress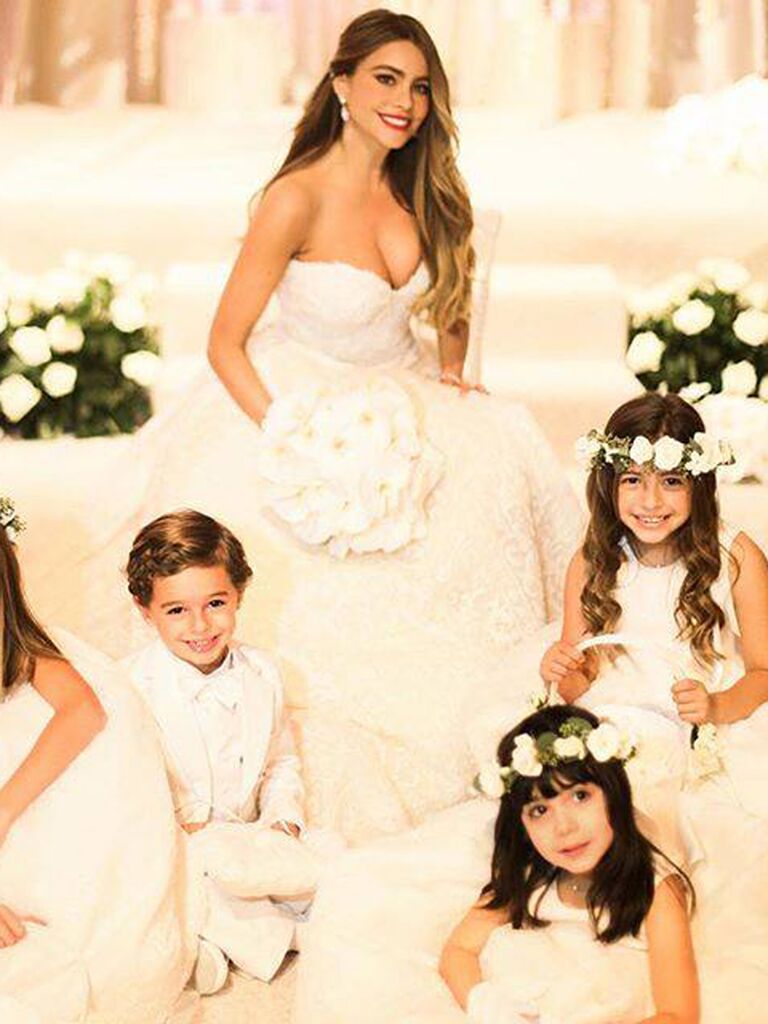 Actress Sofia Vergara kept things classic while still showcasing her stellar figure in a Zuhair Marad wedding dress. The gown featured a hand-embroidered bodice that was bedazzled with glimmering sequins and pearls. A full detachable skirt kept the silhouette traditional for the ceremony, but also allowed her to go all out on the dance floor at her reception.
Whether you want just one gown or a design with a detachable skirt, bring the same look to life at your wedding by opting for a sweetheart neckline with a full skirt and lace detailing.
Wedding dress by Allure Romance
Kim Kardashian's Cut-Out Lace Wedding Dress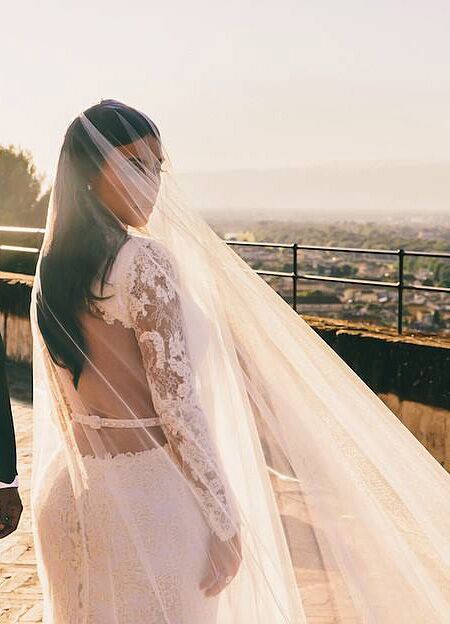 Kim Kardashian's haute couture creation by former Givenchy creative director Riccardo Tisci was a breathtaking custom choice for the reality star's Florentine wedding to Kanye West. With intricate lace sleeves, a modest high neckline and strategically-placed sheer panel cutouts, Kardashian's look was equal parts sultry and sophisticated.
To channel Kim on your wedding day, look for a dress that combines bold lines and lace detailing throughout. Bonus points if it features a thin white belt like this design!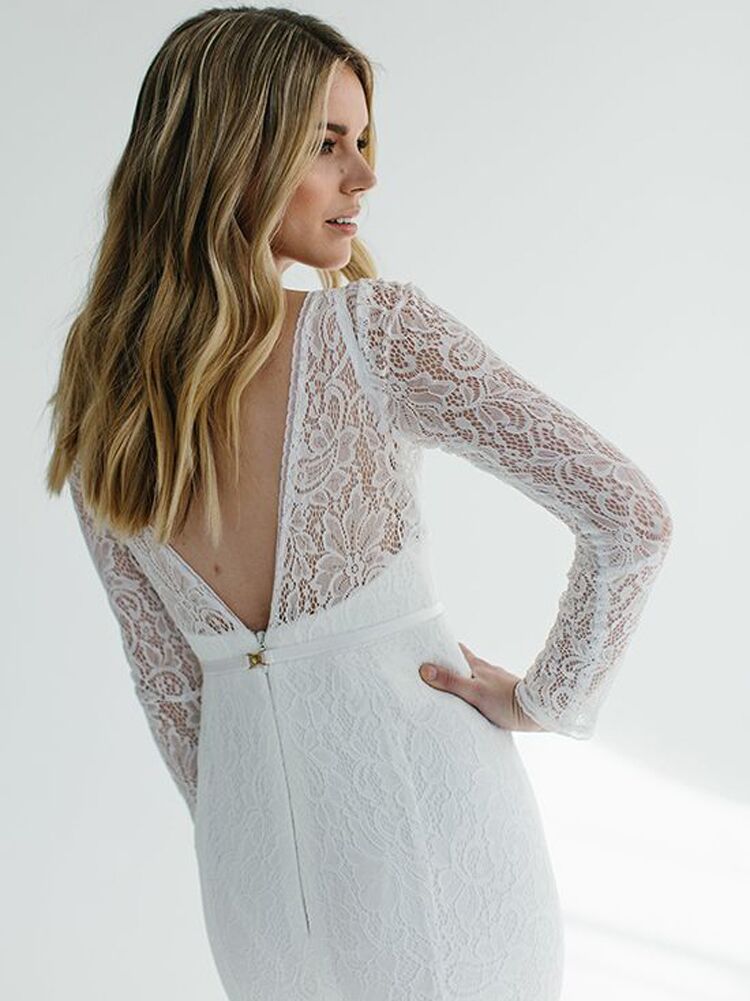 Wedding dress by Karen Willis Holmes
Audrey Hepburn's High Collar Wedding Dress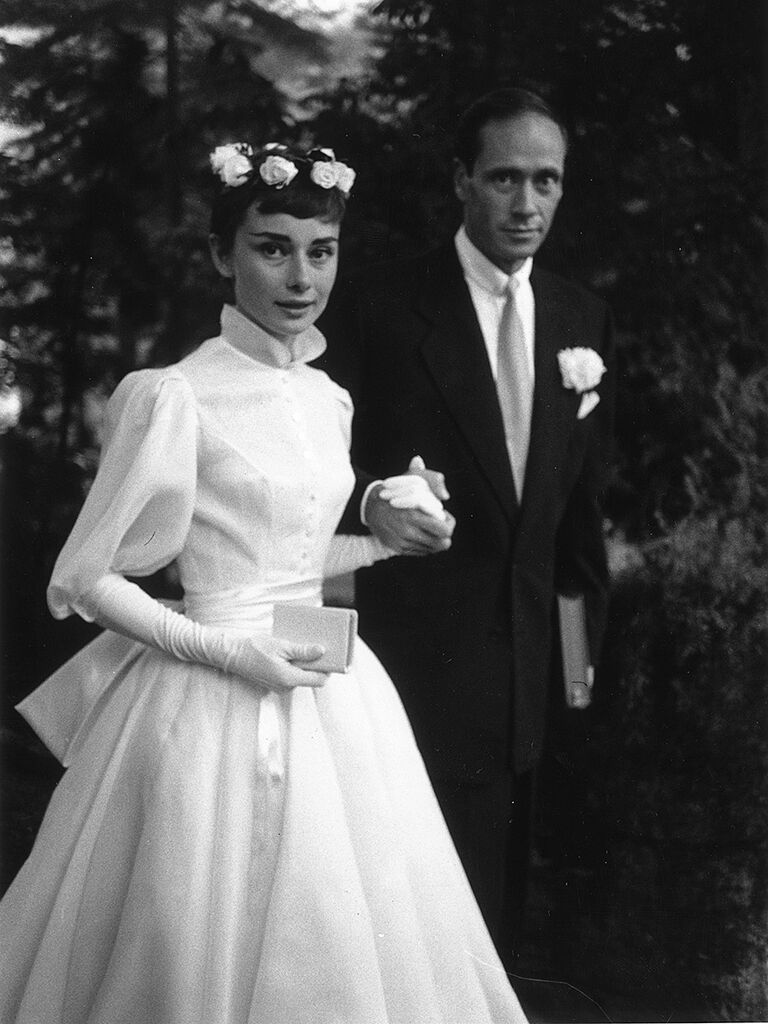 While she may be better known for the bateau neck wedding dress she wore in the film Funny Face, Hepburn's personal wedding gown was just as beautiful. Designed by Pierre Balmain, the tea-length creation featured a high neck and ballgown sleeves, which she paired with classic elbow-length white gloves.
A modern bride can emulate Audrey's look by wearing a short pretty wedding gown with statement sleeves or a statement cape, like this ROMONA New York design.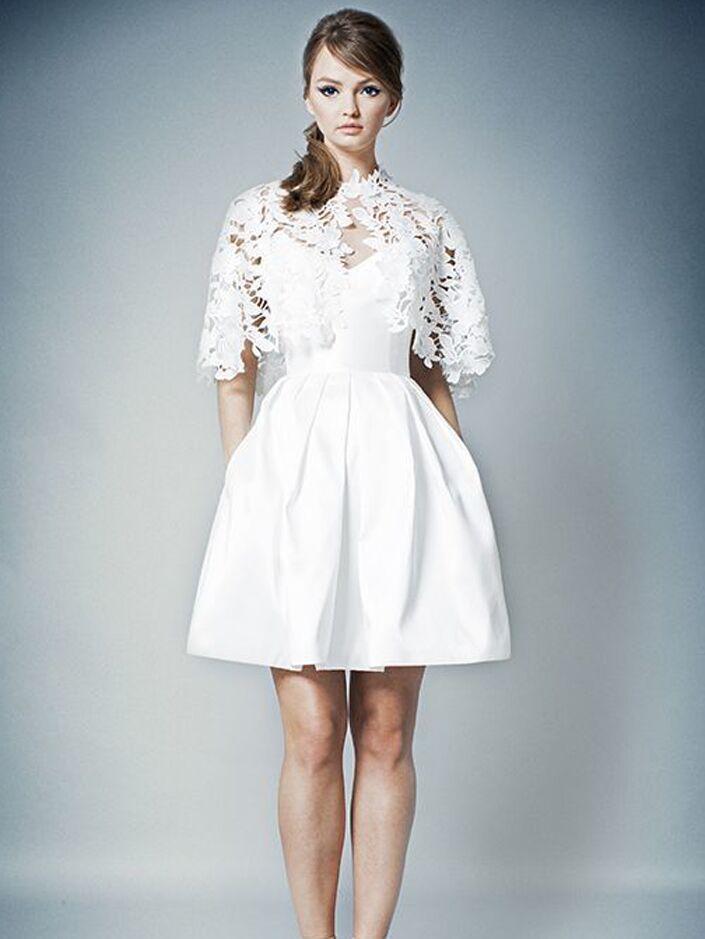 Wedding dress by ROMONA New York
Portia de Rossi's Blush Ball Gown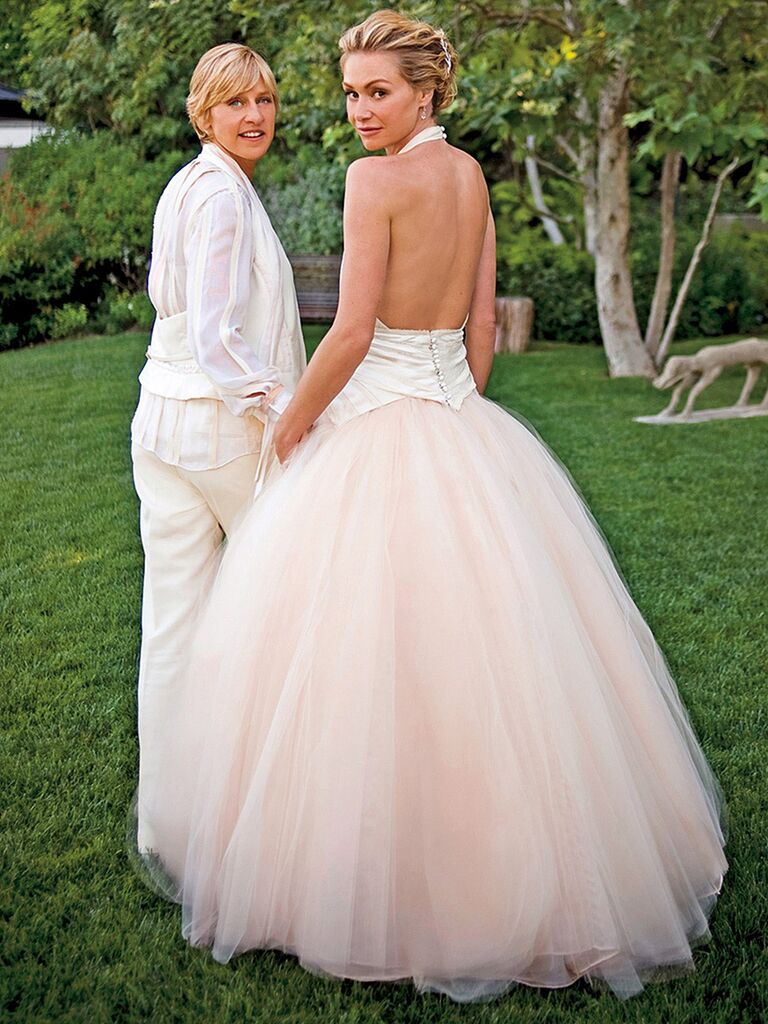 Portia de Rossi's Zac Posen wedding gown was a showstopper at her wedding to Ellen DeGeneres. The unique dress featured a backless, halter-style bodice and blush ballgown skirt; a perfect combination for a modern bride.
To mimic de Rossi's look, don't be scared to experiment with color. A blush ball gown with a full tulle skirt and a halter neckline is a perfect adaptation of her look.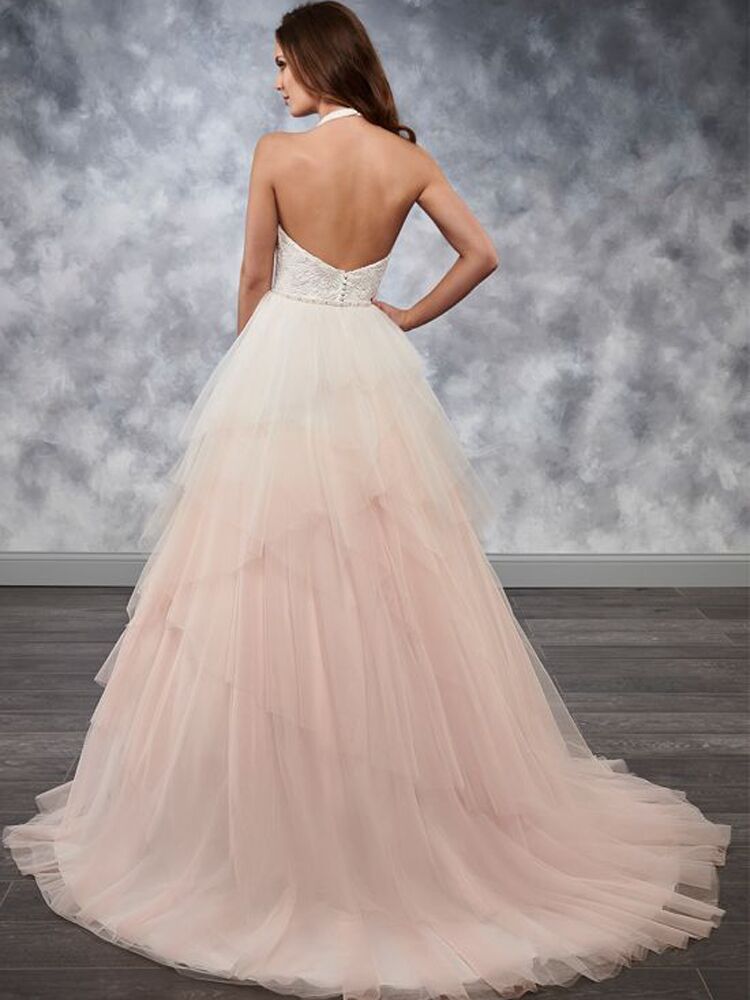 Wedding dress by Mary's Bridal
Bianca Jagger's Bridal Suit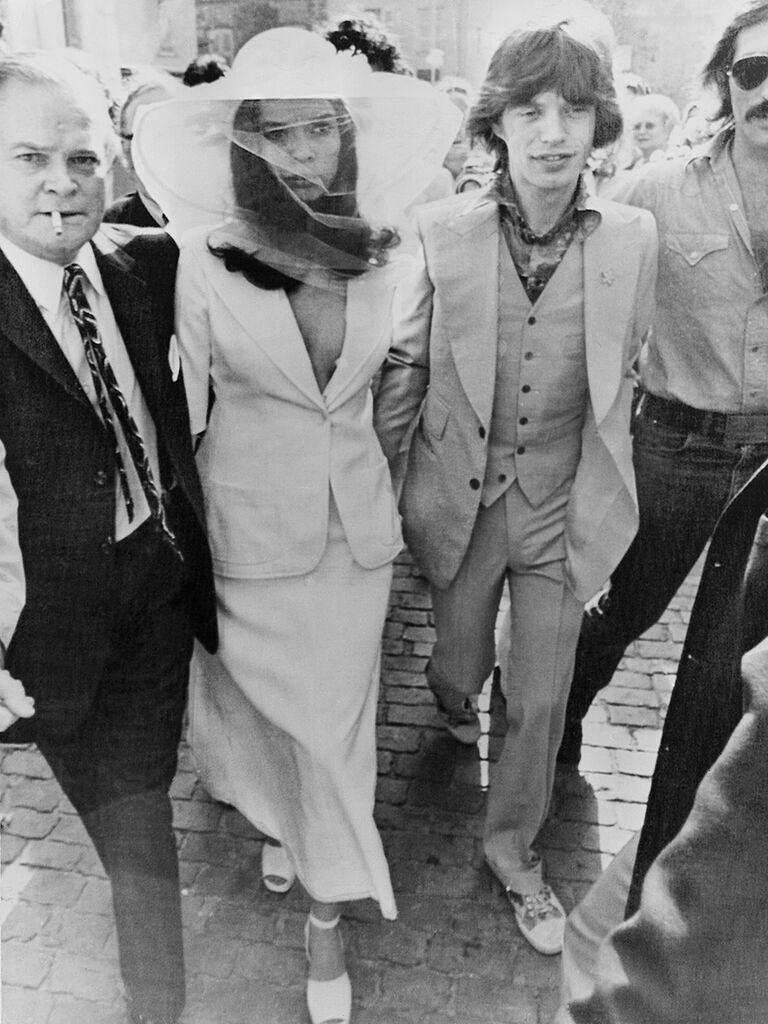 Bianca Jagger's white YSL Le Smoking Jacket proves that not all brides have to wear a pretty wedding gown on their wedding day. She paired her bridal jacket with a matching skirt and an oversized, wide-brim hat, making her ensemble the perfect inspiration for the bride who likes to challenge tradition.
If you love Bianca's edgy look, there are plenty of bridal jumpsuits and pantsuits that are perfect for your walk down the aisle. Impeccable tailoring is key to pulling off this look, so look for pieces that have structured and clean lines.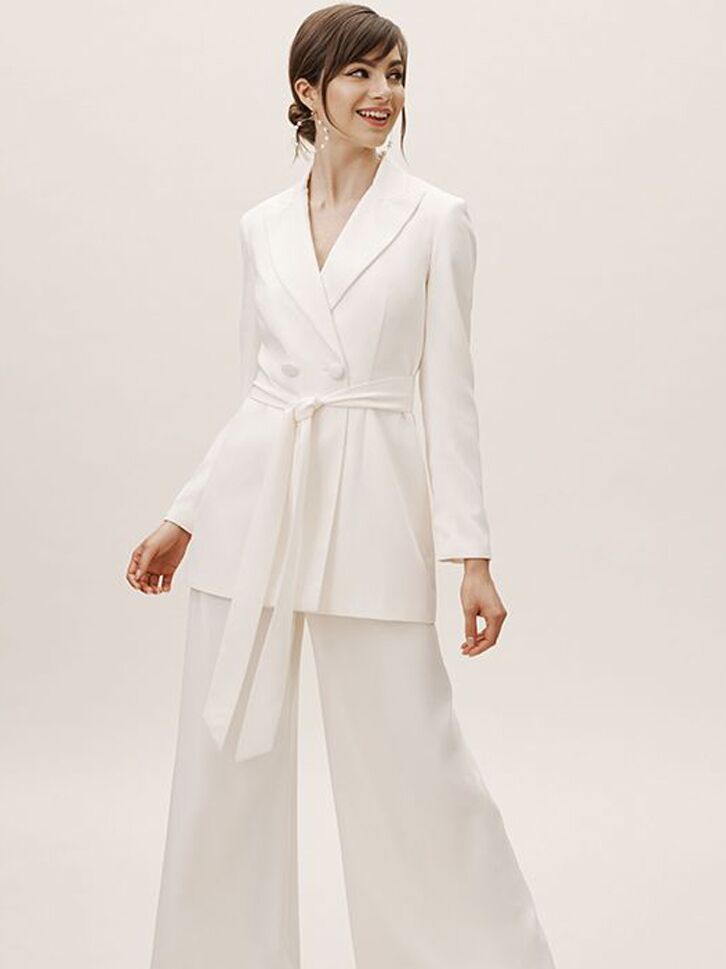 Wedding suit by BHLDN
Rocky Barnes's Flapper-Inspired Dress
Fashion blogger, Rocky Barnes, proved she's in the right industry when she rocked a flapper-style mini dress on her special day. A Pronovias creation, the flirty ensemble included a high neckline with sheer, applique long sleeves. The feathers on the trim of the mini dress topped off the sassy design.
If you're looking for a similar look for your wedding day, search for a mini dress that features feathers and sparkles. To avoid looking underdressed, go for a style with embellished long sleeves and a high neckline.
Willa Gross's Column Dress
Willa Gross rocked a striking, unconventional look on her wedding day. Instead of a princess ball gown or a dress with a huge train, the digital producer went with a minimalist, column dress. The Naeem Khan ankle-length dress featured long sleeves and lovely 3-D lace. Though simple, her form-fitting gown made a huge impression at her Brooklyn wedding.
For an equally beautiful wedding dress, explore column-style dresses and gowns that show off intricate designs and details. When in doubt, go for a 3-D lace number on your Big Day.
Diipa Khosla's Detailed Dress
When a dress takes more than 1,600 hours and 35 artisans to create, you know it's got to be good. Influencer Diipa Khosla commissioned a custom-made beautiful wedding dress with Ashi Studio. Diipa looked like a walking masterpiece in this couture gown that boasted a layer of flower-like confetti and a princess-cut tulle, which weighed a whopping 26 pounds. Inspired by Indian artwork, her stunning gown was the perfect find for her fairytale wedding.
For a look like this, you'll have to scour through the prettiest wedding dresses around. Explore long-sleeve ball gowns with elaborate details and embroidery. If you can't find your exact match, consider creating a custom dress that suits all your preferences.