The Most Iconic Wedding Dresses Of All Time
Get style inspiration from famous brides who wowed on their wedding days.
Danny Feld/NBCU Photo Bank,Gamma-Rapho via Getty Images,Owen Humphries - WPA Pool/Getty Images
You've seen them in black and white photographs, on glossy magazine pages and even on TV: the most iconic wedding dresses of all time. From A-list celebrities to international royals and even pop culture characters, these brides had the world's eyes on them as they said their "I do's"… and they looked fabulous doing it.
Here at The Knot, we always have love on the brain—and we can't help but reminisce on the most beautiful wedding dresses of all time. From Grace Kelly's timeless ball gown to Hailey Bieber's long sleeve lace stunner to the tiered dress from Crazy Rich Asians, we've rounded up the prettiest wedding dresses worn by celebrities, royals, political figures, and even fictional personas. Relive our favorite moments below and save your favorites to inspire your own bridal look, whether you're currently planning your wedding dress aesthetic for your big day or daydreaming for the future.
In this article:
The Most Beautiful Wedding Dresses of Celebrities
It's nearly impossible to narrow down the most beautiful wedding dresses worn by celebrities. For decades, Hollywood A-listers and entertainment stars have stunned at their own nuptials. That said, there are some wedding looks we still think about to this day, which we've rounded up below.
Grace Kelly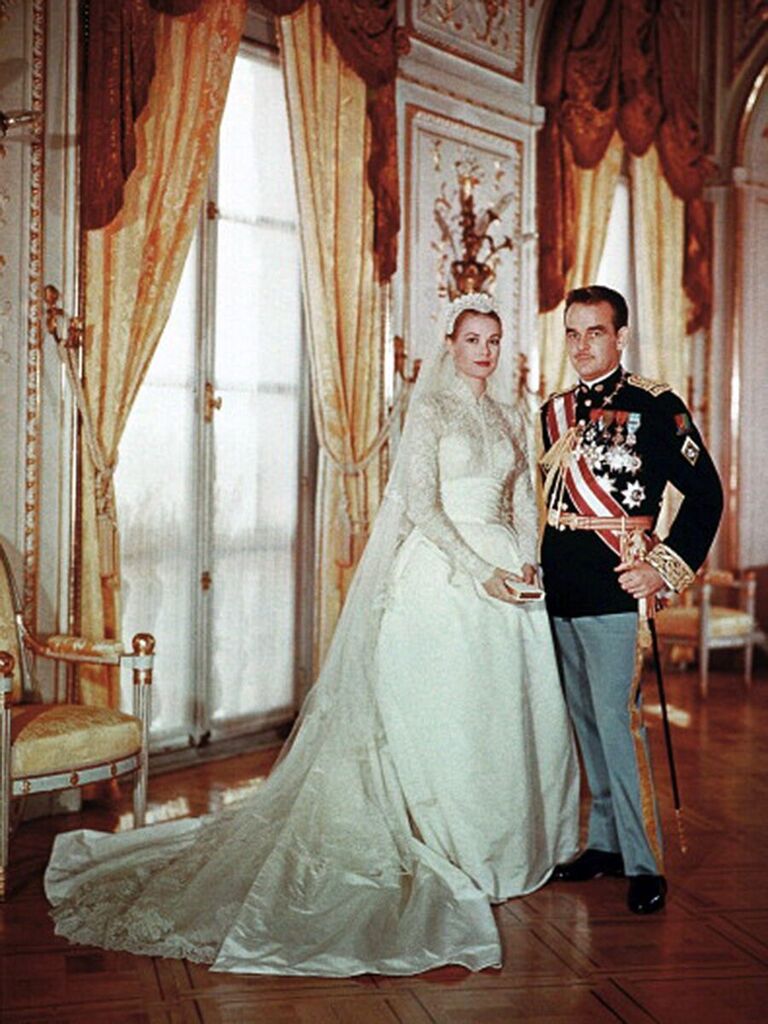 Grace Kelly's satin and lace gown made by the wardrobe department at MGM is considered one of the most beautiful wedding dresses of all time—and rightfully so. With rose point lace details, seed pearl accents, a fitted long-sleeved bodice and a flared skirt, the gown was an elaborate creation that was constructed in four separate parts. Following her 1956 wedding to Prince Rainier, which earned her the Princess of Monaco title, her dress became the blueprint of elegant bridal style. And, as you'll notice, many of the gowns in our own roundup pull inspiration from Grace Kelly's.
Audrey Hepburn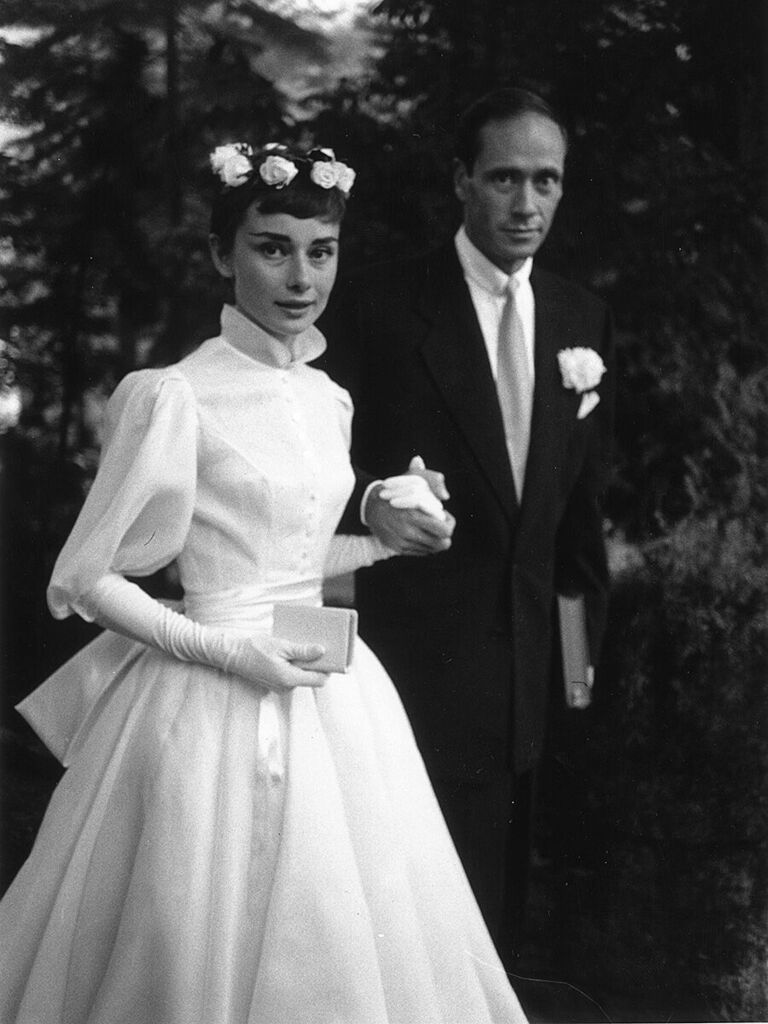 While she may be better known for the bateau neck wedding dress she wore in the film Funny Face, Audrey Hepburn's personal wedding gown was just as beautiful. Designed by Pierre Balmain, the tea-length creation featured a high neck and ballgown sleeves, which she paired with classic elbow-length white gloves.
Carolyn Bessette Kennedy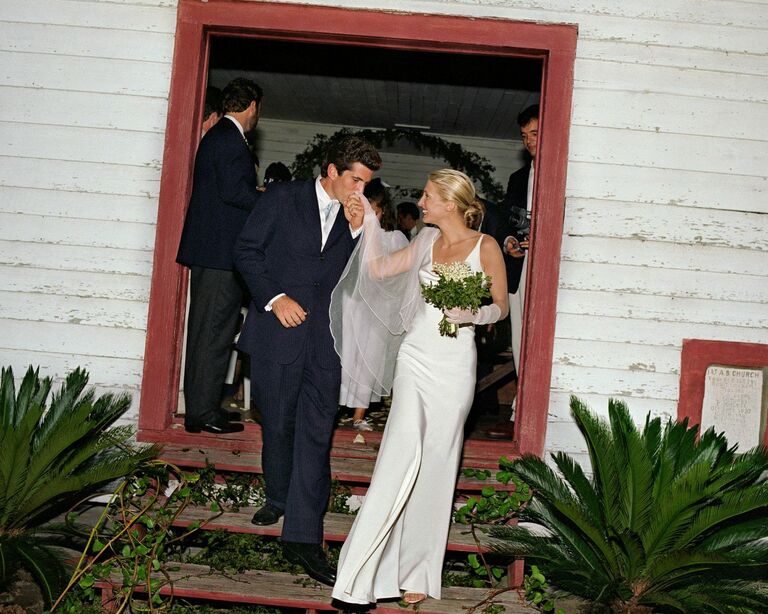 John F. Kennedy Jr. and Carolyn Bessette had one of the most elusive private weddings of all time. The 1990s power couple successfully evaded paparazzi attention during their secluded wedding celebration, which took place off the coast of Georgia. Only 35 guests attended the party, and their photographer released just one photo—and the image has come to be one of the most iconic wedding photos ever captured. The snap shows JFK. Jr. kissing his wife's hand as they leave their small church ceremony. It also gave the first look at Carolyn's dress, which would later become the pinnacle of '90s bridal style. She wore a clean slip dress with a cowl neckline, which she accessorized with sheer gloves and a simple veil. Following the voluminous styles of the 1980s, made famous by brides like Princess Diana, this beautiful wedding dress marked a new era of wedding dress trends.
Meghan Markle
Meghan Markle drew comparisons to Grace Kelly amid her wedding celebrations, but not for her fashion. Like the Princess of Monaco, Markle also became a Hollywood actress-turned-European royal. Her 2018 nuptials to Prince Harry inspired global fanfare and were watched by an estimated 2 million people worldwide. While many speculated that the bride would wear something inspired by Grace Kelly (or even her sister-in-law Kate Middleton), she stunned the world when she stepped out in a simple and clean gown by Givenchy. It had three-quarter sleeves and a boat neck—one of her signature styles. The demure dress was accented with a 16-foot veil that was embroidered with flowers representing her two homes: California and Kensington Palace. For the reception, she donned a slinky high-neck gown by Stella McCartney.
Kate Middleton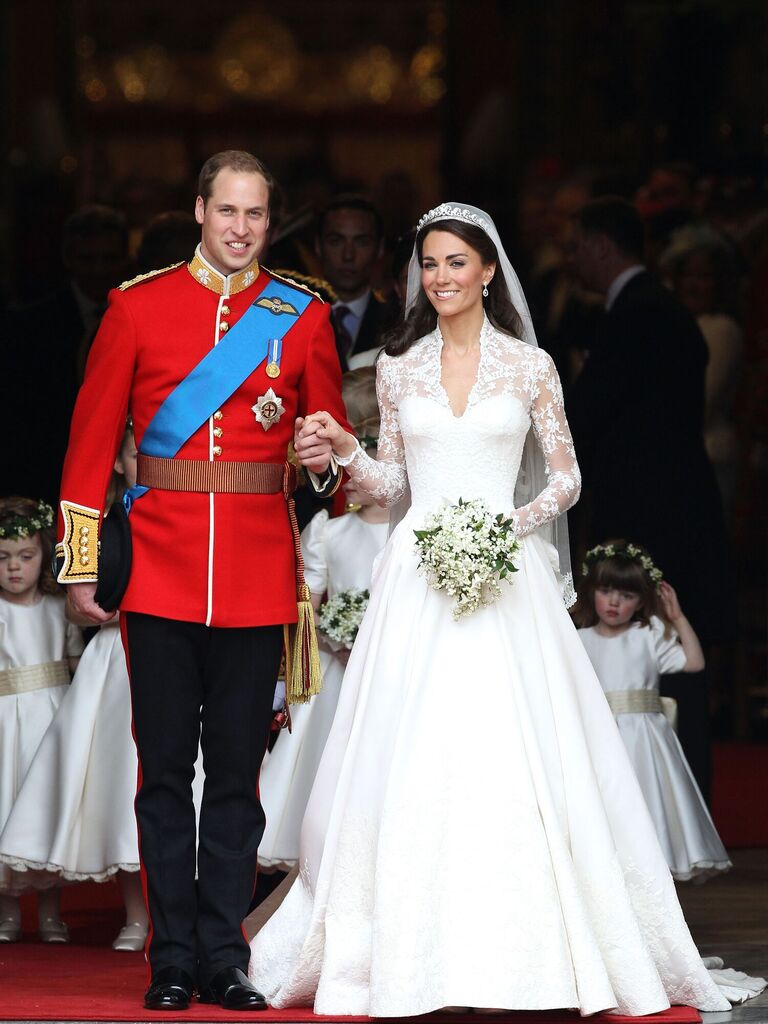 It's the dress that launched a thousand imitations. Kate Middleton's beautiful wedding gown was designed by Sarah Burton, the creative director of Alexander McQueen, and was a perfect balance between tradition and modernity. With an ivory satin and appliquéd lace bodice, lace long-sleeves, a low neckline and a full skirt, Kate's gown was a stunning complement to Westminster Abbey, the antiquated setting of her 2011 nuptials to Prince William. For the reception, she changed into a second look by Burton: a smooth ivory sweetheart neckline gown with a circle skirt and a diamond belt. She accented the look with a fuzzy bolero.
Hailey Bieber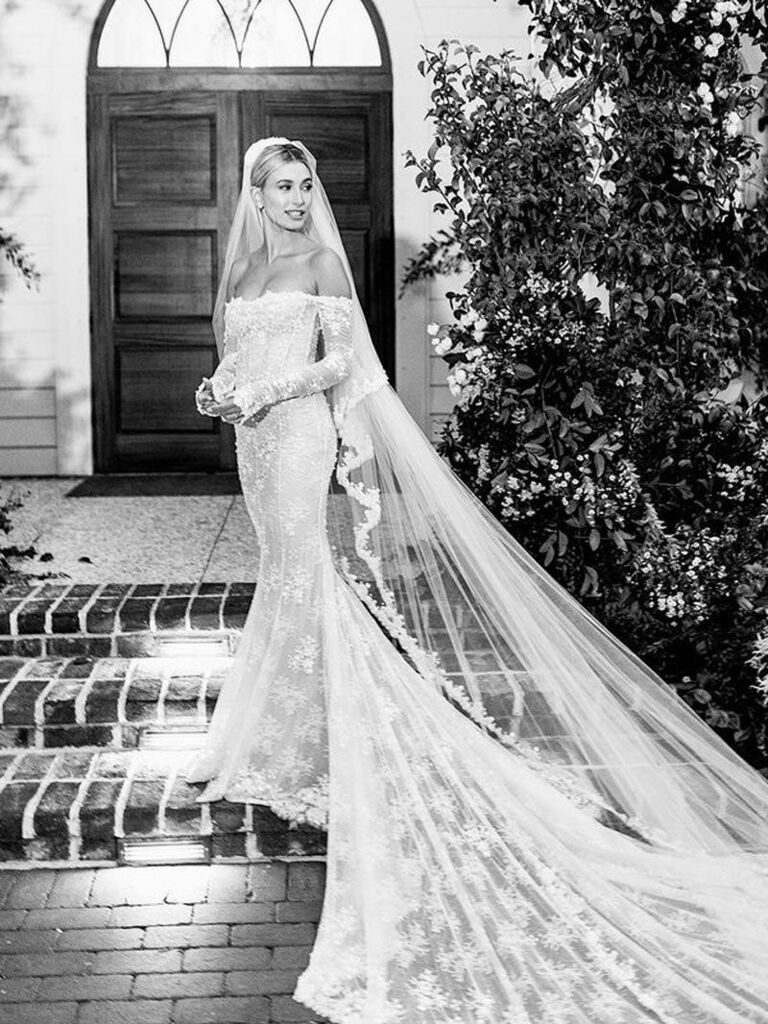 If you Google "the most beautiful wedding dresses in the world," there's a good chance Hailey Bieber's will appear. No, really: Google's internal analytics indicate that the model's off-the-shoulder dress is one of the most-searched gowns to this day. The bride turned to Virgil Abloh of the brand Off-White to design the iconic wedding dress she wore to marry Justin Bieber in September 2019, and the final result was nothing short of extraordinary. She walked down the aisle in a lace figure-hugging long sleeve creation, complete with a veil that had "'Till Death Do Us Part" inscribed on the bottom. For the reception, she changed into two flirtier frocks: one bias-cut look designed by Vera Wang and a high-neck halter neck gown that drew comparisons to Meghan Markle's reception dress.
Sophia Bush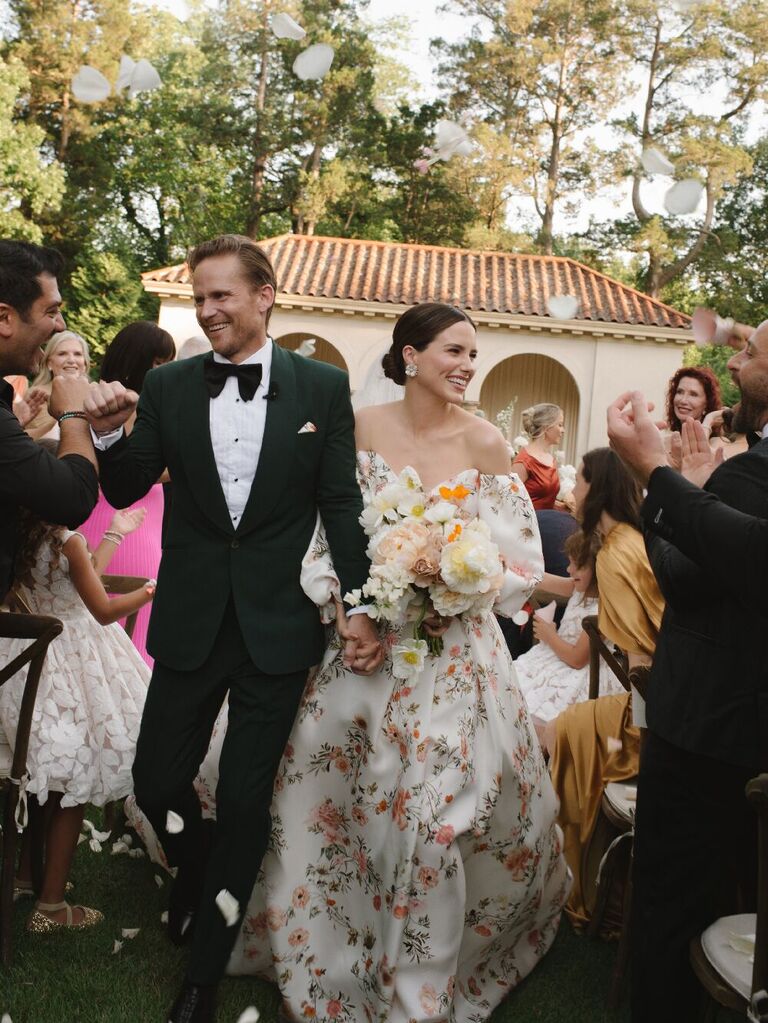 Not all of the most beautiful wedding dresses are white. In July 2022, former One Tree Hill star Sophia Bush stunned the internet when photos of her trendy off-the-shoulder botanical ball gown were released. She later revealed that she worked directly with Monique Lhuillier to custom design the pink print, which included floral motifs from around the world: Oklahoma roses for her husband's family, Italian olives and branches for hers, and California poppies for their home together.
Amal Clooney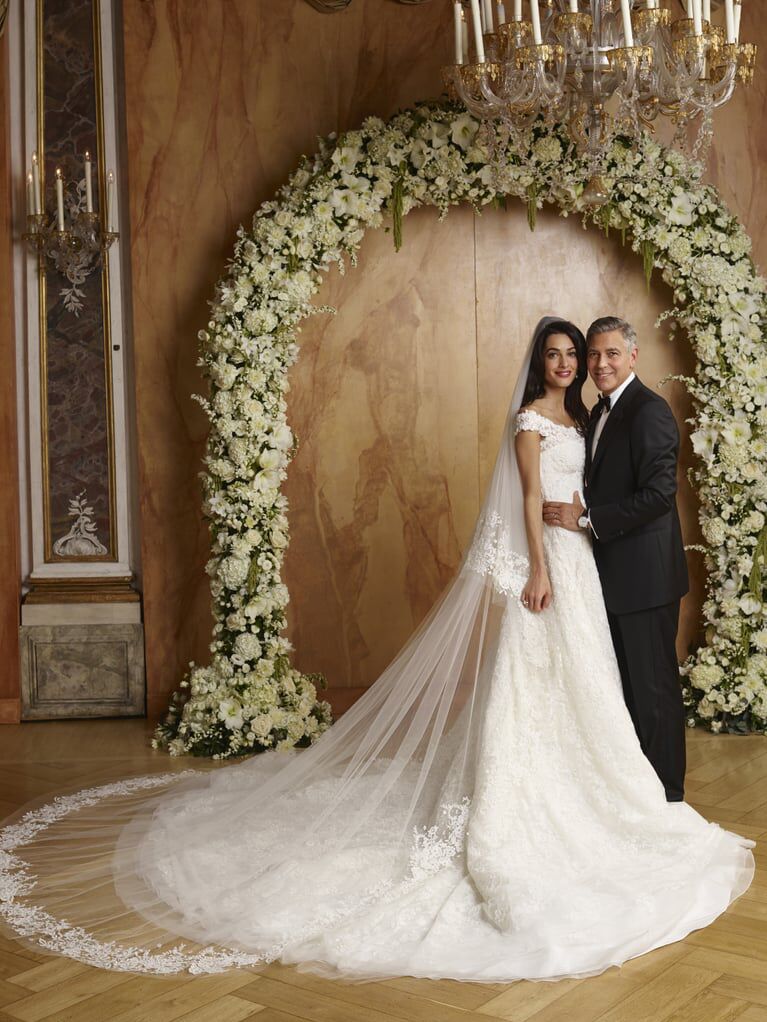 We'll never forget the multi-day star-studded nuptials of George and Amal Clooney, which took place in Venice, Italy. The bride, an activist and human rights lawyer, wore multiple outfits throughout her wedding weekend, but the most notable was by far her Oscar de la Renta wedding dress. The iconic design, which was conceptualized by Amal and Oscar himself, was effortlessly timeless and elegant. It boasted a classic lace bateau neckline, which led into an embellished bodice with beads and crystals and a full ivory tulle skirt. In total, the gown had a whopping 14 yards of Chantilly lace.
Priyanka Chopra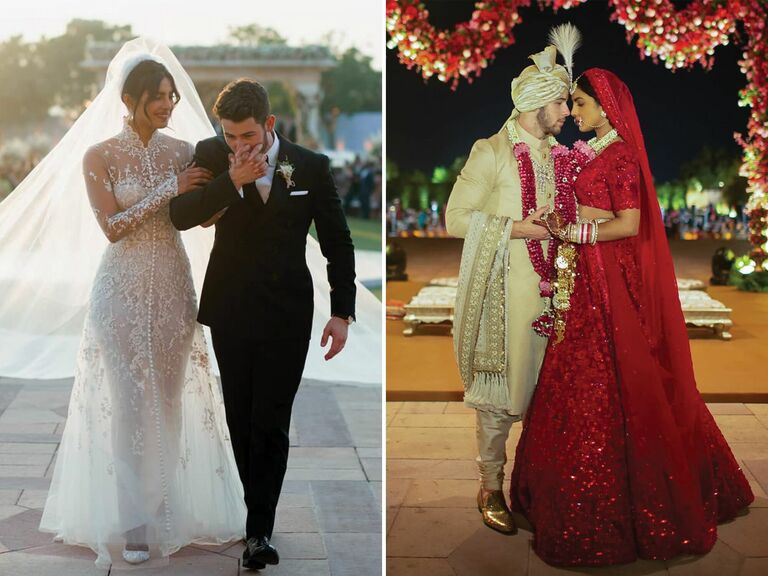 Ralph Lauren was responsible for creating Priyanka Chopra's wedding dress she wore to marry Nick Jonas. The bespoke gown had sheer lace leaves and button detailing down the front, as well as a trendy high neckline—but the most memorable element was the elaborate 75-foot veil. Following the Christian ceremony, the bride wore another custom look for the Hindu celebration: a red lehenga by Sabyasachi Mukherji, who spent more than 3,720 hours creating it with a team of over 100 people.
Ariana Grande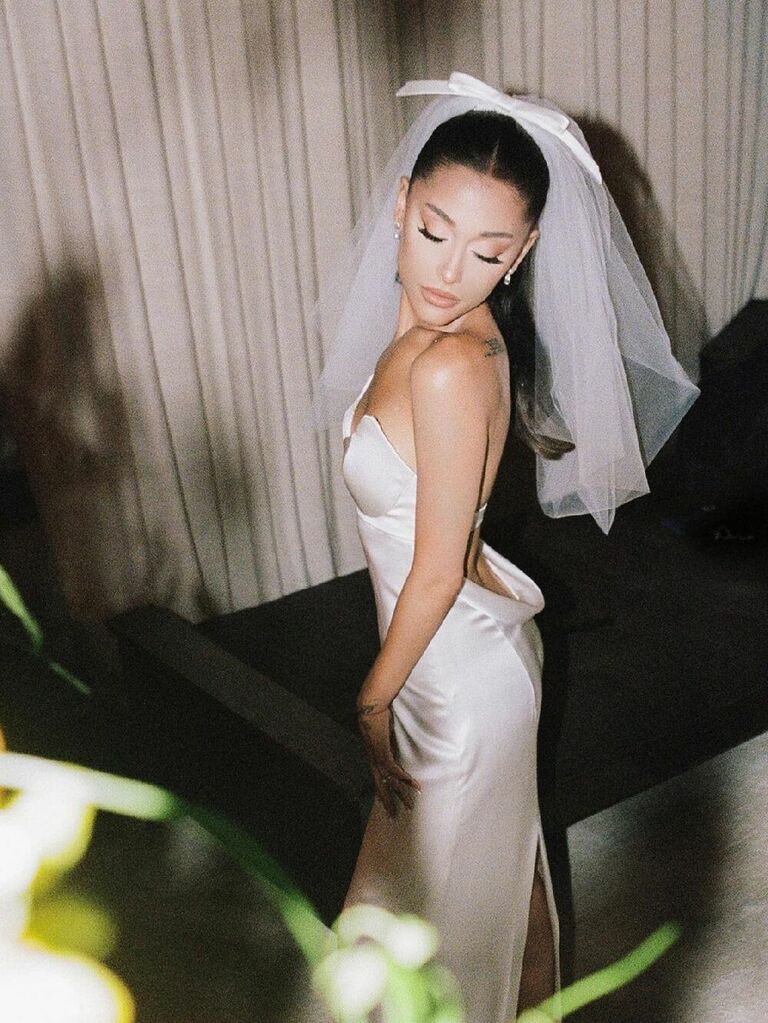 Pop music sensation Ariana Grande opted for an ultra-private minimony to wed real estate agent Dalton Gomez, using her California home as the venue. She wore a stunning Vera Wang strapless wedding dress for the big day, complete with a draped open back and a short veil with a bow on the top. And, as it turns out, this beautiful wedding dress was a long time in the making—the designer revealed that she and Grande began scheming up wedding dress ideas years earlier at a Met Gala party.
Kim Kardashian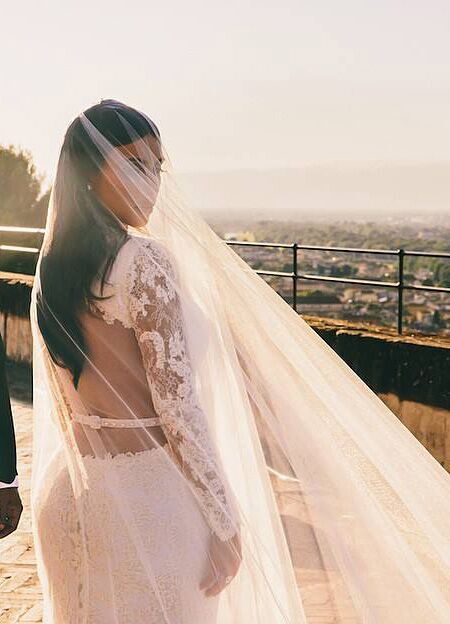 Kim Kardashian's haute couture creation by former Givenchy creative director Riccardo Tisci was a breathtaking custom choice for the reality star's Florentine wedding to Kanye West. With intricate lace sleeves, a modest high neckline and strategically-placed sheer panel cutouts, Kardashian's look was equal parts sultry and sophisticated.
Issa Rae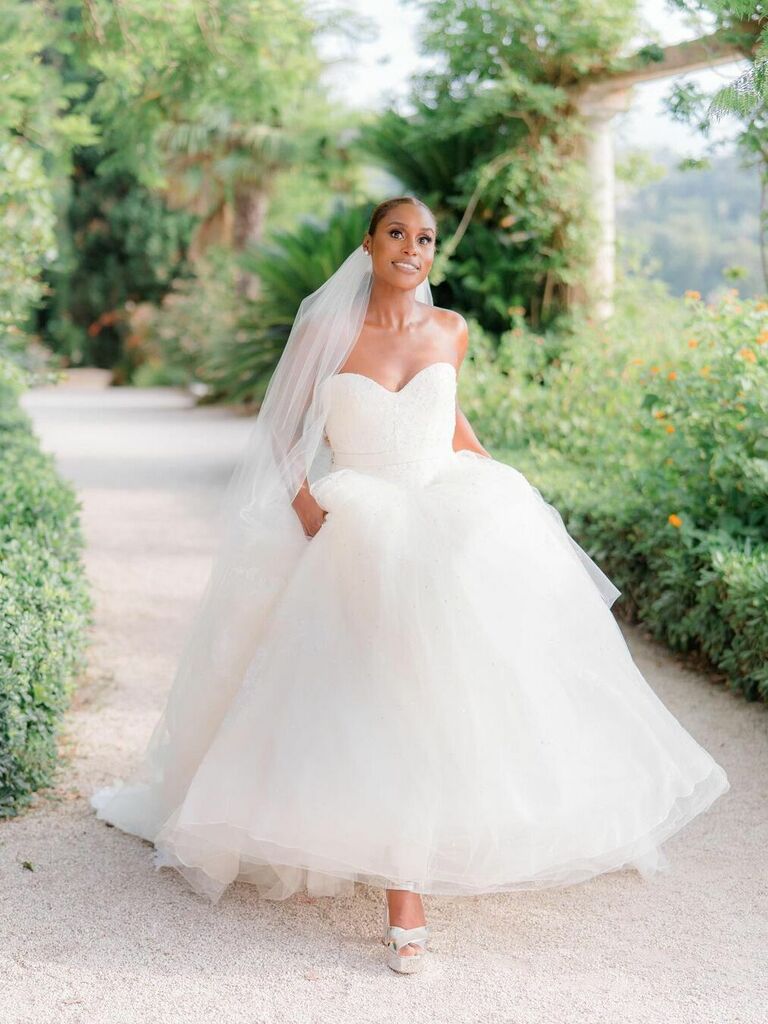 Vera Wang was responsible for yet another one of the world's most beautiful wedding dresses. She was the creative force behind actress Issa Rae's whimsical strapless ball gown that she wore to marry Louis Diame on the French Riviera. Following the vow swap, the bride changed into another Vera Wang look for the reception: a tulle silk crepe gown with a high slit, perfect for dancing.
Solange Knowles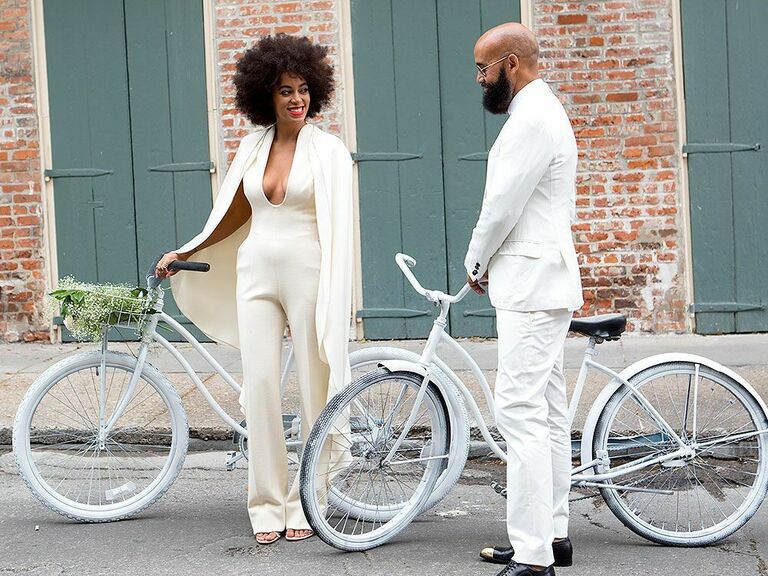 Dare we say one of the most beautiful wedding dresses ever isn't even a dress? Enter, Solange Knowles' wedding jumpsuit. While the singer did wear a gown to walk down the aisle, she changed into a sleek jumpsuit for the after-party of her New Orleans nuptials. The one-piece had a daringly low plunging neckline and a statement cape around the back, making it one of our favorite alternative wedding looks of all time.
The Most Beautiful Wedding Dresses of Royals
Of course, we can't talk about the most iconic wedding dresses ever without including royals. While you may be familiar with the looks of British figures, like Queen Elizabeth and Princess Diana, there are so many other international royal wedding dresses that captivated the world—and we've compiled them right here.
Queen Elizabeth II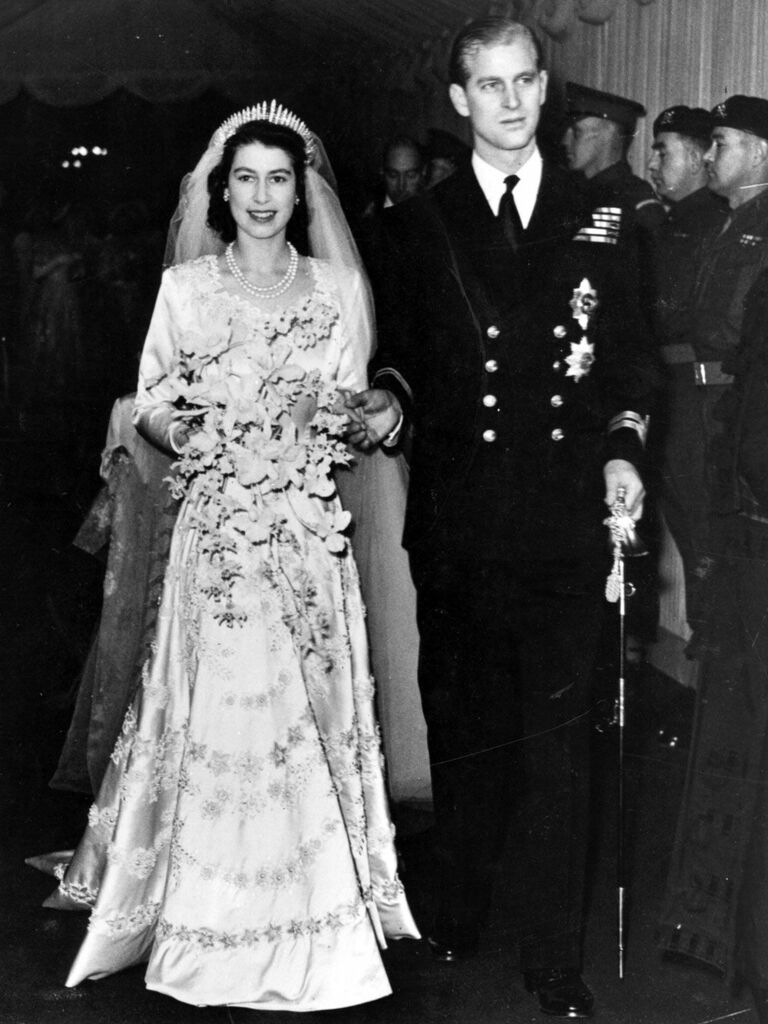 Quite a few British royal weddings have received global attention, but Queen Elizabeth's was the first of the modern era. She married Prince Phillip of Greece and Denmark on November 20, 1947, and while over 2,000 guests attended the wedding, 200 million listened to the matrimonial broadcast on BBC Radio. The bride wore an opulent long sleeve lace wedding gown by Sir Norman Hartnell, embellished with crystals and 10,000 seed pearls. It also had a 15-foot silk tulle train, which was attached at the shoulders. The design was inspired by Botticelli's Primavera painting, which depicts hope and rebirth, and was seen as a symbol of hope for Brits recovering from World War II.
Princess Diana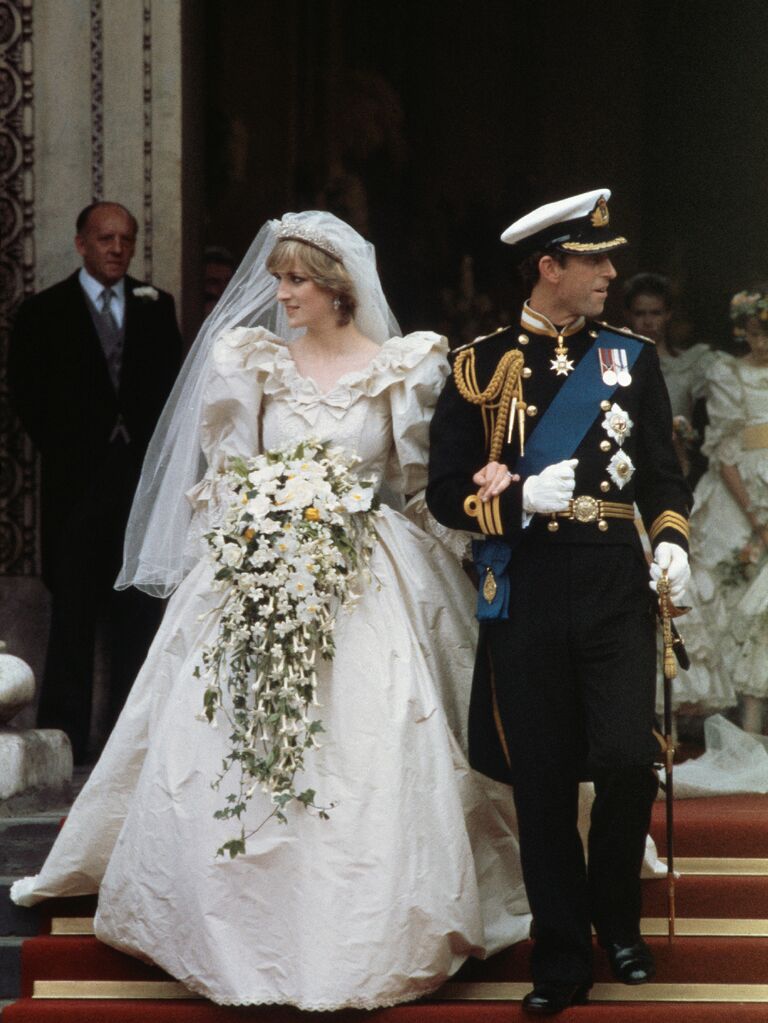 Princess Diana's wedding dress was one of the most anticipated bridal looks of the 20th century. In fact, people were so desperate to know what Lady Di would wear that members of the press began rummaging through the trash outside the studio of the designers, David and Elizabeth Emanuel. The final result, though, was far beyond royal watchers' wildest imaginations. The bride stepped out of her carriage in a voluminous ball gown covered in ruffles, bows, and lace. The 25-foot train was so long, in fact, that it barely fit inside the car. The stunning wedding dress had thousands of mother-of-pearl sequins, antique Carrickmacross lace originally belonging to Queen Mary, and 10,000 pearls in the ivory silk taffeta gown. Once completed, the gown was estimated to cost $115,000.
Princess Beatrice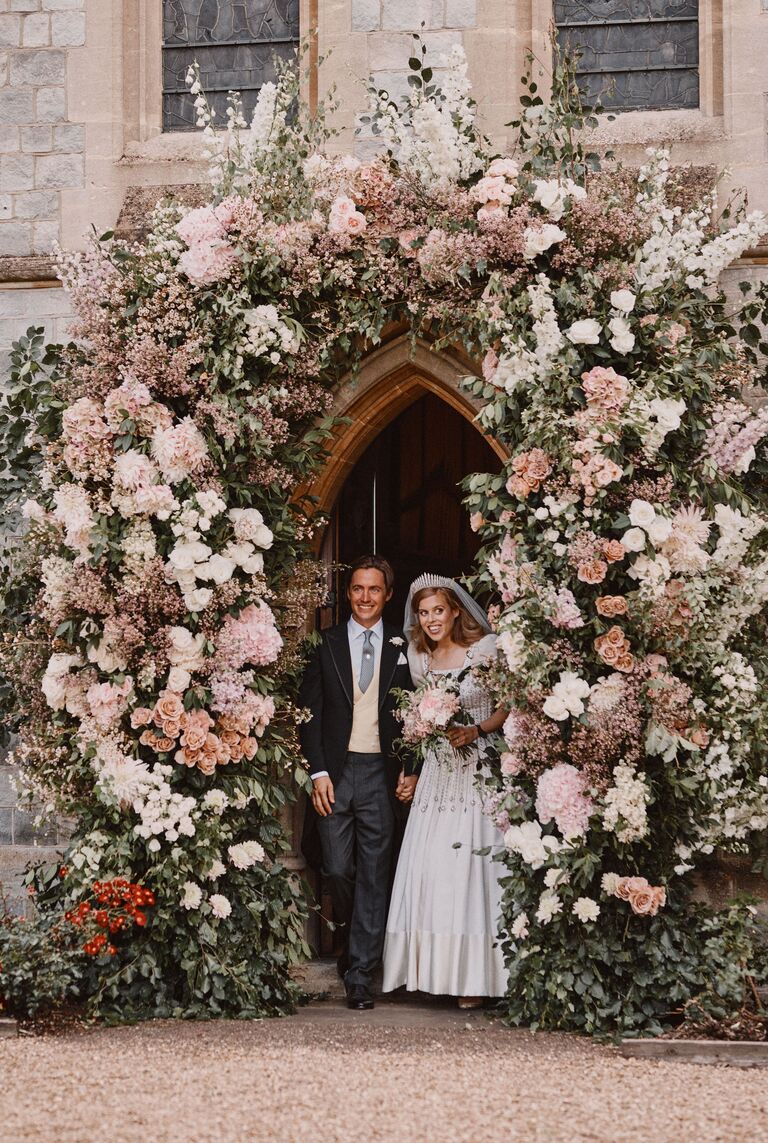 Even the royals incorporate "something borrowed" on their wedding days—and for Princess Beatrice, it just so happened to be her wedding dress. The bride wore a vintage Norman Hartnell gown that once belonged to her grandmother, Queen Elizabeth II, to marry Edoardo Mapelli Mozzi in July 2020. The elegant design included ivory taffeta for the body of the dress, with ivory satin trim and a crystal-encrusted bodice. A team of royal designers shortened the skirt and added puffed organza sleeves to give the gown a more modern look.
Princess Eugenie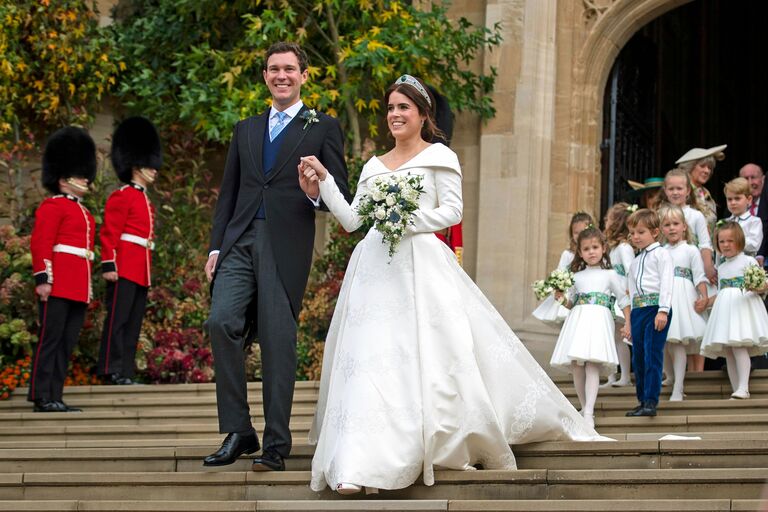 Of all the beautiful wedding dresses worn by royals, we have a soft spot for Princess Eugenie's custom Peter Pilotto gown. It boasted long sleeves, a structured V-neckline and a full skirt with lace detailing. The most thoughtful detail, though, was the plunging back that intentionally showed off her scar from scoliosis surgery.
Princess Sofia, Duchess of Värmland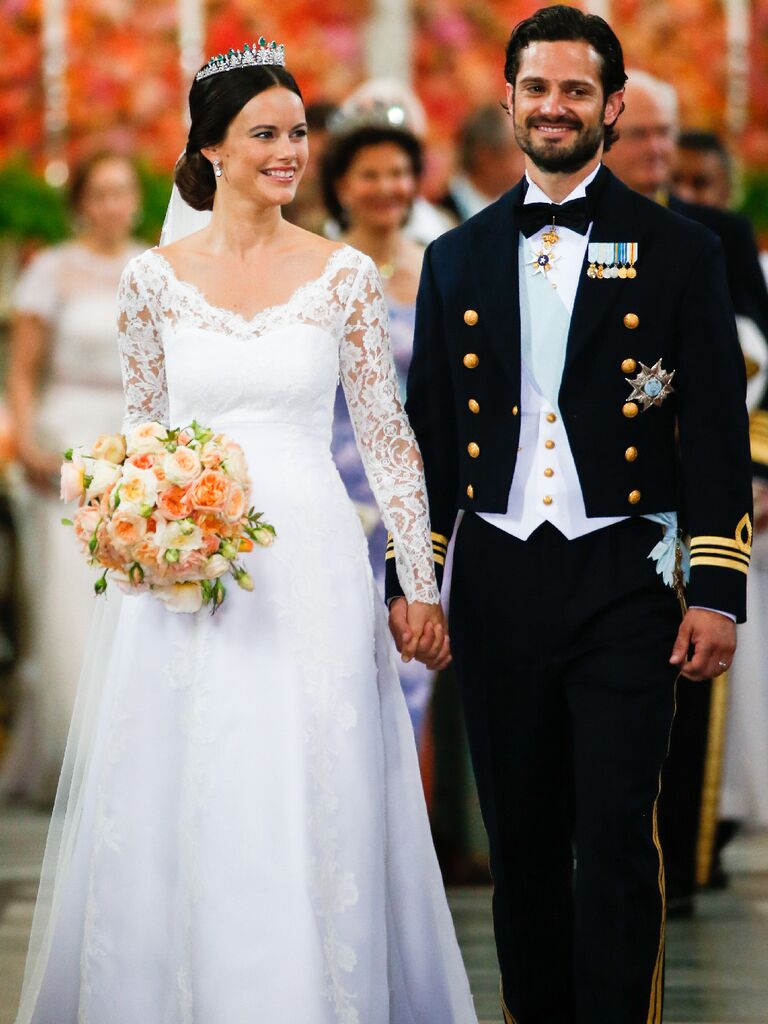 Prince Carl Philip and Sofia Hellqvist's love story is a real-life fairytale. The Swedish royal, who is currently fourth in line to the throne, fell in love with Hellqvist, a former reality TV star, and the rest is history. They wed in June 2015 at a royal chapel in Stockholm, and the bride's wedding dress seemingly took inspiration from Kate Middleton's. The Duchess walked down the aisle in a long sleeve lace gown by Swedish designer Ida Sjöstedt, which had an empire waist and a scooped V-neckline that showed off her star tattoo below her hairline. A sparkling emerald and diamond tiara completed her bridal look, which was a gift from her new in-laws, King Carl XVI Gustaf and Queen Silvia.
Marie-Chantal, Crown Princess of Greece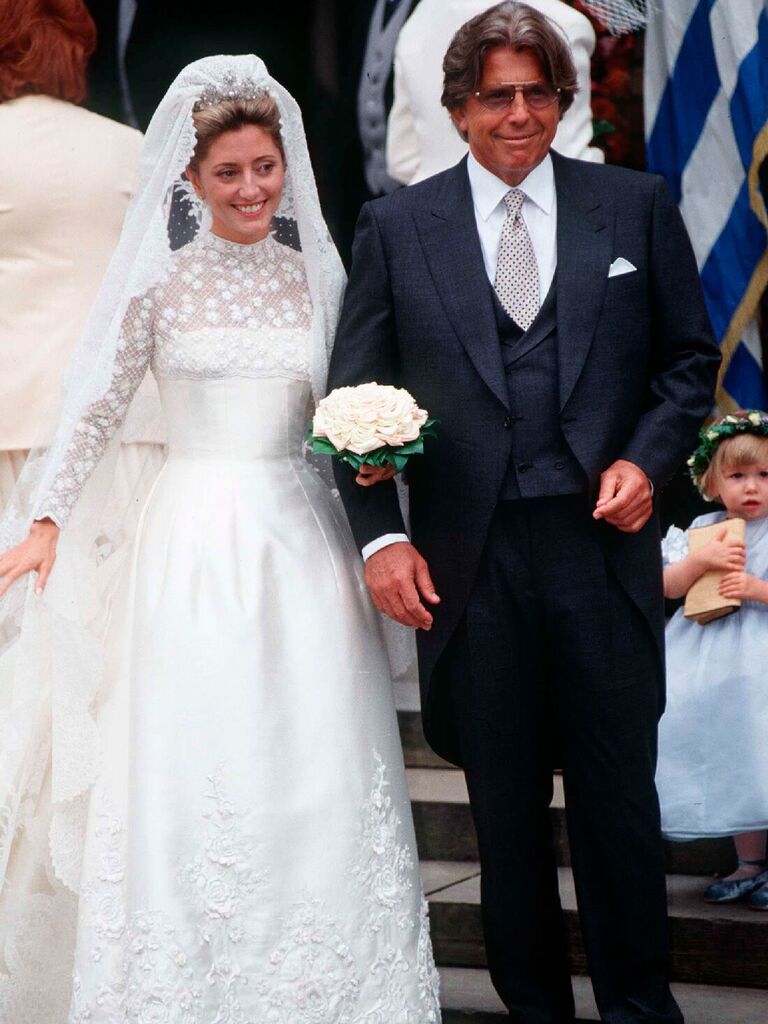 Valentino was the lucky design house tapped to create Marie-Chantal's wedding dress for her nuptials to Pavlos, Crown Prince of Greece. The two married in July 1995, and the bride stunned in a pearl-encrusted ivory silk dress with a tulip-shaped skirt that had a lace train nearly 15 feet long.
Queen Letizia of Spain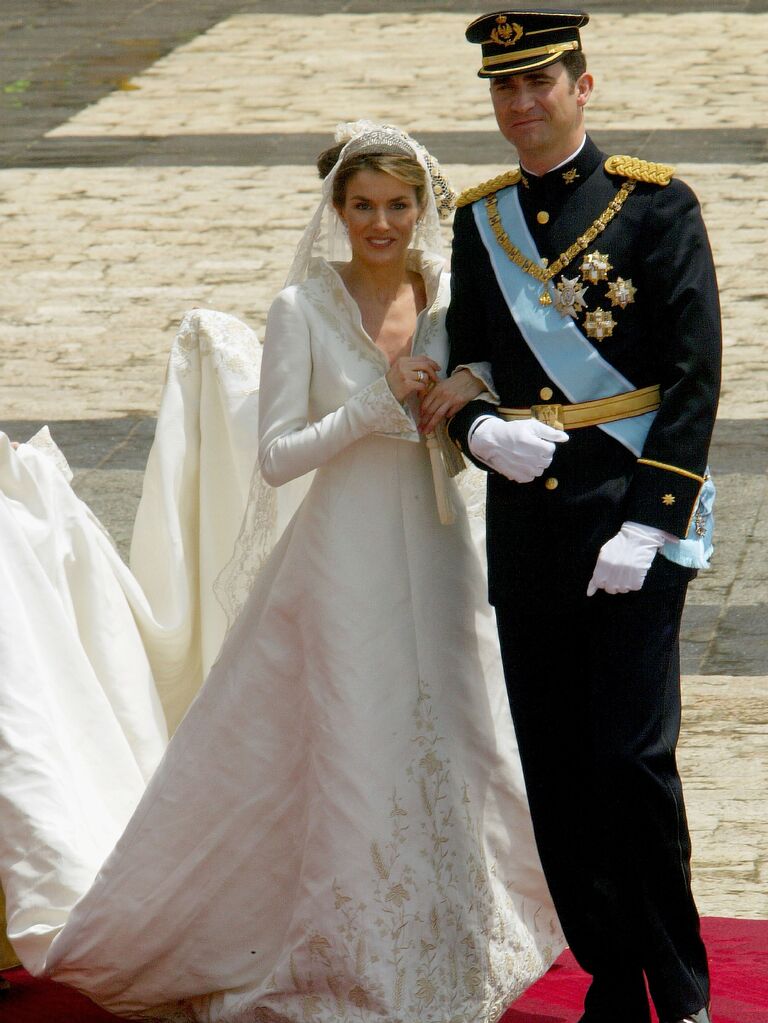 All eyes were on Prince Felipe and Letizia Ortiz when they married in May 2004, because they had the first Spanish royal wedding in nearly a century. Now the King and Queen of Spain, the two tied the knot in front of over 1,200 guests at the Royal Palace of Madrid. The bride, who was formerly a journalist, wore a silk long sleeve wedding dress embroidered with silver and gold threads and a corolla neckline.
Empress Masako of Japan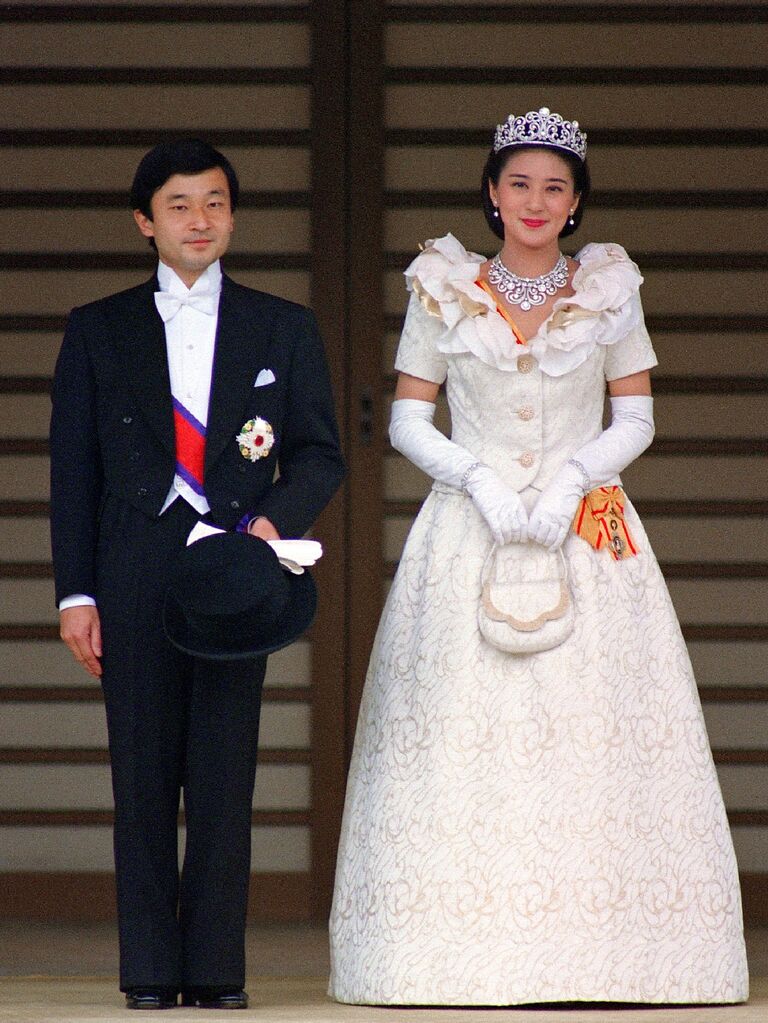 After three proposals, the current Emperor and Empress of Japan (then Crown Prince Naruhito and Masako) got married in June 1993 at the ​​Tokyo Imperial Palace. The royal bride first stunned in a silk bridal kimono, which reportedly had 12 layers, and later changed into a white short sleeve gown with a ruffled neckline and buttons down the front.
Princess Hajah Hafizah Sururul Bolkiah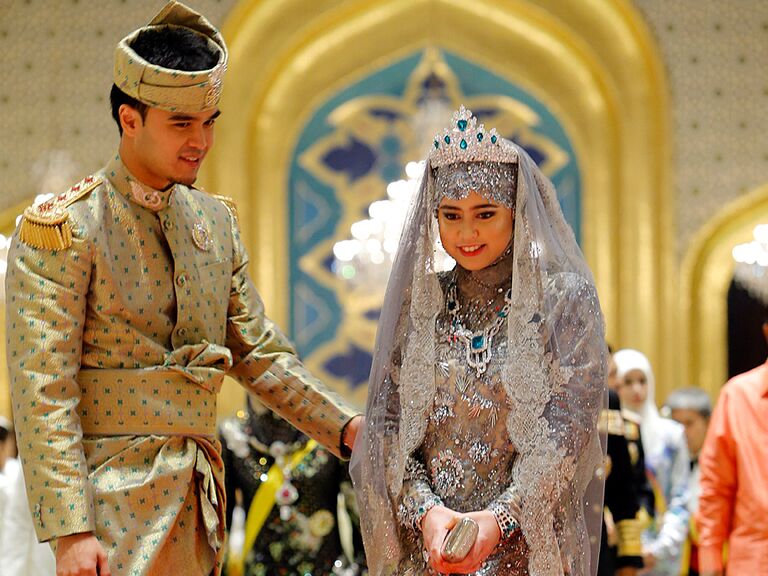 When it comes to the prettiest wedding dresses, we have to include Princess Hajah Hafizah Sururul Bolkiah. The daughter of the Sultan of Brunei married Pengiran Haji Muhammad Ruzaini during a lavish ceremony in 2012, and we're obsessed with her bridal look: an intricately-detailed silver and gold dress with embellishments, beading, and a jewel-encrusted tiara.
Princess Salwa Aga Khan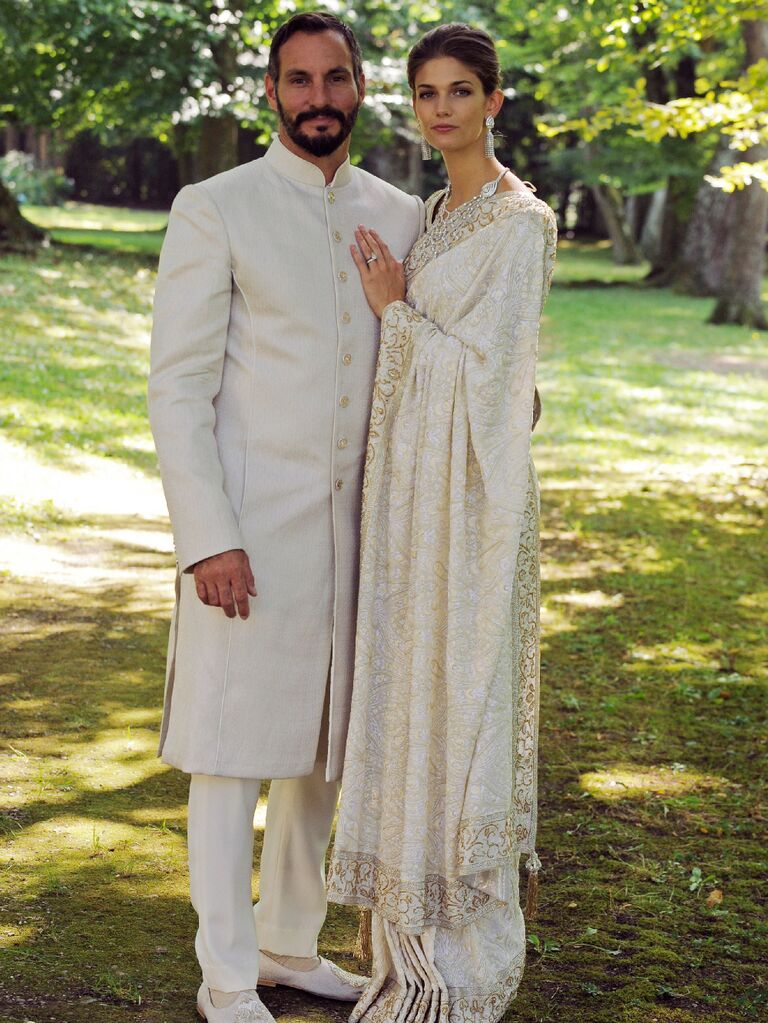 Kendra Spears, an American-born model and activist, assumed the title of Princess Salwa Aga Khanvwhen she married Prince Rahim Aga Khan. On their wedding day in August 2013, she wore an elegant gold and ivory look by Indian designer Manav Gangwani.
The Most Beautiful Wedding Dresses of Political Figures
Even political figures have worn some of the prettiest wedding dresses in history. Read up on a select five below—and if you're a self-proclaimed history buff, see more of our favorite wedding dresses of First Ladies here.
Jacqueline Kennedy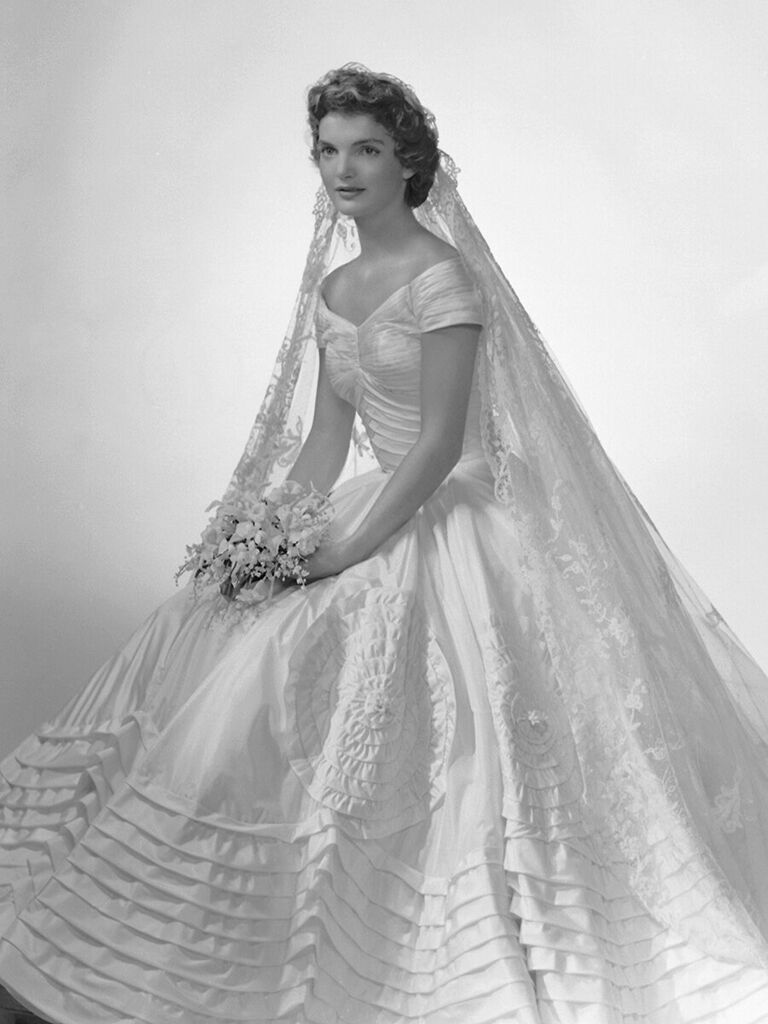 First Lady Jacqueline Bouvier, arguably one of the most recognizable style icons of all time, wed John F. Kennedy in a bouffant ball gown in 1953. The creation by New York City-based designer Ann Lowe was made from nearly 50 feet of ivory silk taffeta. Jackie's pretty wedding dress was full of sentimental touches: her skirt featured wax flowers woven into the seams while her veil was passed down to her by her grandmother.
Eleanor Roosevelt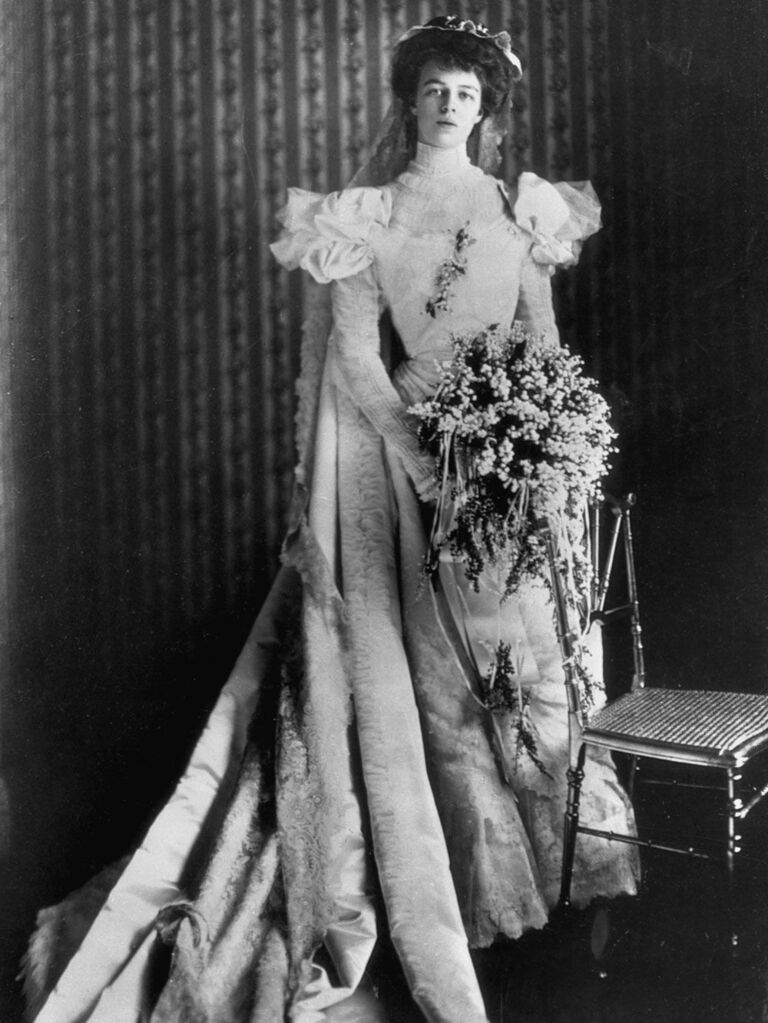 In Eleanor Roosevelt's official wedding portrait, the bride (and future first lady) is seen wearing a lavish gown for her St. Patrick's Day soirée back in 1905. The antique wedding dress featured puffed shoulders and long lace sleeves, a high ruffled neckline, and what appears to be a long train. She completed her look with a trailing lace veil and a lush bouquet of flowers.
Michelle Obama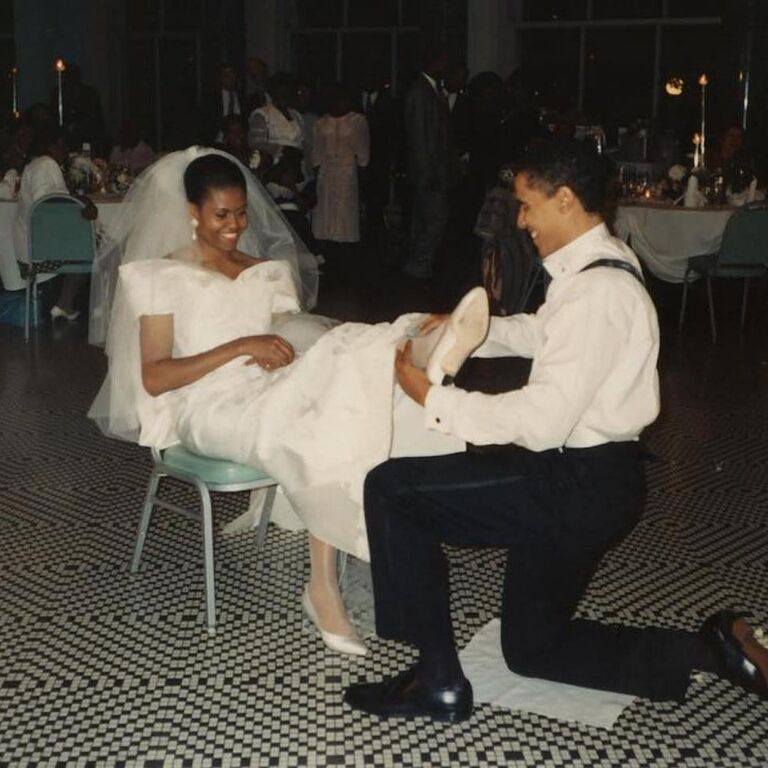 Michelle Obama's wedding dress was certainly a symbol of the 1990s. She sported a structured ivory gown with a portrait neckline and puffed shoulders to swap vows with Barack Obama in 1992.
Betty Ford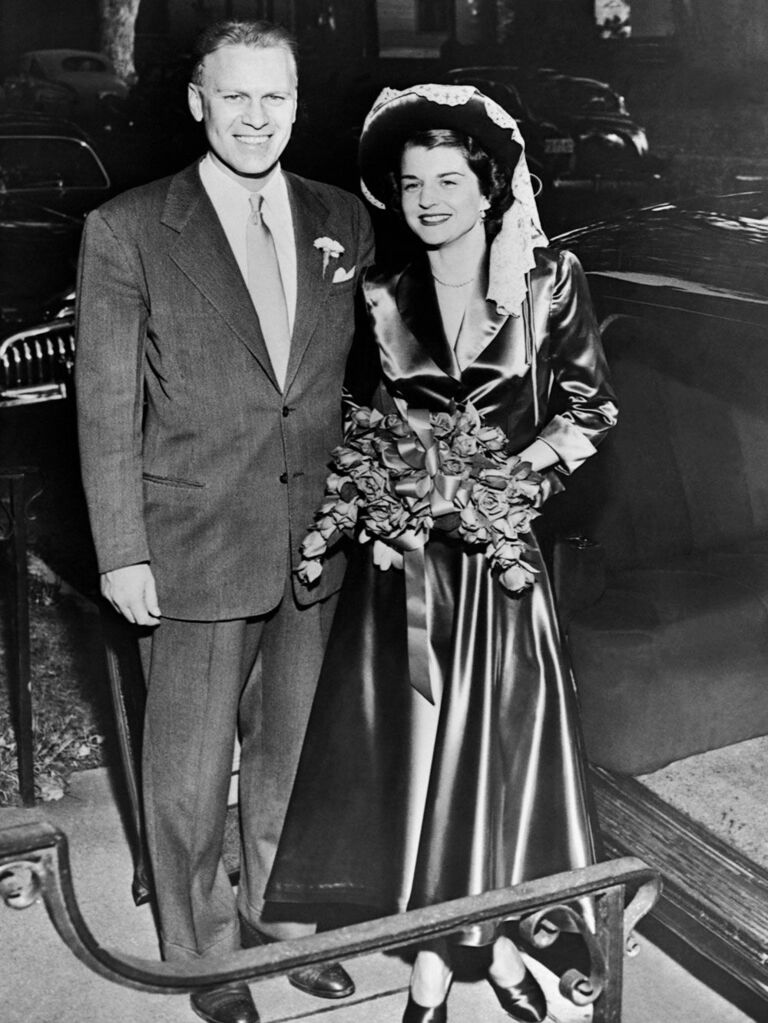 Believe it or not, Betty Ford opted for a colorful wedding dress before it became a trend. For her 1948 wedding to future president Gerald Ford, the bride wore a dark satin frock complete with a matching top hat.
Rosalynn Carter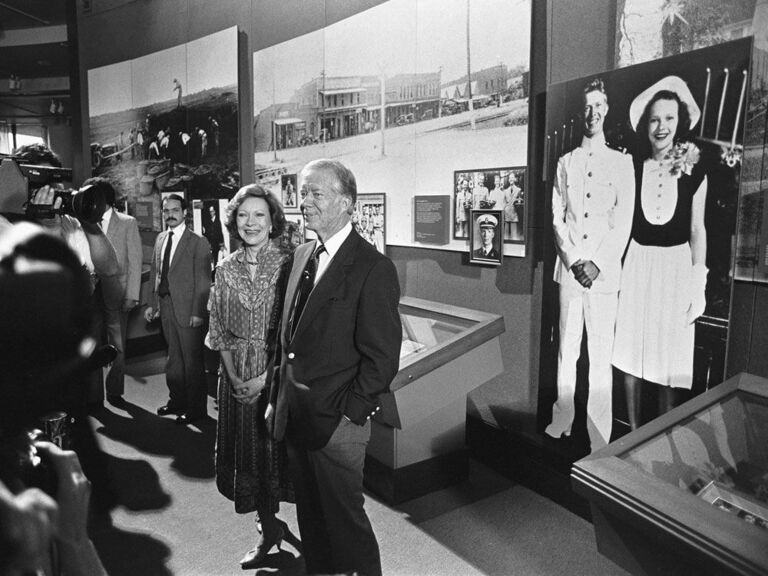 We can't talk about the most beautiful wedding dresses worn by political figures without mentioning Rosalyn Carter. To this day, she and her husband, Jimmy Carter, are the longest-married presidential couple. They wed in July 1946 at a church in their Plains, Georgia hometown, and marked their milestone 75th anniversary in 2021. For her big day, the bride wore a white mid-length wedding dress with buttons underneath a dark scoop neck top. She completed her look with a floral boutonniere and a white bridal hat.
The Most Beautiful Wedding Dresses in Pop Culture
Although the weddings may not have been genuine, some fictional wedding dresses still live in our minds today. From TV dramas to heartwarming rom-coms, these pop culture wedding dresses are the real deal in our eyes.
Bella Swan, Twilight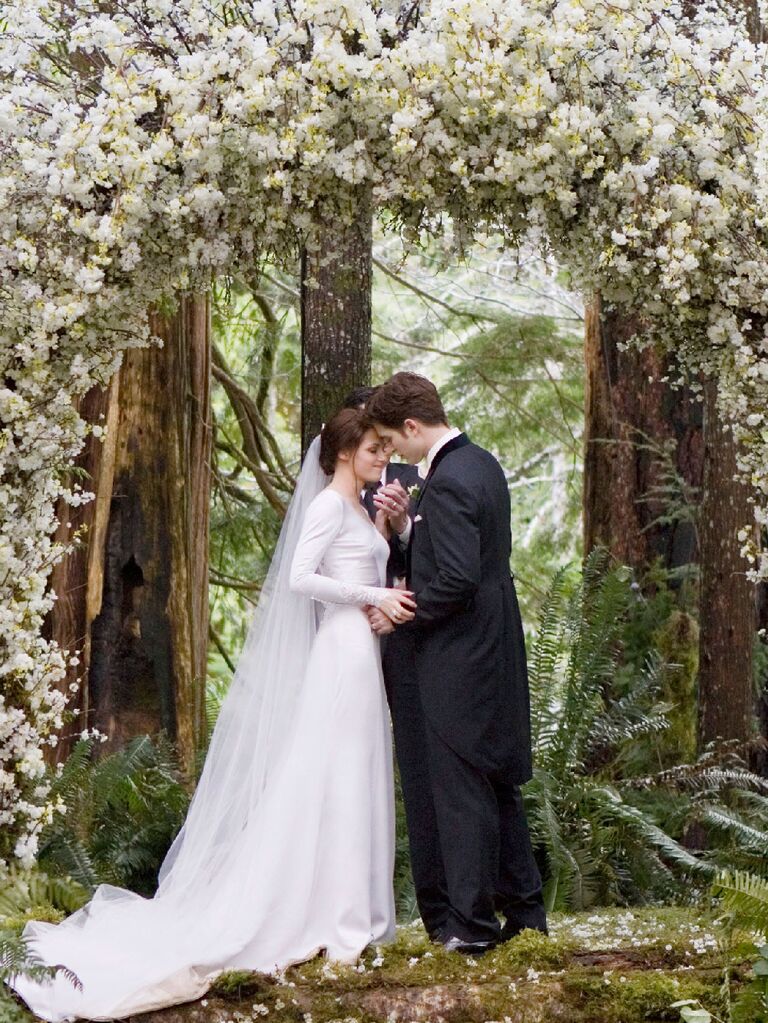 What do you wear when you marry a centuries-old vampire in the woods of the Pacific Northwest? Luxury designer, of course. Carolina Herrera was selected to design Bella Swan's wedding dress for Breaking Dawn, Part 1, the penultimate film of The Twilight Saga, and the look is still beloved by fans today. The bride walked down the aisle in a romantic fitted long sleeve dress that had intricate lace framing the sheer open back
Araminta, Crazy Rich Asians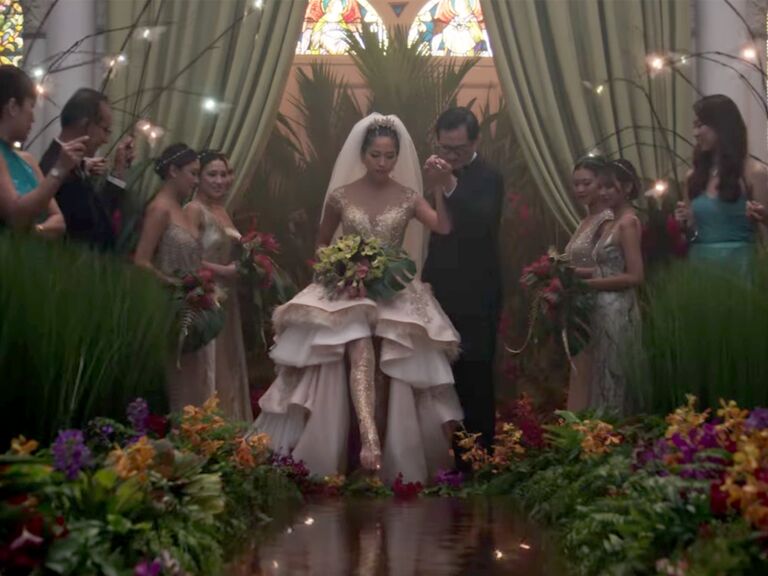 If you still cry every time you watch the Crazy Rich Asians wedding scene, you aren't alone. It's impossible not to swoon over Araminta's beautiful wedding dress, which had a tiered ruffle high-low skirt and an illusion neckline, complete with decadent gold foil detailing—and no shoes, of course, so she could walk barefoot down the pond-inspired aisle.
David Rose, Schitt's Creek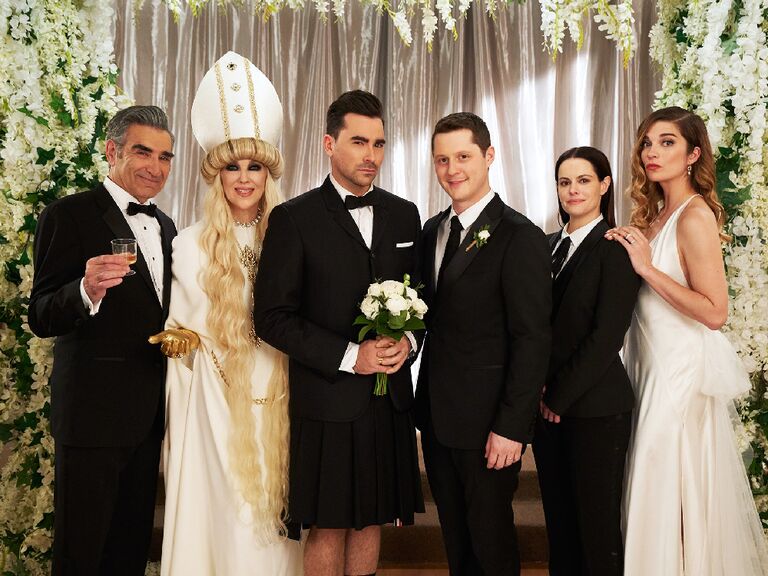 Yes, David! We'd be remiss not to include David Rose's iconic suit-and-skirt combo in this roundup of most beautiful wedding dresses. And Alexis Rose's white bridesmaid dress. And Moira Rose's pontiff-inspired officiant outfit.
Toula, My Big Fat Greek Wedding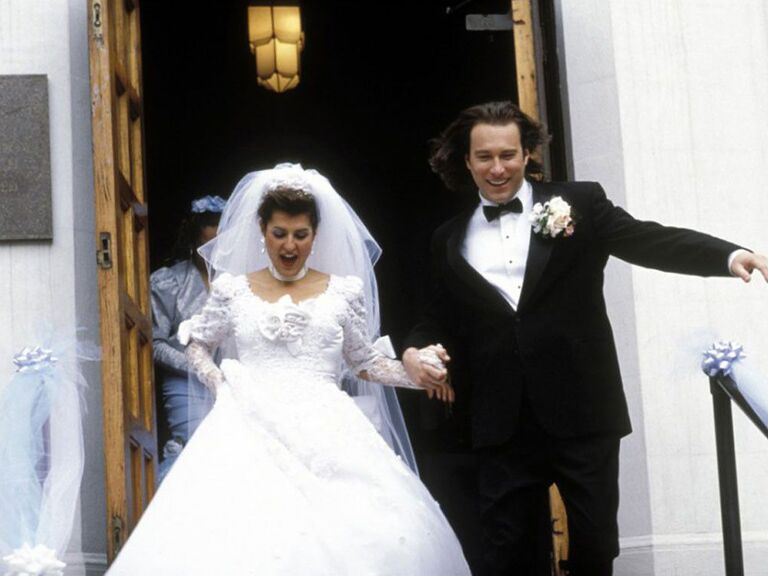 When it comes to the best wedding movies of all time, My Big Fat Greek Wedding deserves a spot at the top of the list. After all, who can forget Toula Portokalos' larger-than-life creation? With puffed shoulders, lace long sleeves, a full skirt and a cupcake veil, it's undeniably one of the most beautiful wedding dresses in pop culture.
Taylor Swift, "I Bet You Think About Me" Music Video
If you bet we still think about Taylor Swift's wedding dress, you'd be correct. While fans still speculate if she's married to boyfriend Joe Alwyn in real life, she did don a strapless white ball gown for the music video set to this vault song from Red (Taylor's Version).
Christina Yang, Grey's Anatomy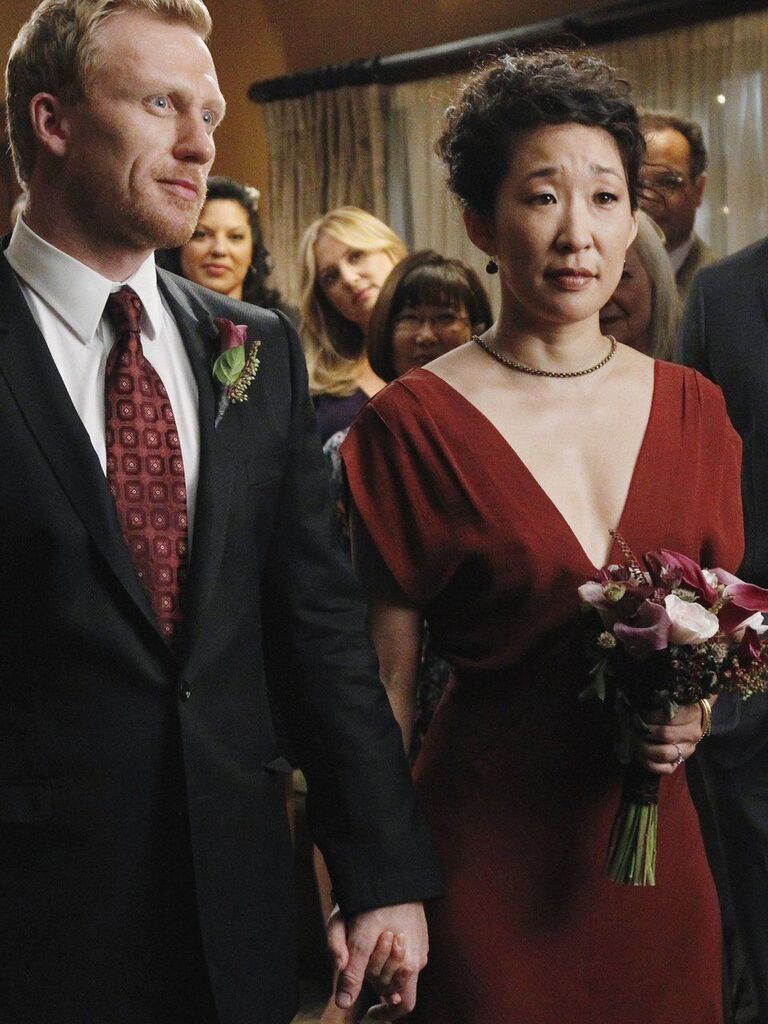 We've seen plenty of weddings throughout Grey's Anatomy's nearly 20-year tenure on air, but Cristina Yang's red wedding dress will always be one of our favorites. She donned a slinky, non-traditional frock to marry Owen Hunt in Meredith Grey's living room, making home weddings cool before they became a widespread phenomenon.
Monica Gellar, Friends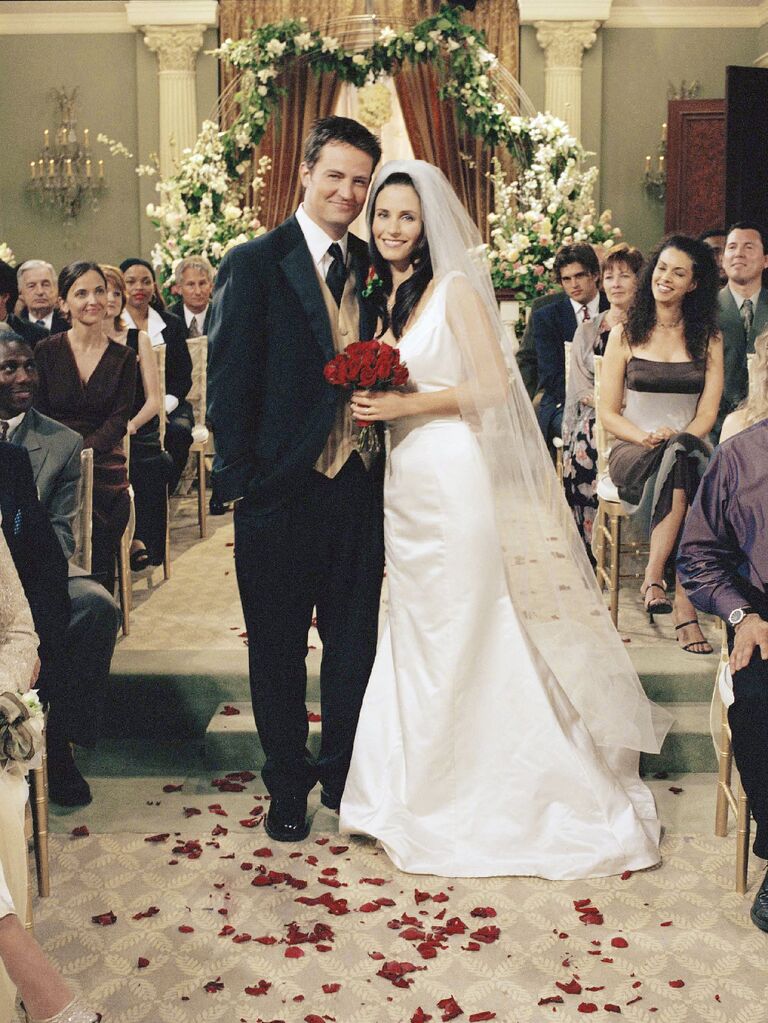 The one where Monica and Chandler got married still lives rent-free in our minds—and for good reason. Monica's simple wedding dress is a prime example of '90s style: she wore a sleeveless fitted gown with a slight V-neckline and a flared skirt, solidifying itself as one of the most popular wedding dresses in TV history.
Blair Waldorf, Gossip Girl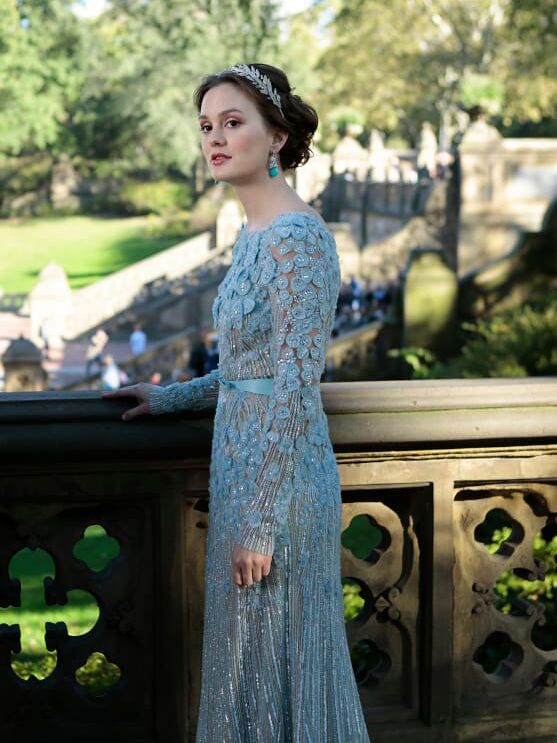 We don't need Gossip Girl to tell us which Upper East Sider wore the most beautiful wedding dress, because we know for a fact it was Blair Waldorf. We still think about her blue modern flapper look today, which had ornate beading and embellishments and a crystal feathered headpiece.
Cece Parekh, New Girl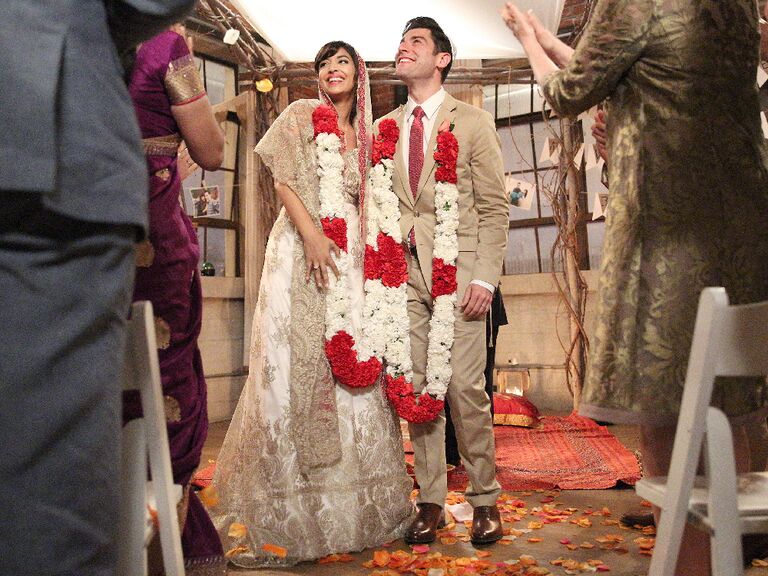 The highly anticipated finale of New Girl produced one of the most beautiful wedding dresses of all time, worn by Cece Parekh. At her fusion wedding to Schmidt, the bride wore a strapless white and gold embellished A-line dress, complete with a veil lined with red lace—a nod to the character's Indian heritage.
Olivia Pope, Scandal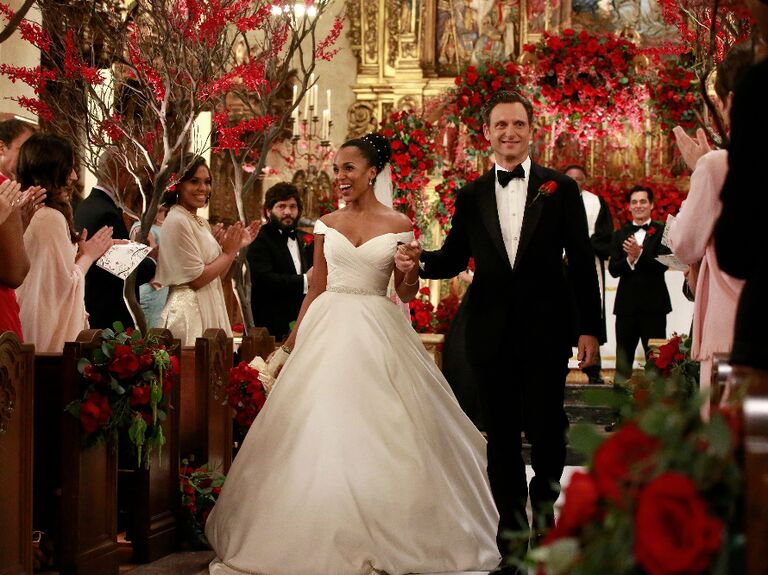 There's nothing scandalous about this wedding dress. As ABC's hit drama Scandal came to a close, Olivia Pope and President Fitzgerald Grant finally tied the knot. Surrounded by moody red florals, the bride walked down in an elegant ball gown designed by Anne Barge. The beautiful wedding dress featured a ruched off-the-shoulder bodice and a full skirt.