15 Celebrities Who Wore Stunning Monique Lhuillier Wedding Dresses
We'll never stop swooning over these dreamy designs.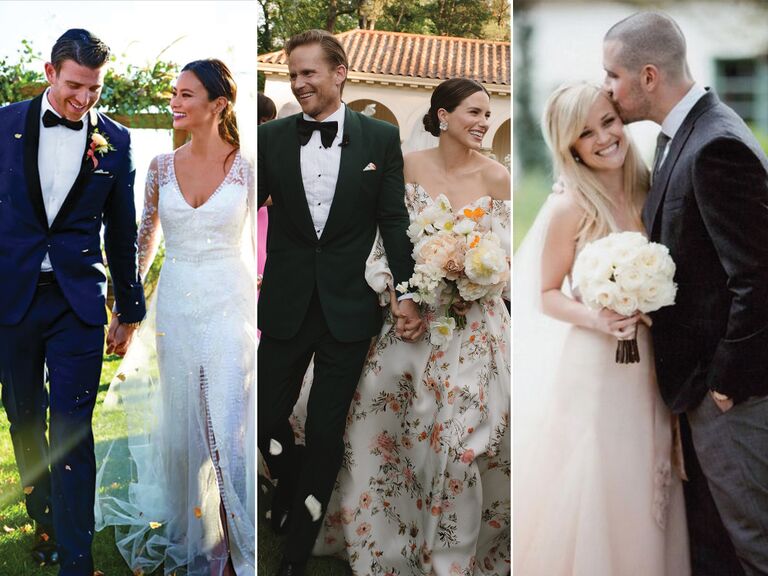 @jamiechung/Instagram,@sophiabush/Instagram,@reesewitherspoon/Instagram
When it comes to wedding dress designers today, Monique Lhuillier is one of the most sought-after. The Filipino-French designer, who launched her eponymous label in 1996, has since become known for her romantic and whimsical aesthetic, especially when it comes to her bridal label. While she's created everything from red carpet gowns to shoe lines and accessory collections, her wedding dresses are particularly favored by brides all over the globe—especially celebrities.
It's nearly impossible to pick the best Monique Lhuillier celebrity wedding dress of all time. From Reese Witherspoon to Carrie Underwood and, most recently, Sophia Bush, plenty of A-listers have tapped the beloved creative for their nuptials. Whether you're looking for wedding dress inspiration for your own big day or you just can't get enough of the label's dreamy gowns, join us as we look back on our favorite Monique Lhuillier celebrity wedding dresses ever.
Sophia Bush's Wedding Dress
Sophia Bush's famous wedding dress nearly broke the internet when first photos were released in July 2022. The One Tree Hill alum, who called Lhuillier one of her "dearest and oldest friends in fashion," opted to design her trendy botanical dress from scratch.
The one-of-a-kind off-the-shoulder ball gown was full of personal significance, both for Bush and her now-husband Grant Hughes, as well as their Tulsa, Oklahoma wedding venue. "As a visual person and a storyteller, I love what imagery can represent. On this day, I wanted to represent us. Where we come from. Where we are going," she wrote of the dress on Instagram.
"Oklahoma tea roses for my husband and his family. Italian olives and branches for mine, and for what their offering signifies. California poppies for our home together. And our sweet, chunky bees, that we have cultivated together for years now," she continued. "Colors pulled from sunsets and sunrises in his hometown and mine. An honoring of place, memory, and purpose."
Ashley Tisdale's Wedding Dress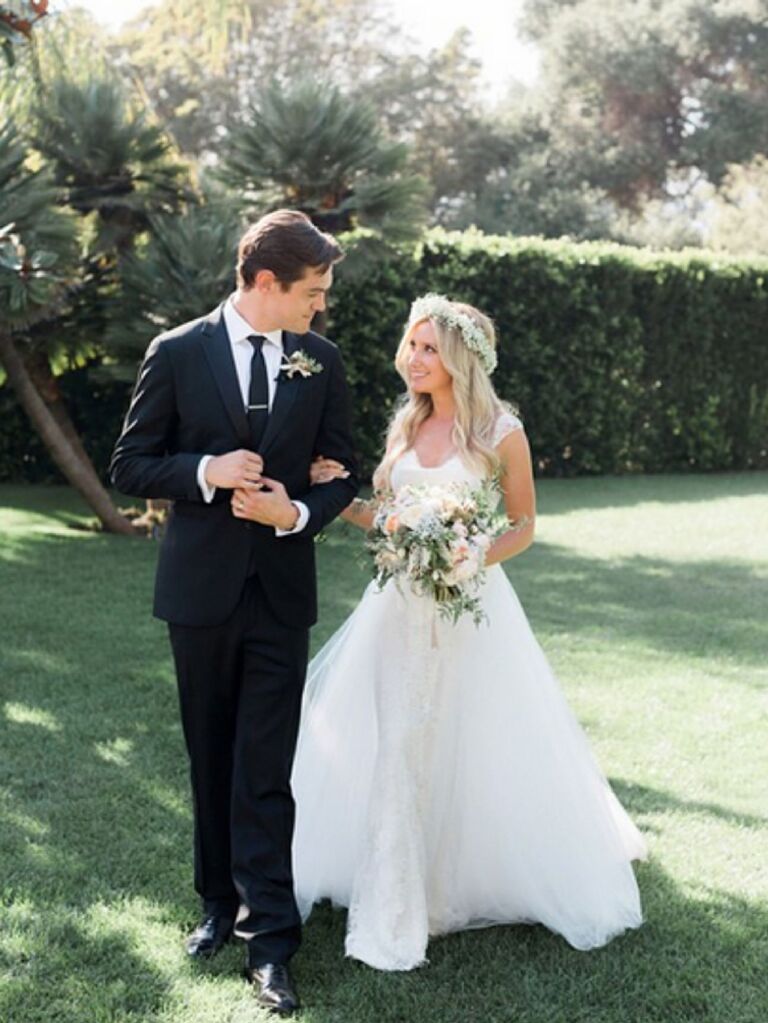 It was the era of bohemian fashion and flower crowns when Ashley Tisdale got married back in 2014, and her wedding dress was proof. The former Disney star wed musician Christopher French at a rustic villa in Santa Barbara, California in an elegant Monique Lhuillier wedding dress we think Sharpay Evans would love. In a contrast to Tisdale's typical cool-girl style, she opted for an airy A-line gown with lace cap sleeves and a full skirt. She accessorized her look with a lush baby's breath crown, solidifying her wedding look as the blueprint for boho-chic style.
Jamie Chung's Wedding Dress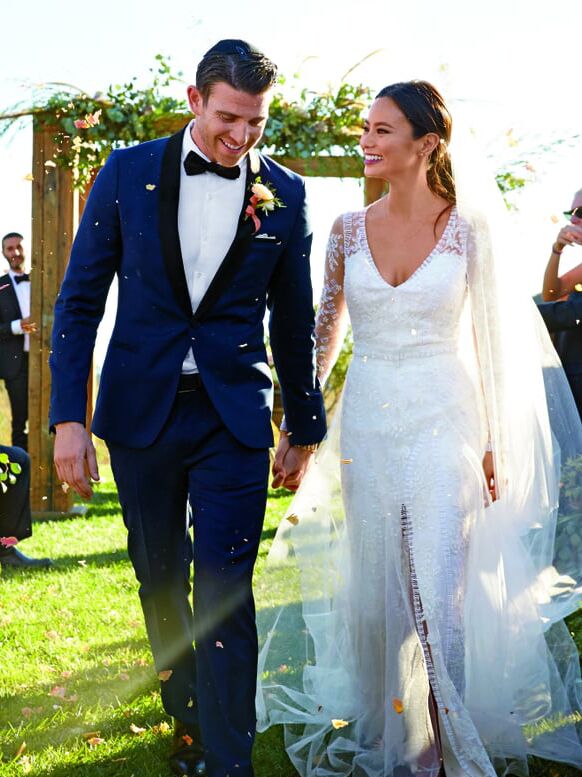 Jamie Chung's 2015 wedding wasn't your average California soirée. The actress and lifestyle blogger, who married fellow actor (and Sophia Bush's One Tree Hill costar) Bryan Greenburg, hosted a three-day celebration at a resort in Santa Barbara, California—and since the nuptials fell over Halloween, she turned her welcome dinner into a costume party. The ceremony itself was much more formal, and Chung walked down the aisle in a long sleeve silk tulle and lace Monique Lhuillier creation. In order to keep her ceremony look a secret, the bride actually wore her Jonathan Simkhai reception outfit during the formal portrait session in the morning before putting on her Lhuillier dress, only to change back into the party look later in the day.
Reese Witherspoon's Wedding Dress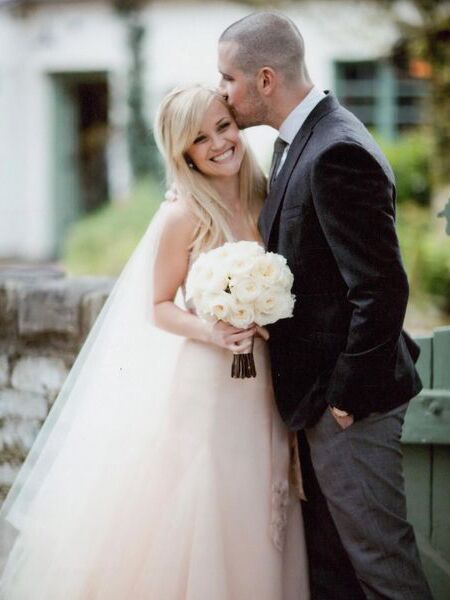 Despite her status as a Hollywood A-lister, Reese Witherspoon kept details of her March 2011 wedding to Jim Toth out of the public eye. It wasn't until her tenth anniversary in 2021 that she even shared a closeup shot of the dress on Instagram—and it was well worth the wait. Fans got a close look at her ethereal Monique Lhuillier gown, which was custom-designed to include a strapless neckline, a corset bodice and a tulle A-line skirt. The most memorable aspect of the gown, though, was the color: an Elle Woods-approved blush hue.
Carrie Underwood's Wedding Dress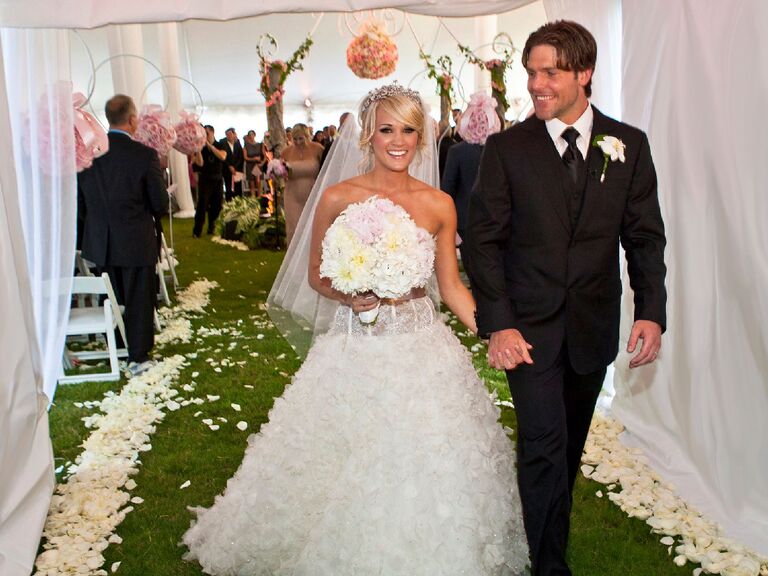 What does the princess of country music wear to get married? Two Monique Lhuillier dresses, of course. Carrie Underwood swapped vows with hockey player Mike Fisher in July 2010, and her look was certainly fit for royalty. She first donned a strapless Chantilly lace and silk organza ball gown for the ceremony, which she accessorized with a sparkling tiara. Her dog Ace, who doubled as a ring bearer, was also dressed for the occasion in a Swarovski crystal-encrusted pink tux. Following the vow swap, she changed into a second Monique Lhuillier cocktail dress so she could "get my boogie on," she told People magazine.
Lea Michele's Wedding Dress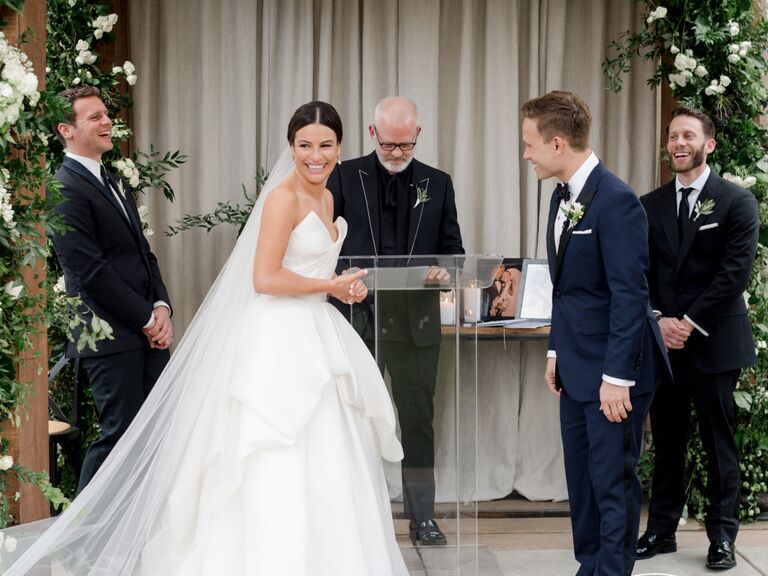 When Lea Michele married Zandy Reich in March 2019, she opted for a custom Monique Lhuillier ball gown with a corseted waist. The Glee star's romantic look included a structured strapless sweetheart neckline that led into a full hand-tufted skirt, which the bride accessorized with a cathedral veil designed with hand-appliquéd lace. Interestingly enough, Michele tapped fellow Monique Lhuillier celebrity bride Ashley Tisdale's wedding planner, Lisa Vorce, to help plan her Northern California nuptials.
Dakota Johnson's Wedding Dress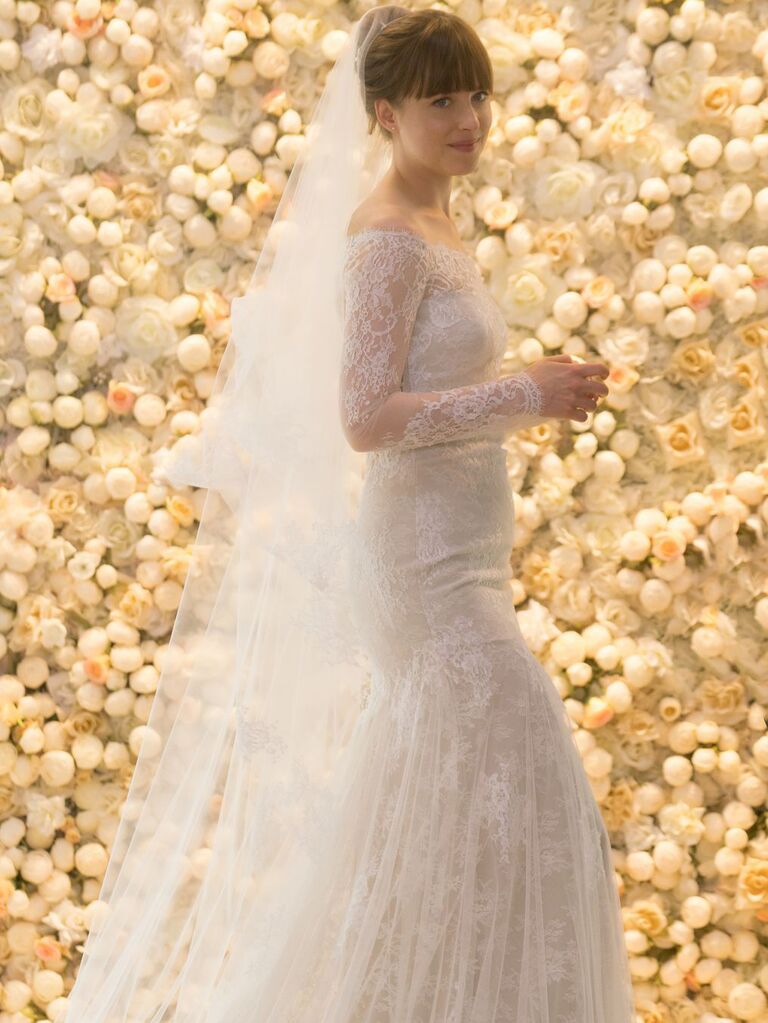 Monique Lhuillier's wedding dresses have appeared on the silver screen too. Actress Dakota Johnson wore a custom Lhuillier gown in Fifty Shades Freed, the final installment of the Fifty Shades of Grey trilogy movie series. In the grand finale, her character Anasta Steele finally weds Christian Grey, marking the culmination of a tumultuous romance. It's for this reason that Lhuillier spent so much time perfecting the gown Steele would wear. "I wanted to make sure [the dress] was iconic and very memorable, because once it's in a film it lives forever," Lhuillier told Elle. "I also wanted it to have the aesthetic of my collections, knowing the reason they came to me was showcasing my design aesthetic through the character." The result was certainly memorable: The fictional bride graced the screen in a demure off-the-shoulder long sleeve Chantilly lace and tulle gown, complete with a cascading tulle veil.
Naya Rivera's Wedding Dress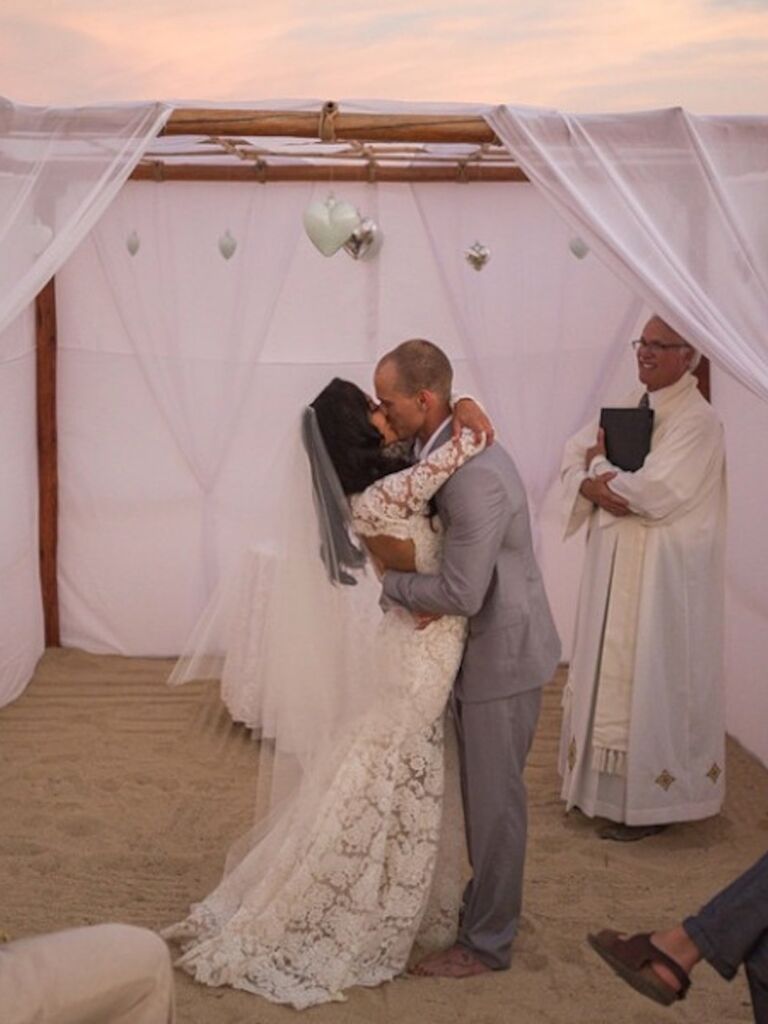 Naya Rivera hosted a minimony before it became a buzzword in the wedding industry. The late actress—who was beloved by fans for her role on Glee—secretly married Ryan Dorsey in front of just 12 guests at an intimate tropical venue nestled in Cabo San Lucas, Mexico. Her bohemian lace Monique Lhuilier wedding dress was certainly one to remember; it featured sexy details like a plunging neckline and a keyhole open back, which were offset by lace long sleeves and a fit-and-flare skirt. Seven months after they tied the knot, Rivera finally gave fans a peek at her gown by sharing a behind-the-scenes photo of the ceremony on Instagram.
Savannah Guthrie's Wedding Dress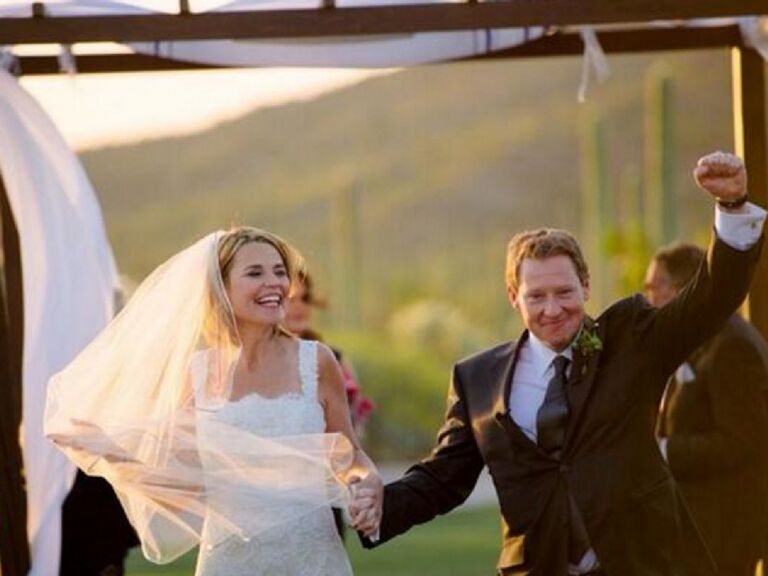 Today co-anchor Savannah Guthrie had plenty to celebrate back in March 2014. Not only did the newscaster reveal live on the air that she had married her longtime love Mike Feldman, she also shared that she was four months pregnant! Guthrie tweeted a photo of the celebration, which took place in a desert just outside her hometown of Tucson, Arizona. And, as it turns out, she purchased her scalloped lace Monique Lhuillier wedding dress before she realized she was expecting. "It's funny, 'cause we set the wedding date, I bought my dress, and then I found out," she said at the time. "So I've been doing a little praying that I would fit in it, and it all worked out."
Catherine Giudici's Wedding Dress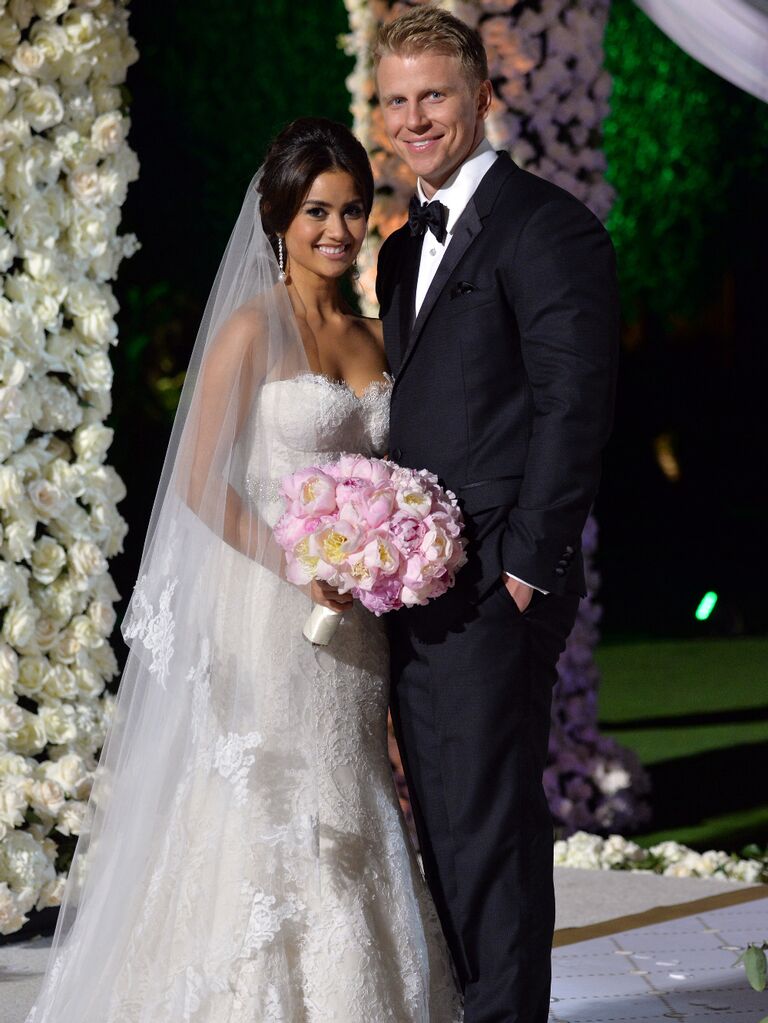 We've seen plenty of memorable Bachelor and Bachelorette weddings over the years, but we'll never forget Sean Lowe and Catherine Giudici's nuptials—particularly because it was the first franchise wedding to be broadcast live on television. Fans were able to watch the happy couple, who met in 2013 while filming Lowe's Bachelor season, marry in real time alongside famous Bachelor couples including Trista and Ryan Sutter, Jason and Molly Mesnick, and Desiree Hartsock and Chris Siegfried. Giudici opted for a strapless lace mermaid Monique Lhuillier wedding dress, which perfectly complemented the lush floral aesthetic.
Molly Malaney's Wedding Dress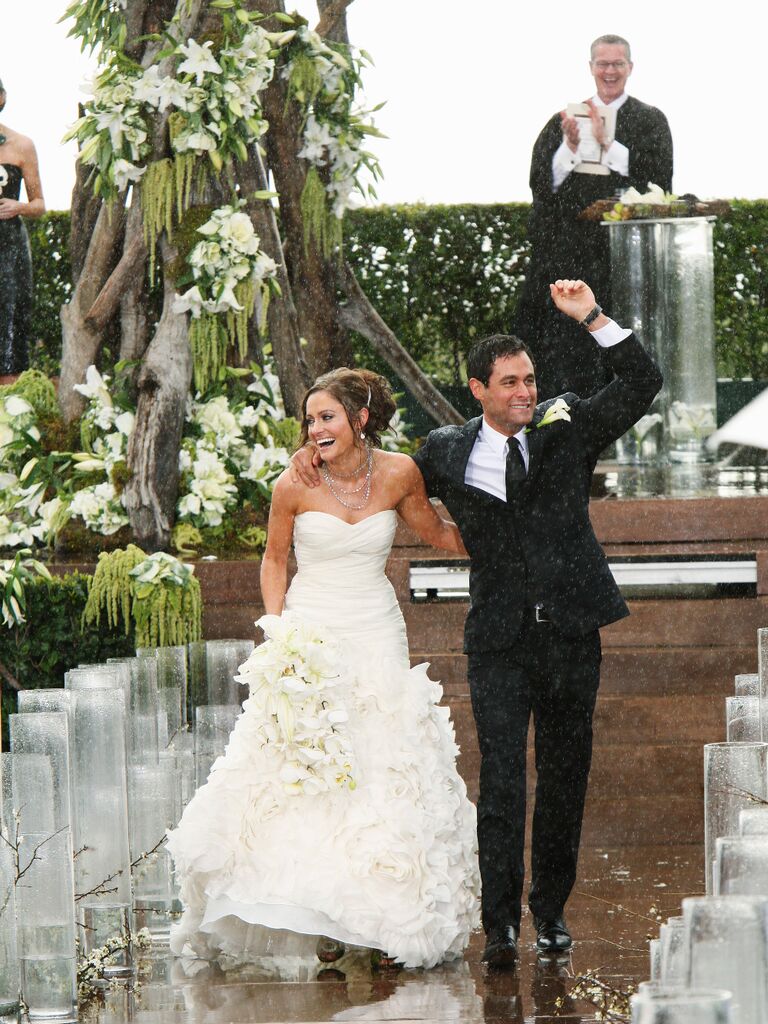 Molly Malaney was another Bachelor bride who wore a Monique Lhuillier wedding dress. Following what was arguably the most dramatic season of The Bachelor ever, Malaney got her happy ending with Jason Mesnick despite leaving the show as the runner-up. (Mesnick revealed on live television that he made a mistake in not choosing Malaney, and she gave him a second chance.) The two were married in February 2010 by former Bachelor host Chris Harrison. And, much like their season, the wedding day wasn't without drama: the skies opened up to a torrential downpour during the ceremony, but the newlyweds took it in stride. The bride wore a strapless Monique Lhuillier mermaid gown, complete with a ruched bodice and a full floral skirt—a popular style of the time.
Vanessa Lachey's Wedding Dress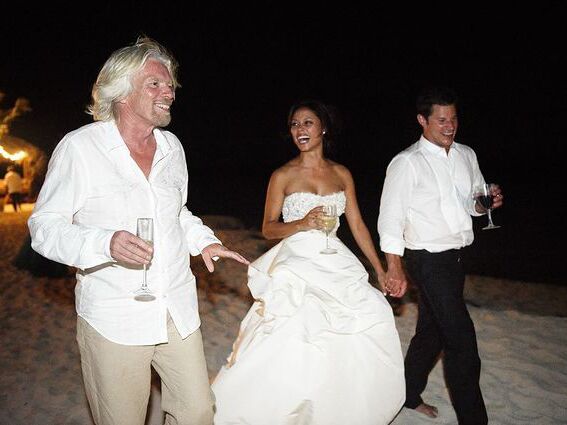 Today, Vanessa and Nick Lachey are known for hosting a variety of popular dating shows (including Love is Blind and The Ultimatum), but we'd be remiss not to look back on their own love story. The two were married during a "fairy tale island" themed wedding in July 2011, and the celebration was captured for a TV special. The two invited only their nearest and dearest to the destination celebration, which took place on the British Virgin Islands. The bride chose to wear a trendy two-piece Monique Lhuillier wedding dress for her beachside soirée, which featured an embellished lace corset with rose and crystal detail, which was paired with a signature hand-tufted skirt made of silk faille. The bride added a bow belt around her waist and a chapel-length veil to complete the look.
Kristin Cavallari's Wedding Dress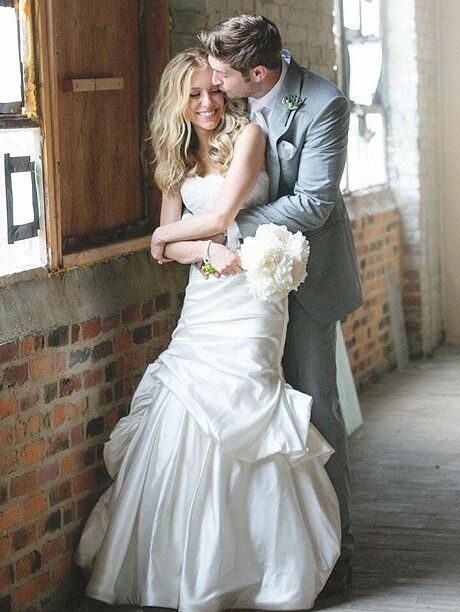 Kristin Cavallari was yet another reality star to select a stunning Monique Lhuillier creation for her big day. The Laguna Beach personality wore a strapless dress, complete with a belted waist and full skirt, to marry NFL star Jay Cutler at her 2013 wedding in Nashville. She completed her bridal look with a cascading veil and a fresh bouquet of white peonies.
Giuliana Rancic's Wedding Dress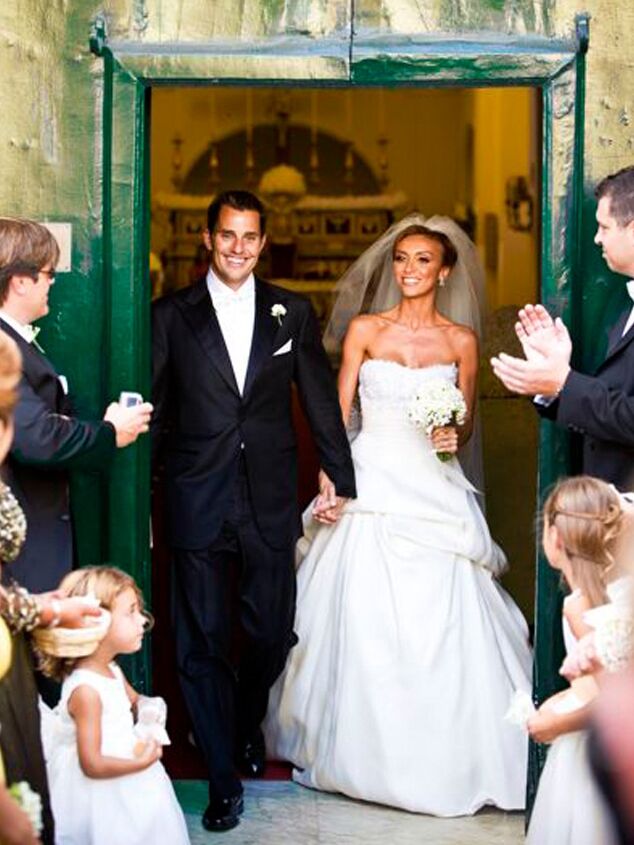 As a long-time host for E! News, Giuliana Rancic spent plenty of time on red carpets—so it was only fitting that she wore the best of the best when it came to her own nuptials. She jetted off to Capri, Italy to wed the very first Apprentice winner Bill Rancic, and her gown was nothing less than extraordinary. She selected a custom-designed strapless Monique Lhuillier dress, which had a beaded bodice and a tufted pickup skirt. She completed her bridal ensemble with a custom veil as well.
Pink's Wedding Dress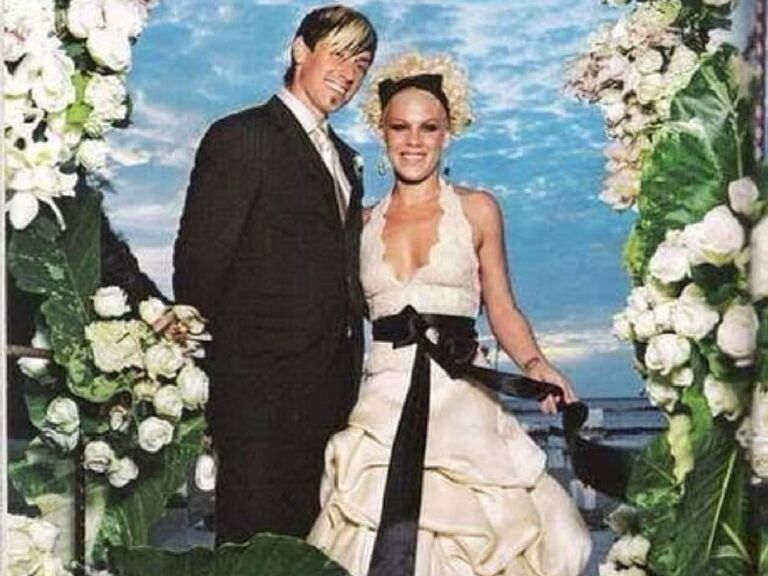 How's this for a throwback? Singer Pink wed motocross star Carey Hart at a beachside Costa Rican ceremony back in 2006. At the time, the bride told People magazine that she "wanted to make Carey's heart stop for a second'' through her outfit—and we suspect that she succeeded. She selected an ivory Monique Lhuillier halter top and ruffled skirt combination, which had an edgy black belt around the waist.