The 13 Most Iconic Celebrity Wedding Cakes We've Ever Seen
Grace Kelly's featured a bird cage with live turtle doves. Seriously.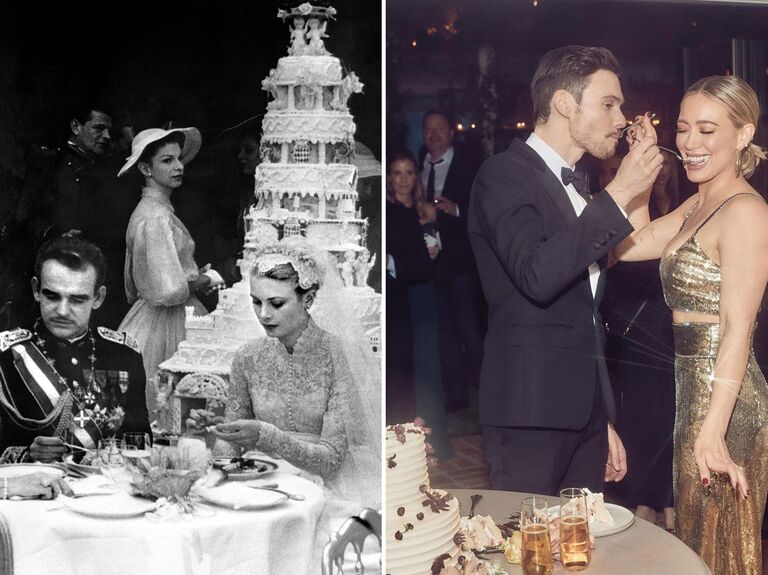 Photos, left to right: -/AFP | Getty Images, @HilaryDuff | Instagram, Harper Smith Photo
I'll let you in on a (not so) secret fact: As The Knot's Entertainment & Celebrity Editor, I can analyze the weddings of famous couples until I'm blue in the face. No, seriously—I've rated celebrity wedding dresses, reception looks, veils, hairstyles and engagement rings, just to name a few. But one thing we don't talk enough about are celebrity wedding cakes.
Celebs often pull out all the stops for their nuptials, and rightfully so. We've seen lavish floral arrangements, custom dance floors, jaw-dropping venues and groundbreaking design installations, but we simply must take a moment to talk about their sweet treats too, because, hello, have you ever taken the time to truly appreciate these masterpieces? From Queen Elizabeth's nine-foot confection to the cake Sofia Richie sliced with a saber, I've rounded up 13 of the most iconic celebrity wedding cakes throughout history. Prepare for your mouth to water and your mind to be blown.
Sofia Richie's Wedding Cake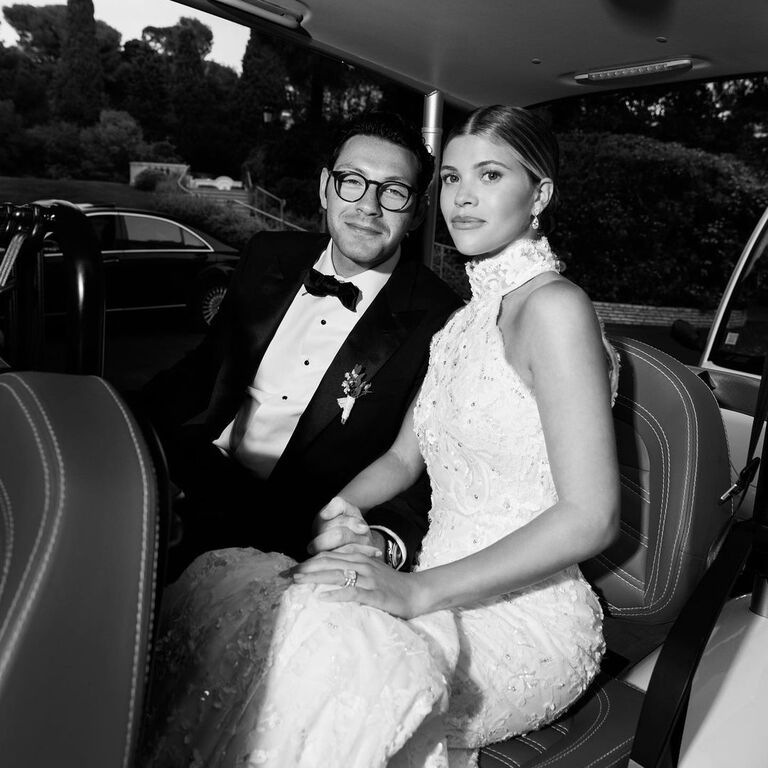 By now, just about every element from Sofia Richie's wedding has been blasted all over the internet—but have you seen her dessert? This is one part of her big day that hasn't quite made the rounds on social media yet, but it's a sight you have to see to believe. In photos posted by Vogue, we know that Sofia Richie's wedding cake was a white, multi-tier creation covered in elegant white flowers, gold foil and black accents. The real kicker, though, was that the newly-minted Mr. and Mrs. Grainge sliced their dessert with a massive saber as their guests looked on. Epic, right?
Meghan Markle's Wedding Cake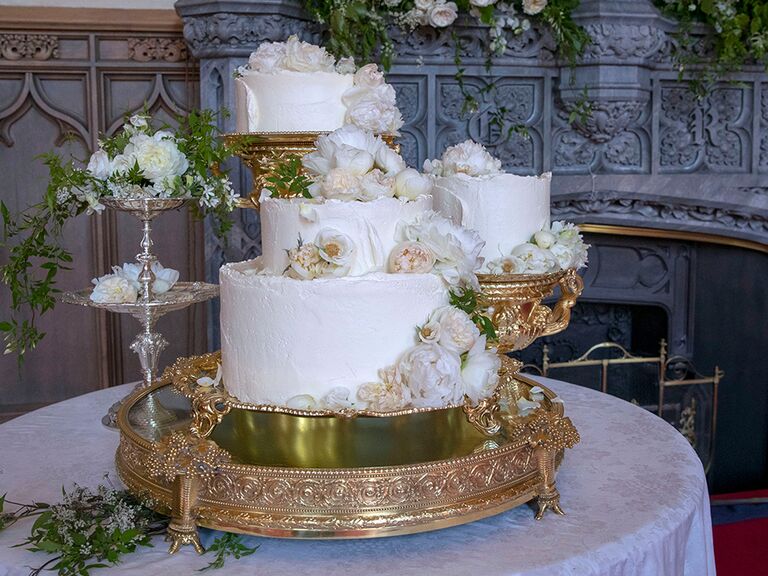 There are celebrity wedding cakes, and then there are royal wedding cakes. We're still drooling over Prince Harry and Meghan Markle's four-level treat that was displayed on a multi-level antique gold platter. The bride turned to her longtime friend Claire Ptak, the owner of East London-based bakery Violet Cakes, to create this once-in-a-lifetime masterpiece, which was brimming with references to the royal fam. The cake featured a lemon and elderflower-flavored base, which required 200 Amalfi lemons and 500 organic eggs from Suffolk. She also used 10 bottles of Sandringham Elderflower Cordial as an homage to the Queen, as the liqueur was made using fermented elderflowers that grew at one of her private homes. It was covered in 150 fresh flowers, and was estimated to cost around $70,000—but believe it or not, guests didn't even get to indulge in this legendary confection.
Since slicing it up would have taken too much time, Ptak told Town & Country that she and her team actually created several other tiers that were plated in the kitchen and passed around to the couple's famous friends. The next day, the display cakes were donated to charity.
Kate Middleton's Wedding Cake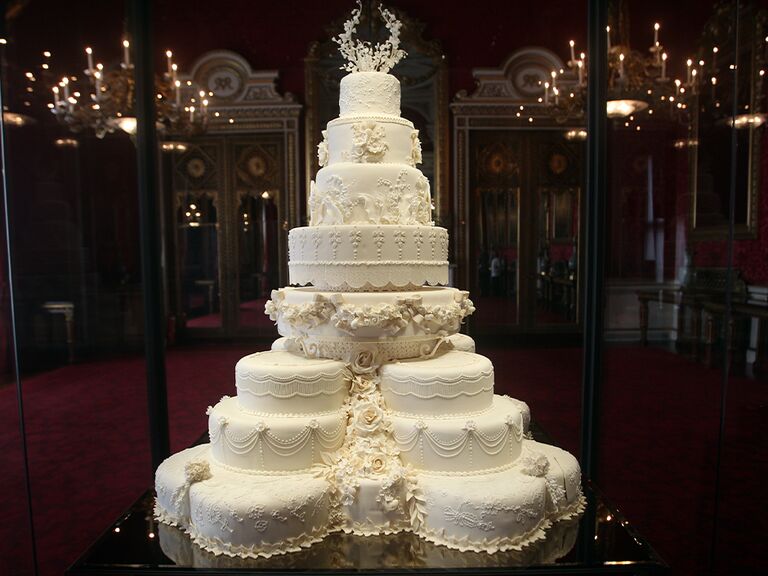 While Meghan and Harry's dessert display was rather wide, Prince William and Kate Middleton's wedding cake towered at their 2011 reception. The royals enlisted UK baker Fiona Cairns to make a staggering eight-tier fruit cake, which was covered in dainty piping and white flowers. Cairns later revealed that the newlyweds saved the top three tiers for future celebrations, and they have since been served at each of their children's christenings. Fitting, then, that they have three little ones—one for each layer.
Kourtney Kardashian's Wedding Cake
We were captivated by Kourtney Kardashian and Travis Barker's wedding spectacles. (Don't lie, we know you were too.) The couple hosted three weddings throughout 2022, with their biggest event taking place in Portofino, Italy at a luxury villa owned by Dolce & Gabbana. In a video from the reception posted by the couple's friend, stylist Dani Michelle, Kravis can be seen slicing into their vintage-looking delicacy. Kourt's cake featured three huge tiers with white piping and a cascading display of red roses with greenery poking out, as well as a cute figurine of the bride and groom on top. And, because these two know how to do it up, sparklers shot out behind them as they enjoyed their first slice together.
Lily Collins' Wedding Cake
If this celebrity wedding cake doesn't scream fall, I don't know what does. Lily Collins married Charlie McDowell on September 4, 2021, at Dunton Hot Springs Resort, a nature-infused venue in Dolores, Colorado. The duo tapped Kelly Gray of Kelly Gray Cakes for their confection, which was perfectly crafted to fit the rustic vibe of their venue. The two-layer cake was covered in white icing and accented with a cluster of handmade sugar flowers in muted shades of orange, red, pink and ivory.
Hilary Duff's Wedding Cake
Mhm, this is what dreams are made of. When Hilary Duff married Matthew Koma just before Christmas in 2019, they had an incredibly apropos festive celebration. Following the ceremony, the bride changed into a shimmery gold two-piece set for the reception, which kicked off with carolers singing holiday tunes. After the newlyweds' grand entrance, they sliced into a scrumptious two-tier cake with buttercream frosting (and what appears to be chocolate accents).
Grace Kelly's Wedding Cake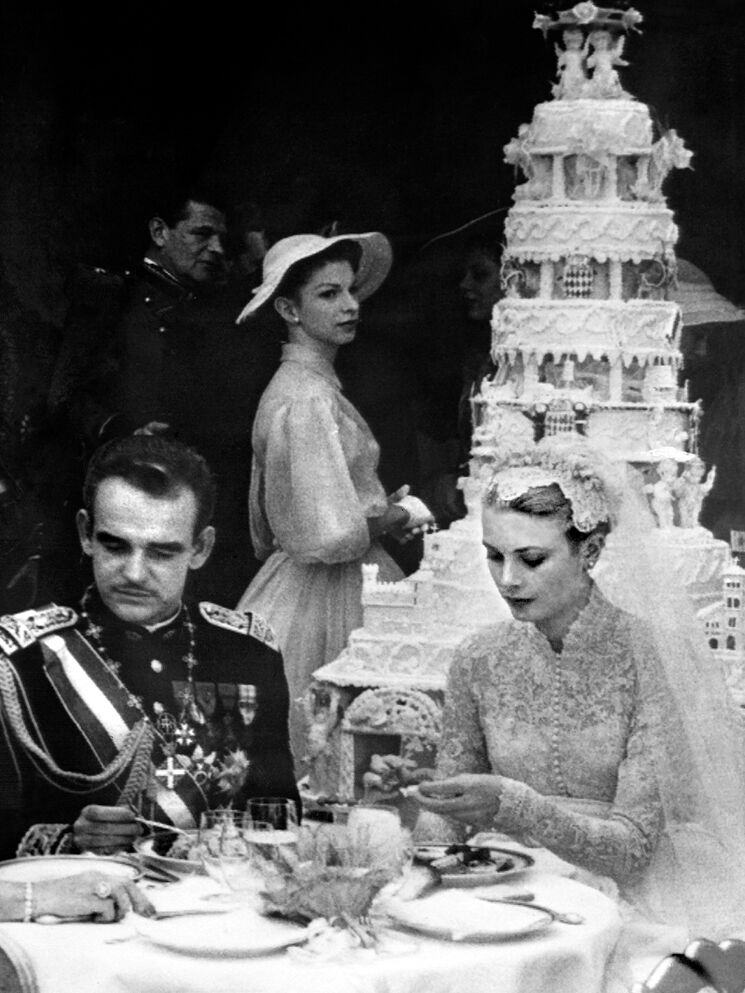 We can't talk about iconic weddings without mentioning the nuptials of Grace Kelly and Prince Rainier III. In fact, we'd dare to say that this is one of the most beloved celebrity weddings of all time. (Consider, for example, that Grace Kelly's wedding dress continues to inspire countless brides around the world to this day.) Their wedding cake was also a sight to be seen. With six tiers, this towering celebrity wedding cake was lavishly decorated with a working music box depicting the bride and groom, multiple sugary church displays, and a literal cage with two living turtle doves that were released into the wild. Experts estimate that this cake cost around £10,000, which translates to nearly $13,000 US dollars.
Queen Victoria's Wedding Cake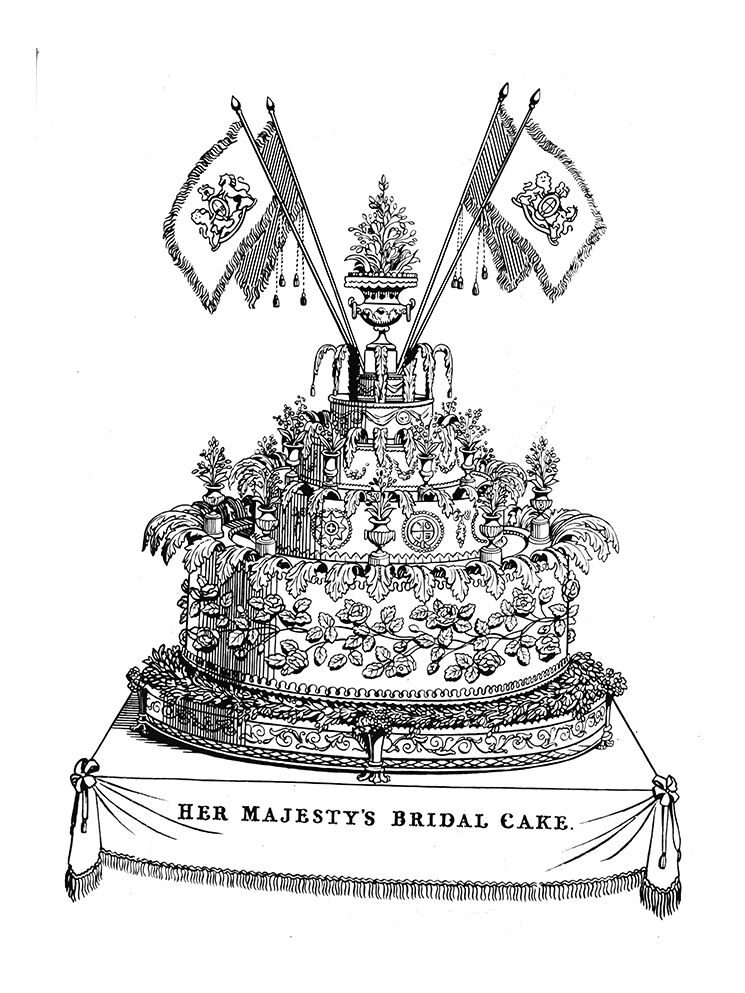 Although we don't have an official photo of Queen Victoria's wedding cake, we do have depictions of what it looked like—and, oh, was it large. Queen Victoria married Prince Albert of Saxe-Coburg and Gotha in 1840, and they celebrated their union with a three-tier English plum cake that was 14 inches tall and 10 feet wide. It also weighed 300 pounds, in case you were curious.
The massive creation was a major trendsetter, as it featured one of the first-ever cake toppers in history. It was adorned with several statues, including Britannia, a female personification of Great Britain, blessing the newlyweds. After this royal wedding, the cake topper trend slowly started to catch on around the world (so you can thank Queen V for the opportunity to top your own cake with a super-cute Etsy design.) Here's another fun fact: A preserved slice of Queen Victoria's wedding cake was sold at a 2016 auction for £1,500. Yum?
Kate Upton's Wedding Cake
When model Kate Upton and MLB pitcher Justin Verlander swapped vows in the Tuscan countryside, every detail was planned to T—including their delectable cake. After she changed into a ritzy pearl-adorned reception dress, the bride and groom sliced into a gorgeous multi-tier cake decorated with pretty pink flowers decorating each layer. We'd say this celebrity wedding cake was a home run.
Victoria Beckham's Wedding Cake
Perhaps the most colorful celebrity wedding cake we've ever seen belonged to Victoria and David Beckham. The A-listers got married at an Irish castle in 1999 in front of just 29 guests, but were later joined by 230 friends and family for their wild reception. During the party, the couple changed into matching purple ensembles to slice their unique treat with a saber. (It's true: Celebs love a saber moment.) Brought to life by British artist and sculptor Damien Hirst, the creative dessert featured alternating layers of fruit and chocolate cakes. It was adorned in gold leaf foiling for a hint of shimmer—but they didn't stop there. For an extra pop of posh, Hirst inscribed "Victoria & David" on the cake in diamonds. Casual.
Arielle Vandenberg's Wedding Cake
Internet personalities Arielle Vandenberg and Matt Cushall got married in June 2023, and their wedding cake was nothing short of an edible masterpiece. The bride, who you might know as the former host of Love Island: USA, had a hands-on experience with her cake designer, Kelly Gray. Together, they dreamed up a tres leches mantequilla cake with peach puree wrapped in milky buttercream, which Gray tells us has become "a new favorite" flavor of hers. Inspired by the French countryside, this celebrity wedding cake was adorned with organic arrangements of blooms in hues of pink, apricot, lavender and yellows with mossy green foliage.
Elvis Presley's Wedding Cake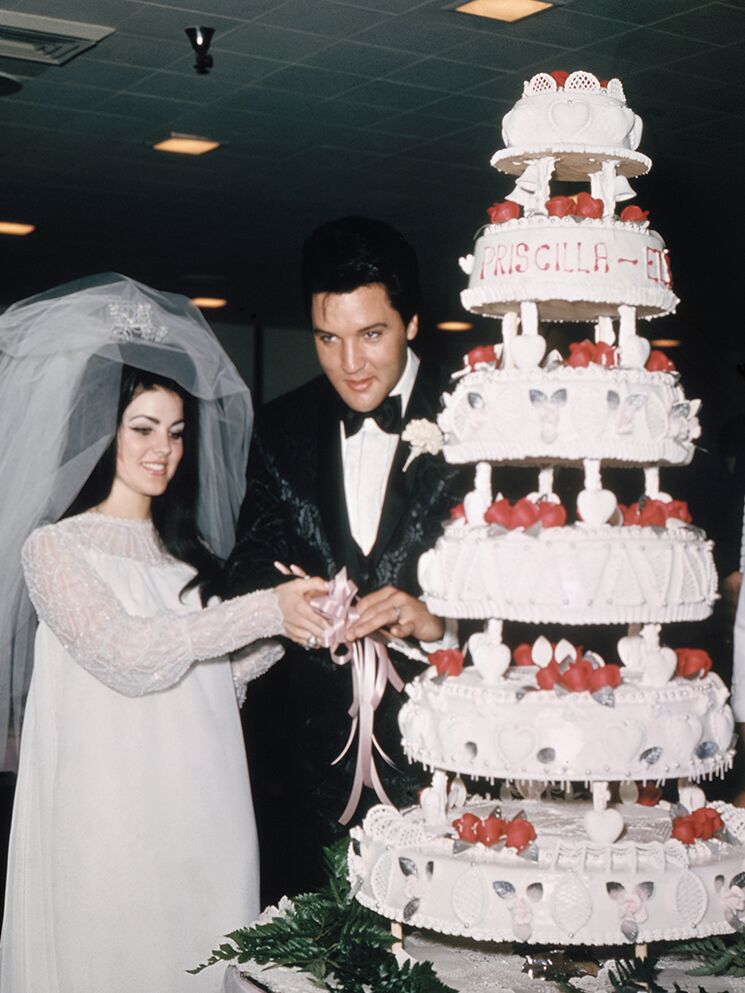 One of the most recognizable photos of Priscilla and Elvis Presley depicts the couple cutting into their massive six-tier wedding cake in 1967. The duo swapped vows at the Aladdin Hotel on the Las Vegas strip (obvs) and tasked pastry chef Denis Martig with delivering an unforgettable dessert worth of their glitzy locale. In an interview with Memphis Magazine, Martig described his work in great detail: "The cake itself was a yellow sponge cake," he recalled. "Each layer was filled twice with apricot marmalade and a kirsch-flavored Bavarian cream. All the layers were glazed with kirsch-flavored fondant icing and decorated with royal icing and marzipan roses."
Queen Elizabeth's Wedding Cake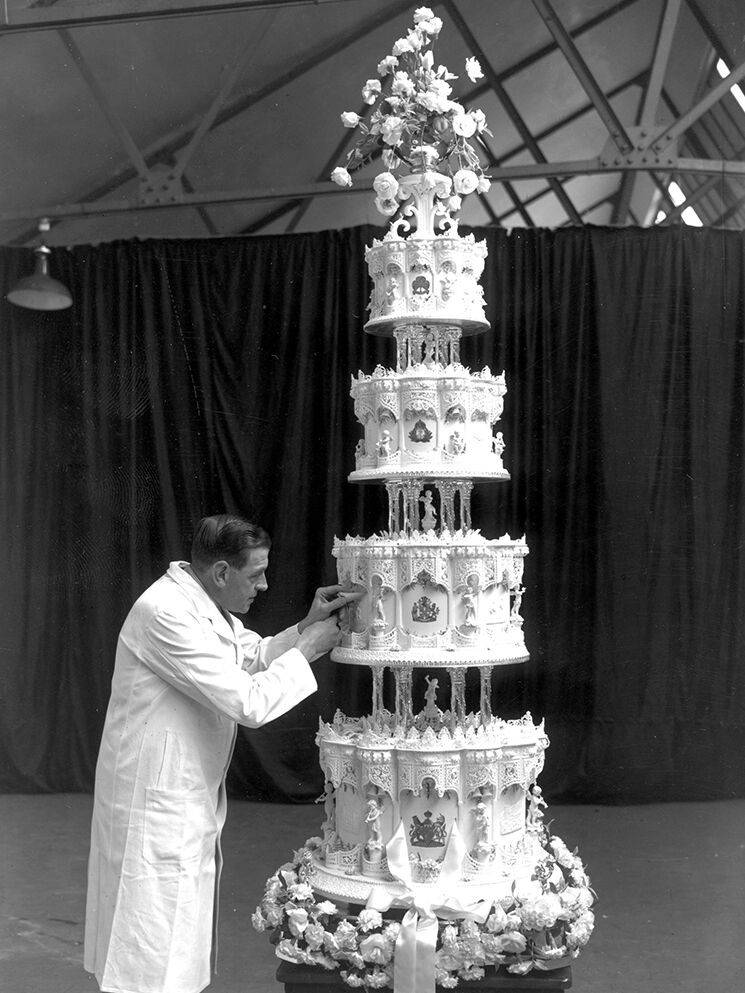 You haven't seen it all until you've seen Queen Elizabeth's nine-foot, 500-pound wedding cake, because it's about as majestic as it gets. Made by McVitie and Price, the confection was baked with ingredients from around the world, like sugar from the Girl Guides in Australia. (This ingredient led to the cake's nickname, "The 10,000 Mile Cake.") It was decorated with the arms of both families, as well as monograms for the bride and groom. The creators also included sugar figures of the couple's favorite activities, as well as their regimental and naval badges. Of course, the cake-cutting moment was just as grand as the design. It was sliced with Prince Philip's Mountbatten sword—a wedding gift from his father-in-law, King George VI.