82 Amazing Wedding Cake Ideas We Can't Stop Thinking About
We'll take a slice of each, please.
Wedding cake is the tastiest, and one of the most fun, parts of wedding planning. While wedding cakes serve as the sweet ending to a celebration, dreaming up epic wedding cake ideas is a fun task to undertake as soon as you've set a date and conceptualized a design vision. Fewer wedding planning tasks are more therapeutic than scrolling through images of decadent tiered masterpieces decked out with sugar flowers—and we're here to help you do just that.
The amazing thing about wedding cakes, and even cupcakes if you prefer, is how incredibly versatile they are. There are stunning wedding cake designs out there for each couple, no matter how varied their style may be. Plus, a well-designed wedding cake is often the pinnacle of a celebration's design, bringing all the colors and motifs of the nuptials together as the day's sweet and indulgent culmination.
Not only is it fun to scroll through wedding cake inspiration images, but it's also incredibly helpful as well. As you peruse the amazing wedding cakes below, make note of the design elements—from hand-painted accents to textured buttercream details and fondant finishing touches—that pique your interest. Coming armed with an understanding of your likes and dislikes when you meet with a potential wedding cake baker will ensure a smooth cake design process.
To help you further prepare for your own cake design plans, we tapped two notable industry experts for their insights. Expert wedding baker Tiffany MacIsaac is the owner of Buttercream Bakeshop in Washington, DC, and has more than 20 years of culinary experience. Cake baker Megan Clark is the owner of Megan Joy Cakes in Eagle, Colorado, and is especially esteemed for her knowledge of high-altitude baking. The pros open up about tips to keep in mind as you're sourcing inspiration from a variety of wedding cake styles. So what are you waiting for? Read on for a look at our favorite wedding cakes of all time—you're sure to be amazing by the wedding cake decorating ideas highlighted below.
Wedding Cake Styles to Consider:
Simple | Elegant | Rustic | Small | Boho | Modern | Classic | Luxury | Goth | Tropical | Fun | Creative | Seasonal
Simple Wedding Cakes
There's a reason that "less is more" is an age-old adage that gets tossed around ad nauseam. These simple wedding cakes are proof that paring back on design details can result in a beautiful wedding cake you won't soon forget. These straightforward, cute wedding cakes are amazing, full-stop.
1. Refined 3-Tier Wedding Cake on Gold Stand
This white wedding cake was a masterclass in minimalism. Three smooth white tiers, lovely peach-hued blooms and a gold cake stand worked together to create an absolute stunner.
2. Minimal Wedding Cake Idea With Pink Flowers
I mean, is this pared-down wedding cake not absolutely dazzling? A few small sprigs of sweet pea, paired with a single ranunculus bloom, drove home a less-is-more mentality with this single-tier cake, which featured effortless combed buttercream frosting.
3. Effortless Wedding Cake With Textured Edges
Straightforward doesn't have to mean boring, as evidenced by this two-tier wedding cake. A choice as easy as opting for textured edges can make the difference between a traditional wedding cake and something fresh and unique.
Elegant Wedding Cakes
No roundup of amazing wedding cake ideas would be complete without a look at elegant wedding cakes. These amazing wedding cakes are refined, delicate and all-around sumptuous. Don't believe me? Just take a look at the elegant wedding cake ideas below.
4. Elegant Wedding Cake With Pastel Details
This 3-tier wedding cake reminds us of an Impressionist painting you'd expect to see in a European art museum. The cake baker expertly "painted" on different shades of pastel icing to create the appearance of a cascade of flowers on the elegant wedding cake.
5. Refined Marble-Inspired Wedding Cake With Gold Accents
What's more exquisite than marble? The appearance of marble in fondant form. Bright pink and fuchsia garden roses and peonies added a burst of color to this marbled-gray 4-tier wedding cake that included a statement gold tier.
6. Dreamy Wedding Cake Idea With Delicate Sugar Flowers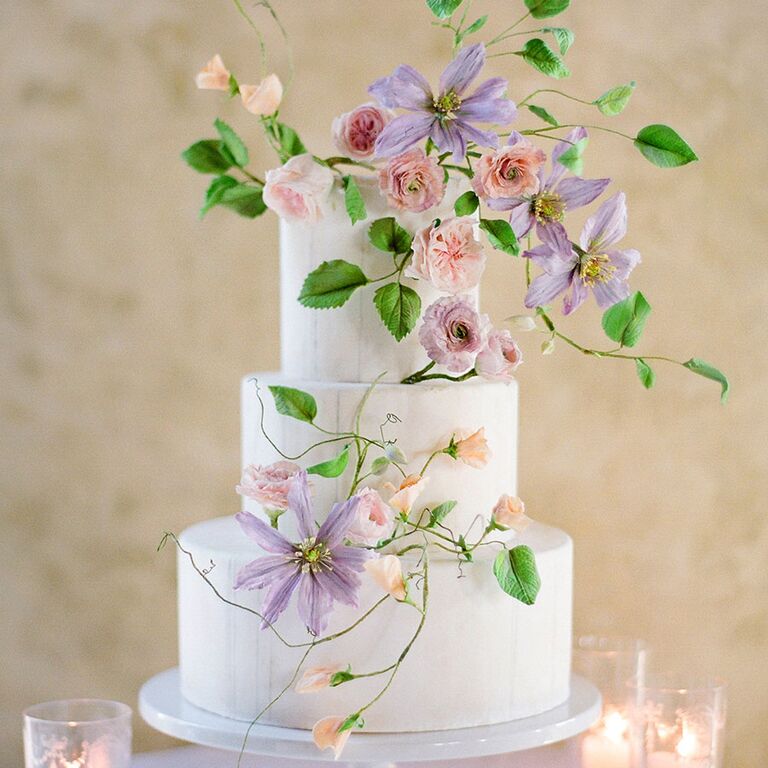 It's hard to believe the flowers on this cake are made out of sugar. Roses and clematis, all formed out of sugar, brought a whimsical touch to this all-white three-tier cake. Candlelight and a white milk glass cake stand further added to the romance.
7. Chic 2-Tier Wedding Cake With Combed Pink Buttercream
Two tiers of soft pink combed buttercream frosting covered this romantic wedding cake. Appropriate for a summer wedding, pieces of sliced fresh fruit accompanied the blooms used to decorate the bake.
8. Elegant Wedding Cake With Pink Sugar Flowers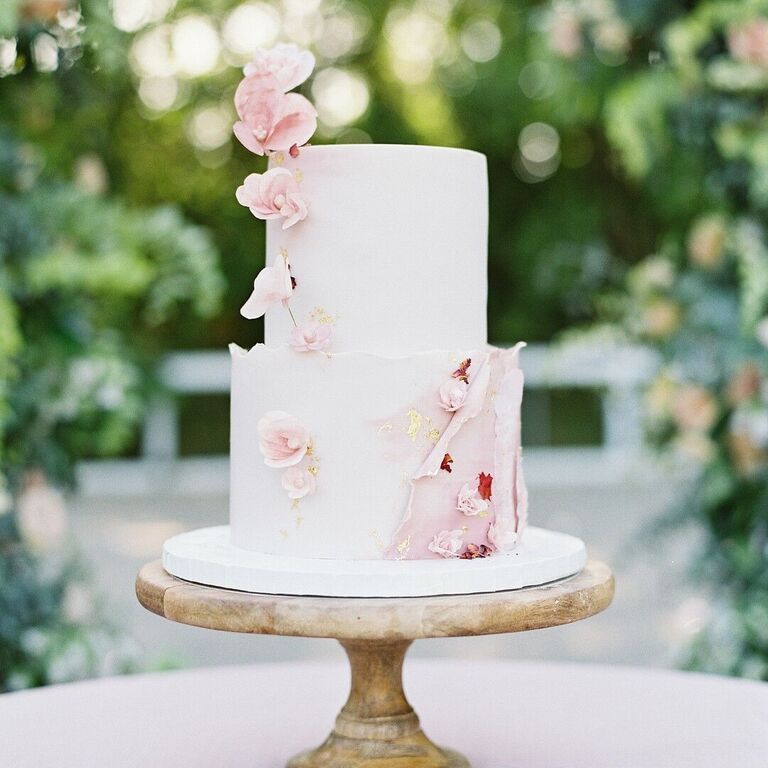 Cake flowers don't have to be over the top. In fact, they don't even need to be real flowers. Subtle watercolor-inspired pink sugar flowers brought this two-tier wedding cake to life.
9. Refined Wedding Cake Idea With Wreath
A wreath wedding cake topper? Yes, please. However, a custom wedding cake wreath wasn't the only decoration on this exquisite wedding cake that imparted elegant texture. A preppy gold quatrefoil pattern along the bottom tier added another layer of eye-catching texture.
10. Dreamy Watercolor Wedding Cake Idea
When someone says a cake is "too beautiful to eat," they're talking about wedding cake decorating ideas like this one. The watercolor-inspired flowers painted on this four-tier wedding cake, which featured both round and hexagonal tiers, effortlessly mirrored the fresh blooms to create a cohesive garden-centric design.
11. Simple, Elegant Wedding Cake
Elegant and modern aren't mutually exclusive, as this cake proves. Varying tier heights can make all the difference between a traditional wedding cake and its contemporary counterpart.
Rustic Wedding Cakes
Are you planning a rustic wedding? Cap off your bucolic day with a rustic wedding cake. To get you started, we've gathered some of our favorite country wedding cakes to inspire you. Once you've settled on your outdoorsy wedding cake style you can take things one step further with a wood cake stand to complete the country vibe.
12. Woodsy Fern-Covered Wedding Cake Idea
Having a country wedding doesn't mean you're limited to naked wedding cakes, although we love a good naked wedding cake. This fern-clad two-tier wedding cake was both chic and woodsy.
13. Wildflower-Covered 4-Tier Wedding Cake Idea
There's nothing more whimsical and bucolic than a bouquet of wildflowers. Bring wildflower bouquet inspiration to your wedding cake by covering the dessert in pressed blooms, like those seen on this four-tier wedding cake.
14. Pressed-Flower Country Wedding Cake Duo
What's better than one wedding cake with pressed flowers? Two! This duo of cakes felt cohesive, while each bake also had a distinct beauty all its own. While one cake featured pressed wildflowers, the other made use of fresh blooms and drips of caramel.
15. Homey Semi-Naked Wedidng Cake With Pomegranates
Pomegranates, blackberries and dried leaves—talk about a down-home combo. A camping-inspired tin cake stand finished off the natural scene.
Small Wedding Cakes
Maybe your big day calls for a small wedding cake. After all, these small-but-mighty wedding cakes pack a big punch.
16. Petite Wedding Cake With Whimsical Burgundy Dahlias
What's not to love about dahlias? Cream roses, burgundy dahlias and burgundy calla lilies made a big statement on this little confection at an eclectic wedding in Seattle, Washington.
17. Tiny Wedding Cake Idea With Orange Roses
Orange roses and baby's breath joined this single-tier wedding cake on top of a simple white cake stand. Spray-painted sprigs of baby's breath added to the festive decoration on this wedding cake.
18. One-Tier Wedding Cake on White Cake Stand
Here, the buttercream icing was combed into a linear texture. Flowers and fresh figs finished off the elegant look for the petite wedding cake that sat atop a white milk-glass cake stand.
Boho Wedding Cakes
Boho weddings are enticing because of how effortless, organic and free-spirited they are. And these boho wedding cakes fit the ethereal bill. Spoiler Alert: Your dream wedding cake may be below.
19. Whimsical Blue Wedding Cake With Orange Nasturtiums
Blue and orange are a great color palette for a boho wedding cake. Orange nasturtiums, which happen to be edible, added a laid-back vibe to this baby blue cake.
20. Boho Semi-Naked Wedding Cake With Ferms
Looking for a relaxed, effortless cake? Take note. Ferns and baby's breath added a boho vibe to this three-tier semi-naked cake set atop of a textured gold cake plateau at a fall wedding.
21. Dazzling Orange Ombré 3-Tier Wedding Cake
To complement the orange ombré effect seen on this three-tier wedding cake, a cascade of orange ranunculus, peach roses and orange sweet pea blooms graced the bake, along with a gold cake topper. The full effect was perfectly boho and free-spirited.
22. Boho 2-Tier Wedding Cake With Dried Palm Fronds
Gold fan-like leaves turned this two-tier wedding cake into an absolute work of art. To further add to the dessert's boho feel, the entire wedding cake was displayed on top of a glass pedestal.
23. Ethereal Single-Tier Beige Wedding Cake With Dried Grasses
Beige and white were mixed together to create a spackled look on this small boho wedding cake. To finish the look, dried grasses and fresh roses topped the wedding cake.
24. Copper Wedding Cake Idea on Gold Stand
Metallics aren't only for luxe and glam wedding cake styles. This cake is evidence that metallics work for boho wedding cakes as well.
25. Refined Curvilinear Wedding Cake Inspiration
How lovely are the fondant accents on this chic wedding cake? I love the way that this wedding cake toes the line between boho and modern.
Modern Wedding Cakes
Interested in a sleek, contemporary dessert? The fun thing about modern wedding cakes is that they're all about pushing the envelope and challenging tradition. Clark reminds couples that "the most beautiful cakes come from artistic freedom. If you love the style and designs of a cake artist, trust that they will create something you're going to love too, instead of worrying over every detail on paper." The ideas below are more than modern wedding cakes, they're masterful works of art.
26. Minimalist All-White Wedding Cake
There's so much to love with this wedding cake—four immaculately textured tiers, a baby's breath cake stand and warm candlelight. Needless to say, this idea is living rent-free in my head.
27. Modern Artistic Wedding Cake Idea
When I said these wedding cakes were a work of art, this was what I was talking about. Despite being devoid of color, there's nothing boring or simple about this sculptural three-tier wedding cake.
28. Architectural Wedding Cake Inspired by Palm Springs
For one couple's wedding at Skyview Los Alamos in California, they drew inspiration from the venue's modern architecture for their wedding cake. Specifically, a starburst design seen on the venue's doors was replicated as the cake topper for this architectural wedding cake
29. Sleek Cherry Blossom Wedding Cake Idea
This wedding cake's cherry blossom accents are *chef's kiss.* A sprig of cherry blossom sugar flowers was the piece de resistance on this all-white cake that included tiers of varying diameters, all set on a clear acrylic cake stand.
30. Modern Wedding Cake With Modeling Chocolate Shards
This is your sign to consider a modern wedding cake topped with chocolate shards. Brushstrokes made from white chocolate brought a funky, spikey vibe to this blush-and-white cake.
31. Wave-Inspired Minimalist Wedding Cake
This minimalist three-tier wedding cake kept the palette monochromatic, opting instead to add intrigue in the form of textured wave-like decorations. While chocolate was used to create the shards for the previous wedding cake decorating idea, this dessert utilized edible paper for cakes.
32. Contemporary Monogram Wedding Cake Idea
First introduced in their stationery suite, the couple's initials made multiple appearances throughout this California wedding. Notably, a hexagon painted with the monogram finished off this small watercolor-inspired orange ombre wedding cake.
Classic Wedding Cakes
Classic wedding cakes are timeless and embrace wedding cake decorating ideas that never go out of style. While there's a time and place for unusual wedding cakes, the wedding cake designs below are a reminder of the power of sticking to tried-and-true decorating techniques and principles.
33. Timeless Wedding Cake With Fresh Roses
If you're considering a classic wedding cake design, take note of this flower-covered classic white wedding cake. The five-tier dessert involved a simple base but the real star of the show was the flower cascade of fresh pink roses.
34. Romantic Pink Roses and Peonies on Wedding Cake
Roses and peonies are two of the most popular wedding flowers so it's no surprise this couple blanketed their classic wedding cake with the flowers, in addition to ranunculus blooms. Also, can we take a moment to appreciate the amazingness that is their sequined cake table linen? Beautiful.
35. Sophisticated Wedding Cake With Yellow Flowers
The main yellow flower seen on this classic wedding cake is yellow ranunculus. Sprigs of stock, white cosmos and roses completed the romantic feel of the four-tier wedding cake with combed buttercream.
36. Magnificent 4-Tier Wedding Cake With Rose Cake Spacers
Four tiers of cake AND four tiers of roses? Sign us up. Layers of pink roses separated this all-white cake's four tiers.
37. Ethereal Wedding Cake With Ferns and Peonies
This cake is almost too pretty to cut into. This all-white fondant-clad four-tier cake was finished with all-white peonies, roses and a few fern sprigs.
38. Classic White Wedding Cake With White Flowers
Nothing is more timeless than an all-white wedding cake with white flowers, or sugar flowers in this case. This simple wedding cake is anything but plain. All-white flowers, layered atop an all-white cake, felt modern, yet understated.
39. Formal Blue-and-White Wedding Cake Inspiration
This blue-and-white modern three-tier wedding cake is wrapped in sugar bows and finished off with an edible ink phrase: "All You Need Is Love." Borrow from The Beatles' famous lyrics, or choose a favorite line from your vows or a beloved poem for an extra-special touch.
40. Ornate White-and-Gold Wedding Cake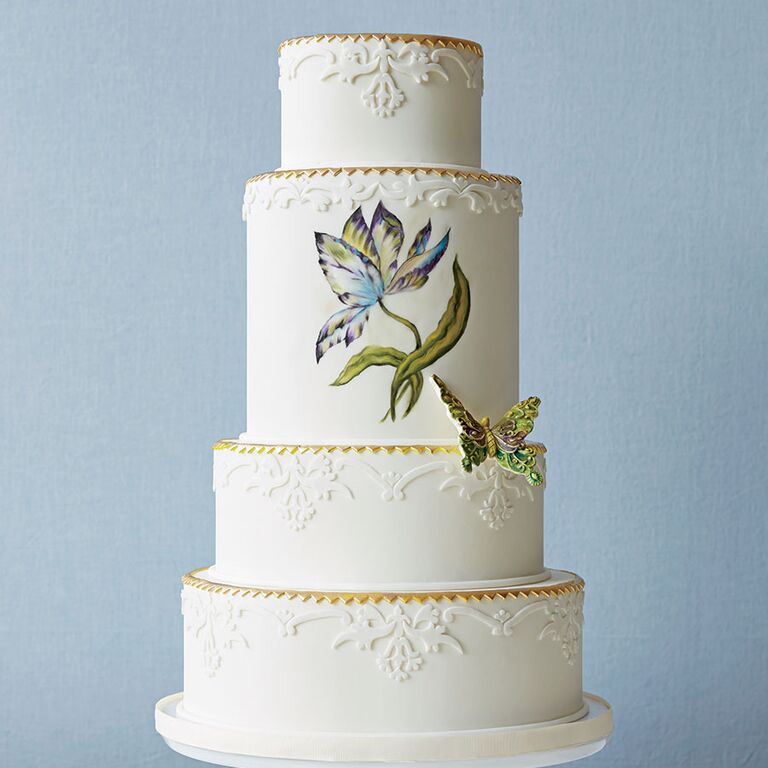 I can't be alone in wanting this image printed and framed to serve as home decor, right? A painted flower highlighted this cake's accent tier while gold edge painting brought the whole cake together.
41. All-White Wedding Cake With Ornate Details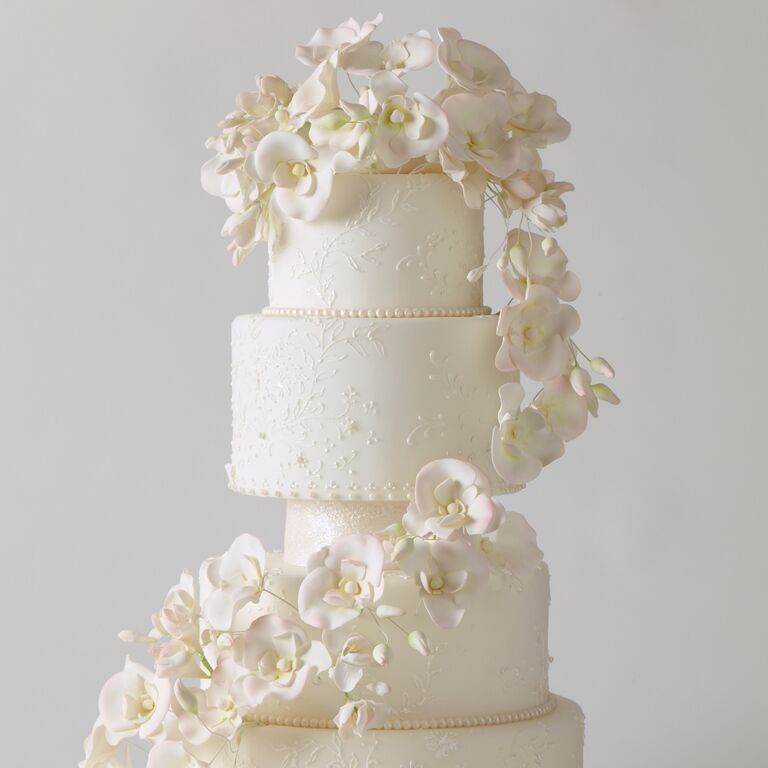 Realistic sugar orchid blooms brought dimension to this all-white cake. Elegantly piped details on each tier mirror the flower-forward design.
42. Stately 4-Tier Wedding Cake on Silver Cake Plateau
Don't get so caught up in wedding cake styles that you overlook the full presentation of your wedding cake table. Here, for example, the silver round cake plateau adds grandeur to the scene.
43. White Wedding Cake With Dazzling Statement Tier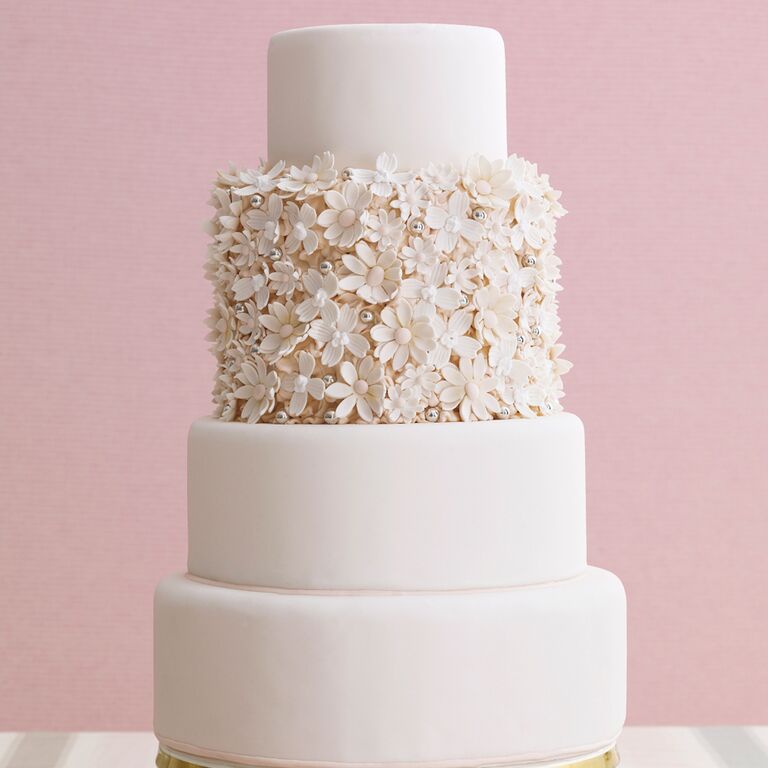 I may or may not have let our an audible gasp when I first saw this cake. You don't need texture across your entire wedding cake in order to make a statement, as this white wedding cake proves. Three-dimensional flower details made this otherwise smooth cake pop.
44. Chinoiserie-Inspired Blue-and-White Cake
If you have a penchant for ginger jars and chinoiserie patterns then this is the cake of your dreams. Make sure to bookmark this wedding cake idea to share with the baker near you that you end up hiring.
Luxury Wedding Cakes
Cake is inherently indulgent so why not go all in on an over-the-top, glam, luxe vibe for your wedding cake? Just wait, you're going to fall in love with each and every one of these luxury wedding cakes.
45. Dramatic Cake on Wedding Ice Sculpture
Alert: Ice sculptures for weddings are making a comeback. If you want to really impress guests with your fancy wedding cake then skip a standard table and opt instead for a cool wedding ice sculpture.
46. Extravagant Rose-Covered Wedding Cake Beside Ice Sculpture
But wait, instead of just one wedding cake with an ice sculpture to inspire you, we found two epic wedding ice sculpture cakes. At this wedding, the sugar flower-covered cake sat beside an opulent wedding ice sculpture, rather than on top of a frosty base.
47. Silver-and-White Art Deco Wedding Cake on Swing
This Art Deco wedding cake is amazing on it's own but the couple didn't want to stop at amazing. They leveled up the display to truly magnificent with help from a fancy wedding cake swing.
48. Ornate Gilded Wedding Cake With Sugar Flowers
No rule says you have to have round tiers—playing with different shapes can make a classic confection even more elegant, as evidenced by this gilded, sugar-flower-clad four-tier hexagonal wedding cake.
49. Black-and-Gold Square Wedding Cake With Art Deco Vibes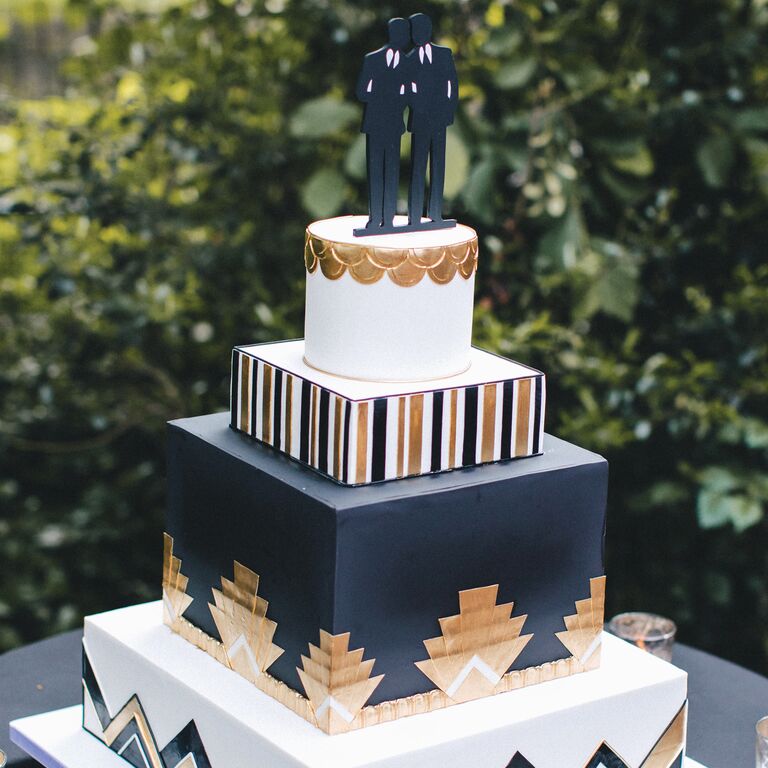 Fans of the roaring twenties, ask your cakery to create an Art Deco-inspired gold-and-black dessert with crisp lines. Better yet, have fun with your cake's shape and go for square tiers, as this couple did.
50. Grand Wedding Cake Covered in Fresh Flowers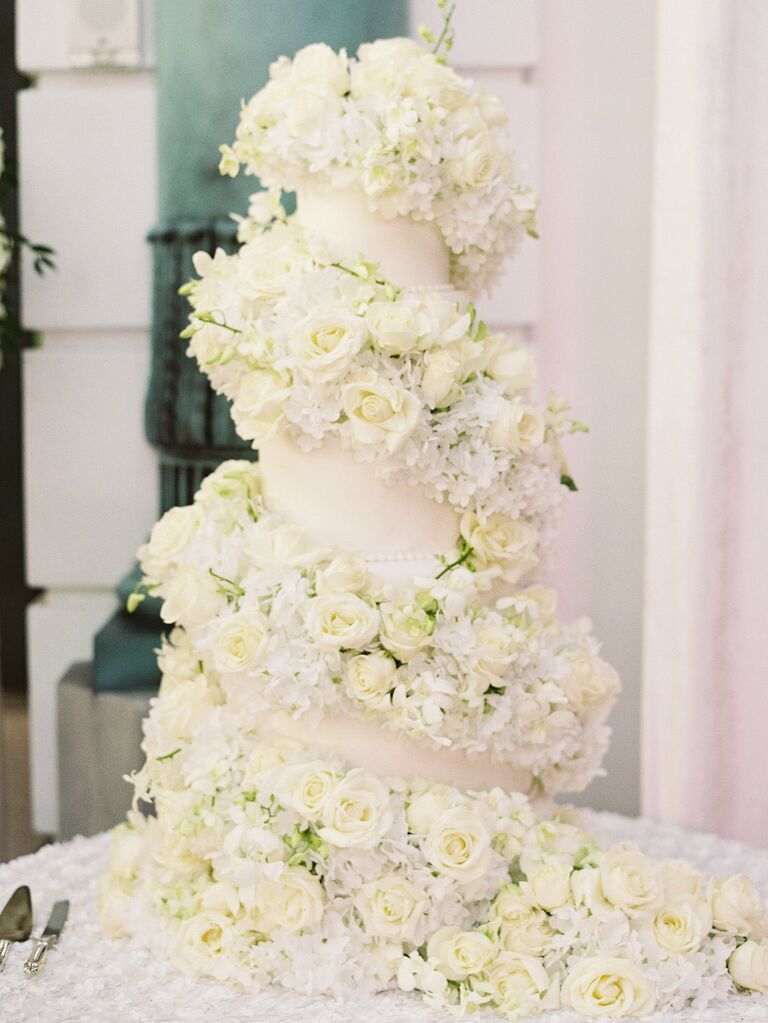 Where are my fans of over-the-top wedding cakes? For this sophisticated white wedding cake, there was no such thing as too many flowers. A plethora of white roses and hydrangea blooms cascade in a spiral down this towering confection.
51. Dazzling 7-Tier Gold Wedding Cake on Swing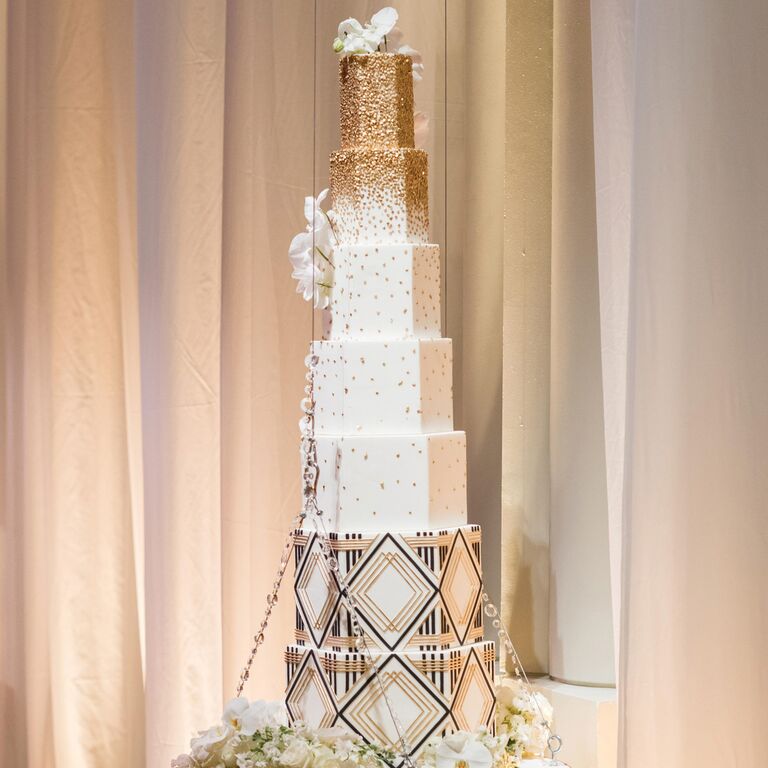 This is not the type of cake to attempt to DIY. A colossal seven tiers made up this glamorous white-and-gold wedding cake. To add extra height to the art deco display, the entire dessert was suspended in the air on a swing made to resemble a glistening chandelier. And if you're worried there will be a few extra slices of your towering wedding cake left over, MacIsaac advises you "be sure to ask your planner or caterer to box you up a few slices to take with you (or have them delivered to your room if possible). You'll thank us later!"
52. Magnificent White-and-Gold Wedding Cake With Orchids
Few things feel more luxurious than orchids. Add in a healthy dose of gold and you've got a totally glam cake, perfect for an over-the-top ballroom wedding reception.
53. Gilded Gold-Leaf Wedding Cake Atop Rose Base
While the gold flowers expertly painted on each tier of this classic wedding cake exude romance, we love the ingenuity displayed by using flowers to create a showstopping cake plateau to anchor the dessert.
Goth Wedding Cakes
Calling all emo, edgy couples. Moody, dramatic, dark—goth wedding cakes are eclectic, but a total vibe. Enter: Black wedding cakes. They're a bold way to reinforce your dark wedding color palette.
54. Edgy Black Wedding Cake With Sugar Shards
Not only was this cake dramatically wrapped in black, sugar made to look like broken shards of glass brought some sparkle to the cake. As a bonus, the cake had both a gold bottom tier and a silver cake plateau serving as the base to the moody confection.
55. Biker-Chic Wedding Cake With Custom Cake Topper
Each tier of your goth wedding cake doesn't need to be the same height. Here, a taller bottom tier and shorter top tier made this all-black cake feel decidedly modern. Pink ranunculus and peony blooms, paired with a wood motorcycle cake topper, completed the two-tier wedding cake.
56. Inky Wedding Cake Idea With Red Roses
There's just something so dramatic about jet black and deep red. I love how this cake toes the line between romantic and ominous.
57. Moody Emerald Green Wedding Cake With Blackberries
Guess what—you don't have to have a black wedding cake in order to go a dark-and-moody route. This emerald green wedding cake topped with blackberries is sulky in the very best way.
Tropical Wedding Cakes
Let's hit the beach. These tropical wedding cakes have me longing to have my toes in the sand with a piña colada in one hand and a book in the other. But since that's not in the cards at the moment, these equatorial wedding cake ideas will have to tide me over till I can jet off to a fun beach destination.
58. Coastal 3-Tier Wedding Cake With Leaves
Sandy wedding destinations are known for their towering flora. Pay homage to your waterfront venue with locally sourced leaves, just make sure your cake baker ensures they aren't poisonous.
59. Semi-Naked Wedding Cake With Orchids and Anthurium
For an oceanfront wedding, this semi-naked cake was adorned with anthurium, orchids and greenery. Other greenery, like succulents, would also make great additions to a rustic wedding cake.
60. Hand-Painted Wedding Cake With Monstera Leaves
This dessert is like a watercolor postcard from a far-flung vacation. Monstera leaves and bougainvillea blooms, molded out of fondant, brought a beachy vibe to this painted blue-and-white three-tier cake.
61. Tropical Wedding Cake Covered in Fresh Flora
Fancy a jaunt through an equatorial jungle? Just take a slice of this tropical wedding cake. Fresh orchids, monstera leaves and roses added a tropical vibe to this single-tier cake.
62. Seaside Wedding Cake With Dramatic Texture
Inspired by textures seen at sea, the buttercream on the cake for this beach wedding was dramatically textured before getting treated with gold leafing. Thankfully, no sand was actually involved in the making of this sea-themed wedding cake.
63. Festive Flamingo Wedding Cake Topper Idea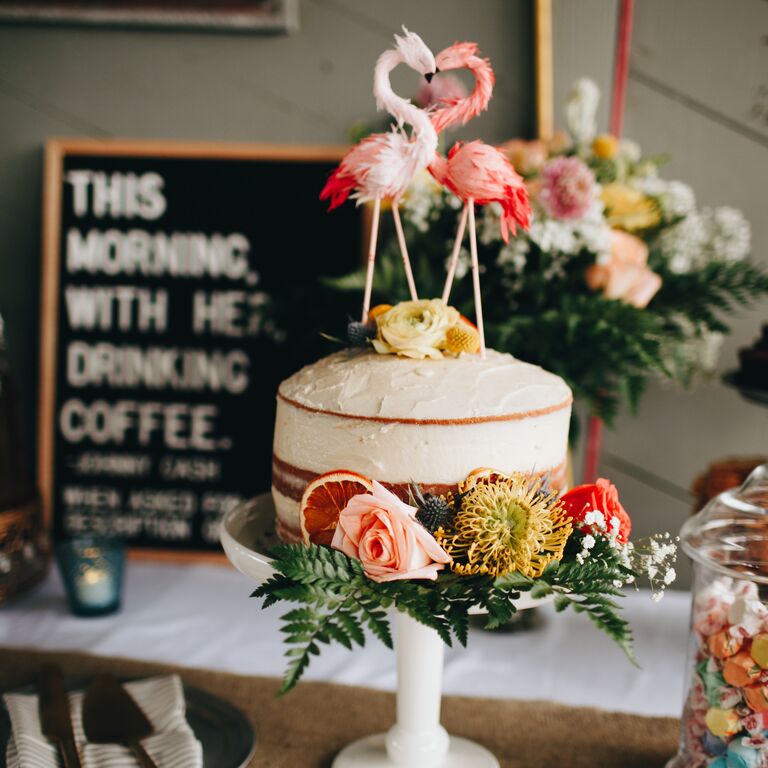 Fun fact: Flamingos are deeply motivated by finding true love due to their monogamous nature. What better creature to top your tropical wedding cake?
Fun Wedding Cakes
Alrighty. It's time to have some fun. After all, wedding cakes are sweet, not serious, so their designs should reflect that. These lively, fun wedding cakes do just that and are the perfect source of inspiration for to-be-weds.
64. Prismatic Wedding Cake Inspiration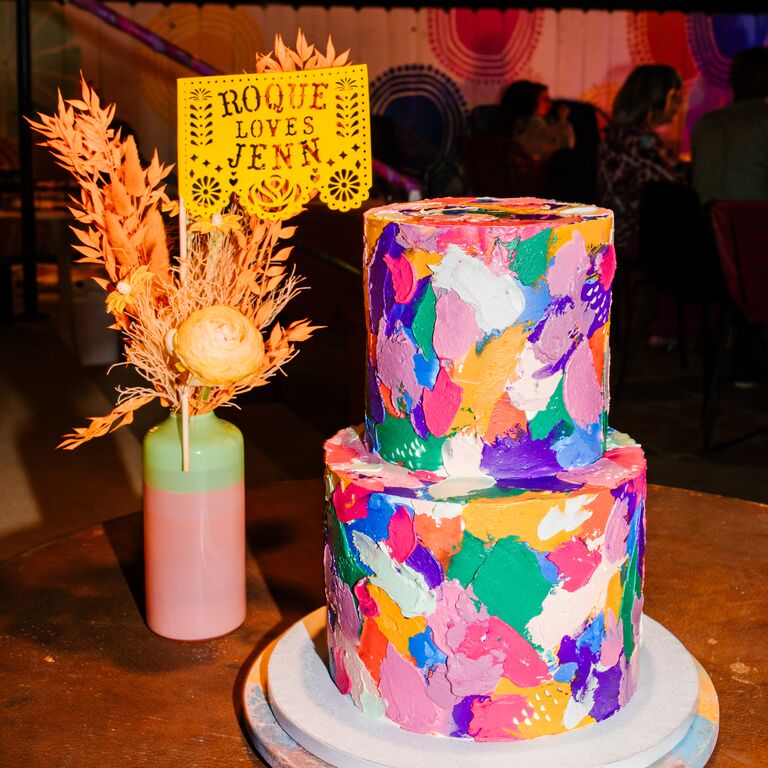 Here's a fact: You simply can't look at this wedding cake and not smile. The vibrant assorted of colors on this two-tier cake are downright fun.
65. Joyful Ombré Wedding Cake With Flower Cascade
The ombré concept looked a little different on this three-tier cake. A gradient of blooms, inspired by the rainbow, finished off this cake. The yellow flowers at the top gave way to pinks and reds at the bottom.
66. Flower Garden-Inspired One-Tier Wedding Cake
If you're getting married at a garden wedding venue then this is the cake for you. Multiple colors of icing were used to turn this mini cake into a showstopping garden-inspired dessert, perfect for an April or May wedding.
67. Cheerful Teal Wedding Cake Idea
I can't be the only one that thought of Miranda Priestly's monologue in The Devil Wears Prada about cerulean when I saw this cake. A vibrant four-tier teal cake received another dose of color from a cascade of red roses and sand-dollar eucalyptus sprigs.
68. Vibrant Orange Wedding Cake With Animal Cake Topper
Three complementary shades of orange graced this vibrant cake. But the real pièce de résistance was the animal cake topper—two gold elephant figurines.
69. Subtle-But-Fun Red-and-White Wedding Cake
Don't fret, you can have a fun cake even if you want it to be subtle. Just take a look at this white-and-red wedding cake. A partially-red bottom tier brought a pop of color to this simple wedding cake.
70. Retro '70s Shad Carpet-Inspired Wedding Cake
It's official: Retro wedding cakes are having their moment in the spotlight. While I'd never want to eat an actual shag carpet from the 1970s, I'd happily dig into a slice of this cake recreation of an iconic retro rug.
71. Blue Wedding Cake Idea to Make Guests Smile
I can't decide which part of this four-tier wedding cake I like the most. The flower cascade is amazing, but the blue base is also totally whimsical. As a bonus, this blue wedding cake could easily be your "something blue" if you wanted it to be.
72. Firework-Themed Painted Wedding Cake Idea
I can't explain it but I really want to burst into a rendition of "Firework," by Katy Perry, while looking at this painted wedding cake. The array of colors on this cake is absolutely stunning.
Creative Wedding Cakes
It's your wedding to plan in a way that feels authentic to you, which is why unique wedding cakes are so wonderful. If, after looking at the creative wedding cakes below, you're still struggling for inspiration, MacIsaac encourages couples to look to other design elements in their wedding. "We often ask a client to also send us their floral design invitation suite and any other highly designed items that are custom to their wedding. This not only gives us a sense of their style but also design elements to draw from so the cake compliments the rest of the room," MacIsaac advises.
73. Creative Snow Globe Wedding Cake
This couple got really creative with the topper for their pink orchid wedding cak. Just make sure you don't shake this particular snow globe until after the cake-cutting.
74. Funny Heart-Shaped Retro Wedding Cake
Lambeth-style cakes, which is just a fancy term for the retro over-piping look seen here, are really having a moment. Heart-shaped cakes are also on the rise. So what happens when you combine both? A trendy wedding cake that everyone will love. As a joke this couple even commissioned a fake healthcare ID card to decorate the wedding cake.
75. Green Illusion Wedding Cake With Gold Leaf Accents
Here's a question for you: Is this a four-tier wedding cake or does it have five tiers? The dark green wedding cake had an illusion effect that made the top two tiers appear to be floating.
76. Funky, Eclectic Wedding Cake to Wow Guests
If you don't want a traditional wedding cake, this dessert is for you. Fondant ruffles brought an edge to the all-black top three tiers while the cake's bottom tier featured colorful confetti-like brushstrokes.
77. Innovative Wedding Cake Inspired by Rifle Paper Company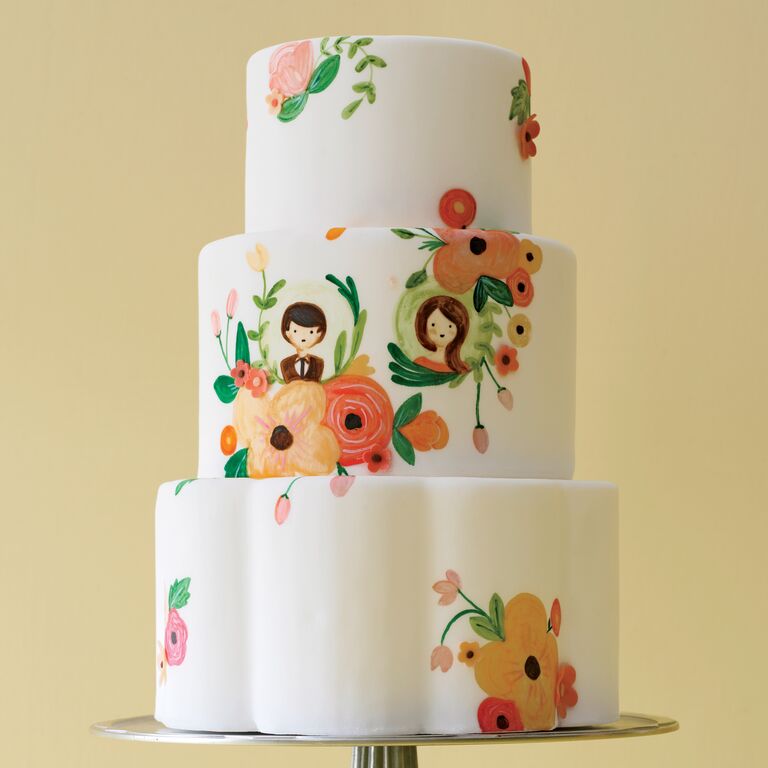 Treat your cake like a canvas and carry a design introduced in your invitation suite over into your dessert design. Inspired by Rifle Paper Company's iconic botanical prints, this cake showcased portraits of the couple. As a bonus, the bottom tier was scalloped, adding extra whimsy to the confection.
78. Visionary Sugar Flower Wedding Cake Inspiration
The flowers on this cake as inventively deceptive. At first glance, they appear to be fresh flowers but they're actually sugar flowers.
Seasonal Wedding Cakes
Are you getting married during the fall, which is the most popular time of the year to get married? Or did you settle on another month? No matter your wedding date, a seasonal wedding cake that draws inspiration from fall, winter, spring or summer is a marvelous idea.
79. Fall Wedding Cake Ideas
Don't fret if your mom wants a chocolate cake, you want French vanilla and your partner wants Key Lime. Not only is this trio of fall wedding cakes stunning, but it has the added bonus of providing more flavor options to ensure all parties are satisfied. "It's your day but remember that your guests are there to enjoy alongside you. Be sure to keep offerings diverse so everyone finds something they love," suggests MacIsaac.
80. Winter Wedding Cake Ideas
Baby, it's cold outside…let's snuggle up with a slice of winter wedding cake. Spoiler alert: The tiers of your wedding cake don't need to all be centered. This staircase-inspired cake had each of the three tiers lined up on the right side adding artistic flair to the marbled winter wedding cake.
81. Spring Wedding Cake Ideas
Spring weddings are fresh, charming and whimsical. Commission a spring wedding cake, like this one, to match your vibe.
82. Summer Wedding Cake Ideas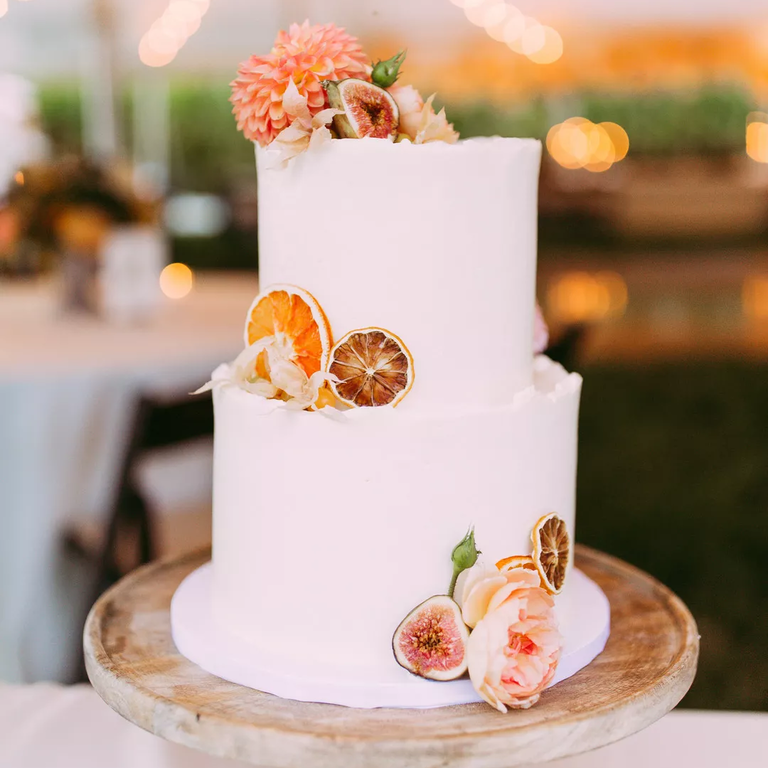 Citrus and summer go hand in hand. I'm obsessed with the way this couple's cake baker decorated their summer wedding cake with dried citrus slices.