The 42 Most Elegant Wedding Cakes We've Ever Seen
From modern designs to romantic flower, prepare to be obsessed with these gorgeous wedding cake ideas.

Gathering wedding ideas and images is one of the most fun parts of wedding planning, especially when it comes to searching for elegant wedding cakes. Sugar flowers, hand-painted details and intricate piping—they're all so dreamy (and delicious).  
As fun as it is to look at pretty pictures of unique wedding cake designs, it's actually really helpful too. You'll start to recognize wedding cake details that you like (and a few things you don't). Then when you're meeting with your potential cake baker (find yours through our All-In-One Wedding Planner app) you can tell them exactly what you're looking for in regards to your amazing wedding cake. You can even show them pictures of your favorite wedding cake ideas.
Start your wedding cake search and get tons of inspiration with some of the most amazing and unique wedding cakes we've ever seen, below.
Elegant Wedding Cakes
1. Elegant Garden Cake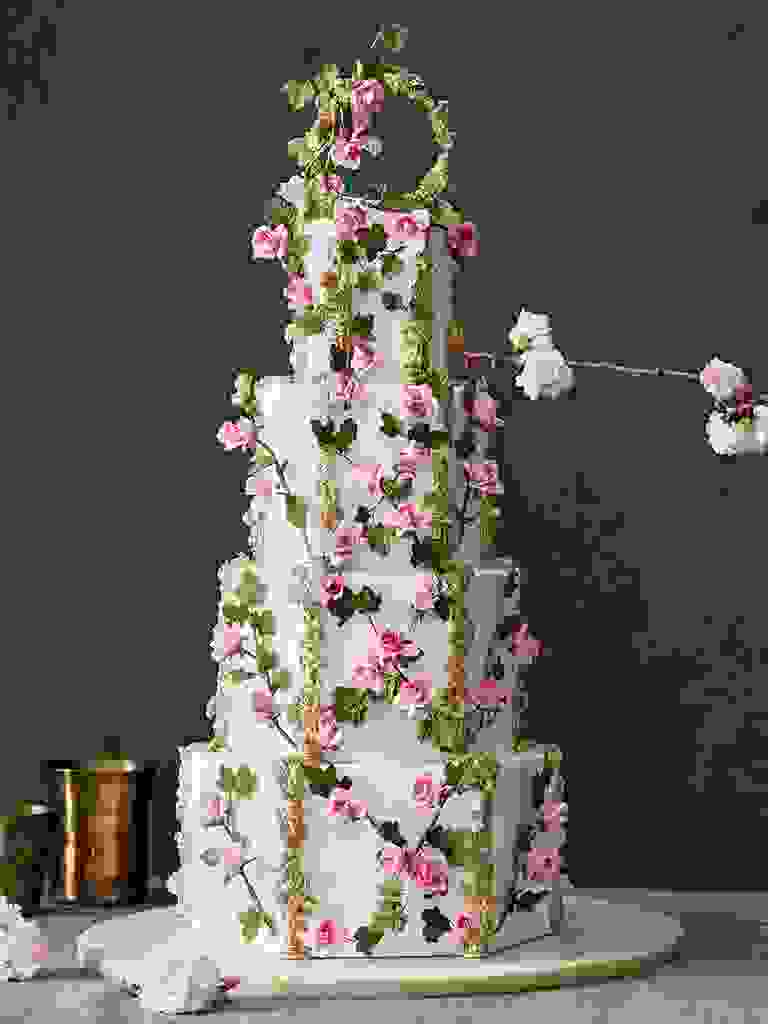 No rule says you have to have round tiers—playing with different shapes can make a classic confection even more elegant. 
2. Sprouting Sugared Blooms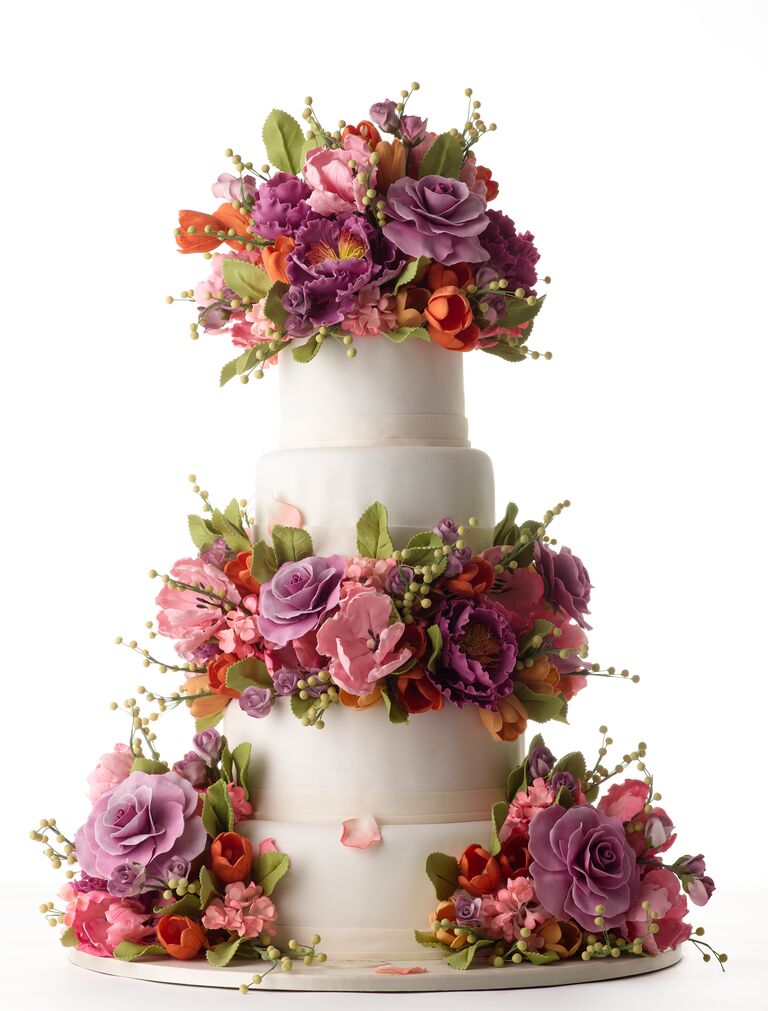 Dozens of lifelike sugar flowers transform a basic white cake from pretty simple to stunningly elegant. The careful balance of blooms and clean, white tiers keeps the floral clusters from overwhelming the cake. 
3. Cascading Orchids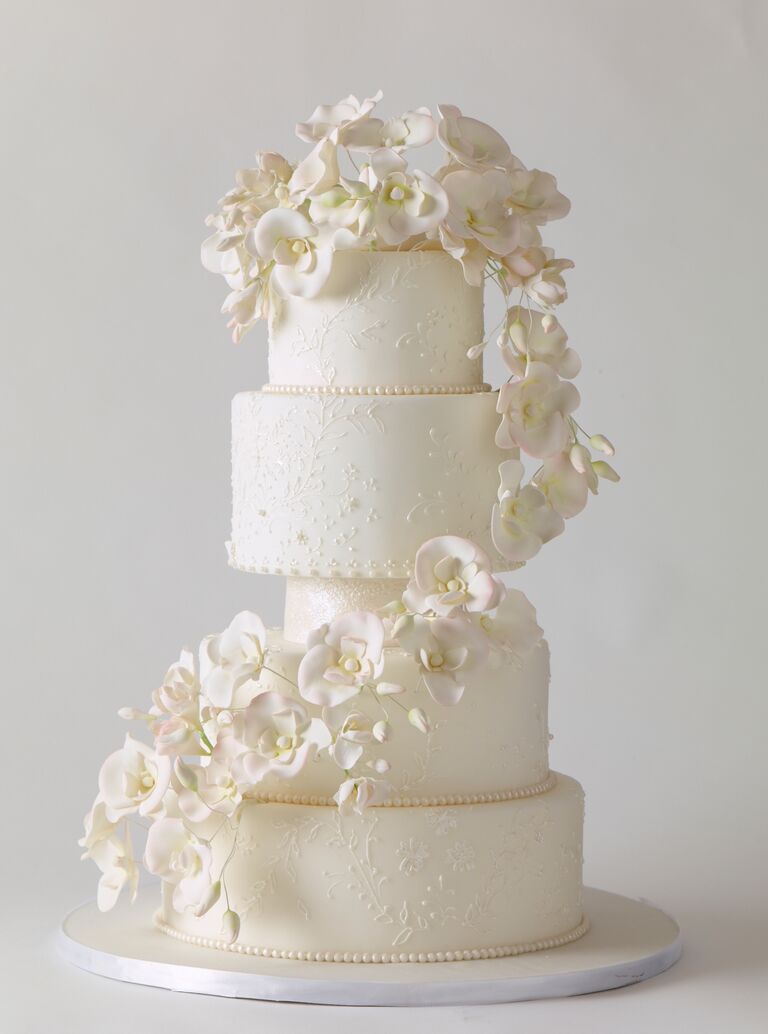 Give dimension to an all white-cake with realistic sugar orchid blooms. The floral cascade is mirrored in delicately iced details on individual tiers. 
4. Fresh Flowers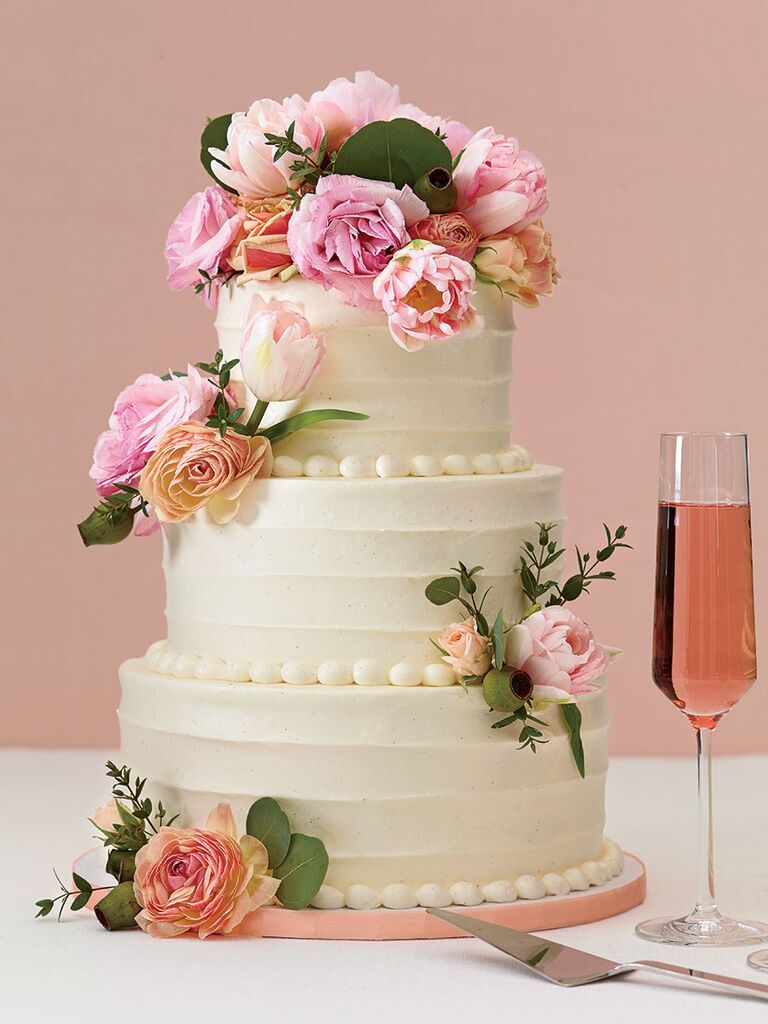 On a budget? Look no further than fresh flowers (which can be a fraction of the cost of the sugar variety). Swirled vanilla buttercream and piped pearls give this simple design elegance, while pink blooms make the cake totally party ready.
5. Glamorous Gold Details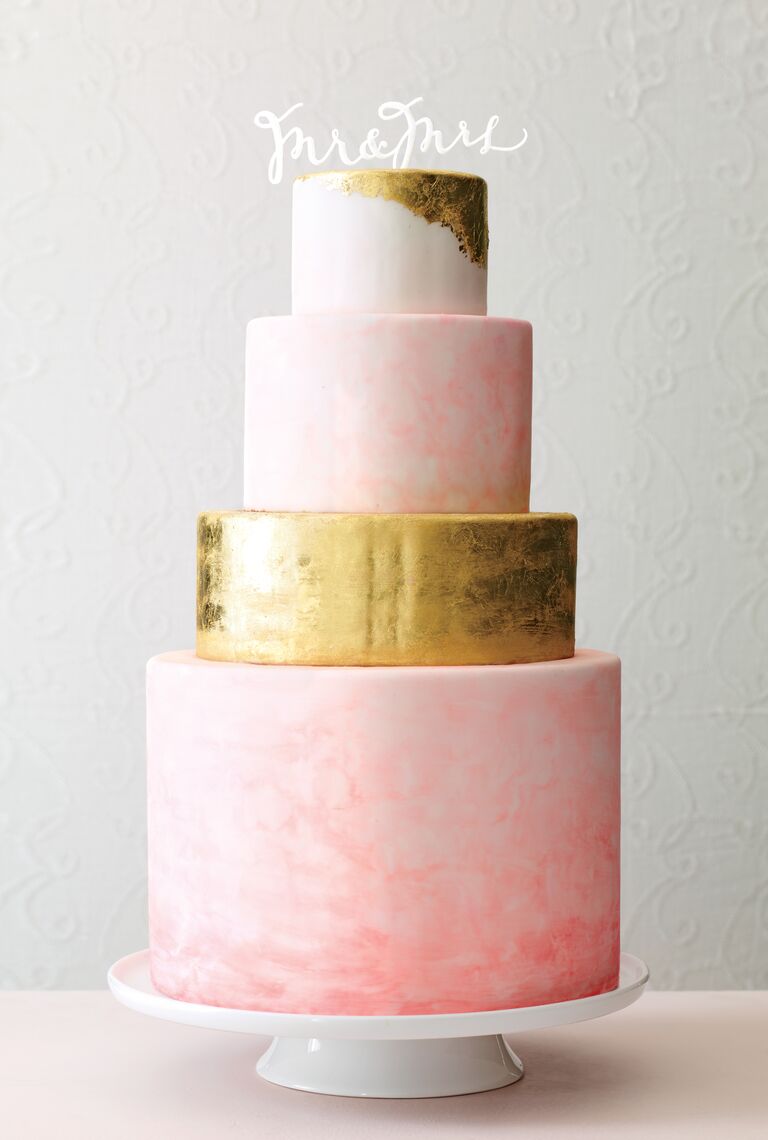 Gold foil isn't just for stationery—metallics are popping up in everything from paper and shoes to layers of cake. Hand-painted watercolor tiers add a splash of pink and keep the gold from feeling garish. An acrylic cake topper is a contemporary take on the classic cake topper.
6. Swirling Sophistication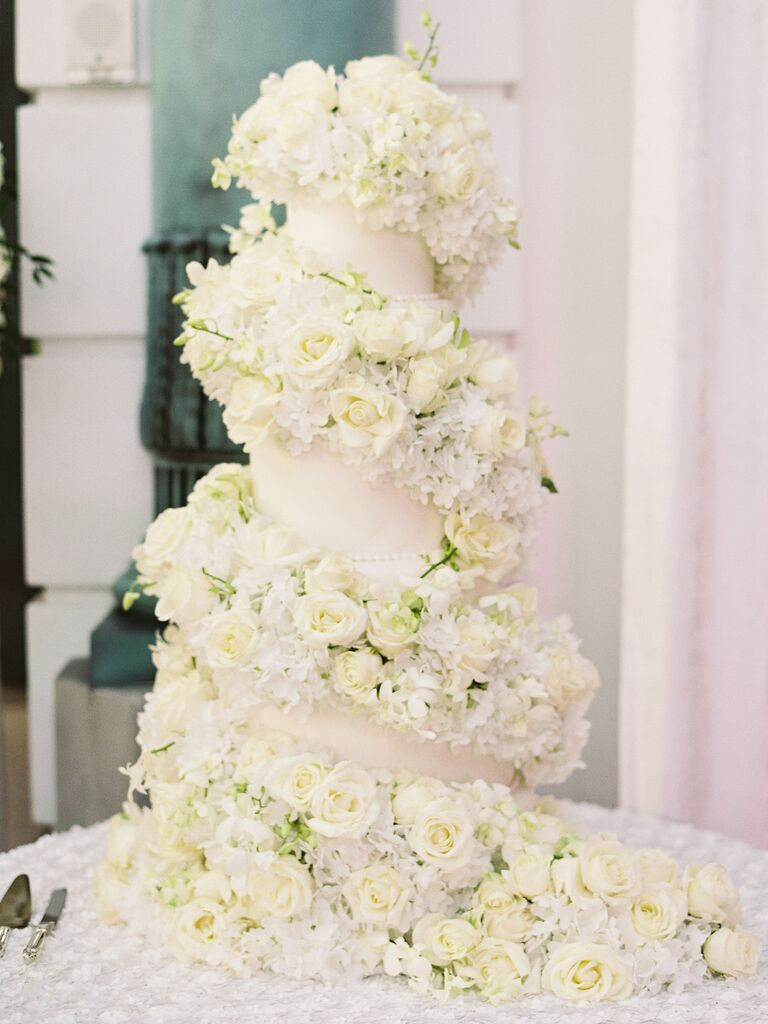 A swirl of cascading florals makes this luxurious, sophisticated wedding cake feel extra elegant. 
7. Soft Touch of Color
It's all about soft hues of color that play across this beautiful cake. The flecks of gold offer a stunning contrast and capture the eye. Matching roses litter this three-tiered cake to give it the ultimate touch of elegance. 
Simple Wedding Cakes
8. White Out
One way to make a simple wedding cake feel a little more unique is to highlight just one of the layers by coating it with a three-dimensional detail, like flowers and dragees. 
9. Eyelet Icing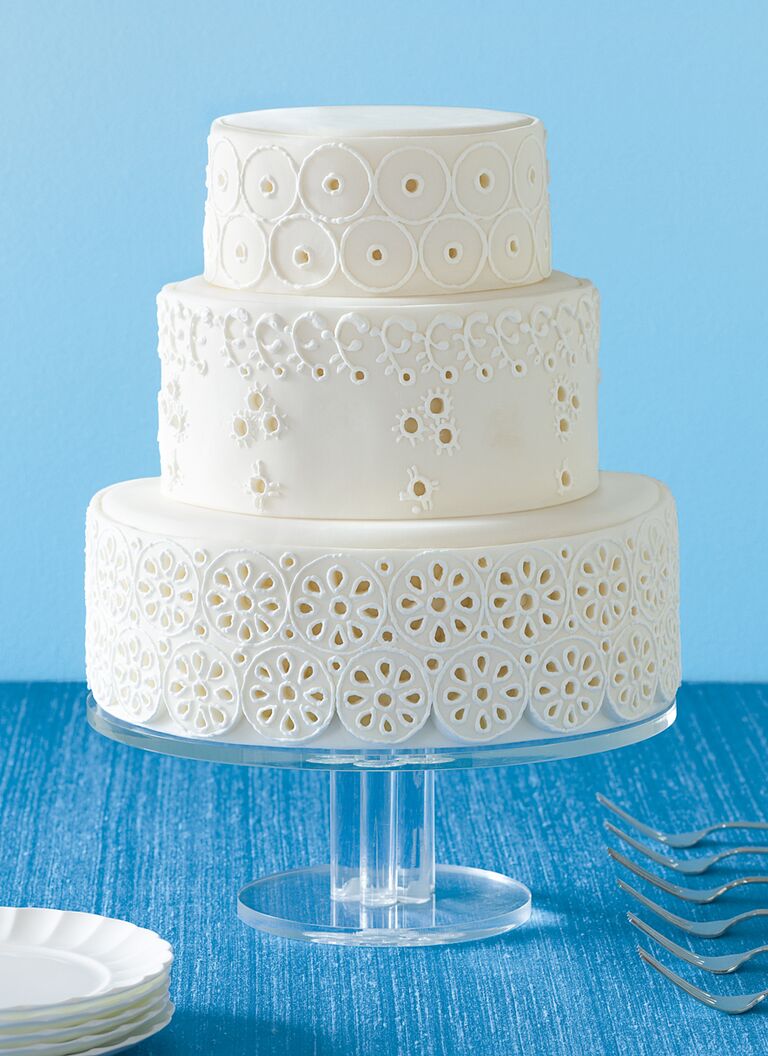 An eyelet-inspired design gives this otherwise-simple wedding cake character. 
10. Raw Edges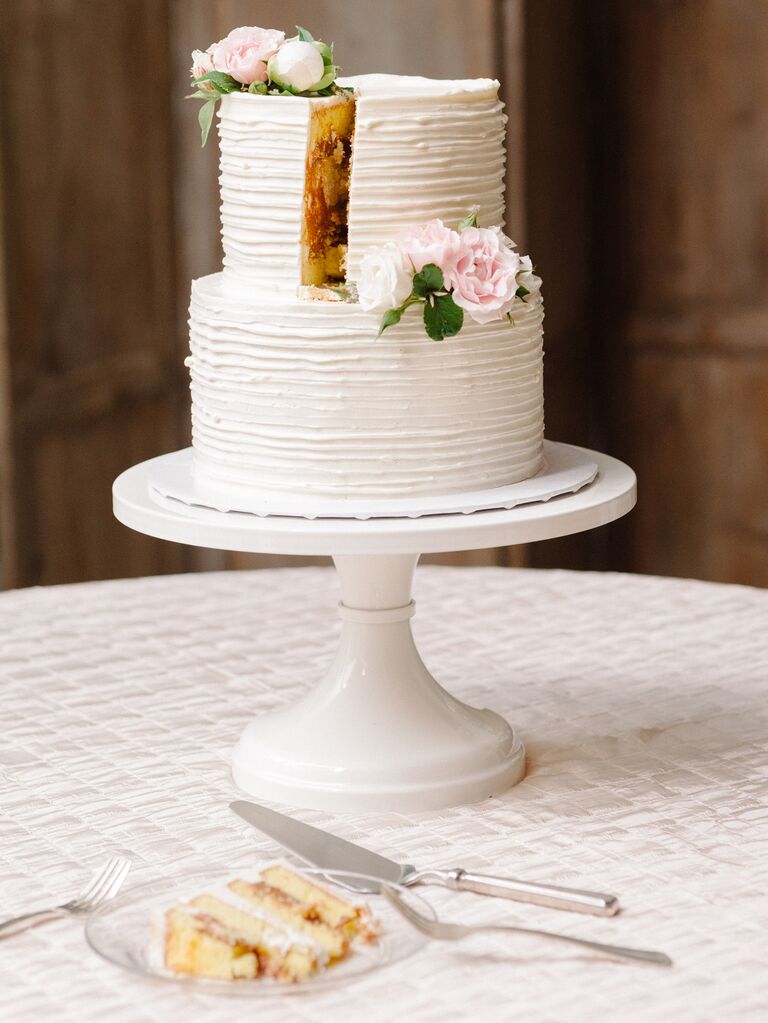 Visibly imperfect icing gives this two-tier, simple wedding cake a serious edge. 
11. Minimalist Florals
A simple wedding cake can still pop with minimalist, elegantly placed flowers. 
12. Blushing Blooms
Delicate flowers dot this simple-yet-beautiful cake, providing a visually appealing look. The flowers are gathered on the top tier and spread out along the lower tiers as if they were falling out of a tree and drifting gently to the ground. 
13. Dare to Bare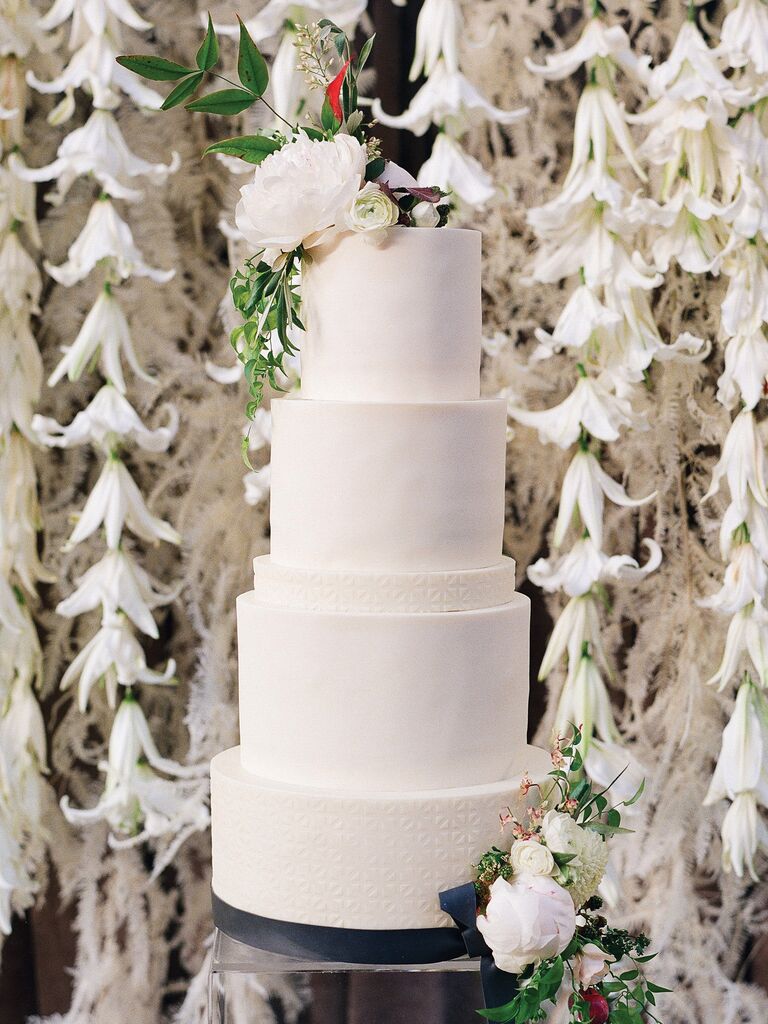 Chic, clean and devoid of frills—besides some sparse floral touches—this multi-tiered, simple wedding cake is what minimalist dreams are made of. 
14. Statement Tier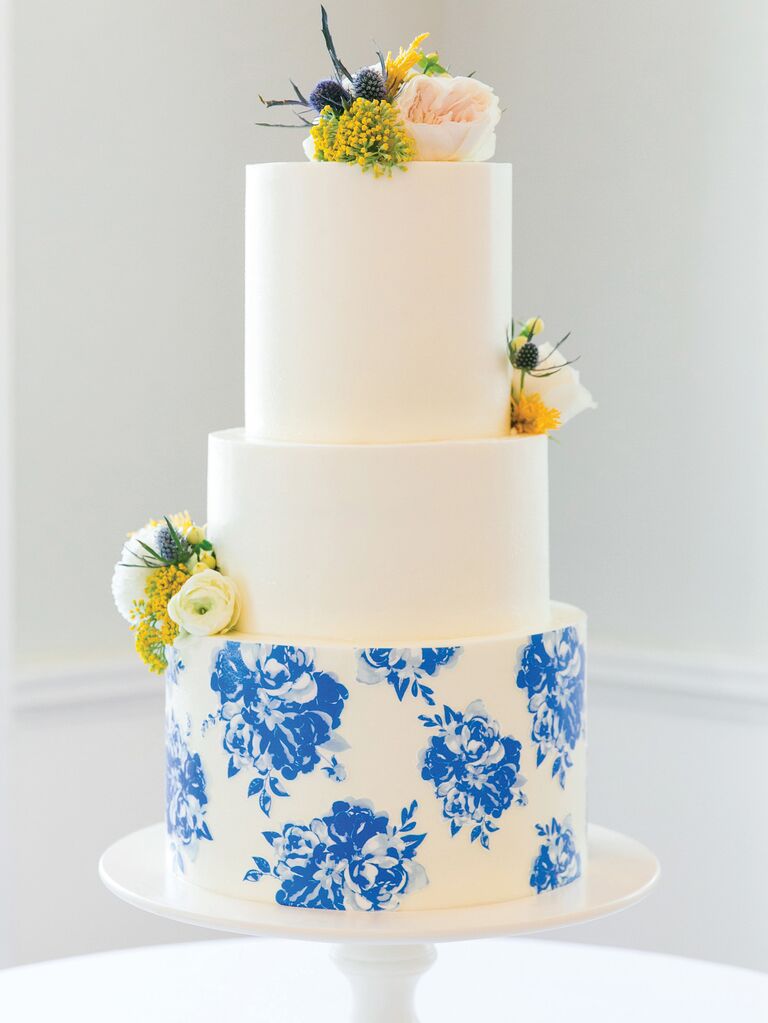 An elegant blue floral pattern decorated on one singular tier makes this simple wedding cake feel formal and sophisticated. 
Naked Wedding Cakes
15. Rustic Vibes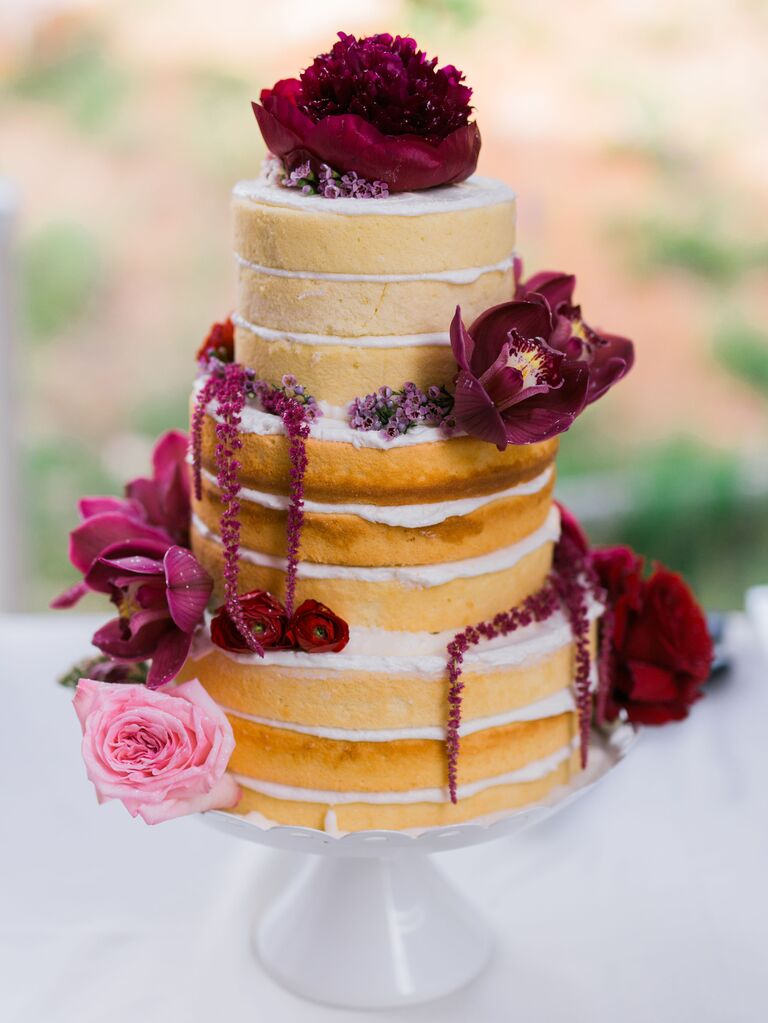 This naked sponge cake is bare besides a few drips of sandwiched frosting and elegant flowers. 
16. Drips of Deliciousness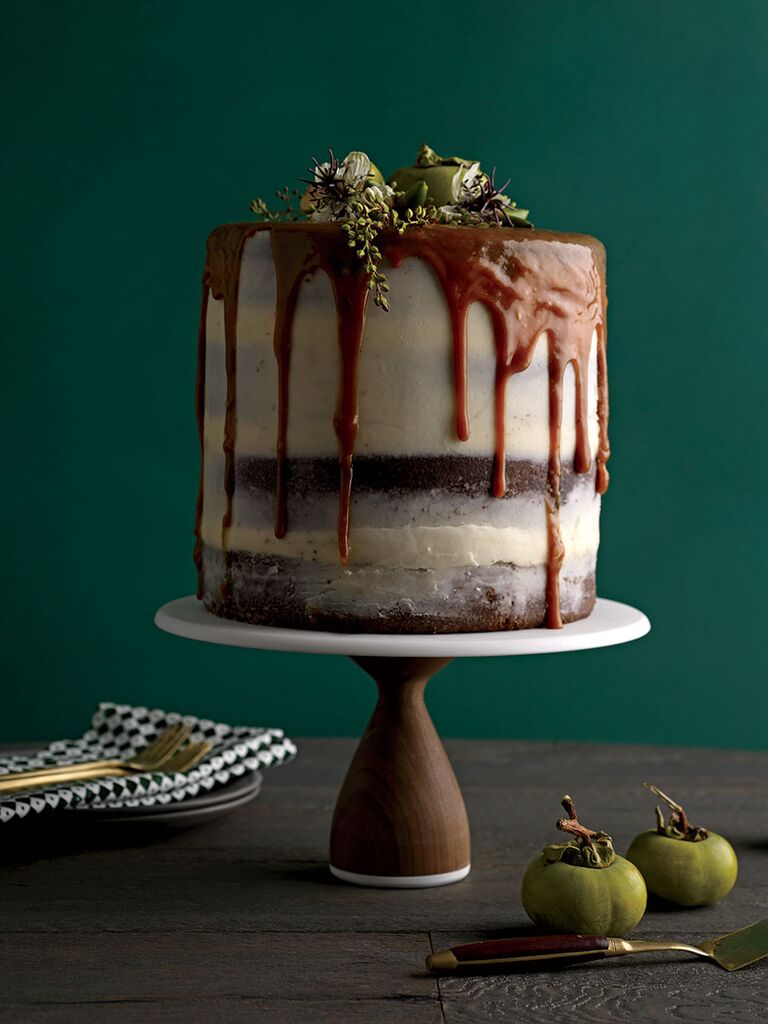 Top the barely frosted layers of your naked wedding cake with decadent drizzles.
17. Natural Touches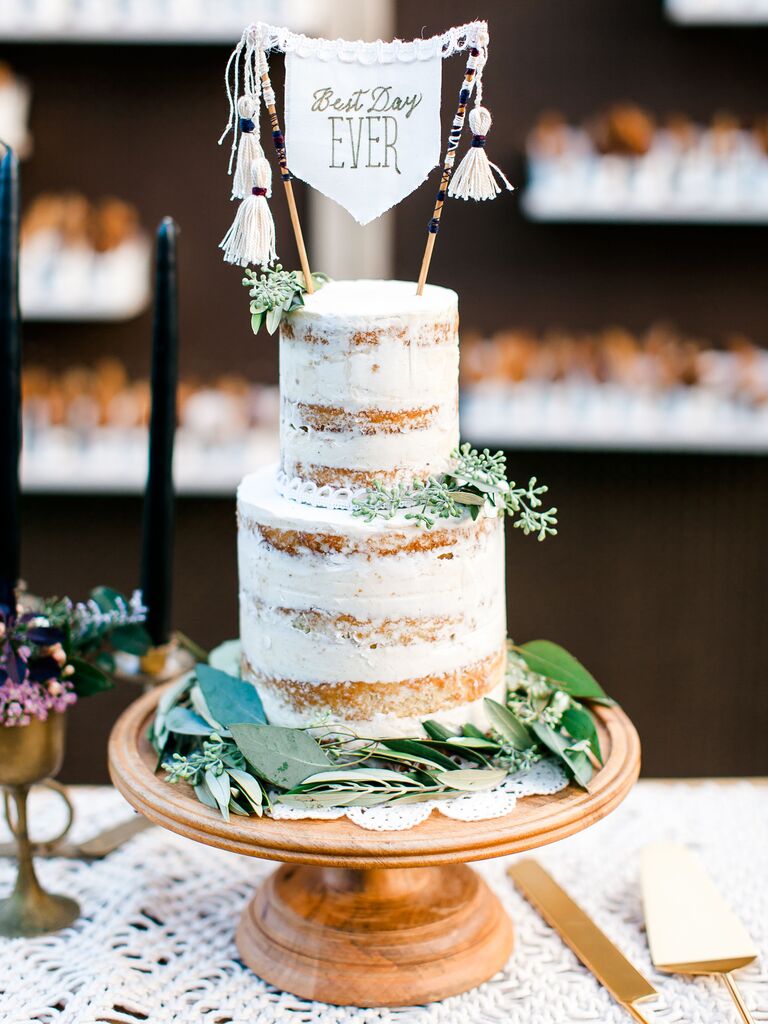 Top off your naked cake with greenery and a rustic-style cake topper for a true back-to-basics vibe. 
18. Topped With Fruit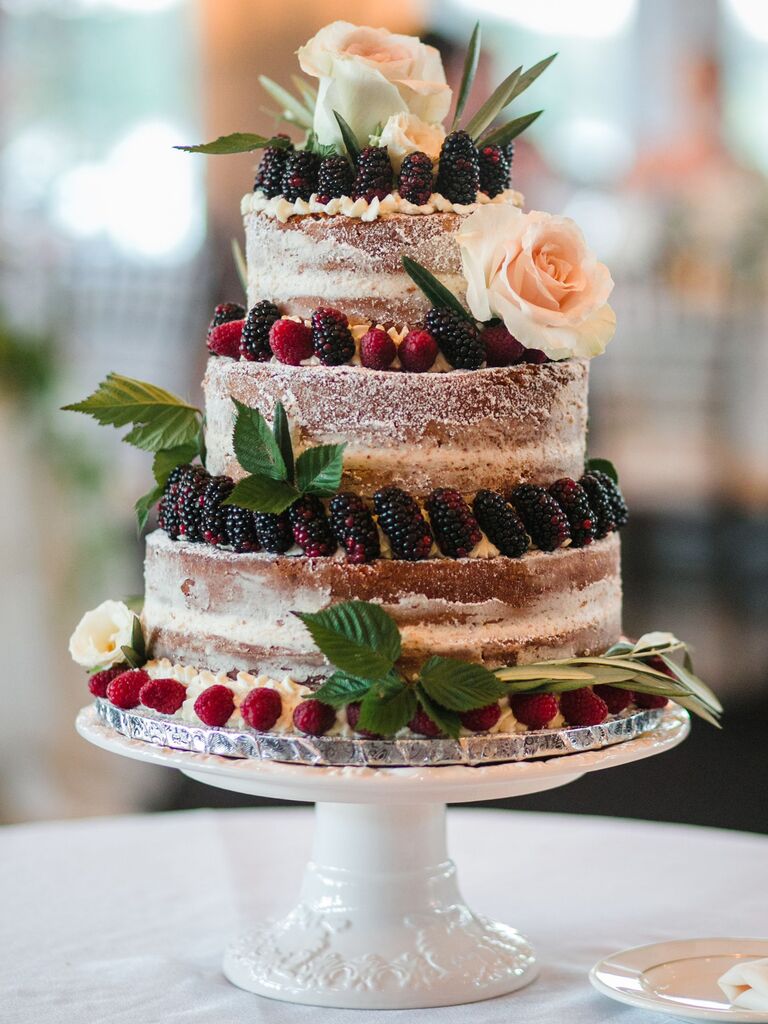 A naked wedding cake still feels exciting—especially when topped with fresh raspberries, blackberries and flowers alike. 
19. Peony Perfection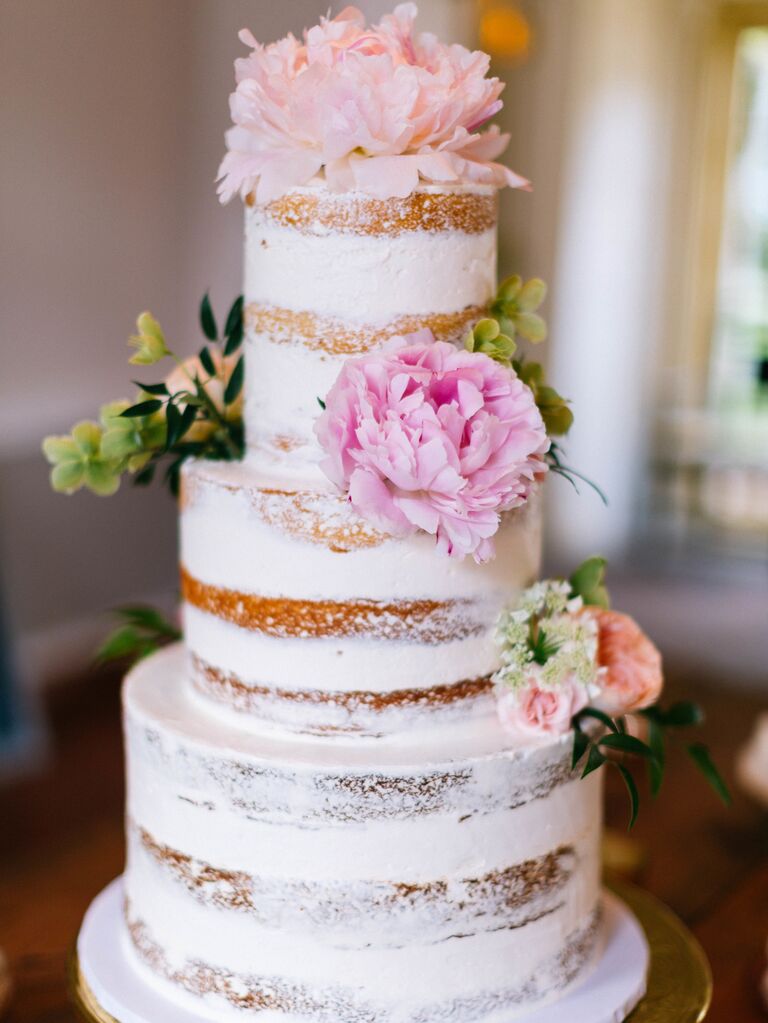 Consider this proof that a naked wedding cake can still feel ultra-elegant and formal, especially with a few artfully placed peonies. 
20. Nearly Naked
This "naked" wedding cake still has enough decadent icing to keep everyone's sweet tooth satisfied. 
Square Wedding Cakes​
21. Dripping With Florals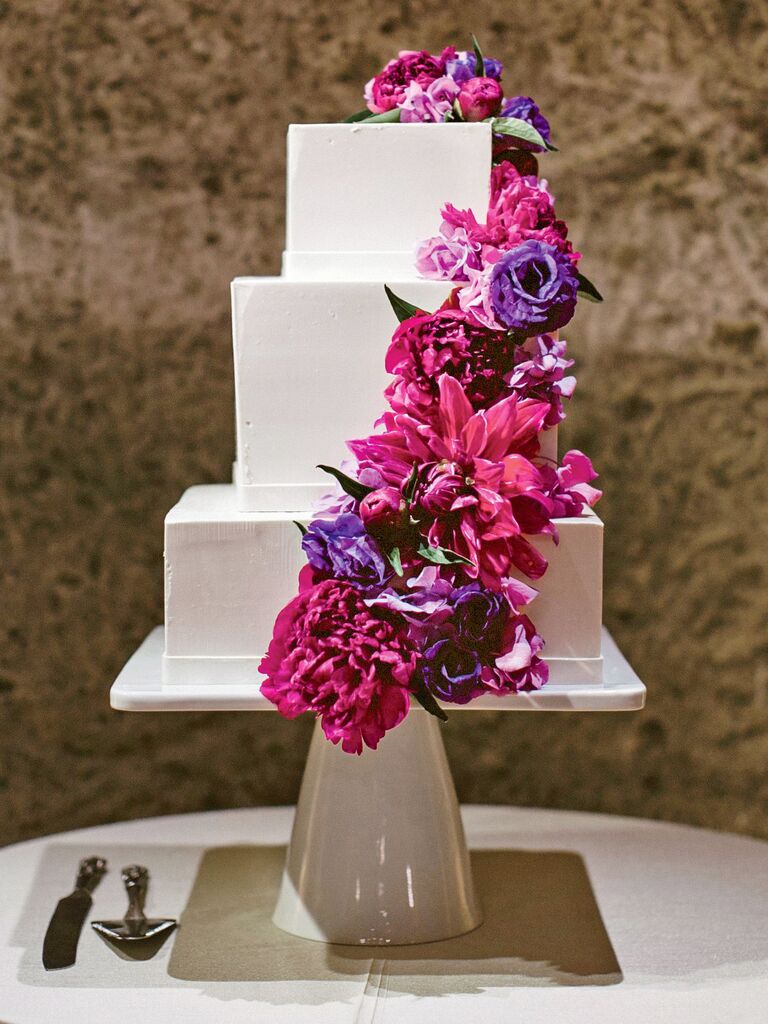 A square wedding cake may sound too angular in theory, but look how beautiful, soft and elegant it looks when topped with cascading pink florals. 
22. Geometric Patterns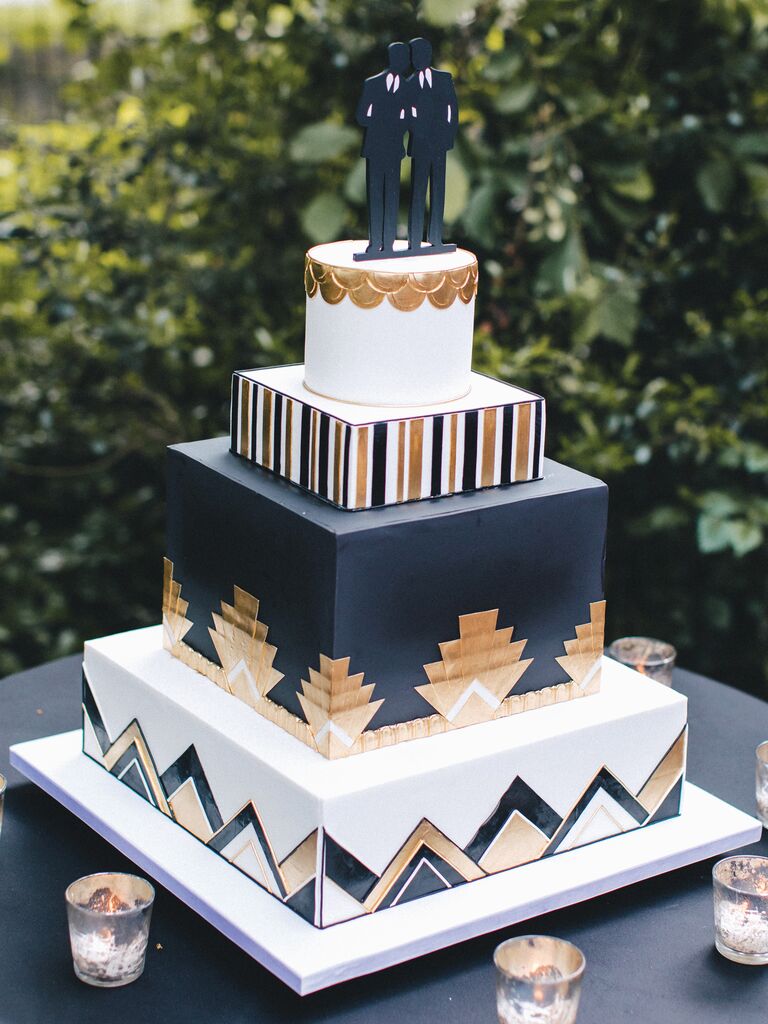 Take your square wedding cake up a notch with geometric patterns that match its motif. An elegant color palette balances it out so it still feels elevated and romantic. 
23. Luxe Marble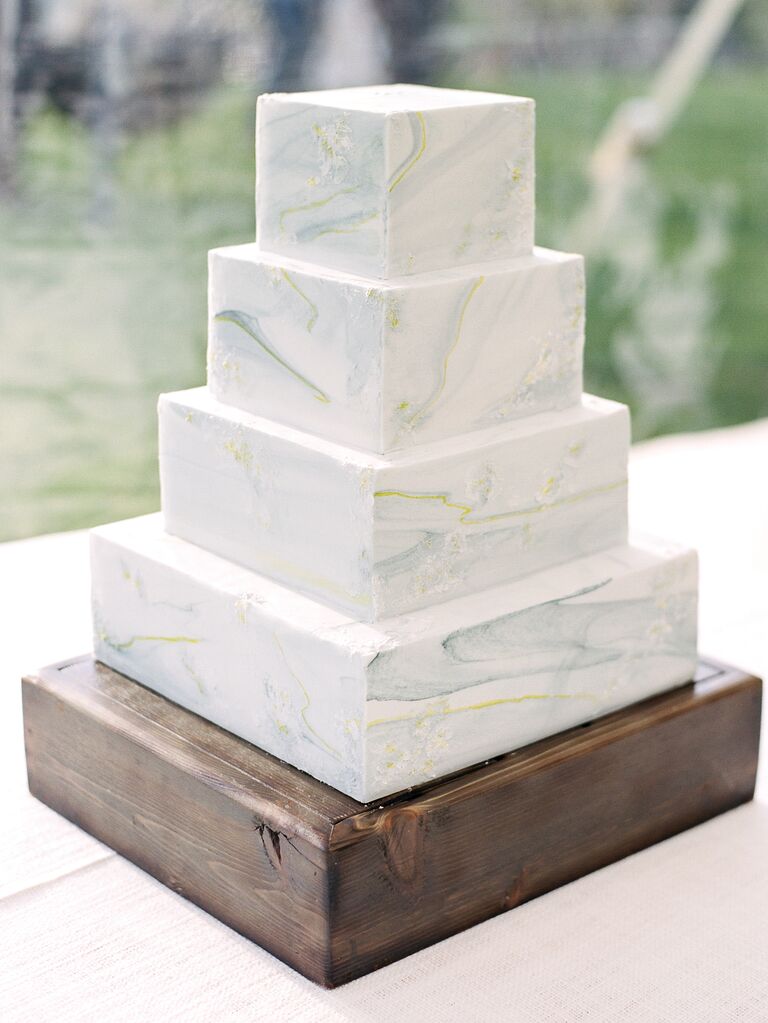 An iced marble pattern in minimalist colors makes this square wedding cake feel extra luxe. 
24. Whimsical Elegance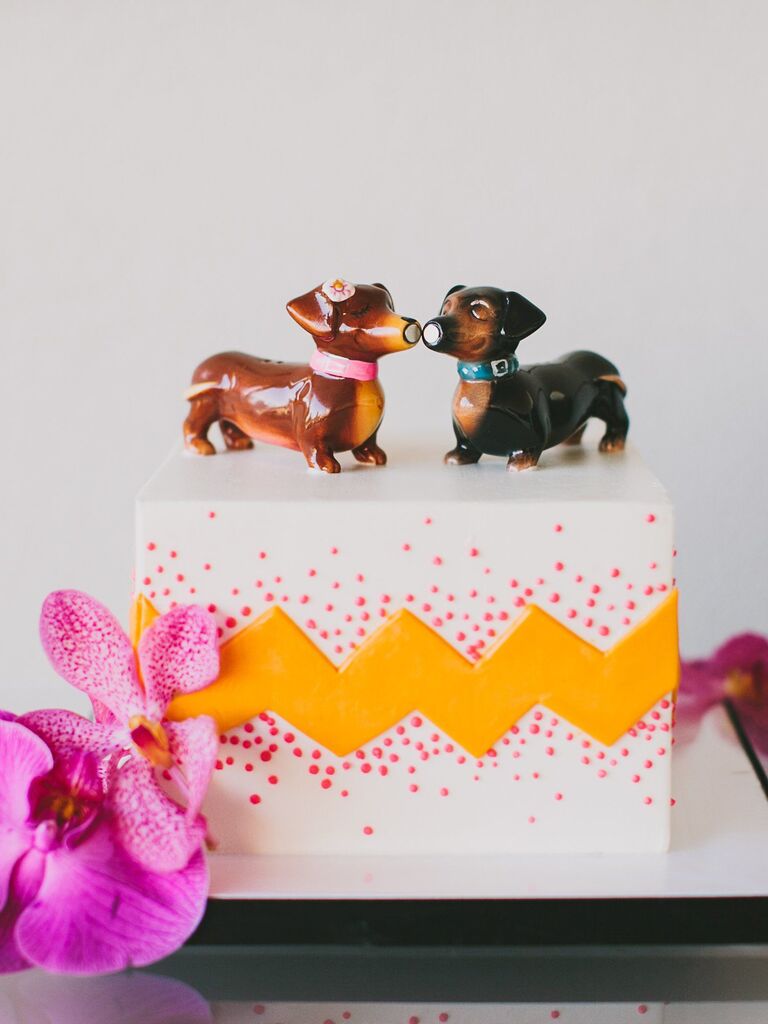 Bright colors and puppy toppers make this square wedding cake feel totally whimsical. 
25. Mismatched Tiers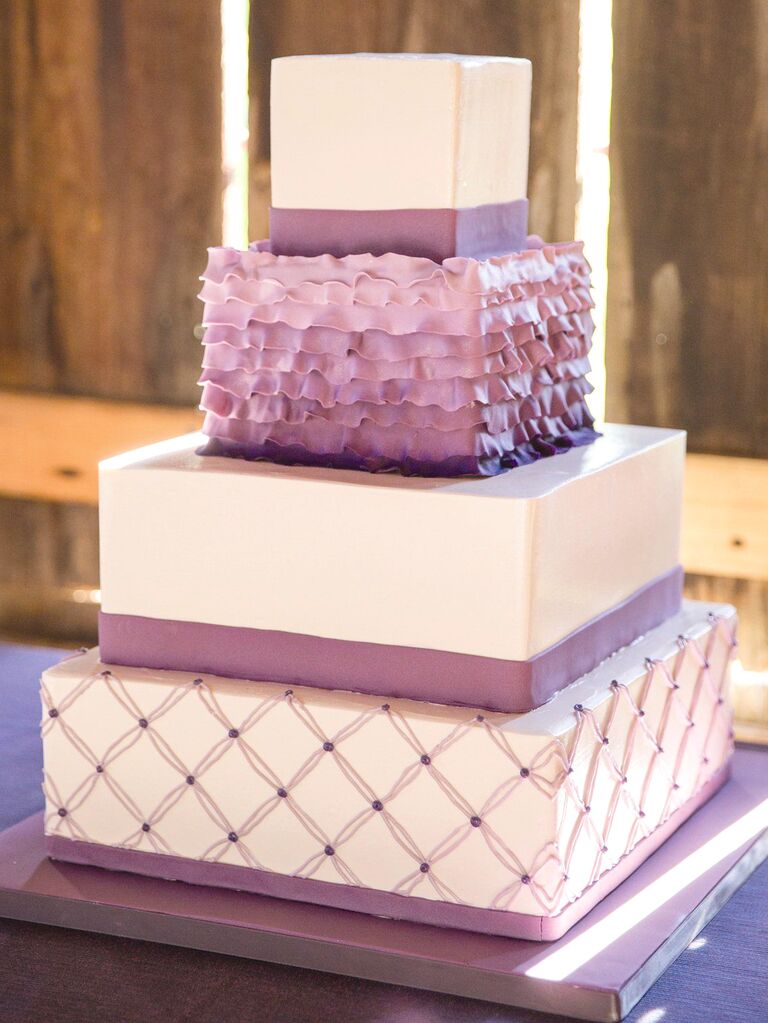 Not all tiers are created equal. This square wedding cake features color-blocked, ombré and quilted ones that still feel cohesive with a chic purple color palette. 
26. All in the Details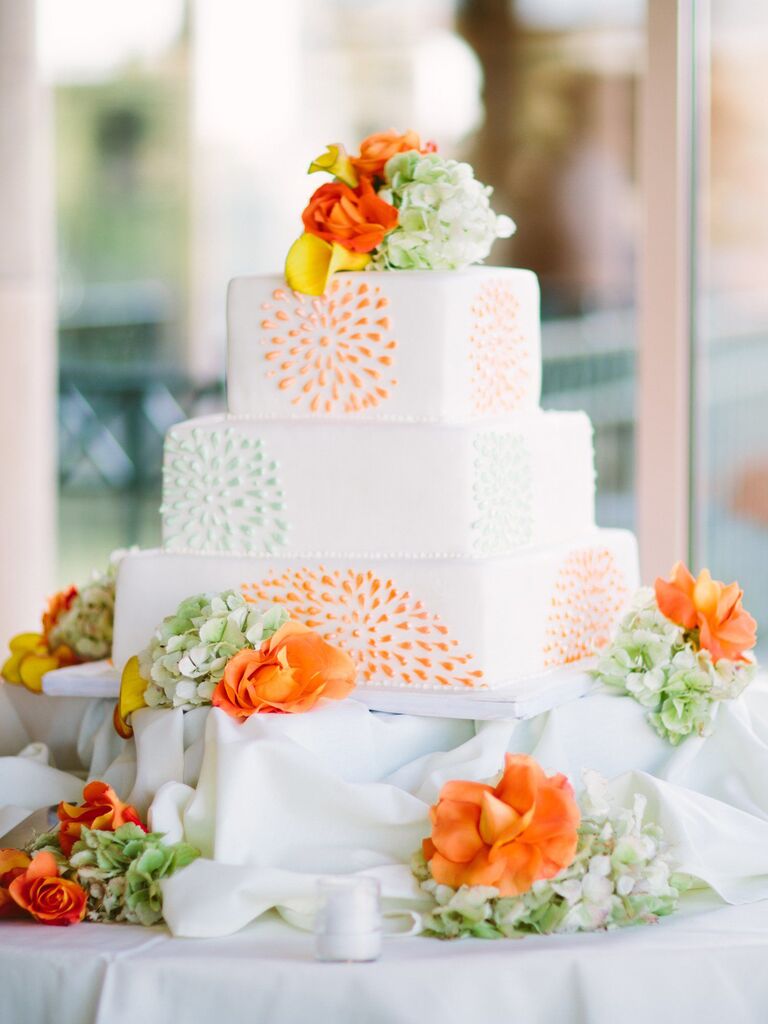 Exquisitely placed details that match the couple's color palette make this square wedding cake feel oh so elegant. 
Three Tier Wedding Cakes
27. Pastel Petals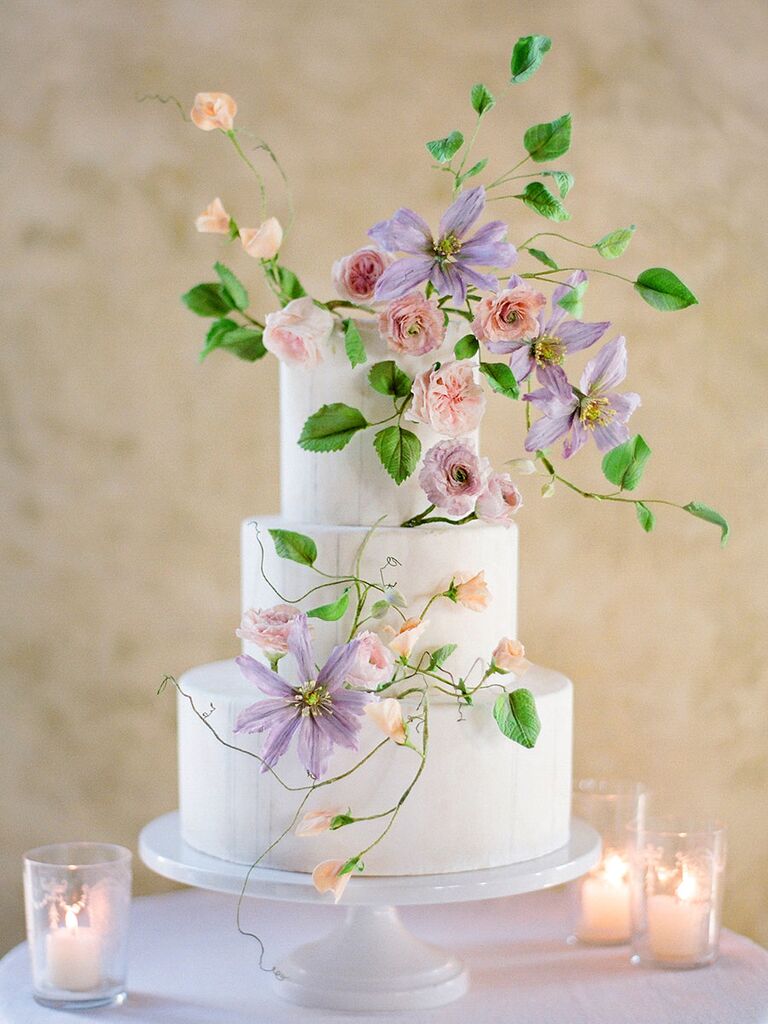 An all-white confection is the perfect backdrop for elegant blooms. 
28. Lovely Lyrics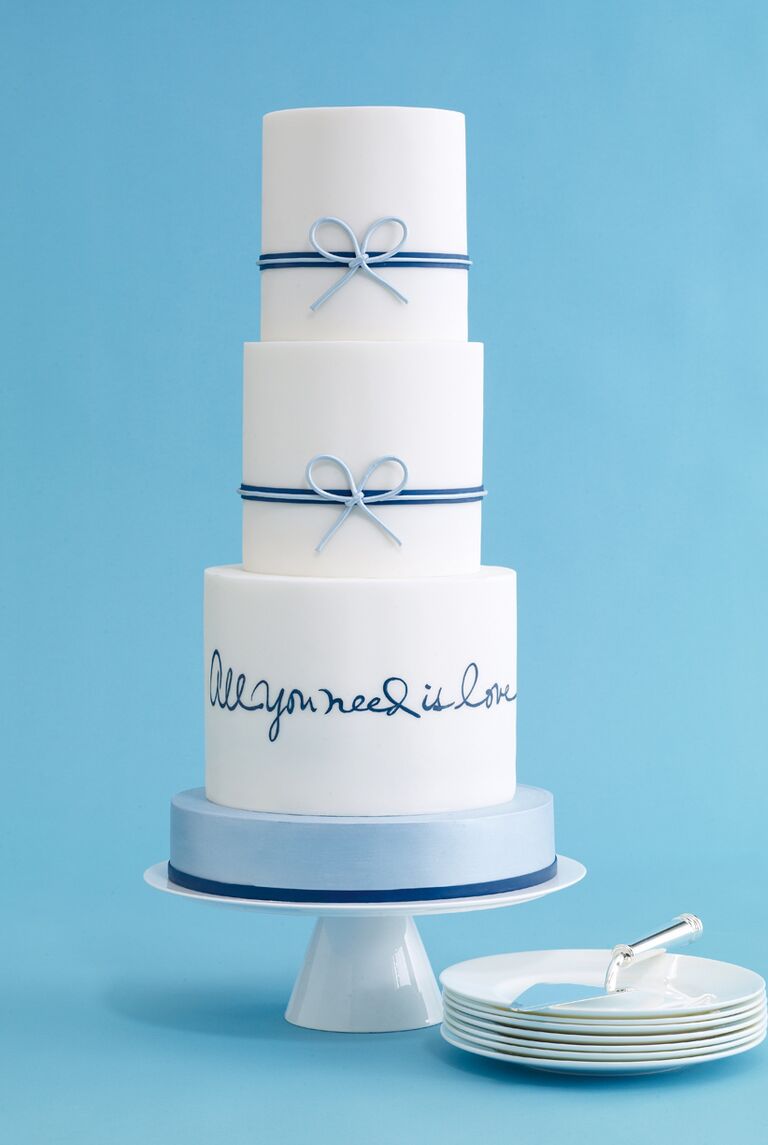 This blue and white modern three tier wedding cake is wrapped in sugar bows and finished off with an edible ink phrase: "All You Need Is Love." Borrow from The Beatles's famous lyrics, or choose a favorite line from your vows or a beloved poem for an extra-special touch.
Painted Perfection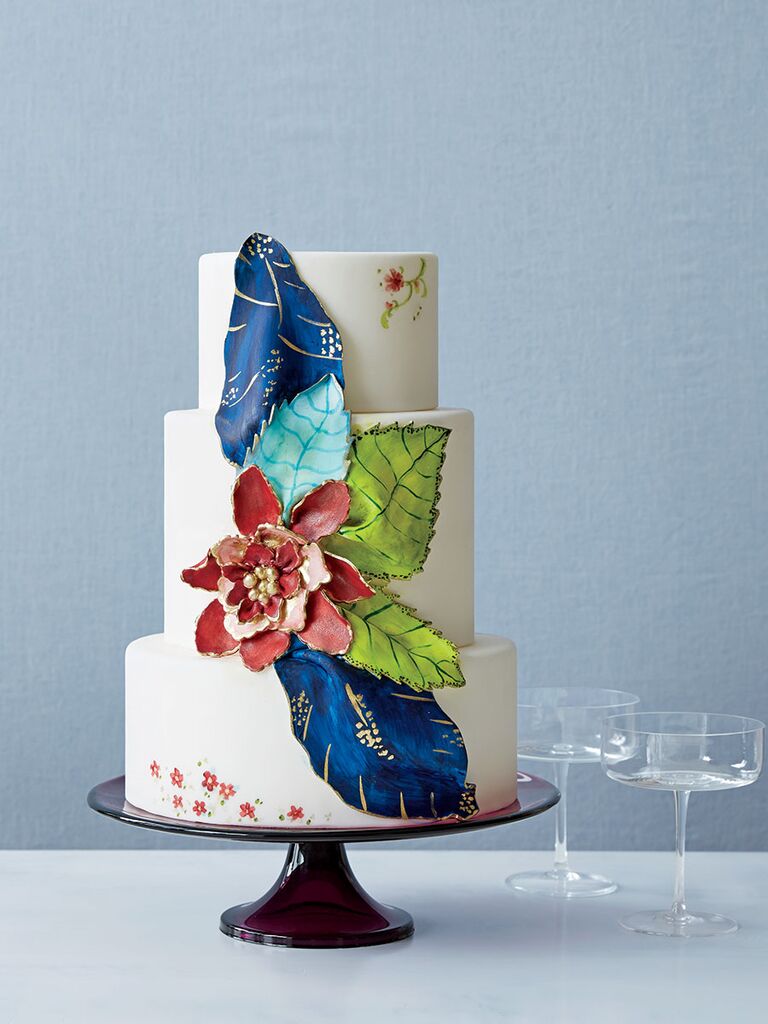 An oversize bloom—a twist on the sugar flower cascade—anchors this carefree design and proves that a single stem can make a big impact. 
Modern Love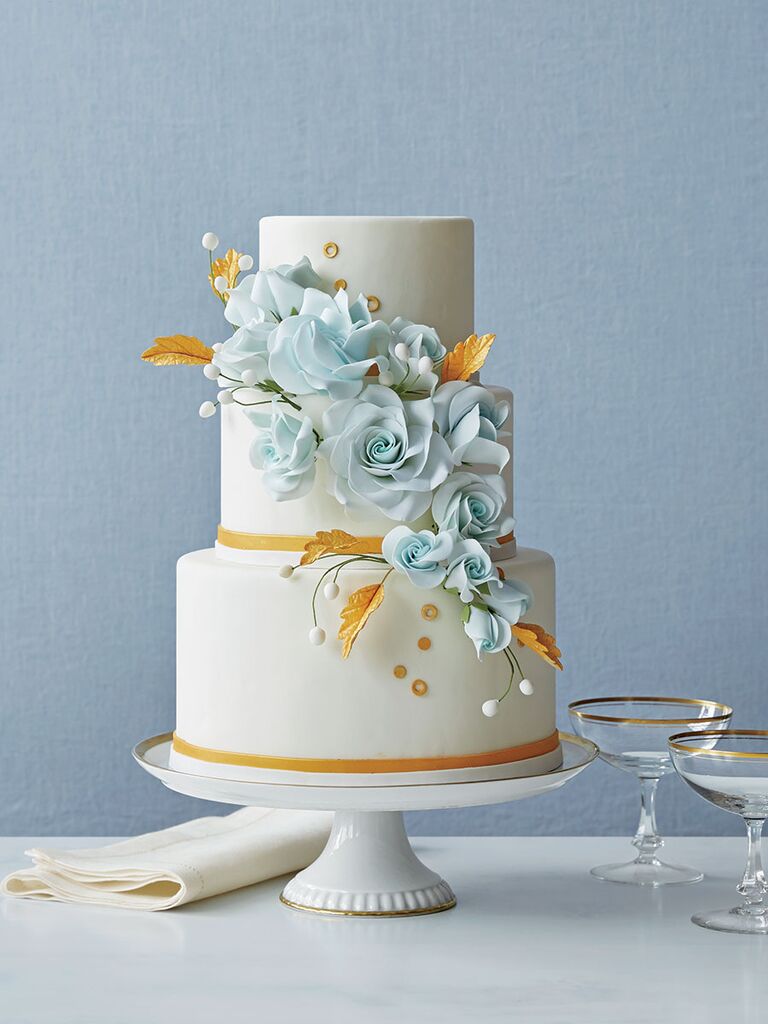 Classic round tiers are the perfect canvas for pale blue roses, while Grecian gold leaves and petite circles give the confection a timeless feel with a hint of whimsy.
31. Vintage Dream
​Each delicious tier of this cake features its own unique look, from delicate netting to sparkling beads and gorgeous flowers draping the bottom tier. The single white flower at the top is the perfect touch to this beautiful confection.​
32. Sweet Stems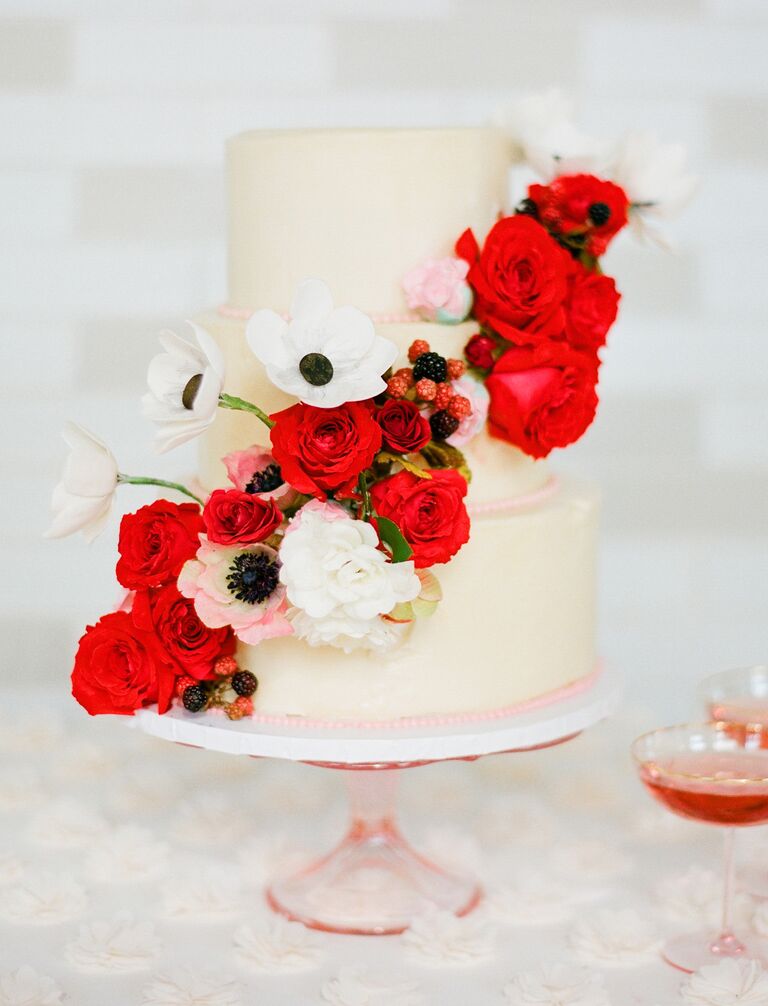 Step up a simple buttercream three tier cake with a cascading, fresh-from-the-garden mix of blooms and berries. 
33. Watercolor Details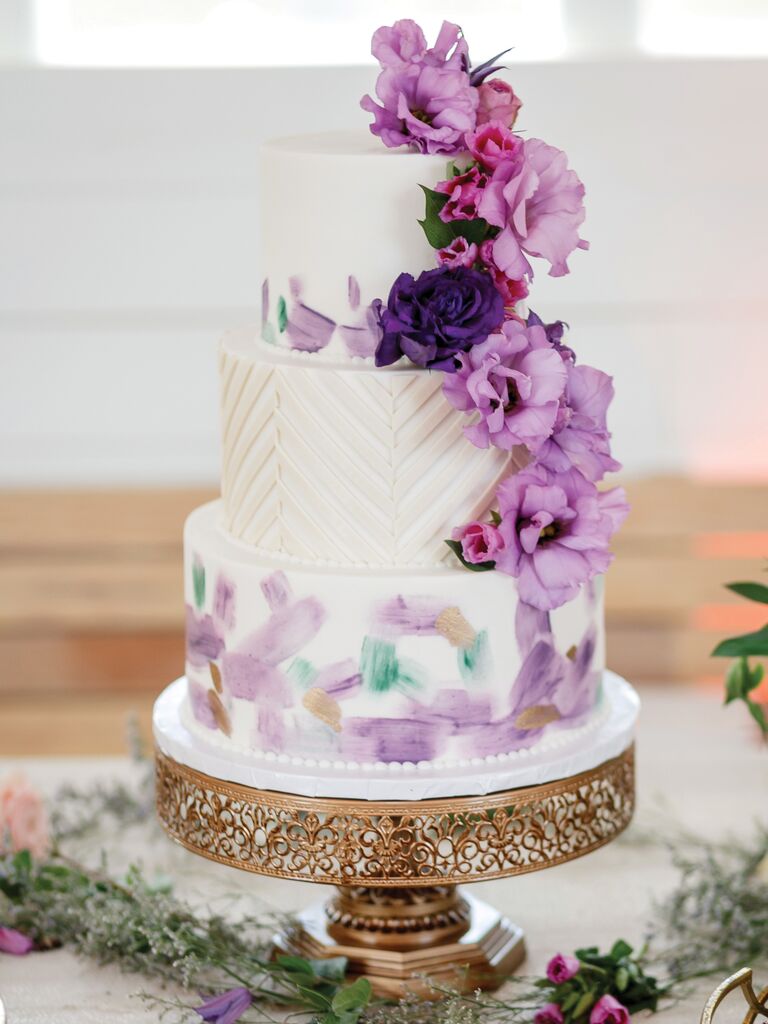 Watercolor-inspired brushstrokes will take your three tier wedding cake to the next level (no pun intended). 
​Unique Wedding Cakes
34. Illustrated Art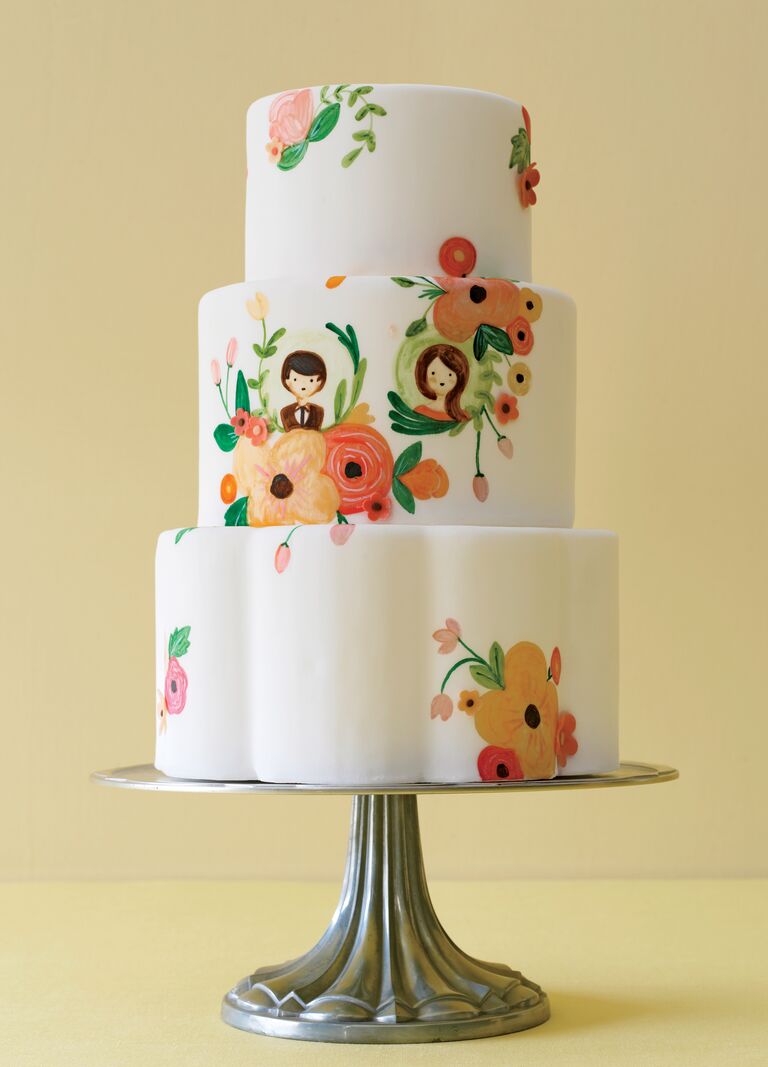 Why not treat your cake like a canvas? Pick anything you want (like the design of your invitations) and have it painted on to make the confection totally unique. 
35. Soothing Ride
​This gorgeous cake offers a varied palette of color that gradually changes across the different layers. The elegant script on the second tier adds a dynamic visual and the flower accents really make this cake bloom. The real treat, however, is the rich hue and sparkling dusting of the bottom layer of the cake.​
36. Mix-and-Match
​You want a cake. Your partner wants cupcakes. You don't have to choose with this woodland wonderland cake plus cupcake combo. This semi-naked cake harkens to the outdoors, and the tree stump plater hit the idea home. If the cake slices run out, guests can grab a cupcake. No one is left out.​
37. Optical Illusion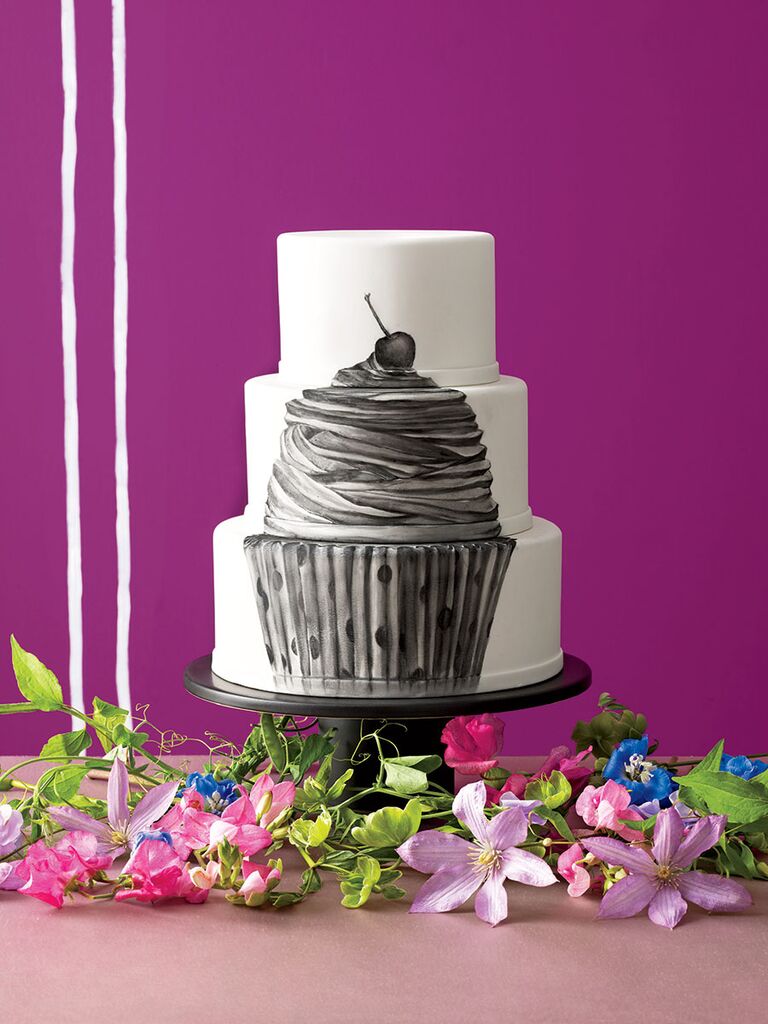 The optical illusion on this unique wedding cake is as witty as it is sophisticated.
38. Midnight Dream
This cake is sure to get a lot of attention from your guests. Its stark black color makes a big statement and definitely sets it apart from the common pale hues of most wedding cakes. Guests who step in close will see delicate veins of gold running along the cake, adding a nice contrast. The light colored roses also pop against this ebony cake.
39. Crystallized Tiers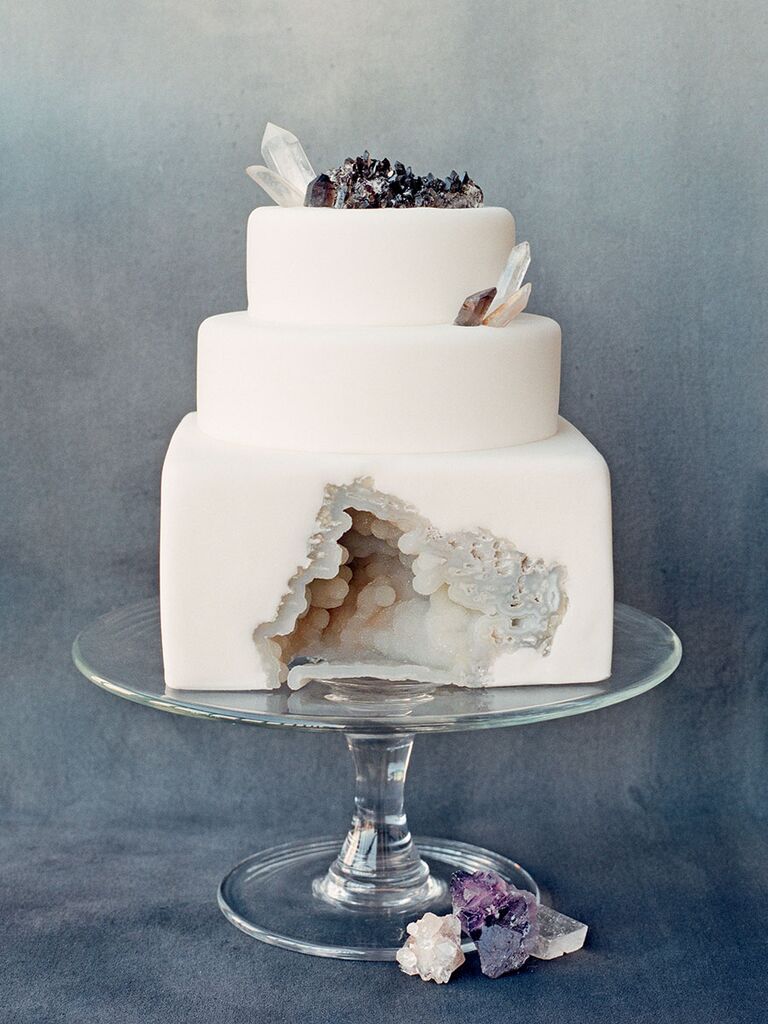 The geode trend is still going strong. We love the raw elegance of these mineral details, and you don't need much more than that to make a big statement. 
40. Personal Touch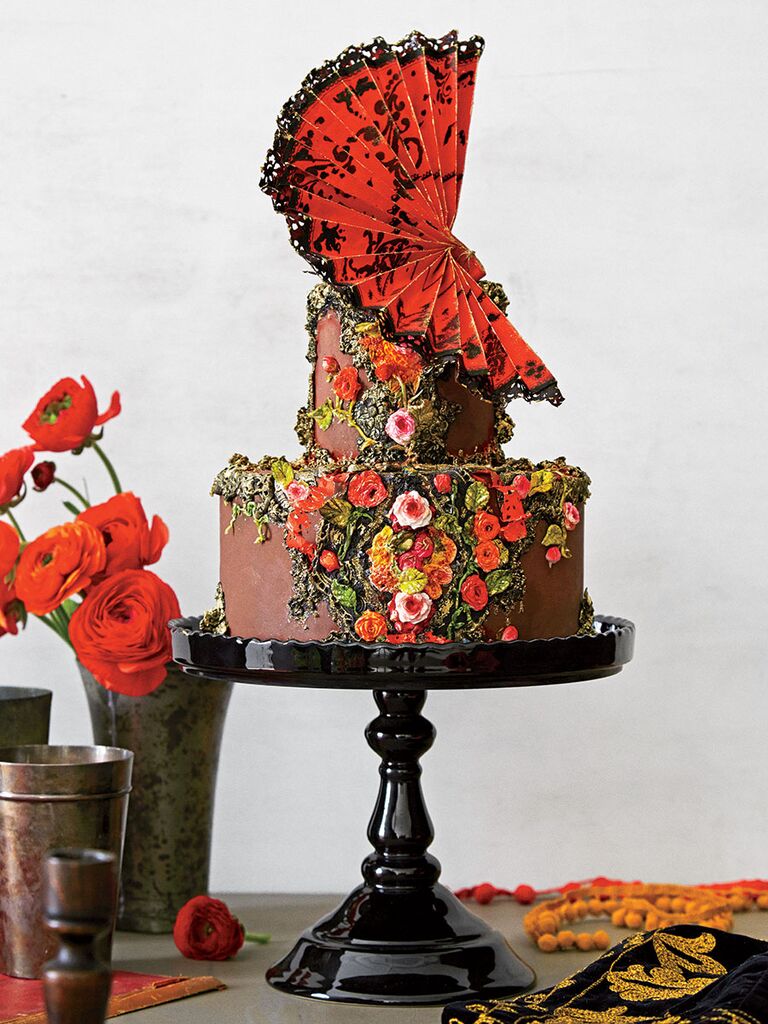 Pull cake inspiration from things you really love, like a hobby, favorite song or sentimental location. This cake, for example, was modeled after the classic story Don Quixote.
41. Sky-High Elegance
This glam, multi-tiered confection has everything from glitter to flowers—making for a totally unique wedding cake that doesn't feel too busy (primarily thanks to how much real estate there was to work with). 
42. Accent Tier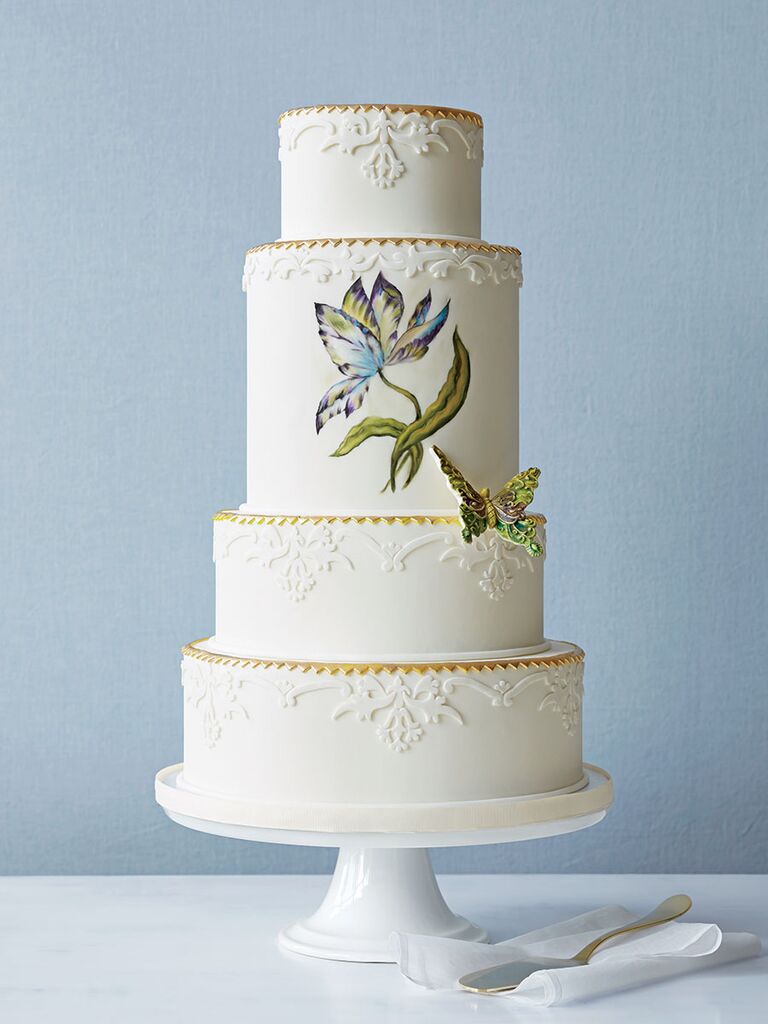 You can still make a statement with your wedding cake even if you go with a minimalist design. Simplify all of the tiers except for one—like this wedding cake that features a hand-painted accent tier. 
Choosing the Right Wedding Cake for Your Wedding
​We hope that these beautiful and elegant wedding cakes have inspired you as you start planning the main sweet treat on your wedding day. Don't wait too long to turn these unique wedding cake designs into reality. It's generally a good idea to order your cake about six months before your wedding. Keep in mind that small, popular bakeries may fill up even sooner, so the earlier the better. As you start looking for cake designers in your area, make sure to read up on The Biggest Wedding Cake Dos and Don'ts before placing your order. ​