60 Absolutely Epic Wedding Cake Ideas We Can't Get Enough Of
The mouthwatering confections are the epitome of jaw-dropping.
When couples start thinking about their wedding plans, one of the details that typically first comes to mind is their wedding cake. While wedding cakes serve as the sweet ending to a celebration, dreaming up epic wedding cake ideas is a fun task to undertake as soon as you've set a date and conceptualized a design vision. Fewer wedding planning tasks are more therapeutic than scrolling through images of decadent tiered masterpieces decked out with sugar flowers—and we're here to help you do just that.
The amazing thing about wedding cakes, and even cupcakes if you prefer, is how incredibly versatile they are. There's a stunning wedding cake idea out there for each couple, no matter how varied their style may be. Plus, a well-designed cake is often the pinnacle of a wedding's design, bringing all the colors and motifs of the nuptials together as the day's sweet and indulgent culmination.
Not only is it fun to scroll through wedding cake inspiration images, but it's also incredibly helpful as well. As you peruse the ideas below, make note of the design elements—from hand-painted accents to textured buttercream details and fondant finishing touches—to which you gravitate. Coming armed with an understanding of your likes and dislikes when you meet with a potential wedding cake baker will ensure a smooth cake design process.
To help you further prepare for your own cake design plans, we tapped industry experts Tiffany MacIsaac of Buttercream Bakeshop in Washington, DC, Megan Clark of Megan Joy Cakes in Eagle, Colorado, and Jasmine de Lung of Jasmine Rae Cakes in San Francisco, California. The bakers offer need-to-know confection insights that will help you plan for your big day.
In this article:
Floral Wedding Cakes
Whether you choose fresh flowers for your wedding cake or intricate sugar flowers as decoration, the incorporation of flowers is one of the most timeless wedding cake design techniques. Furthermore, Tiffany MacIsaac encourages couples struggling to nail down a cake design direction to look to their floral design plans for cake inspiration. "The internet is an amazing place for design inspiration. We often ask a client to also send us their floral design invitation suite and any other highly designed items that are custom to their wedding. This not only gives us a sense of their style but also design elements to draw from so the cake compliments the rest of the room," MacIsaac advises.
1. Orange and Blue
Orange nasturtiums, which happen to be edible, adorned this baby blue cake.
2. Rose Tiers
Layers of pink roses separated this all-white cake's four tiers.
3. Tropical
For a tropical wedding, this semi-naked cake was adorned with anthurium, orchids and greenery. Other greenery, like succulents, would also make great additions to a rustic wedding cake.
4. Pop of Pink
Bright pink and fuchsia garden roses and peonies added a burst of color to this marbled-gray wedding cake that included a single gold tier.
5. Greenery
Ferns and baby's breath added a rustic vibe to this three-tier semi-naked cake set atop of a textured gold cake plateau at a fall wedding.
6. Orange Ombre
To complement the orange ombre effect seen on this three-tier wedding cake, a cascade of orange ranunculus, peach roses and orange sweet pea blooms graced the bake, along with a gold cake topper.
7. Colorful Ombre
The ombre concept looked a little different on this three-tier cake. A gradient of blooms, inspired by the rainbow, finished off this cake. The yellow flowers at the top gave way to pinks and reds at the bottom.
8. White and Green
This all-white fondant-clad four-tier cake was finished with all-white peonies, roses and a few fern sprigs.
9. Cherry Blossoms
A sprig of cherry blossom sugar flowers was the piece de resistance on this all-white cake that included tiers of varying diameters, all set on a clear acrylic cake stand.
10. Ornate Sugar Flowers
No rule says you have to have round tiers—playing with different shapes can make a classic confection even more elegant, as evidenced by this gilded, sugar-flower-clad four-tier hexagonal wedding cake.
11. Clematis Sugar Flowers
Roses and clematis, all formed out of sugar, brought a whimsical touch to this all-white three-tier cake. Candlelight and a white milk glass cake stand further added to the romance.
12. Something Blue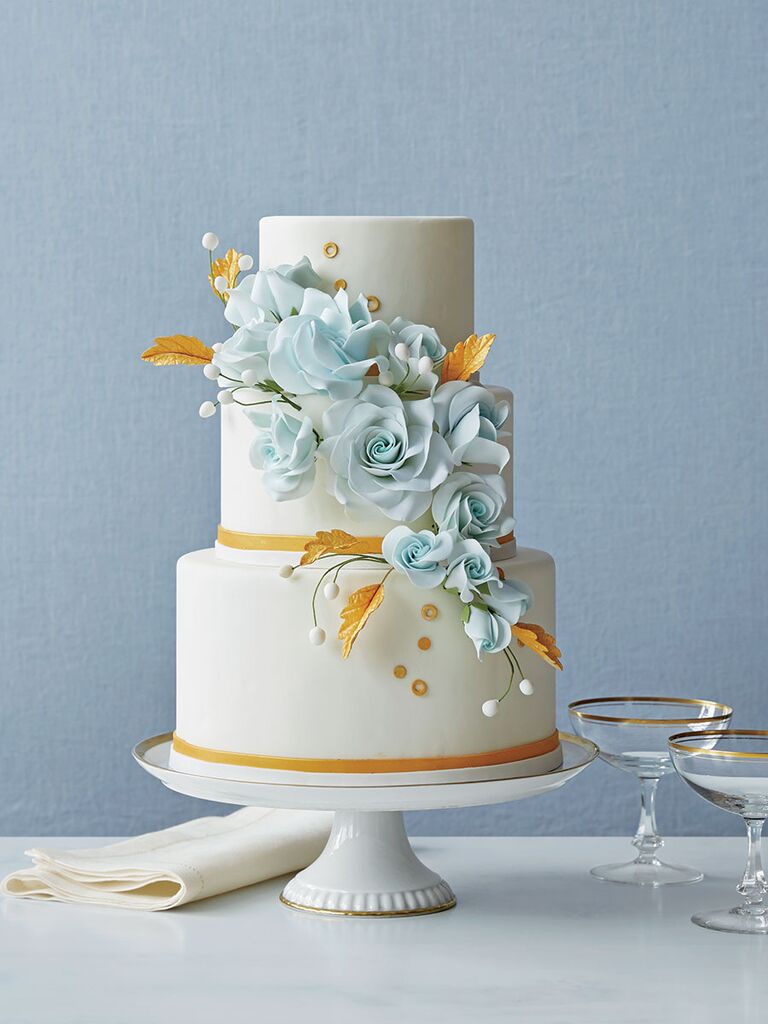 This couple's something blue came in the form of sky blue sugar roses cascading down their classic three-tier cake. Meanwhile, Grecian gold leaves and petite circles gave the confection a timeless feel with a hint of whimsy.
Sculptural Wedding Cakes
A wedding cake is a work of art, with cake as the canvas. Ask your cake designer to masterfully transform the confection into a multidimensional, eye-catching treat that will be the pinnacle of your wedding day menu. After all, once you hire a pro, it's up to you to trust that they'll use their artistry to bring a masterpiece to life. "Hire a bakery you love and trust them to do their thing. We find that when a couple gives up room to create they end up getting more than they paid for!" advises Tiffany MacIsaac.
13. Stroke of Genius
Brushstrokes made from white chocolate brought a funky, spikey vibe to this blush-and-white cake.
14. Staircase
The tiers of your wedding cake don't need to all be centered. This staircase-inspired cake had each of the three tiers lined up on the right side adding artistic flair to the marbled winter wedding cake.
15. Gold Leaves
Gold fan-like leaves turned this two-tier cake into an absolute work of art. To further add to the confection's modern feel, the entire wedding cake was displayed on top of a glass pedestal.
16. Tropical Finishing Touches
Monstera leaves and bougainvillea blooms, molded out of fondant, brought a beachy vibe to this painted blue-and-white three-tier cake.
One-Tier Wedding Cakes
With the rise of minimonies, microweddings and elopements, many couples can't justify ordering a cake that serves 200. But that shouldn't stop you from having an amazing wedding cake. As these petite confections prove, couples don't need to serve tiered wedding cakes in order to make an impact.
17. Flower-Filled
Cream roses, burgundy dahlias and burgundy calla lilies made a big statement on this little confection at an eclectic wedding in Seattle, Washington.
18. Burst of Orange Flowers
Orange roses and baby's breath joined this single-tier wedding cake on top of a simple white cake stand.
19. Combed Buttercream
Here, the buttercream icing was combed into a linear texture. Flowers and fresh figs finished off the elegant look.
20. Beachy
Fresh orchids, monstera leaves and roses added a tropical vibe to this single-tier cake.
21. Totally Rad Monogram
First introduced in their stationery suite, the couple's initials made multiple appearances throughout this California wedding. Notably, a hexagon painted with the monogram finished off this small watercolor-inspired orange ombre wedding cake.
22. Minimal Pink
A few small sprigs of sweet pea, paired with a single ranunculus bloom, drove home a less-is-more mentality with this single-tier cake, which featured simple combed buttercream frosting.
Colorful Wedding Cakes
Bring on the brights. According to The Knot 2021 Real Weddings Study, couples are moving away from the blush and all-white color palettes that reigned supreme for a few years, opting instead for bold color schemes. Make the most of your wedding cake design by using it to further enforce your big day's palette.
23. Flower Patch
Multiple colors of icing were used to turn this mini cake into a showstopping garden-inspired dessert, perfect for a spring wedding.
24. Totally Teal
A vibrant four-tier teal cake received another dose of color from a cascade of red roses and sand-dollar eucalyptus sprigs.
25. Dark and Dramatic
Not only was this cake dramatically wrapped in black, sugar made to look like broken shards of glass brought some sparkle to the cake. As a bonus, the cake had both a gold bottom tier and a silver cake plateau serving as the base to the moody confection.
26. Biker Chic
Each tier of your cake doesn't need to be the same height. Here, a taller bottom tier and shorter top tier made this all-black cake feel decidedly modern. Pink ranunculus and peony blooms, paired with a wood motorcycle cake topper, completed the two-tier wedding cake.
27. Pastel Pink
Two tiers of soft pink combed buttercream covered this romantic confection. Appropriate for the summer wedding, pieces of sliced fresh fruit accompanied the blooms used to decorate the bake.
28. All About Orange
Three complementary shades of orange graced this vibrant cake topped with gold elephant figurines.
29. Bold Black
If you don't want a traditional wedding cake, this dessert is for you. Fondant ruffles brought an edge to the all-black top three tiers while the cake's bottom tier featured colorful confetti-like brushstrokes.
30. Art Deco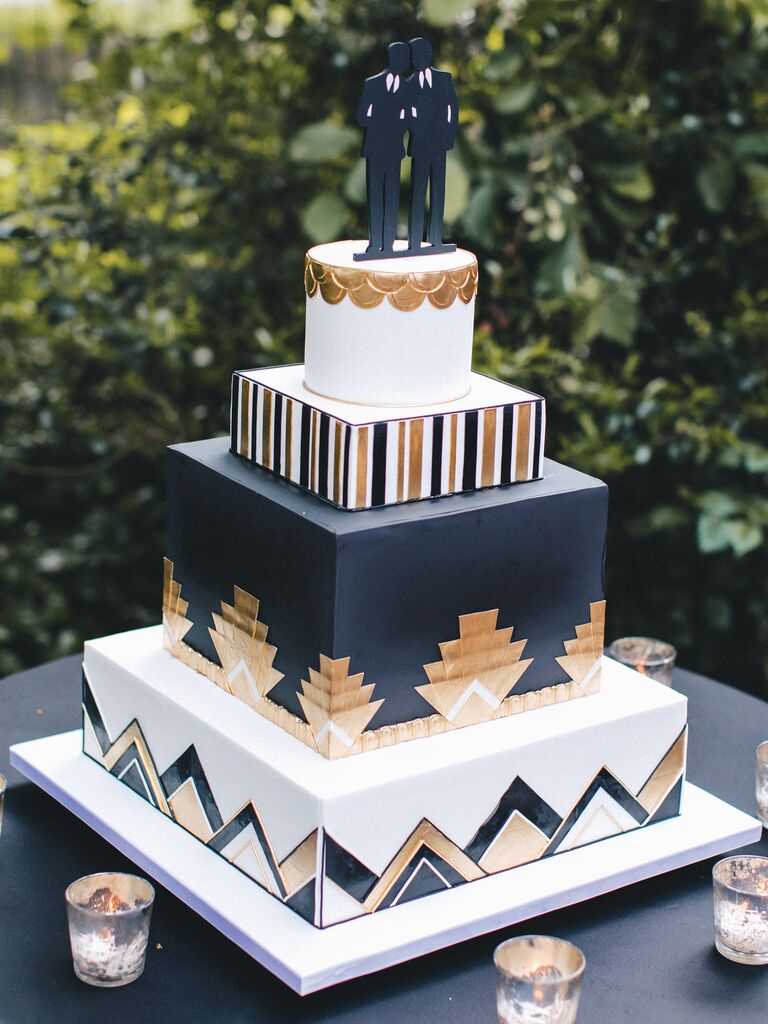 Fans of the roaring twenties, ask your cakery to create an art-deco-inspired gold-and-black dessert with crisp lines. Better yet, have fun with your cake's shape and go for square tiers, as this couple did.
Minimalist Wedding Cakes
Here, the old adage "less is more" rings true. These pared-down wedding cake designs prove that minimal, simple wedding cakes can still pack a punch visually. If you're feeling a little worried that a conceptual, modern cake isn't going to wow, remember to trust the experts you hired to do the job. If you love a baker's portfolio and you've seen them ace minimal cakes in the past, you can trust that your cake will be a stunner too. "The most beautiful cakes come from artistic freedom. If you love the style and designs of a cake artist, trust that they will create something you're going to love too, instead of worrying over every detail on paper," advises Megan Clark.
31. Simple Wedding Cake
This white wedding cake was a masterclass in minimalism. Three smooth white tiers, elegant peach-hued blooms and a gold cake stand worked together to create an absolute stunner.
32. Subtle Pinks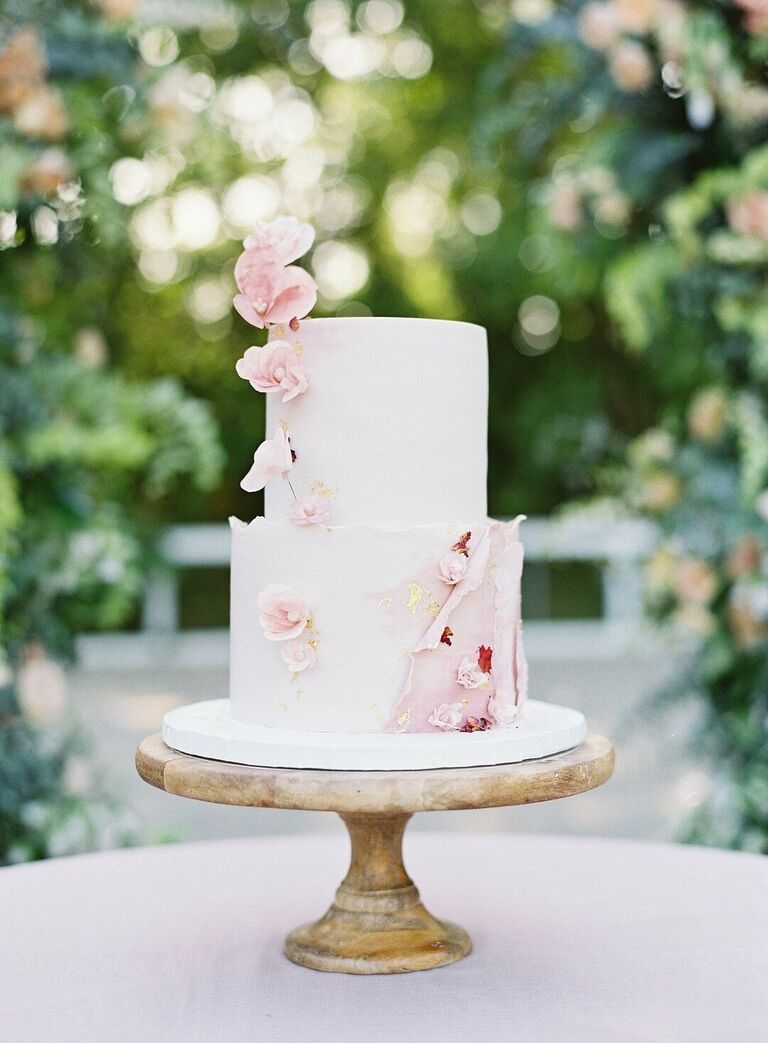 Cake flowers don't have to be over the top. Subtle watercolor-inspired pink moments brought this two-tier cake to life.
33. Rough Edges
A choice as simple as opting for textured edges can make the difference between a traditional wedding cake and something fresh and unique.
34. Waves of Minimalism
This minimalist three-tier cake kept the palette monochromatic, opting instead to add intrigue in the form of a textured wave-like decorations.
35. White on White
This simple wedding cake is anything but plain. All-white flowers, layered atop an all-white cake, felt modern, yet understated.
36. Ferns
Having a rustic wedding doesn't mean you need a naked wedding cake, although we love a good naked wedding cake. This fern-clad two-tier was both elegant and woodsy.
37. Simple Elegance
Varying tier heights can make all the difference between a traditional wedding cake and its contemporary counterpart.
38. Painted
A partially-red bottom tier brought a pop of color to this simple wedding cake.
39. Preppy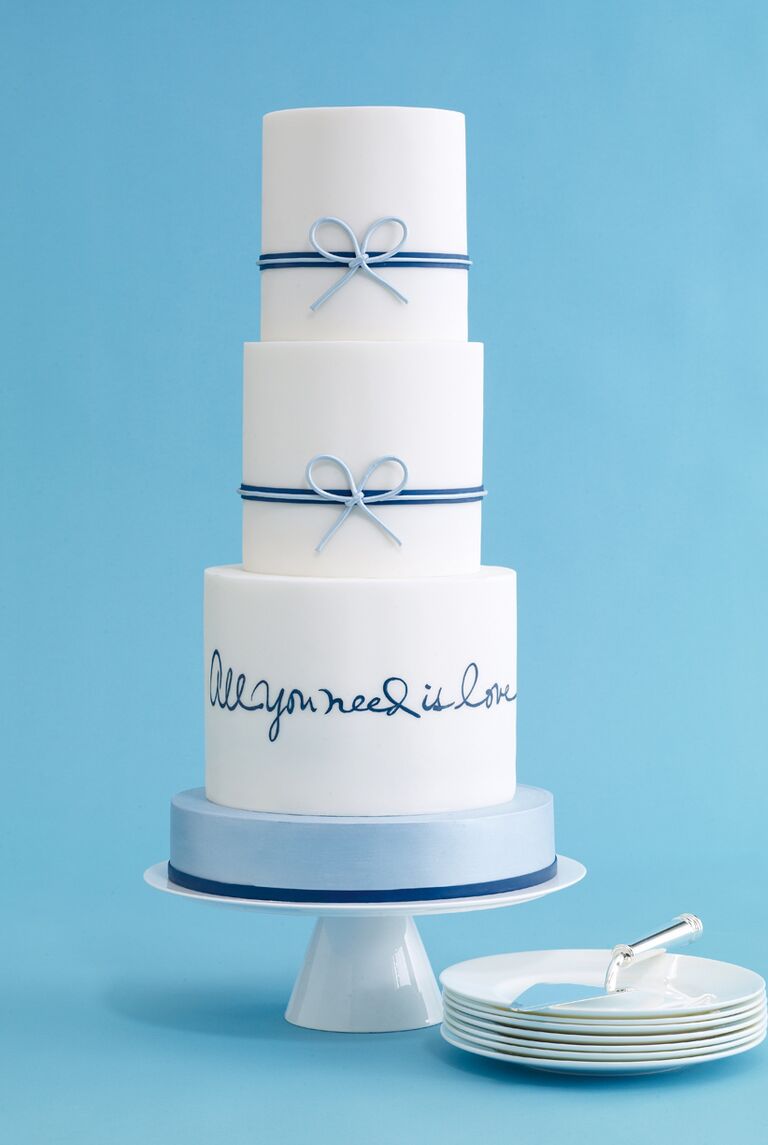 This blue-and-white modern three-tier wedding cake is wrapped in sugar bows and finished off with an edible ink phrase: "All You Need Is Love." Borrow from The Beatles' famous lyrics, or choose a favorite line from your vows or a beloved poem for an extra-special touch.
Textured Wedding Cakes
No matter what you choose to ice your cake with—meringue, buttercream or fondant—there's no rule that the finishing coat needs to be perfectly smooth. These stunners are a study in making the most of texture.
40. Ocean Waves
Inspired by textures seen at sea, the buttercream on the cake for this beach wedding was dramatically textured before getting treated with gold leafing.
41. Wreath
A peony and leaf wreath wasn't the only decoration on this classic wedding cake that imparted texture. A preppy gold quatrefoil pattern along the bottom tier added another layer of eye-catching texture.
42. Beautiful Beige
Beige and white were mixed together to create a spackled look on this small cake.
43. Statement Tier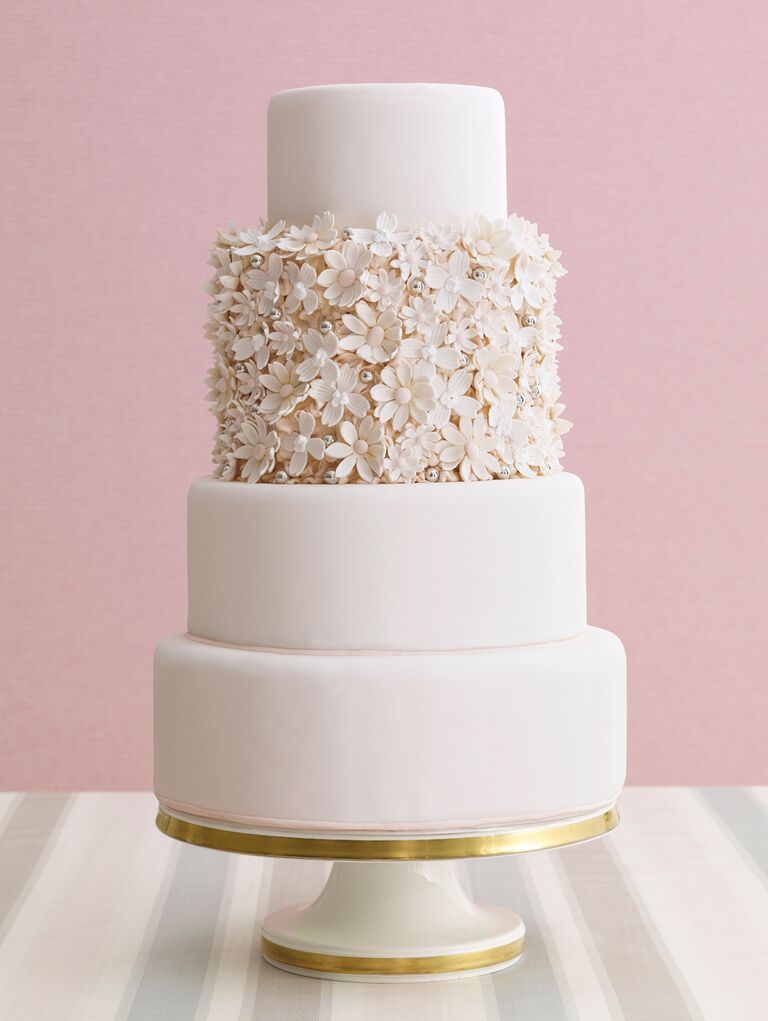 You don't need texture across your entire wedding cake in order to make a statement, as this white wedding cake proves. Three-dimensional flower details made this otherwise smooth cake pop.
Painted Wedding Cakes
Another option for surface design is painting. Consider asking your cakery to incorporate a motif or monogram that you introduced in your wedding invitations to reinforce the theme of the wedding.
44. Watercolor Flowers
The watercolor-inspired flowers painted on this cake, which featured both round and hexagonal tiers, effortlessly mirrored the fresh blooms to create a cohesive garden-centric design.
45. Accent Tier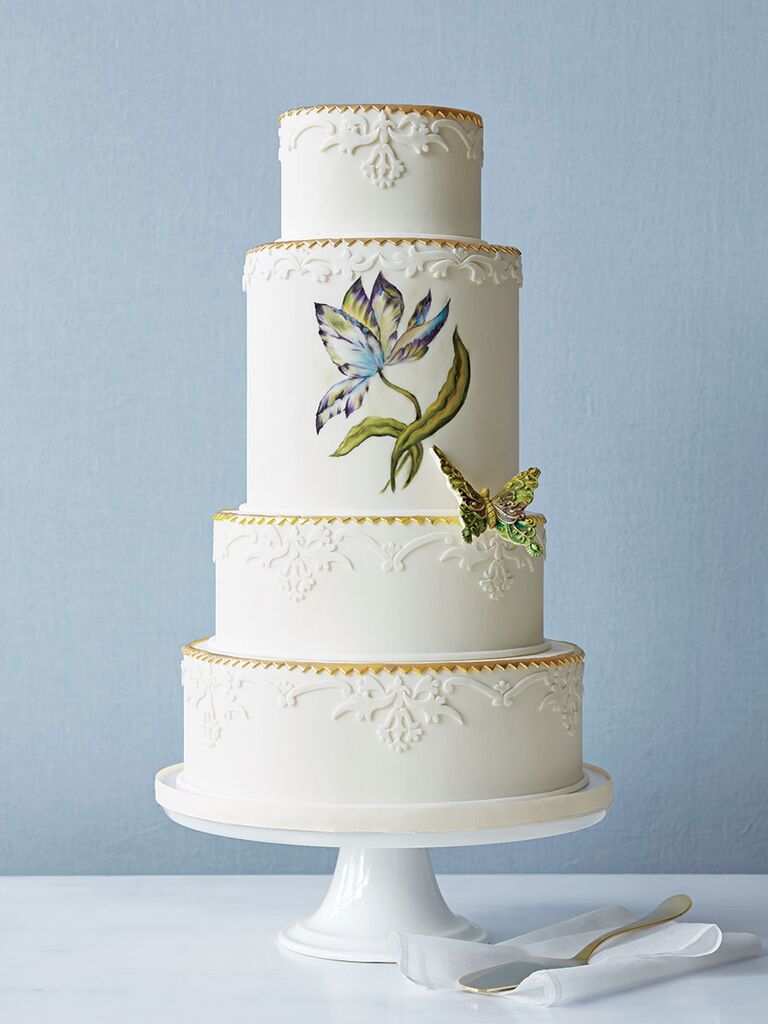 A painted flower highlighted this cake's accent tier while gold edge painting brought the whole cake together.
46. Contemporary Blooms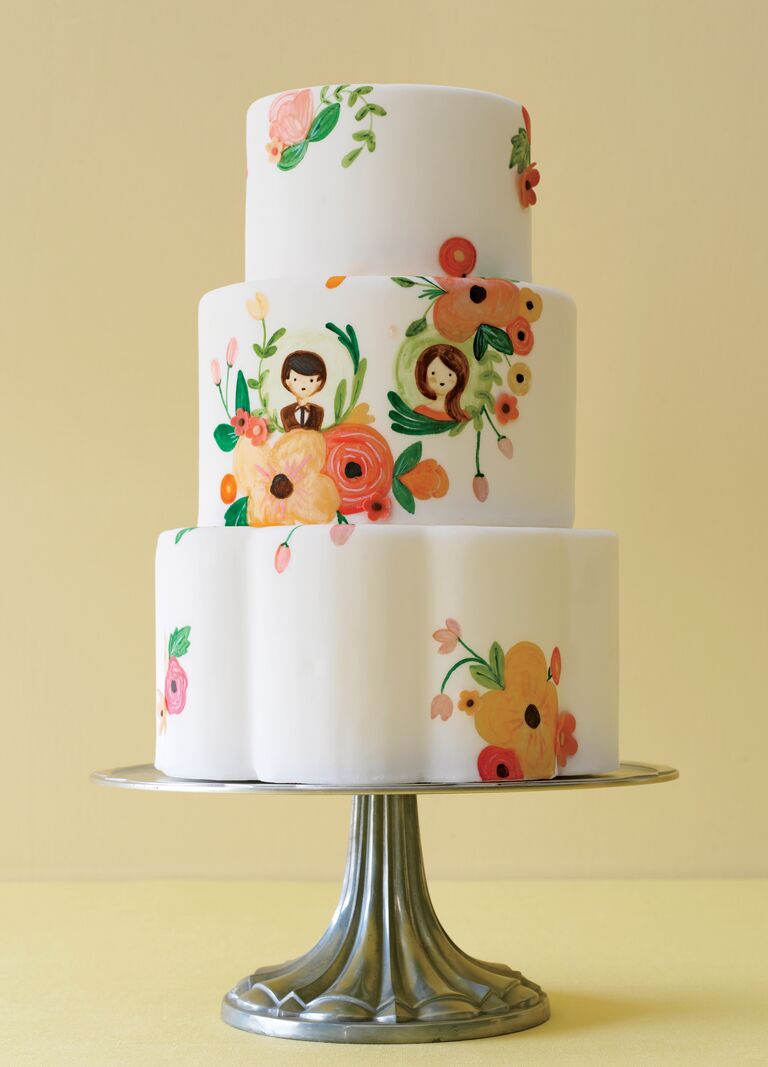 Treat your cake like a canvas and carry a design introduced in your invitation suite over into your dessert design. Inspired by Rifle Paper Company's iconic botanical prints, this cake showcased portraits of the couple. As a bonus, the bottom tier was scalloped, adding extra whimsy to the confection.
Glamorous Wedding Cakes
If you want to go all out on your wedding cake, do it. Don't stop at two or three tiers, make it a whopping seven or ten! And if you somehow end up having cake leftover after the wedding, MacIsaac assures us that cake is totally acceptable to enjoy for breakfast. "While we don't recommend over-ordering cake because that's just wasteful, we have had many couples tell us cake for breakfast the day after the wedding was one of the best and most memorable moments. Be sure to ask your planner or caterer to box you up a few slices to take with you (or have them delivered to your room if possible). You'll thank us later!"
47. Gilded Glam
Few things feel more luxurious than orchids. Add in a healthy dose of gold and you've got a totally glam cake, perfect for an over-the-top ballroom wedding reception.
48. Floral Base
While the gold flowers expertly painted on each tier of this classic wedding cake exude romance, we love the ingenuity displayed by using flowers to create a showstopping cake plateau to anchor the dessert.
49. White Wonder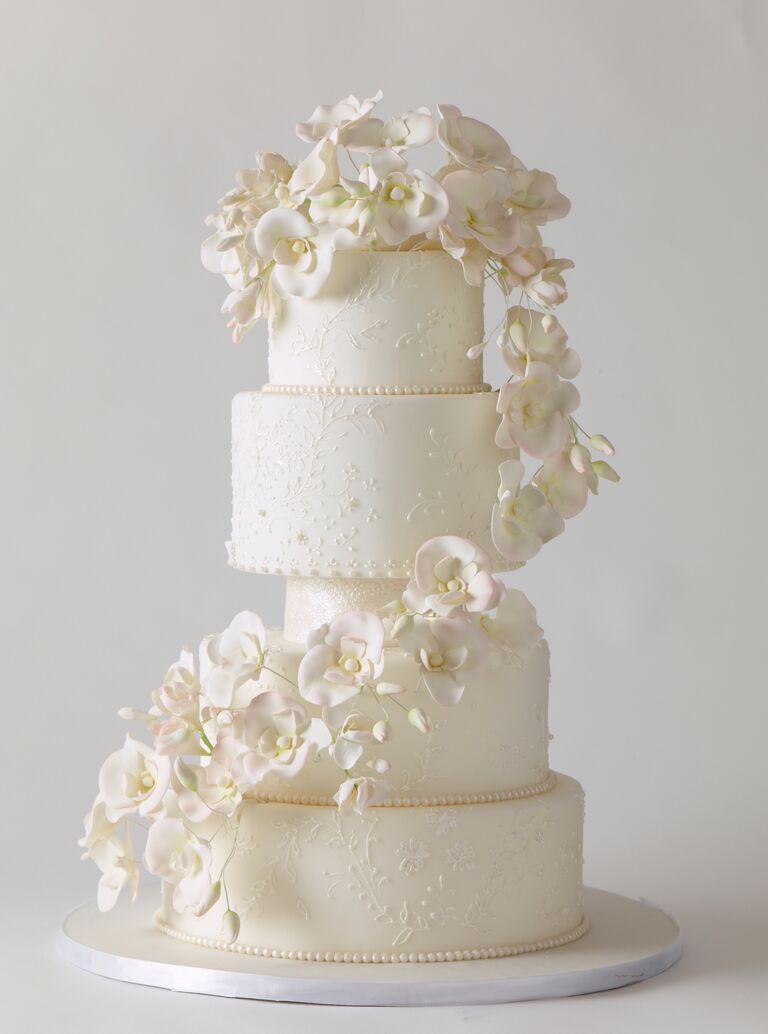 Realistic sugar orchid blooms brought dimension to this all-white cake. Elegantly piped details on each tier mirror the flower-forward design.
50. More is More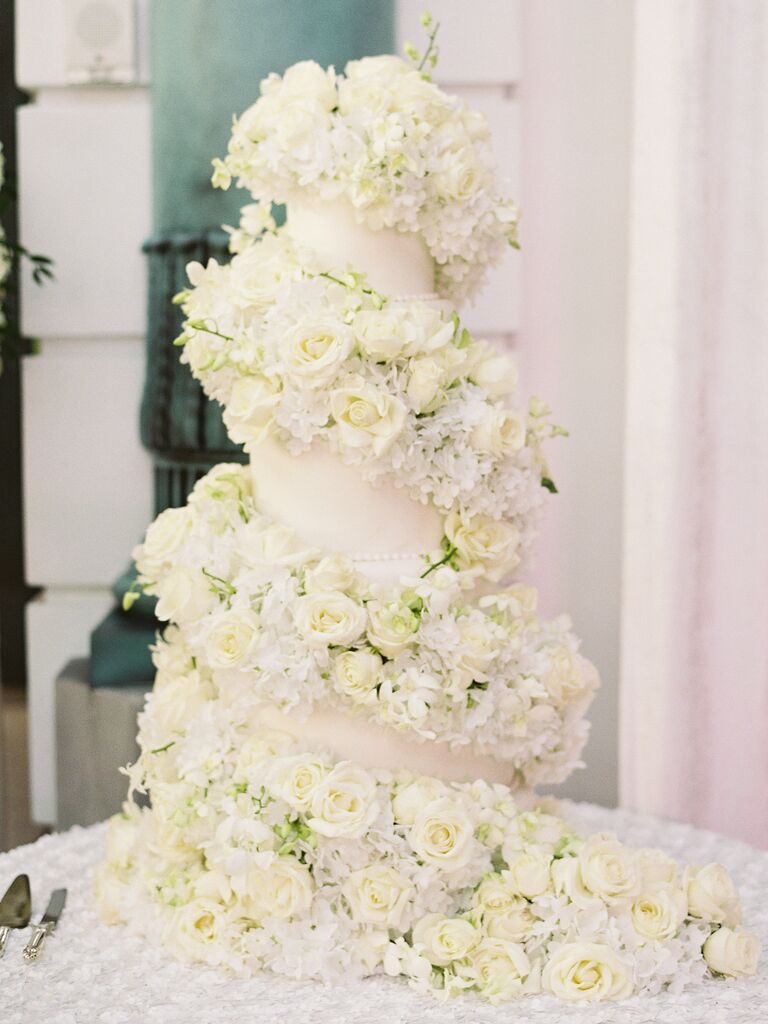 For this sophisticated white wedding cake, there was no such thing as too many flowers. A plethora of white roses and hydrangea blooms cascading in a spiral down this towering confection.
51. Towering Tiers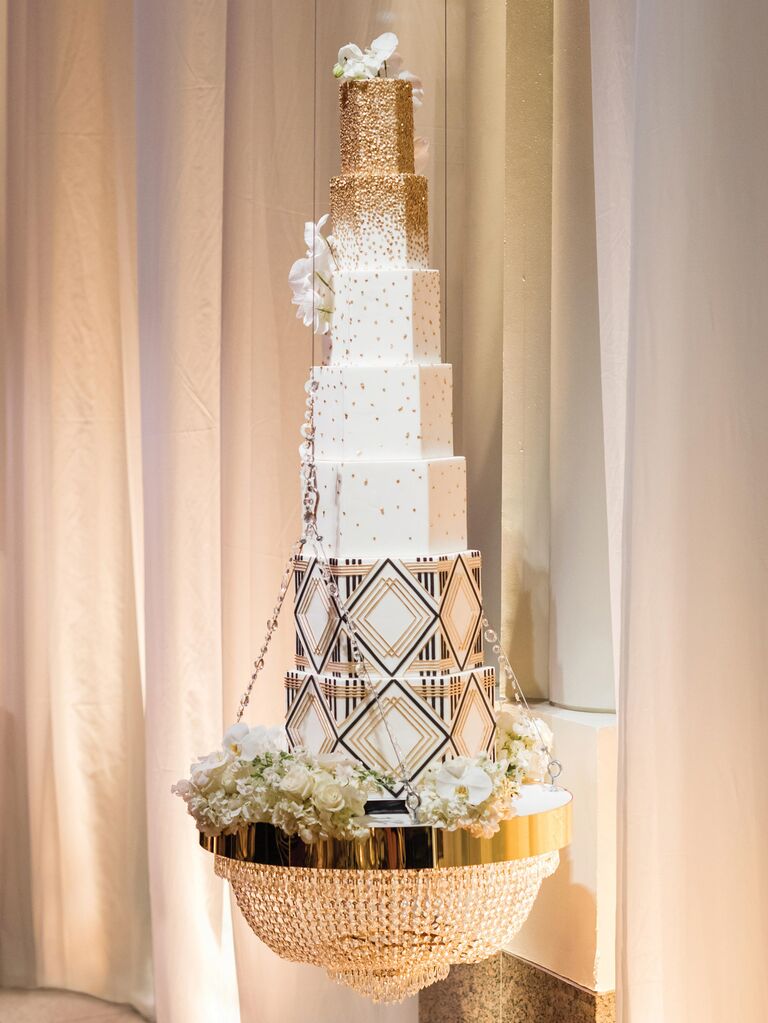 This is not the type of cake to attempt to DIY. A colossal seven tiers made up this glamorous white-and-gold wedding cake. To add extra height to the art deco display, the entire dessert was suspended in the air on a swing made to resemble a glistening chandelier.
Wedding Cake Groupings
If you can't decide on one cake or a single flavor, you love, include all of them. Whether you have each tier of a cake flavored separately, or you serve a trio of unique, but complementary, cakes, guests will love to variety. "It's your day but remember that your guests are there to enjoy alongside you. Be sure to keep offerings diverse so everyone finds something they love," suggests MacIsaac. Clark agrees: "Often a wedding cake can be made with different flavors for each tier. This is a great way to compromise on the flavor preferences of your mother-in-law and other family members, while also including a flavor or two that you and your partner really adore."
52. Pressed Flowers
This duo of cakes felt cohesive, while each bake also had a distinct beauty all its own. While one cake featured pressed wildflowers, the other made use of fresh blooms and drips of caramel.
53. Trio
Don't fret if mom wants a chocolate cake, you want French vanilla and your partner wants Key Lime. Not only is this trio of wedding cakes stunning, but it has the added bonus of providing more flavor options to ensure all parties are satisfied.
Wedding Cake Alternatives
A wedding cake doesn't have to be a strict and traditional two-tier affair made from baked sponge. For a wedding cake alternative, consider honoring your heritage with a French-inspired Croquembouche or madeleine display. Cheese lovers, stacker wheels of your favorite cheese are a great way to end the wedding if you don't have a sweet tooth.
54. Cheesy Wheels
Cheesemongers, this one is for you. A tower of layered cheese wheels, decorated with fresh grapes and figs, is perfect for those who want to serve a savory treat to cap off their wedding reception.
55. Parisian
Buttery Madeleine cookies were layered together to create a cake-like treat tower at this French-inspired wedding.
56. Scandinavian Sweets
Your dessert of choice is a great spot to use your menu as a homage to your heritage. A traditional Norwegian Kransekake decked out with flags took the place of a tiered cake at this wedding.
57. Macarons
A tower of macarons brought ample French elegance to this alternative wedding cake option.
Dramatic Cake Displays
"The most important question I ask is how my clients want to feel at their wedding. How would they want their guests to describe the wedding? This usually slows them down a bit and often a story will emerge that gives me a little insight or a symbol that I might suggest we celebrate in the cake design. Once I have a sense of what's important to them about the event or their relationship, then we go through my portfolio so I can get a handle on their aesthetic." says Jasmine de Lung of the cake design process. As you connect with your cake baker, think holistically about the vibe you want to create. Beyond just the cake, the manner in which you display the wedding cake will add to the overall aesthetics you're able to achieve.
58. Boho
This modern-meet-boho cake not only included terracotta-colored decorations, the whole dessert table backdrop matched the bake's color scheme. By reinforcing the use of a handful of colors, the couple pulled off a more visually impactful display than the cake alone would have achieved.
59. Artful Arch
An arched backdrop made sure this mint-hued cake was the star of the show. A cascade of orchids and ferns further added to the cake's dramatic look.
60. Rustic Wedding Cake
The wood table under this four-tier semi-naked cake feels decidedly rustic, but the addition of taper candles brings a thread of sophistication and romance to the cake table display.