Why Grace Kelly-Inspired Wedding Dresses Are Trending Right Now
Plus, exactly how to recreate this celeb-approved aesthetic on your big day.
We have included third party products to help you navigate and enjoy life's biggest moments. Purchases made through links on this page may earn us a commission.
If you've spent any time on social media over the past few months, you might have noticed that regal wedding dresses are having a moment. The ornate aesthetic has certainly been a celebrity favorite—recent A-list brides like Paris Hilton, Lily Collins, Jasmine Tookes and Kitty Spencer have all donned ultra-regal outfits that evoke a modern, Grace Kelly-inspired feel. Plus, thanks to shows like Bridgerton and TikTok's regencycore trend, there's no denying that modern regency has taken over the wedding industry at large.
Considering the fact that wedding dress trends come and go, it's quite impressive for one bride's look to continue to be emulated today. So, why is Grace Kelly's wedding dress one that's proven to withstand time? And why are regal wedding dresses having a moment right now, in 2022? To find out, we tapped three industry experts to spill the secrets about why regal wedding dresses are trending. And for those that can't get enough of this maximal elegant style, they also share how you can channel ultra-royal vibes on your own wedding day.
Why Regal Wedding Dresses are Trending Now
If you were to browse through Bridal Fashion Week trend reports, you'd certainly notice a few themes—the '90s, for example, are back in the form of slip dresses, puff sleeves and halter necklines. But one of the biggest motifs across designers is a modern regal aesthetic (think: square necklines, long sleeves, ornate lace textiles, intricate embellishments, and romantic floral patterns).
Interestingly enough, the reason behind the regency resurgence is most likely an effect of the pandemic. "After the impacts of the past two years, I predict we'll see brides take a super-celebratory approach to their weddings, including embracing a more ornate, grand wedding look," explains Heather McReynolds, VP, GMM Bridal and Dresses at David's Bridal.
This trend forecast is echoed by Kennedy Bingham, bridal stylist and content creator behind the popular TikTok account GownEyedGirl. "More brides want to feel really elegant on their wedding day, and I do think being at home and not being able to go to big events has played a part in it," she tells us.
Of course, it's not hard to see why this aesthetic is favored by celebs. Bingham notes that stars like Paris Hilton and Lily Collins have been in the entertainment industry since they were young; As a result, they've worn plenty of lavish dresses over the years, and it only made sense for their wedding dresses to juxtapose some of their flashier red carpet looks. "Their wedding dresses show a more mature, regal part of themselves," she explains.
Given this context, it's fair to assume the same may be true of Jasmine Tookes, a former Victoria's Secret Angel and Kitty Spencer, a member of the British royal family (and Princess Diana's niece).
But for to-be-weds across the world—who haven't walked red carpets and aren't descendants of a royal family—a regal wedding dress lends itself to a moment that feels iconic for their own nuptials, according to husband-and-wife duo Sohil and Nayha Mistry, founders of Enaura Bridal. "Coming out of the pandemic, couples have patiently waited for their big day," they reflect. "Now more than ever, the dress is one of the main focuses of the wedding, so brides are looking to emulate a luxurious and timeless look."
Inside Grace Kelly's Timeless Look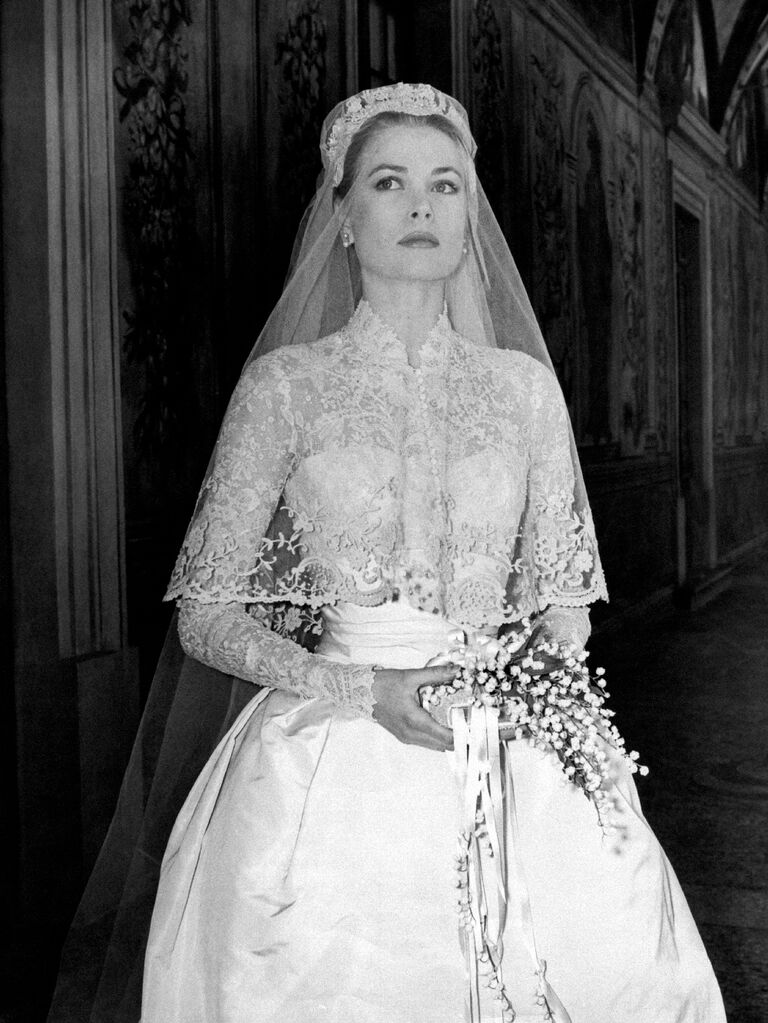 There have been plenty of iconic brides over the years, from Princess Diana to Carolyn Bessette Kennedy, and even Meghan Markle and Ariana Grande in modern times. So, why has Grace Kelly's wedding dress served as a consistent source of inspo for celebs and brides today? According to the Mistrys, it's all about the feelings of royalty and extravagance that emanate from her ensemble. "Grace Kelly's look traces back to the royal monarchy as she was marrying the Prince of Monaco," they explain. "Through tradition, we have seen royal garments become synonymous with modesty—and modesty itself is timeless. Conservative components like long sleeves, high necklines, lace and beaded embellishments are worn by brides associated with royal weddings around the world. By emulating this look, people can have the opportunity to feel and look like royalty on their big day."
Plus, because Kelly's dress is so widely accepted as one of the most memorable of all time, it serves as the blueprint for what classic "bridal style" looks like. "When you think of a wedding dress, Grace Kelly's look is often what you imagine: long sleeves, an A-line skirt, and a creamy-white color," Bingham says. "A lot of celebrities—especially celebrity women—really like the idea of their style also living as long as Grace Kelly's style has. They just want to be remembered for having a lasting impact."
How to Find a Regal Wedding Dress for Your Big Day
While regal wedding dresses are having a moment of popularity, that's not to say other styles aren't "in" also. In fact, bridal experts everywhere agree that trends are cyclical. "As is the nature of fashion, there are certainly bridal trends that come and go," Reynolds says. "We will always see a multitude of aesthetics and trends at any given time in bridal fashion because of the diversity of brides and their own, unique vision for their wedding day."
Determining your wedding dress aesthetic is a major part of the planning process, and it will undeniably set the tone for what your big day looks and feels like. So, if the regal aura of Grace Kelly's wedding dress feels right for you, there are a few ways to emulate her look.
"Two key elements define the timelessness of Grace Kelly's wedding design," Reynolds says. "First, the lace illusion provides a lovely sheerness when juxtaposed with the modest high neckline and long sleeves. The gown also mixes two classic bridal fabrics—lace and faille—which provides a lovely contrast in textures that we still see in wedding gown designs today."
If you want to recreate Kelly's look in a literal sense, look for wedding dresses that have long lace sleeves, a high neckline (perhaps with a ruffle), and sheer fabric either on the sleeves or the bodice. Of course, you also can't go wrong with a full A-line skirt that's cinched at the waist.
The Mistrys note that attention to detail is another key factor necessary for any regal wedding dress. "The regal aesthetic can come from rich fabrics, artisan craftsmanship, detailed drapery and construction," they explain, adding that even slight upgrades can modernize Kelly's look for 2022 standards. "Try incorporating sheerness, like with an unlined corset, body contouring, draping, and color."
For regal wedding gown inspiration, check out our roundups of Bridgerton-inspired dresses and timeless wedding dresses to get started. Or, browse through our Bridal Fashion Week galleries to find designers that match your ideal aesthetic.
But, believe it or not, the best way to create a regal wedding look isn't necessarily by replicating Grace Kelly's cumberbund, long lace sleeves, or full skirt. According to Bingham, it's all about the way you carry yourself on your wedding day. "The one thing about Grace Kelly's wedding look that people might not pick up on is that she stands up very straight and has a regal air to her," she shares. "Any dress that forces you to do that, whether it has boning or a corset that makes you put your shoulders back, will provide a regal aesthetic."