52 Bachelorette Party Songs That'll Make Your Weekend Unforgettable
Grab the aux and get ready to party.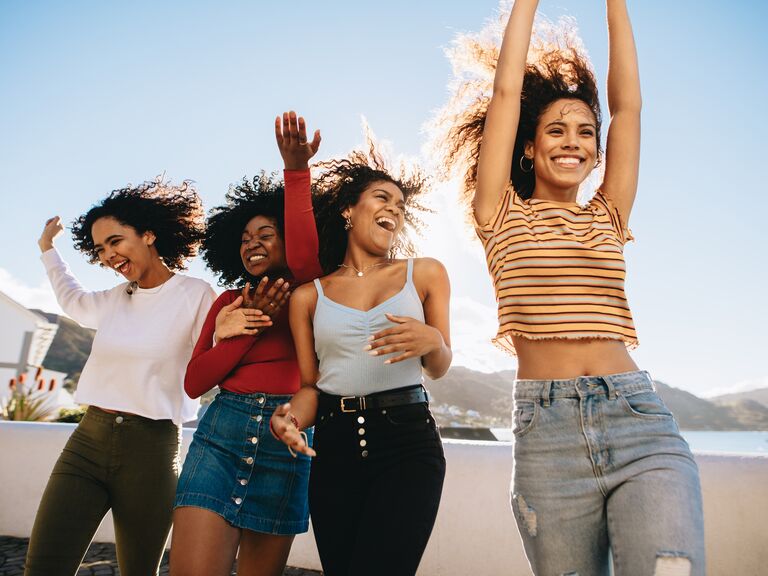 Jacob Lund/Shutterstock.com
Planning a bachelorette party weekend? After booking your Airbnb and eventually stocking up on decorations, you'll want to craft the perfect playlist of bachelorette party songs. After all, music plays an important role in all your wedding celebrations, bach party included. Whether your bash will take place in Chicago, Dallas or somewhere international, these songs will set the scene for any type of bach party.
If you and the group will be lounging by the pool, staying up late or getting ready for a night out, these bachelorette party song ideas will complement any activity. To take it to the next level, consider customizing your playlist to match your party theme to wow your squad. From country chart-toppers to nostalgic hits, these top bachelorette party songs will keep the energy high all weekend long. Browse to see our favorite bachelorette party songs here, then get started on making your own playlist.
In this article:
Top Bachelorette Party Songs
Peruse this section for the songs that never seem to get old and keep the energy high for daylong festivities. These gems are perfect for singing and dancing throughout bachelorette weekend activities, for the top party songs every celebration needs.
Editor's Pick: "Let's Get Loud," Jennifer Lopez. The late '90s hit has the perfect bass line to get everyone on their feet.
"Wannabe," Spice Girls
"We Are Family," Sister Sledge
"Spice Up Your Life," Spice Girls
"Run the World (Girls)," Beyoncé
"Jumpin', Jumpin'," Destiny's Child
"Man! I Feel Like a Woman," Shania Twain
"Single Ladies (Put a Ring On it)," Beyoncé
"Girls Just Wanna Have Fun," Cyndi Lauper
"Just Dance," Lady Gaga and Colby O'Donis
"***Flawless," Beyoncé and Chimamanda Ngozi Adichie
"Lady Marmalade," Christina Aguilera, Lil' Kim, Mya and P!nk
"A Little Party Never Killed Nobody (All We Got)," Fergie, GoonRock and Q-Tip
Country Bachelorette Party Songs
If you and your besties appreciate a little Dolly, country music is a fun addition to any bachelorette party playlist. Wherever your celebrations occur, these songs are perfect for both the high energy and chill moments throughout the weekend.
Editor's Pick: "That Don't Impress Me Much," Shania Twain. The crowd favorite is fun and dance-worthy, which makes it perfect for everyone.
"9 to 5," Dolly Parton
"This Kiss," Faith Hill
"One Shot," Hunter Hayes
"Snapback," Old Dominion
"She's Country," Jason Aldean
"80s Mercedes," Maren Morris
"Country Gold," Thomas Rhett
"High Horse," Kacey Musgraves
"Here for the Party," Gretchen Wilson
"Single Saturday Night," Cole Swindell
"These Are My People," Rodney Atkins
"Country Girl (Shake it For Me)," Luke Bryan
Karaoke Bachelorette Party Songs
You know all the words to these jams, and they seem to get better every time you listen to them (especially the throwbacks). Grab a mic (or a hairbrush) and belt these karaoke bachelorette party songs all night long.
Editor's Pick: "Glamorous," Fergie and Ludacris. This song describes the glamorous weekend ahead, so get ready to spell out "glamorous" and live your best life with your squad.
"No Scrubs," TLC
"Truth Hurts," Lizzo
"Push It," Salt-N-Pepa
"Dancing Queen," ABBA
"Shake It Off," Taylor Swift
"Get the Party Started," P!nk
"Hollaback Girl," Gwen Stefani
"Umbrella," Rihanna and Jay Z
"I Gotta Feeling," Black Eyed Peas
"Crazy in Love," Beyoncé and Jay Z
"Genie in a Bottle," Christina Aguilera
"I Love It," Icona Pop and Charli XCX
Pop/Hip-Hop Bachelorette Party Songs
They've made their appearance on the radio, and they're just too good to ignore while crafting your bachelorette party playlist. These songs will keep the energy levels high; Plus, they're easy dance party starters.
Editor's Pick: "Savage Remix," Megan Thee Stallion and Beyoncé. This number one hit on the Billboard Hot 100 is an upbeat treasure. Bonus points if your pals can show off their TikTok dance moves.
"Good as Hell," Lizzo
"Fantasy," Mariah Carey
"Whip My Hair," WILLOW
"Don't Start Now," Dua Lipa
"Pretty Girl Rock," Keri Hilson
"Sorry Not Sorry," Demi Lovato
"Me & My Girls," Selena Gomez
"Watermelon Sugar," Harry Styles
"Worth It," Fifth Harmony and Kid Ink
"Last Friday Night (T.G.I.F.)," Katy Perry
"The Other Side," SZA and Justin Timberlake
"Bang Bang," Ariana Grande, Jessie J and Nicki Minaj