How to Throw a Joint Bachelor and Bachelorette Party
Sometimes, a co-ed bash is the perfect solution.
by Joyce Chen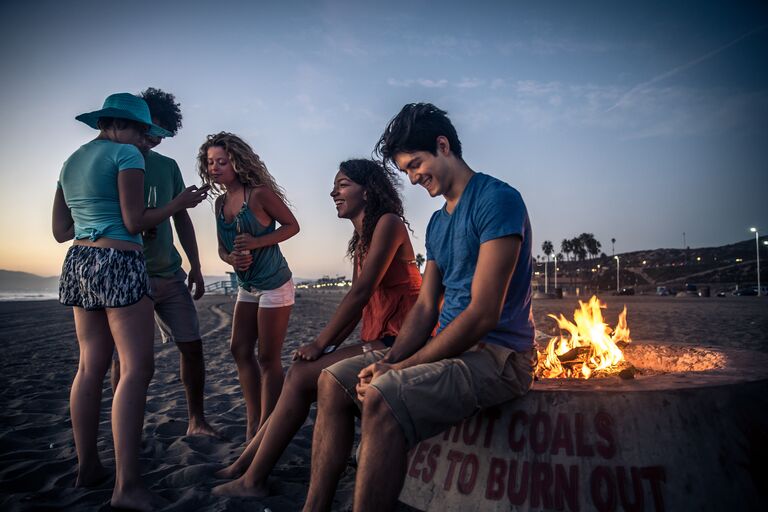 There's nothing quite like a celebration with your closest friends before you take the next big leap into marriage. Whether it be an over-the-top destination celebration (think: Vegas, Austin or NYC), a low-key spa day, a slumber party, or even a big night out in town, the key to any great bachelor or bachelorette party is personalization. And if you're considering a nontraditional soirée or simply can't stand to exclude anyone, why not throw a co-ed bash? That way, you and your soon-to-be-betrothed can maximize time spent with your closest friends without worrying about subscribing to any traditions that don't feel totally you.
And if you and your partner share close friends, it makes perfect sense to bring everyone together. Plus, your event will feel less like a farewell to freedom and more like a joyful welcome to your upcoming union. Here's a few fun ideas for a joint bachelor and bachelorette party, and everything you need to consider while planning the best co-ed fling ever.
Have a Little Friendly Competition
Part of the fun of having everyone involved in a joint bachelor and bachelorette party is that you can choose activities and themes for the party that involve a little friendly competition. If your crewis on the more athletic side, consider something along the lines of flag football, capture the flag, or even dodgeball, depending on what spaces are available to you. Rent out a local field or gym space to make sure that you've got the place all to yourselves, then get creative with team names, colors and shirts or jerseys. The losing team can pick up the tab at a local brewery or bar for an extra incentive.
If your friends are a little more on the sports-on-TV-only side, there are tons of alternatives, including putt-putt golf, a scavenger hunt around town, or even taking a class together, with the bride and groom (or a neutral third party—say, the instructor?) picking the "winning" team (think: boozy art classes, cooking classes and more). The most fun competitions, of course, are ones that engage everyone, so nothing should be too high-stakes, labor intensive, or physically taxing. You want to make sure everyone's feeling great at the end of it all, not depleted and bitter.
Throw the Ultimate Sleepover at Adult Summer Camp
Ah, summer camp. Though most of us are far removed from the days of learning how to make fires and tie knots in the woods, that doesn't mean we're over the joys of a roaring bonfire or fun outdoor activities like archery, rowing or zip-lining that make sleepaway camps so great. (And don't forget s'mores). What better way, then, to say goodbye to the single life and hello to true adulthood than with a weekend getaway with all of your combined friends and loved ones? Camp No Counselors, which boasts locations all throughout the country, is a great way to combine the fun camp activities of your youth with the more adult booze-y filled activities of your later youth. For those looking for more of a detox retreat, Camp Grounded offers nostalgic camp activities like arts and crafts, star-gazing, sing-alongs and more—without any technology or alcohol on-site. And for those with specific interests looking to get out into the wilderness, there are programs ranging from Adult Space Academy to Yoga Camp to Grilling Camp to yes, even Band Camp.
Since co-ed bachelor and bachelorette parties aren't exactly the norm, make sure to specify on the invitation that the weekend getaway will be just that to avoid any awkward situations. Some people find it more difficult to relax and let loose around the opposite sex (like guests who are in relationships whose significant others aren't there), and you obviously don't want anyone to feel uncomfortable or stiff at the party. To ensure that no one's thrown for a loop when they show up, make it clear on the invitations that both men and women are included.
Hop on a Party Bus for a Co-Ed Road Trip
Nothing bonds a group of relative strangers (or estranged friends) together quite like traveling on the road. A fun way to get everyone in the same space and making memories is to rent out a party bus (or shuttle, depending on the size of your combined group) for a road trip somewhere great, be it Las Vegas or a wine trail. Being in transit together means several things: first, that no one has to act as DD for the trip, which is a huge pressure off everyone's shoulders (not to mention, the safer option); everyone can mix and mingle and get to know one another on the way to an ultimate destination; and you can be sure that everyone on the streets and the road around you know that your crew knows how to travel in style.
Ultimately, this is a chance to bring your best friends together for an amazing time. Besides your wedding, when else will you get to celebrate with all your favorite people in one place—and more specifically, in one vehicle? Since it's also likely that your bach guests are also members of your bridal party, this is the perfect opportunity to let them bond in a relaxed environment. 
Pick a Festival, Any Festival
Some experiences are the most fun with larger groups, and a festival is definitely one of them. From cheaper shared accommodations to more partners to sing and dance with, the perks of attending a music festival as a big co-ed group are endless. Check your calendars to see what festival is the most timely for the bash, be it music-related with Coachella, Afropunk, Stagecoach or Lollapalooza—know your crew's musical tastes and plan accordingly. Is it a more mellow folk festival vibe that you're after or an all-night (or weekend) dance party that'll really help your friends gel? 
Other events or gatherings include Art Basel in Miami, Burning Man in the desert and Oktoberfest in Munich. Finally, consider not just your friends' various likes and dislikes, but also what their budget limitations might be in planning for a full-blown weekend. Will sharing costs for lodging or food be a way to help everyone save money while still having a blast? Make sure to take into account the wide range of tastes and budgets when planning your music festival weekend; the extra effort will go a long way to create a great experience for the whole crew.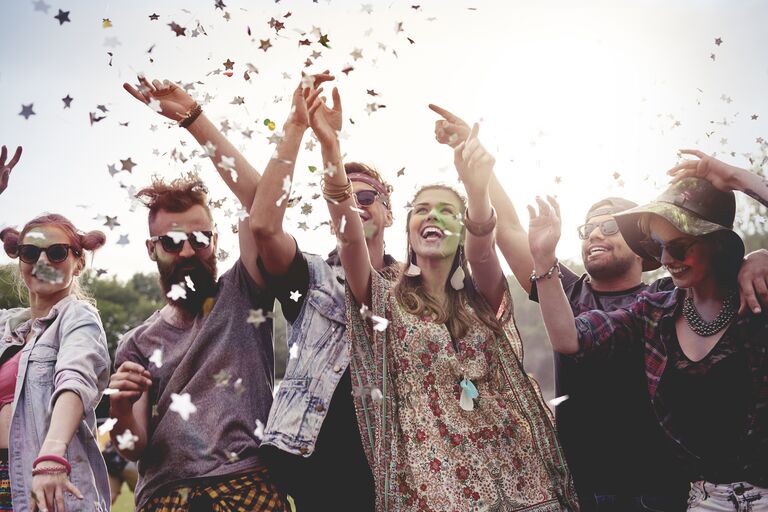 Make It a Competitive Game Night
Maybe getting crazy at the club isn't exactly the vibe you or your partner are hoping for with your joint bachelor/bachelorette party, in which case, great! There are lots of activities that don't necessitate exorbitant amounts of money or all-night festivities to be fun. Case in point: the pre-wedding family game night, which can range from the more classic board games like Clue or Monopoly to more involved games like Risk or Catan. Naughtier card games like Cards Against Humanity or more brainy ones like Trivial Pursuit are also fun options that are sure to get the whole crew excited and engaged. Create a personalized playlist to set the mood, and whip up some themed snacks for a fun night in that's anything but dull.
Some will want to even try interactive experiences like Escape the Room in New York City. Upgrade the evening by renting out a hotel suite for a fancier sleepover vibe, or custom-create cocktails or appetizers with the bride and groom's favorite drinks and/or foods in mind. There's no limit to how personalized the evening can get!
Host a Themed Dinner Party—or Backyard Barbecue!
Sometimes, keeping things simple is the solution: If a lot of your friends happen to live nearby (or even if they don't), one great way to get everyone together in a relaxed environment is to host a joint bachelor/bachelorette-themed dinner party, with either a hired chef for the evening or (if either the bride or groom is a self-professed foodie) some goodies prepared by the couple themselves. Another fun alternative is to have different small groups within the gathered guests create different courses of the meal: high school friends on appetizer duty, childhood friends on the main course, and college buddies tasked with dessert, for instance. Make it a fun experience by mixing and matching friends who might not know each other otherwise.
This also helps ensure that you're taking different dynamics and personalities into consideration so that everyone has more equal footing coming into the festivities; quieter guests will have just as much a chance to participate as their louder counterparts. Alternately, throwing a more casual backyard barbecue is a chance for folks from different parts of your lives to mix and mingle, while possibly playing yard games or taking turns at the grill.
Enjoy Separate Activities 
If you're on the fence about a fully integrated gathering, host a bachelor and bachelorette weekend that incorporates both separate and joint activities. The groups caneach do their own thingfor the first portion, then merge for a big party on Saturday night. For instance, if one party wanted to go camping and the others wanted to go fishing for the day, everyone can gather together for an elegant dinner at the end of the weekend. 
Or if everyone wanted to have their separate nights out, the group could come together for a brunch the next day and swap stories from the previous evening's escapades. Maybe one group can go on a hike while the other gets massages, and everyone reconvenes for a late lunch in the afternoon. There are countless combinations to make a half-and-half party work. Just know that there are ways to compromise on a joint bachelor/bachelorette bash that can still feel wholeheartedly true to your lives as a couple: great on your own, but just better together.