How to Throw an Unforgettable Joint Bach Party
There's a way you can celebrate with your entire wedding party and your future spouse.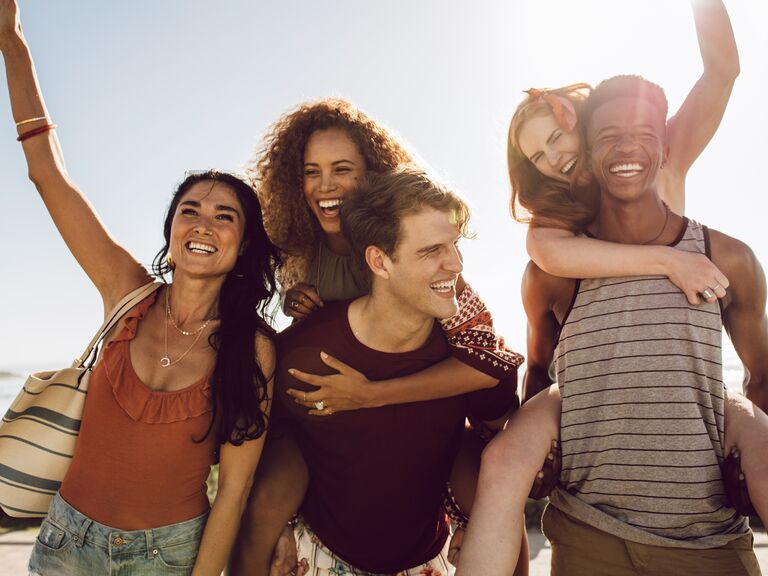 Jacob Lund/Shutterstock.com
Whether you opt for an over-the-top destination celebration (think: Las Vegas, Austin or Nashville) or a low-key, at-home event, the key to any bachelor, bachelorette or all-inclusive bach party is being with the people you love. If you're considering a nontraditional soirée or can't stand excluding anyone, throwing a joint bachelor/bachelorette party might be the best option for you. You and your soon-to-be spouse can maximize time spent with your friends without worrying about subscribing to any traditions that don't feel totally you. And if you and your partner share close friends, it makes perfect sense to bring everyone together. Learn everything you need to consider while planning the best fling ever and check out a list of our favorite fun ideas for a combined bachelor/bachelorette party.
In this article:
What is a Joint Bachelor/Bachelorette Party?
A joint bachelor/bachelorette party is an event involving a couple's entire wedding party where both of the to-be-weds are celebrated together instead of individually. This event is closely related to a bachelorx party, which is an all-gender event that takes away any male or female connotation—making it more inclusive of queer or non-binary people.
Why You Should Consider Combining Bach Celebrations
Of course, having a separate bach party for each to-be-wed is fun, but having a coed bach party comes with a lot of benefits. Here are a couple of reasons why some couples are opting for a combined bachelor and bachelorette party.
You and your partner get to spend more time together.
There's no need for tearful goodbyes when you have a combined bach party. You and your future spouse can spend more time with one another leading up to the event and during it. This bach party allows you and your partner to stay in pre-marital bliss together. What makes these types of parties different is that you, your partner and your wedding party can have fun planning the coed bachelor/bachelorette party together.
The wedding party members can get closer.
If your wedding party is comprised of your and your partner's mutual friends, then having a joint bach party is the perfect idea for you. This way none of your mutual friends feel like they are missing out on celebrating the happy couple. If you and your significant other don't share any mutual friends, a coed celebration gives your wedding party the chance to mingle and create new friendships. By the time it's your wedding day, your guests will think that your wedding party members have known each other all their lives.
It saves everyone money.
By combining your and your partner's activities, you and your wedding party will save a decent amount of money. Hotel room blocks, ground transportation (because one party bus is cheaper than two) and group rate offerings (for restaurants, flights, amusement parks and much more) are just some of the ways you and your crew can cut down on costs. This doesn't mean you have to plan your coed bach weekend based on what place has the best group rates, but it's something to consider if you would like to have more spending money for your wedding, honeymoon or other future expenses.
Remember: Just because your coed bach party may be more casual than your wedding doesn't mean you and your partner don't have to discuss your combined guest list and determine your budget together as a team.
Coed Bachelor/Bachelorette Party Invitation Wording
The invites for a combined bachelor/bachelorette party might be a little different from the usual ones you see. After all, the party is being thrown for the couple instead of one person. These creative phrases work for any kind of combined event—whether that's a coed bachelor/bachelorette party, a bachelorx party, a joint bachelor party or a joint bachelorette party.
Bach & Boozy. You're invited to [name] and [name]'s joint bach party! We can't wait to celebrate with you.

You're invited to a bach bash in celebration of [name] and [name]. We hope to see you there!

The more, the merrier! Please join us for a joint bash party celebrating [name] and [name].

The one where we party with all of our FRIENDS. We hope to see you at [name] and [name]'s joint bach party!

Good friends don't let you do stupid things... alone. Come help [name] and [name] celebrate their nuptials in style!

Squad up! [Insert party details]. See you there.

Life is better with your besties...which is why we're having a joint bach party! We hope to see you there.

Wine tastes better when paired with friends. Join us for a joint bach party to celebrate the marriage of [name] and [name].

Two to-be-weds are better than one! Join us in honoring [name] and [name] to celebrate their nuptials.
Coed Bachelor/Bachelorette Party Ideas
If you're looking for bachelorette and bachelor party ideas, we've got you covered. From having a fun game night at home to taking a camping trip with your crew, here are nine activities to help get you inspired.
1. Host a themed dinner party or backyard barbecue.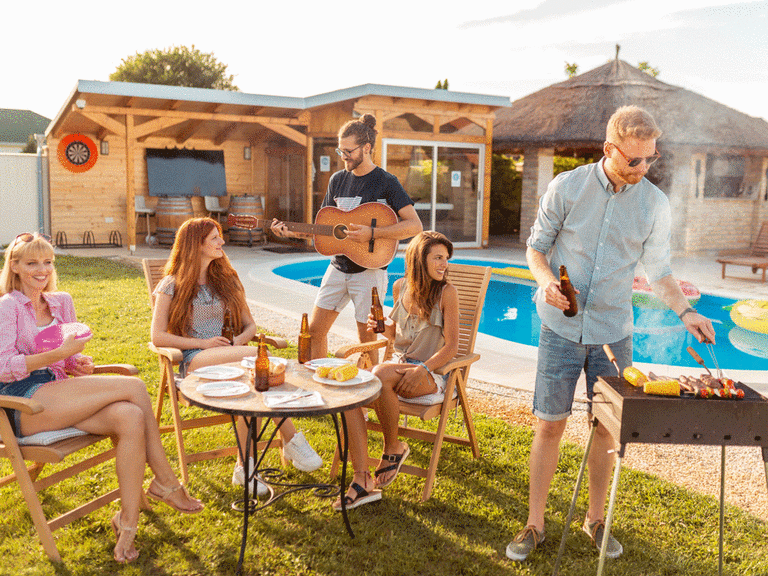 One great way to get everyone together in a relaxed environment is to host a joint bach themed dinner party. You can hire a personal chef for the evening or you and your partner can come with goodies already prepared. Another fun alternative is to assign small groups different courses to create. For instance, high school friends can be on appetizer duty, childhood friends cooking the main course and college buddies tasked with dessert. Or you could even make it a fun experience by mixing and matching friends so everyone can get to know each other.
This idea helps ensure that you're taking different dynamics and personalities into consideration so every guest has equal footing coming into the festivities; quieter guests will have just as much a chance to participate as their louder counterparts. Alternately, throwing a more casual backyard barbecue is a chance for folks from different parts of your lives to mix and mingle while playing yard games or taking turns at the grill.
2. Throw the ultimate sleepover at an adult summer camp.
What better way to say hello to adulthood than with a weekend camp getaway with all of your combined friends and loved ones? Camp No Counselors, with camps located in Los Angeles and New York, is a great way to combine fun camp activities of your youth, like archery and star-gazing, with more adult booze-filled activities. And for those with specific interests looking to get out into the wilderness, there are programs like Adult Space Academy that have interactive space missions, astronaut training and much more.
3. Hop on a party bus or boat.
A fun way to get everyone in the same space and making memories is to rent out a party bus (or shuttle, depending on the size of your combined group) for a day trip. The transportation itself can be the main activity or be your "bachmobile" to a brewery tour, tubing or even bar hopping. You can also rent a party boat for the same feel—just on the water. Being in transit together means several things: first, no one has to act as a destinated driver for the trip, which is a huge pressure off everyone's shoulders (not to mention, the safer option), everyone can get to know one another on the way to the destination and you can be sure that everyone on the streets (or water) around you knows that your crew travels in style. Besides your wedding, when else will you get to celebrate with all your favorite people in one place—and more specifically, in one vehicle? Ultimately, this is a chance to bring your best friends together for an amazing time.
4. Have a competitive game night.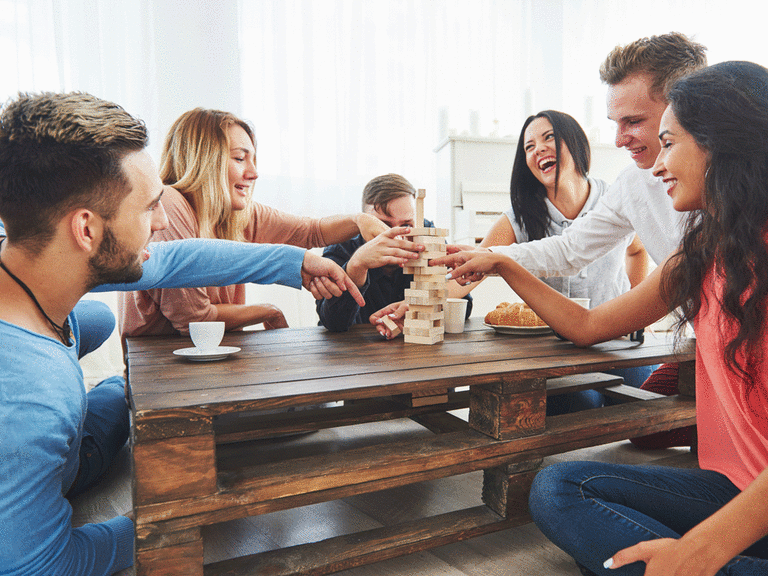 Maybe getting crazy at the club isn't exactly the vibe you or your partner are hoping for with your joint bach party. Luckily, there are lots of activities that don't require exorbitant amounts of money or all-night festivities to be fun. Case in point: The pre-wedding game night. Your game night can range from the more classic board games like Clue or Monopoly to more involved games like Risk or Catan. Naughtier card games like Cards Against Humanity or more brainy ones like Trivial Pursuit are also fun options that will surely get the whole crew excited and engaged. Create a playlist to set the mood, and whip up themed snacks for a fun night in that's anything but dull. Upgrade the evening by booking a hotel suite for a fancier sleepover vibe, or create custom cocktails and appetizers with the to-be-weds' favorite drinks and foods in mind. There's no limit to how personalized the evening can get!
5. Get down and dirty playing sports.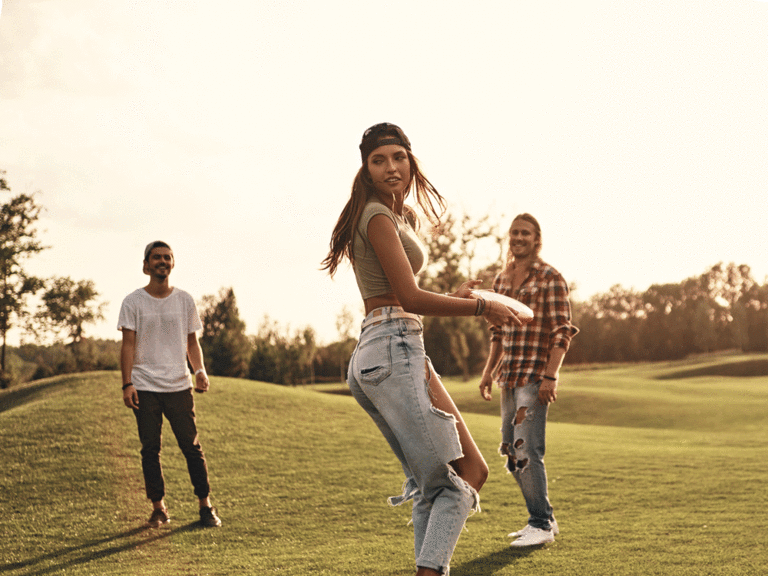 If your crew is on the athletic side, consider something along the lines of flag football, ultimate frisbee, or dodgeball as a coed bachelor and bachelorette party idea. Rent out a local field or gym space to ensure you have the place all to yourselves, then get creative with team names, colors and DIY shirts (if you're feeling crafty).
If you'd rather keep the physical exertion at a low, there are tons of alternatives, including putt-putt golf, a scavenger hunt or taking a cooking class together. The most fun competitions, of course, are ones that engage everyone, so nothing should be too high-stakes, labor-intensive, or physically taxing. You want to make sure everyone's feeling great at the end of the day, not depleted and bitter.
6. Attend a festival as a group.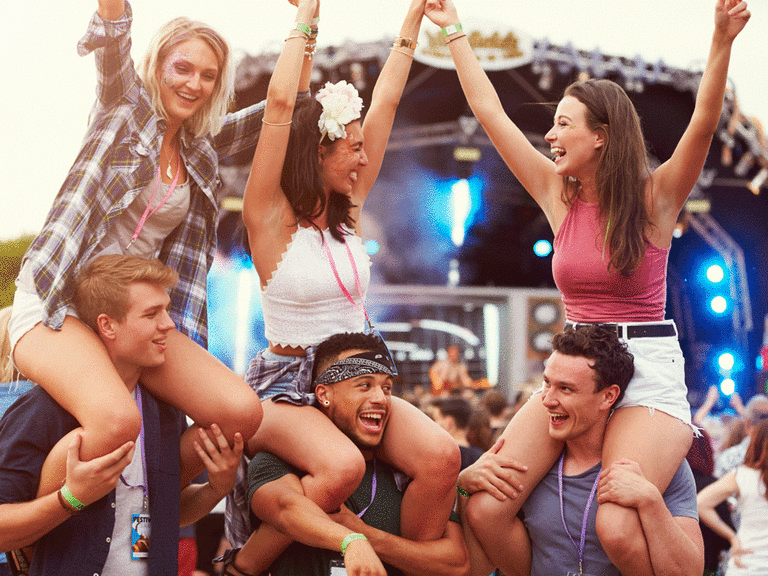 From cheaper shared accommodations to more partners to sing and dance with, the perks of attending a music festival as a big group are endless. Check your calendars to see what festival is the best time for the bash. No matter if it's Coachella, Afropunk, Stagecoach or Lollapalooza—know your crew's musical tastes and plan accordingly.
Other events or gatherings include Art Basel in Miami, Burning Man and Oktoberfest in Munich. Finally, consider not just your friends' various likes and dislikes but also what their budget limitations might be in planning for a full-blown weekend. Make sure to account for a wide range of tastes and budgets when planning your music festival weekend; the extra effort will go a long way to create a great experience for the whole crew.
7. Go to an amusement park.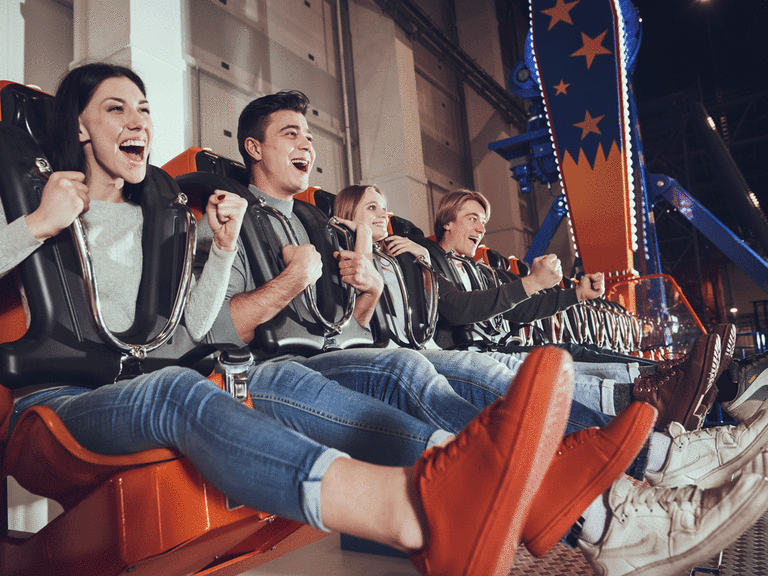 Get in touch with your inner child and adventurous side by going to an amusement park for the bachelor/bachelorette party. Theme parks, like Disney World, Six Flags and Universal Studios, have an abundance of rides, carnival games and tasty food for you to indulge in with your squad. You can make it into a road trip for a weekend-long affair or travel to your local amusement park and enjoy the day. You can try staying together as one big party or break into smaller groups so everyone can get a chance to experience every part of the park. The options are truly endless with this playful coed party idea.
8. Invite everyone to a group alcohol tasting.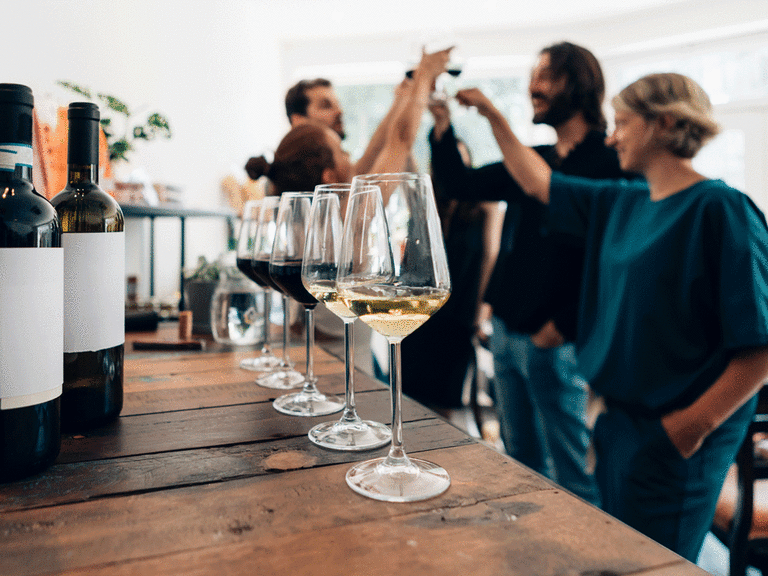 One of the best ways to cheers to marital bliss is by going to a group alcohol tasting for your combined bachelor/bachelorette party. Visit a winery, brewery or distillery (there are numerous whiskey, vodka and tequila distilleries around the nation). You and your group can go on a tour of the facilities, learn more about the product and, most importantly, taste your beverage of choice. Some tastings have a mixology component, which is perfect if you and your partner haven't finalized your signature cocktail. So, use the tasting as an opportunity to help you brainstorm what delicious drink you'll serve on your wedding day.
If you have non-drinkers in your group or you're a non-drinker yourself, tastings are still on the menu. Tastings for fresh oysters, ice cream, cheese and coffee are just a few of the non-alcoholic options out there. So, look up what local or travel-worthy places have a tasting event that will fit you and your wedding party. (Psst: There are non-alcoholic drink options you can include at your wedding too.)
9. Enjoy separate activities (and then come back together).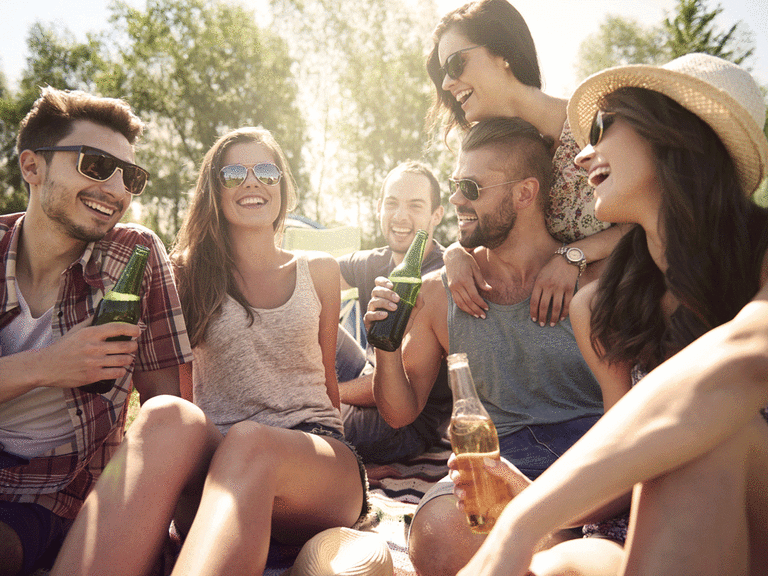 If you're on the fence about a fully integrated gathering, host a combined bach weekend that incorporates separate and joint activities. The groups can each do their own thing for the first portion, then merge for a big party on Saturday night. For instance, if one party wants to go hiking and the others want to go fishing for the day, everyone can gather together for an elegant dinner at the end of the weekend.
Or, if everyone wanted to have their separate nights out, the group could come together for brunch the next day and swap stories from the previous evening's escapades. There are countless combinations to make a half-and-half party work. Just know there are ways to compromise on a joint bachelor/bachelorette bash that can still feel wholeheartedly true to your lives as a couple: great on your own, but better together.