How to Throw a Joint Bach Party With Your S.O.
The more the merrier.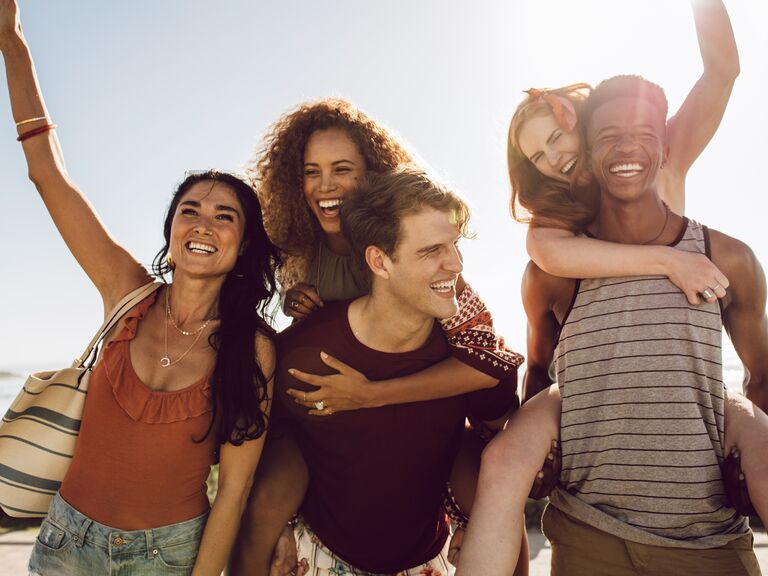 Jacob Lund/Shutterstock.com
We have included third party products to help you navigate and enjoy life's biggest moments. Purchases made through links on this page may earn us a commission.
Whether you opt for an over-the-top destination celebration (think: Vegas, Austin or NYC) or a low-key, at-home event, the key to any bachelor or bachelorette party is personalization. If you're considering a nontraditional soirée or can't stand to exclude anyone, why not throw a joint bachelor/bachelorette party? That way, you and your soon-to-be-betrothed can maximize time spent with your friends without worrying about subscribing to any traditions that don't feel totally you.
And if you and your partner share close friends, it makes perfect sense to bring everyone together. Plus, your event will feel less like a farewell to freedom and more like a joyful welcome to your upcoming union. Here are a few fun ideas for a joint bachelor/bachelorette party, and everything you need to consider while planning the best fling ever.
In this article:
Joint Bach Party Invitation Wording
The invites for your combined bachelor/bachelorette party might be a little different from the normal ones you see. After all, you're throwing a party for the couple instead of one person. These creative phrases work for any kind of combined event—whether that's a coed bachelor/bachelorette party, a bachelorX party, a joint bachelor party or a joint bachelorette party.
Bach & Boozy. You're invited to [name] and [name]'s joint bach party! We can't wait to celebrate with you.
You're invited to a bach bash in celebration of [name] and [name]. We hope to see you there!
Taco Bout Love! Join us for a joint bach fiesta celebrating [name] and [name]. Tacos and margs will be served.
The more the merrier! Please join us for a joint bash party celebrating [name] and [name].
The one where we party with all of our FRIENDS. We hope to see you at [name] and [name]'s joint bach party!
Good friends don't let you do stupid things... alone. Come help [name] and [name] bid singledom farewell in style!
Squad up! [Insert party details]. See you there.
Life is better with your besties...which is why we're having a joint bach party! We hope to see you there.
Wine tastes better when paired with friends. Join us for a joint bach party to celebrate the marriage of [name] and [name].
Combined Bach Party Ideas
If you're looking for joint bachelorette and/or bachelor party ideas, we've got you covered. Here are seven activities to help get you inspired.
Host a Themed Dinner Party—or Backyard Barbecue!
One great way to get everyone together in a relaxed environment is to host a joint bachelor/bachelorette-themed dinner party, with either a hired chef for the evening or some goodies prepared by the couple themselves. Another fun alternative is to have different small groups within the gathered guests create different courses of the meal: high school friends on appetizer duty, childhood friends on the main course, and college buddies tasked with dessert, for instance. Make it a fun experience by mixing and matching friends who might not know each other otherwise.
This also helps ensure that you're taking different dynamics and personalities into consideration so that everyone has more equal footing coming into the festivities; quieter guests will have just as much a chance to participate as their louder counterparts. Alternately, throwing a more casual backyard barbecue is a chance for folks from different parts of your lives to mix and mingle, while possibly playing yard games or taking turns at the grill.
Throw the Ultimate Sleepover at Adult Summer Camp
What better way to say goodbye to the single life and hello to adulthood than with a weekend camp getaway with all of your combined friends and loved ones? Camp No Counselors, which boasts locations all throughout the country, is a great way to combine the fun camp activities of your youth with the more adult booze-y filled activities of your later youth. For those looking for more of a detox retreat, Camp Grounded offers nostalgic camp activities like arts and crafts, star-gazing, sing-alongs and more—without any technology or alcohol on-site. And for those with specific interests looking to get out into the wilderness, there are programs ranging from Adult Space Academy to Yoga Camp to Grilling Camp to yes, even Band Camp.
Hop on a Party Bus (or Boat)
A fun way to get everyone in the same space and making memories is to rent out a party bus (or shuttle, depending on the size of your combined group) for a road trip somewhere great, be it a brewery tour or a wine trail. You can also rent a party boat for the same feel—just on the water. Being in transit together means several things: first, that no one has to act as DD for the trip, which is a huge pressure off everyone's shoulders (not to mention, the safer option); everyone can mix and mingle and get to know one another on the way to an ultimate destination; and you can be sure that everyone on the streets (or water) around you knows that your crew travels in style. Besides your wedding, when else will you get to celebrate with all your favorite people in one place—and more specifically, in one vehicle? Ultimately, this is a chance to bring your best friends together for an amazing time.
Make It a Competitive Game Night
Maybe getting crazy at the club isn't exactly the vibe you or your partner are hoping for with your joint bachelor/bachelorette party, in which case, great! There are lots of activities that don't necessitate exorbitant amounts of money or all-night festivities to be fun. Case in point: the pre-wedding game night, which can range from the more classic board games like Clue or Monopoly to more involved games like Risk or Catan. Naughtier card games like Cards Against Humanity or more brainy ones like Trivial Pursuit are also fun options that are sure to get the whole crew excited and engaged. Create a personalized playlist to set the mood, and whip up themed snacks for a fun night in that's anything but dull. Upgrade the evening by renting out a hotel suite for a fancier sleepover vibe, or custom-create cocktails or appetizers with the to-be-weds' favorite drinks and/or foods in mind. There's no limit to how personalized the evening can get!
Have a Little Friendly Competition
If your crew is on the athletic side, consider something along the lines of flag football, capture the flag, or even dodgeball, depending on what spaces are available to you. Rent out a local field or gym space to make sure that you have the place all to yourselves, then get creative with team names, colors and shirts or jerseys.
If you'd rather keep the physical exertion at a low, there are tons of alternatives, including putt-putt golf, a scavenger hunt or even taking a cooking class together. The most fun competitions, of course, are ones that engage everyone, so nothing should be too high-stakes, labor intensive, or physically taxing. You want to make sure everyone's feeling great at the end of it all, not depleted and bitter.
Enjoy Separate Activities (and Then Come Back Together)
If you're on the fence about a fully integrated gathering, host a combined bachelor/bachelorette weekend that incorporates both separate and joint activities. The groups can each do their own thing for the first portion, then merge for a big party on Saturday night. For instance, if one party wanted to go hiking and the others wanted to go fishing for the day, everyone can gather together for an elegant dinner at the end of the weekend.
Or if everyone wanted to have their separate nights out, the group could come together for a brunch the next day and swap stories from the previous evening's escapades. There are countless combinations to make a half-and-half party work. Just know that there are ways to compromise on a joint bachelor/bachelorette bash that can still feel wholeheartedly true to your lives as a couple: great on your own, but better together.
Pick a Festival, Any Festival
From cheaper shared accommodations to more partners to sing and dance with, the perks of attending a music festival as a big group are endless. Check your calendars to see what festival is the most timely for the bash, be it music-related with Coachella, Afropunk, Stagecoach or Lollapalooza—know your crew's musical tastes and plan accordingly.
Other events or gatherings include Art Basel in Miami, Burning Man in the desert and Oktoberfest in Munich. Finally, consider not just your friends' various likes and dislikes, but also what their budget limitations might be in planning for a full-blown weekend. Make sure to take into account the wide range of tastes and budgets when planning your music festival weekend; the extra effort will go a long way to create a great experience for the whole crew.
Joint Bach Party Games and Decorations
Get a fun vibe going by picking out creative games and décor. We rounded up shoppable, Instagram-friendly goodies that will bring the event to the next level.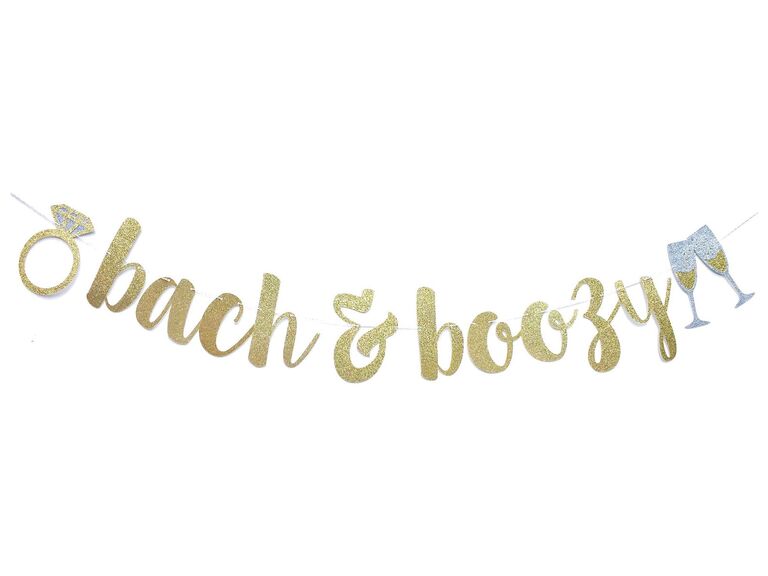 Keep your signs simple. We love the phrase "bach" because it encompasses both members of the couple. Your guests can admire the sign while they get themselves a drink at the bar.
Show Pony Party Shop Bach and Boozy banner, from $17, Etsy.com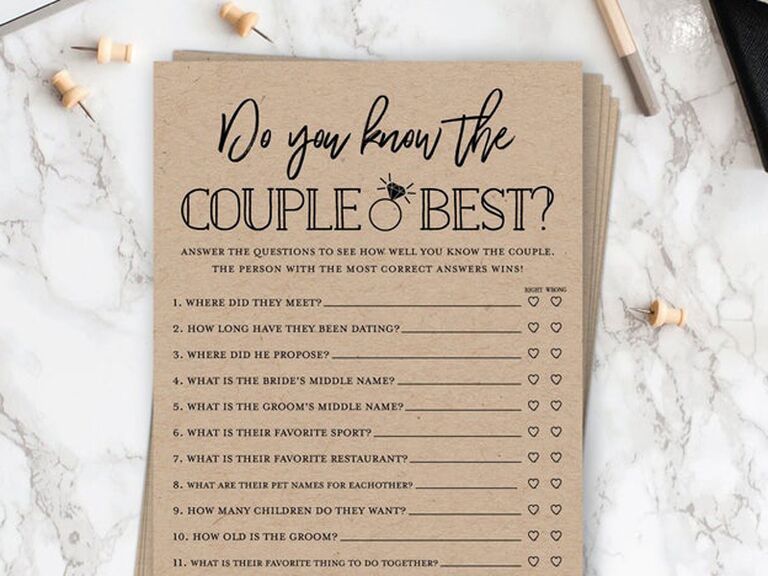 Here's a fun joint bachelor/bachelorette game your guests will enjoy. Test everyone's knowledge on the to-be-weds.
Hello Rose Paperie Do You Know the Couple Best game, $4, Etsy.com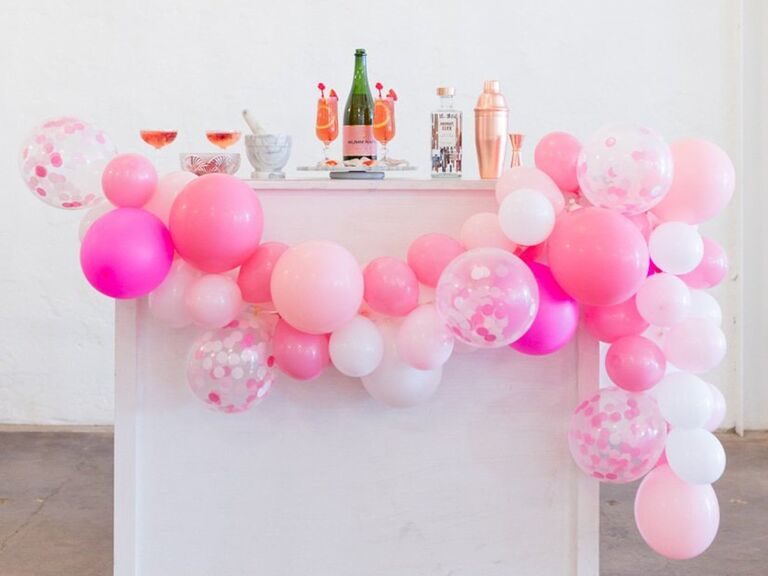 Nothing says party like balloons. Pick up this fun garland kit and place it somewhere in the middle of the action, like the table or bar.
Glamfetti Co custom balloon garland kit, from $26, Etsy.com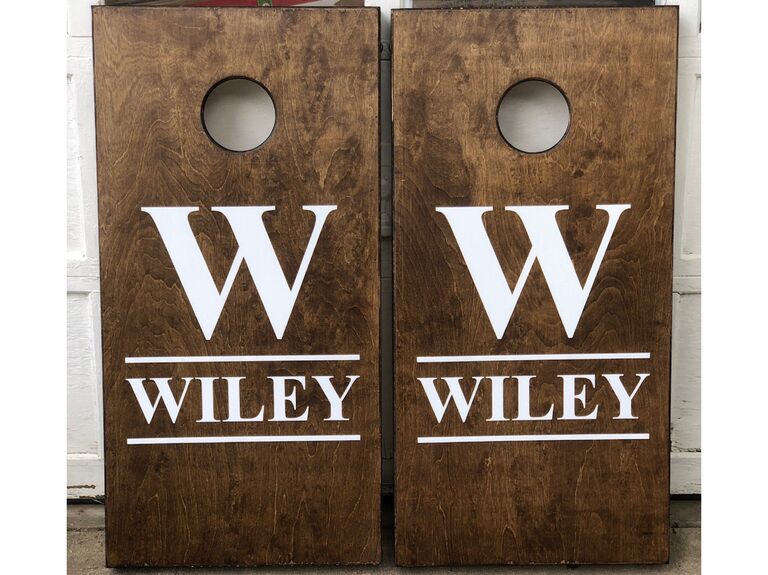 This adorable custom cornhole set doubles as both décor and an activity. Your guests can bond over a friendly game of bags.
Crafty Doods custom cornhole boards, $220, Etsy.com
What's a bach party without a photo-op? Ensure every member of the squad gets the perfect Insta with this sold-colored photo backdrop.
Lynwood Weddings emerald green wedding backdrop, from $55, Etsy.com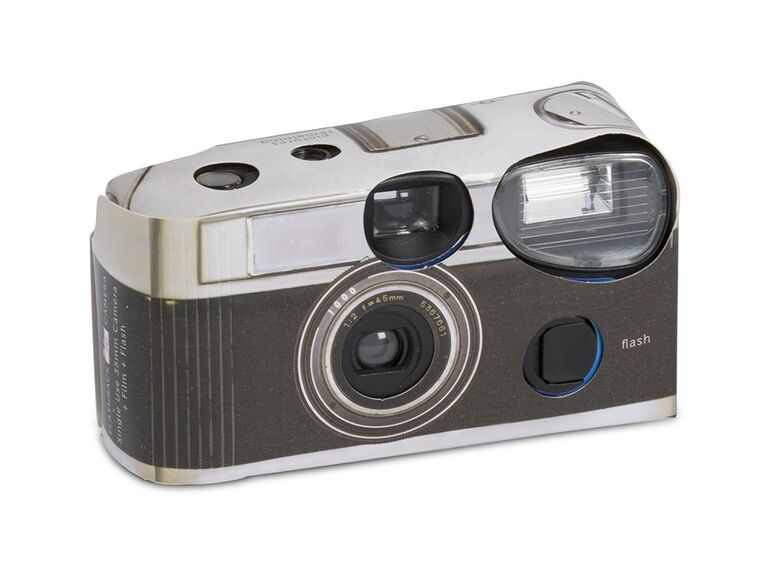 Having all your friends together in one place is special. Make sure you document it by giving out these disposable cameras. They'll also add a fun vintage touch to the event.
The Knot Shop disposable camera with flash, $9, TheKnotShop.com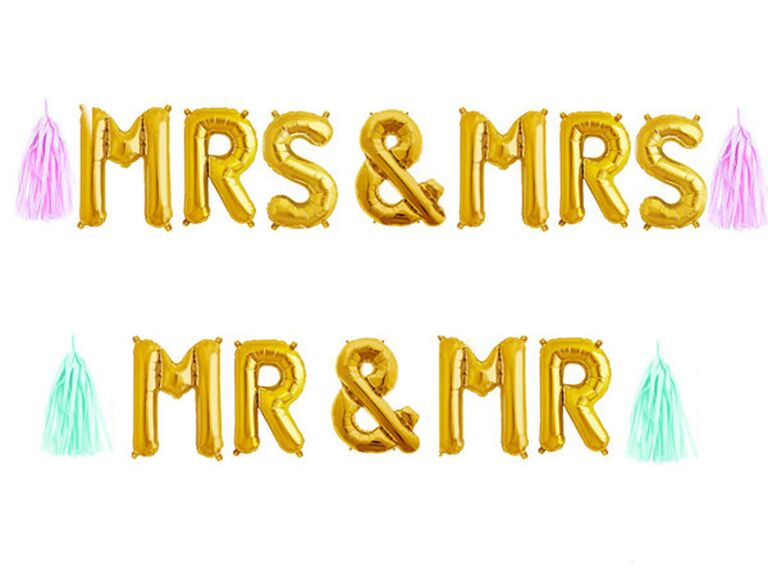 Get everyone excited about the upcoming wedding with these decorative balloons.
Gay Party Supply Mrs & Mrs balloon banner garland, from $4, Etsy.com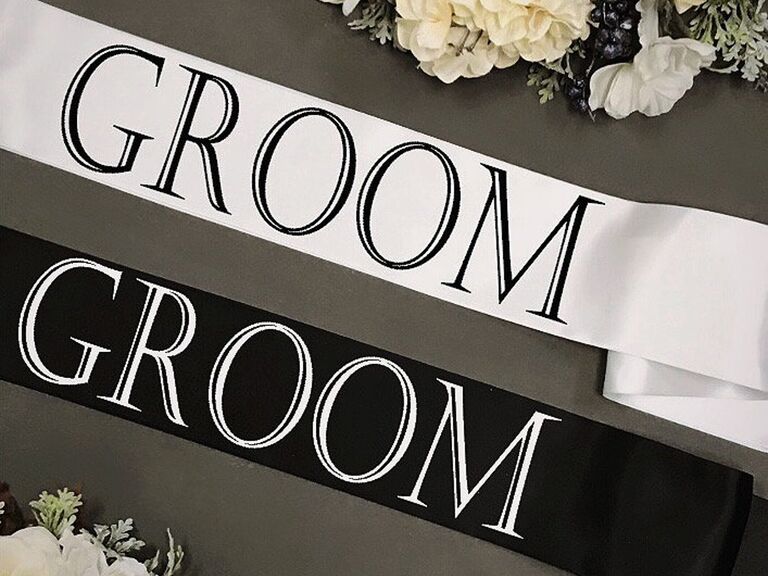 A bach party isn't complete without sashes. If you're having a joint bachelor party, gift the couple this matching set for the occasion.
Unfiltered by LLD Grooms sash, $24, Etsy.com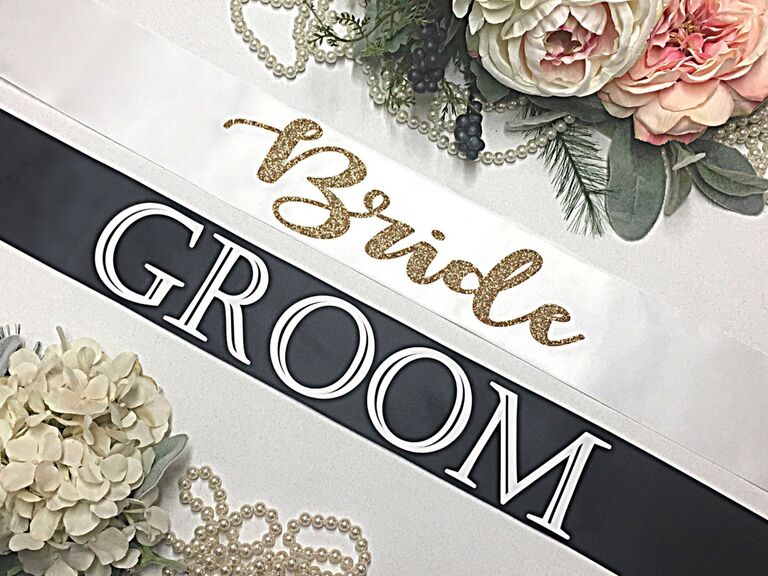 If you're hosting a coed bachelor-bachelorette party, dress the couple up in these fun sashes. They're perfect for photos.
Lauren Lash Designs LLC Bride & Groom sash, from $10, Etsy.com
Celebrating two brides at a joint bachelorette party? Get them matching sashes for the event.
Shades of Pink Btq Bride to Be sash, $12, Etsy.com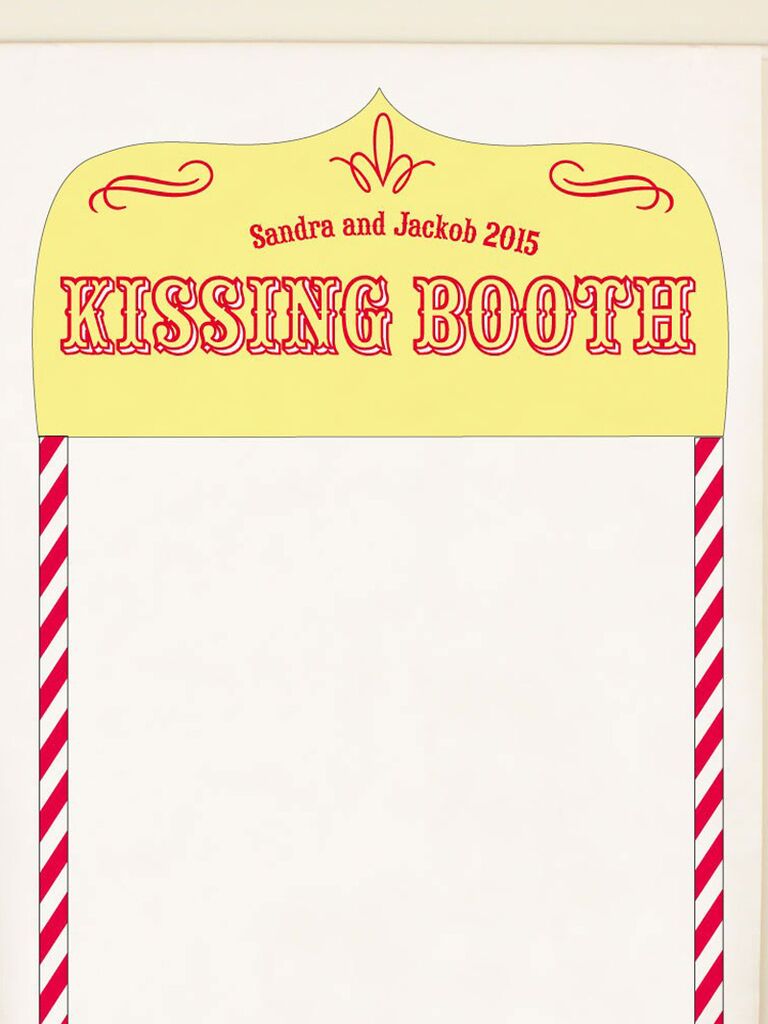 Talk about an Instagram moment. Pick up this adorable kissing booth-themed photo backdrop for a sweet touch to the event.
The Knot Shop kissing booth personalized photo backdrop, $90, TheKnotShop.com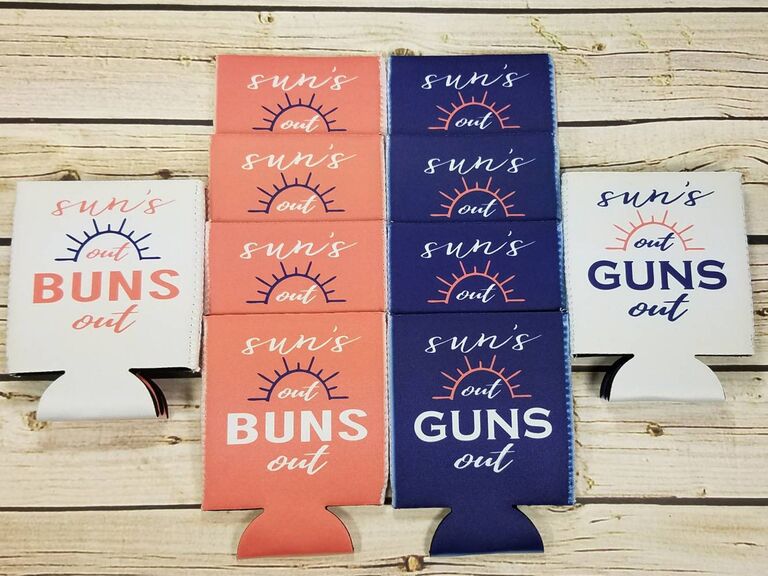 If you're planning a combined bachelor/bachelorette party with a coed crowd, consider picking up these silly beer koozies.
icreaMNlove joint bachelorette and bachelor party can coolers, $4, Etsy.com
Joint Bach Party Gifts For the Couple
Giving a bach party gift is certainly not required, but it's absolutely fine to get one. It doesn't have to be off their registry nor does it have to be big. In fact, this a great time to give the couple something thoughtful or silly so you can all enjoy the unwrapping process. Here are a few of our favorite joint bachelor/bachelorette party gifts.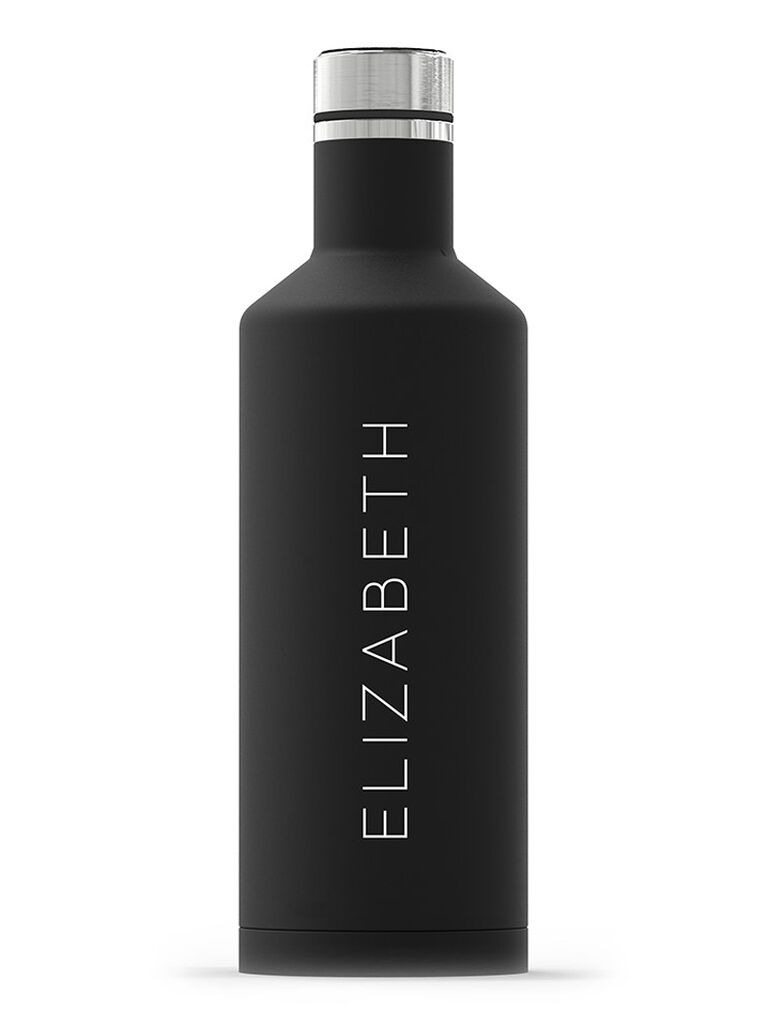 Whether you're planning a poolside bach party or a hike in the wilderness, these matching water bottles are the perfect gift. They're thoughtful and useful.
The Knot Shop personalized black stainless steel water bottle, $16, TheKnotShop.com
Searching for a thoughtful gift that they'll actually enjoy? Check out this creative piece of artwork, which features both of their last names.
Uncommon Goods intersection of love, from $75, UncommonGoods.com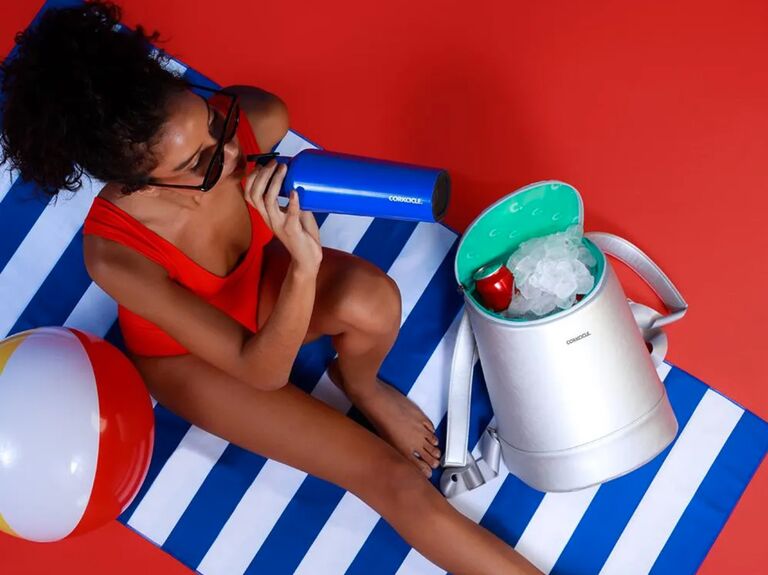 If your friends are always outside, they'll appreciate this nifty cooler backpack. It can fit two bottles of wine or 12 cans, so they can spend all day soaking up the sun.
Corkicle Eola bucket bag, $130, Corkicle.com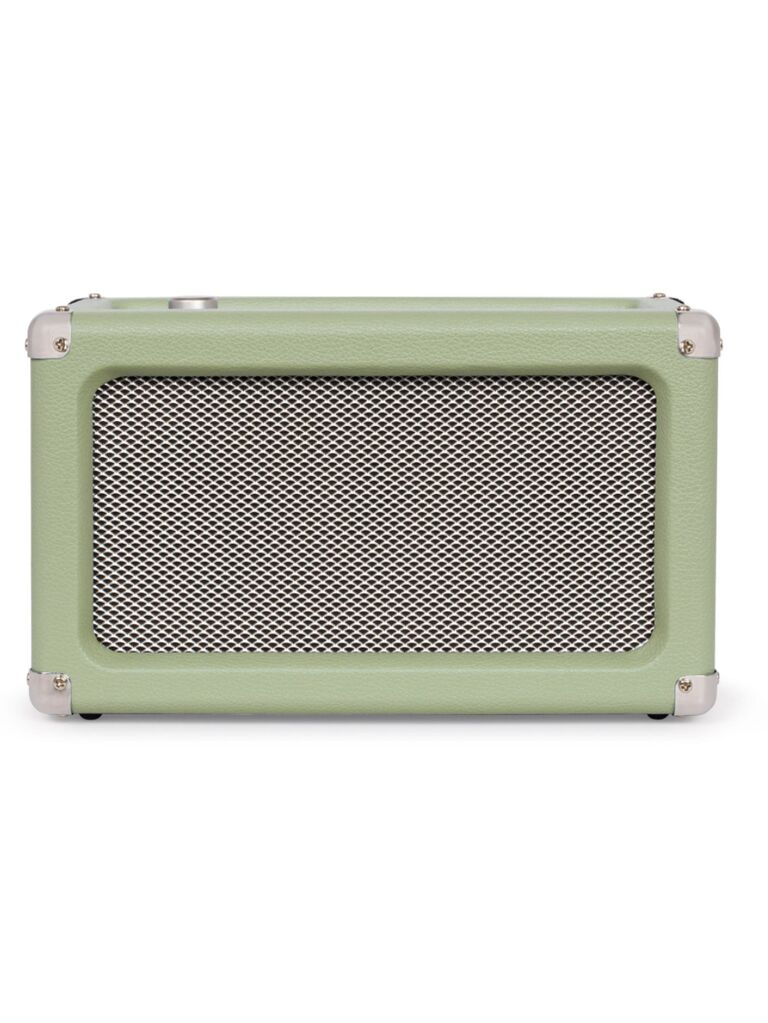 Whether they're hosting a dinner party or an outdoor BBQ, they'll need background music. Gift them this speaker, which will fill the room with sound without taking up too much space.
Crosley Radio bluetooth speaker, $70, Nordstrom.com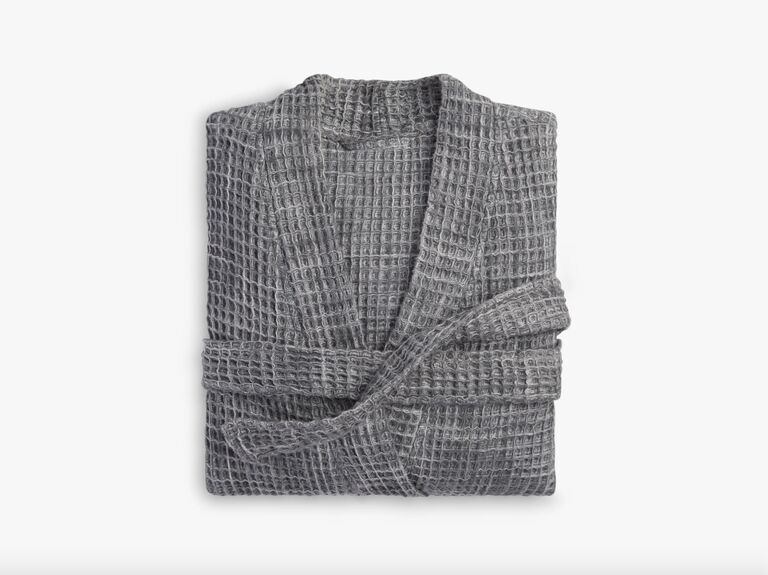 Pamper the to-be-weds by getting them a matching set of luxe robes. Bonus: they'll come in handy the morning of the wedding day.
Parachute waffle robe, $119, ParachuteHome.com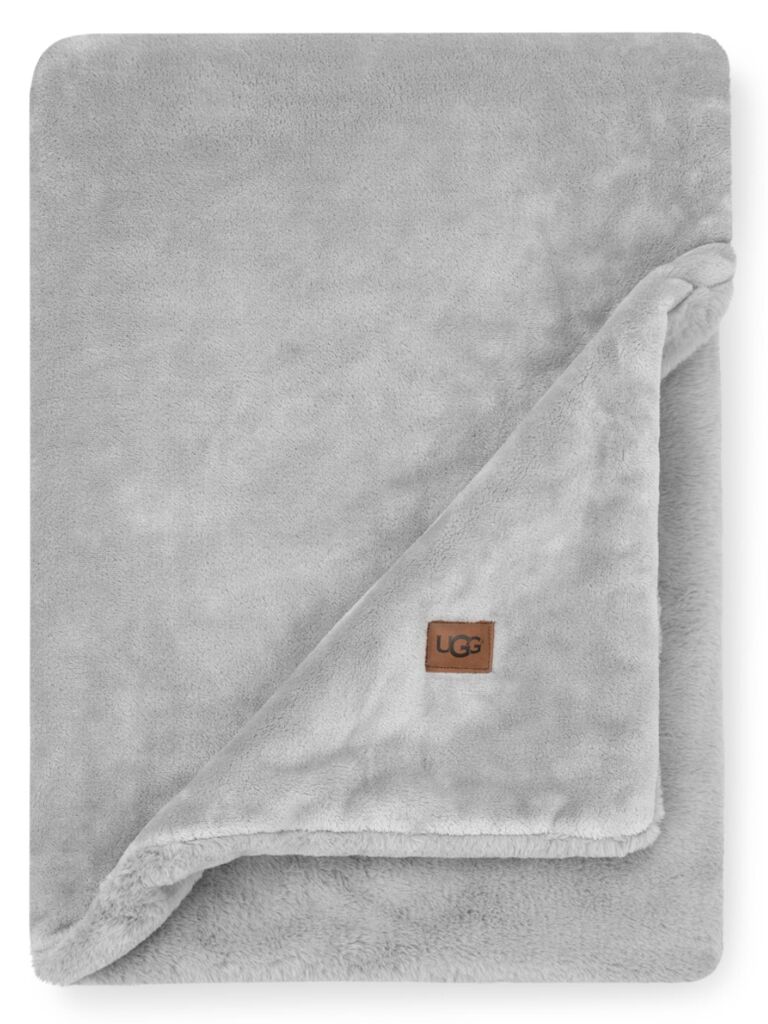 What's more romantic than snuggling by a bonfire? Help them stay warm throughout the night with this plush throw blanket. It's the perfect size for two.
UGG Coastline plush throw blanket, $98, Nordstrom.com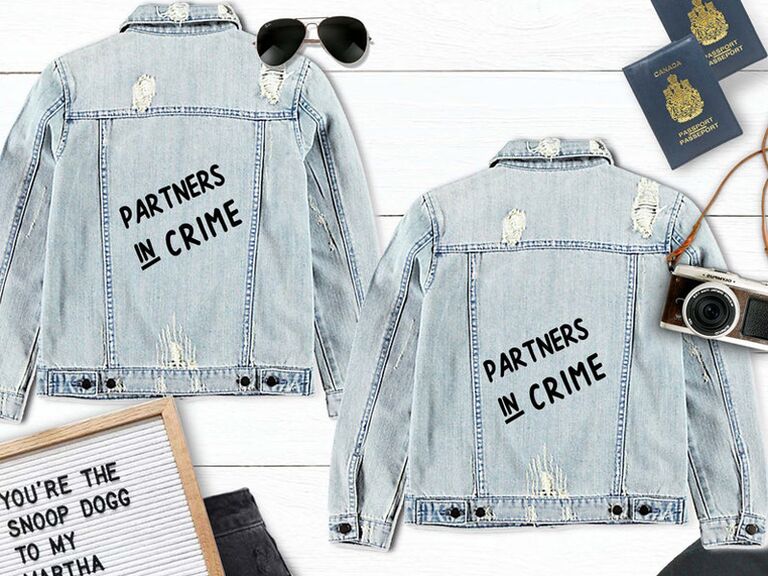 Here's an adorable joint bachelor/bachelorette party gift idea: get the couple matching denim jackets. Pick up plain jean jackets and add this decal onto the back. They can rock them for the bach party and on the wedding day.
Tie The Knot Shoppe Partners in Crime decal, $18, Etsy.com
You can't have a sign that says "Bach & Boozy" without a cocktail bar set. The couple can use this to craft themselves some delicious drinks during the party.
Williams Sonoma stainless steel bar tool set and cocktail shaker, $130, Williams-Sonoma.com