100 Cute Couple Nicknames, 100% More Creative Than "Babe"
Some slightly cringey—all totally adorable.
Photo: Thomas Barwick / Getty Images
Finding the right moniker or pet name for your partner can be a bit of a challenge—especially if you are hoping for something that's not as generic as "babe" or "honey." After all, couple nicknames should reflect the relationship and unique personalities of the partners, whether it be funny, quirky, subtle, sweet or even a bit unusual. It's YOUR nickname, so don't be afraid to get creative.
With so many options for couple nicknames out there, we've put together a list of 100 of the best cute nicknames to provide all the inspiration you need. Time to start brainstorming your sweet moniker!
Below, see 100 adorable, sweet and slightly cheesy relationship pet names to call your significant other.
In this article:
Cute Couple Nicknames
For the duo who prefers traditional and sweet monikers, here are some of the cutest couple nicknames.
Puffin
Muffin
Cupcake
Pudding
Sprinkles
Dumpling
Tatertot
Peaches
Princess
Bubblegum
Pudding Pie
Puppy Face
Sweet Tea
Funny Couple Nicknames
Are you always laughing and giggling with your love? Highlight the fun and liveity in your relationship with one of these funny couple nicknames.
Frick and Frack
Bey and Jay
Bangers and Mash
Bert and Ernie
Beauty and Beast
Honey Nuts
Thing 1 and Thing 2
McNugget
Peaches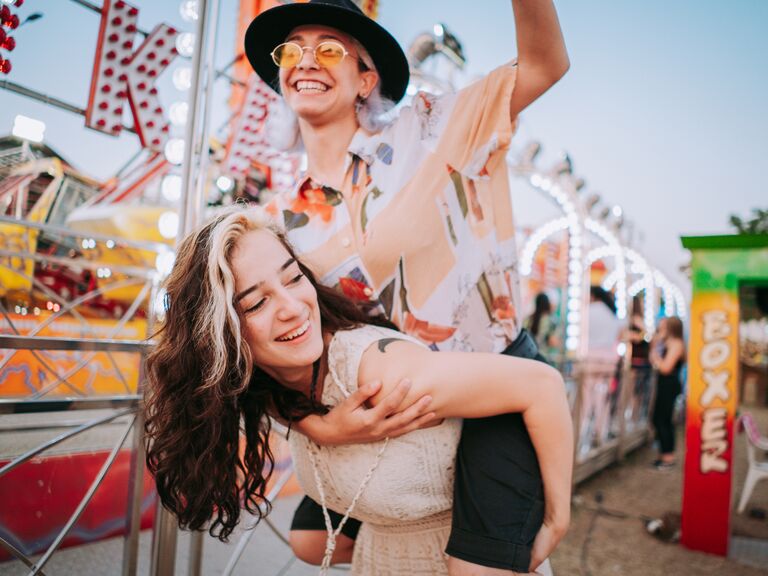 Cringey (But Still Adorable) Couple Nicknames
Not afraid of being a little cringe? Then these kinda cringey—but still plenty adorable!—couple nicknames are perfect for you two.
Cutie Patootie
Shmoopsie
Boopsie
Booboo
Bae
Love Captain
Baby Boy
Baby Girl
Booger
Baby Gorgeous
Snuggle Bear
Wrangler
Sugar Daddy
Sugar Mama
Sugar Lips
Romantic Couple Nicknames
If you're a hopeless romantic who wants the world to know they're in love, consider these romantic couple nicknames.
Lovebug
Sweetheart
Amore
Mi Vida
Mi Corazon
Dreamboat
Soulmate
Cassanova
Romeo
Juliet
Caliente
Mi Amore
Spicy Couple Nicknames
For the couple that's hot, hot, hot, here are some spicy couple nicknames that just might make them blush.
Loverboy
Lovergirl
Sexy
Hot Stuff
Sex Pot
Tarzan and Jane
Big Daddy
Big Guy
Naughty Boy
Naughty Girl
Sexy Beast
Stud
Hottie
Woody
Stallion
Daddy
Tiger
Lion
Mustang
Wild Thing
Sexy Beast
Hot Shot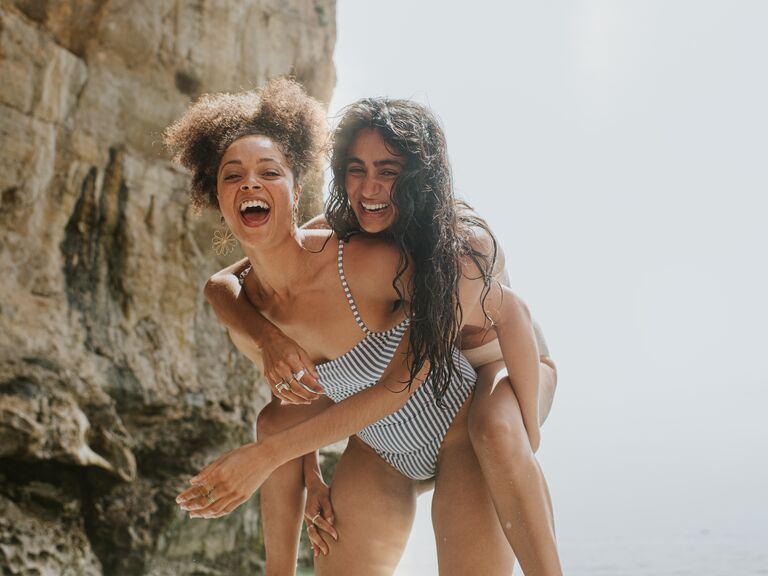 Corny Couple Nicknames
Constantly cracking dad jokes? Then consider these corny couple nicknames when thinking of things to call your significant other.
Sunshine
Honey Bunch
Angel Eyes
Sweet Cheeks
Teddy Bear
Tater Tot
Honey Bunny
Pooh Bear
McDreamy
McSteamy
Boytoy
Love Professor
Cute Matching Couple Nicknames
Are you known amongst your friends as the "cute couple?" Then these cute matching couple nicknames are definitely worth checking out.
Jelly Bean & Gummy Bear
Sonny & Cher
Mickey & Minnie
Bonnie & Clyde
Yin & Yang
Starsky & Hutch
Trick & Treat
Hubs & Wifey
Barbie & Ken
Romeo & Juliet
Thing 1 & Thing 2
Salt & Pepper
Mr. & Mrs.
Mr. & Mr.
Mrs. & Mrs.
Sugar & Spice
Jack & Jill