50 Fun Things for Couples to Do for Quality Time Together
Give UberEats a break and try one of these fresh activities.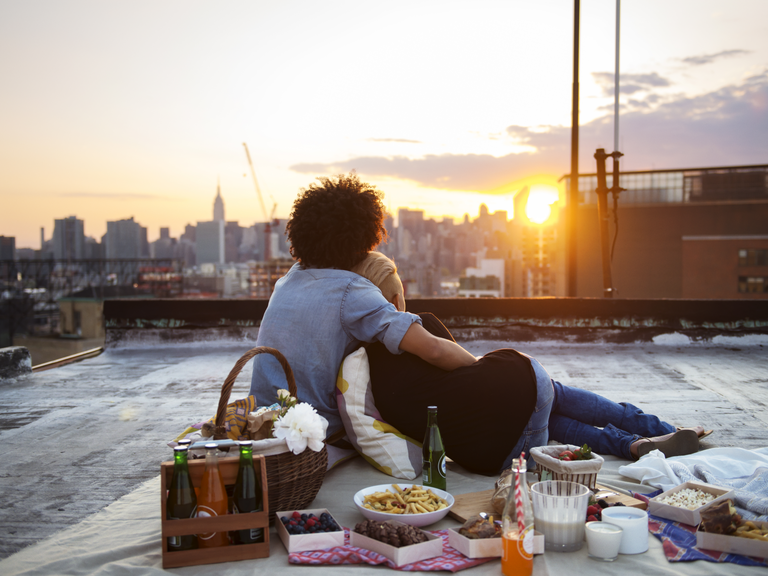 Cavan Images / Getty Images
We have included third party products to help you navigate and enjoy life's biggest moments. Purchases made through links on this page may earn us a commission.
No matter how long you and your partner have been together, falling into a routine happens in no time. Perhaps you default to ordering the same takeout food every Friday, or maybe your nightly schedule involves binging your favorite show on the couch. There's certainly nothing wrong with being creatures of habit, but it is important to prioritize fun couple activities in your relationship. After all, it's totally possible to keep the spark alive and remain in the honeymoon phase—but you'll need to make the effort to keep things fresh and exciting.
If you feel like you always do the same things together, it may be time to shake it up with some new couple activities. Here, you'll find 50 creative things to do as a couple, from bougie date nights to free things you can do in the comfort of your own home. Be sure to bookmark this list and come back to it every time you need inspiration for romantic things to do together.
Bonus: If you're searching for "things to do for couples near me", jump to our city guides below for couples activities near you.
Enroll in a cooking class.
Whether you're cooking connoisseur or a novice in the kitchen, everyone can learn a skill or two at a cooking class. Enrolling in a local course is a fun thing for couples to do, especially when you've exhausted the same restaurants and bars in your neighborhood. The best part? You'll have a great meal to enjoy at the end of it. You'll be ready for Top Chef in no time.
Head to a museum.
Immerse yourselves in history and culture by spending the day at a museum. While some have fixed ticket prices, others (especially local and community museums) may offer reduced fees or pay-what-you-wish entry, making this a great couple activity when you're on a budget.
Hike local trails.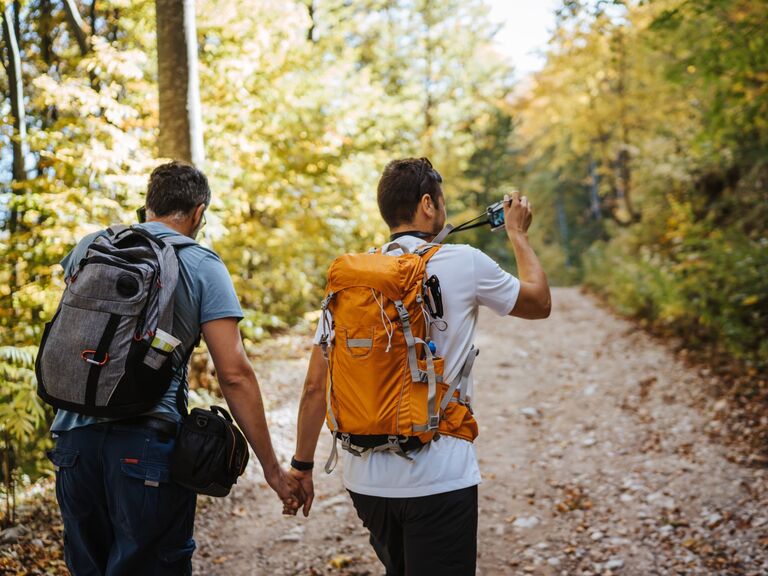 Get outside and soak up the sunshine by heading out on an expedition of nearby hiking or walking trails. Not only will you get the endorphins flowing, you'll see your neighborhood from new heights.
Go to the movie theater.
When was the last time you went to the movies? Finding fun things to do as a couple doesn't always require a ton of research and planning. Free up your Saturday evening and head to the theater to catch a new flick. Don't forget popcorn and slushies!
Design a coffee table book together.
Keeping your photos on your phone or computer is convenient, but there's something special about printing out a true album. Design a cute coffee book together with all of your favorite photos, pictures from your latest trip, or your year in review. Companies like Artifact Uprising and Shutterfly allow you to create personalized photo albums that will look absolutely stunning in your home.
Plan a themed night based on what you're watching.
Lean into whatever you're currently streaming for a fun spin on a typical night in. Bake some shortbread cookies if you're watching Ted Lasso, or make themed cocktails for Bachelor Mondays. Feeling nostalgic? Have a throwback night (dress the part, make yourselves a school lunch, sip on some soda) while you watch your favorite Disney+ picks.
Become cocktail connoisseurs.
If your go-to date night involves a wine bar, beer hall or cocktail spot, become adult-beverage connoisseurs. Start by downloading a wine app (like Wine Spectator) to list and rank your favorites. Or, sign up for a wine subscription service like Winc to test out new varieties of your favorite blends. If you're more of a spirits couple, sign up for a cocktail-making class and learn the art of mixology (it will impress your friends and family at your next gathering). If you love a cold beer, consider investing in a home brewing kit or try out a beer subscription box.
Plan a road trip.
Strengthen your connection by planning a road trip together. The best part? It doesn't matter where you go or what you do. While you could visit a new city or state, you can always just drive around your neighborhood without any plans or directions. With nothing but open roads ahead of you, you'll have no choice but to have deep conversations and bond on a totally different level.
Host a dinner party.
Need a fun activity for couples at home? Host a dinner party! Invite your friends and fam over for an evening of good drinks, good food, and better conversation. Cook everything from scratch if you're feeling ambitious, or ask everyone to bring a side dish to complete your potluck. Throw on a playlist, light some candles, and enjoy quality time with your loved ones.
Reorganize a room in your house.
Did you know that your home organization habits can impact your relationship? It's true, especially if you and your S.O. have different living styles. When you're totally out of good couple activities, turn a chore into something fun. Pick a room in your house that you've been meaning to declutter, reorganize or redecorate, and get to work. We guarantee your home will feel so much more inviting when you're done.
Make reservations at a new restaurant.
Perhaps you two always get stuck in the cycle of going to the same restaurants over and over again. When you simply can't have tacos and margaritas again, do a quick search for new restaurants near you and treat yourselves to a nice dinner out.
Have a picnic.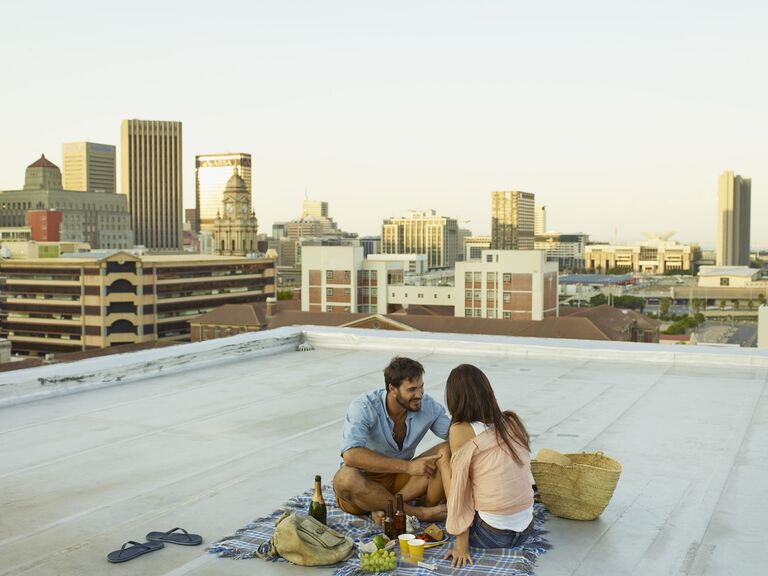 You're never too old for a picnic. Fill up a wicker basket with sandwiches, chips and lemonade and grab a spot at your local park for a relaxing afternoon. Keep this cute couple activity in your back pocket for the next time you have sunny skies and warm weather.
Start your own book club.
Become voracious readers by starting your own book club. Head to your local bookstore or library and choose a novel for both of you to read. Once you've finished, order takeout, pour some drinks, and discuss the book's themes, plot points, and your reactions for a date night that's totally unique.
Recreate your first date.
Looking for fun things to do with your boyfriend or girlfriend? Take things back to the beginning by recreating your first date. You'll have all the feels when you relive what it was like the very first time you met. Whether you got dinner and drinks or enjoyed coffee at a local shop, reminisce on your history together with this sweet couple activity.
Plan a staycation.
Fun things for couples to do don't always have to break the bank. Perhaps you're been wanting to get away, but you're on a tight budget—plan a staycation! Book a night or two at a local bed and breakfast or rental property to get a change of scenery without straying too far from home base.
Go stargazing.
Need ideas for romantic things to do together? We suggest stargazing. When the sun goes down, bundle up and set up a blanket in your backyard, and keep an eye out for the stars. See if you can find notable constellations, like the Big Dipper or Orion.
Make playlists for each other.
We're obsessed with this adorable couple activity. Next time you're bored and need something to do, make playlists for each other. Fill your queue with songs that remind you of your S.O. and your love story, and listen together once you're both finished.
Have a deep conversation about something you've never discussed before.
When it comes to bonding activities for couples, nothing will strengthen your connection quite like a deep conversation. We've rounded up 200+ questions for your boyfriend and questions for your girlfriend, so browse these lists and talk about things you've never discussed before. You never know what you'll learn about each other.
Make vision boards for your future.
We'd say this is one of the most underrated couple activities to do at home. Stock up on magazines and newspapers and start clipping images to make vision boards for your future. This is a good opportunity to reconnect on your goals and desires for your relationship, and to have fun in the process.
Visit each other's hometown.
Wouldn't you just love to see where your S.O. grew up? Plan trips to visit each other's hometowns. See their childhood home, drive by their school, and get food at their favorite restaurants. This nostalgic couple activity will bring you two closer than ever before.
Get tickets to a musical or play.
There's nothing quite as magical as a night at the theater. Search for upcoming shows and performances near you and grab tickets to something that strikes your fancy. Dress up in your best outfits and enjoy an evening of live entertainment.
Head to a comedy show.
If the theater isn't your jam, consider going to a local comedy cellar instead. This fun couples activity is always a good idea, especially if you and your S.O. share the same sense of humor.
Take boudoir photos together.
Looking for something spicy to do together? Try taking boudoir pictures. While it may seem out of your comfort zone at first, this couple activity will bring the heat and give you a serious confidence boost.
Go brewery or winery hopping.
Oenophiles and beer connoisseurs alike will love an afternoon of winery or brewery hopping. Not only will you get to support local businesses, you'll also get to taste a variety of new blends and brews. What's not to love?
Have a bake-off.
Put your baking skills to the test by hosting a bake-off in your kitchen. Pick a dessert recipe and see who can create the better batch. The best part about this couples activity is that there are no losers, because you'll have plenty of sweets to enjoy after.
Go ice skating.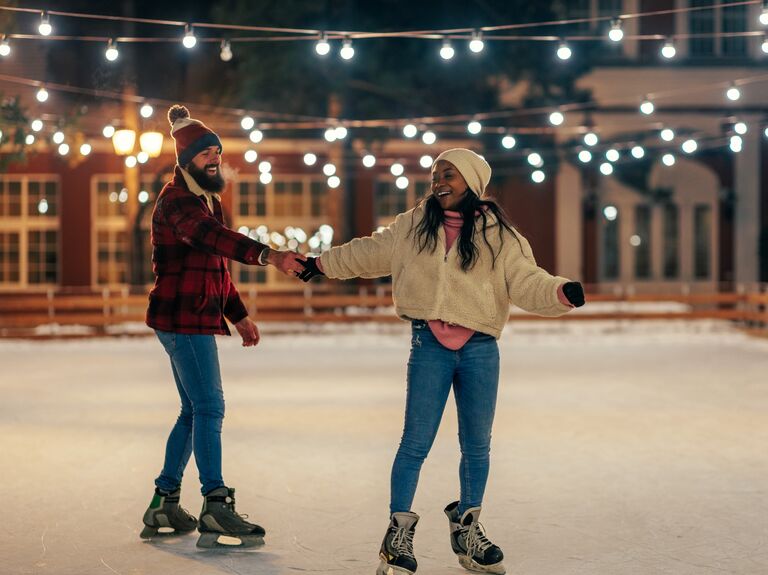 When the winter months roll around and you simply can't spend another day inside, spend a day at your local ice rink. While skating might not come naturally to everyone, this fun couples activity will get you out of the house. And who knows, you might even find that you want to turn it into a new hobby.
Get tickets to a sports game.
Take yourselves out to the ball game…or the hockey game, or the football game. Even if you aren't a major sports fan, don't underestimate how much fun you'll have at a game. Whether you head to the big leagues or a local sports division, you and your S.O. will have a great time cheering for your team. (If anything, go for the food—because stadium snacks never miss.)
Rent a boat for a day.
Of all the romantic things to do together, we love the idea of chartering a boat for the day. From dinner cruises to rowboat excursions, getting out on the water is always a good date idea in our eyes.
Go camping.
Connect with the great outdoors by picking a weekend to go camping. While this couples activity might not be suitable for everyone, it's perfect for adventurers and nature lovers alike. After all, nothing will strengthen your bond quite like roughing it in a tent for a few days.
Sign up for a painting class.
Tap into your artistic side by enrolling in a painting class. You don't have to be Picasso-in-training to enjoy this creative couples activity. In fact, you might surprise yourself with your painting or drawing skills, but you'll never know until you try.
Meditate together.
Improving your mental health together? That's hot. We love the idea of incorporating meditation into your weekly routine as a couple. While you can find plenty of free meditation resources online, you can also invest in a subscription-based app, like Headspace or Calm.
Go thrift shopping.
Whether you need new clothes or new kitchen appliances, set aside a day for thrift shopping. You never know what gems you'll find, which is why this affordable couples activity is a major win in our eyes.
Host a local pizza taste test game.
Up for some friendly foodie competition? Next time you're in need of an out-of-the-box date night activity to do together, order a pizza pie from all of your local shops. Blindfold yourselves and see if you can guess which shop each slice is from to see how well you really know your favorite takeout spots.
Get drinks at a new coffee shop.
It doesn't matter whether you love tea or coffee. Next time you're looking for things to do together, give your Starbucks drive-through a break and head to a coffee shop you've never been to before. Bring a book or a board game, or just use this date to truly catch up with each other and enjoy quality time over delicious lattes.
Go on a double date.
Who says couple activities have to be for two? Shake things up by inviting another couple out for a double date night. Head to a tried-and-true restaurant you all love, or enjoy an interactive experience like an escape room, an arcade hall, a bowling alley, or an immersive activity.
Get a couples massage.
Treat yourselves to some much-needed R&R by booking a couples' massage at a spa. Not only is this a super romantic thing to do together, you'll leave feeling refreshed and rejuvenated.
Have a tech-free day.
It may seem nearly impossible to go through date night without checking your phone, but we challenge you and your S.O. to have a tech-free day. Turning your phones on silent will encourage you to only focus on each other, thus allowing you to truly strengthen your connection without distractions. In fact, you might love this couples activity so much that you turn it into a monthly (or a weekly!) thing.
Go mini-golfing.
See who can get the most hole-in-ones when you head out on a mini-golf date. Bonus points if you treat yourselves to ice cream after.
Start a new tradition together.
One of the most romantic things you can do together is start a new tradition. Perhaps you'll implement take-out Fridays, or maybe you'll each take turns planning one splurge-worthy date night per month. You can even think bigger picture—you might shop for your Christmas tree the day after Thanksgiving, or host everyone's families at your place for a Fourth of July bash. Think of a new tradition that's meaningful to you, even if it's not tied to a holiday. That special moment will become a shared point of connection you can both get excited about.
Go bowling.
Take it back to your high school days and go bowling. This fun thing for couples to do is always a fail-safe date night idea.
Invest in at-home meal kits.
Love sharing meals but hate cooking? It might be time to try out a meal kit service. Brands like HelloFresh, Blue Apron and Home Chef make cooking fun by sending you pre-measured ingredients—all you have to do is follow the directions to create a delicious meal.
Work out together.
Whether you and your partner are total gym fanatics or just love to be active, try a new workout. Together you can hit the gym, sign up for a yoga class or go for a jog in your neighborhood to get the endorphins flowing.
Have a game night.
Enjoy some friendly competition from the comfort of your couch by hosting a game night. Cards, Monopoly, trivia and Truth or Dare are all great contenders for this fun couples activity. If you love being the host, invite some friends over to join in on the fun.
Learn how to knit.
It's always fun to develop a new skill together. So, why not learn how to knit? Not only will you be able to spend quality time together, but you'll also make something cute and cozy. Perhaps a warm throw blanket for your next movie night?
Plant an indoor garden.
Take some time to develop your green thumbs. You can order beautiful new plants directly to your home from sites like The Sill, Bloomscape, UrbanStems and The Bouqs Co. You can also plant an indoor herb garden and enjoy the results when you cook together.
Have a spa night.
Transform your home into a luxury spa for a night. Create a serene setting by getting deliciously-scented candles, incense or essential oils. Then, stock up on face masks, eye gels and face mist. Once you put on your chosen skin care product, enjoy a glass of bubbly together. Cheers!
List out your history.
It's always fun to take a trip down memory lane. Next time you need a fresh activity to do with your boyfriend or girlfriend, map out your relationship history. Think about what you did together for anniversaries, birthdays, job promotions or other notable life events. If you want a fun test, see if you can remember older facts, like where your first date was, who kissed who first or details from your proposal. Don't forget to write it all down so you have it in one place. You'll be happy to have those memories recorded for the future.
Volunteer together.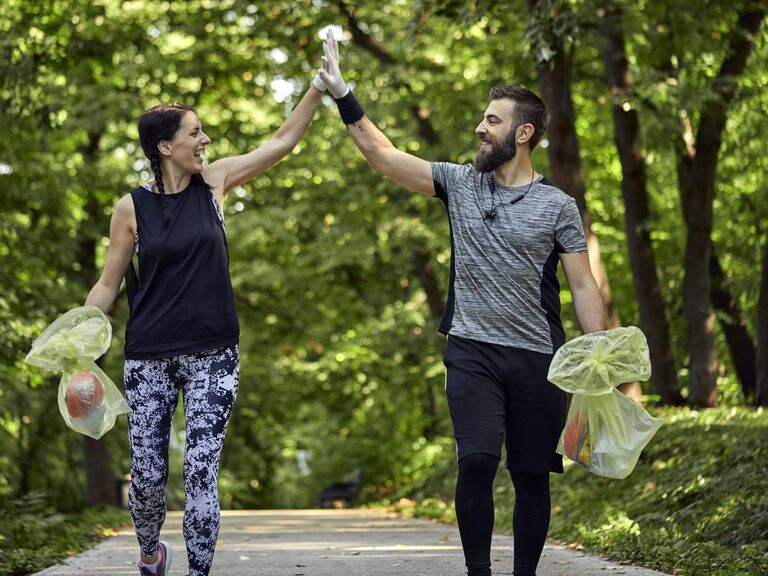 Consider using your spare time to volunteer together. This couples activity gives back to your community, and it'll make you two feel proud of your accomplishments. Search for volunteering opportunities in your neighborhood to find a variety of ways to get involved, from organizing food drives to collecting donations.
Learn a new business skill.
Calling all power couples: Use your free time to boost your professional knowledge. Take an online course together to bolster your professional chops and practice your new skills together. Choose from subjects like project management, coding or Photoshop. In addition to being something you can enjoy together, this couples activity will also help your careers in the long run.
Go on a scavenger hunt.
One of the most romantic things for couples to do together is to embark on a scavenger hunt. While it takes some planning ahead of time, we love the idea of guiding your partner through a tour of your favorite sentimental locations. End your scavenger hunt at a nice restaurant to make this date one to remember.
Couples Activities Near You
If you've been searching for "things for couples to do near me", we've got you covered with the best couples activities in major cities across the U.S. So whether you're looking for places to go in your hometown or you're planning a weekend getaway, find local activities in our city guides for couples.
Check back often—more cities coming soon.