15 Activities Couples Can Do Together During Quarantine
Here's how to make the most of this time.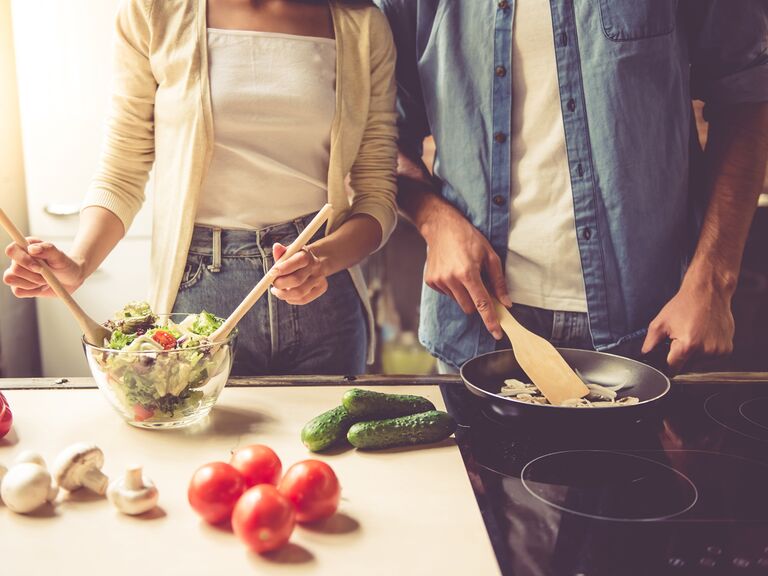 George Rudy
We have included third party products to help you navigate and enjoy life's biggest moments. Purchases made through links on this page may earn us a commission.
No matter how long you and your partner have been together, falling into a routine happens in no time. Maybe you default to ordering the same takeout food, or maybe your nightly schedule involves binging your favorite show on the couch. To help refresh your routine (and maintain a healthy relationship while social distancing), we've rounded up our favorite quarantine ideas for couples. From virtually experiencing a new culture to becoming a (near) mixologist, there's something for every couple.
Plus, these quarantine ideas for couples can be done in the comfort of your own home, so you can replace the mundane in accordance with government guidelines. In light of the pandemic, many online services and delivery services are stepping up to help people stay entertained at home. Here are 15 quarantine ideas for couples you can do together (and that are actually fun).
Experience Cultures Around the World (From Your Couch)
One of our favorite things to do during quarantine with a partner: Travel around the world from the comfort of your own home. Through Airbnb Experiences, you and your S.O. can take cooking classes, virtual tours or workout classes together. All of the activities are led by professionals who walk you through the steps, so all you have to do is turn it on and follow along. Food-obsessed couples can make Mexican street tacos, Spanish tapas, Swedish pastries and so much more. Duos who are more adventurous can virtually explore different cities (you can follow a plague doctor through Prague on a historical tour). You can also workout with Olympians or meet animals from around the world. Browse through the options and get ready for an unforgettable experience.
Cook Together
Cooking together is a fantastic activity for couples during quarantine especially. It requires teamwork and communication, as you're both sharing a space and working towards the same goal. If you want a nudge to start cooking together, consider ordering meal kits like HelloFresh, Purple Carrot, Blue Apron, Home Chef and Green Chef. They come with pre-measured ingredients, so all you have to do is assemble, cook and enjoy.
Design a Coffee Table Book Together
Keeping your photos on your phone or computer is convenient, but there's something special about printing out a true album. Design a cute coffee book together with all of your favorite photos, pictures from your latest trip or your year in review. Companies like Artifact Uprising and Shutterfly allow you to create personalized photo albums that will look absolutely stunning in your home.
Plan a Themed Night Based on What You're Watching
You can still plan a special date at home. Lean into whatever you're currently streaming for a fun spin on a typical movie night. Cook yourselves spaghetti and meatballs if you're finally watching The Irishman on Netflix, or order Korean takeout if you're watching Parasite on Hulu. Feeling nostalgic? Have a throwback night (dress the part, make yourselves a school lunch, sip on some soda) while you watch your favorite Disney+ picks.
Become Adult-Beverage Connoisseurs
If your typical date night involves a wine bar, beer hall or cocktail spot, use this time to become adult-beverage connoisseurs. Try a blind tasting starting by downloading a wine app to list (like Wine Spectator) and rank your favorites. Or sign up for a wine subscription service (like Winc). If you're more of a spirits couple, sign up for a cocktail-making class (there are a bunch on Airbnb Experiences) and learn the art of mixology (it will impress your friends and family at your next gathering). If you love a cold beer, consider investing in a home brewing kit or try out a beer subscription box.
Learn a New Business Skill
Calling all power couples. Use your free time to boost your professional knowledge together through services like LinkedIn Learning. Take an online course together to bolster your professional chops and practice your new skills together. Choose from subjects like project management, coding or Photoshop. Not only will it allow you to spend quality time together, it will also help your careers in the long run.
Take a Virtual Class
If you and your partner are book nerds, take a virtual class together. Services like Udacity, Masterclass, Udemy and Codecademy (among many others) offer courses from experts. You can learn about everything from the history of the classical Greek world to computer science. Use this as an opportunity to geek out on a subject together. It will provide you with brand new knowledge; plus, conversation topics for the future.
Work Out Together
Whether you and your partner are total gym fanatics or just love to be active, now is a great time to work out together. Together you can hit the gym, sign up for a fitness class or go for a jog. If you're at home, look into virtual workouts you can do together. You can still enjoy a structured class from the comfort of your home. Some boutique fitness class instructors are offering Zoom workouts, while apps are another source of motivation. Check out our favorites below:
Have a Game Night
If you and your S.O. are missing intellectual stimulation from your ritual trivia nights, consider breaking out a puzzle (some of our favorites have come from Uncommon Goods). We love this idea for couples because completing a complicated puzzle requires teamwork and communication. (Plus, it's super fun!) Another idea is to play a board game together and enjoy some friendly competition from your couch. Open up a game, pour yourselves a drink and get to playing. Believe us—time will fly by once you start.
Learn How to Knit
It's always fun to learn a new skill. We Are Knitters creates kits that come with everything you need plus instructions. Not only will you be able to spend quality time together, but you'll also make something cute and cozy. Perhaps a warm throw blanket for your next movie night?
Plant an Indoor Garden
Take some time to develop your green thumbs. You can order beautiful new plants directly to your home off of sites like The Sill, Bloomscape, UrbanStems, The Bouqs Co. and even Etsy. In addition to plants, you can also plant an indoor herb garden and enjoy the results when you cook together.
Have a Spa Night
Transform your home into a luxury spa for a night. Create a serene setting by getting deliciously-scented candles, incense or essential oils. Then, stock up on face masks, eye gels and face mists from Sephora, Ulta or Soko Glam. Once you put on your chosen skin care product, enjoy a glass of bubbly together. Cheers!
List Out Your History
It's always fun to take a trip down memory lane. Take this time to map out your relationship history. Think about what you did together for anniversaries, birthdays, job promotions or other notable life events. If you want a fun test, see if you can remember older facts, like where your first date was, who kissed who first or details from your proposal. Don't forget to write it all down so you have it one place. You'll be happy to have those memories recorded for the future.
Volunteer Together
Good news: you can still give back while quarantining. Use your spare time to give back together. One simple way to make a difference is by offering to get groceries for at-risk citizens who aren't able to safely run errands. You can also check out the myriad of virtual volunteer options on VolunteerMatch for more inspiration.
Go On a Scavenger Hunt
Explore the great outdoors with the help of Let's Roam. Enter your location and choose from the different pre-organized scavenger hunts the company has available. It's a great way to get some fresh air and spend time together (just be sure you're following social distancing guidelines). You can also enjoy indoor scavenger hunts together too. Let's Roam also offers a selection of other indoor date night ideas, like relationship quizzes, rom-com trivia and bond building.