15 Christmas Sweaters for Couples That Are Just the Right Level of Ugly
These seasonal sweaters will take you from fun winter date nights right up to Christmas Day.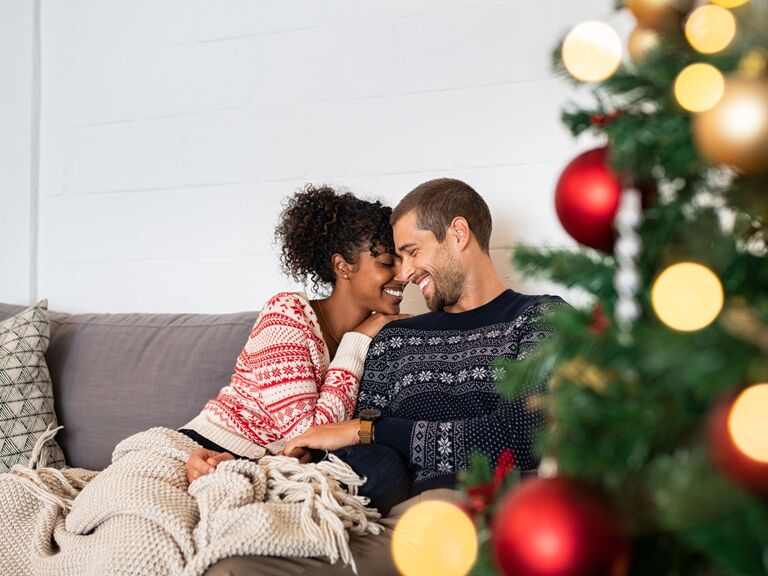 Photo: Ridofranz | Getty Images
We have included third party products to help you navigate and enjoy life's biggest moments. Purchases made through links on this page may earn us a commission.
The holidays are a time for joy, laughter and, of course, love. (There's a reason it's the most popular time of year to propose!) One way to embrace fun and romance this holiday season? Pick up a pair of couples ugly Christmas sweaters to wear on winter date nights right up until December 25th. Coordinating your closet is a sweet way to connect as a couple, not to mention one of the best ways to get into the holiday spirit. Ready to upgrade your winter wardrobe? We've found cute and cheesy matching Christmas sweaters for couples that'll get you both in the mood for mistletoe, hot cocoa and general merrymaking.
Funny Matching Christmas Sweaters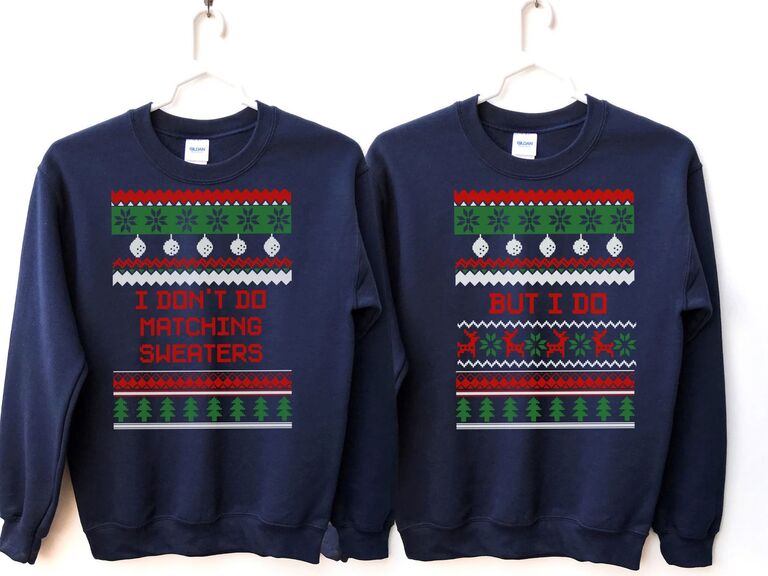 These ugly Christmas sweaters are for the couple who doesn't quite see eye to eye on the magic of holiday attire. The first sweatshirt says, "I don't do matching sweaters," and the coordinating one reads, "But I do." A festive fair isle print surrounds the text, featuring cute fir trees, baubles and reindeer.
Sizing: S–5XL
Cozy Couples Christmas Sweaters
Outdoorsy duos will love these matching Christmas sweaters for couples. Each snug navy sweater depicts a cabin amidst tall, evergreen trees. It's perfect for anyone who loves cozy winter nights around the fire. Better yet, this cute attire works for a camp theme too, so you can wear them almost all year round.
Sizing: Men's S–XXL; Women's XS–XXL
Classic Couples Christmas Sweaters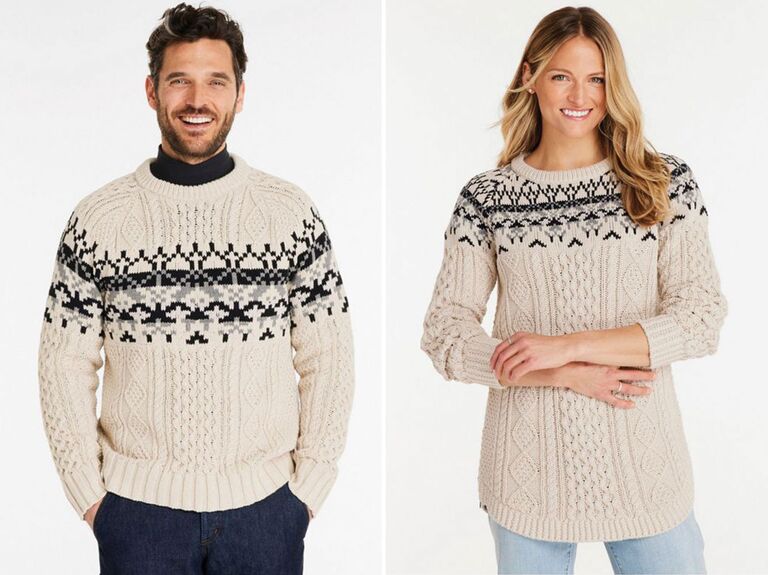 Embrace the wintery vibe without going all-out holiday mode thanks to these matching ugly Christmas sweaters for couples. Each snuggly sweater is made from 100% cotton, making them a quality addition to your closet that you'll be reaching for year after year. The cute fair isle print really pops against the timeless off-white background.
Sizing: Men's S–XXL; Women's S–XL
Snowy Scene Christmas Sweaters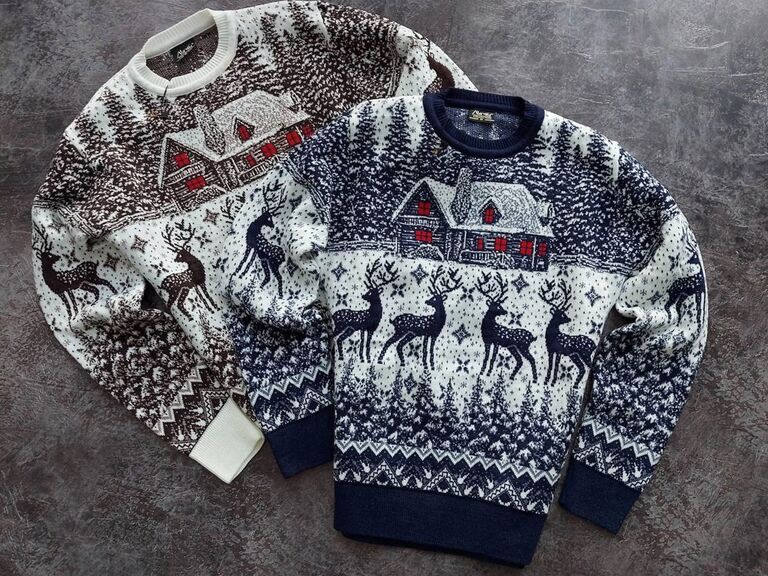 Ugly Christmas sweaters for couples don't get more festive than this. An allover print showcases a snowy winter scene complete with reindeer, fir trees and a cozy cabin. Choose between white and dark blue sweatshirts or mix and match—it's up to you!
Sizing: M–XL
Cute Coordinating Christmas Sweaters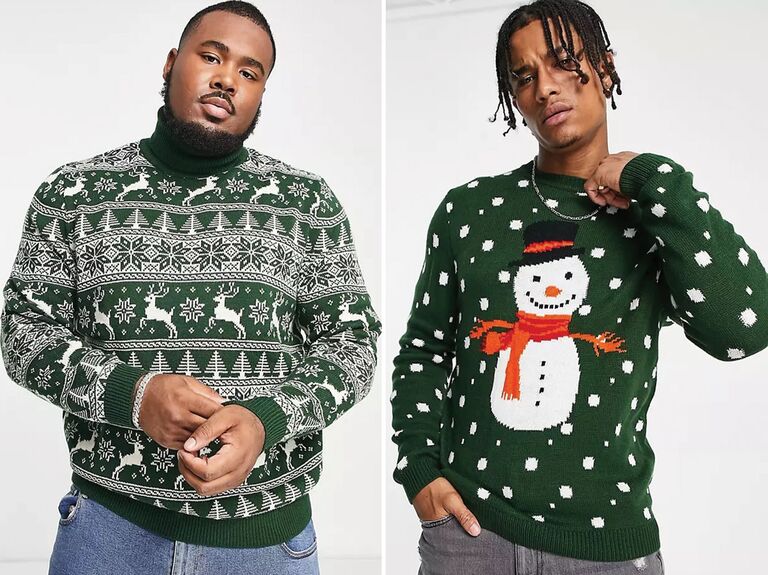 Depending on how you feel about festive clothing, you'll find these Christmas sweaters for couples cute or ugly. Either way, they're a fun way to coordinate with your other half during the holiday season. One boasts a classic fair isle print and the other pictures a sweet, smiling snowman. While the sweaters aren't an exact match, they share a similar color palette and complement each other beautifully.
Sizing: Fair Isle 2XS–4XL; Snowman 2XS–2XL
Romantic Couples Christmas Sweaters
These cheesy couples Christmas sweaters might just be our favorites. The first one reads, "You're the marshmallows," and the second continues, "To my cocoa." How sweet is that? Illustrations of marshmallows and a cup of hot chocolate add an adorable finishing touch.
Sizing: S–4XL
Thanksgiving Matching Couples Sweaters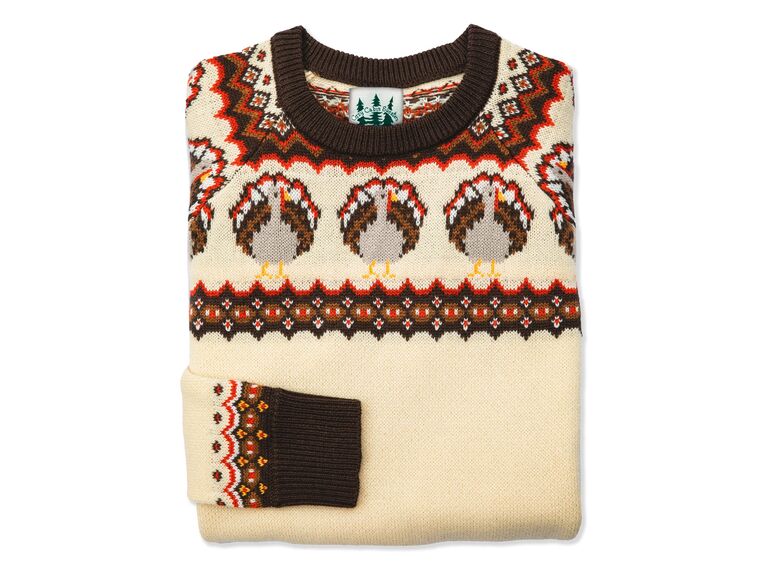 Okay, so these aren't exactly Christmas sweaters, but they're still a must-have for the holidays. If you're strictly waiting for December to don your Christmas attire, that doesn't mean you can't have a little fun in November. These Thanksgiving-themed sweaters are a hilarious tribute to the holiday. Each one is knitted with cute Thanksgiving turkeys.
Sizing: Men's S–XXL; Women's XS–XXL
Dinosaur Matching Christmas Sweaters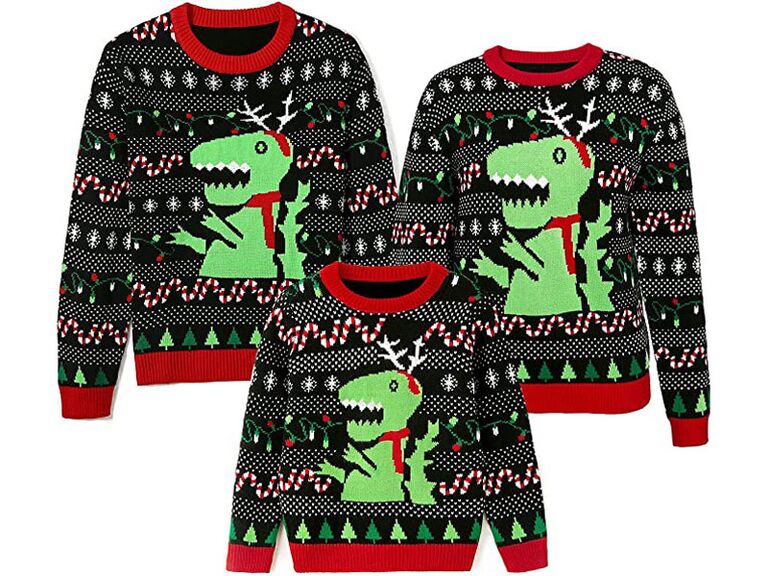 You've heard of reindeer, but what about rein-dinos? Christmas and dinosaurs aren't things that usually go together, but that's half the beauty of these ugly Christmas sweaters. Each knitted pullover is chock-full of festive details (think: Christmas trees, candy canes, snowflakes and string lights). Bonus: You can shop sizes for kids too.
Sizing: S–XXL
Traditional Ugly Christmas Sweaters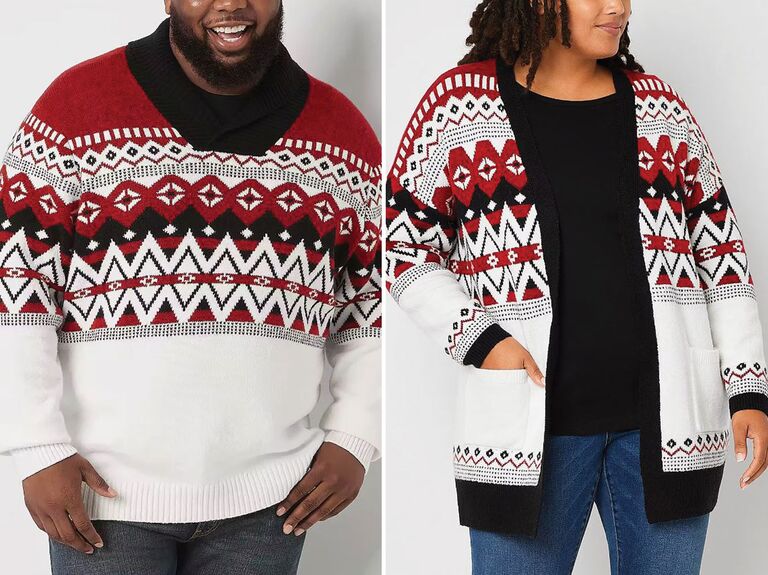 Keep things classic with this white, red and black fair isle collection. There are sweaters and cardigans for adults, as well as options for kids, babies and even your dog. Consider outfits for your 2022 Christmas card photo sorted.
Sizing: Men's: S–5XL; Women's XS–5XL
Naughty Couples Christmas Sweaters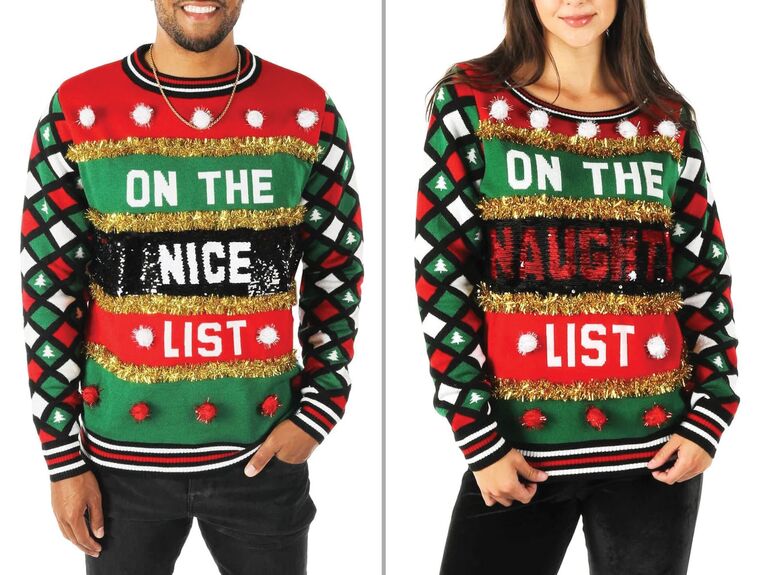 Looking for something a little more playful? These Christmas sweaters for couples show whether you're feeling naughty or nice. The middle section of the jumper has reversible sequins so that you can switch between the phrases, "On the naughty list," or "On the nice list." An argyle pattern on the sleeves, fuzzy white pompoms and gold tinsel come together to create one of the best (read: ugliest) Christmas sweaters for couples.
Sizing: Men's S–5XL; Women's XS–3XL
Playful Matching Christmas Sweaters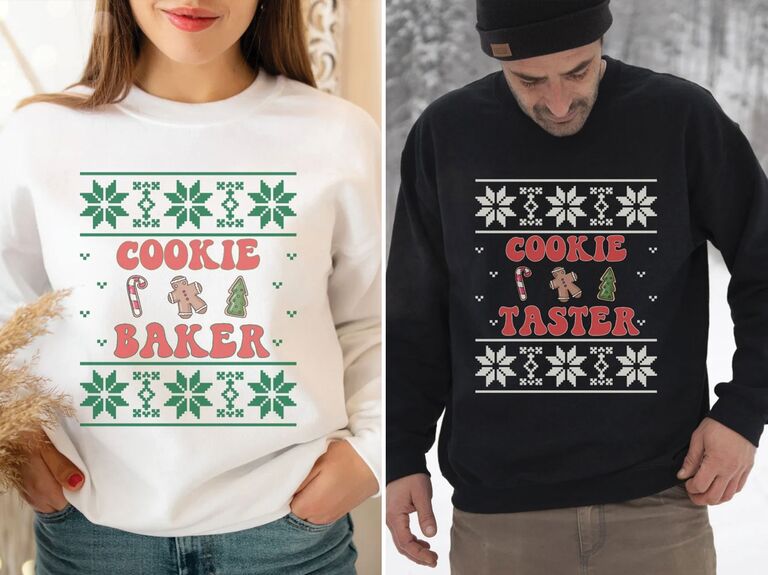 Does one of you take on the role of Head Chef when it comes to Christmas cookies? These funny Christmas sweaters for couples are a cute way to poke fun at each other. The first sweatshirt is printed with the title "Cookie Baker" and the second is titled "Cookie Taster" (an equally important job, of course). Cute Christmas cookie illustrations add a festive finishing touch.
Sizing: S–3XL
Christmas Vacation Couples Sweaters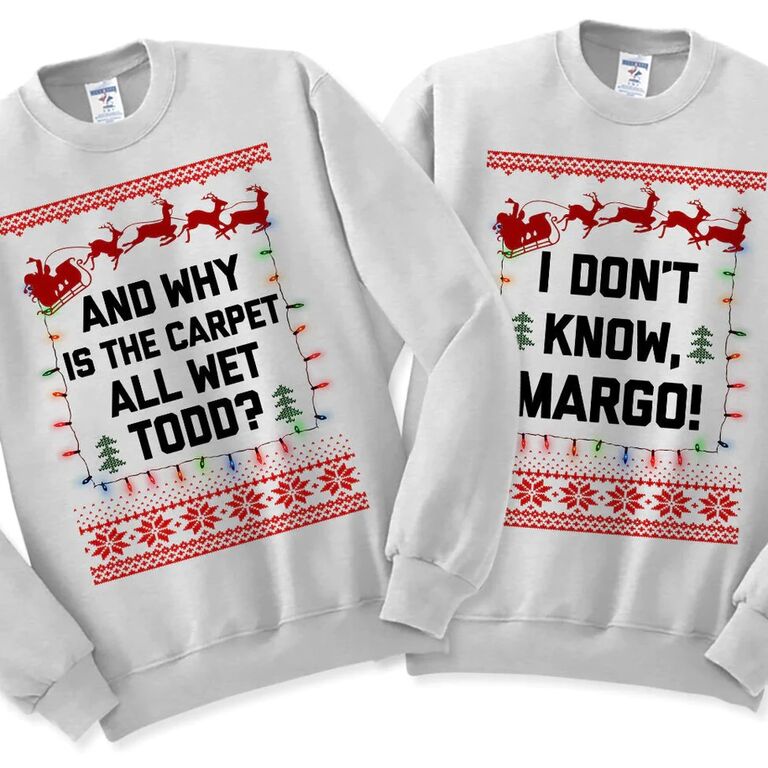 Take inspiration from everyone's favorite 80s Christmas movie, National Lampoon's Christmas Vacation. These funny couples Christmas sweaters are printed with an iconic quote from the film. The first reads, "And why is the carpet all wet, Todd?" and the second sweatshirt says, "I don't know, Margo!"
Sizing: S–2XL
Snug Matching Christmas Sweaters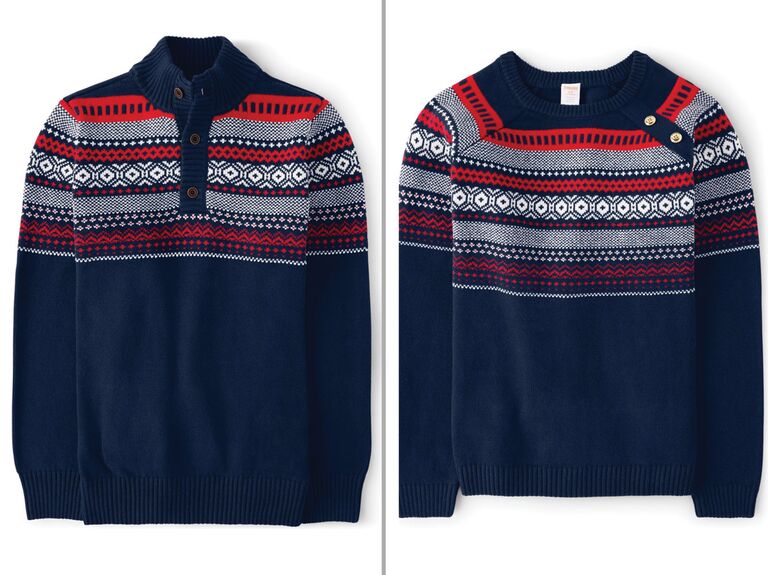 How comfy do these matching sweaters look? Seriously, that cozy cotton will keep you warm all winter long. We're always here for festive wear that's as practical as it is cute. The navy, red and white fair isle design will never go out of style.
Sizing: Men's S–XXXL; Women's XS–XXL
Cheesy Couples Christmas Sweaters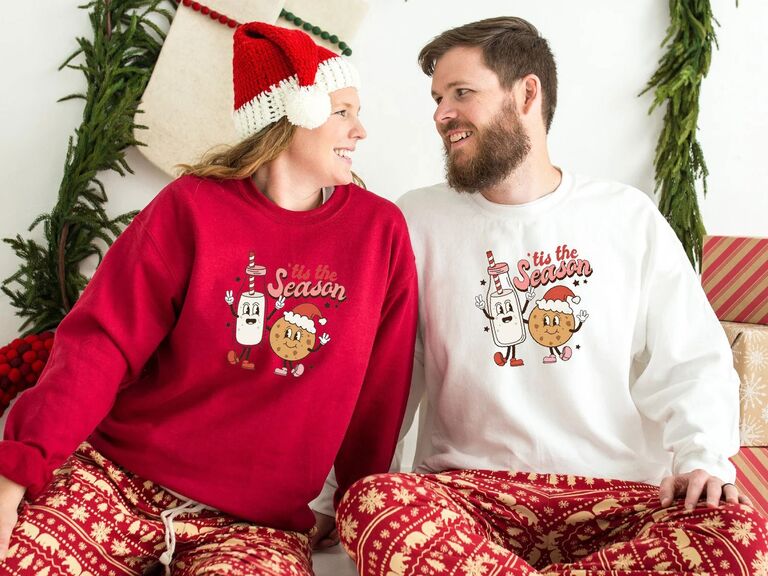 Festive milk and cookies adorn these fun couples Christmas sweatshirts. They're available in five different colors, allowing you to mix and match or go all-out twinning. The only better pair than milk and cookies? You and your other half!
Sizing: S–2XL
Novelty Matching Christmas Sweaters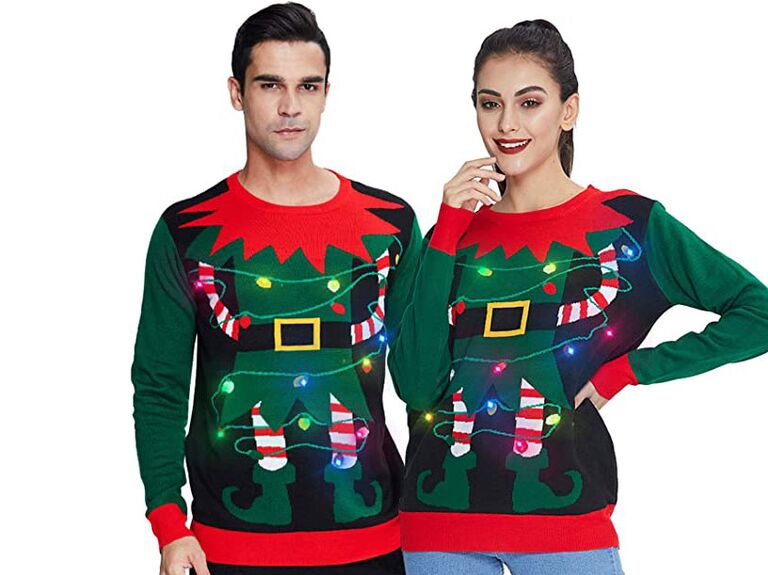 These truly ugly matching sweaters dress you and your S.O. up like jolly Christmas elves. The sweatshirts even light up for extra festive fun. We can't imagine anyone else winning the prize for ugliest Christmas sweater when you show up in these bad boys.
Sizing: S–XXL