How to Master Gua Sha—TikTok's Favorite Beauty Trend—Before Your Wedding
The ancient Chinese practice has some serious benefits.
We have included third party products to help you navigate and enjoy life's biggest moments. Purchases made through links on this page may earn us a commission.
If you've been on social media lately, you've likely seen videos about gua sha. The ancient Chinese practice is all over TikTok, as it sculpts the face dramatically in just minutes. Wondering how to gua sha ahead of your wedding? We're here to help. While gua sha is recently trending on the internet, it's been around for years (4,000, to be exact). It's actually a holistic healing practice that does more than just contour your jawline and cheekbones. If done properly and consistently, experts say it can ease stress and help with migraines.
But with those benefits come risks too. If done incorrectly, you can cause some serious damage to your skin (think: broken blood vessels, bruising, redness). That's why you need to be extra-careful before starting this skin care practice. We spoke to experts to break down this SkinTok favorite—from how to do it to mistakes to avoid. Plus, we included our favorite gua sha stones you can buy right now. Read on to learn everything you need to know about gua sha ahead of your wedding.
What is gua sha?
According to Lin Chen, founder of Pink Moon, gua sha is a holistic healing practice that's been around for 4,000 years. In Mandarin, "gua sha" means "to scrape sand." The name is fitting, considering the practice involves gliding a stone across your face and body (much like the act of scraping sand). "It has been traditionally used over the body to help aid in the movement of Qi (which is energy flow) to increase circulation and release tension," Chen says.
Gua Sha Benefits For To-Be-Weds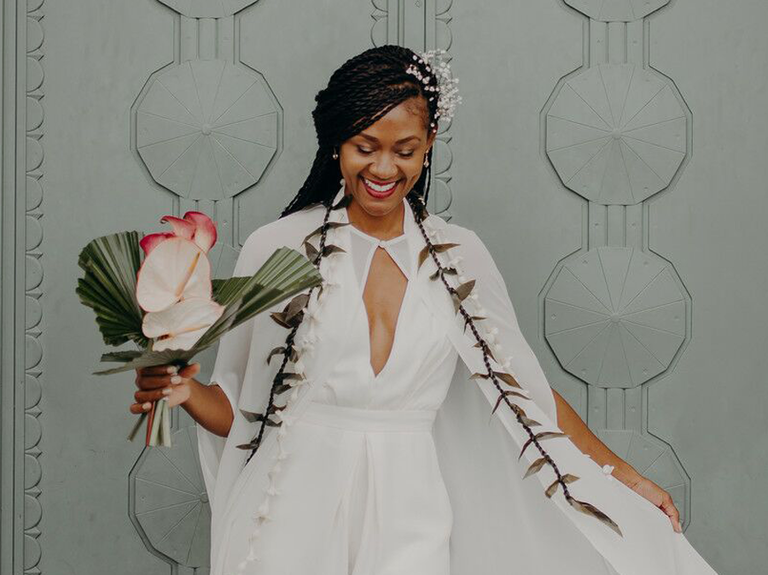 So why is the internet obsessed with gua sua? And, more importantly, why should to-be-weds care about it? The answer is simple: It gives instant, dramatic results. "Specifically on the face, gua sha facial helps to reduce puffiness, lift muscles, contour, and promote elasticity in the skin—which are effects you can see and feel instantly," says Chen.
Its benefits extend beyond just the face too. "Gua sha is great as a self care tool and especially effective at relieving muscular tension and breaking down fascia adhesions—perfect for those with tight muscles, sluggish circulation, and tech necks," says Dr. Ervina Wu, co-founder of YINA.
Plus, it's a stress reliever, which helps the skin enormously. "Skin reacts to stress with increased inflammation, causing rosacea flares, acne and more," says Dr. Caren Campbell, a board-certified dermatologist in California. "If gua sha helps relieve tension and stress there is no harm in continuing it, but be mindful of the possible resulting bruising or broken vessels."
Despite its popularity on SkinTok (TikTok for skin care lovers) gua sha isn't just a cosmetic practice. "While its popularity in the U.S. and Europe is largely tied to its ability to 'sculpt' the face, its healing capabilities extend far deeper," Chen says. "Gua sha is excellent for lymphatic drainage, addressing stagnant energy, promoting blood flow, soothing headaches, reducing inflammation, shortening acute illnesses like colds and flus and releasing tension from head to toe."
How to Gua Sha Before Your Wedding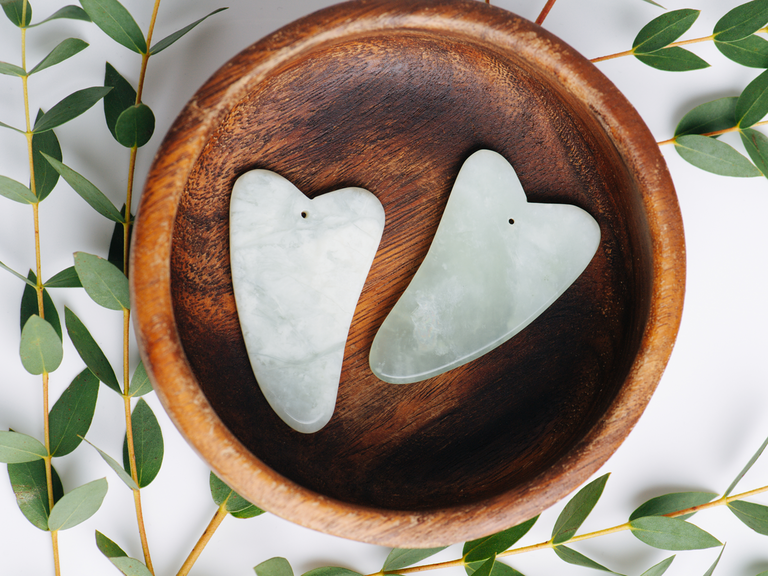 Want to incorporate gua sha into your prewedding beauty routine? Check out these expert tips to get started. Perform the treatment for 10 to 15 minutes daily to see dramatic, TikTok-worthy results. Psst: While these pointers are a great starting point, we highly recommend consulting a Traditional Chinese Medicine practitioner to ensure you're using the proper technique.
Apply Face Serum, Moisturizer or Oil to Clean Skin
First and foremost: Clean your face. Rinse it with your favorite face wash and water, and then pat it dry. "Before doing gua sha, you want to make sure to prep your skin with something emollient like a face oil or a balm," Chen says. "You also want to apply an oil that's silky and doesn't absorb right away or you might tug your skin." If you're nervous about using facial oil, use a thick serum instead (just make sure it's slippery enough to help the stone glide along your skin).
Hold the Stone at a 15-degree Angle
Avoid the urge to hold your gua sha stone perpendicular to your body. "Keep the stone as flat and close to the skin as possible—try for a 15-degree angle so you don't create unnecessary friction or tug your skin," Chen says.
Gently Swipe Stone Up and Out
Firmly press down on the stone, but don't press too hard (you don't want to burst a blood vessel or tug on your skin). Then, start at your selected spot (whether your forehead, cheeks and eyes or jawline), and gently swipe the stone up and out. For a full-on gua sha facial, start at the bottom of your neck, and then go up to your jawline, your eye area and your forehead.
If you're going for a strong, defined jawline, start at the middle of your chin and firmly swipe the stone up along your jawline and up to your earlobe. Once you reach that point, go down your neck. Repeat that motion five times on each side for an extra-sculpted jawline.
Hoping to depuff your eye area? Gently press the stone down at the front of your cheekbone (close to your nose), swipe up towards your temple and then out towards the hairline. Repeat five times for instant results.
And finally, if you're doing your forehead, start in the middle and work your way out to your temples, swiping the stone up in short strokes towards your temples.
Skip Your Face If You're Suffering From a Breakout
Pro tip: If you're dealing with stress-related acne (you're not alone), skip your facial gua sha session. Swiping the stone around your face could cause the bacteria and inflammation to spread, resulting in even more breakouts. "If you have an active acne breakout, just do gua sha on the chest and neck," Chen says. "This will help increase circulation and decrease inflammation."
How to Gua Sha the Morning of Your Wedding
The morning of your wedding, you can perform gua sha on your face, but do it first thing in the morning. That way, you won't have any residual redness by the time the ceremony starts. Plus, it's an amazing opportunity for self care before all the festivities start. Take the time to meditate, reflect on your relationship or simply enjoy the quiet. Go along the three major areas of your face, press down gently and swipe upwards and outwards. Word to the wise: If you haven't been consistently doing gua sha for months leading up to your wedding, skip it on your wedding day. "Gua sha results in bruising and small broken blood vessels, so doing this prior to the wedding isn't a good idea," Campbell says.
Gua Sha Mistakes to Avoid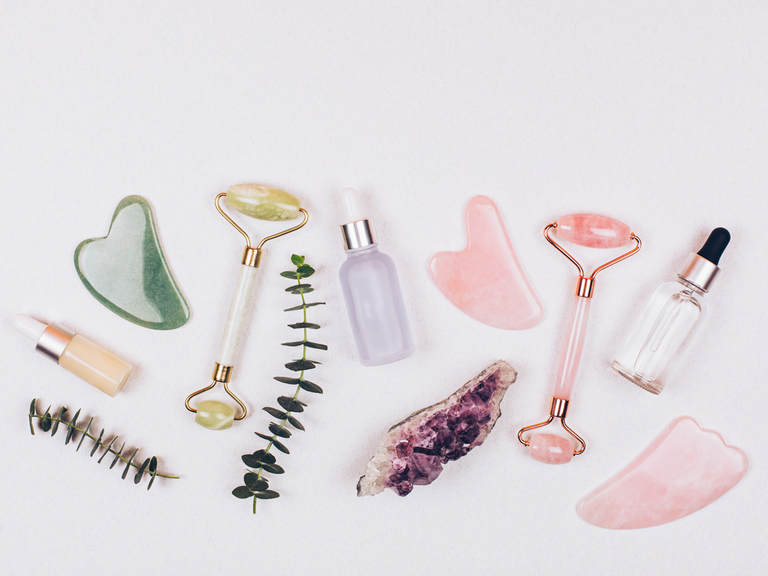 Despite its widespread popularity, gua sha does have some risks associated with it. Read on to see the top gua sha mistakes to-be-weds should avoid.
Applying Too Much Pressure
While it may be tempting to press down hard on your skin for extra-dramatic results, this can actually damage your complexion. "The correct performance of gua sha results in small broken blood vessels and bruising," Campbell says. "This could result in staining of the skin from iron in the blood that leaks out of the vessels which takes time to fade like with any bruise (which is called hemosiderin staining)." Additionally, small broken blood vessels (called telangiectasia) can remain and cause redness. And while this temporary redness is part of the practice, too much pressure can cause permanent damage. "Aggressive pressure could result in the more permanent broken vessels (known as telangiectasia), which do not self resolve and would need to be lasered away," Campbell adds.
The fix? Be gentle with your skin. "Use light to medium pressure and always apply a facial oil or balm to the skin to allow for slip—don't drag the skin," Wu says. "Keep your tool clean, and avoid doing gua sha over broken skin or inflamed areas."
Trying Gua Sha Right Before Your Wedding
"Don't experiment with any new skin care treatments without the help of a professional too close to the wedding," says Dr. Corey Hartman, a board-certified dermatologist in Alabama. "The worst thing would be to create an unnecessary skin issue in the run up to the biggest day of your life."
You need to give yourself months to get used to a new product or treatment before the big day. "Mixing up anything one to two months before your wedding is a recipe for disaster—don't break what's not broken," Campbell says. "The perfect time to get on a good routine is six to 12 months prior to your wedding."
If you don't have that kind of time before your nuptials, skip the trend. "If you haven't been doing gua sha for a while before getting engaged, choose a different skin treatment to prepare your skin like microdermabrasion, dermaplaning or microneedling, which all gently exfoliate, improve circulation, smooth the skin's surface and provide a more even skin texture," Hartman says.
Performing Gua Sha Too Frequently
While both Chen and Wu recommend performing gua sha for 10 to 15 minutes daily, be careful not to over do it. Once a day is all you need. In fact, any more could result in negative reactions, according to Hartman. "If the pressure is applied too aggressively, too frequently or with the incorrect tool, it can lead to skin discoloration, bruising and scars," he says.
Neglecting The Rest of Your Skin Care Routine
While it can be exciting to start a new self care routine, it's important to keep up with the ones you already have. Gua sha may offer certain benefits for your skin's appearance, but it won't do much if you neglect the rest of your skin care routine. "Whether or not gua sha is part of the skin care wedding prep, please continue to maintain a consistent skin care regimen that includes a sun protection factor, antioxidants and retinol," Hartman says.
Gua Sha Stones Every To-Be-Wed Needs
Want to get in on the TikTok beauty trend before your wedding? Shop our favorite gua sha stones, below.
Pink Moon Rose Quartz Gua Sha Facial Tool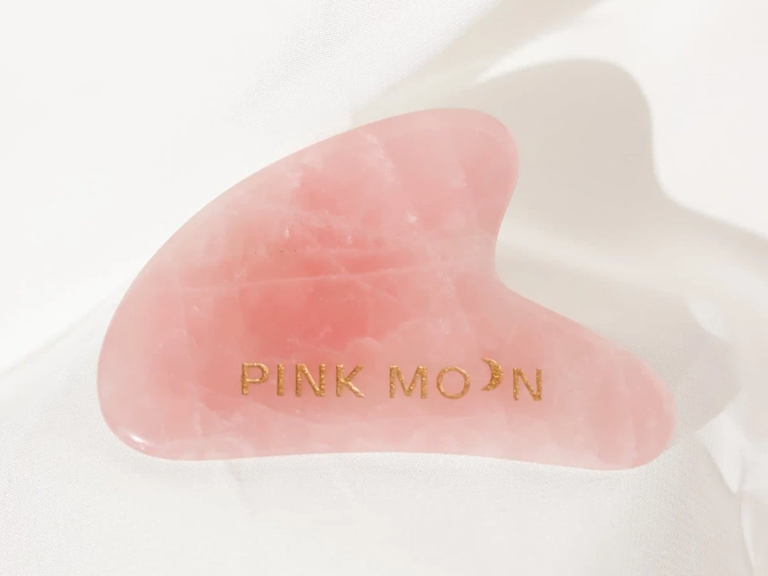 It's no secret we love this pretty gua sha stone—it won The Knot 2021 Beauty Awards. It's made of rose quartz, which is antimicrobial (meaning you don't have to worry about any icky germs) and is cool to the touch (which will make your at-home facial feel even more amazing).
YINA Bian Stone Body Gua Sha Tool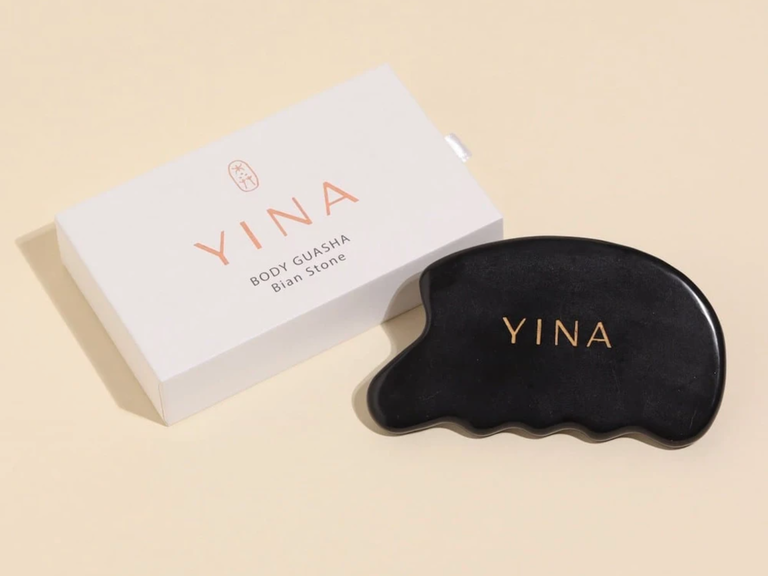 Want to fully lean into the skincare trend? Pick up YINA's gua sha stone, which is big enough to use on your body but still compact enough for your face.
Kora Self Care Set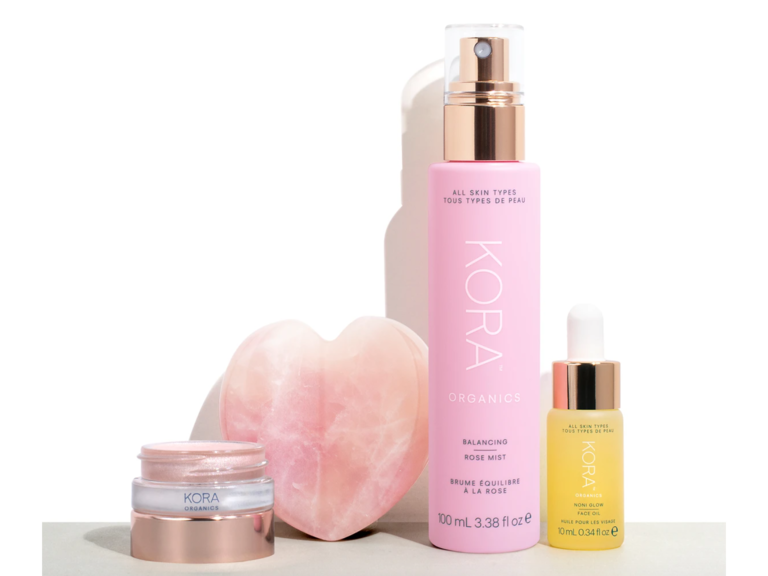 What better way to celebrate love than with a heart-shaped gua sha stone? Buy yourself (or your newly-engaged friend) this adorable set to get started with the popular practice.
Herbivore Gua Sha
We're fans of this purple gua sha stone because it's made with amethyst, a crystal that many believe can help with feelings of anxiety (read: wedding planning stress). Use it with your favorite face oil or serum for the ultimate self care session.