How to Dip Dye Silk Ribbon
Turn ordinary fabric into a pretty ribbon with a color that's all you.
by Elizabeth Wieck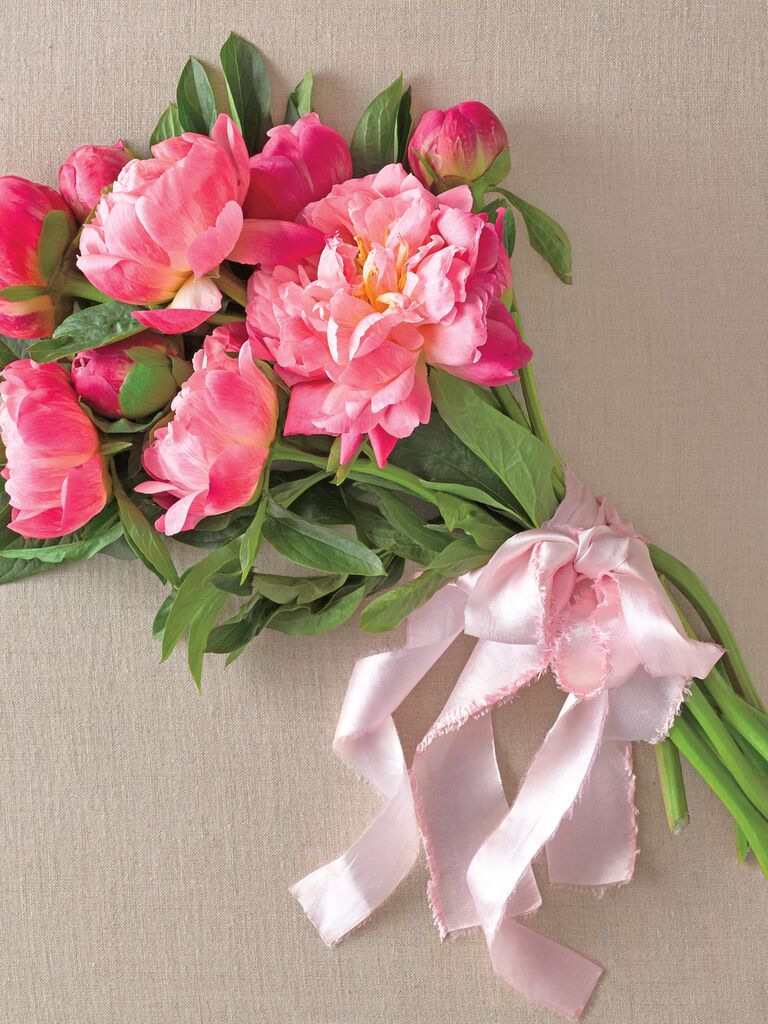 Making a ribbon in a one-of-a-kind hue is much easier than you might think. Simply dip and dye—that's it, we promise! We even tested it out ourselves to make sure. Best of all, you can use your custom-colored ribbon in so many different ways. We particularly love wrapping it around bouquets (bridesmaids and flower girls included), tying a pretty bow on your favors, or making them into ribbon wands for a fun exit photo.
Show us your own wedding DIYs by tagging your pictures with #theknotDIY on Instagram or Twitter.

raw silk fabric (we ripped 1.5-inch strips off a yard of fabric for a frayed effect)
ruler
scissors
water
RIT fabric dye (we used "Petal Pink")
3 bowls
mixing spoon
gloves
hanger

1. Use a ruler to measure your desired width and length of ribbon strips.
2. Fill three bowls with about a cup and a half of water, one hot, one warm and one cold.
3. Put a few drops of dye into the hot water bowl and mix with a spoon.
4. Submerge ribbon in the bowl of dye for a few seconds. For a darker hue, leave in for several minutes.
5. Immediately submerge ribbon in the warm water, then the cold water to set the color.
6. Strip excess water from ribbon and place on a hanger to dry.