21 Wedding Guest Book Alternatives You (and Your Guests) Will Love
Consider these cute and creative guest book ideas for your wedding.
We have included third party products to help you navigate and enjoy life's biggest moments. Purchases made through links on this page may earn us a commission.
The guest book is a wedding detail that should feel special, personalized and creative. That's why we rounded up some of the most creative wedding guest book alternatives for a fresh take on this wedding essential that you'll want to keep forever—and even display in your home too. Replicate what these real couples did, or get inspired for your own creative wedding guest book idea. 
1. A Wine Bottle Guest Book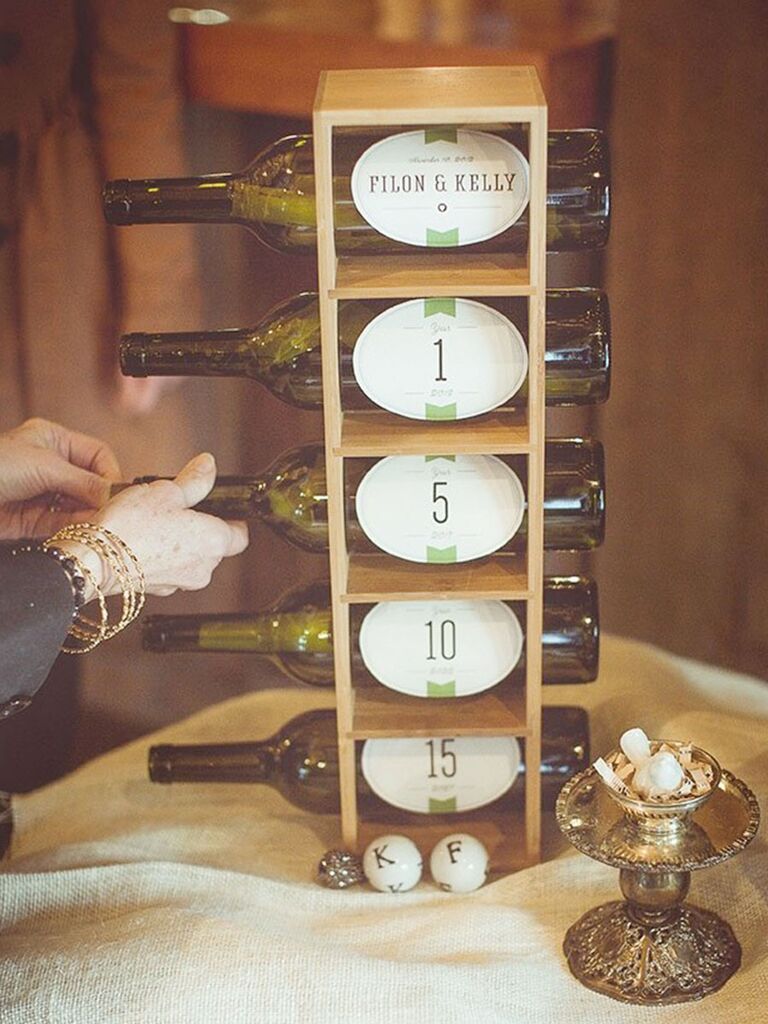 Guests will be getting in line to sign these bottles of wine. Use personalized wine bottle labels to create space for guests to leave their names. Later, you and your partner can pop open a different one on each meaningful anniversary, read the heartfelt notes and funny anecdotes, and most importantly, remember the friends and family who came to celebrate your wedding day.
2. A Vintage Photo Guest Book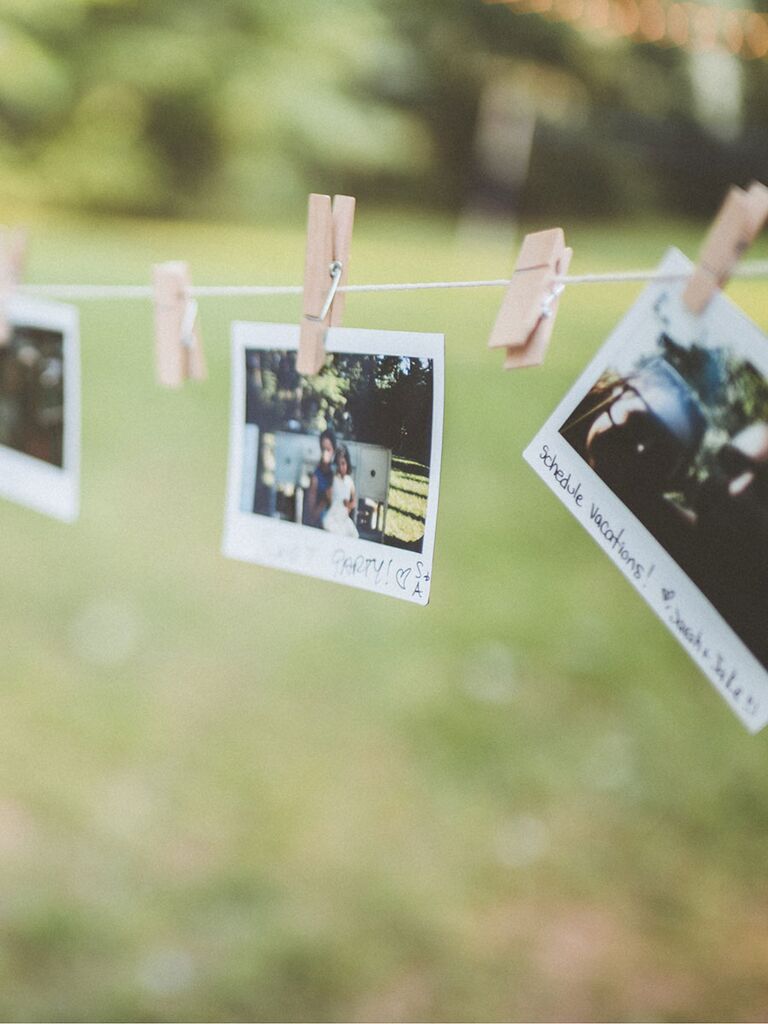 Turn your guest book station into a fun-filled photo booth with vintage-style Polaroids. Your family and friends will have a blast snapping pictures and adding them to the collection strung up on a clothing wire hanging inside a vintage open frame. Plus, you'll be able to take them home and create a photo album to remember forever. 
3. A Sealed Envelope Guest Book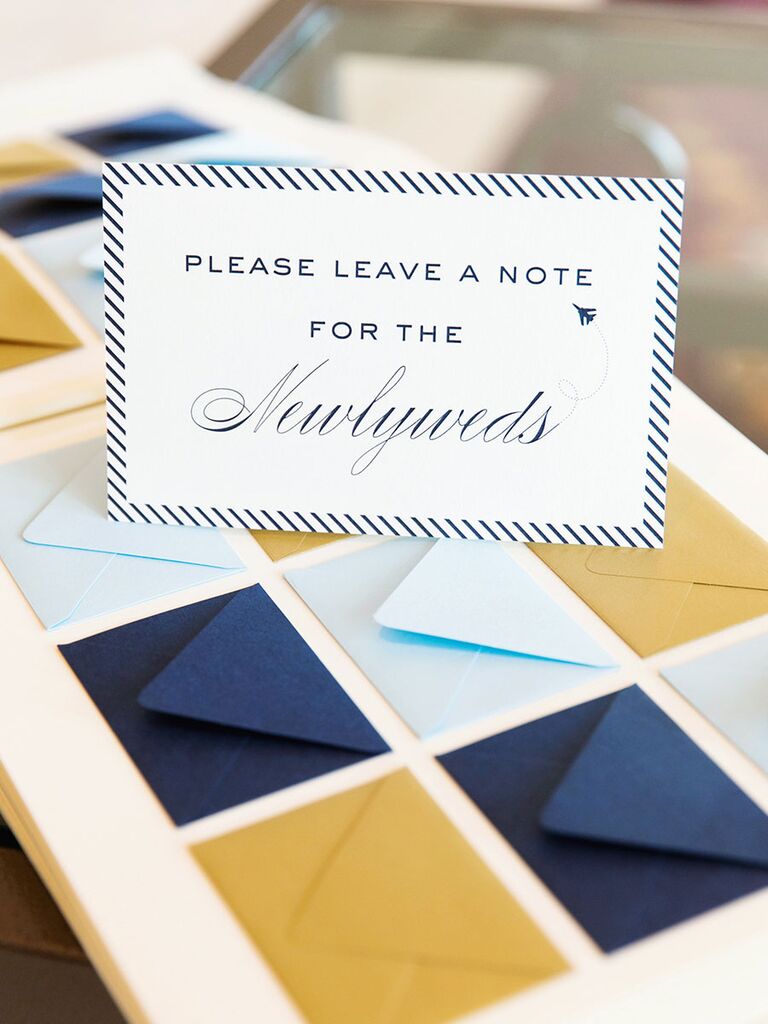 Nothing says signed, sealed, delivered like this guest book stationery. Allow your guests to leave a personal note as they check in at your wedding. By the end of the night, you'll have a stack of meaningful messages from your closest family and friends.
4. A Yearbook-Style Guest Book
This yearbook-style guest book is a sure way for guests to leave their mark on your wedding memorabilia—not to mention they'll be able to show off a chicer look than they probably had in high school. Place an instant film camera next to a simple book so guests can stamp their photos above their thoughtful messages.
5. An Eco-Friendly Guest Book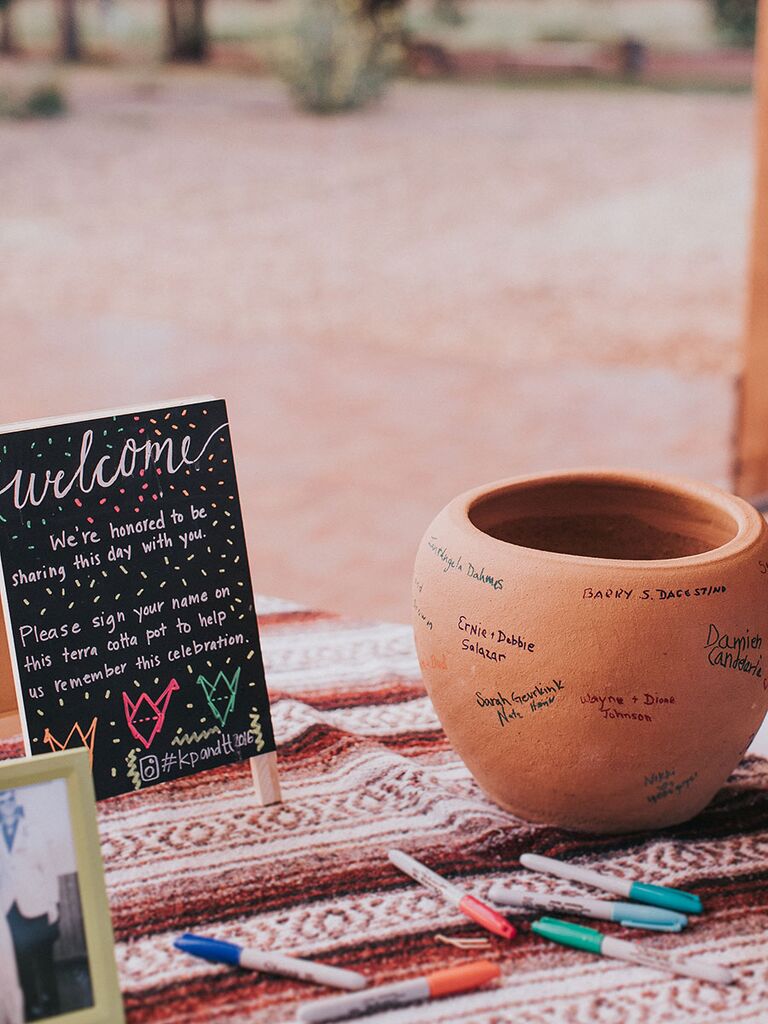 Ditch the paper and welcome guests to sign directly on a Southwestern-style terra-cotta pot. Not only will your wedding be that much more eco-friendly, your finished vessel will make the perfect table decoration (just add succulents or another favorite plant) in your newlywed nest.
6. An Old-School Guest Book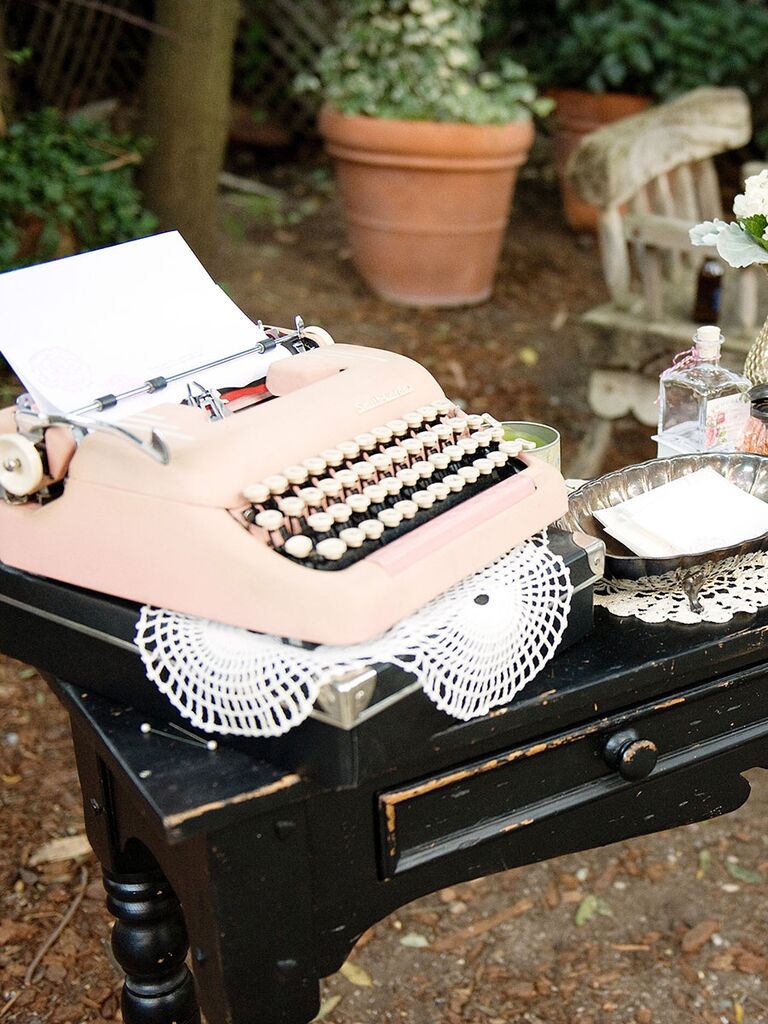 Your rustic glam welcome table isn't complete without this old-school typewriter front and center. Bring out your wedding accent colors by loading the typewriter with paper in different shades of each hue and ask your guests to leave a note, poem or their best advice.
7. A Storybook Guest Book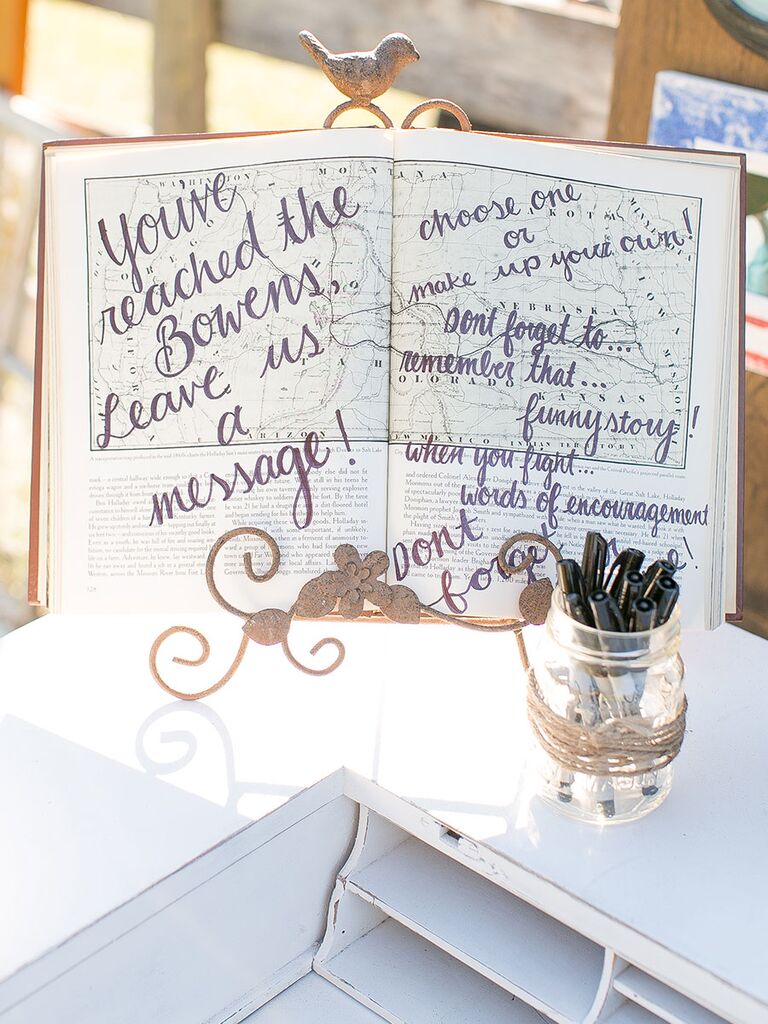 An elegant storybook theme will help narrate your own perfect wedding day. Showcase a copy of you and your partner's favorite fairy tale or book on a decorative easel and invite guests to write their own whimsical notes on its pages. After your happily ever after has begun, you can look back and reminisce on the people who were there to see you off on your romantic adventure.
8. A Musical Guest Book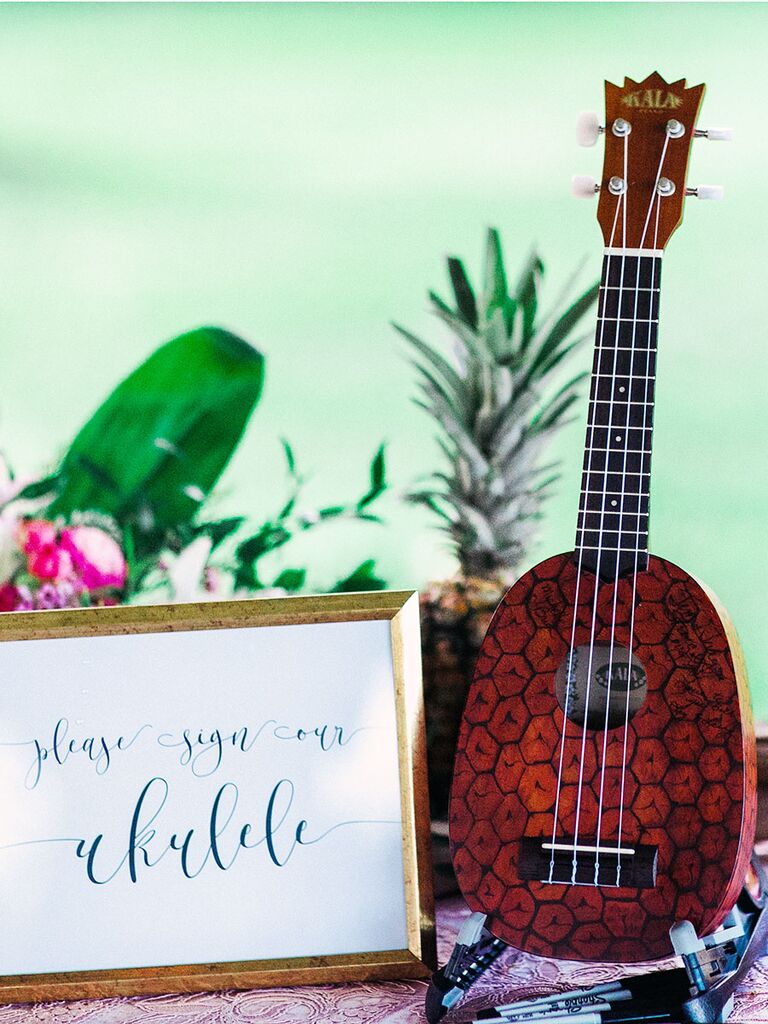 For a musical couple—or just one having a Hawaiian-themed wedding—why not set the tune with an adorable ukulele guests can sign? Even better if you have someone on hand to play a song on it (might we suggest "Over the Rainbow"?).

9. An Artistic Guest Book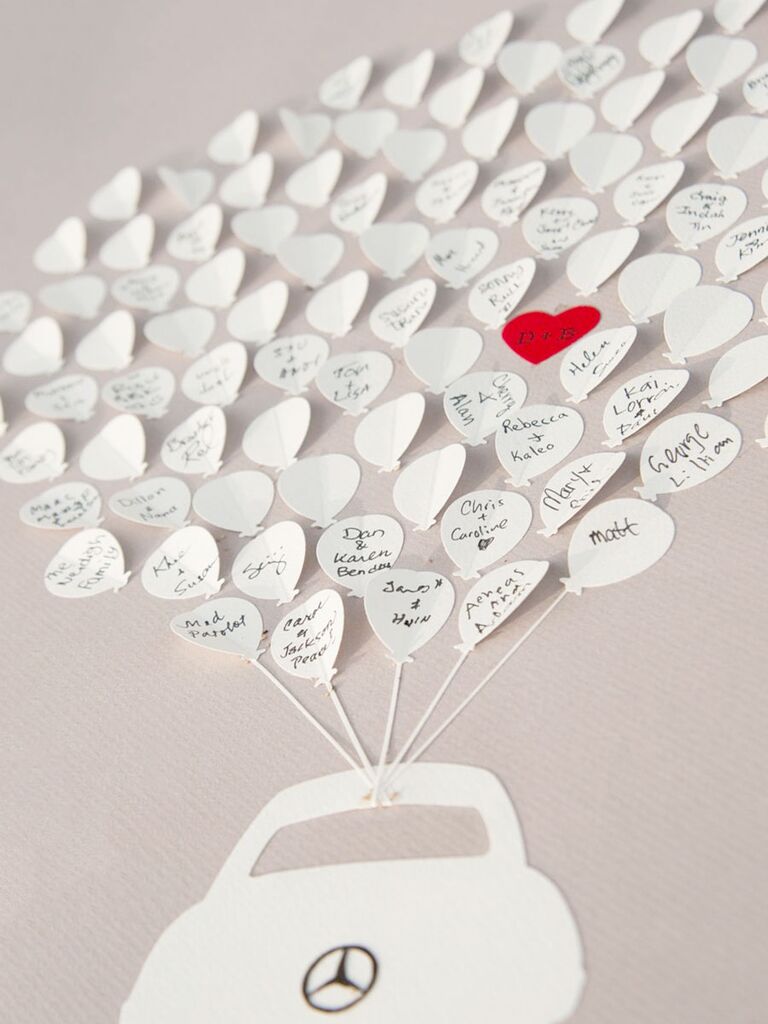 Make it easy for multiple guests to sign your guest book at once with balloon-themed sticky notes. Start with the outline of a vintage car, tree trunk or even your silhouettes and add strings that your friends and family can affix their signed balloons to. (Let's hope their messages aren't full of hot air.)
10. A Branded Guest Book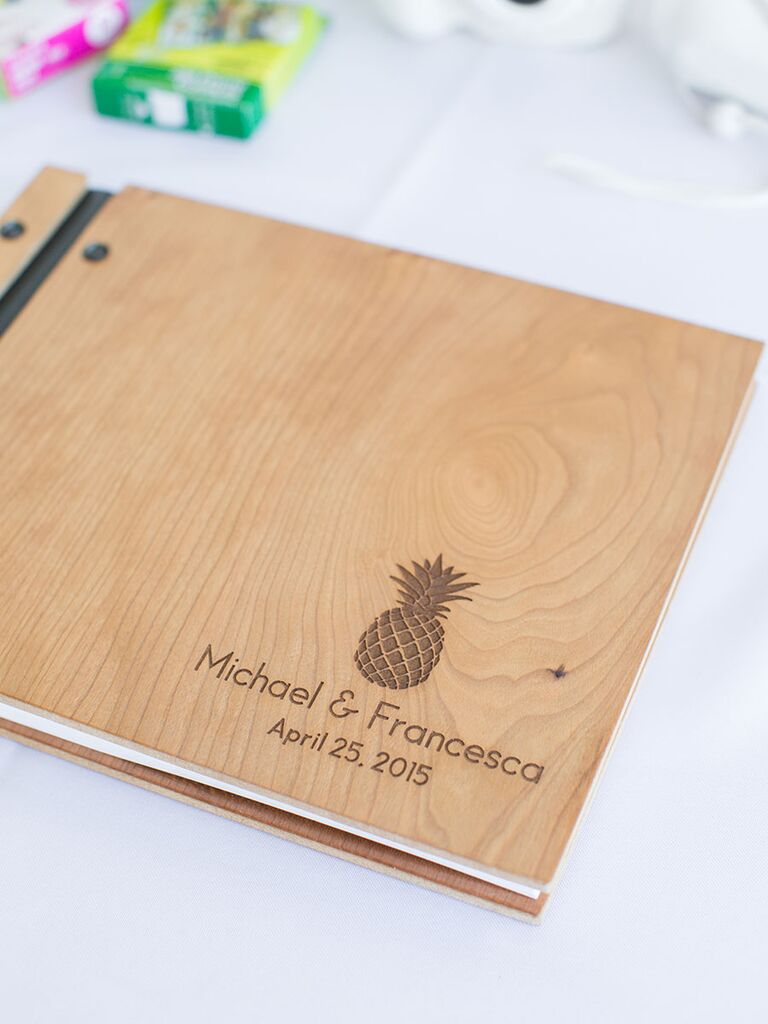 If you're looking for a way to personalize a more traditional guest book, consider having your names and a symbol that matches your wedding theme branded onto a wooden front cover. The simple, classic design will make for a lasting keepsake.

11. A Lock-and-Key Guest Book

The key to a memorable wedding? A memorable guest book! Place antique-style keys and tags in a rustic wicker bowl and have guests add them to a decorative cork board as they walk in the doors of your venue.
12. An Interactive Guest Book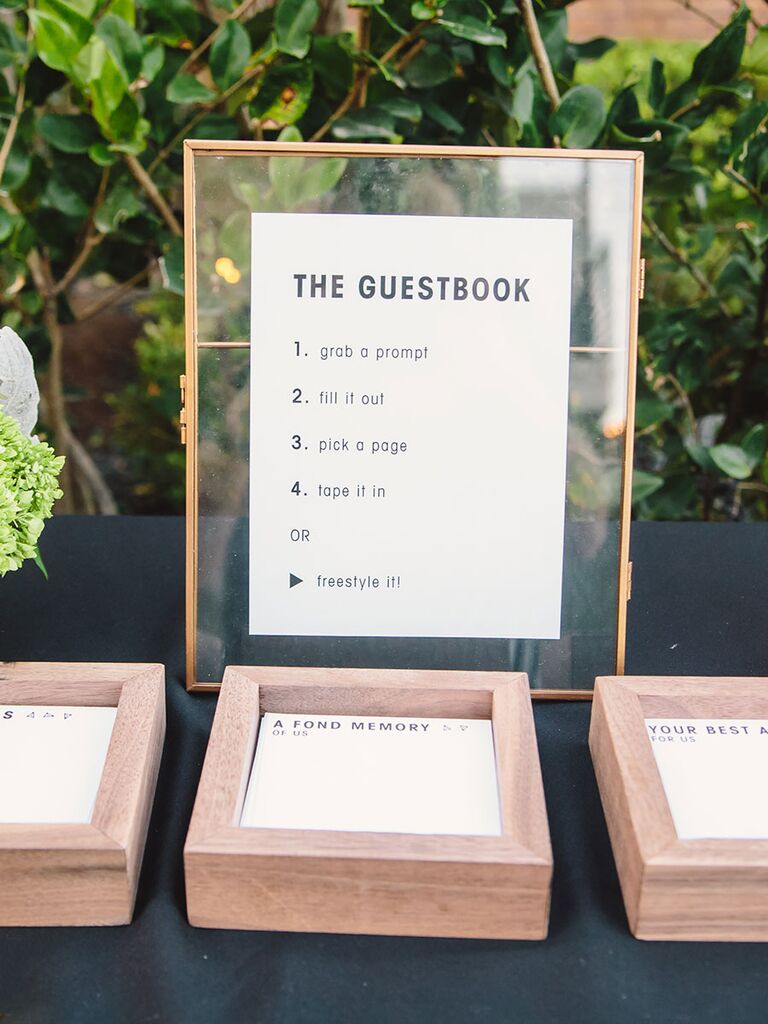 Pick a prompt, any prompt. Greet guests with fun question cards and invite them to leave their answers. Match the colors of the paper to the theme of your wedding for a setup that's anything but ordinary.
13. A Surfboard Guest Book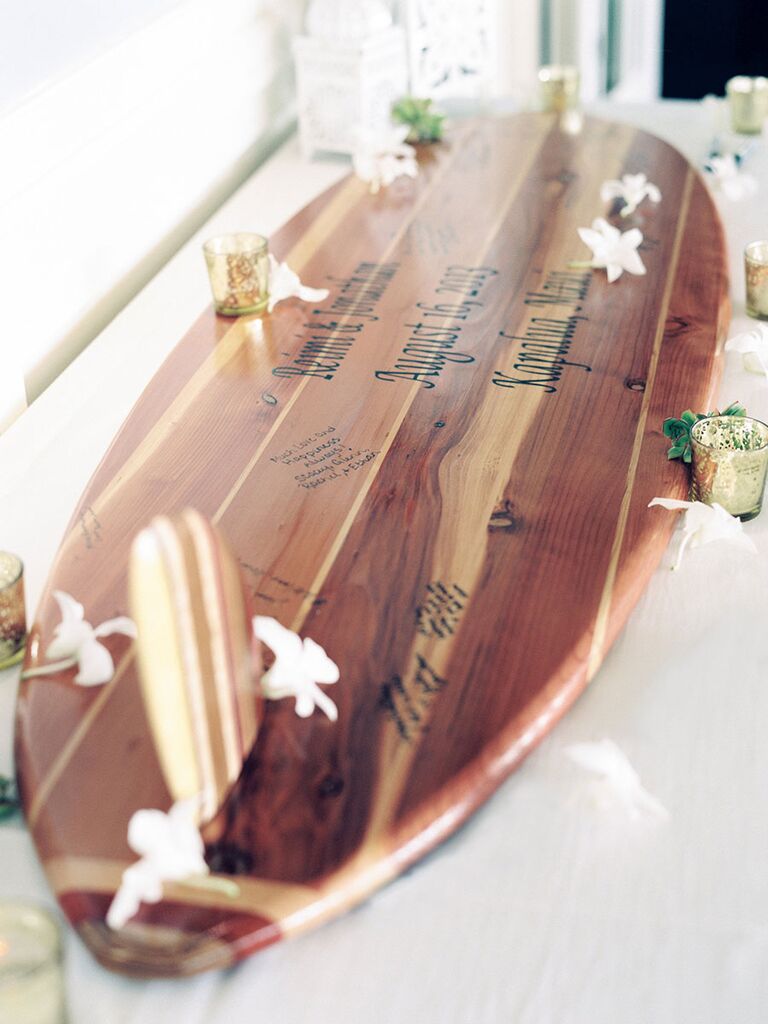 Guests will be riding high-tide all night long after signing this customized wooden surfboard. Add decorative votives and fresh blossoms to the table to boost your wedding's beachy theme. Whether you're a surfing pro or more of a spectator, the unique board will add a sweet seaside vibe to your home décor.
14. A Quilted Guest Book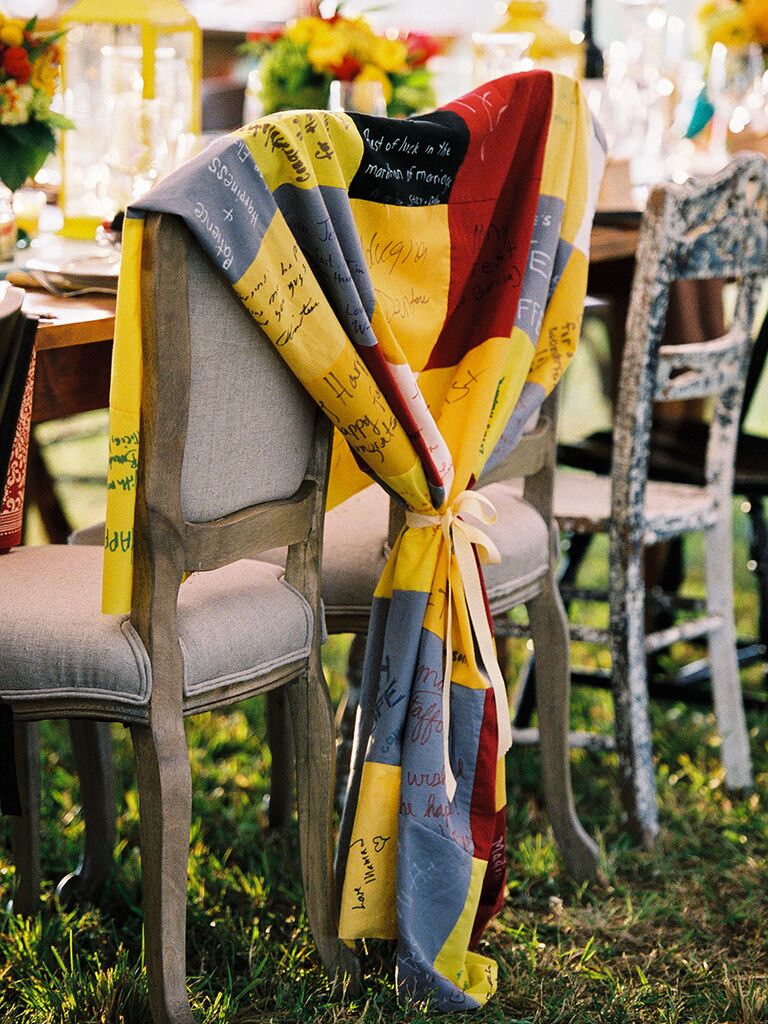 Years from now, you and your partner will still be able to wrap up in this quilt on a chilly night and read through guests' well wishes from your wedding day. Choose fabric colors that match your wedding, have guests sign the various scraps of cloth with fabric markers, and then DIY or have a pro stitch them together to create a one-of-a-kind blanket you'll cherish forever.
15. A Framed Guest Book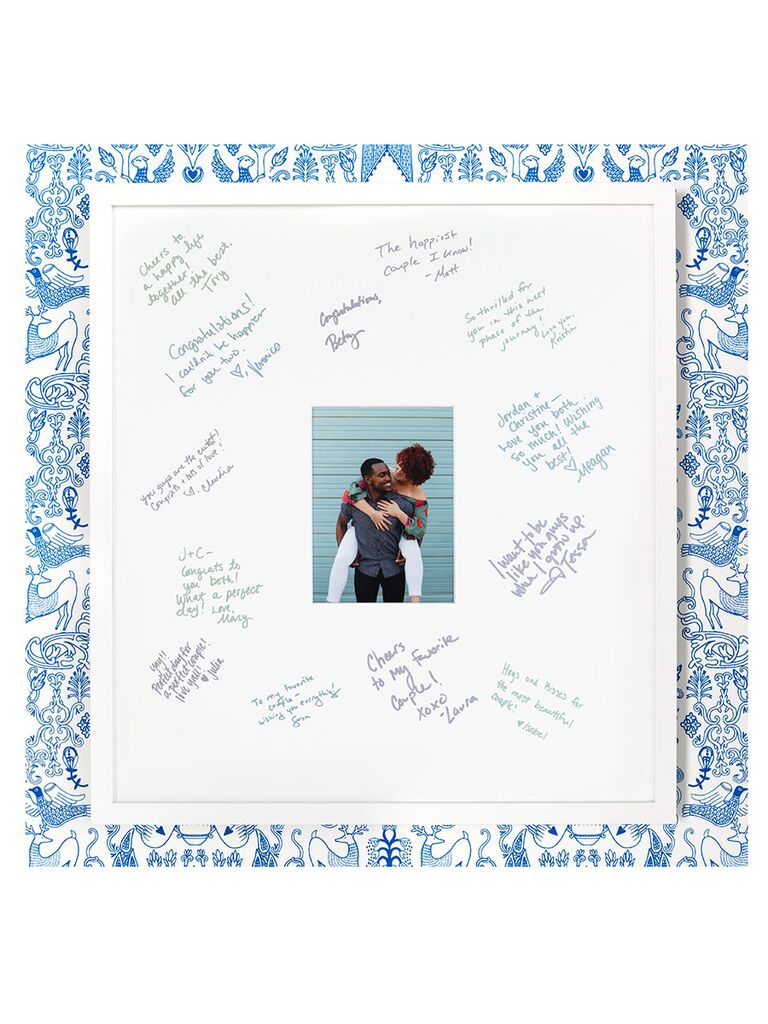 Choose a favorite photo of you and your partner and frame it with an extra-large mat that leaves plenty room for special messages from your guests. Hang it in a prominent spot at your venue for friends and family to sign and then later add it to your gallery wall at home.
16. A Monogrammed Globe Guest Book
Even if you're not taking your guests around the world, offering a globe to sign will feel just as worldly. Plus, it'll make a chic addition to a home office or other room in your newlywed nest. 
17. A DIY Watercolor Guest Book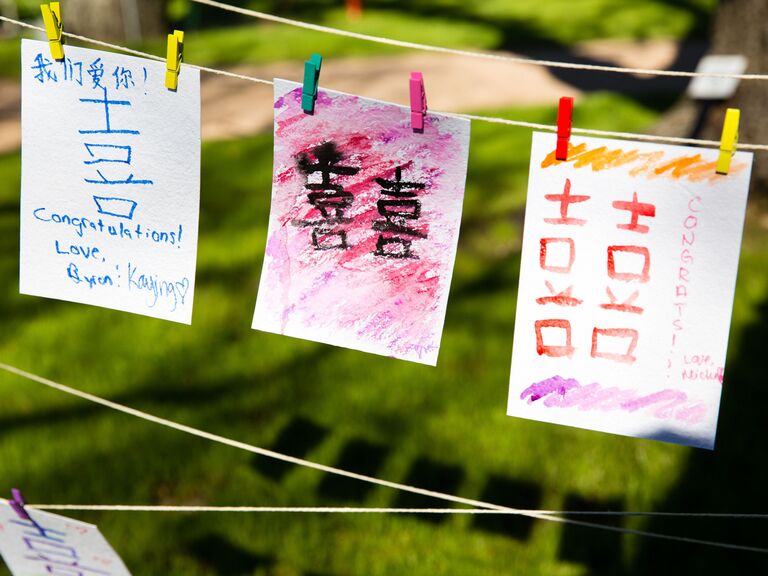 All you need are some watercolor paints, brushes and pieces of paper to make for a memorable, DIY guest book experience everyone will love. Add in some enthusiastic guests and a string to hang them on, and you'll be all set. 
18. A Pennant Guest Book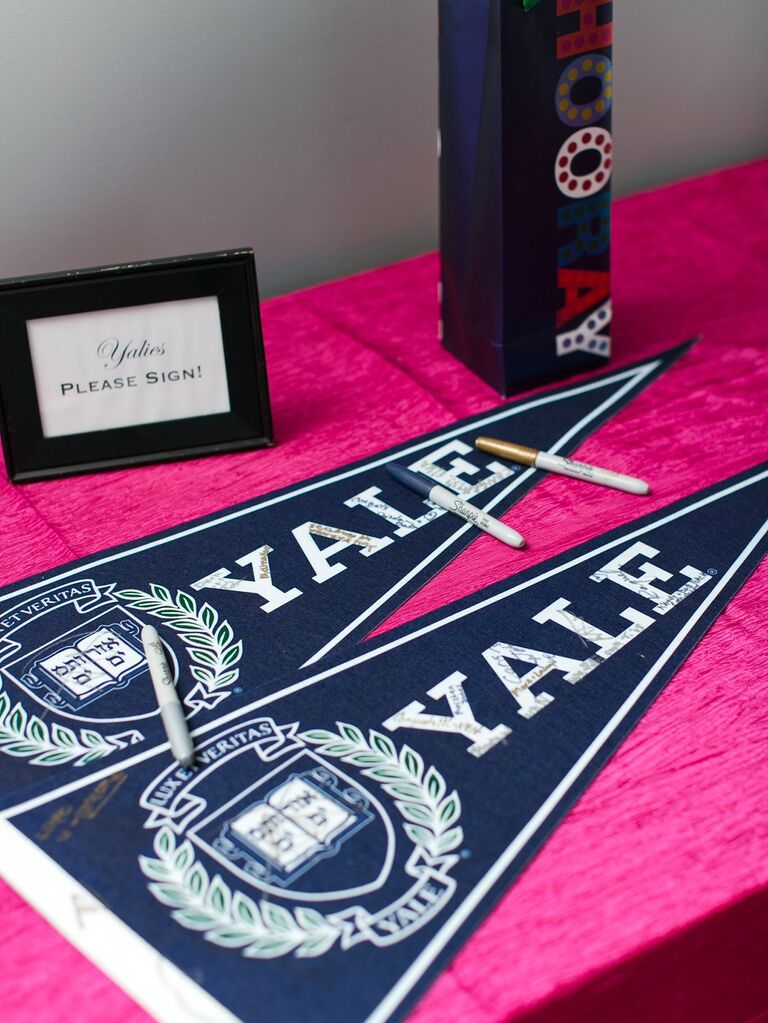 If you and your spouse share the same alma mater, a pennant or flag with your school's logo will be the perfect guest book idea. Of course, even if you went to different schools, it'll still be a nice, nostalgic touch all of your college friends (and beyond) will love. 
19. A Puzzle Piece Guest Book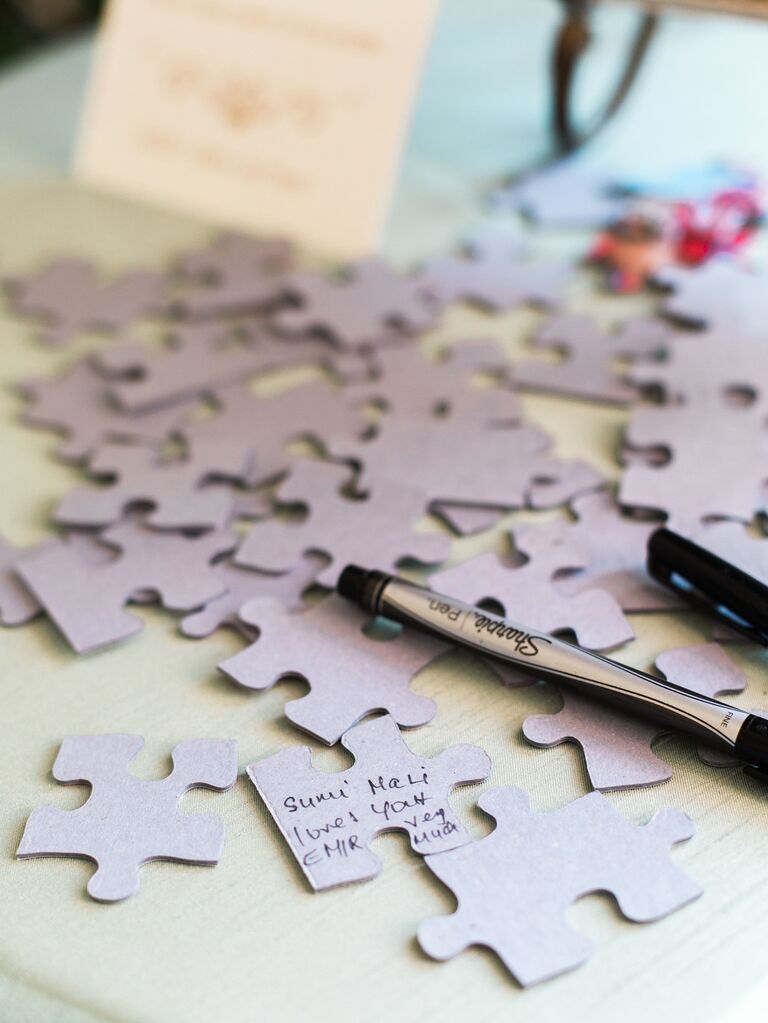 Can you think of a more fun game than putting the pieces of your guest book together with your new spouse? The best part will be looking at all the sweet notes and signatures of your loved ones who came out to celebrate you. 
20. A Dictionary Guest Book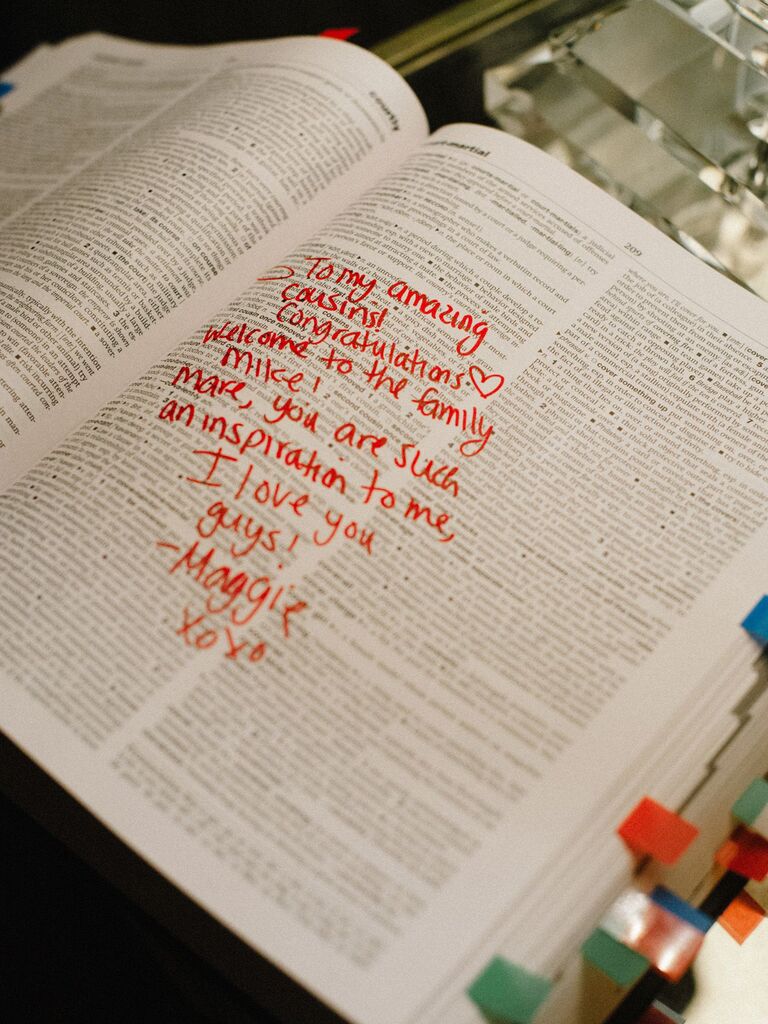 Consider yourself a bookworm? A dictionary guest book will feel innovative and elegant for any type of affair. 
21. A Paper Airplane Guest Book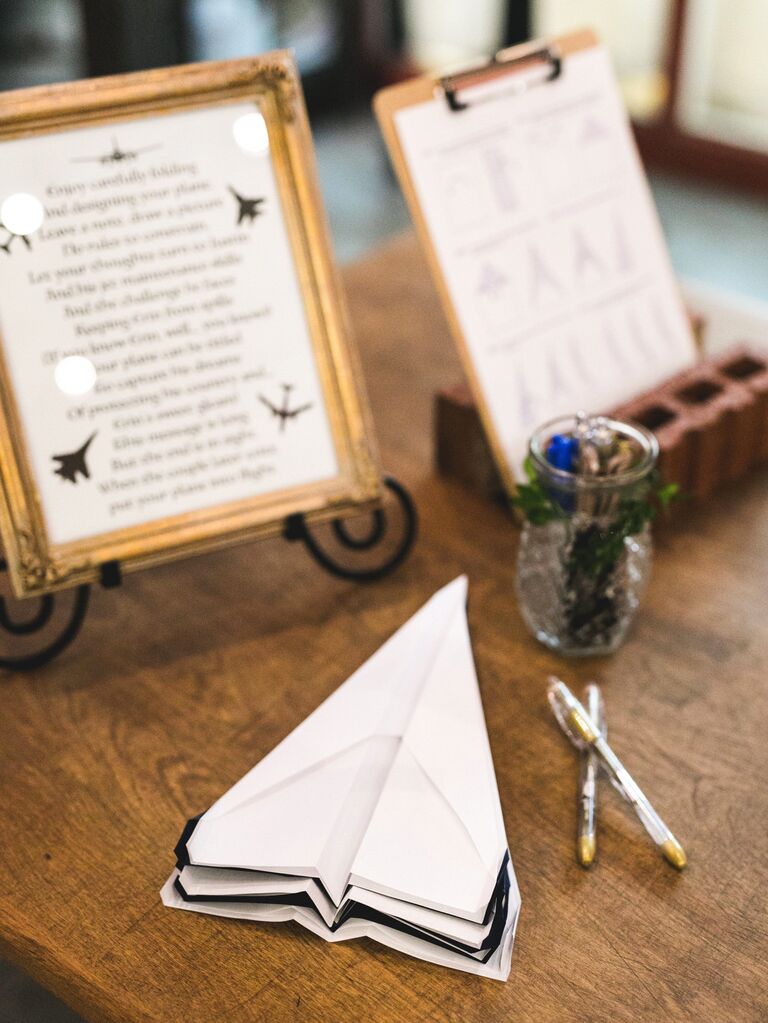 Paper airplanes are another DIY guest book idea everyone will love getting involved with. Simply ask your guests to write notes on pieces of paper and fold them into paper planes—bonus points if you ask them to throw them in the air when you exit your reception at the end of the night.