How to Plan a Fairytale-Worthy Disney Wedding Proposal
Read on for seven inside tips from the experts.
Walt Disney World Resort in Orlando, Florida, and Disneyland Resort in Anaheim, California, are perennially popular places to pop the question, especially for Disney fans. There's nothing more magical, after all, than saying "yes!" to happily ever after within Magic Kingdom.
It's worth noting, however, that a marriage proposal across Disney parks, including Disney's Animal Kingdom, Hollywood Studios, Disney Springs or Epcot, comes with a bit of coordination. You'll need to plan ahead to avoid the crowds, find the perfect proposal spot, and have your main character moment at the "Most Magical Place on Earth." We talked to the experts to find out exactly when to start the planning process, where to get down on one knee, and how to ensure your proposal story is one that dreams are made of. Now, be our guest (be our guest), and we know that's there's a "yes."
Disney Proposal Tips for a Magical Engagement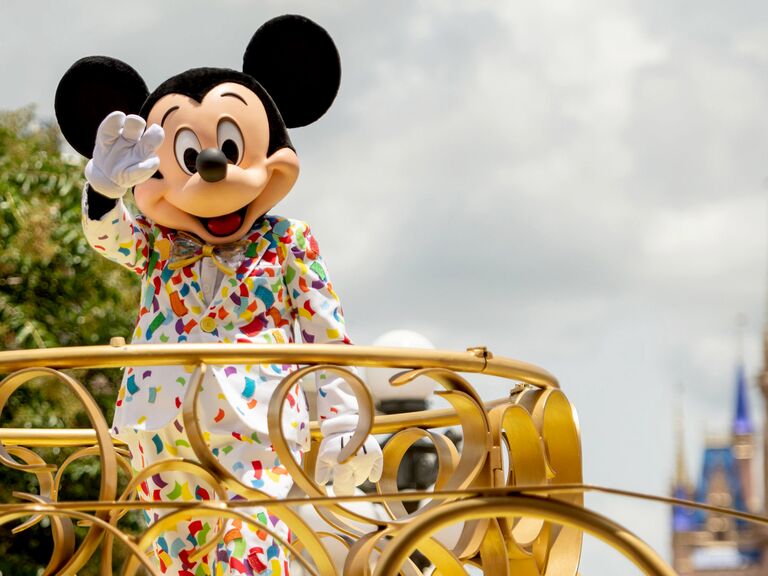 A destination proposal often involves an added layer of logistics. With a Disney wedding proposal, so much comes down to timing, between the seasons, time of day and holidays. Here's what to consider when planning a Disney proposal.
Consider the Weather
Anaheim may have the nicest weather across the country but Orlando? Not so much. Florida can get hot and muggy during the spring, summer and even fall. If you and your partner don't exactly thrive in the heat, that's something to consider. Kelly Canova of The Canovas Photography offers her insight on the Sunshine State's seasons. "The best months are October to March for great weather and little rain," she suggests for proposal timing.
Check the Show Schedule
At a bustling and busy place like Disney, you never know when your favorite character will show up (and they'll be thrilled to celebrate your special day with you). However, that also means paying attention to all the events that are going on day-to-day. "Don't forget to check the parade and show schedule," says photographer and videographer Elle Baez of Captured by Elle. "The last thing you want is an expected area closure or a huge group of people gathering in the area where you want to pop the question."
Avoid Holidays and Busy Weekends
You want your first pick of proposal spots for your magical moment, so eliminate any holiday weekends or spring break overlaps. With a less crowded park, you have a better chance of getting down on one knee (and getting that gorgeous photo) in front of the castle without an audience.
Be the First in Line
Timing has to be precise when planning a Disney engagement. Go too early and there are crowds, go too late and there are, well, more crowds. "When deciding when to propose, I recommend doing it 30-45 minutes after park opening, when the 'rope drop' early bird folks have dissipated, but before the crowds get too intense overall. The morning light is beautiful for photos or video of the special moment and the chances of getting a photo with an empty backdrop is much higher," adds Baez.
Allow Yourself Enough Time to Execute the Plan
Disney is an experience meant to be savored (even if you're using your FastPass). With an engagement ring in your pocket, you'll want to ensure buffer time around scheduling. Speaking from experience, Canova says: "If you are meeting your photographer, keep in mind that it takes longer than you think to get to your proposal spot in the park. If you are coming from a hotel, the monorail, security or the gate, it takes time."
Enlist Help From the Professionals
Both Disneyland and Disney World, and even Disney Cruises, have packages and planners available to help you plan your perfect Disney proposal. They'll help you choose from the best locations across the resort and set you up with a PhotoPass photographer to capture the magical moment. Best of all? If you two decide that Disney is the place for your fairy tale wedding, you'll already know the drill.
Hire a Proposal Photography With Experience in Disney
If you plan on hiring a photographer to capture your Disneyland or Disney World proposal, opt for someone who's been around the theme parks a time or twenty. They'll know exactly how to time it right to snap a shot with Mickey or how to get the best angle of you two on a romantic carriage ride. Plus, Albert Harris, Lead Photographer at A. Harris Photography, advises, "Find a photographer who knows to work around crowds for those dreamy shots.
Canova adds a tip on coordinating, "After making a plan with your photographer, keep in touch through texts. Send a quick note, 'We are on Main Street USA! Almost there!' and snap a selfie pic."
The Best Disney Proposal Ideas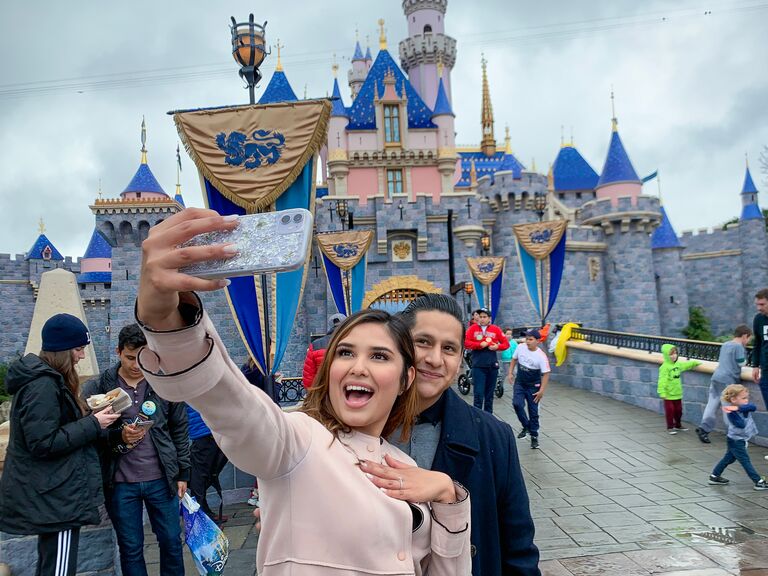 There's no shortage of proposal locations at either Disney park. Between the multiple locations (garden party alcoves, celebrated rides, festivals and more), there are endless engagement location options for every type of Disney fan. Read on for the best Disney proposal ideas.
A Disney Princess-Worthy Proposal
Disney princess fan favorites include Snow White's Castle at Disneyland and, of course, right in front of Cinderella's Castle at Disney World. "Cinderella's Castle and Cinderella's Wishing Well are great places to propose, but if you want something iconic and a little different (read: less crowded), try the Purple Wall, Garden Hubs, or the very west side of the castle," says Canova. Sleeping Beauty's Castle is another iconic option at Disneyland, where many fans have flocked to get a photo in front of the West Coast's version of Bavaria's Neuschwanstein Castle.
A Classic Disney Engagement
It doesn't get more timeless than a proposal in front of Mickey's Ferris Wheel at Disneyland or on Main Street USA, where couples may run into one of their favorite cast members. Minnie Mouse, though coy, may offer a selfie opportunity for newly engaged couples too.
Fantasy-Themed Proposal Spots
For the couple that marches to the beat of their own drum, Star Wars: Galaxy Edge is the ultimate proposal location especially for those who consider May the 4th a national holiday. If you feel like bucking Disney romance tradition, a Haunted Mansion proposal could make for a spooky romantic story, especially around Halloween time. And, for the animal lovers: an engagement in front of the Tree of Life at the Animal Kingdom is an extraordinarily moving option.