The Best Elopement Packages in Hawaii
These are the most spectacular spots across the islands.
We have included third party products to help you navigate and enjoy life's biggest moments. Purchases made through links on this page may earn us a commission.
If you're ready to say aloha to a romantic and private destination wedding in Hawaii, one of these 12 elopement packages in Hawaii may be just what you need to start your marriage off on the perfect note. Across the islands, that specific note may be of sweet and aromatic hibiscus, bird of paradise, orchid and plumeria flowers, especially if you book an elopement package in Hawaii that includes traditional floral leis for you and your partner.
In Hawaii, you can find elopement packages arranged by Hawaii elopement photographers who will take you to the island's most beautiful places, as well as packages from wedding planners and venues that include space for a handful of must-have guests. If you want to use any of Hawaii's public beaches, be sure you've really narrowed your guest list down: There's a limit of 30 people for beach wedding permits, including vendors. So getting married on Hawaii's sandy shores really is best for couples who want to keep things very small.
And in case you were wondering: yes, you can get legally married in Hawaii. Though it may feel as tropical and exotic as any far-flung South Pacific island country, it's part of the US, so you don't have to do any extra paperwork when you get home to prove you said "I do" in paradise. The best places to elope in Hawaii range from Hawaii Volcanoes National Park on the Big Island to tropical waterfalls in Maui. With so many stunning options, it can be hard to know where to start. We've narrowed down the best options to help you dive in.
Elopement Package, Four Seasons Lanai, Lana'i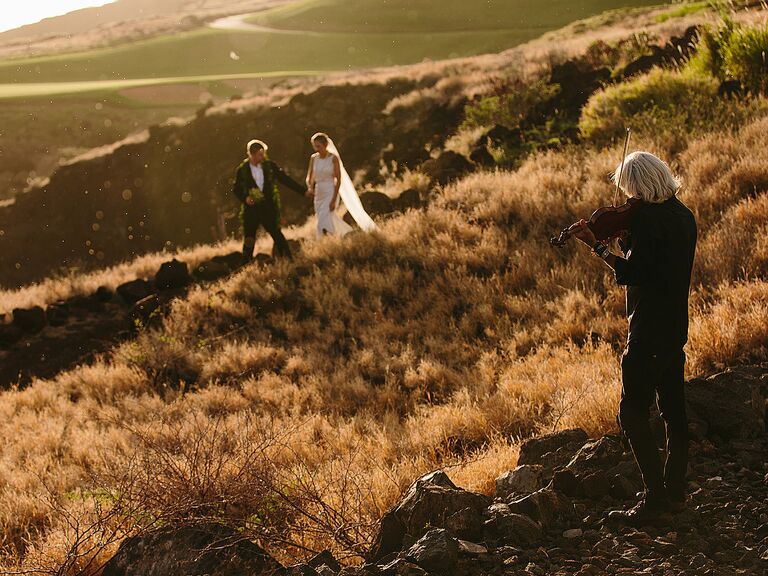 It's hard to imagine a resort chain more elegant than the Four Seasons, and if you're dreaming of a classic and romantic elopement in Hawaii, this resort's specially designed package may be ideal. It includes a ceremony (with officiant) in the resort's garden or on nearby Hulopoe Beach, wedding leis, your choice of a guitarist or ukulele player and an hour of photography. The resort—one of only a small handful of hotels on the island of Lana'i, most of which is privately owned—also does custom packages, in case you'd like to build something more substantial. This one is priced at $4,500.
5.0 Star Rating | Read Reviews
Kulaniapia Falls Waterfall Wedding, Inn at Kulaniapia Falls, Hawai'i
This Hawaii elopement package has one major, major perk: You'll get to say "I do" in front of a 120-foot-tall waterfall, which you'll have exclusively to yourself as it's the tallest private waterfall in Hawaii. The package includes ceremony space by the waterfall, access to the property for additional photos, and use of the pretty "Bamboo Garden'' pavilion. You can have up to 10 people in attendance, and you don't need to stay on the property—though you may want to book a room once you see photos of the Inn at Kulaniapia Falls' gorgeous 22 acres of rainforest. The package starts at $750—quite a steal by Hawaii standards.
4.5 Star Rating | Read Reviews
Marquise Wedding Package, Kahala Hotel and Resort, Oahu
The Kahala Hotel and Resort's offering is one of the most ideal elopement packages in Hawaii for couples looking for a quick, simple and all-inclusive way to get married on a gorgeous Hawaiian beach. The package includes an oceanfront ceremony space, a non-denominational officiant, live music and flowers for the couple. It's $4,900 per couple, and you can have up to 40 guests, if you decide you want a few friends or family members there. One bonus? You don't need to bother looking for a photographer, since the package includes an hour of photography and the rights to shoot anywhere at the Honolulu hotel.
4.5 Star Rating | Read Reviews
Run Away With Me, Napili Kai Beach Resort, Kauai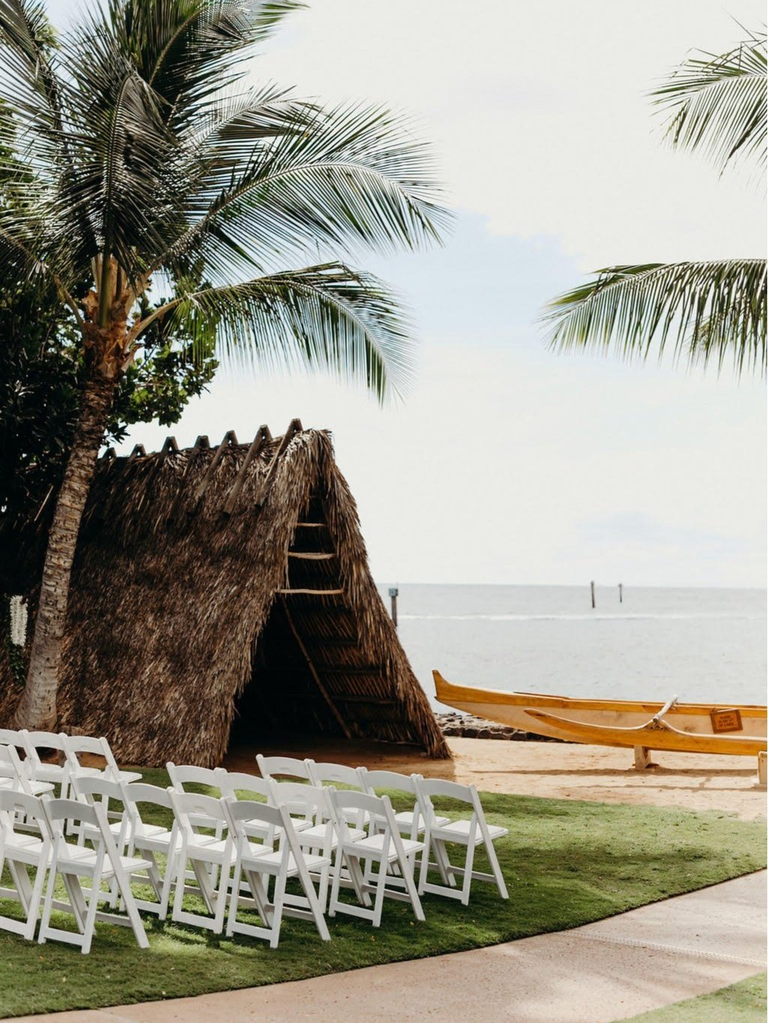 This all-inclusive Hawaii elopement package will leave you wanting for nothing, as it includes photography, a beachfront venue, an officiant, leis, a bridal bouquet, a coordinator, live ukelele music and even three nights of lodging at the beachfront Napili Kai resort. The package is from highly rated wedding coordinators White Orchid Weddings, which also offers a more budget-friendly package, as well as a traditional Hawaiian wedding ceremony at a private villa. The Run Away With Me package is priced at $8,950.
4.9 Star Rating | Read Reviews
Bali Hai Package, Various Locations, Kauai
Bali Hai is one of four Hawaii elopement packages available with Kauai Elopements. It includes enhancements over the basic package like wedding hair and makeup, plus two hours of photography and a full ceremony at a beach location of your choice. You can also add on elopement embellishments like ceremonial leis, fire dancers or a wedding cake for two served on the beach. The Bali Hai package is $3,995—embellishments are á la carte.
5.0 Star Rating | Read Reviews
Elopement Package, Fairmont Orchid, Hawai'i
The Elopement Package from the Fairmont Orchid on the Big Island may be one of the best prices for a honeymoon package in Hawaii—which is saying quite a bit, considering the Fairmont brand is known for old-school luxury. This package includes a morning or sunset ceremony with a lei exchange and flower circle, plus an officiant and assistance with filing your marriage license. You'll need to book at least three room nights to take advantage of the Elopement Package, which is priced at $2,500 per couple.
4.7 Star Rating | Read Reviews
Simple Beach Wedding, Happily Maui'd, Maui
If you're dreaming of a simple, traditional beach wedding in Hawaii, Happily Maui'd may have you covered with its beach wedding package. It includes a ceremony on the beach with an officiant, two leis to exchange in a traditional ceremony, a conch blower and a bouquet, plus ongoing assistance before the big day with elements like marriage licensing and travel. The budget-friendly package is just $1,450, so you may be able to afford extra add-ons like a photography session, a wedding cake, hair and makeup services and more.
5.0 Star Rating | Read Reviews
Black-Sand Beach Adventure Elopement, Hawai'i
For a slightly more unusual take on a beach wedding, consider this Hawaii elopement package from the Kona Wedding Officiant team. The package includes what you'd expect for a gorgeous beach wedding, such as an hour of photography, wedding leis, a custom ceremony and handling the wedding license filing. But what makes this one unique is that you'll hold your ceremony at one of more than a dozen black-sand beaches—Kehena Beach is an especially dramatic choice. The package base price is $1,850, but you can add on bouquets, flower crowns, ukulele players and more.
5.0 Star Rating | Read Reviews
All-Inclusive Hawaiian Wedding, Hilton Hawaii Village, Oahu
This is one of the most extensive Hawaii elopement packages you'll find, including not just a ukulele player, a bouquet, a rose-petal send off and a ceremony at beautiful Kahala Beach, but also a five-night stay at Hilton Hawaii Village—so you can have your Hawaii elopement roll straight into your Hawaii honeymoon. It also includes a wedding cake, video and photography services, tickets to an evening luau, and a sunset dinner cruise for two aboard the Star of Honolulu. It's priced at $5,999 and organized by Bridal Dream Hawaii.
5.0 Star Rating | Read Reviews
Package B, Hawaii Vista, Oahu
This Oahu elopement package is ideal for couples who want a Hawaii wedding but prefer views of fruit trees and rolling hills to beachy scenes. The package at the Hawaii Vista venue includes a place to get ready, an officiant and an hour of time with a professional photographer, plus a ceremony at one of several lush inland venues. But maybe the best thing about this unique Oahu photography package is what it comes with for dessert: whether you have guests or not, you'll get to use the venue's decorated gelato cart—perfect both for cute photos and for cooling down on a hot Hawaiian day. The package starts at $4,995.
5.0 Star Rating | Read Reviews
Elopement Package, Ko'a Kea Resort, Kauai
Ko'a Kea Resort on Kauai offers three tiers of elopement packages, but for most couples, the best bet will be the middle-level package. It includes a permit for a beach ceremony at the gorgeous on-site beach, an officiant, leis for an exchange ceremony, a bridal bouquet, three hours of photography time and an on-site coordinator to make sure it all goes smoothly. While you don't have to stay on-site, the romantic and hip hotel on Poipu Beach would be an excellent place to spend your first night as a married couple. The mid-level package starts at $4,595 and requires a three-night stay. The packages aren't listed online, but all you need to do is email the hotel wedding coordinators for the details.
4.5 Star Rating | Read Reviews
"The Dragon," Anywhere in Hawaii
If the thing you value most about potentially eloping in Hawaii is the fabulous set of photos you'll have afterward, consider booking this extensive three-day option with Zephyr et Luna. It's one of the best elopement packages in Hawaii if you want a bit of adventure mixed into your nuptials. The package includes three days of road-tripping around the island of your choice, two hotel nights, meals, assistance with logistics and permits, a full-color album and online gallery, and nearly 30 hours of photography. The package starts at $12,500 per couple, depending on who you want as your photographer.
5.0 Star Rating | Read Reviews