Everything You Need to Know About Getting Married in Hawaii
Aloha, paradise.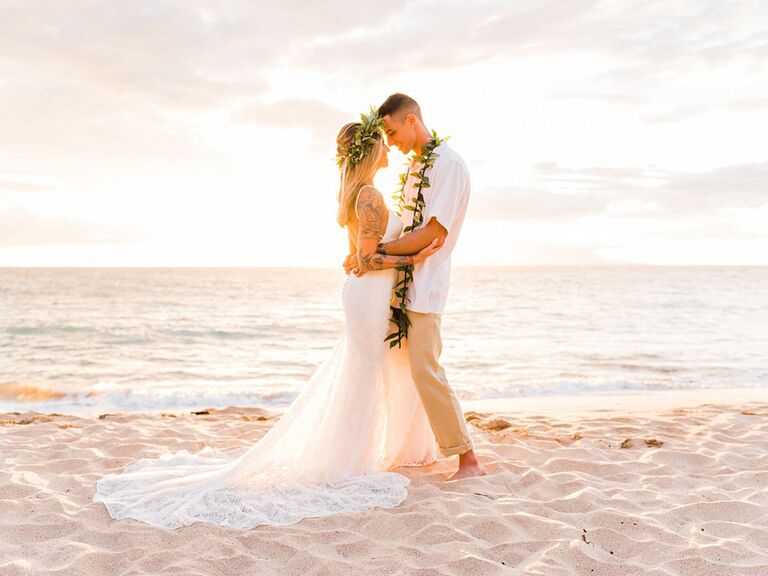 Photo by Samanatha Takes a Photo,Simply Eloped
We have included third party products to help you navigate and enjoy life's biggest moments. Purchases made through links on this page may earn us a commission.
Aloha means more than just "hello"—in Hawaii, the "Aloha Spirit" is a way of life that encompasses a friendly, welcoming attitude. There's a reason why these islands make such an irresistible destination: A Hawaii wedding will be effortlessly steeped in natural beauty, from crystal-clear blue ocean waters and fiery red lava flows to tall mountain peaks and crashing waterfalls. But aside from its breathtaking scenic beauty, the Aloha State is home to some of the friendliest people you will ever meet.
The tropical state is a popular vacation destination, but there are so many ways to make it your own. Hawaii offers a bounty of different wedding venues, so you can tailor your day to what you love most. Each island offers its own unique hot spots and quiet areas, allowing you to choose the ideal setting for the ceremony you want, whether you prefer a party atmosphere on Waikiki or a tranquil ambience in a Kauai rainforest. Need help narrowing down the options for your Hawaii wedding? Head over to The Knot to work with a professional wedding planner who will handle all of the logistics for you so you can focus on what really matters: celebrating your love.
This guide to Hawaii wedding venues and logistics will help you plan for your tropical day—even if you're planning a destination wedding without ever having visited the islands before. Follow these tips to make sure your Hawaii wedding goes off without a hitch.
In this article:
Hawaii Island Wedding Venue Guides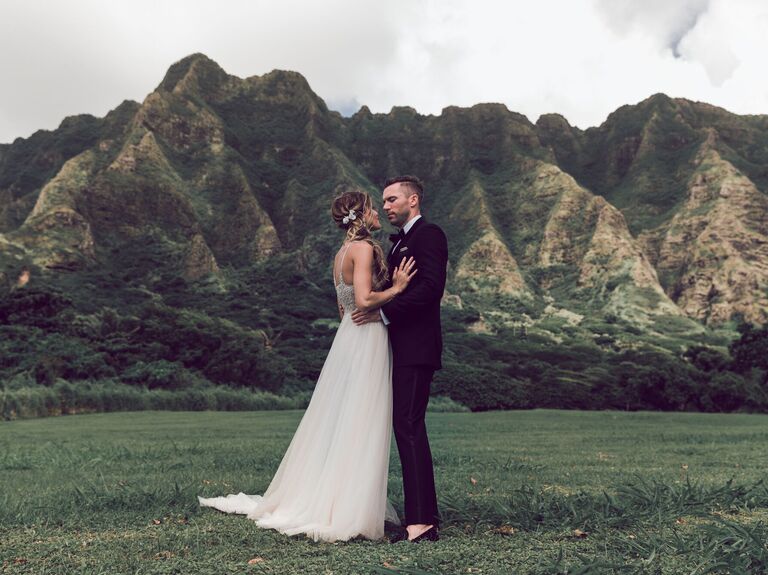 From the volcanic fires of the Big Island to the rain forests of Kauai, Hawaii's islands each have something special to offer. Though any of the islands in the state will make your wedding feel like paradise, most to-be-wedschoose Oahu, Maui or Kauai for their nuptials. With so many great Hawaii wedding destinations to choose from, it may be helpful for you to check out The Knot wedding vendor marketplace to see if anyone catches your eye in a specific location. The information below can also help you make an informed decision about three of the most popular places for a Hawaii wedding.
Oahu
As the home of Honolulu, the biggest city in the state, Oahu is Hawaii's most urbanized island. It's the only island with a major highway system and an international airport, but there are still plenty of beautiful locations for a Hawaii beach wedding on the island.
Oahu is easy to get to and travel around, and it has some of the most iconic Hawaiian locations, including Waikiki beach, and a ton of affordable lodging options, making it an excellent choice for a Hawaii destination wedding with a lot of guests. Given that the island's nickname is The Gathering Place, it seems tailor-made to host your Hawaii destination wedding. There are beautiful beaches, luxury hotels, museums, religious buildings and more on this small island, all of which can serve as the perfect Hawaii wedding venue for you.
These local Oahu wedding professionals can help turn your dreams into reality:
Maui
Known as the Valley Isle, Maui is the second largest of Hawaii's islands and is in close proximity to three small adjacent islands, including Lanai and Molokai. From the bustling tourist town of Lahaina to the lava fields at the island's southern reaches, Maui offers just about anything you could possibly want from a Hawaii destination wedding, including beautiful beaches for your ceremony, excellent restaurants, tons of outdoor activities and great hotels.
With so much to offer, Maui is in many ways the ultimate vacation destination, and it's a great place for a Hawaii wedding too. You can take your wedding photos on a beach or at the peak of Haleakala before enjoying some of Maui's delicious cuisine and retiring to a romantic hotel.
Get started planning your Maui wedding by checking out some local vendors:
Kauai
Kauai, Hawaii's Garden Isle, is set farther north than the rest of the islands in the archipelago, and it's also the smallest of the four major islands in the state. This gives Kauai a bit of an off-the-beaten-path feel, lending a sense of intimacy and wonder to your Hawaii wedding event. There are plenty of opportunities for you to enjoy the great outdoors here, from flatwater river kayaking on the Wailua to exploring the depths of Makauwahi Cave. Kauai easily earns its second nickname as the Island of Discovery thanks to its many lovely and awe-inspiring attractions.
There are miles of unspoiled coastline for you to use for your Hawaii beach wedding as well, so don't forget to check that out while you're exploring all Kauai has to offer. Kauai is a special place that not all visitors to Hawaii get to experience, and it's a magical setting for the most important day of your life.
Start planning your Kauai wedding celebration with these vendors:
Hawaii Wedding Packages
Planning any wedding is a lot of work. Planning a destination wedding – especially if you're getting married in Hawaii – is that much easier with wedding packages. A wedding package is any bundle of items needed for your wedding, ranging from something as simple as a venue and officiant to a full suite of hotel rooms, airline tickets, a reception area and more.

Just as the items included vary, so, too, does the cost. Packages can vary from as little as $750 and climb to tens of thousands of dollars. At a minimum, most packages in Hawaii will include:
An officiant
Assistance with obtaining a license
A venue
Small touches like leis
To get a better idea of your options, let's take a look at several packages, from a budget-minded option to the island wedding of your dreams.
Starting at only $750 is the Private Fern Grotto Package at Smith's Kauai. Normally a luau spot, Smith's takes you and your party (up to 12 included) up the Wailua River to a private, secluded fern grotto for your ceremony. Equal parts adventurous and peaceful, it proves that big things come in small packages (literally.)

Moving up the rung a bit, we have the $5,400 Our Love Story Package at the Haiku Gardens, just north of Honolulu. In addition to the basics, this package includes three hours of photography, all the flowers you need, full planning and day-of coordination and a ceremony musician. Like many venues, Haiku Gardens also offers a-la-carte options that can be used independently or added on to an existing package.

Looking for something truly unforgettable? The sky is the limit at Mauna Kea Beach Hotel, located on the Big Island. At $12,500 (with a $8,500 minimum food and beverage fee on the weekends), their top-tier 'Ouli package comes with a breathtaking oceanfront venue, full planning and coordination, photography and videography, a cake, transportation and just about everything else you can think of. For couples with big ideas and a generous budget, the package represents exceptional value.
Hawaii Wedding Food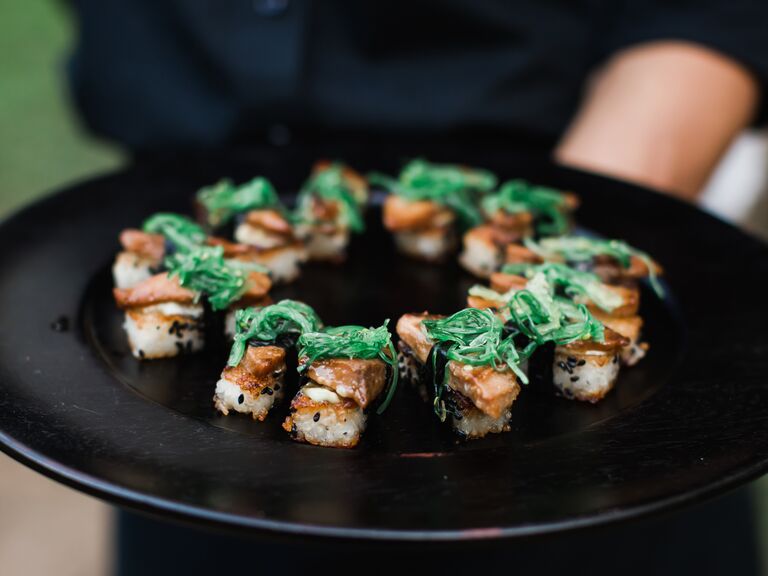 There are so many wonderful local food traditions you can incorporate into a Hawaii wedding. Many of the restaurants that serve traditional Polynesian and Hawaiian foods are more casual and may not be suitable for a wedding reception. This is where the traditional luau feast comes in. A luau can be a great choice for your wedding reception—you'll get seating for a large group, entertainment thanks to live music and dancers, multiple courses and waiter service in one go. If you want to have a low-key experience without having to deal with a lot of logistics, a luau reception is a great way to include an iconic Hawaiian experience into your wedding. You and your guests can enjoy classic Hawaiian dishes, including poi, a taro root starch that's a staple of the Native Hawaiian diet.
Hawaii Wedding Cost and Marriage Rates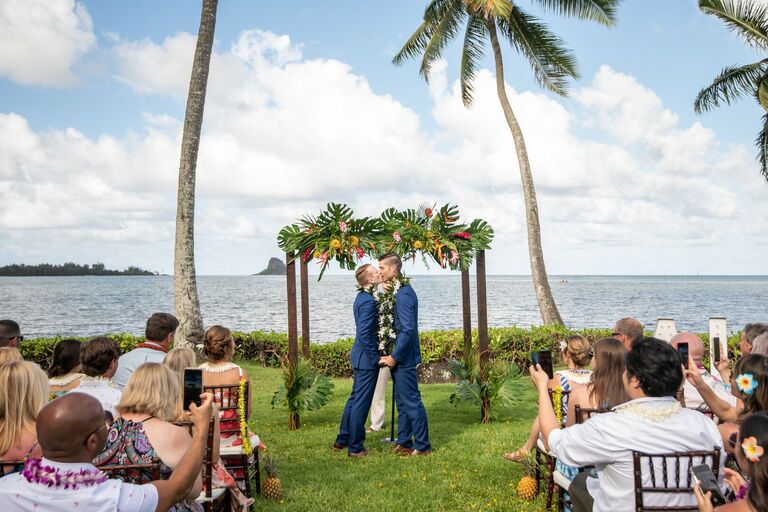 It may not shock you to hear that Hawaii hosts a lot of weddings, and those weddings can be pricey. With its remote location in the Pacific Ocean, it's not exactly feasible to get to Hawaii wedding destinations on the cheap. Even so, thousands of people travel here every year to get married, so it's not impossible to plan a Hawaii wedding. Using The Knot Wedding Budget Tool can help you see how realistic your plans are and help you start saving for the main event. With some smart planning and budgeting, paradise can be within reach.
Cost Information for Real Weddings in Hawaii
The Knot 2019 Real Weddings Study indicates that Hawaii is one of the 20 most expensive states to get married in, but it may surprise you to know that it isn't in the top 10. The average cost for a Hawaii wedding in 2019 was $32,900 ($1,000 less than the national average of $33,900). On average, couples spent $26,800 on their ceremony and venue last year, making it the 17th most expensive place to get married. While you can use this information to help estimate what your Hawaii destination wedding cost may be, remember that things like plane tickets and hotel reservations may vary in price at different times of the year.
Hawaii Marriage Stats
According to the State of Hawaii, 17,704 people tied the knot in Hawaii wedding venues in 2019. The islands host a number of same-sex weddings every year too. In 2019, nearly 900 same-sex couples said "I do" in the Aloha State.
How to Get Married in Hawaii Legally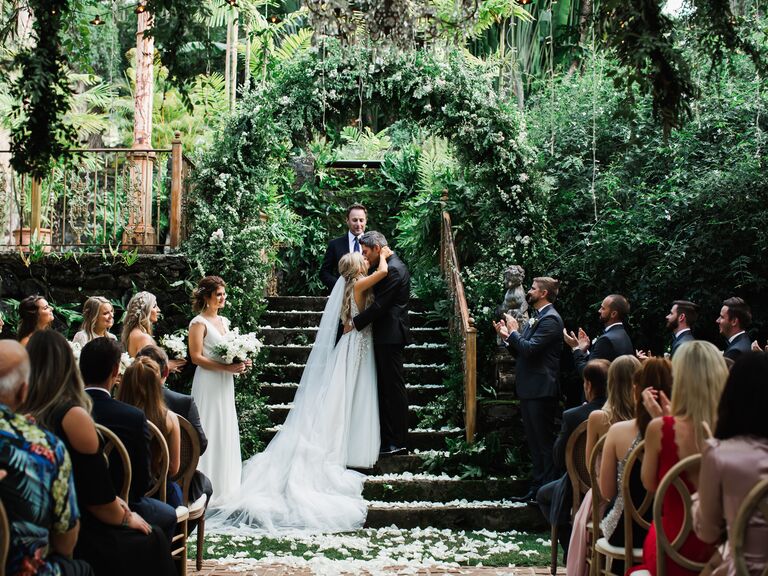 While the emotional and spiritual aspects of your wedding ceremony are in many ways the most important part of the whole event, it's important to make sure you've got all your legal and procedural bases covered to avoid stress later on. Luckily, the requirements for legal marriage in Hawaii are pretty straightforward, so as long as you follow your wedding checklist and make sure everything's done on time, you'll have one less thing to worry about as your wedding day approaches. Some details, such as whether or not either or both of you will be changing your names, are up for negotiation, while others are absolutely necessary for your marriage to be legally valid.
Basic Legal Requirements for Getting Married in Hawaii
The State of Hawaii issues marriage licences and has a handy online system that makes it easy for out-of-state couples to fill out and pay for their marriage license application. This way, you can get the ball rolling on the license requirement before you even arrive at your Hawaii wedding location. You'll have to finalize your license in person with a state marriage license agent, though, so make sure you build in time for that before your wedding ceremony. Make sure you comply these requirements for marriage license applicants, which apply to the majority of couples getting married in Hawaii:
Both applicants must be at least 18 years old; younger applicants may be ineligible or require official consent from a legal guardian
Both applicants must appear before the marriage license agent at the time of application
Official proof of age, such as a certified birth certificate (age 18 and under) or a driver's license (age 19+), must be provided
Applicants must pay a $65 fee for the license and processing
There are a few other requirements for special groups such as applicants whose previous marriages ended by death or divorce within 30 days of application. Your license will be valid anywhere in the state within 30 days of obtaining it, meaning you can apply for your license on a different island than your intended Hawaii wedding location. Island Departments of Health are one option for finding a license agent, but the state also allows non-government employees to serve in this role. There may even be a license agent working at your hotel.
As for who officiates a Hawaii wedding, the state's guidelines are similarly straightforward. Ordained ministers and other religious officials, in addition to active and retired federal and state judges serving in Hawaii, may register to obtain an official license to perform marriages. Performers may file marriage licences with the wedding venue island's Department of Health online or via postal mail and must do so within three business days of the ceremony.
Permits and Other Rules for Hawaii Weddings
Hawaii beach weddings that take place on a shoreline not occupied by a state or federal park must have a state permit. The intent of the system is to prevent crowding on beaches and to allow everyone maximum enjoyment of the state's beaches, which are all public, even if they are in front of a private home. A Hawaii wedding planner will be able to obtain a permit for you and can help you understand the various rules and regulations associated with the permits. You can get a permit on your own, but you need liability insurance in order to do so. The state also has a number of specific rules restricting how you can conduct a beach wedding, so it's probably a good idea to hire a local Hawaii wedding planner who has insurance and is familiar with these rules. Rules associated with Hawaii beach weddings include:
Two-hour time limit
Events with more than 25 to 30 guests may require additional permissions
You may not ask beachgoers to move to make room for your ceremony
No structures or large decorations are allowed
Chairs are only permitted for elderly or disabled people who cannot stand
You may not block off an area of the public beach for your ceremony
Changing Your Names in Hawaii
If either or both of you plan on changing your names after the wedding, you can start the process quickly thanks to Hawaii's simple rules. You can take the first step toward changing your name(s) while filling out your license application for a Hawaii wedding. Each member of the couple will write the middle and last name name he or she intends to use after marriage on the marriage license application. You'll sign the marriage license with your new legal signature if you decide to make a change.
Your marriage certificate will have your new name on it, which will make it easier for you to do things like change your name on official government identification. If you want some help with that aspect of the process, try HitchSwitch—a name changing service that allows you to take a more hands-off approach.
Top Wedding Trends in Hawaii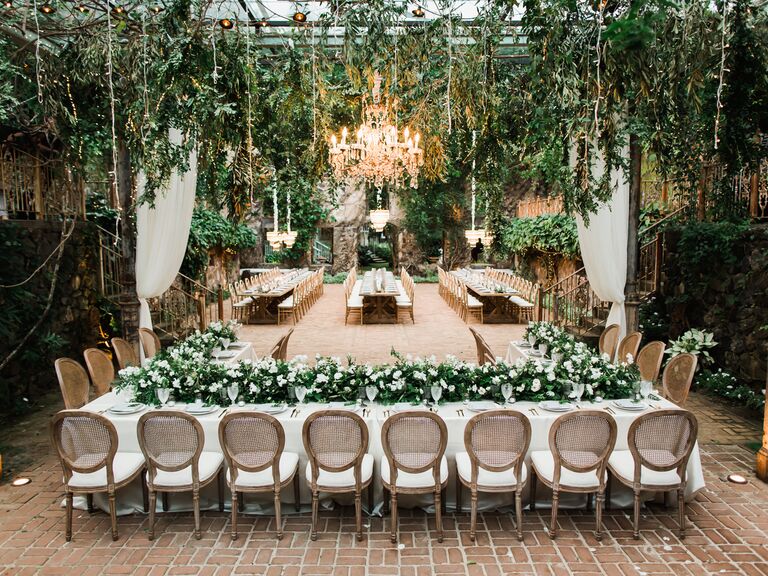 Trending Hawaii Wedding Styles
When it comes to wedding styles in the Aloha State, semiformal or casual is usually the way to go. Sixty-seven percent of the participants in The Knot 2018 Real Weddings Study reported having a semiformal wedding, and 17% had casual weddings. Want your wedding to be casual but not too casual? Consider a dressy-casual event and accompanying dress code. It lies right in the middle of both, perfect for couples who want their nuptials to be laid-back but still elegant.
Trending Hawaii Wedding Venues
As for wedding venues in Hawaii, the top choice is pretty obvious: a Hawaii beach wedding is the most popular setting for couples who exchange vows in this state. There are plenty of public and private beachfront locations on each of the islands, and you can find oceanfront space for just the two of you and an officiant or a whole party of guests to watch you exchange vows.
According to our previous Real Weddings Studies, weddings in Hawaii tend to have the smallest numbers of guests on average, but that doesn't mean you can't have a big wedding here. There are a variety of different Hawaii wedding venues you can take advantage of, including resort hotels with ballrooms and private beach access. The major islands of Oahu, Maui, Hawaii Island (aka the Big Island) and Kauai all have luxury resorts you can book to inject some traditional glamour into your Hawaii destination wedding. Gardens and barns are also having a major moment (check out Haiku Mill, a converted sugar mill in Maui where Bachelor stars Arie Luyendyk Jr. and Lauren Burnham got married). So, while a beach wedding in Hawaii with an outdoor reception may be a popular choice, there are other options too.
Hawaii Wedding Flower Trends
Hawaii's wedding traditions stem from its native culture, and there are a variety of ways to respectfully incorporate them into a Hawaii wedding. Including traditional Hawaiian wedding flowers into your ceremony is one of the most subtle ways to pay homage to this cultural tradition. Lei garlands for you and your fiancé can help give your wedding portraits a special Hawaiian touch, and traditional island flowers such as orchids, pikake, haku and plumeria in a bouquet or boutonniere can add beautiful colors and scents.
Hawaii Wedding Food Trends
Your reception dinner also gives you a great opportunity to incorporate native Hawaiian culture into your celebration. Traditional celebratory feast foods such as kalua pig (roasted pork served with Hawaiian sauces) are delicious and suitable even for the picky eaters in your group. Many wedding venues in Hawaii cater specifically to these traditional elements, so incorporating them should prove quite easy.
When to Have a Hawaii Wedding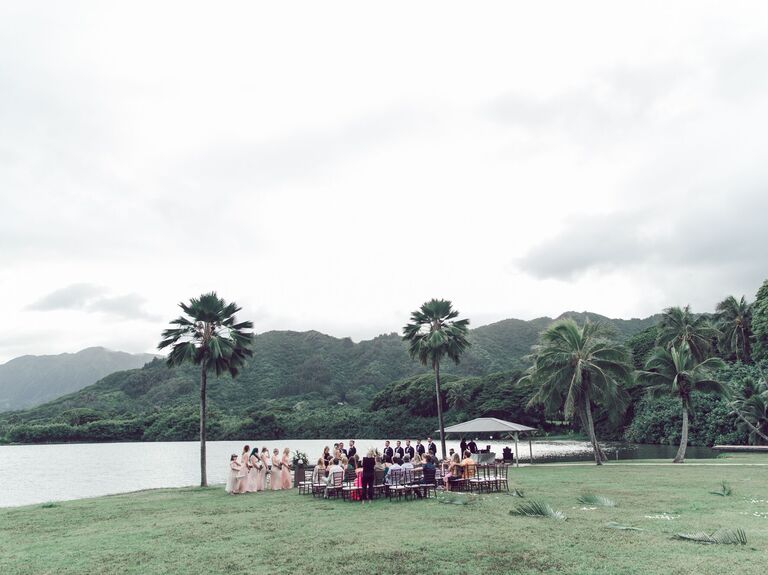 Hawaii is typically warm, picture-perfect and bustling with tourists all year-round, but you may still find some months more suitable than others for your event. Summer and fall are the peak seasons for marriage in Hawaii, though the spring period from March through May is also popular.
The Four Seasons in Hawaii
If the idea of a winter beach wedding in Hawaii is appealing to you, you won't need to worry about cold weather. Thanks to Hawaii's tropical location, winters aren't all that much cooler than the the rest of the year's temps; the island's "winter" technically lasts from October through April and sees more rain and cooler temperatures than the rest of the year, but not by much. Really, Hawaii only has two seasons—winter and summer—but the difference between the two is not dramatic.
This means that, as far as weather is concerned, Hawaii destination weddings are a great idea at any time of year. Lows even in the middle of winter typically bottom out in the low 70s, with summer highs usually topping off in the upper 80s. The location near the Equator means steady day lengths and even ocean temperatures, but each island does tend to have its own microclimates thanks to the wind patterns off the Pacific Ocean and elevation changes across mountainous terrain. However, a Hawaii wedding has as good of a chance of being sunny and warm in December as it does in July.
Hawaii Wedding Dates to Avoid
Even though the weather is lovely year-round, the islands have an ebb and flow of tourism that correlates with popular travel seasons on the mainland. People love experiencing Hawaii's lovely winter weather when it's cold on the mainland, so you aren't likely to get a good bargain on accommodations or airfare for a Hawaii destination wedding from December through April. Your best bet for lower prices and smaller crowds is to consider going in May, June, September, October or November. Major holidays and popular travel times are likely to bring large crowds and inflated costs, so check out our wedding date selection guide before setting a date.
People tend to flock to Hawaii for its beautiful beaches and amazing outdoor activities rather than for cultural events such as festivals, but there are some annual events that bring out even more crowds than usual, including:
Japan's Golden Week holiday (late April–early May, mostly affects Oahu)
Merrie Monarch Festival (begins Easter Sunday, mostly affects Hawaii Island)
Ironman World Championship (October 14, 2017, affects Hawaii Island)
Big wave surfing events (typically held December–February, mostly affects Oahu and Maui)
Hawaii Wedding Guest Activities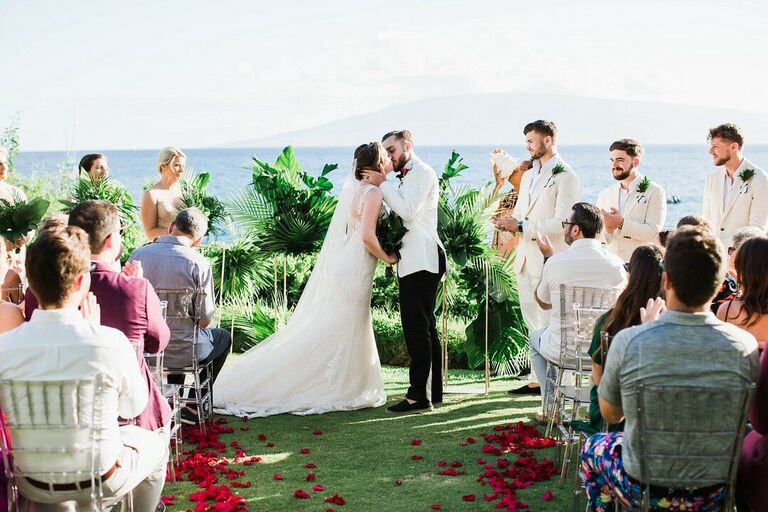 Your Hawaii destination wedding is going to be a vacation for everyone involved. Getting married in Hawaii gives you a great opportunity to share a once-in-a-lifetime experience with your friends and family. The idea of traveling so far for a wedding may be daunting or even financially impossible for some, but you can help make the prospect a bit easier by creating a helpful wedding website packed with info and suggestions.
What to Do and See in Hawaii
Each of the Aloha State's islands offers a variety of different outdoor activities, including snorkeling, scuba diving, surfing, hiking, boating, golf and seasonal whale watching. These popular attractions are just the tip of the iceberg to get you started:
Maui Nui (Maui, whale watching)
Hawai'i Volcanoes National Park (Hawaii Island)
North Shore (Oahu, surfing)
Waimea Canyon (Kauai, photography and hiking)
Road to Hana (Maui, driving)
Iolani Palace (Oahu, tour)
Kalaupapa Guided Mule Tour (Molokai)
Na Pali Coast Hike (Kauai)
Pearl Harbor (Oahu)
Traveling to and Around Hawaii
It's important to decide what island you want to treat as your primary Hawaii wedding location. Hawaii's islands are quite far apart, so there's no road system connecting them. You only can travel from island to island by plane (or by private yacht), so you probably want to stay put on one island to keep costs down.
Luckily, travel to each island is pretty simple if you're coming from the mainland. Oahu is home to the Honolulu International Airport, which is the state's major transportation hub. If you're flying to one of the other islands on a budget, you might fly into Honolulu and connect to your final destination. Maui, Hawaii Island and Kauai all have large airports that can accommodate planes from the mainland, but these flights aren't common. The smaller islands of Lanai and Molokai have smaller airports that can accommodate connecting flights from Oahu.
Once you're on the island of your choosing, your means of getting around will depend on what's available. On each of the five main islands, you can rent a car, use bus tours or shuttles, and even take public transit. On the smaller islands, including Lanai and Molokai, taxis and shuttles are probably your best bet. You can get to Lanai and Molokai from Maui using a ferry system.
Hawaii Wedding Guest Favors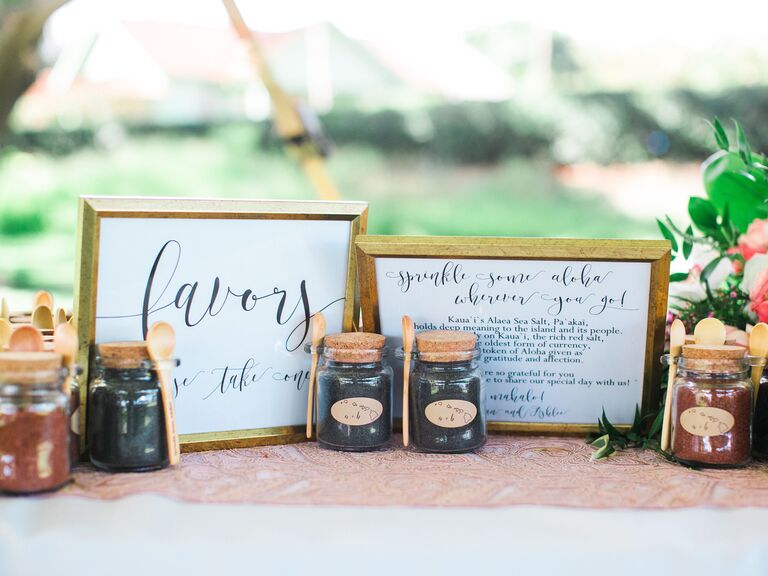 Wedding favors are a fun way to say thanks to your guests and give them a special souvenir to remember the trip. If you and your guests are traveling to the islands for a Hawaii destination wedding, you can kick off the wedding trip by presenting guests with a beach tote or basket that includes useful items for the trip and a few treats, such as:
Sunblock and aloe lotion
A printed event schedule
Recommendations for local restaurants and activities
Tea and coffee from local Hawaiian growers such as Hawaiian Island Tea Company and MauiGrown Coffee
Chocolate-covered macadamia nuts from Hawaiian Host or Big Island Candies
Locally grown fruit, such as pineapples and passion fruit
You can personalize your favor basket or bags by having them custom printed with your wedding logo. Other items, such as personalized sunglasses or waterproof bags for valuables, can also be included to give your favors a more personal touch. Remember to make whatever you give portable, though, so your guests don't have to worry about getting your favors back on the plane. That's a big part of the reason why tote bags and other useful items make such great favors for a Hawaii wedding. Some of our favorite ideas? Wet bags from ALOHA collection, zero-waste lip balms from Ethique, reef-safe sunscreen from Bask or reusable water bottles (Etsy has a bunch of options). For more wedding favor ideas, check out The Knot Shop.