This Is What a Destination Wedding Looks Like in 2020
Spoiler alert: They aren't all tropical beachside ceremonies.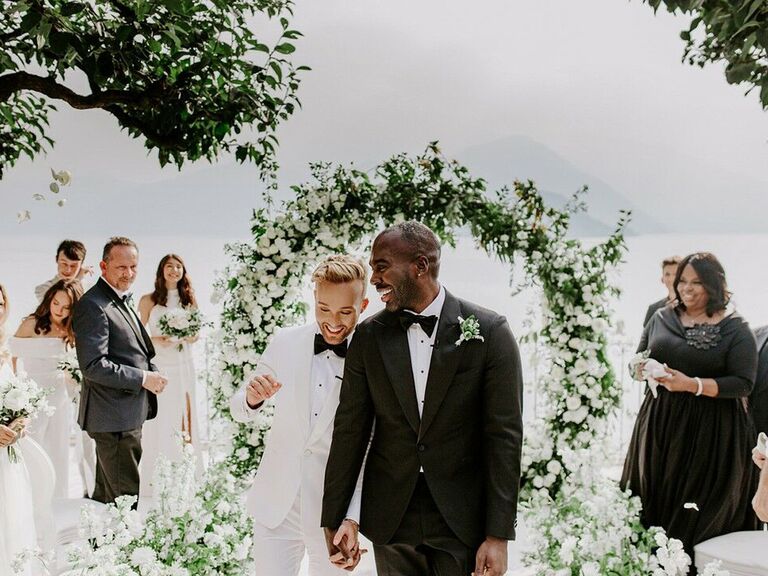 Reger and Co.
If you have a serious case of wanderlust, you might consider planning a destination wedding. (Or perhaps you already hosted your nuptials far from home.) Given that marriage trends are constantly evolving, the definition of a destination wedding has taken on a totally new meaning today. If you find yourself wondering, "What is a destination wedding exactly?" we've got the answer—and no, it's not limited to a tropical beachside ceremony or a remote European location. According to The Knot 2019 Real Weddings Study, which surveyed over 27,000 recently married couples, destination weddings are more common today than they've ever been before. In fact, you might have planned a destination wedding without even realizing it. 
What Is a Destination Wedding? 
Traditionally, a destination wedding is a ceremony that's hosted outside of the couple's hometown, which requires travel for most (if not all) of those involved. These weddings are commonly associated with picturesque locations, like the South of France or Cabo San Lucas, Mexico. In 2019, nearly one in four couples hosted a destination wedding, proving that they're a great alternative to a traditional ceremony. But of those who planned a destination wedding, only 17 percent would consider their location to be tropical, and just 11 percent said it was held in another country. This indicates that the majority are actually domestic weddings—or, as we like to call them, "domestination weddings." With plenty of charming wedding venues throughout the United States, it's not surprising that domestination weddings are a trend on the rise. While some couples select their location for its sentimental value, others are choosing their wedding city simply because they like it. 
 
Of those who hosted a destination wedding in 2019, 57 percent picked the location because it was interesting. Just over half of all respondents selected the venue for its significance to them (or their partner), and 37 percent hosted their loved ones at a venue that was not in their hometown or in the city where they currently live. Nearly 80 percent of couples confirmed that they stayed overnight at their location, as did the majority of their guests. Additionally, 20 percent of couples had to fly to their wedding destination, meaning their guests likely did as well. This factors into the average cost of being a wedding guest, which fluctuates year over year. Our data finds that the average guest spend for those who traveled in some capacity, either by driving or flying, ranges between $600 and $1,440. 
 
The average cost of a wedding is constantly changing as well. Our studies indicate that couples are more focused than ever on planning a personalized, memorable experience for their guests, as opposed to a one-day celebration. There are plenty of ways for couples to reinvent the traditional wedding ceremony. Some continue the celebration with a sequel wedding, while others host a micro-wedding with a macro-budget. And now, more couples are opting for domestination weddings too. By putting the emphasis on love and celebration, modern couples are putting their personal spins on tradition. And given that destination weddings continue to rise in popularity year over year, it's likely that more couples will continue to host their nuptials in a special place that's far from home—even if it is still in the United States.