Best United States Destination Wedding Spots
Ditch the passport and go domestic with one of these mainland United States destination wedding locales.
If you're dreaming of a destination wedding but are restricted to domestic locations, you actually have a lot more scenic options than you might realize. The East coast and West coast along with some Southern gems offer amazing views, cultural experiences and top-notch service. If you've still got the travel bug, consider a far-flung honeymoon destination (which is more affordable for a guest list of two rather than two hundred anyway). Check out some of our favorite spots for an "at home" destination wedding celebration. And once you've decided on the perfect locale, don't forget to block hotel rooms for your guests. (It's courteous and surprisingly easy thanks to services like Hotel Planner.)
Florida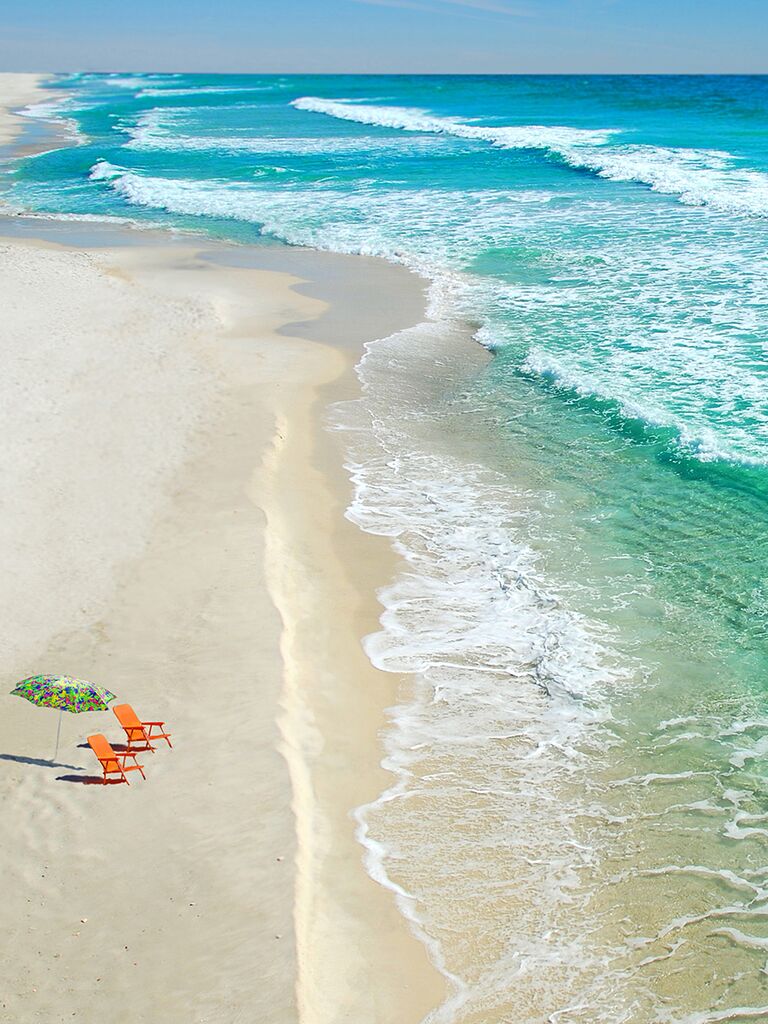 Why: With its sunny weather and beautiful beaches, Florida competes with the Caribbean and Mexico in beach appeal and is likely to be cheaper and easier for your guests to travel to. In addition to sand and surf, it boasts world-famous amusement parks and great access to golf and other outdoor sports. Each Florida location is a unique experience: Head to Palm Beach for a preppy country club-style affair, Miami for an event with international flavor and the Keys to soak up a laid-back island vibe.
When to go: North Florida's high season runs from Memorial Day through Labor Day, while southern Florida's high season is December through April. The summer months are also beautiful and may be less expensive (although it can be very hot). Be sure to keep hurricane season in mind (officially June through November). And you may want to avoid spring break destinations such as Miami and Fort Lauderdale during February and March, when those cities tend to be overrun with partying college kids.
Guest activities: Coastal Florida is all about the beach, so guests can lie on it lazily or head into the water for waterskiing, fishing, sailing and parasailing. Golf addicts will have plenty of greens to choose from, and the area surrounding Orlando is theme-park central, perfect if you have lots of little kids in your family and circle of friends. With its big-city sophistication and lengthy beaches, Miami has it all. The tropical setting is lush and the sunsets are romantic. From shopping to snorkeling, this famous honeymoon destination has you covered.
Best Spots for Weddings:
Delano Hotel, Miami: For seekers of hip, chic surroundings, it doesn't get more South Beach Miami than the Ian Schrager-designed Hotel Delano. Case in point: the underwater music piped into the pool, the all-white decor (how bridal), and the state-of-the-art David Barton gym.
Little Palm Island Resort & Spa, Little Torch Key: Arrive by boat to this beautiful, secluded island of Little Palm Island Resort & Spa which can accommodate weddings with up to 40 guests. After an afternoon on the beach or in the Indonesian-themed spa, retire to your private bungalow suite to witness breathtaking views of the setting sun.
Las Vegas, Nevada
Why: Drive-through chapels, Elvis impersonators as officiants, your first wedded moments spent at a blackjack table—Las Vegas offers all of that, but there's a whole other side to Sin City. You'll also find elegant ballrooms, a destination your guests will love and sophisticated, traditional receptions too.
When to go: You and your guests can have a ball just about any time, but try to avoid the hottest summer months (June, July and August); spring and fall, however, are gorgeous. Prices spike and availability plummets on holiday weekends, big-deal sports weekends (like the Super Bowl and NCAA Final Four) and times when there are giant conventions or events scheduled.
Guest activities: Hit the Strip. New York-New York, Paris Las Vegas, the Bellagio and Caesars Palace are all centrally located resorts. Casino buffets are a staple, so dig in before you head out for a show (Bally's is the only one with the old-school feather girls) and on your way out, sacrifice some small change to one-armed bandits. Beyond the casinos are Elvis and Liberace museums and the roller coasters at the Stratosphere Tower. Vegas' version of laid-back is found poolside.
Best Spots for Weddings:
Bellagio: Bellagio was one of the first hotel casinos to understand that Vegas needed more wedding options than the Little Church of the West and "Can't Help Falling in Love" on a boom box. The amenities are vast, and the accommodations luxe. This is a place for a very grown-up Vegas wedding.
The Mirage: The exotic South Seas, complete with a regularly exploding volcano, have found a stateside home in The Mirage Las Vegas. The hotel and casino are top-notch, the location is convenient for guests, and there's an entire company within the resort devoted to event planning—they sweat the details so you don't have to.
Half Moon Bay, California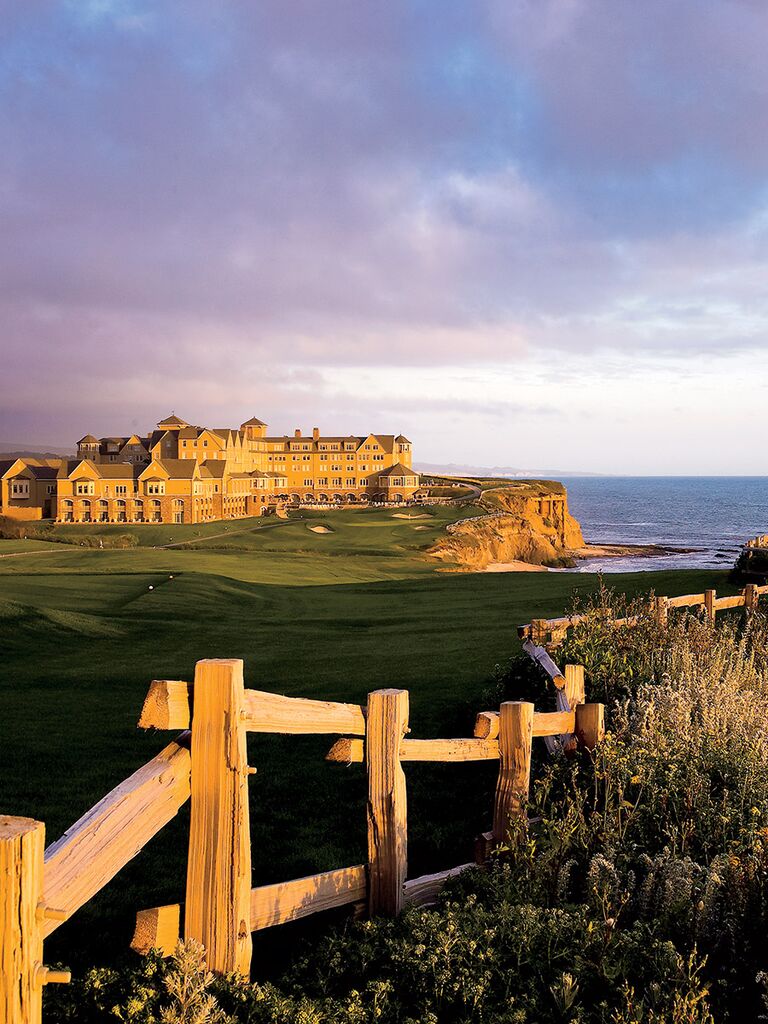 Why: Just 23 miles from SFO airport sits Half Moon Bay, a small, coastal town so breathtaking you won't believe you're a 45-minute drive from San Francisco—in fact, you'll feel more like you're on a movie set overlooking the rugged bluffs of Scotland. While the top-notch views, breadth of amenities and exquisite topography bring a range of sophisticated visitors, you'll find the local people and businesses, from vodka distilleries to flower nurseries, to be totally down-to-earth—in their refreshingly low-key attitudes, yes, but also, more literally, in their dependence on and appreciation for the area's abundant natural resources. Half Moon Bay welcomes visitors of all kinds (business executives, honeymooners, young families, surfers, bachelorette parties—you name it) offering beautiful beaches, world-class golf courses, robust outdoor activities, sensational wines and insanely delicious, locally sourced food (read: so much cheese) .
When to go: Sunbathers and surfers flock to the beach during summer, but the weather actually warms up significantly come September and October (unfortunately this means rates will rise, but that's true for peak months anywhere). May and June are gorgeous too, but don't forget to layer up, as once the sun goes down, temps can drop into the 40s—but that just means it's time for a glass of pinot noir by the fire.
Guest Activities: Half Moon Bay is somehow lesser known for its vineyards and wineries than Napa and Sonoma, but it definitely shouldn't be (although we like that it's sort of a best-kept secret). Your grown-up guests shouldn't miss the local wineries, distilleries or brewery. Alcohol aside, there are so many ways to keep busy: Ride horses on the beach, mountain bike along Skyline Drive, visit elephant seals at Año Nuevo State Reserve, stroll charming Main Street, play with baby goats at Harley Farms—and that's just skimming the surface.
Best Spots for Weddings:
The Ritz-Carlton, Half Moon Bay: Situated between two pristine golf courses—Half Moon Bay's Old Course (co-designed by Arnold Palmer) and Ocean Course—and overlooking the Pacific bluffs, The Ritz-Carlton, Half Moon Bay is one of the most sought-after luxury wedding destinations in Northern California. Choose between two picturesque outdoor ceremony spaces, work with their all-star wedding specialists and enjoy insanely cool amenities only The Ritz can offer—post-rehearsal-dinner s'mores by the fire pits, anyone?
Thomas Fogarty Winery and Vineyards: The view from Thomas Fogarty Winery's outdoor wedding spot is one you have to see to believe—as in, you'll get a panorama of the vineyard and entire Bay Area, from San Francisco to San Jose and across the Bay. And you know you've found a gem of a wedding venue when the plan B for bad weather is just as stunning as plan A: The Pavilion's modern and spacious covered deck is suspended over the Chardonnay vineyard. And, of course, you and your guests will sip on the spoils of this family-run winery, like its Santa Cruz Mountains Pinot Noir, which is a perennial favorite.
Maine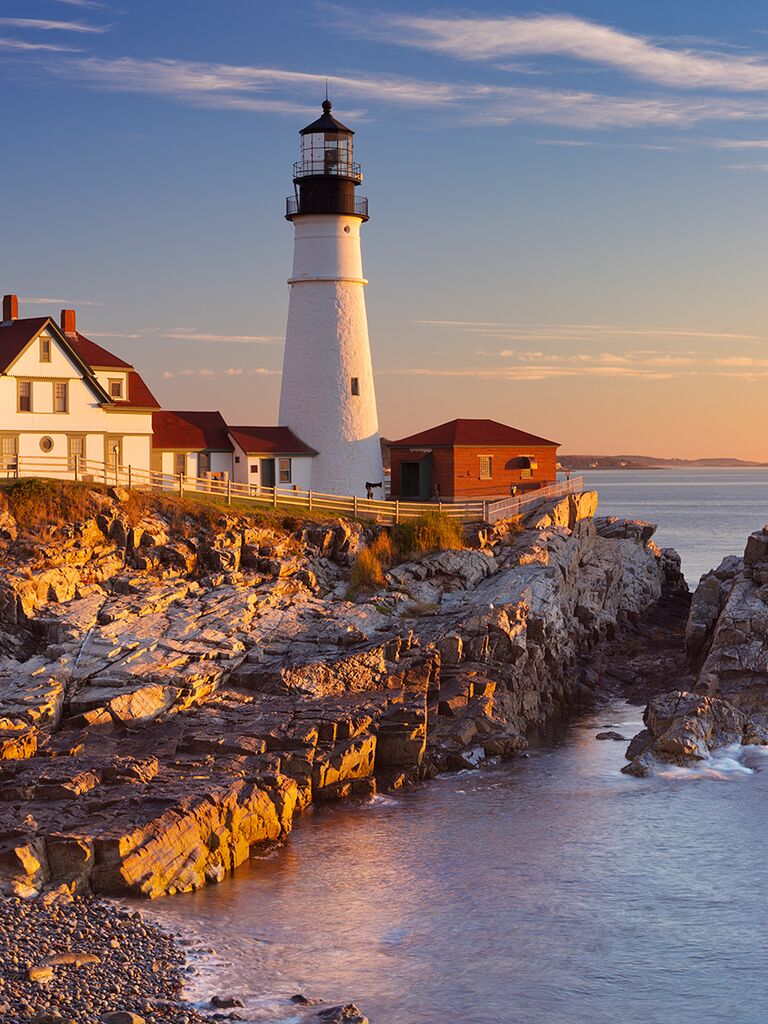 Why: The East Coast's northernmost state is bursting with natural beauty. It has a rugged, winding coastline complete with sheltered coves and wildlife-packed state and national parks. It also boasts lots of charming New England towns filled with antique stores, classic roadside diners and an impressive selection of art museums and galleries. If you dream of swapping vows in an old-fashioned country church, you're certain to be able to find one here.
When to go: Summer is when the state attracts the most visitors, especially in July and August, when the weather is warmest (average highs are in the high 70s, average lows in the high 50s), but you should consider having your wedding in September instead, when it's less crowded and the crisp fall weather (highs around 67, nighttime lows in the 50s) lights up the foliage.
Guest activities: In the summer the state offers the perfect chance to enjoy water sports such as sailing, canoeing and kayaking. Nature lovers will want to hit the hiking trails in one of Maine's many parks and nature preserves, such as Acadia National Park, a 35,000-acre spread of mountains, woodlands, lakes and oceanfront that contains 120 miles of hiking trails. Culture junkies will want to check out local art landmarks, such as Winslow Homer's studio in Prout's Neck, the Farnsworth Art Museum in Rockland (which is chock full of work by the Wyeth family) and Portland's Museum of Art. Everyone should dine on lobster rolls and blueberry pie—two of Maine's scrumptious signature dishes.
Best Spots for Weddings:
Hidden Pond: New England charm at its most quaint and elegant, both the gorgeously decorated rooms in the bungalows and cottages of Hidden Pond are charming. The acclaimed restaurant on property, Earth at Hidden Pond, is also a delicious foodie mecca in Maine.
Spruce Points Inn: Sitting on 57 acres of green lawns and gardens overlooking Boothbay Harbor, Spruce Points Inn offers accommodations for more than one hundred couples. Whatever outdoor venue you choose as your ceremony location, the breathtaking Atlantic Ocean serves as your backdrop.
Massachusetts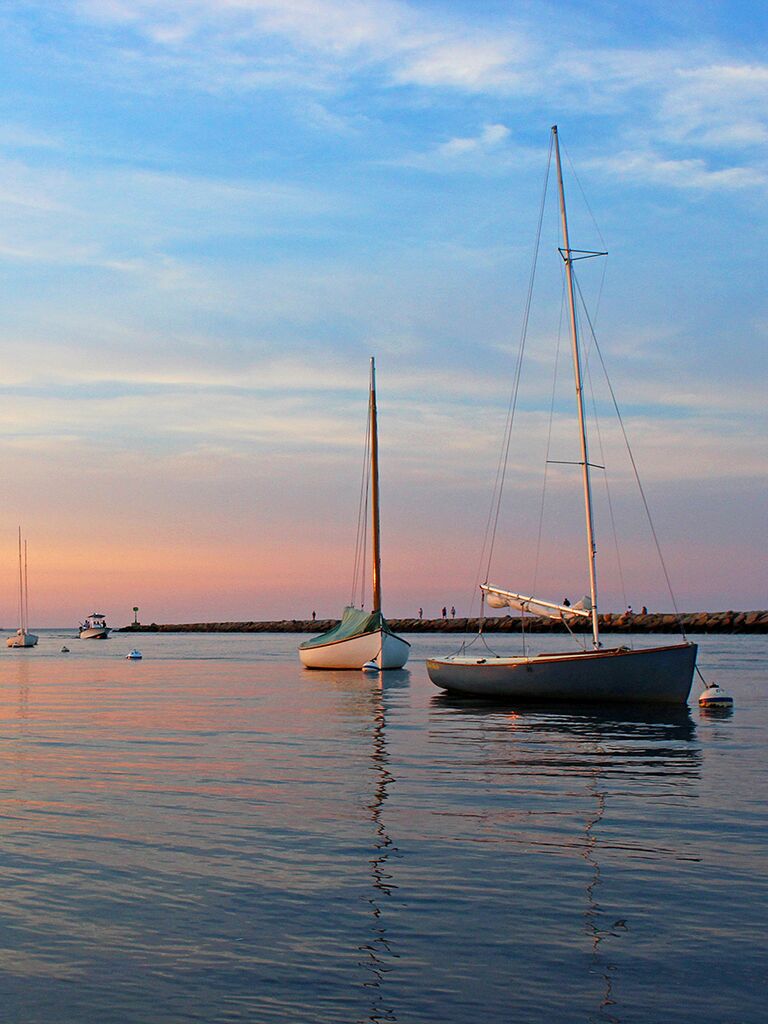 Why: Due to its popularity and prime location, Cape Cod in Massachusetts offers a plethora of resources, from elegant catering to yacht clubs, clambakes, resorts and gardens. This region can easily play host to small private gatherings, large elegant affairs and everything in between. The Berkshires is home to several sophisticated, low-key mountain towns and some of the best regional music and theater that the country has to offer.
Guest activities: In coastal towns sampling a little authentic clam chowder and lobster is a must. Each of the Cape's islands and towns has its own attractions, from the art scene in Provincetown to the Salty Dog Oceanfront Cottages near Martha's Vineyard and Nantucket ferries. The Freedom Trail in Boston is a walk through both history and the city. Inland hiking and biking and other outdoor activities take priority, and there's almost always something worth seeing at the Tanglewood Music Center in Lenox.
Best Spots for Weddings:
Wheatleigh, Lenox: Inspired by a French country chateau, the Wheatleigh has a grand staircase, Tiffany windows and out-of-this-world service. Between the setting and the service, you'll feel like royalty.
Winnetu Oceanside Resort, Edgartown: The charming seaside location of Winnetu and staff that's ready and able to create a custom reception will make for a headache-free wedding weekend.
Napa Valley, California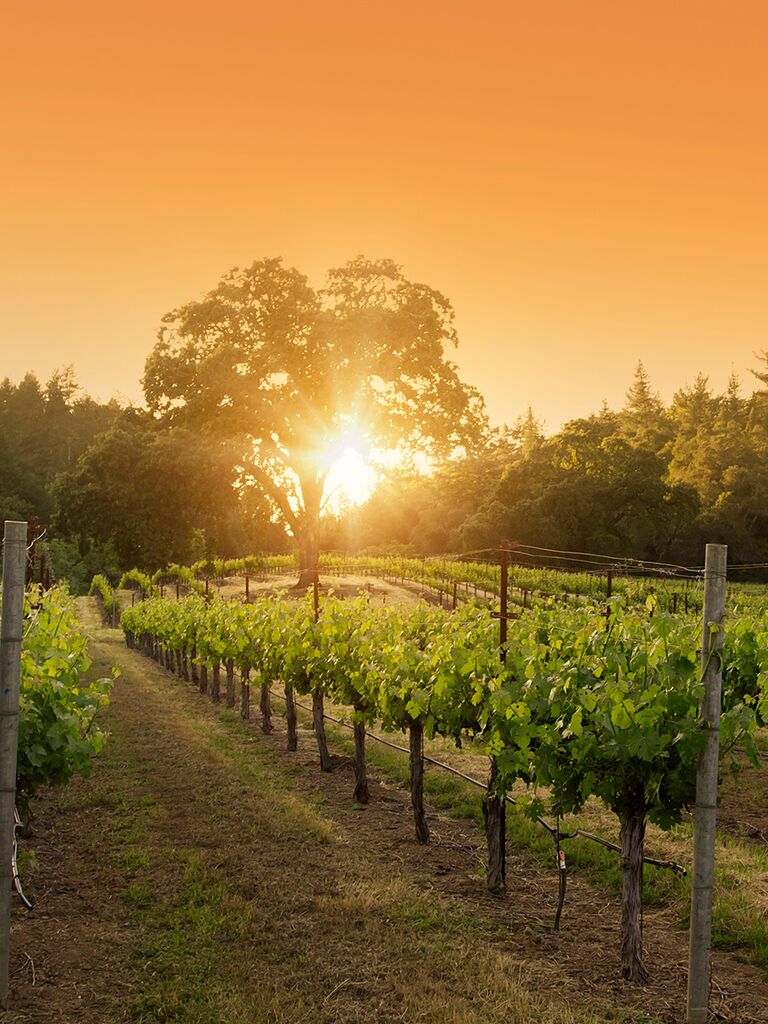 Why: The Napa region is filled with stunning landscapes—rolling hills, lush valleys and acre upon acre of vineyards. Of course, the main thing that draws pleasure seekers to the area is the abundance of delicious wine and the world-class restaurants that make food worthy of accompanying it. In the rare moments when you and your wedding guests aren't savoring all that food and wine, explore the charming towns in Napa Valley (filled with chic boutiques, galleries and gourmet stores), indulge in spa treatments, play golf or even take a hot-air balloon ride.
When to go: Summer and October are the best times to visit the region. September can be beautiful, but you may have problems with availability, and rates will be at their peak because it's harvest season. Even though you're in California, temperatures can drop at night (mid-50s in the summer), so be sure your guests know to bring sweaters and wraps for the evenings.
Guest activities: You can't visit Napa without touring vineyards, sampling their products and, more than likely, ordering a case or two to be shipped back home. The sheer number of vineyards in the area is totally overwhelming, so give guests an info packet filled with suggestions. One of the most popular wineries to visit is Rubicon Estate (owned by Francis Ford Coppola) which contains memorabilia from the famous director's movies as well as a store selling gourmet goodies and stylish home accessories.
Best Spots for Weddings:
Meadowood: Hidden on 250 private acres, Meadowood has 85 rooms in a variety of sizes, including freestanding cottages. And the hotel takes pride in its top-quality food, much of which (including the heirloom tomatoes, olives and honey) is grown or produced on the premises.
Vintage House: Right in the heart of downtown Yountville, the Vintage House is the perfect place for a wedding weekend in wine country. Guests will enjoy walking to the nearby tasting rooms or visiting the resort's spa in their free time. Say "I do" on the lawn—with a built-in brick aisle—then dine alfresco on the Pavilion under a clear-top tent, so you can still see the stars. Continue the celebration late into the night with drinks and dancing in The Barrel Room.
Newport, Rhode Island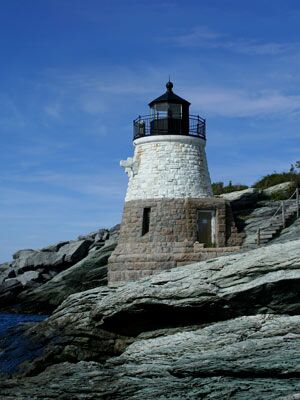 Why: Newport offers the perfect mix of New England charm and old-fashioned glamour. This seaside community was the playground of the fabulously wealthy at the turn of the last century, when captains of industry from Boston and New York built huge mansions meant to rival the castles of Europe on Newport's cliffs. Today, Newport is still a favorite summer destination of the well-heeled, and it offers a plethora of activities from sailing to high-end shopping for wedding guests young and old.
When to go: As with Maine and most of the Atlantic coast, it's warmest and busiest during the summer months when the highs average 80. But the shoulder season months of May and September are beautiful times to visit as well. For a few days each August, the Newport Jazz Festival fills the town with musicians and music lovers—which means you and your guests will have lots of great music to listen to, but the town will be more crowded than usual.
Guest activities: History and architecture bugs will want to tour some of Newport's historic mansions, such as the Breakers and the Astor's Beechwood. Outdoorsy types can take to the water in a sailboat or a motor yacht, or arrange to go fishing, sea kayaking or windsurfing. And all of your friends and family will love Newport's evening scene which involves sipping sunset cocktails while watching boats return to the harbor, dining on seafood taken from the water just hours before it reaches your plate and listening to live blues, jazz or rock at one of Newport's many music-centered bars and lounges.
Best Spots for Weddings:
The Chanler at Cliff Walk: Built in 1865 as the first mansion on the famed Cliff Walk, the The Chanler hotel offers an oceanfront ceremony and a tented reception in its Japanese gardens with catering by the highly-rated Spiced Pear restaurant.
Grace Vanderbilt: This building—a 1908 Georgian Revival mansion donated to the city by the Vanderbilt family—features rooms decorated with antiques, armoires, and fabrics with period patterns. Your reception dinner at the Grace Vanderbilt restaurant is served on Wedgwood china, but this place is anything but stuffy (the menu includes chicken potpie and macaroni and cheese).
New York City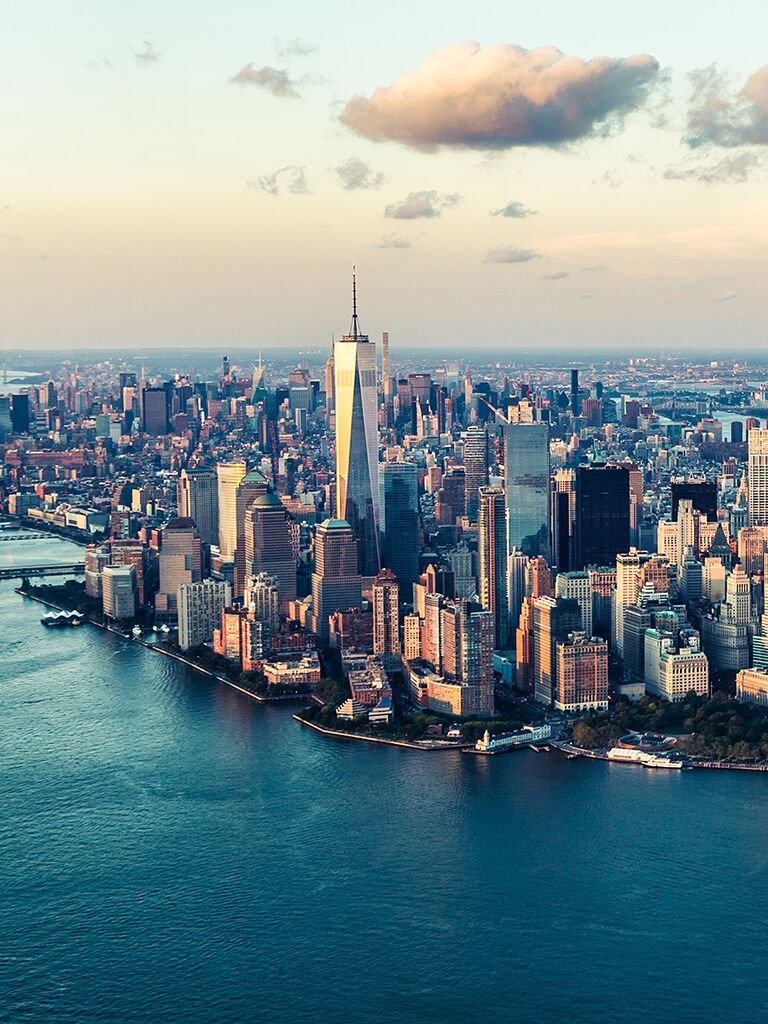 Why: New York offers something to get every one of your guests giddy with anticipation: Broadway shows, museums and galleries, four-star restaurants, crazy-fun nightlife, block after block of tiny boutiques and classic tourist attractions such as the Empire State Building, the Statue of Liberty and Times Square. When it comes to wedding-planning resources there's no shortage. You'll have innumerable caterers, florists, photographers and bands to choose from. Another of the city's assets is the accessible transportation (think: taxis and the subway).
When to go: Any month can be a good time for a New York wedding. Most of the city's main attractions are indoors, so it doesn't matter much what the weather is like. That said, summers in New York, especially during July and August, can be uncomfortably hot and humid. The city gets extremely crowded during the holiday season, but your guests may love the chance to catch the Christmas show at Radio City Music Hall, ice skate in Central Park and browse the decked-out posh department stores.
Guest activities: Shopaholics will want to hit "the three Bs" (Barneys, Henri Bendel and Bergdorf Goodman, high-end department stores all within a few blocks of each other on Fifth and Madison Avenues), as well as the hip boutiques in the SoHo and NoLita neighborhoods. The Museum of Modern Art is a must-see, though those more interested in ancient history will want to visit the Temple of Dendur's Egyptian Ruins in the Metropolitan Museum of Art. For a bracing dose of the city's after-dark energy you and your guests should visit the Meatpacking District, where dozens of clubs, lounges, and sidewalk cafes keep the streets crawling with partiers until 4 a.m.
Best Spots for Weddings:
The St. Regis Hotel: One of the city's most-established and swankiest hotels, the St. Regis has a variety of banquet rooms that can accommodate wedding receptions from 50 to 350. Feel totally spoiled by treating guests to afternoon tea in the Astor Court, or by hosting an old-school cocktail party in the King Cole Bar, a classic New York watering hole.
Mandarin Oriental: One of New York's nicest places to stay, eat, drink and spa. The Mandarin Oriental ballroom seats up to five hundred and provides incomparable views of Central Park. An on-site spa offers a lengthy menu of tempting couple treatments.
Aspen, Colorado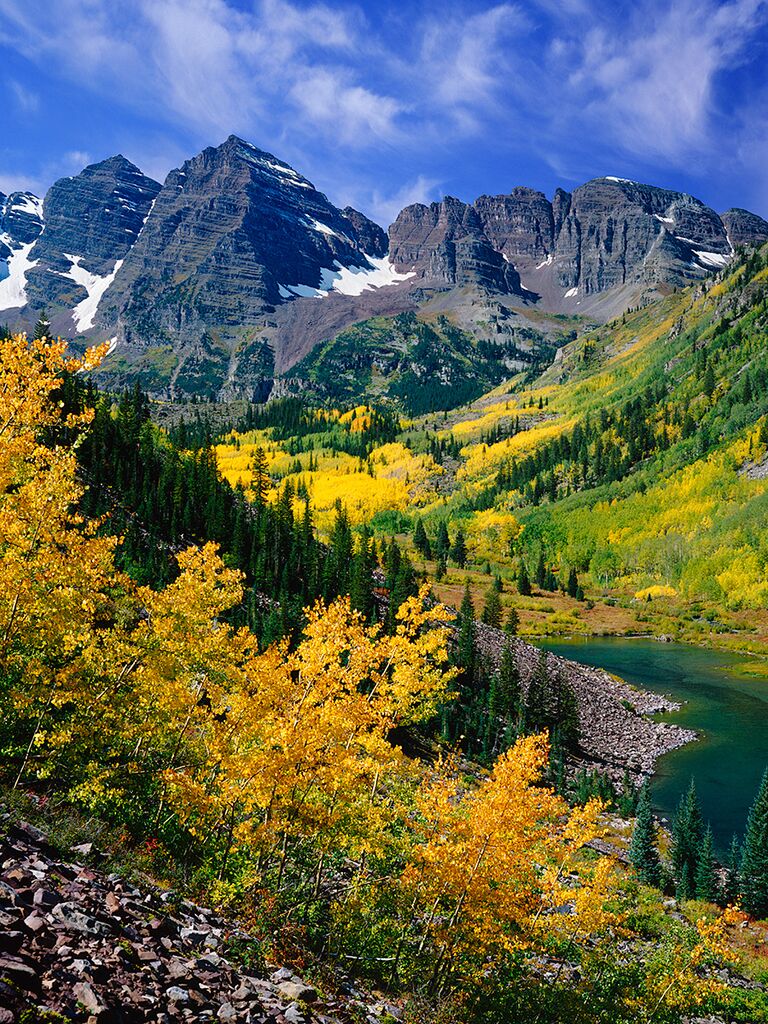 Why: This Rocky Mountain town possesses the perfect mix of natural beauty, rustic charm and posh amenities. Aspen's gorgeous mountains and valleys will thrill any outdoors enthusiast, while its ample selection of high-end shops and swank restaurants can keep indoors types more than entertained.
When to go: While many couples book their event sometime in November through early March to create the winter wonderland wedding of their dreams, keep in mind that summer and fall are also gorgeous times of year here also.
Guest activities: The main focus of the winter and early spring months in Aspen is skiing and snowboarding, though the daring can try more extreme activities like paragliding and even dog sledding (and everyone can enjoy toasty après-ski drinks at the famous Ajax Tavern). But the less-crowded summer season actually offers a broader range of options—cycling, horseback riding, hiking, fly-fishing, whitewater rafting and just about any other al fresco activity you can think of. At any time of year, your guests will love Aspen's nightlife options, especially the J-Bar, a Western-style saloon at the Hotel Jerome.
Best Spots for Weddings:
Hotel Jerome: Located right on Main Street in the heart of town, this is Aspen's ultimate old-school hotel. Hotel Jerom's ballroom accommodates 250 for dinner, and the adjacent garden terrace makes the perfect spot for your cocktail reception (it can be tented and heated during the winter months).
The Little Nell: This posh Relais & Chateaux property is situated right at the base of Aspen Mountain, but its biggest attraction for brides and grooms may be that it offers you the chance to say your vows at 11,200 feet.
Tucson, Arizona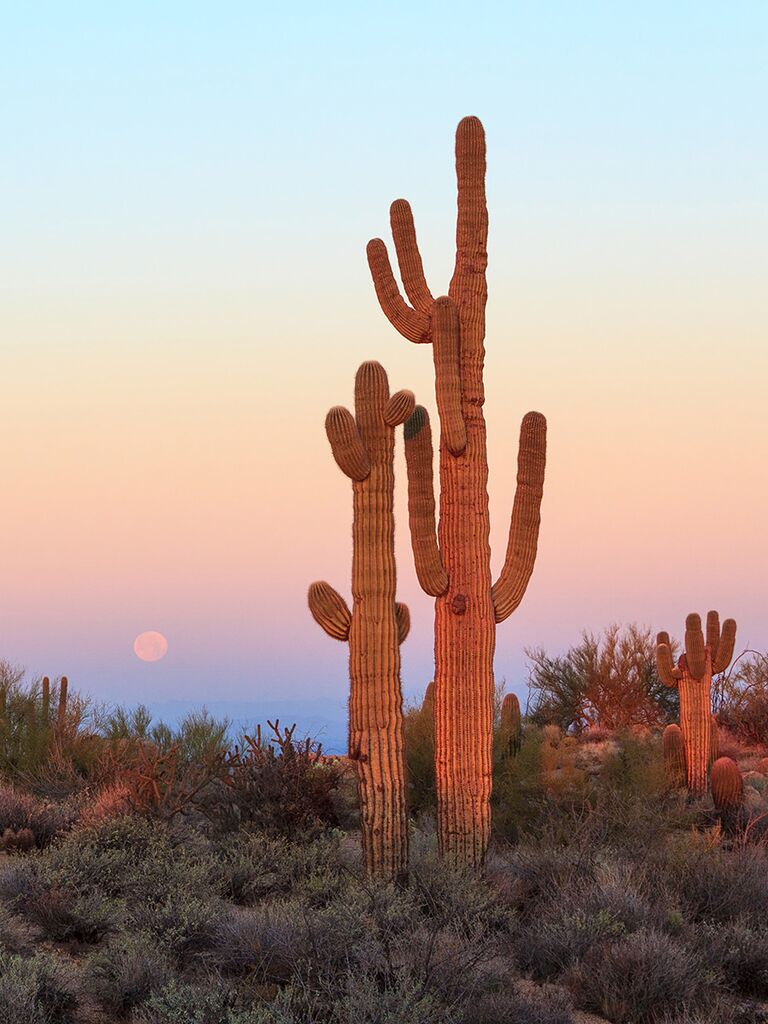 Why: Retreat to the city of turquoise jewelry, saguaro cacti and deep orange sunsets. Located in the southern region of Arizona between Phoenix and the Mexican border, Tucson offers a natural and rugged rendition of the Southwest landscape.
When to go: Tucson's weather is generally mild year-round, and most days are bright and sunny.
Guest activities: Catch a glimpse of a roadrunner while hiking through Sabino Canyon, tour the historic Mission San Xavier del Bac or peruse the photo and art galleries full of Native American and Mexican textiles and jewelry.
Best Spots for Weddings:
Hacienda del Sol: The historic Hacienda del Sol has amazing views of the Santa Catalina Mountains have attracted such famous guests as the late Spencer Tracy, Katharine Hepburn and John Wayne. Recently redesigned, its Southwestern style includes hand-painted tiles, adobe walls and original fireplaces, as well as three unique wedding ceremony sites.
Casa Tierra: Casa Tierra is an all-adobe inn features more than fifty arches, as well as entryways with vaulted brick ceilings and courtyards with fountains. Each guest receives a welcome basket of fruit and snacks, iced tea and chocolates when he or she checks in.
Find your perfect venue here!