The 30 Best US Destination Wedding Venues & Locations
After all, guests love a good Party in the USA.
We have included third party products to help you navigate and enjoy life's biggest moments. Purchases made through links on this page may earn us a commission.
Fun fact: the majority of destination weddings take place in the US. According to The Knot Real Weddings Study, 91% of all couples surveyed decided to keep their weddings stateside in 2022. Considering the relative ease of planning within the US and the sheer beauty of venues that specialize in hosting events in coveted destinations, this is expected. About one out of every five couples opted for a destination wedding, which is defined as being held in a location other than where the couple currently lives or outside of their hometowns.
There are plenty of scenic venue choices for destination weddings in the US, a country that boasts everything from subtropical to Arctic geographical climate zones. Couples can find a backdrop that speaks to them among arid desert landscapes, lush islands and tundras too. Some coveted US destination wedding venues are also considered bucket list accommodation options for romantic getaways. The goal of this list is to get you excited and inspired about the beauty that the venues across the country have to offer both couples and their loved ones. (Think: vistas overlooking canyons or bucolic farmland, or the most beautiful sunset ceremony set against the glittering Pacific Ocean.) These venues, which double as hotels, were chosen because of the feeling they evoke: that you and your guests have arrived at a true destination for a wedding.
"Destination weddings are, by far, the most memorable for all those in attendance," says JoAnn Gregoli, owner and event producer of her eponymous planning firm, Elegant Occasions by JoAnn Gregoli. "You are able to experience the locale with your friends and loved ones and they will create memories that last a lifetime." Considered one of the top destination planners in the world, Gregoli says the Hawaiian Islands and Napa Valley, California, are still strong destination wedding locations in the US. However, an uptick in demand is sprouting across regions like New England and Arizona, all of which are homes to several unique US destination wedding venues. Most respondents (55%) noted that the destination of choice held special meaning. Once you've determined your ideal locale, don't forget to block hotel rooms for your guests. (It's courteous and surprisingly easy thanks to services like Hotel Planner.) We've curated the 30 best US destination wedding venues and locations below.
US Wedding Destinations in this Article:
The Colorado Rockies Destination Weddings
Dunton Hot Springs, Dolores, Colorado
There's a reason why Emily in Paris star Lily Collins, daughter of Phil Collins, chose this US destination for her woodland wedding. A former mining town located across from Telluride, Colorado, Dunton has been refurbished to luxury standards while maintaining its fascinating historical roots. Couples can technically claim they booked an entire Western town for the wedding; plus, all of their logistics and needs are covered by the staff.
Accommodations: Loved ones can splurge on an all-inclusive stay at the Relais & Chateaux property's converted cabins. Intended for more intimate-sized weddings, Dunton guests will be treated to a five-star experience across 13 luxury accommodations. Views from the cabins include the Aspen trees, wildflower meadows, and mountain peaks.
Devil's Thumb Ranch, Tabernash, Colorado
You've seen this wedding venue splashed across vision boards. The team works hard to give guests and couples the true-to-Colorado hospitality experience, inclusive of local catering, luxury lodging at the ranch, and ceremonies under the recognizable timber arch. A wedding weekend here should give your loved ones a sense of history from the region's pioneering days, coupled with all the fun they'd find at a modern Western ranch.
Accommodations: The upscale resort and spa is located minutes from Winter Park, just 75 miles west of Denver. A rustic, five-star property, which may sound at odds, Devil's Thumb Ranch provides a truly unique wedding weekend accommodation—and an unforgettable few days for your loved ones.
The Little Nell, Aspen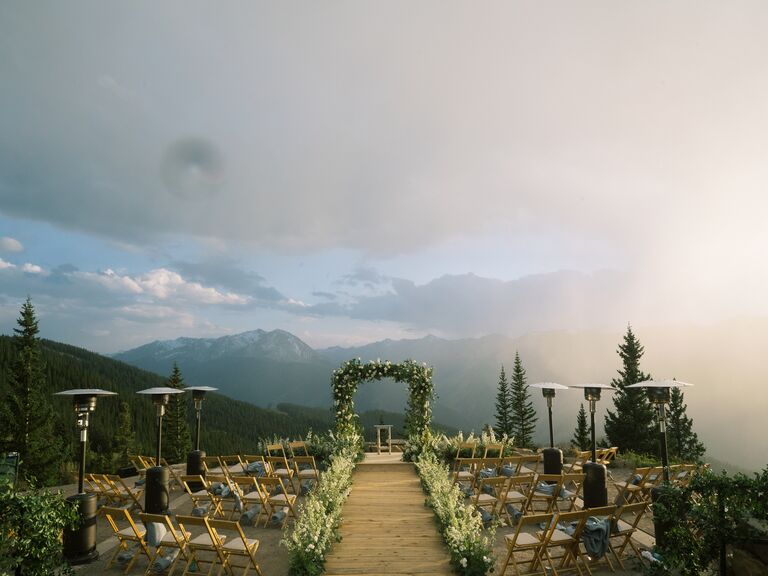 Arguably the best-known wedding venue in the state, the Little Nell offers a unique layout and unobstructed views of Elk Mountain Range. With its own standalone Wedding Deck (where you can exchange your vows at 11,200 feet), the venue overlooks snow-capped peaks in the winter and emerald-tinted evergreens in the summer. The Little Nell can accommodate anywhere from 20 to 500 people. Oh—and did we mention the gondola ride up Aspen Mountain is one that your wedding guests will never live down?
Accommodations: Guests can easily book one of the property's 92 guest rooms or suites. This posh Relais & Chateaux hotel is situated right at the base of Aspen Mountain and offers ski-in and ski-out access (read: in the heart of the destination's world-famous apres-ski culture). You and your loved ones may want to extend some time exploring the property and town, especially during the winter months.
Viceroy Snowmass
If your dream is to ski in and ski out on your wedding day, we recommend booking the Viceroy for multiple reasons: the venue is located in the heart of the village and can accommodate up to 280 people across multiple settings, including a ballroom, outdoor lawn, terrace and more. Plus, a destination wedding package bonus is that couples receive a complimentary three-night stay at any Viceroy Hotels and Resorts worldwide with a booking.
Accommodations: Guests can easily stay on the property, which has cemented its reputation for being one of the most luxurious in Aspen Village. Guests will appreciate the amenities and the massive spa for some much-deserved R&R between your highlighted festivities.
Exploring a Colorado destination wedding? Find more local venues here.
New England Destination Weddings
The Chanler at Cliff Walk
Built in 1865 as the first mansion on the famed Cliff Walk, the Chanler hotel offers an oceanfront ceremony (sans sand) and a tented reception in its Japanese gardens with catering by the highly-rated Spiced Pear restaurant. Guests will be pleased to find interesting historical remnants and artifacts from the Gilded Age that swept through Newport.
Accommodations: With 20 guest rooms, ranging from standard queen-sized beds to suites with king-sized beds and additional accommodations, your loved ones will find a room that fits perfectly in line with what they're looking for.
Cliff House, Cape Neddick, Maine
Nestled right against the Atlantic Ocean, this stunning venue will give couples every sense of romance and wonder as they exchange vows on what very well feels like the edge of the world. (Or at the very least, a cruise with panoramic views of the rugged Maine coastline.)
Accommodations: Located just 60 minutes from Boston, Cliff House Maine is nestled on Bald Head Cliff with sweeping views of the water. Couples and their loved ones who dwell in the region can easily feel as though they're transported to an entirely new destination.
The Vanderbilt, Auberge Resorts Collection, Newport, Rhode Island
This building—a 1908 Georgian Revival mansion donated to the city by the Vanderbilt family—features rooms decorated with antiques, armoires, and fabrics with period patterns. Your reception dinner at the property's restaurant is served in Wedgwood china, but this place is anything but stuffy (the menu includes chicken potpie and macaroni and cheese).
Accommodations: With 33 guest rooms and luxury suites, a buy-out for guests is probably the best option for a destination wedding weekend.
This property is New England charm at its most elegant. The acclaimed restaurant on property, Earth at Hidden Pond, is a delicious foodie destination in New England. Summer is especially pleasant in Maine, inclusive of activities like swimming, sailing, kayaking, and exploring nature preserves. Of course, Acadia National Park is a must-visit destination for loved ones if that's something you want to share on your wedding website. You can select from multiple venue options on the property grounds, including the manicured gardens or the barn.
Accommodations: Guests will decide between the property's thoughtfully decorated rooms in the bungalows. Hidden Pond, however, is known for its village comprised of adorable cottages, all located on 60 acres of birch forest. A buyout is recommended so that your loved ones can enjoy intimate access to the entire grounds. There's something for all ages here in terms of activities too: morning yoga classes, gardening sessions, hiking trails on the grounds, and evening bonfires.
Wyndhurst Mansion at Miraval Berkshires Resort & Spa, Berkshires, Massachusetts
If you're leaning into the farmland aesthetic for your wedding, the wellness destination of Miraval Berkshires offers a bucolic country mansion setting. The Berkshires (the highlands of Connecticut and Western Massachusetts) are also home to sophisticated, low-key mountain towns and, surprisingly, the finest music and theater programs in the country. Group programming for the weekend includes foliage viewing, local vineyard tastings, and more.
Accommodations: Guests can stay on the property and enjoy a wellness experience from dawn to dusk. Couples should consider a cottage stay.
Interested in a New England destination wedding? Find more local venues in Connecticut, Rhode Island, Massachusetts, Maine, New Hampshire and Vermont.
Mid-Atlantic Destination Weddings
The Inn at Perry Cabin, St. Michaels, Maryland
Couples have clamored to marry on this historical property's scenic waterfront, but the Inn at Perry Cabin had a memorable shining moment in 2005's The Wedding Crashers, a favorite wedding movie for many. Guests can expect a classic lobster or clambake rehearsal dinner, along with the many treasures the Chesapeake Bay has to offer. Catering is one of the standout experiences at the resort, where fresh catches are on the daily menu and mouthwatering Maryland crabs are among the best along the Eastern Shore. Dazzle your loved ones with a sunset sail on the inn's 55-foot luxury Hinckley yacht (aptly entitled The Five Star) or select from an activities menu, featuring tennis lessons, cycling and more.
Accommodations: The boutique hotel houses dozens of rooms and suites across 25 acres of riverfront land.
Nemacolin, Farmington, Pennsylvania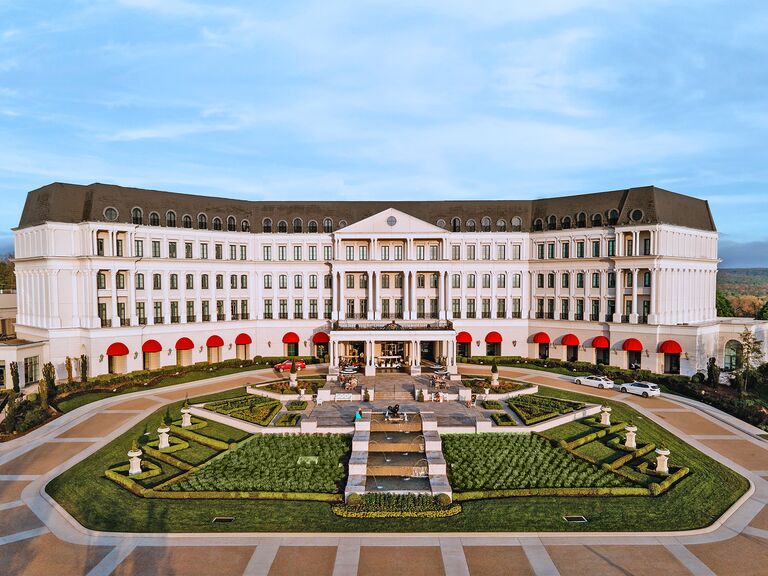 More than 2,200 acres of sculpted gardens across five different types of stays welcome guests to the farmlands of Western Pennsylvania. This luxury hideaway has plenty of options for weddings, along with packed itinerary options for three-day weekends, making it a true destination in the US for both you and your guests. Oh–and did we mention the venue is pet-friendly too? If you want your pup to be a ring bearer, this is the place for you, especially in the fall when the entire region's leaves transform into burgundy and marigold hues.
Accommodations: Your loved ones will have their choice between different types of lodging, including Nemacolin's Falling Rock, The Chateau, The Grand Lodge, The Estates and The Homes. The latter is the perfect choice for wedding parties and family members, while the property's several hotel buildings are ideal for most of your guests.
Beach Plum Farm, Cape May, New Jersey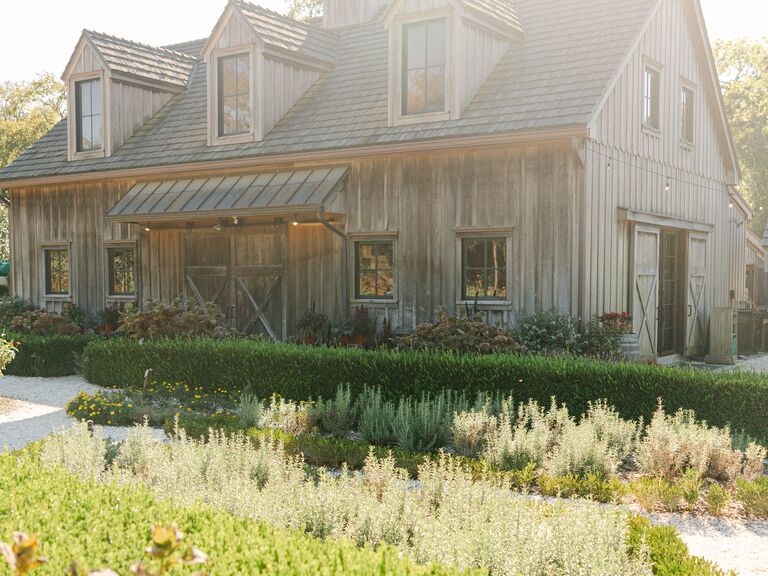 This adorable farm is within driving distance of the beach, but it feels as though you're transported to an otherworldly hideaway, especially as you walk through its herb and floral gardens. With dedicated ceremony spaces located throughout the 62 acres of farmland, as well as six luxury farmhouses to rent in a private section of the destination, guests will appreciate the blend of modern touches against historic Cape May. (Don't forget to take photos with the chickens.)
Accommodations: Buyouts are required for all weddings, so couples and loved ones can stay on the grounds of the farm in the luxury cottages. Guests can also book additional rooms with Cape Resorts' nearby sister properties, including Congress Hall.
Exploring a Mid-Atlantic destination wedding? Find more local venues in Pennsylvania, New Jersey, Delaware, Maryland and Virginia.
The American South Destination Weddings
The Biltmore, Asheville, North Carolina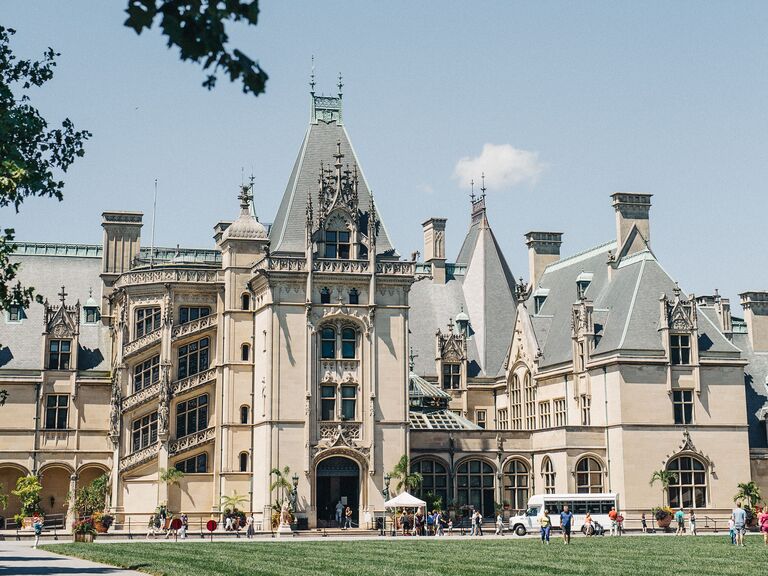 What's bigger than Downton Abbey and known as the biggest privately-owned home in America? This estate property was constructed in 1889 in the style of a French Renaissance chateau, yet it's far from its European counterparts. Cozied up against a backdrop of the foggy and dreamy blue mountains of Asheville, the manicured gardens, world-class architecture, and local touches make The Biltmore one of the most coveted and unique destination venues in the US. Couples can marry on the Library Terrace–the Vanderbilts, after all, were first to do it over a century ago.
Accommodations: The 175,000 square feet home boasts 250 rooms alone, including 35 bedrooms, 43 bathrooms and 65 fireplaces.
The Cloister at Sea Island, Sea Island, Georgia
In 1928, The Cloister at Sea Island first opened its sunny doors to local families in search of a brief respite by the Atlantic. The once "small hotel" has since evolved into one of the most recognizable destination wedding venues in the US, welcoming the likes of numerous US Presidents, First Ladies, as well as celebrities and business magnates. Couples have the option to choose to exchange their vows between the various indoor and outdoor sites, including beneath hulking oak trees, within gilded ballrooms, or within the property's whimsical chapel.
Accommodations: Guests will have the option to choose among 265 guestrooms and suites, all of which provide access to The Cloister's five designated miles of private recreational beach use. A destination wedding at the resort will easily give your loved ones a chance to relax and recharge in an idyllic setting.
The Dewberry, Charleston, South Carolina
The Dewberry has also become one of the most highly sought-after destination wedding venues in Charleston, and we can see why. A former federal building, the luxury property has since been converted into a midcentury-modern hotel. Couples will appreciate the airy, open-layout ballroom that lets in plenty of natural light (read: for the photography). The best option for a getting-ready room is the new John Derian Suite, a collaboration with the New York decoupage artist himself.
Accommodations: Guests can relax within one of the property's 154 guestrooms or suites. With bathrooms comprised of Vermont marble and well-designed guestrooms, your loved ones will never want to leave. A room block is recommended, pending the size of the wedding, especially as Charleston is one of the most popular wedding destinations in the country.
Find more local venues across South Carolina, North Carolina and Georgia.
Central California Destination Weddings
Sunstone Vineyards & Winery, Santa Ynez, California
As though you've made your way to Tuscany, Sunstone Vineyards & Winery also offers something that their European counterparts cannot: the California sun. Located in gorgeous Santa Ynez, the destination wedding venue only takes a select number of weddings each year. (The Bachelorette's JoJo Fletcher and Jordan Rodgers were among those who exchanged vows on a sun-dappled terrace overlooking the 55-acre estate.)
Accommodations: Like a true villa, the grand-yet-intimate space is home to five grand suites, where up to 10 people can stay. Ideal for the wedding party, a buyout is needed at this destination wedding venue in the US.
San Ysidro Ranch, Montecito, California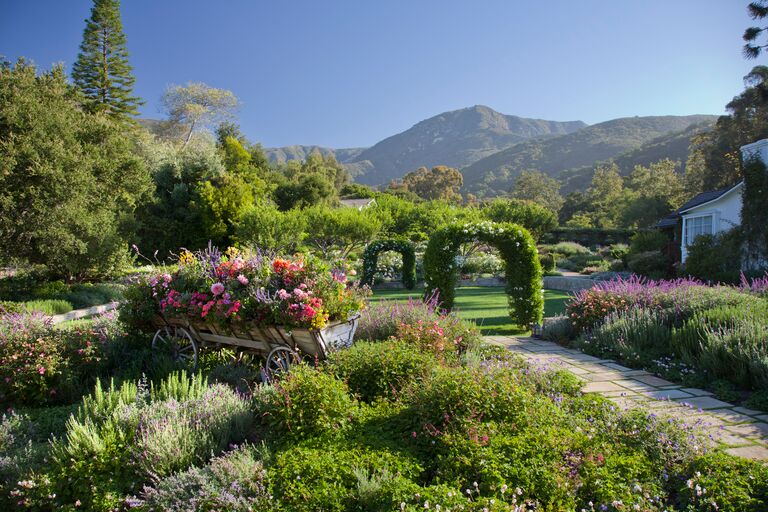 Multiple celebrities and tastemakers have decided to marry at San Ysidro Ranch, including the likes of Jessica Simpson and Gwyneth Paltrow (in her 2003 wedding to Chris Martin). With its own dedicated wedding lawn or rose garden, it'll be tough for couples to narrow down exactly where to host the ceremony. Good thing you have multiple events to plan for a proper destination wedding weekend.
Accommodations: Guests will love the pristine five-star cottages on the property. With 38 discreet, well-decorated and private cottages, your family and friends will enjoy mingling throughout the wedding weekend, then retreating to their respective bungalows for relaxation.
Alila Ventana Big Sur, Big Sur, California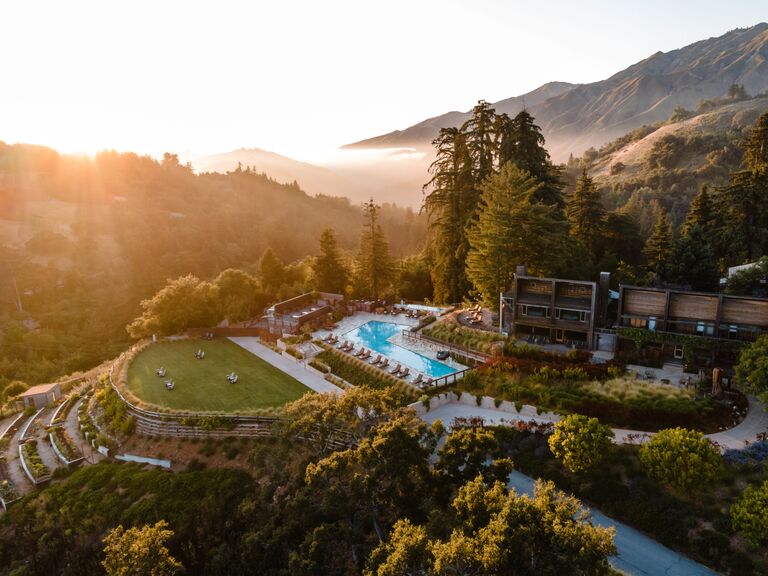 Located south of Monterrey and north of Santa Barbara, the adults-only property is nestled on 160 acres beside the Pacific Ocean. Discreet, quiet and spacious, the property takes into consideration the surrounding Redwoods and the soothing water views as part of its overall design aesthetic.
Accommodations: The Alila Ventana offers 59 rooms and suites. As it's an adults-only resort, families with young children should turn to other local options should this be the chosen destination for a wedding–and what a treat for the parents to enjoy some time on the romantic grounds. As it's a Hyatt resort, guests (and couples) will also like flexing their World of Hyatt points.
Pebble Beach Resorts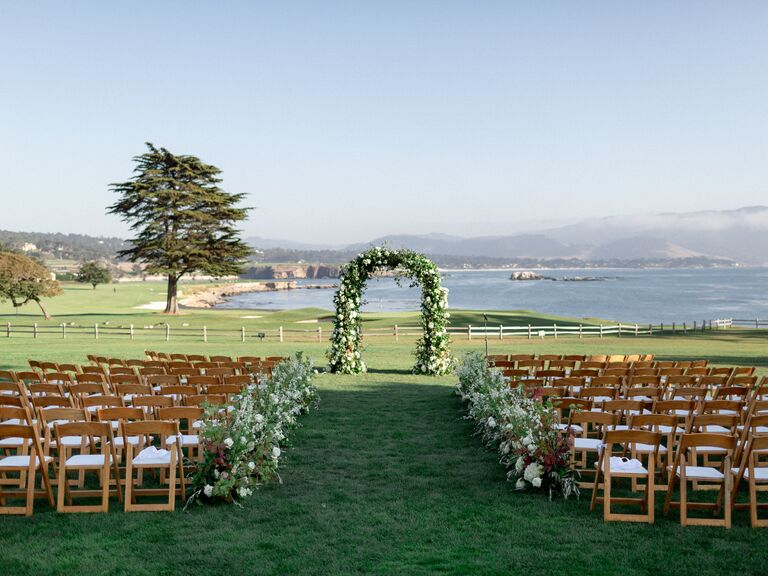 One of America's most beloved and famed golf courses is also home to several stunning destination wedding venues and options. Guests will appreciate the pristine beauty of the greenery surrounding the resort grounds, as well as the gorgeous Pacific backdrop. However, the resort's Tennis Club is also another beloved spot for receptions.
Accommodations: Considered a mega-resort, Pebble Beach speaks to all age groups. As long as they love luxury, guests can choose between a stay at The Lodge at Pebble Beach, The Inn at Spanish Bay, and Casa Palmero. All are five-star properties that offer everything from indulgent spa treatments to evening activities for guests.
Considering a California destination wedding? Explore more venues here.
Pacific Northwest Destination Weddings
The Edgewater Hotel, Washington
Unobstructed views of the Elliott Bay, Mount Rainier and the city skyline are just a few perks that come with a wedding at the Edgewater. The industrial boutique hotel was aptly named: Edgewater as it's on the edge of land up against the water. The property, meanwhile, feels like an elevated lodge set against the peaceful Salish Sea. In her review of the property, Karin B. affirmed that this was quite the destination wedding venue, writing: "We had a lot of out-of-town guests so it was important to us to 'show off' our city and the Edgewater is certainly the place to do that."
Accommodations: Guests will love that each room comes equipped with a fireplace adding an even cozier and intimate feel to the property. Even more for bragging rights: The Beatles slumbered at this very property in 1964.
The Sanctuary, Seattle, Washington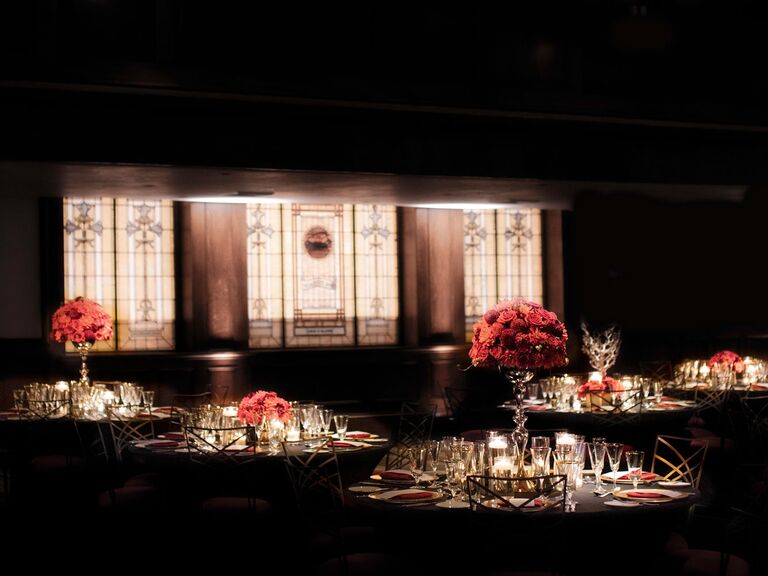 Thank Instagram for making this indoor beaux-style venue one of the most popular new choices in the Pacific Northwest. Modernized by world-renowned interior designer Philippe Starck, The Sanctuary at Lotte Hotel Seattle is a historic cathedral (the first United Methodist Church in the USA, in fact) that has since been converted and refurbished into a large-scale venue site. Perfect for church weddings or ceremonies of all faiths, the upstairs section can easily be transformed into a cocktail hour site. Believe us when we say your guests will want to snap photos of the giant halo installation and stain-glass windows before taking even more pics at your reception.
Accommodations: Since the venue is centrally located and connected to the hotel, guests will easily enjoy the luxury services and amenities offered by the hotel staff. Suites are recommended for couples as you get ready and take photos–photographers will especially appreciate the elevated backdrop featuring Pike Place Market and the Seattle waterfront. Don't forget to provide fuel for your wedding party members with coffee from the original Starbucks.
Considering a destination wedding in the PNW? Explore more venues in Washington and Oregon.
Hawaii Destination Weddings
The Ritz-Carlton Maui, Kapalua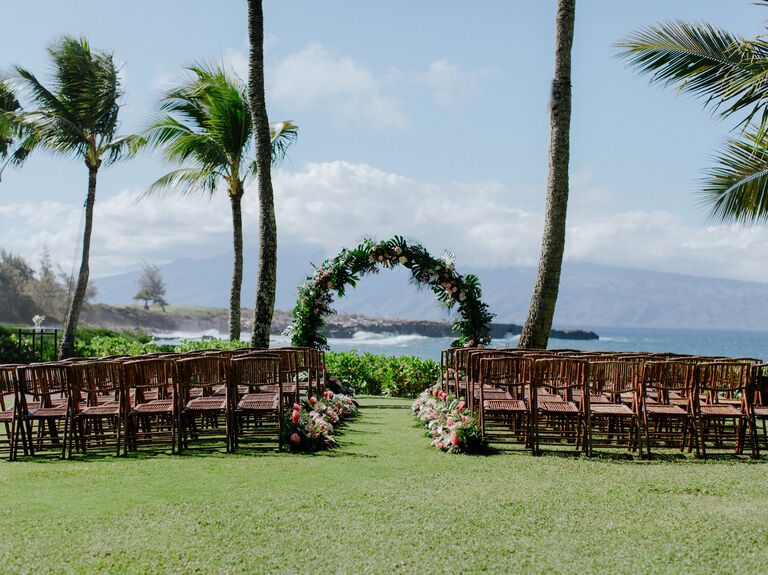 This luxury five-star resort in the enclave of Kapalua is arguably the most beloved hotel on the island of Maui. Nestled along Maui's northwestern shoreline, the property overlooks Kapalua's dramatic volcanic coastline. Newly renovated in 2022, the Ritz-Carlton leaves couples with pristine options for rehearsal dinners, welcome parties and, of course, the wedding ceremony and reception often held on the Beach House Lawn with unobstructed views of the Pacific. Given the natural beauty, couples will want to take advantage of outdoor settings here and local vendors will, of course, deliver in case there's rain–because it's often brief with a stunning rainbow that follows.
Accommodations: Kapalua is considered one of the finest golf destinations in the country and offers plenty of outdoor options for loved ones—just imagine black volcanic rock jutting against the powerful waves of the Pacific Ocean. Guests will appreciate nature walks, daily meditation at the resort, the amazing pool at the resort and D.T. Fleming Beach. (Did we mention that Marriott Bonvoy members will especially be excited about a stay here?)
Four Seasons Resort Maui, Wailea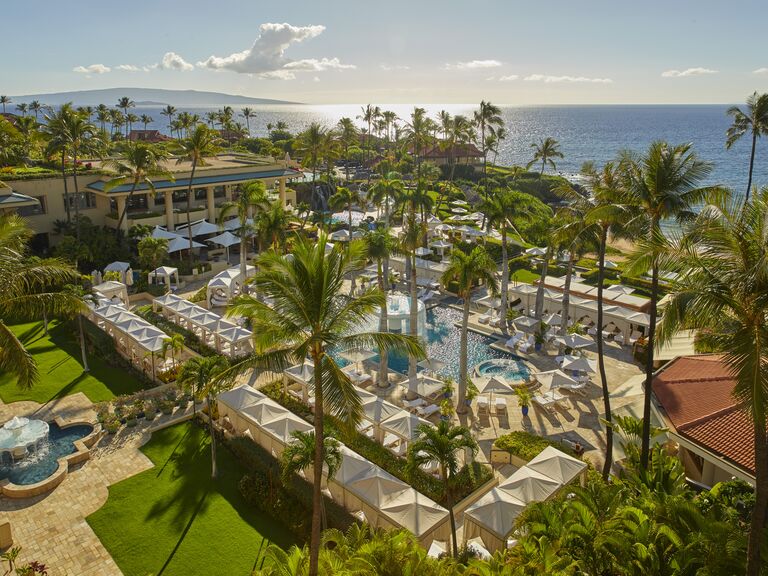 Fans of HBO's The White Lotus know that season one was filmed at this popular and beloved resort nestled along the coastline of Wailea Beach. The location is renowned for golden sand and lapping waves. Ceremonies are breathtaking as couples can easily exchange vows on a lawn (read: no sand) while watching the sun dip below the Pacific horizon.
Accommodations: Wailea Beach is home to numerous resorts, but the services and amenities offered at the Four Seasons are unparalleled. With 380 luxury guest rooms and suites, buyouts are encouraged especially during peak season. The resort's recognizable adults-only Serenity Pool is another standout resort feature–your besties and wedding guests will love the people-watching.
Considering a destination wedding in Hawaii? Explore more venues here.
Florida Destination Weddings
The Breakers, Palm Beach, Florida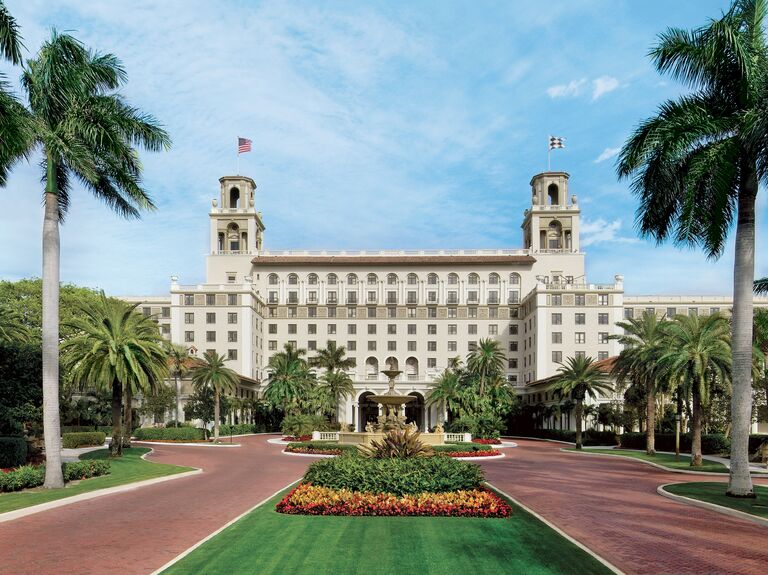 Conceived by American industrialist Henry M. Flagler in 1896, this crown jewel of a venue has since welcomed names like J.P. Morgan, Andrew Carnegie, and the Rockefellers. Grandeur is just one aspect of The Breakers; an institution from the bygone days of Slim Aarons, this resort venue also encapsulates the Palm Beach lifestyle. Couples can choose between a breathtaking oceanfront ceremony, a more private and upscale garden wedding, or a lavish ballroom reception. Luxury has no limits at the Breakers.
Accommodations: The Breakers upholds its legacy for multiple reasons: great service, luxury amenities and beautiful views. After having served couples and entire families for generations, the Gilded Age property is the type of resort that is beloved by its loyal clientele. With 534 guest rooms, including 72 suites, a room block is encouraged. Nearby Palm Beach also has additional options for guests, like PGA National Resort and the Flamingo Pink Colony Hotel.
Little Palm Island Resort & Spa, Little Torch Key, Florida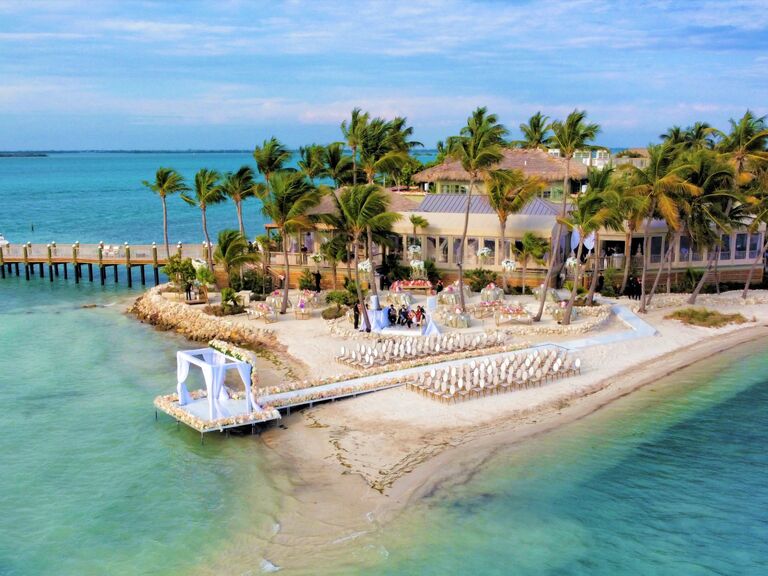 A private island buyout? Your guests won't believe it. Everyone must arrive by boat to the beautiful, secluded island of Little Palm Island Resort & Spa, which can accommodate weddings with up to 60 guests. After an afternoon on the beach or in the Indonesian-themed spa, retire to your private bungalow suite to witness breathtaking views of the setting sun.
Accommodations: More intimate in scale, Little Palm Island Resort is a private island resort. This means it's highly encouraged your guests stay on the property or you schedule boats to shuttle loved ones back and forth to the destination.
Faena Hotel Miami Beach, Miami Beach, Florida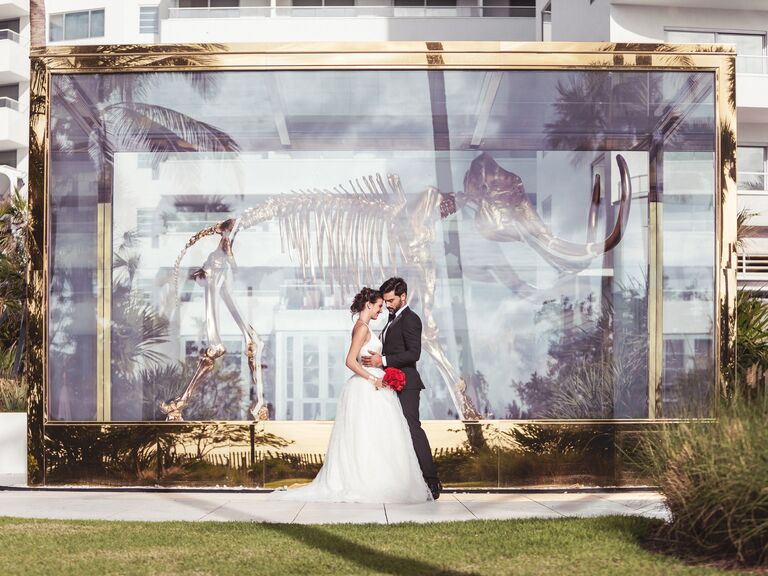 The fragrant welcome in the Faena lobby leaves an irresistible first impression. And the rest of the experience follows suit at this five-star property on Collins Avenue. The Faena's world-class art collection, acclaimed restaurants (including Los Fuegos by Francis Mallmann), and manicured oceanfront and pool leave quite a lingering impression on visitors. Imagine if your wedding was held in the courtyard or on the beach. After all: Damien Hirst's gold-gilded woolly mammoth, Gone but Not Forgotten, is something they'll want to savor and remember forever.
Accommodations: With 179 guest rooms and suites, the Faena will be a treat for your loved ones, especially if they plan to take advantage of the private beachfront chairs and umbrellas. The hotel alone offers much to see and do–and late nights can lead to cocktails at the nearby Casa Faena, where guests can also choose to stay.
Considering a destination wedding in Florida? Explore more venues here.
New York, New York Destination Weddings
The Carlyle Hotel, a Rosewood Hotel & Resort, New York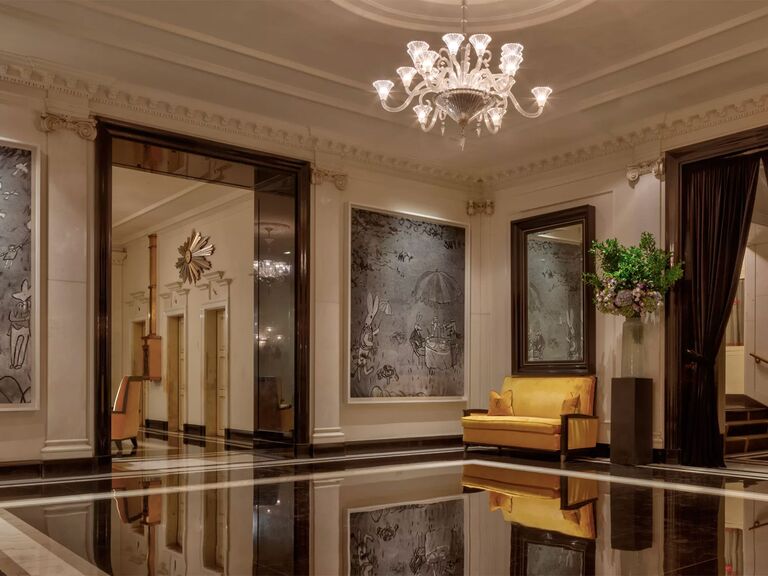 This NYC institution was the late Princess Diana's favorite property for a stay—it's also the home of the legendary Bemelmans Bar, where folks can swing by to watch the legendary in-house pianist Earl play tunes as you indulge in world-class cocktails and people watch. In fact, couples can rent out the Art Deco-inspired space for their reception or host even more loved ones by renting out the Cafe Carlyle.
Accommodations: Couples and loved ones should stay in the Carlyle's five-star rooms. For guests, there are many options to consider in Manhattan–with numerous Upper East Side institutions located a stone's throw away from the venue. We recommend The Lowell for its lively restaurant and bar scene or The Ritz-Carlton New York, Central Park—simply for the views and the Club Lounge access. Plus, you'll want people to be able to walk or catch an easy Uber: the downtown to uptown slog means delays and you wouldn't want guests to be late.
The Beekman, New York, New York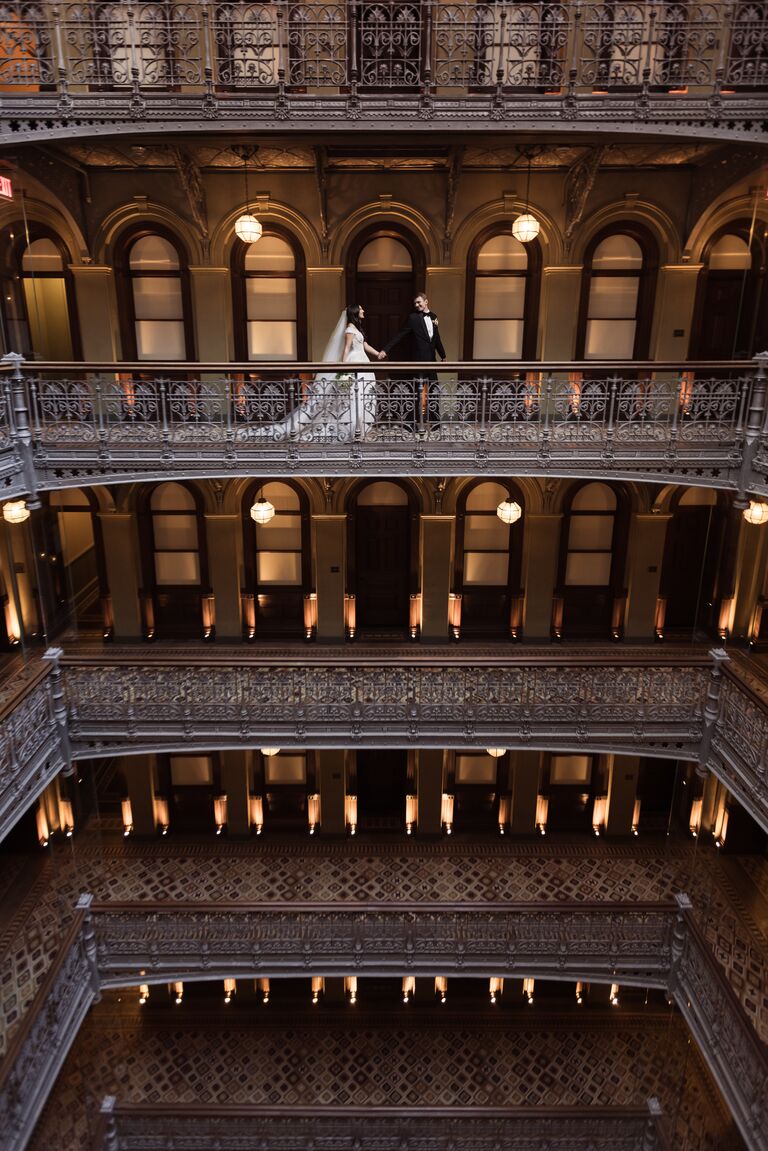 Full disclosure: this editor used to live next door to the establishment so a bias is very well possible. But New Yorkers and visitors alike will tell you there's no place like The Beekman. Every morning, I'd fistbump the doormen and staffers; and on weekends, I'd catch the occasional newlyweds making their way through the lobby–photographer and planner in tow. The interior of the historic hotel is exceptionally beautiful with a glamorous and architectural Victorian atrium that brings patrons through the passage of time where old-school New York paved the way to making it the Greatest City in the World. The open layout makes the hotel bar a place to be seen.
Accommodations: A hotel room block is easy to reserve through the hotel's own on-site wedding specialist. Your loved ones will want to stay at the Beekman or near the location (Park Place) as it straddles Tribeca and the Financial District and is steps away from the Brooklyn Bridge and City Hall. A wonderful variety of lauded fine dining establishments just so happen to be at your fingertips at the Thompson property. The Beekman's own Temple Court has a menu created by James Beard Award winner Tom Colicchio. Guests will also appreciate that they can flex those Hyatt points. If booked out, loved ones can easily book rooms at another five-star establishment just one block away: the Four Seasons Hotel New York Downtown.
The St. Regis Hotel, New York, New York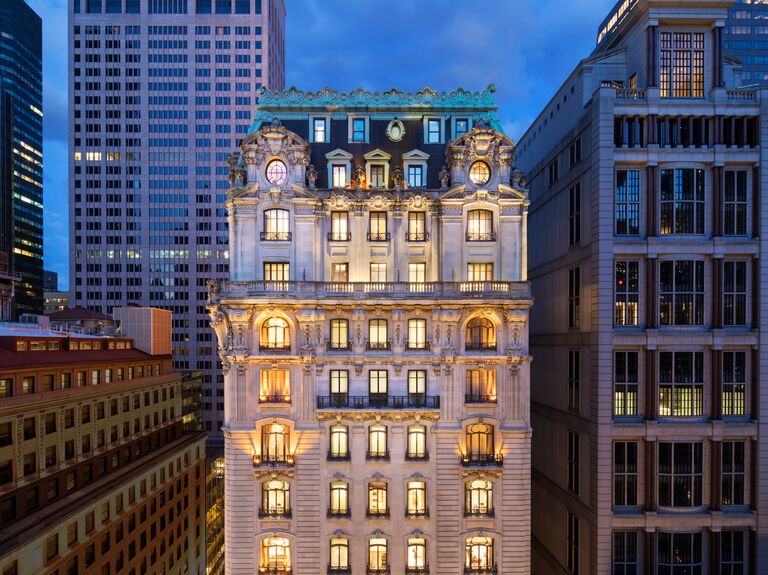 One of the city's most established and swankiest hotels, the St. Regis has a variety of banquet rooms that can accommodate wedding receptions from 50 to 350. Feel totally spoiled by treating guests to afternoon tea in the Astor Court, or by hosting an old-school cocktail party in the King Cole Bar, a classic New York watering hole.
Accommodations: The St. Regis is one of the most storied hotels in New York City. The historic property first opened its doors in 1904, under the vision of its founder, John Jacob Astor IV. While Astor perished on the Titanic, his legacy lives on through the ornate decor and luxury services; plus, who doesn't love flexing those Hilton Honors points?
The Mandarin Oriental Hotel, New York, New York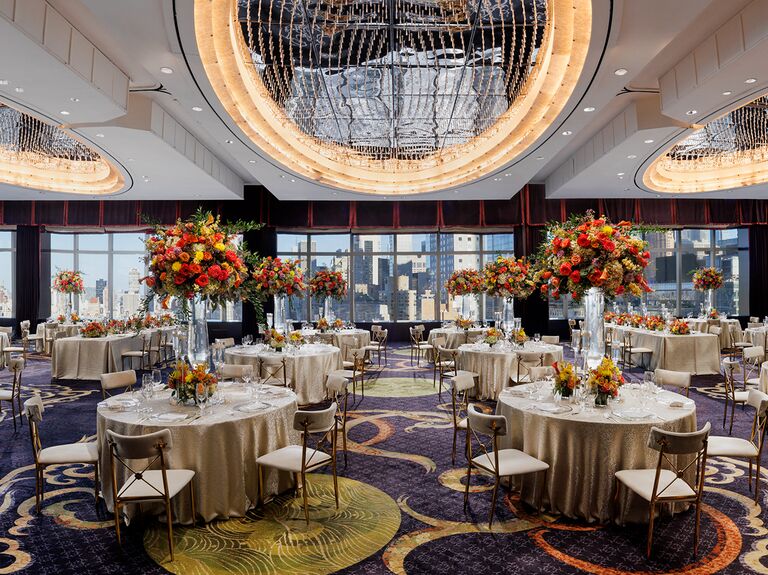 If you're planning a lavish and large destination wedding in the City That Never Sleeps, this property comes highly recommended. The ballroom is one of the most recognizable in the city, not only for its halo lighting but also for its panoramic and unobstructed views of Central Park. Known as one of New York's nicest places to stay, eat, drink and spa, the Mandarin Oriental's ballroom can additionally seat up to five hundred. Location, luxury and love, that's a winning combination.
Accommodations: The five-star hotel is home to 198 guestrooms and 46 suites, some of which offer views of Central Park or the Hudson River. Plus, guests will be tempted by the on-site spa menu, including indulgent facials and massages. Fifth Avenue and many of NYC's finest establishments are also nearby.
Planning a New York destination wedding? Explore more venues here.
Arizona Destination Weddings
Hacienda del Sol Guest Ranch Resort, Tucson, Arizona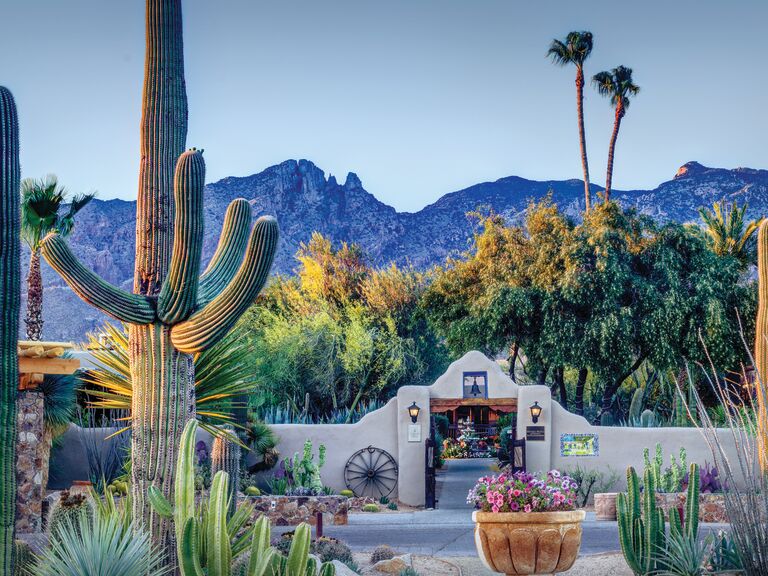 The historic Hacienda del Sol's amazing views of the Santa Catalina Mountains have attracted famous guests such as the late Spencer Tracy, Katharine Hepburn and John Wayne. Its Southwestern style includes hand-painted tiles, adobe walls and original fireplaces, as well as three unique wedding ceremony sites.
Accommodations: The four-star historic hotel has 59 room options for guests. As the resort is surrounded by nature, there are plenty of things for your loved ones to do as you prep for weekend events. Keep them engaged and happy with cultural activities and pool parties (it's Tucson, after all).
Enchantment Resort, Sedona, Arizona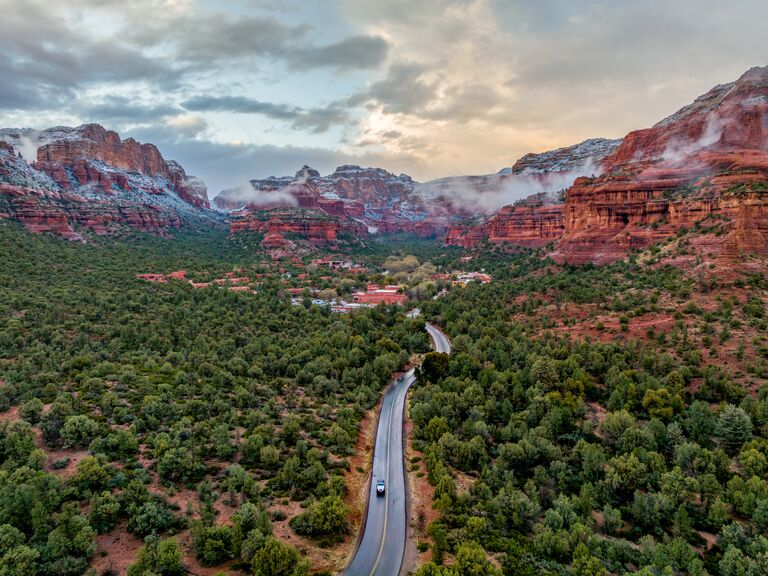 Covering 70 acres before the hulking Boynton Canyon, Enchantment Resort is the type of property that serves as its own destination in Sedona. This Southwestern property quietly hosts weddings and beautiful ones at that.
Accommodations: By the end of the weekend, your guests will be thanking you for hosting your nuptials at this beloved resort. Equipped with one of the best spas in the region, Mii amo, guests can connect with nature and relax with on-site workshops, aura readings, and more.
Planning an Arizona destination wedding? Explore more venues here.