The Ultimate Guide to Planning a Destination Wedding in Portugal
Food, wine and fun make for the wedding day of a lifetime.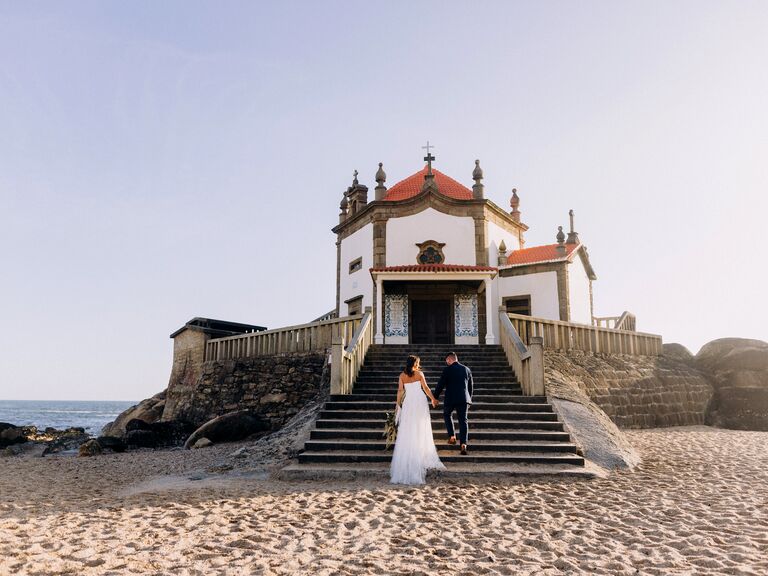 Carolin Voelker/Getty Images
Imagine basking in the warmth of the Mediterranean sun as you say "I do" to the one you love, then feasting on the freshest seafood, cheese and wine as you party until the sun comes up. This is all possible with a destination wedding in Portugal. Europe's westernmost country boats epic natural beauty, significant historical sites and unmatched food and drink that make for a uniquely Mediterranean charm.
"Portugal is a really magical place," says Jeannette Tavares, president of Evoke DC, a luxury wedding group that specializes in international events. This magic is exactly what makes it the perfect wedding destination. Keep reading for everything you need to know about planning your dream wedding in Portugal.
Why Couples and Guests Love Portugal
"In Portugal, family, community and food is everything," Tavares says. Therefore, a huge selling point is the wedding's drink and dining options. During a wedding in Portugal, Tavares says, food plays an integral part of the experience. Dinner service is a multi-course event that takes place over several hours, followed by parties that go all night.
In addition, "the people are what makes Portugal really special," Tavares says. "Everyone is so warm and welcoming there." Portuguese culture is easygoing and genuine, which makes for a positive experience working with local vendors.
Another huge benefit to hosting a wedding in Portugal is travel logistics. It's not the most romantic thing to think about, but ease of travel is important to consider when planning a wedding. Portugal is a great choice because it is easily accessible from many US (and international) cities. There are plenty of direct flights from most major US cities, and they tend to be affordable. And, since Portugal is the westernmost country on mainland Europe, the flight time itself is less than most other European cities.
"My fiancé and I knew immediately that we wanted to get married in a coastal country, ideally one that's been influenced by both of our cultures and could provide a unique experience for our guests," says real bride Rabab Darugar, who's getting married in Estoril in July 2022. "We chose Portugal for its old-world elegance, beautiful architecture and rich cuisine—crispy sardines and fresh pastries, anyone?"
The Best Places to Get Married in Portugal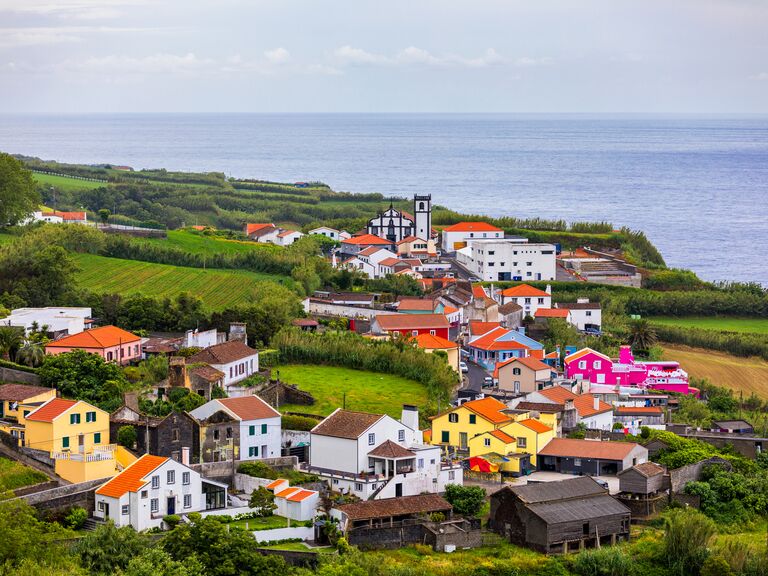 Portugal's diverse terrain includes 17 UNESCO World Heritage Sites, beaches, mountain ranges, rivers and cities, all of which offer something unique for any type of dream wedding. From the shores of the Atlantic to the hills of Lisbon, we've rounded up some of the best wedding venues and locations to tie the knot in Portugal.
Lisbon Metro Area
Portugal's capital city is a blend of cultures filled with colorful buildings, historical monuments and, of course, its signature fado music. With so much to do and see, it's no wonder so many couples choose to get married here.
Choose Lisbon for a chic wedding filled with sophistication, fun and culture. Since most flights disembark in Lisbon, ease of travel is an added bonus for guests traveling internationally.
Highlighted Venues:
Check out Quinta da Bellavista for a stylish soiree with urban style in an open-air enclosure overlooking old Lisbon and the Tagus River.
Forte da Cruz, located 30 minutes from downtown Lisbon in Estoril, is a 17th-century beachside castle whose wedding packages include a variety of different ceremony types and reception styles.
Sintra
Located just 15 miles northwest of Lisbon, Sintra is an idyllic region with historical palaces and castles, scenic beaches and gorgeous parks and gardens. Sintra has its own microclimate caused by the cool ocean breeze that makes for mild temperatures. With its magical, dream-like atmosphere, it's no wonder Sintra is a major luxury travel destination.
Highlighted Venues:
Penha Longa Resort is a high-end compound built on a 14th-century monastery that was converted to a palace in the 1800s. It features a luxurious hotel, a golf course, a spa and multiple restaurants that'll make for a luxe experience for you and your guests.
Rent a room in a historical palace and be royalty for the day. Palacio Fronteira is a 17th-century palace situated on an ancient recreation center. Its beautiful azulejos tiles, frescoed ceilings and impeccably manicured gardens make for a stunning backdrop for your wedding photos.
The Douro Valley
If you and your partner are oenophiles, consider having your big day in the Douro Valley. Located three hours north of Lisbon, Portugal's wine region features terraced vineyards set on rolling hills flanked by the Douro River. This region is a UNESCO World Heritage Site that's been dedicated to winemaking for thousands of years. It's unique for its winemaking methods, where vines are planted on slate instead of soil, which is thought to make the wine sweeter.
Highlighted Venues:
Six Senses Douro Valley is a luxury, five-star hotel set in the sun-kissed valley. Enjoy a touch of 19th-century romance amidst a rolling landscape of vineyards overlooking the Douro River.
The vineyards at Quinta da Pacheca feature the bright and airy Wine House Hotel, whose rustic atmosphere and first-rate gastronomic offerings make for an unforgettable experience.
Porto
If you're looking to capture a regal, old-world essence, Portugal's second-largest city is steeped in history and tradition. The city—known for being the home of port wine—features gorgeous views of the Douro River, street art and historical monuments.
Highlighted Venue:
Palacio do Freixo in the Campanhã area of Porto is a five-star hotel and restored 18th-century manor house adorned with ornate, baroque-style decor. This fairy-tale venue offers beautiful views of Porto and the Douro River.
Algarve
If getting married in the Mediterranean means you have to be beachside, look no further than Algarve. The dramatic, picturesque cliffside in this southernmost region of the country is framed by buildings white-washed in the iconic Algarve style. Choose from beautiful beaches—85 of which have Blue Flag status—on over 125 miles of Atlantic coastline. The coastal vibe and ocean views make for a beautiful wedding.
Highlighted Venue:
Legal Requirements for a Wedding in Portugal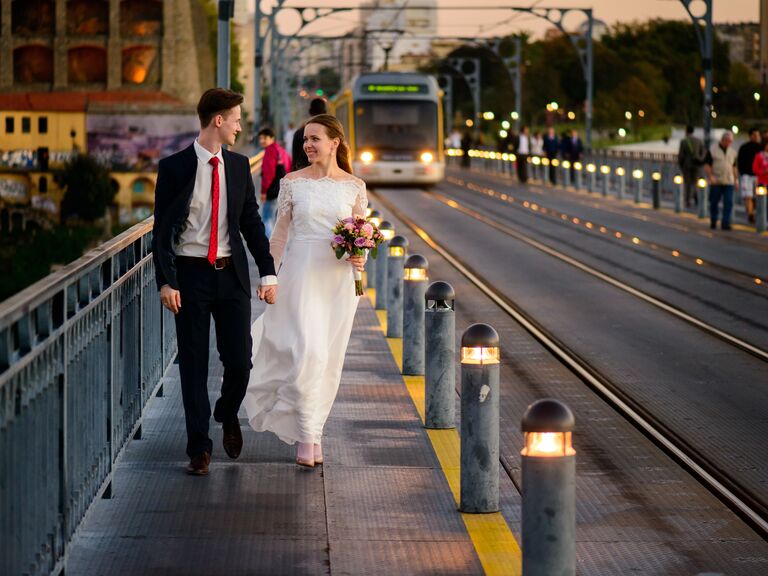 International couples planning a wedding in Portugal have several options when choosing between a legal and a symbolic wedding. Choosing to wed in a religious ceremony also adds an additional layer of requirements. Read on for more information about the differences and resources to help you with both options.
Legal Weddings vs. Symbolic Weddings in Portugal
A legal wedding ceremony involves securing necessary documentation that makes it so you are legally married in Portugal. A symbolic wedding, on the other hand, is considered a "ceremonial show" that looks just like a civil ceremony but isn't actually legally binding in Portugal. Couples going the symbolic route would have their wedding ceremony in Portugal, but would also need to have a civil ceremony stateside, typically in the city or town they live in. According to Tavares, symbolic ceremonies, "make life a lot easier."
Required Legal Documents
To apply for a legal wedding in Portugal, you'll need to submit several documents, including:
Birth certificates of both spouses, translated to Portuguese
Passports for both spouses, and resident cards if one or both are Portuguese residents
Divorce or death certificates for previous marriages, if applicable, issued within the last six months
Certificate of No Impediment to Marriage
Visit the US Embassy in Portugal's website for more information.
If you plan on having a religious ceremony, additional paperwork is needed. In those instances, Tavares says, couples can work with their local place of worship to establish contact with the place of worship where you'll be getting married. They will coordinate between one another to ensure necessary documentation is procured.
If you're looking to get married on the beach, such as in Algarve, keep in mind you will need to secure additional permits.
Legal Marriage Timeline
It usually takes a minimum of four weeks to process the application for a marriage license in Portugal. Once approval is granted, the wedding needs to take place within six months.
If you're taking the legal wedding route, Tavares recommends getting started on the process up to a year in advance.
Legal Marriage Cost
A couple getting married in a legal ceremony in Portugal can expect to pay $50 for each document's notarization.
Portugal Wedding Planning Tips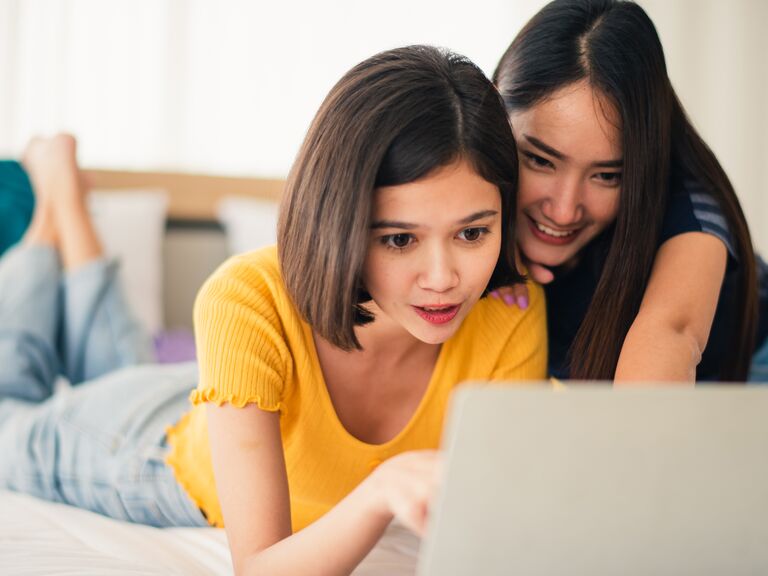 Planning a destination wedding involves navigating local languages and customs. Differences between cultural expectations, time zones and holiday schedules can influence the planning process. For that reason, Tavares recommends working with a wedding planner, especially one who's stateside and can help mitigate communication barriers. "I recommend being strategic about the professionals you hire so communication strategies and tactics are the same," she says.
How to Get There
A huge benefit to having a wedding in Portugal is that it's one of the most accessible European destinations from the United States. There are direct flights to Lisbon from several major US cities, including Boston, Chicago, Miami, New York City, Philadelphia, San Francisco and Washington, DC.
Most venues within the Lisbon metropolitan area and Sintra are accessible by taxi and rideshare services. Further regions like the Douro Valley, Porto and Algarve are accessible by plane or Portugal's rail system.
Weather
Portugal's climate is temperate and Mediterranean. The weather is typically mild and sunny, with four distinct seasons. There can be big variations in climate according to region, so make sure to read up on specific areas you're considering before setting a date.
Most travel guides agree that the best time to visit Portugal is in the spring, when the flowers are in bloom, or in the fall. The summer months can get hot, and traveling during peak season is also more expensive.
Choosing Your Venue and Vendors
It's a great idea to enlist the help of a planner. Working with a planner based in the US can help reduce communication and cultural barriers. The Knot Marketplace is a comprehensive resource of vendors that may include international specialists in your area.
Narrowing down your search to a particular geographical region is a good place to start. Then, you can decide which venue is the best fit for what you want. Check out websites, establish contact and see which venues speak to you and your partner. Once you choose your venue, they will likely be able to point you in the direction of florists, photographers and other vendors.
Setting a Budget
In 2019, a wedding in Portugal cost an average of $16,700 for 126 guests. The venue you choose and how many guests you invite will be the biggest factors in determining your final cost. For example, a luxury hotel in an affluent area like Sintra will cost more than a low-key venue in a small town.
Keep in mind that travel expenses, such as flights and hotels, will bump up your final total. And if you choose to host additional events, such as welcome drinks or a morning-after brunch, these will also impact your total budget.
Portugal is widely considered one of the least expensive Western European countries to visit. Its relatively stable exchange rate from dollars to euros makes it a great value for US travelers. Overall, Portugal's vendors tend to be less expensive than those in the US, which means you won't have to pay a fortune for your dream wedding day.