9 Wedding Nail Mistakes Not to Make on Your Wedding Day
Whether you opt for subtle, soft pink or bold and glittery, these wedding day nail tips will help you totally nail your wedding day manicure.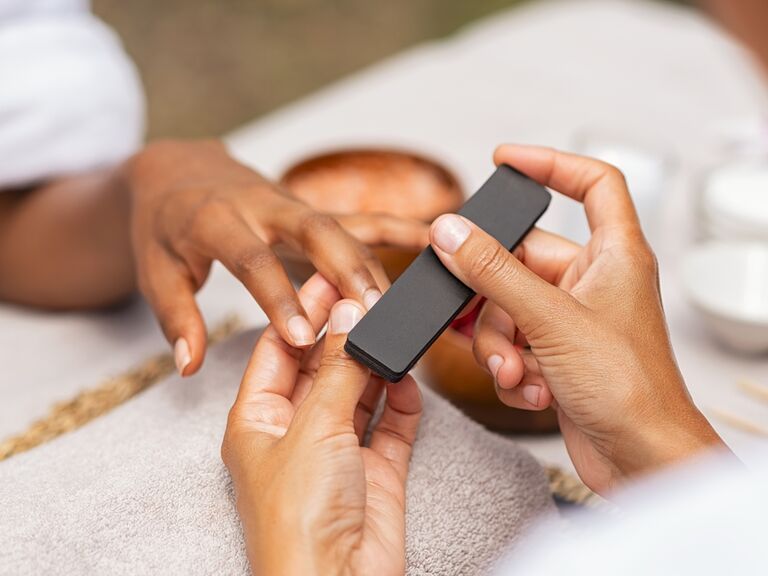 Rido/Shutterstock.com
Picking your wedding day shade and type of manicure is only half the battle when it comes to getting your bridal nails perfectly, well, polished before your wedding. There are going to be a lot of people looking at your hands to catch a glimpse of that pretty new ring (and a lot of high-definition close-up shots taken by your photographer), so read the below to prevent any major wedding nail blunders.
1. Don't get a gel or dip manicure more than a few days in advance.
Gel and dip manicures were the best thing to happen to wedding nails since Essie Ballet Slipper (aka one of the most iconic bridal nail shades of all time). Instant dry time and chip-free for weeks? Yep—it's literally a dream come true. But after a few days, both types start to lose their luster. Get them done only one or two days before your wedding to avoid any wear and tear by the time your actual wedding day rolls around.
2. Don't go too long.
Long wedding nails can be incredibly elegant, but if you're not used to acrylics, the look can be more hassle than it's worth. Experiment with nail length in the months leading up to your wedding and see what feels most comfortable. Medium-length nails filed into an almond shape are universally flattering and aren't likely to cause any wedding day emergencies like acrylics can.
3. Don't hesitate to test multiple shades. 
You try on more than one dress (most of the time), so why shouldn't you try on more than one polish for your wedding nails? Keep in mind that certain shades look better on different skin tones. For example, if you have an olive skin tone, test drive a poppy red polish with blue undertones instead of pink for a more flattering shade. Bridal nails may be traditionally neutral, but there's no harm in trying out bolder colors before your Big Day.
4. Don't buy only one bottle of polish. 
If you always prefer polish (rather than a gel or dip manicure), once you've found your perfect shade, stock up: one for the salon, one for your wedding day emergency kit and one to pack in your honeymoon bag. When you need to fix a chipped nail fast, you'll be happy you spent the extra cash. Sure, you may have extra polish on hand after you come home from your honeymoon, but recreating your wedding nails is a sweet way to honor your special day for years to come.
5. Don't forget to maintain your nails at home. 
Nail technicians are great and all, but they're not miracle workers. You can't come to your appointment with chewed-up fingernails and destroyed cuticles and expect Instagram-worthy wedding nails in an hour. If you know you're an avid nail biter, make a conscious effort to kick the habit in the months leading up to your wedding. Also, avoid peeling broken nails and picking at hangnails—that's how infections start. Struggling to kick the habit? A cuticle cutter can help keep your hands and nails looking picture perfect.
6. Don't get too adventurous with nail art for the first time.  
We're all for a fun nail design, but if you're not usually a "glitter and appliqué" kind of girl, your wedding day isn't the time to experiment with nail art. Go for a tried-and-true shade or a timeless look (like French tips, for instance) for your bridal nails instead. 
7. Don't forget to bring your own bottle to the salon. 
Even if the dreamy color you picked is a salon staple, it's always a good idea to come prepared with your own bottle of polish just in case your color isn't there or the bottle they have is old (which will always expedite the chipping process on your nails). It's better to be safe than sorry. With the fate of your wedding nails at risk, why not bring your own favorite polish along to your salon appointment?
8. Don't freak out over a chipped nail. 
Speaking of chipping, it's bound to happen with a polish manicure, but we promise it isn't the end of the world. Use the tip of the brush to fill in the hole, then let the polish dry for 30 seconds. Next, brush on a second coat of polish and finish with a thin clear top coat. (This is exactly why you'll want a bottle in your emergency kit!) 
9. Don't overlook the power of moisturizer.
It's amazing what a little hand cream can do for your pictures—seriously. For instantly younger looking hands, massage cream into your cuticles and knuckles before your photographer takes close-ups of your bouquet or ring. You'll be surprised how much more polished your wedding nails can look with a little extra TLC.