How to Get Instagram-Ready Nails for Your Wedding
These are the mistakes to avoid, according to experts.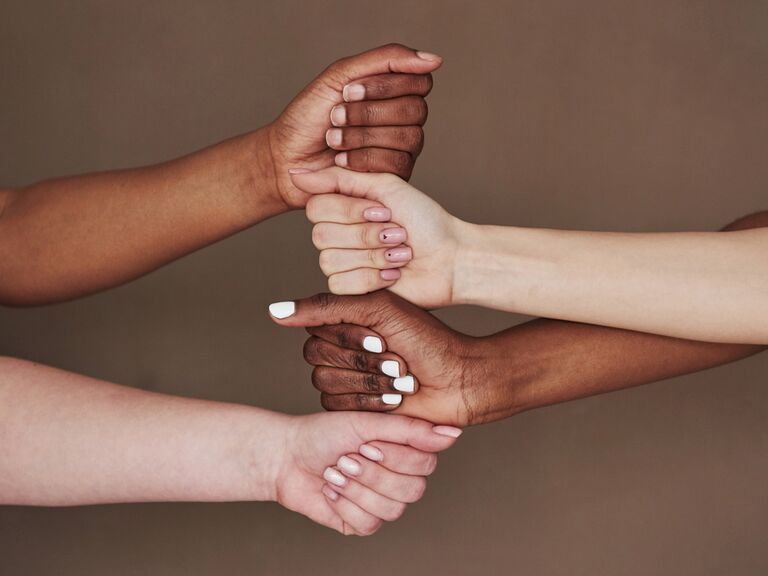 Standret/Shutterstock.com
We have included third party products to help you navigate and enjoy life's biggest moments. Purchases made through links on this page may earn us a commission.
Is your wedding day mani on your mind? Picking your nail color, design and type of manicure (polish, dip, gel or acrylic, for example) is only half the battle when it comes to getting your wedding nails in tip-top shape. There are going to be plenty of people trying to catch a glimpse of that brand new wedding band (and your engagement ring if you have one). Not to mention all the high-definition, close-up shots taken by your photographer. To help you achieve an Instagram-worthy manicure, we tapped experts to find out the biggest wedding nail mistakes to avoid leading up to the big day.
We also rounded up their best advice based on the type of manicure you decide to get for the occasion. Whether you're rocking bare nails, acrylic nails or dip powder, we've got you covered. If you're unsure about what kind of manicure to get, consult your nail technician. They're absolute pros, so they'll be able to recommend what kind of mani to try based on your wedding season, schedule and style. For example, if you want to bolster the shape and length of your nails, you might consider an acrylic or dip manicure. However, if you'd like to stick with cleaner products, a non-toxic gel mani or regular polish look might be best. Read on for everything you need to know about your wedding nails.
Common Wedding Nail Mistakes
As you prep for your event, there are a few common mani-related blunders you'll want to avoid. Below are the most common wedding nail mistakes pros see.
Having Unrealistic Expectations
We encourage you to gather inspiration for your wedding day nails, but it's important to keep perspective. "You need to consider your personal skin tone, the length of your nails, your wedding ring and [outfit] to create your own unique look," says Amy Lin, owner of sundays, a clean, non-toxic nail salon and brand based in New York. "It's possible that the design might not turn out to be exactly like you see in a photo." Not to worry, though. A professional nail technician can help you achieve a similar look that will work best for you.
Not Investing in Nail Tools
Even if you're heading to the salon for your wedding manicure, Evelyn Lim, chief educator at Paintbox, a New York-based salon and nail brand, says it's important to invest in tools for upkeep and maintenance—especially if you're not booked regularly. "You will need clippers, a 180/100 file, a buffer and nippers to trim loose hangnails," she says. However, it's best to leave any hangnail situations to a professional nail technician. Having these tools on hand can help you maintain clean, healthy nails in between appointments. Plus, you can even give yourself an at-home manicure with them if you'd like.
Going to the Salon with Oily Nail Beds
Another rookie mistake? Heading out to the salon (or sitting down to DIY your nails) with oily nail beds. "Don't put or leave any oily substance on the nail—like lotion, makeup or serums—as this may lead to premature chipping or lifting," Lim says. That's right: Even applying makeup with your hands could interfere with your polish. To prevent this from happening, make sure you wash your hands before the appointment and swipe alcohol across your nail plate so you have a fresh canvas.
Using Your Hands Too Much Before the Wedding
We know that the days leading up to the wedding can be busy. But Lin says using your hands too much before the event can mess with your mani. "You can use your hands excessively and end up breaking your nail the day before the wedding," she says. "Be mindful of using your hand and take care of your nails during this time." Remember: you can always fix a chipped nail by calling your technician or subtly painting over the bare piece with the same color. Make sure you buy a bottle of your exact wedding day shade to keep on hand just in case.
Failing to Test Out Your Wedding Nail Look
You may be absolutely set on your nail design or have no idea where to begin. Either way, it's important to trial a few looks before the actual day, Lim says. Experiment with different shapes, colors, designs and polishes to find the perfect combination. "[To-be-weds] do makeup and hair trials, and nails should not be overlooked," Lim says.
Waiting Until the Last Minute
Lin says this putting off the actual mani is one of the biggest mistakes nearlyweds make. Once you've decided on your wedding nail look, give yourself ample time to make it a reality. Ensure you get your nails done (or paint them yourself) one to two days before the wedding. That way, you won't have to rush on the morning of your wedding or worry about wet polish while you change into your wedding dress or outfit.
Expert Tips for Different Styles of Wedding Nails
The options for your wedding day nails are endless. While nude nails, light pink nails and white nails are popular choices, those aren't your only options. You can rock your natural nails, a French manicure, sparkly glitter nails, ombre polish or creative nail art. Another unique idea we love? Painting your ring finger a different color for an accent nail. Whatever you decide, get an Insta-ready mani with these pro tips.
If You're Rocking Bare Nails
No need to wear nail polish if it isn't your vibe. Your natural nails will still look amazing with a little TLC. Start your prep a few weeks out from the wedding for best results. Lin says to-be-weds should start using a hydrating cuticle oil before bed to ensure the nail beds look nice and neat.
Lim adds that to-be-weds can use tools to help get their nails in tip-top shape. Buff your nails to bring out their natural shine, clean around and underneath them with a brush and hydrate your hands with a hand cream (look for one with SPF to protect from sun damage).
Two weeks before your wedding, Lin recommends using a nail strengthener to help your nails grow faster and stronger before your special day. As the day gets closer, she suggests soaking your nails in warm lemon water. This will soften your nails and help clean them too.
Products to Try: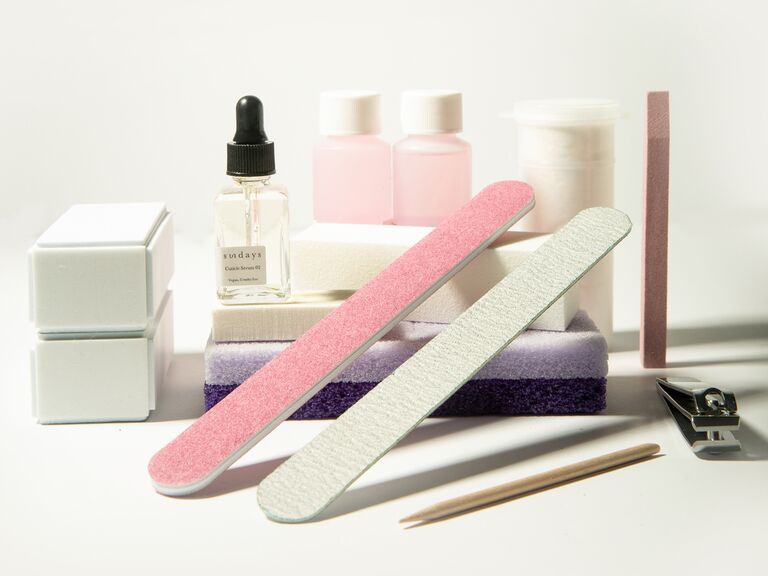 Sundays Buff kit, $70, DearSundays.com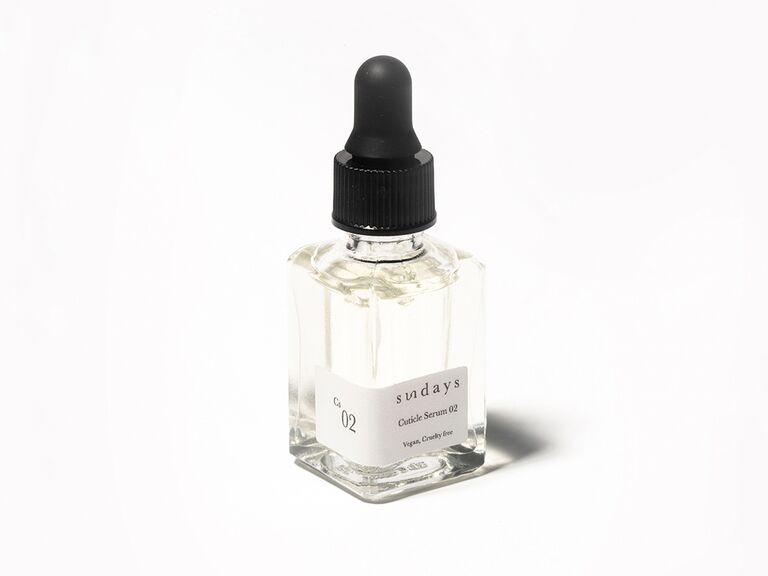 Sundays Hydrating cuticle serum, $18, DearSundays.com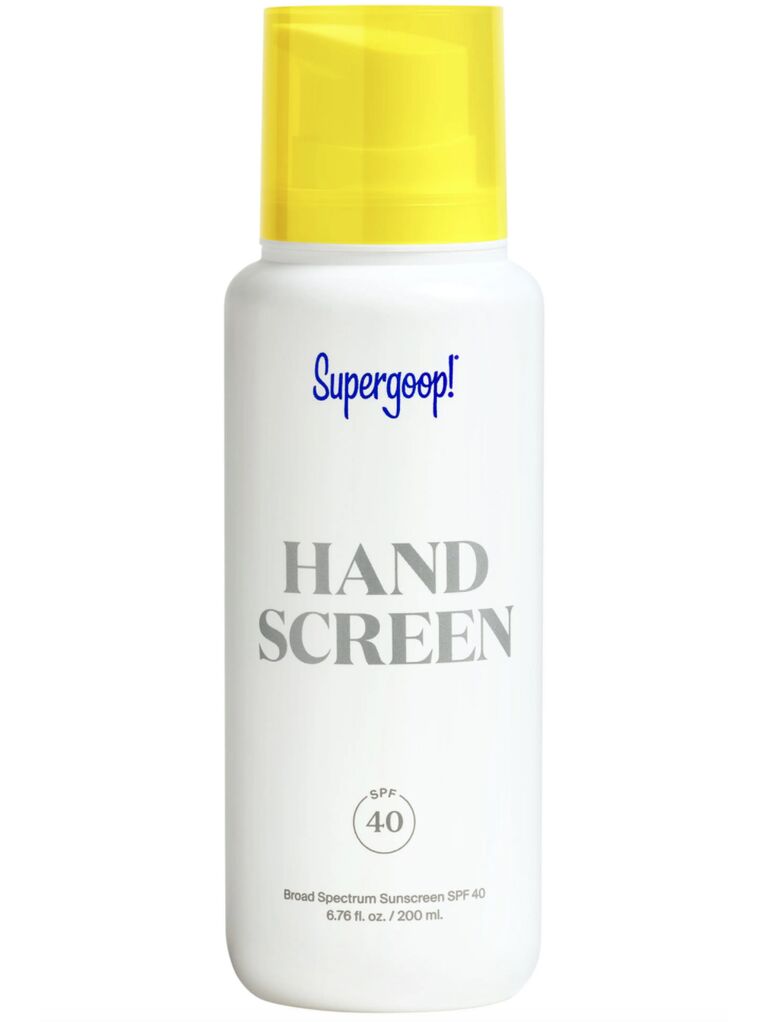 Supergoop! Hand Screen, $38, Nordstrom.com
If You're Using Regular Nail Polish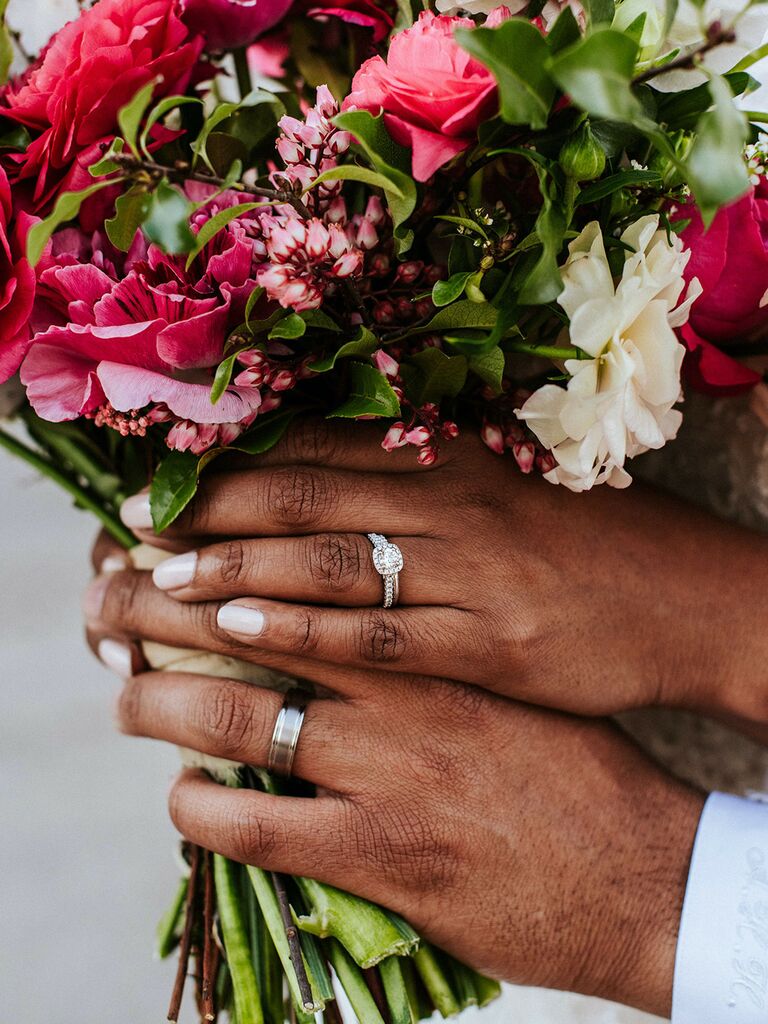 One of the biggest mistakes Lim sees is to-be-weds applying polish to oily nails. Any hand lotion, leftover makeup or residual skin care on your hands can interfere with the polish's adherence to your nail. "Use an alcohol wipe on the nail plate prior to polishing in order to properly remove excess oils," she says.
Lin adds that using a high-quality base coat is important, as it'll ensure a smooth application. Whether you choose a neon hue, a pastel shade or a creative nail design, a nice base coat is key.
Once you begin applying polish, Lin says to wait two minutes of dry time between each coat application. Polishing newbies: give it five minutes between coats. (Psst: this is especially important if you're rocking a French tip or any kind of nail art.) "Once the polish is fully dry, apply a liberal amount of cuticle oil and massage into surrounding skin," Lin says.
Wondering how to maintain your mani after you finish painting? Wear gloves, Lin says (especially if you're submerging your hands in water or detergents).
Products to Try: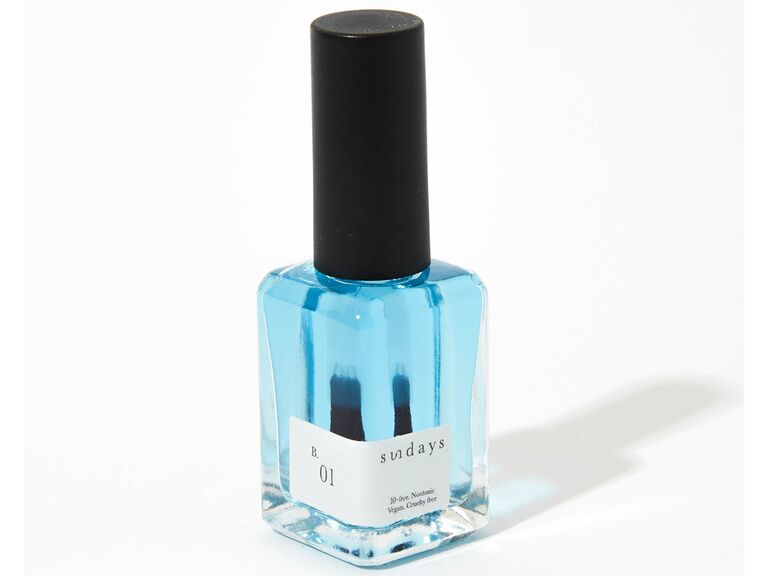 Sundays Hydrating Base Coat, $18, DearSundays.com
Paintbox The Paint Box, $98, Paintbox.com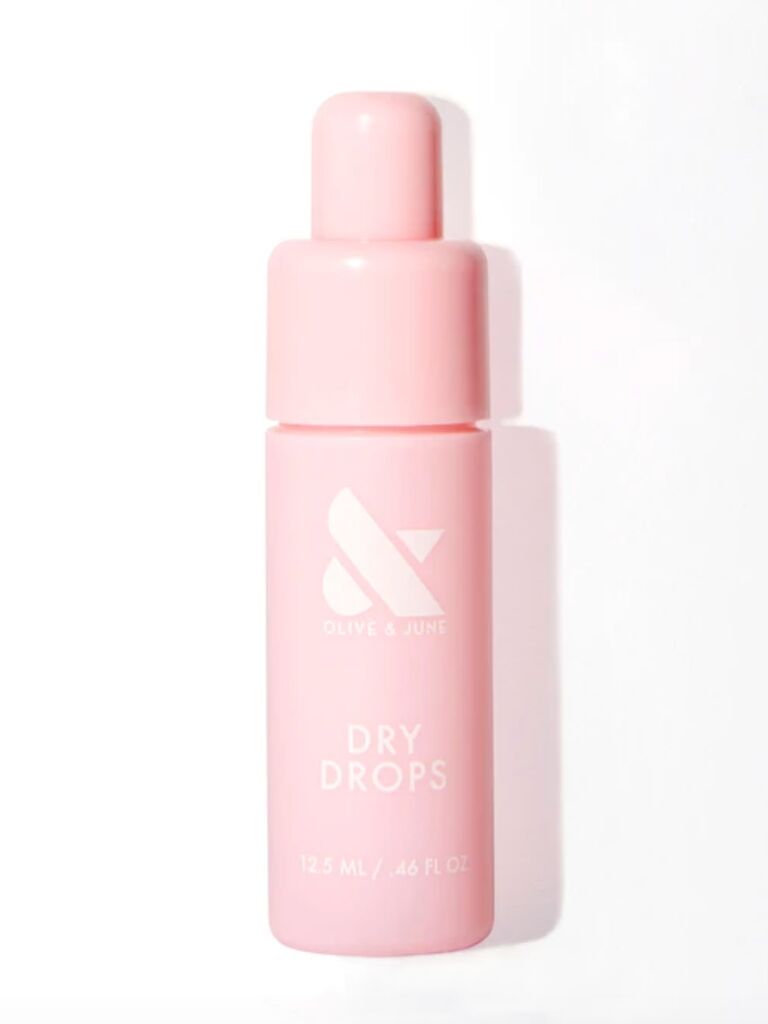 Olive & June Dry Drops, $10, OliveAndJune.com
If You're Going With Gel Polish
If you're accident-prone or simply want peace of mind when it comes to chipping, a gel-manicure is for you. It looks the most like regular polish but still provides long-lasting results. "It's important to note that gel polish works best on healthy nails," Lim says. Take care of your nails leading up to the gel application so that your technician has a strong base to work with.
Lin adds that it's important to carefully select your color ahead of time. "Ensuring you're happy with your nail polish color choice is super important, as it takes hours to remove and reapply gel colors." If you're on the fence about your wedding day color, schedule multiple appointments a few months out from your wedding to test them out.
It's important to note that certain gel polishes can cause your nails to thin, as they bond to your nail like glue and require intense removal processes. That's why Lin recommends trying a non-toxic gel manicure (or pedicure) whenever possible. PS: If your polish starts coming off, don't peel it! It will only cause more damage to your nail. Head over to the salon to have it professionally removed.
Products to Try: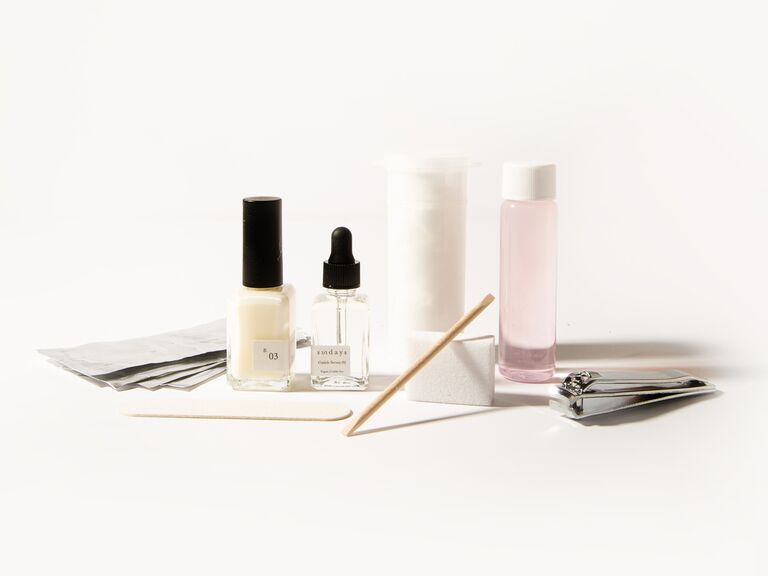 Sundays Gel Remover kit, $50, DearSundays.com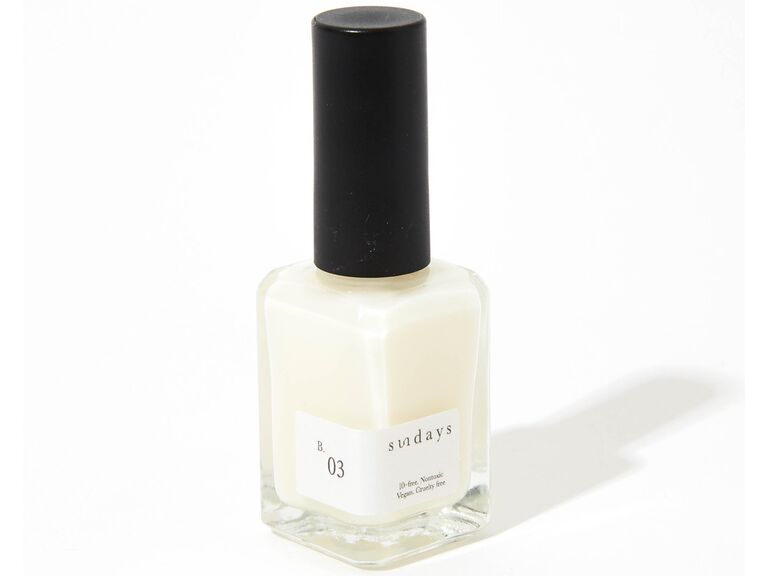 Sundays After Gel Healing Base Coat, $20, DearSundays.com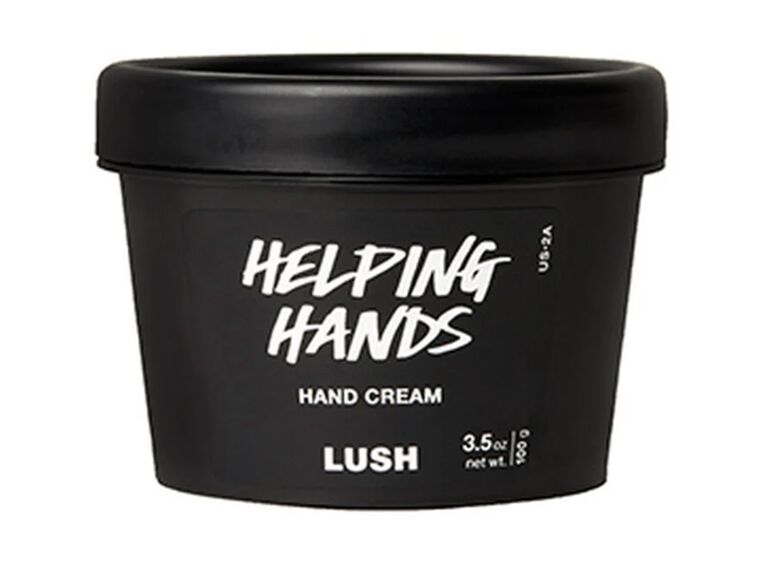 Lush Helping Hands, $22, Lush.com
If You're Wearing Acrylics
"Acrylic nails are a great option if you are looking to add length for your wedding day," Lim says. "I think of these the way one might use hair extensions for their wedding." As you have freedom with the length and shape of acrylics, research the look you're trying to achieve on Instagram or Pinterest. Bring in your gathered inspiration to your nail technician so they can fully understand your vision. "You should also look into how high you want the apex and C-curve to be," Lim adds.
However, there are drawbacks to acrylics that to-be-weds should be aware of. For example, they can be quite heavy on your natural nails, and they can cause damage to your nail beds if they're left on too long. Lin recommends removing them within two weeks of application to preserve the health of your own nails. And while it may be tempting to ask for extra-long nails, keep in mind they could break. Be reasonable with your length requests or ask a technician for their opinion.
Products to Try: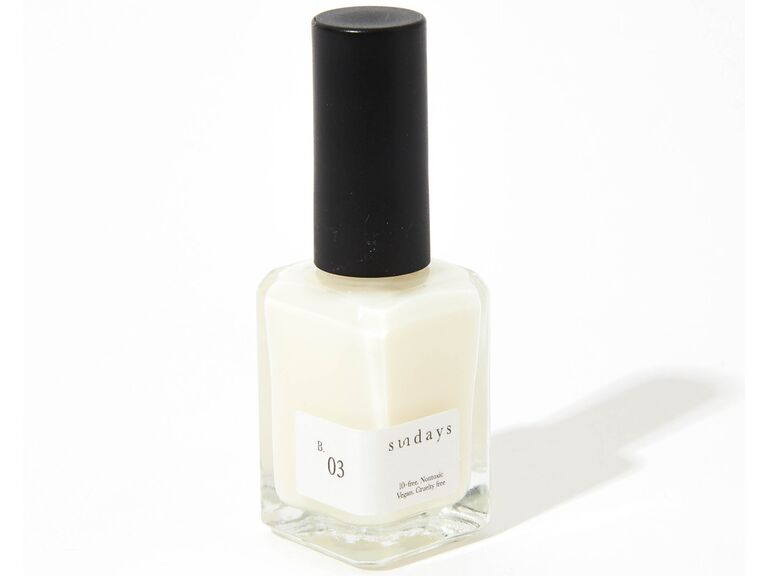 Sundays After Gel Healing Base Coat, $20, DearSundays.com
Olive & June cuticle serum duo, $30, OliveAndJune.com
If You're Getting Dip Polish
The dip manicure technique involves dipping the nail into colored powder and using a clear sealant on top. The result is a glossy, glam manicure that should remain chip-free for up to a month. "Dip powder nails are good if you have weak nails and need a stronger product," Lim says. However, dip manicures tend to look quite thick (thicker than gel manicures, for reference).
It's also worth mentioning that there have been sanitation issues around dip manicures. Some salons weren't changing the powder containers between clients, causing adverse reactions and infections. As such, it's important to thoroughly vet your salon before asking for a dip manicure. Additionally, Lin recommends working with an experienced technician, as an inexperienced specialist might take more time or create extra-thick nails.
Products to Try: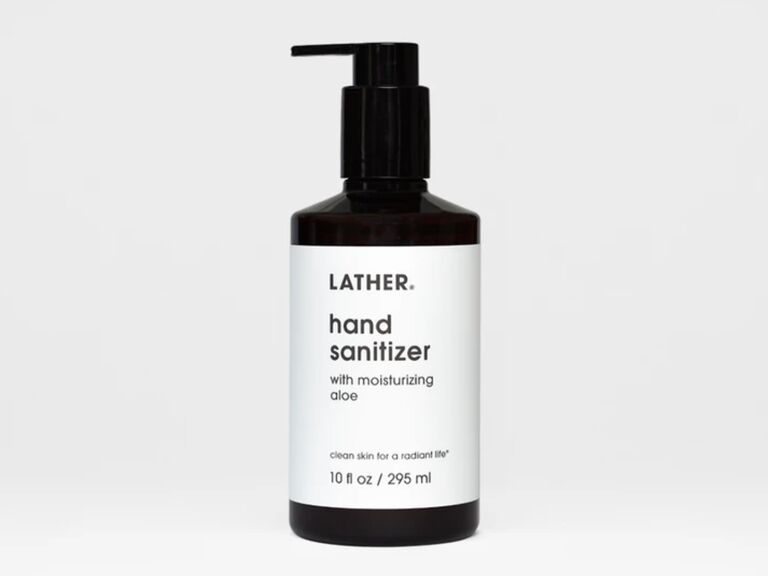 Lather hand sanitizer, $18, Lather.com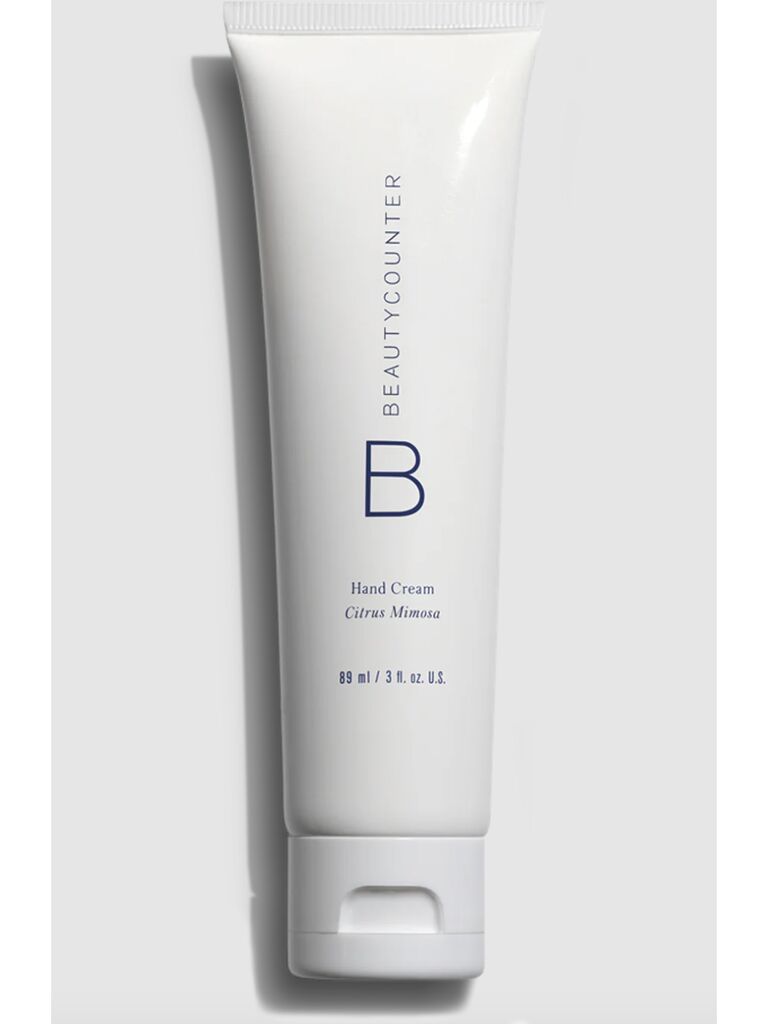 Beautycounter hand cream, $18, Beautycounter.com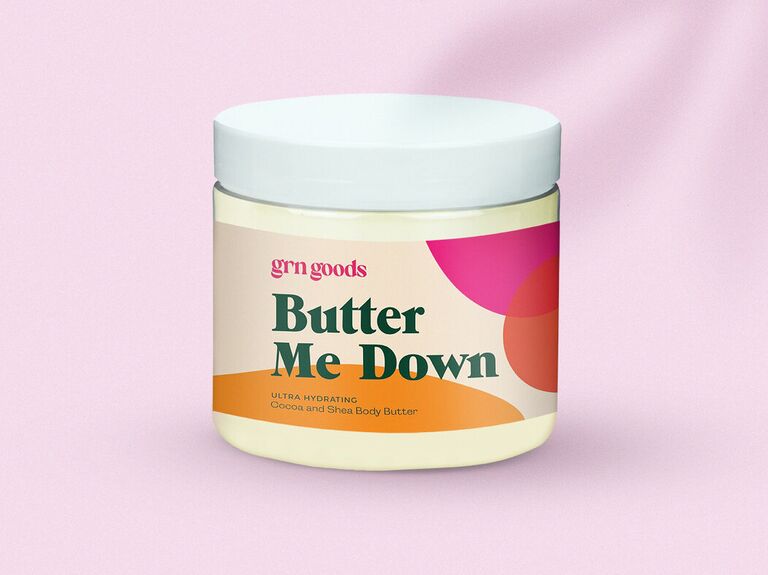 Grn Goods Buttr Me Down body butter, $20, GrnGoods.com
If You're Using Press-On Designs
If you'd rather skip polish entirely but still want something on your nails, consider press-on designs. Choose from solid-colored ones, patterned ones or matte ones. Or, look for options with bling for little bit of sparkle. Look through all the sizes, shapes and colors available and then get ready to apply. Prep your nails as you would for a polish manicure: clean and cut your nails, clear your cuticles and swipe with alcohol for a fresh base.
Next, use the self-adhesive that comes with the nails or opt for glue for a longer-lasting manicure. Bring the nail right up to your cuticle line and press them on at a downward angle. Apply extra pressure to the center of the nail and the sides to ensure it's bonded to the adhesive. Then, use a file to shape them to fit your hands. The removal process depends on what adhesive you used. For the self-adhesive tape, remove your press-ons with warm water and oil. If you used nail glue, soak the tips of your hands in an acetone-based remove for 10 minutes. The name of the game here is experimentation. Try out different brands, shapes, sizes, colors—the sky's the limit.
Products to Try: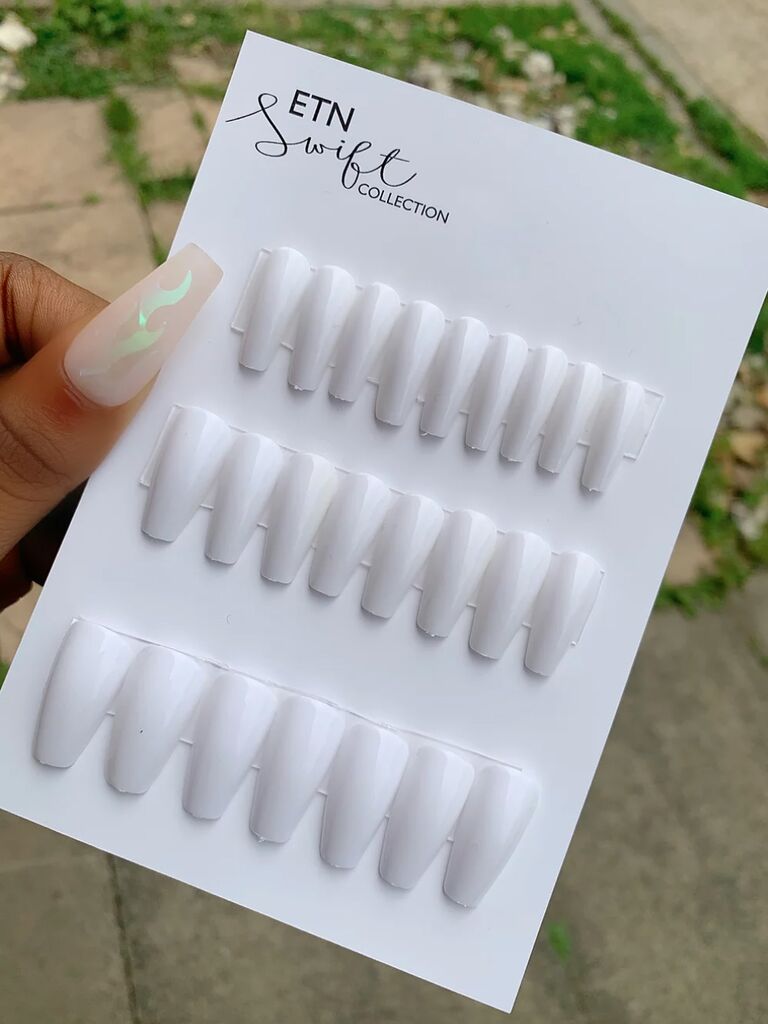 Ethereally Touched Nails nail sets, from $18, EthereallyTouchedNails.com
Sculpted by Maya nail sets, from $29, SculptedByMaya.com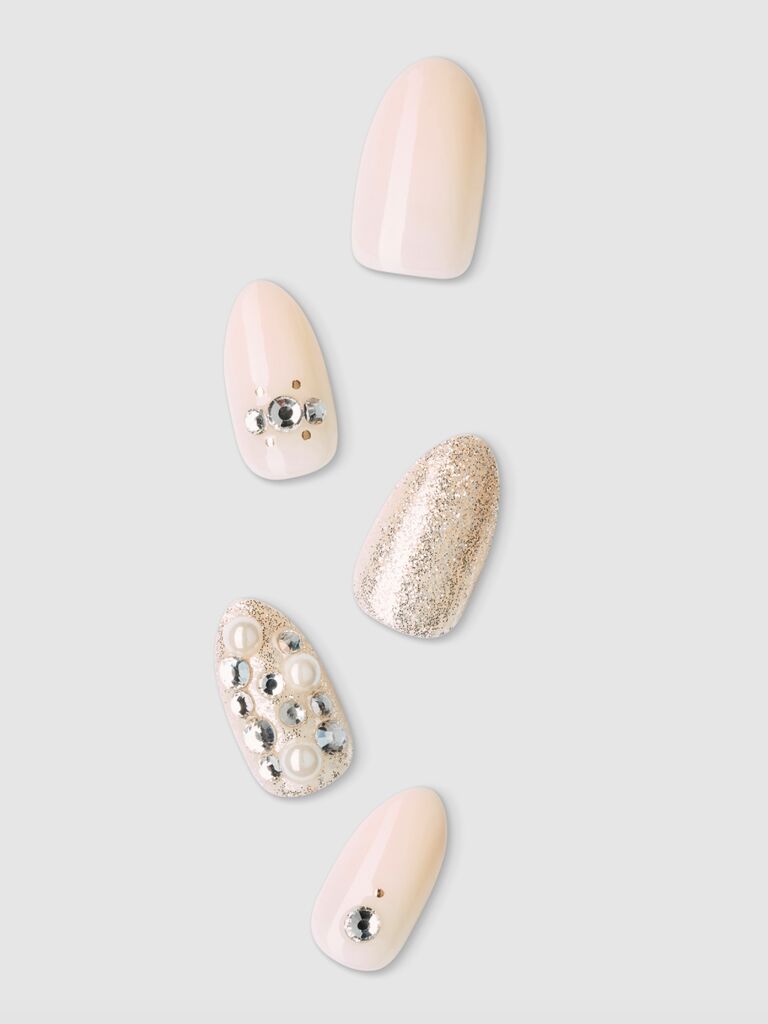 Kiss Nails press-on nails, from $8, KissNails.com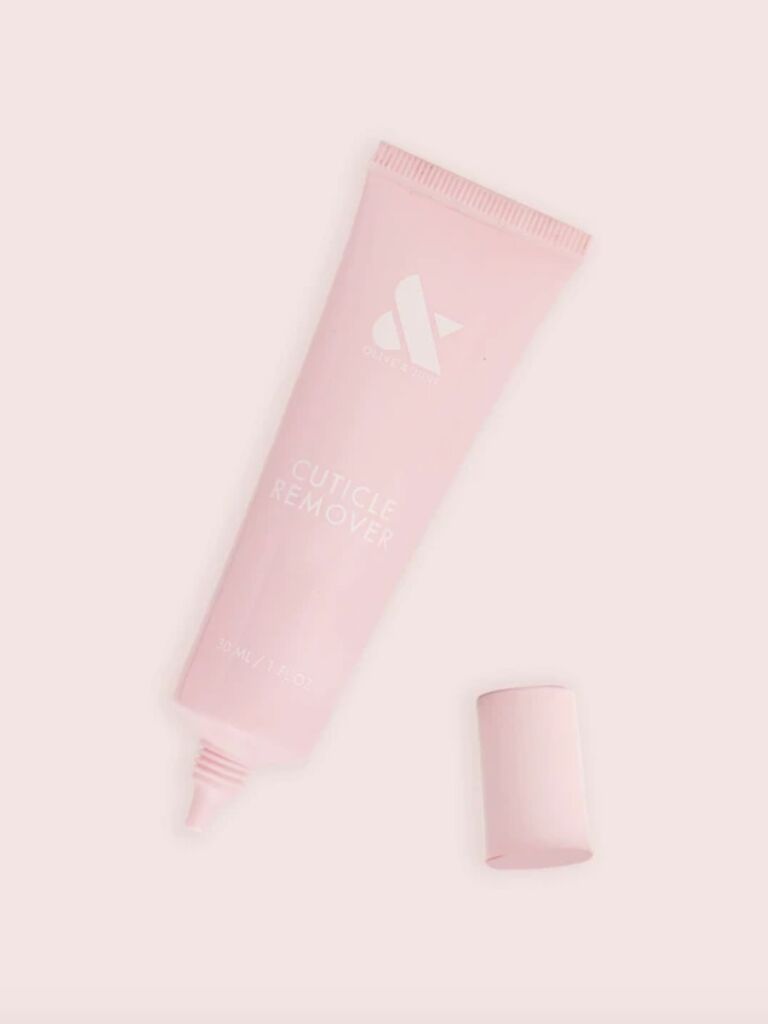 Olive & June cuticle remover, $10, OliveAndJune.com