30 Funny Anniversary Quotes for LOL-Loving Couples
You know who you are.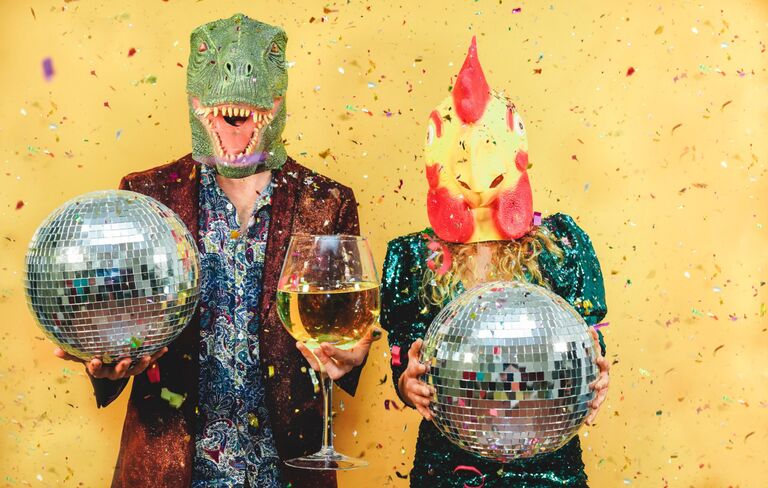 DisobeyArt | Shutterstock
So you're on the hunt for a funny anniversary quote? Congrats lovebirds! If you and your boo love to laugh, wear hilarious couple costumes and prefer a rom com over a drama, you've landed in the right place. When it comes to celebrating your love story, several things are in order—a funny anniversary card, a playful anniversary gift and a quirky couple selfie on social media with a clever anniversary caption. Regardless of what special day you're celebrating, these cute and funny anniversary quotes are perfect for the fun-loving duo to express their sense of humor and true love.
Funny Happy Anniversary Wishes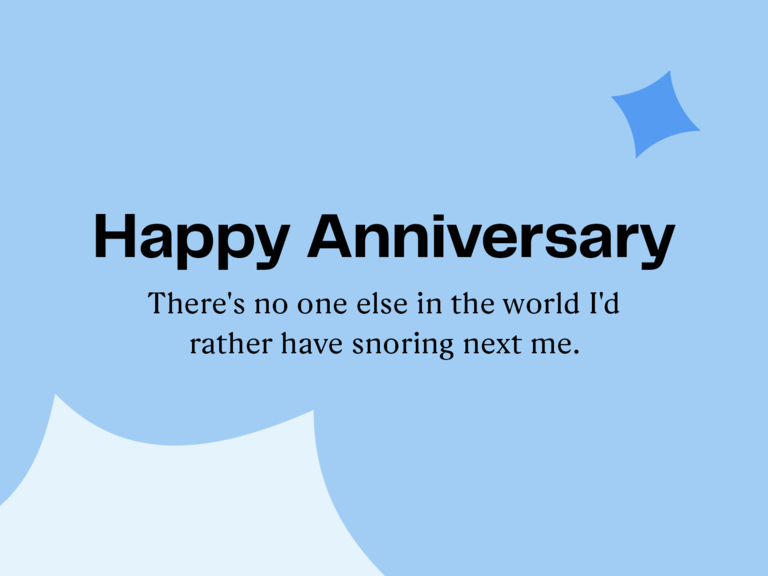 You don't need to have a wedding anniversary to use one of these funny anniversary messages to celebrate another year of love. These wishes for couples are appropriate to recognize any meaningful event—when you met, a first date or when you moved in together. Whatever milestone you want to honor with your loved one, writing one of these messages should do the trick.
"There's no one else in the world I'd rather have snoring next me."
"This box of chocolates reminds me of you — sweet, salty, nutty and very addictive."
"Beyond grateful (and relieved) that we both swiped right."
"You'll always be the only person I send heart eye emojis to."
"Love is great but a little 'rizz' never hurts either (and you've got lots of it)."
"Each and every day you're my favorite notification."
"My love for you still gives me the same feeling as when I see my food coming at a restaurant."
"On this [insert number] year anniversary, I want to renew my DINKWAD lifestyle with you."
"I love you more than [XX - insert something ridiculous here]... and you know I really, really, really love [XX]."
"Don't pinch me, I'm living in my favorite rom-com with you."
"We're the perfect pair. You're the jelly to my peanut butter, the tonic to my gin, the mold to my cheese... I do really love stinky blue cheese."
"Thanks for never streaming a [Game of Thrones episode] without me by your side."
"Let's jump into the richly imagined future together for another whole year of questionable adventures."
Funny Wedding Anniversary Quotes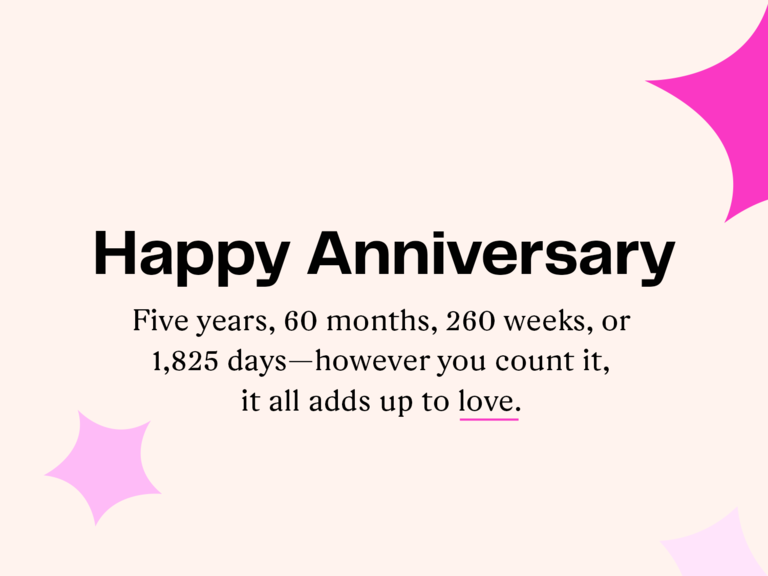 Whether you're celebrating a first anniversary or 50 years of marriage, these funny anniversary wishes are especially apropos for married couples with a serious sense of humor. Here are funny anniversary messages to to celebrate last year and get psyched for what next year has in store.
"Happy anniversary! I want to spend the rest of my money with you."
"You're my lifetime subscription to love."
"Happy 5th anniversary! Five years, 60 months, 260 weeks, or 1,825 days—however you count it, it all adds up to love."
"Today we celebrate the best decision you've ever made."
"Being married to me for the rest of your life is the real anniversary gift."
"Even though we have more grey hair, wrinkles and body aches, celebrating our marriage anniversary never gets old."
"I know that loving me isn't always easy, but at least it's worth it."
"Choosing you makes up for all the bad decisions I've ever made."
"For better or worse, I still choose you."
"Sorry, no refunds. Happy anniversary!"
"Saying 'I Do' to you for the rest of my life is the smartest thing I ever did."
"Another year together and I'd still choose you over a room full of puppies."
"Let's pinky swear we'll celebrate every wedding anniversary like it's our first."
"Forgot to cancel my 30-day marriage trial... Phew!"
"A happy marriage is basically like an endless sleepover with a best friend."
"If love is blind then marriage is a real eye-opener. Thank god we're a perfect match and our married life is super hot."
"Our marriage is like a deck of cards. It includes two hearts and a diamond but also two jokers at the end of the day."