18 Hilarious Anniversary Gifts Sure to Get a Laugh
Show off your silly side with these sweet presents.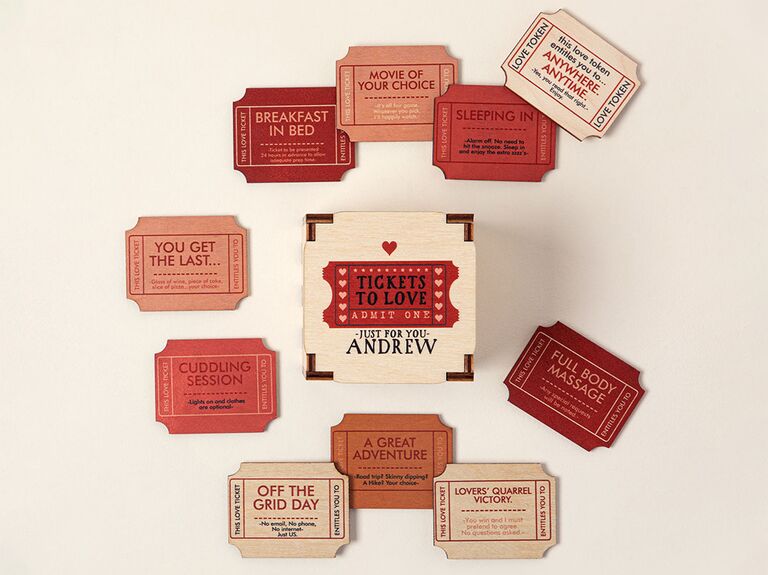 We have included third party products to help you navigate and enjoy life's biggest moments. Purchases made through links on this page may earn us a commission.
We don't know who needs to hear this, but anniversary gifts don't have to be traditional or even serious. In fact, if you love making your partner laugh, a funny gift might be the perfect way to celebrate this special milestone together.
Funny anniversary gifts are trending, which means there's plenty to choose from. From laugh-out-loud anniversary cards and punny coffee mugs to customized T-shirts and pillowcases, there's a gift for every kind of couple and personality.
Whether you're celebrating your one-year anniversary or 50th, here are some gift ideas that are sure to make your partner smile. Many can also double as hilarious Valentine's Day or birthday gifts.
Creative Pillow My Side Your Side Pillow Case Set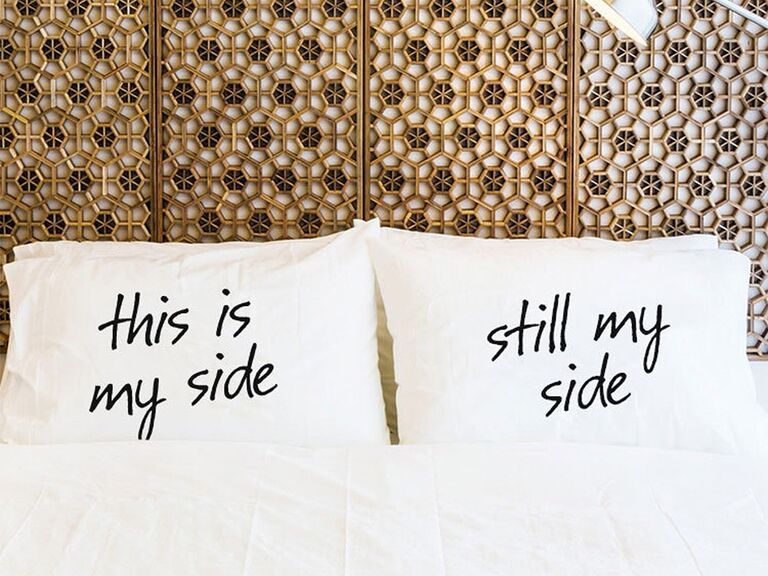 Let your partner know that their side of the bed is also your side (but you're willing to share!) with these funny pillowcases. They're made of soft cotton and can be machine washed.
Custom Gifts by JP Marriage Pie Chart Mug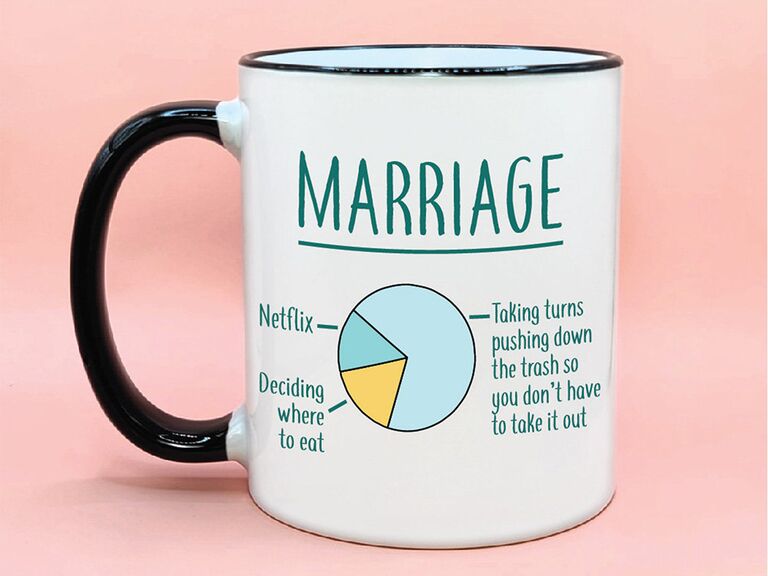 What's the saying? Couples who drink coffee together stay together? If you're shopping for an anniversary gift, you can't go wrong with this funny mug that features a marriage pie chart and text that can be customized by request at checkout.
Merideth and John Jaskowski Couples Split Sheet Set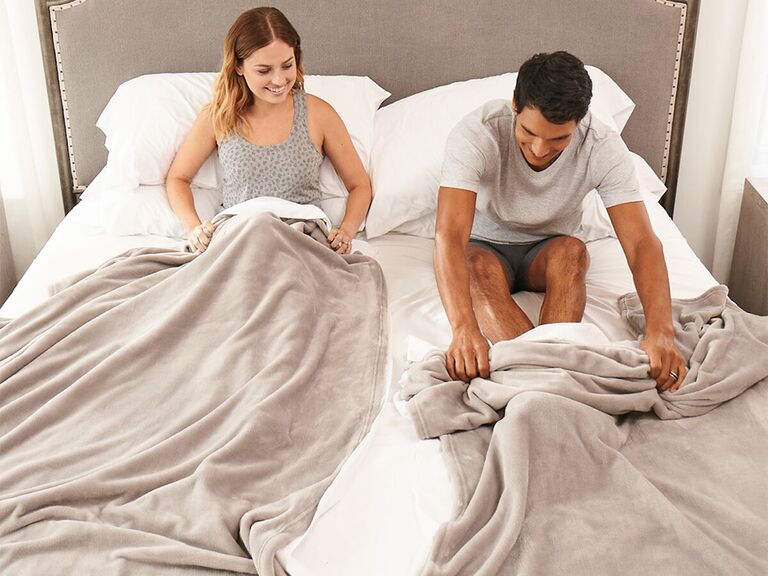 Sometimes the best gifts are the ones that are both hilarious and practical. If one of you is known in the relationship as a blanket thief, this set of split sheets is for you. With a flat sheet that's split from the top down to the not-quite-bottom, snoozing with your loved one will feel more like a sleepover and less like a tug-of-war.
AJ Comic Books Personalized First Anniversary Comic Book Gift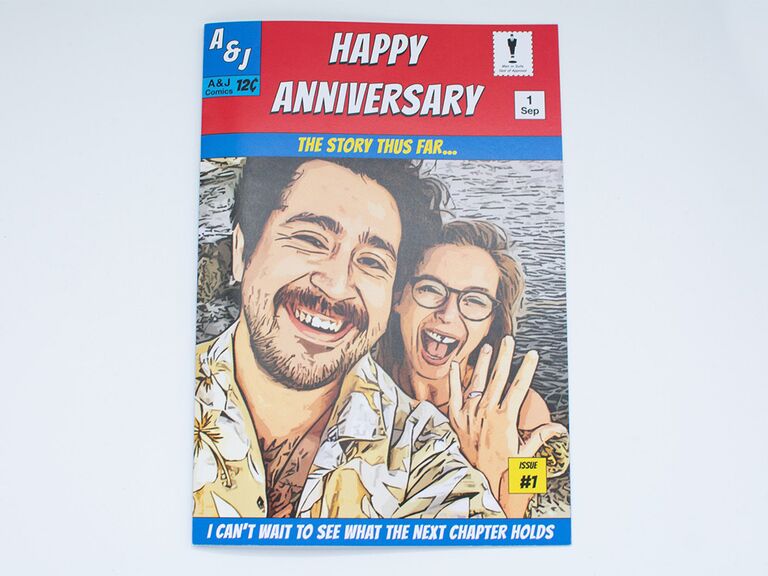 With this personalized comic book, follow an easy template to immortalize your favorite memories together. Relive the story of how you met, reminisce on your wedding day or simply write an ode to your loved one. This DIY gift is sure to be a keepsake for years to come.
Mushions Customized Face Pillow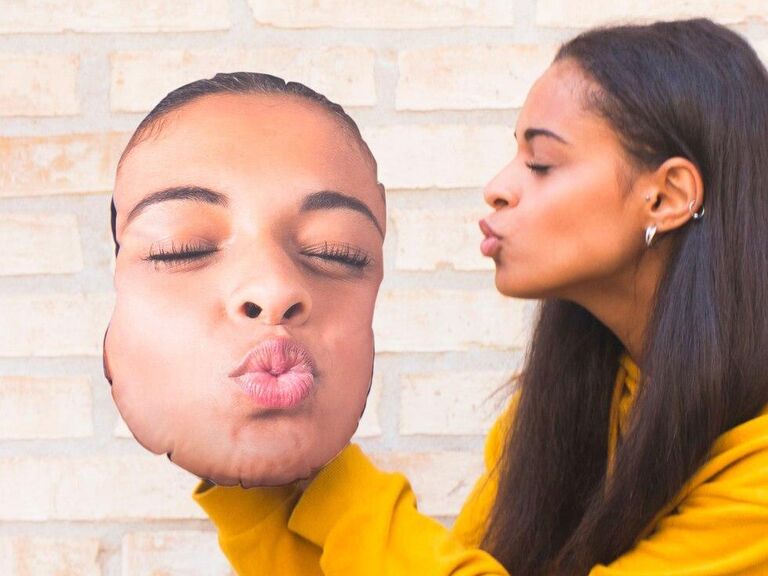 A squishy pillow adorned with your partner's face makes the perfect gag gift to celebrate your anniversary. Simply upload clear photos of the faces you desire, and the team at Mushions will transform them into wonderfully weird cushions.
Sugar House Gifts Message in a Glass Bottle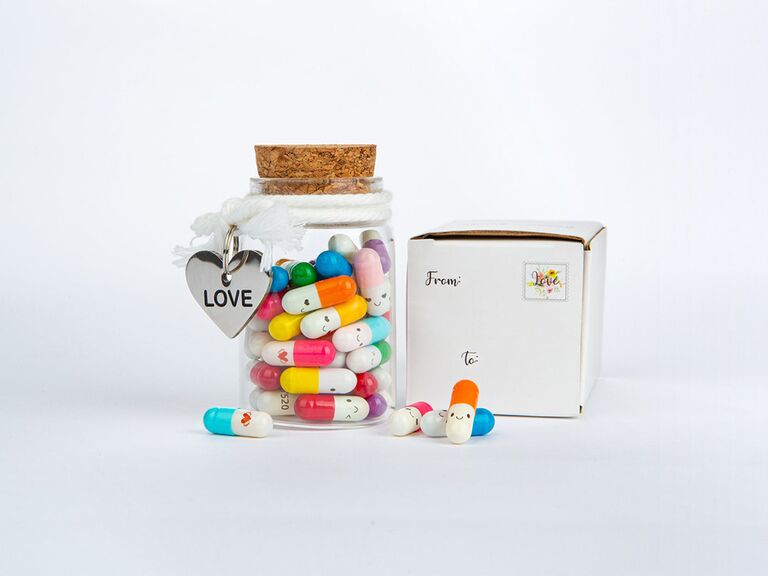 This jar includes 50 adorable capsules with blank paper inside for tiny love notes. Include inside jokes alongside meaningful messages for a gift that will both touch and delight the recipient. Perfect for Valentine's Day, Father's Day or a Mother's Day gift, you can also add new love notes for future anniversaries.
Express A Tee Disney Star Wars Couple Shirt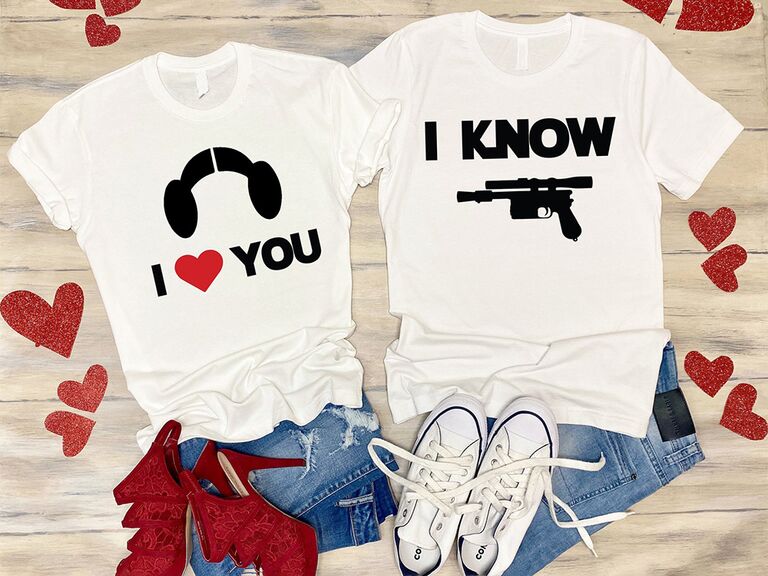 Shopping for a romantic couple gift you can both enjoy? Celebrate your Star Wars fandom with a set of matching T-shirts that feature the iconic phrases "I love you" and "I know."
Sandrine Froehle Personalized Ticket To Love Box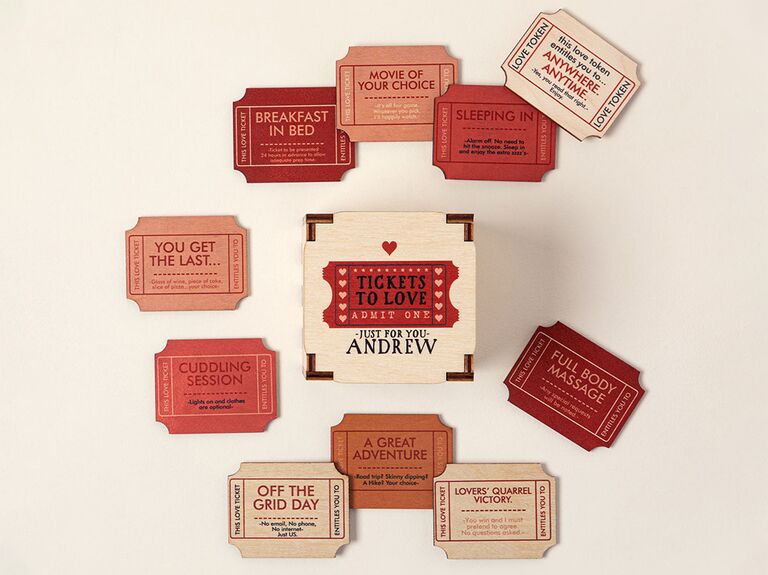 This box is a grown-up take on those coupon books you made as kids. Way more elegant than a hand-drawn and stapled booklet, the adorable gift box comes with 10 customizable tickets (you can choose from 40 options). Tickets include everything from "free back rub" and "a day of 'yes'" to more ahem, clothing-optional adventures.
#LitLabels Happy Anniversary Wine Bottle Label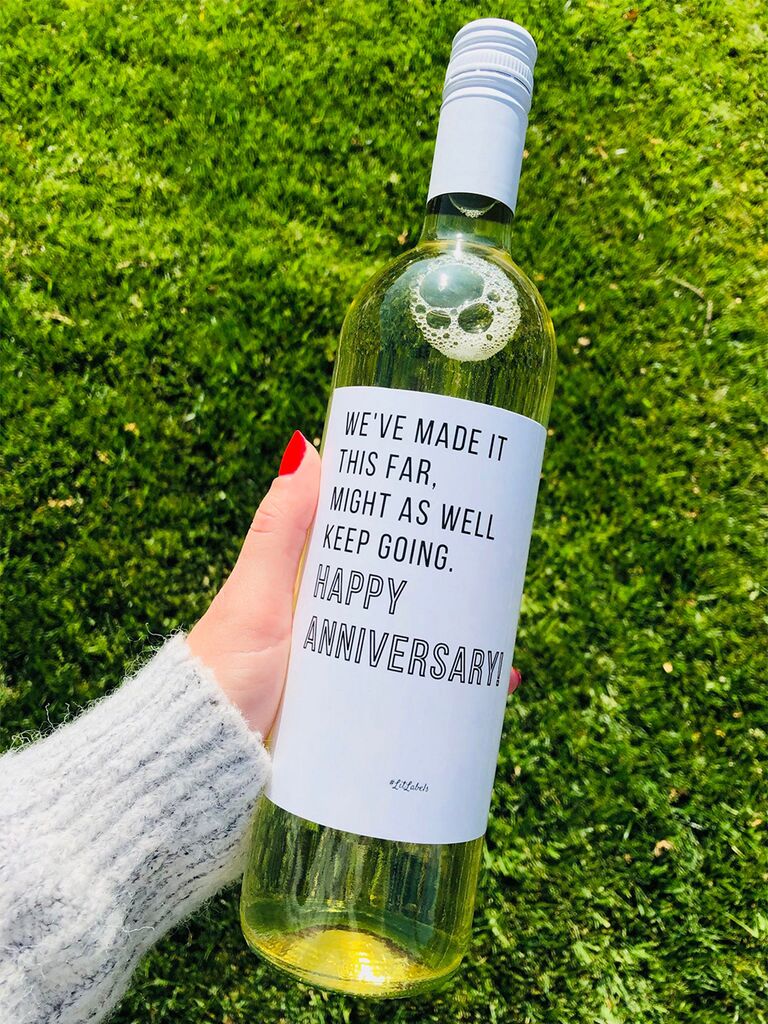 Turn your favorite bottle of wine into a fun wedding anniversary gift with a bottle label featuring a cheeky phrase, like "We've made it this far, might as well keep going." The seller can also customize the label to fit a champagne or brut bottle.
Pip & Elwood Internet Dating Anniversary Card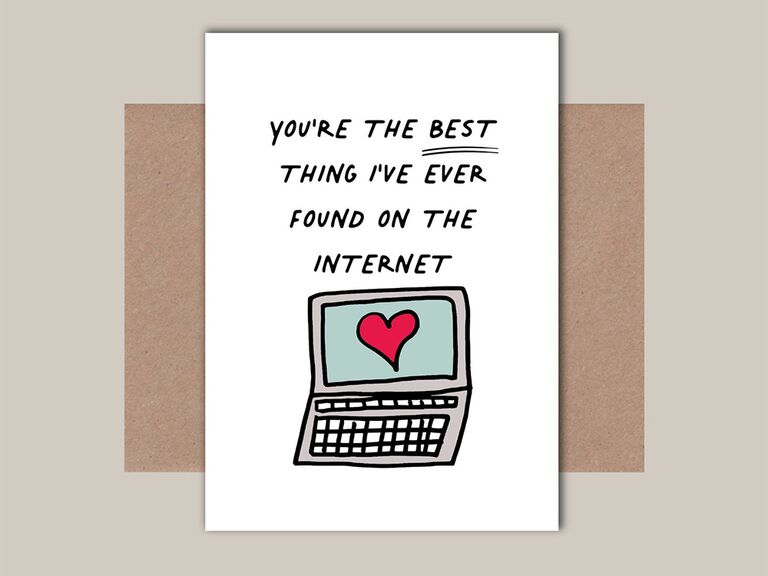 Wish your partner a happy anniversary, and remind them that they are the best thing that you ever found on the internet with this funny card. The inside is blank but comes with the option to personalize with a message at checkout.
Knock Knock What I Love About You Book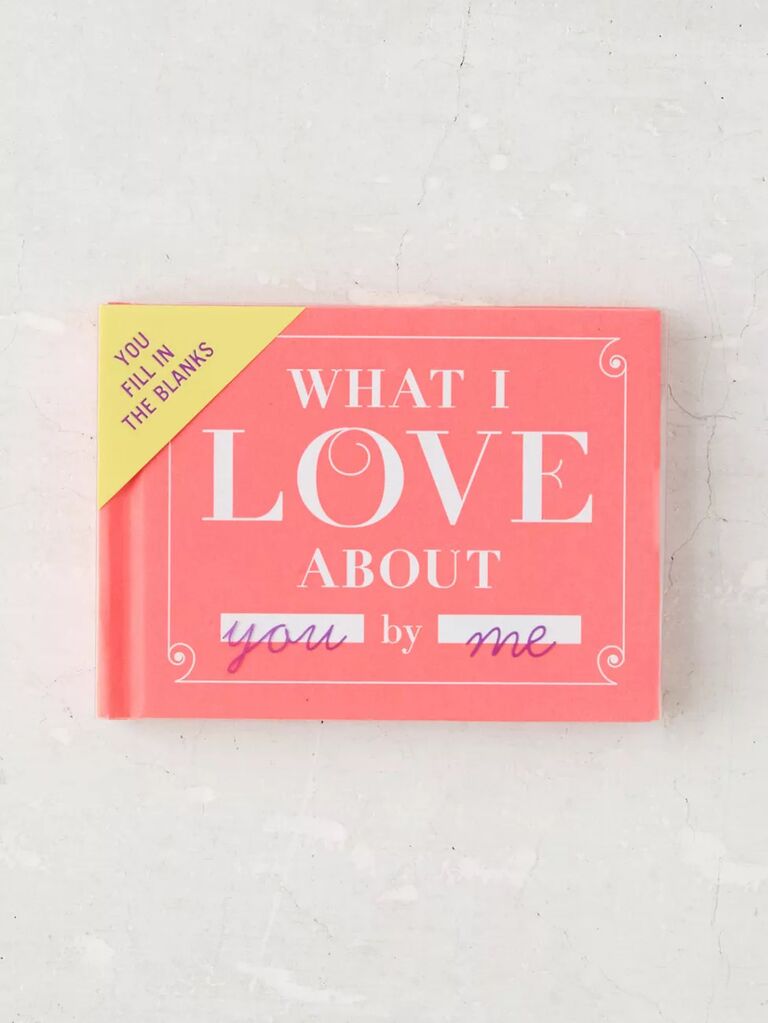 This fill-in-the-blank book encourages you to express your love. Inside, you'll find unique checklists, short answer questions and creative prompts to jog your memory. Fill it out before wrapping it up, or do it together for a fun date night activity.
Rage Candle Co. I Like Your Butt Candle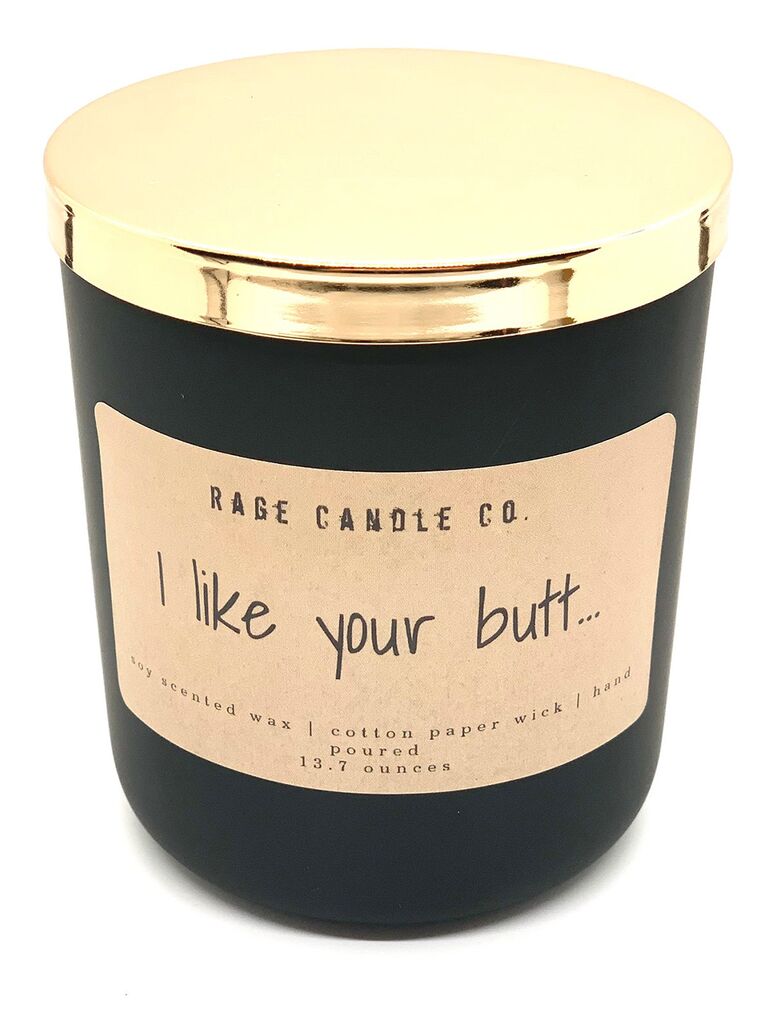 If your love language is silly jokes, your partner will surely understand the affection behind a soy candle that says "I like your butt." Fragranced with a blend of pineapple, passionfruit and mango, this cheeky soy candle also makes a cute "just because" gift for your S.O.
Impressions Stamped I Cerealsly Love You Anniversary Gift Spoon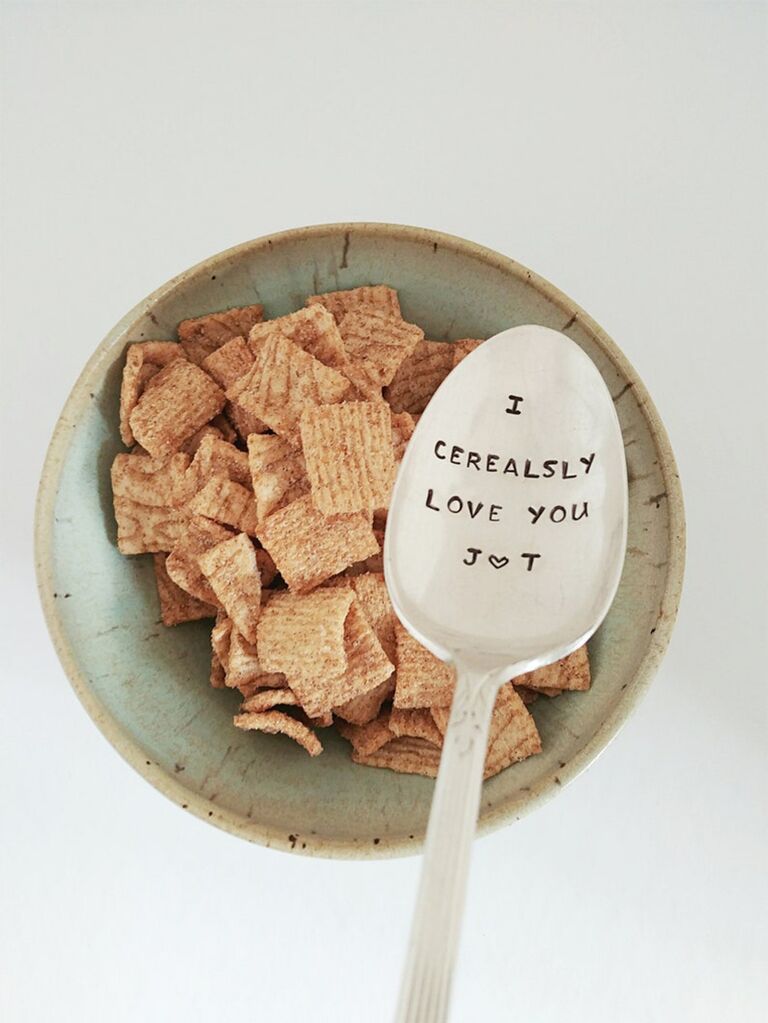 Shopping for a unique gift that can serve as a keepsake? Let your partner know that you "cerealsly" love them with this engraved vintage spoon.
Uncommon Goods Pizza Roulette Cut & Serve Board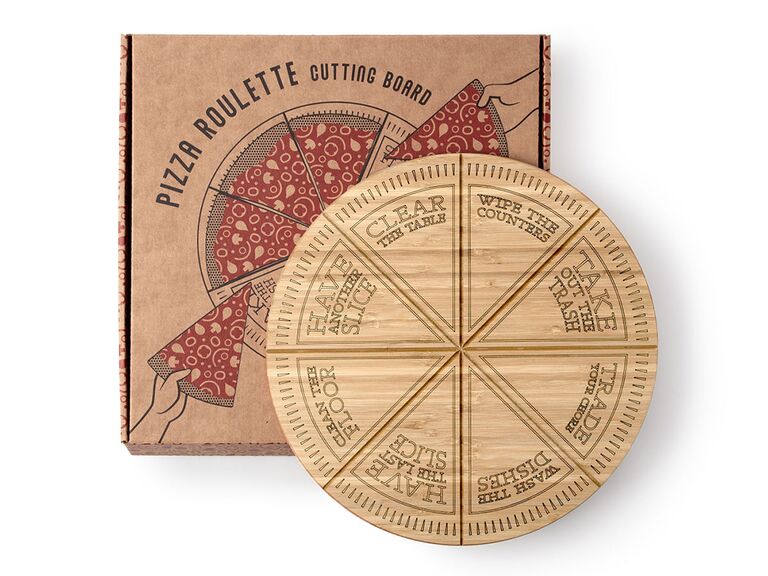 This makes an unexpected and clever gift for a pizza-loving partner. The pizza board lets you serve up eight slices of pizza and divvy up household chores. After removing a slice, your chore (or reward) is revealed.
Lettuce Build A House My Heart Only Beets For You Cute Anniversary Card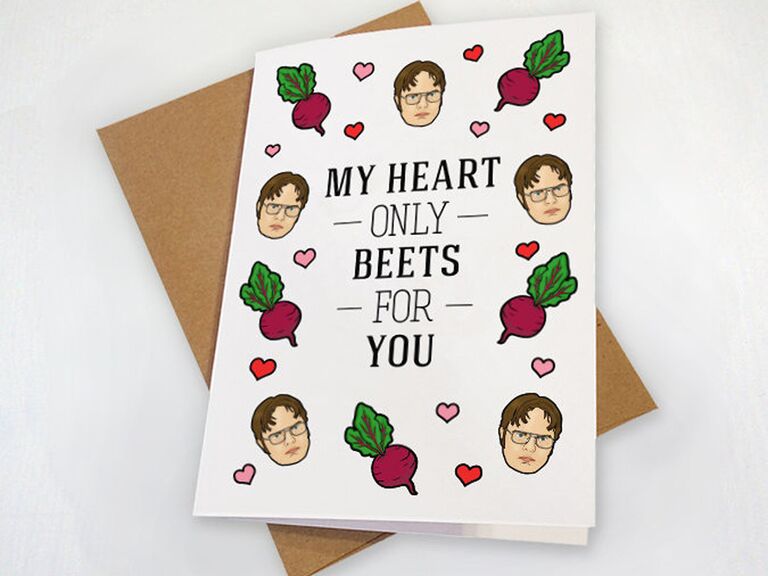 The Office fans will love this funny and romantic anniversary card that lets your partner know that your heart only "beets" for them. This would also make a cute birthday card or funny addition to a Valentine's Day gift.
Jessica Dennis Designs Thanks for Swiping Right Key Ring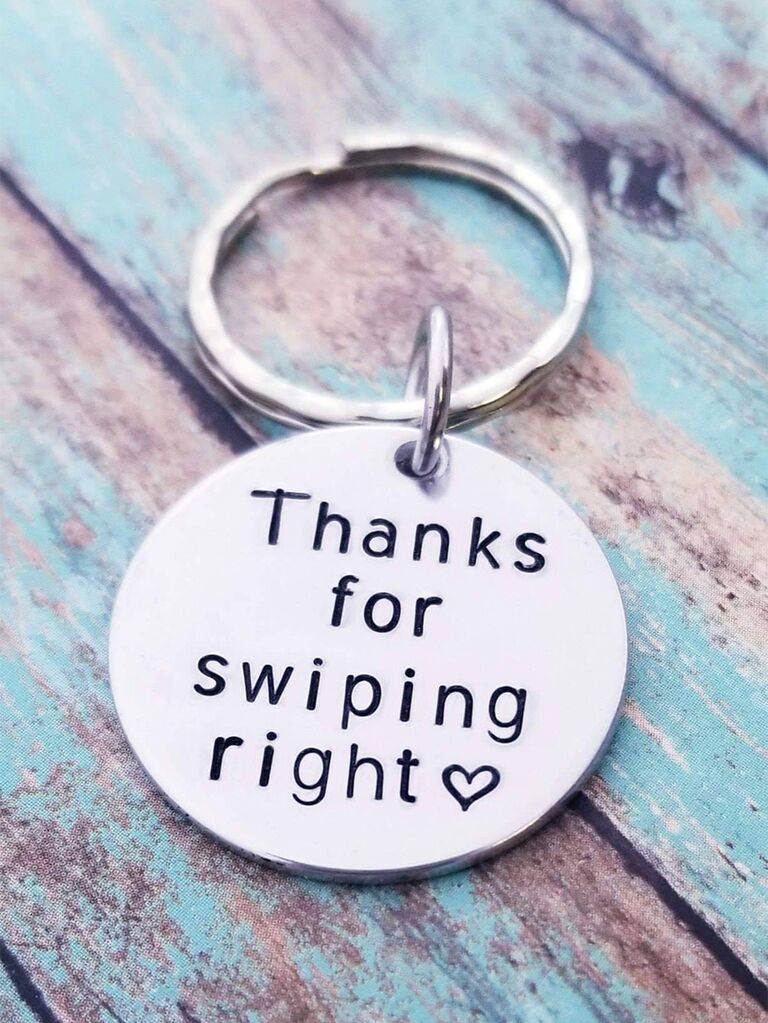 Celebrate your love story with this cute key chain that serves as the perfect reminder that good things can be found online. Small enough to tuck into a card, it's also a nice option if you don't exchange big gifts for anniversaries or other holidays.
Uncommon Goods Kissing Mugs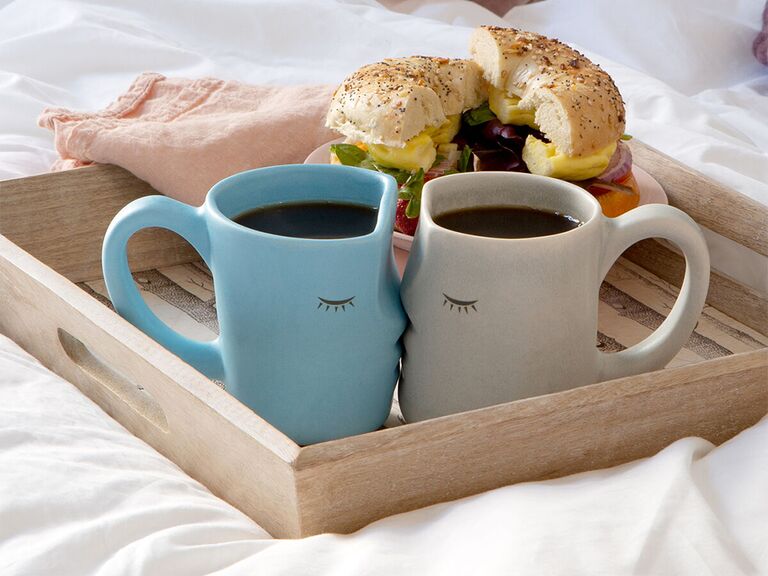 Mugs are the perfect novelty gift because no matter how playful they get, they're still useful. This set of mugs fits together like you and your favorite person—when the mugs touch, their lips kiss. Choose from a gray and blue or red and tan set.
Sunny Boutique Miami Funny Cotton Pajamas for Couple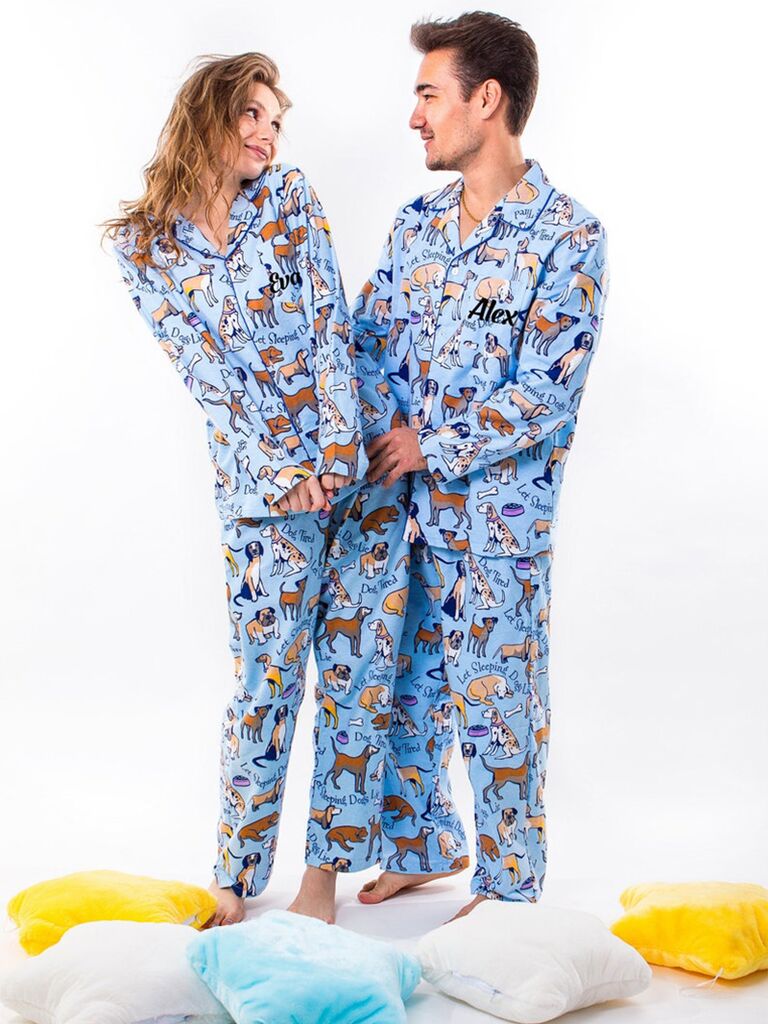 Make your partner smile with a goofy set of matching pajamas adorned with doggies. Made of ultra-soft cotton, they can be customized with your monograms and additional text on the front and back.