50 Funny Marriage Quotes That Are Just the Right Amount of Cheeky
These lighthearted sayings capture the joy that comes with "I do."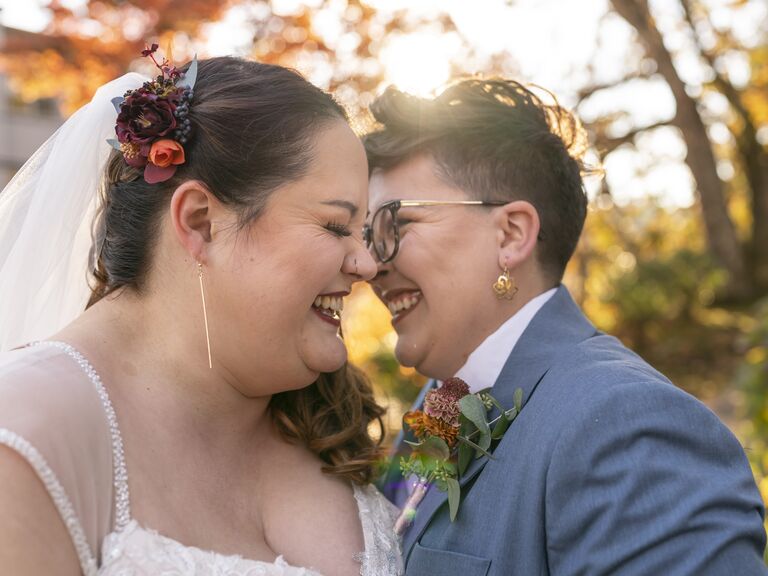 Photo: Fly View Productions | Getty Images
There's so much joy that accompanies marrying the person you laugh the most with in life. And while there are plenty of weighty, thoughtful bits of marriage advice out there to reference, rest assured that there are also funny marriage quotes and funny marriage advice, too, that actually captures the levity and elation that comes with "I do."
After all, let's be real: A happy marriage is usually far from perfect, and married life (hello, spending every waking minute with the same person and somehow still loving them!) is often riddled with hilarious moments. Below, we've collected the pieces of funny marriage advice and funny wedding quotes that just get that.
From relatable jokes from famous folks to humorous dialogue from your favorite rom-coms, these funny marriage quotes are ideal for:
Wedding toasts (think: cheeky best man and bridesmaid toasts!)

Wedding signage (such as neon signs and large escort card displays)

Wedding vows (as long as both partners agree to being humorous during the ceremony)

Cards for couples or for your partner

Bachelor or bachelorette decor

Texting your partner after a long day
Being able to find laughter when the waters get rough can help your relationship stay afloat, too—so you may find yourself referencing the funny marriage advice and funny wedding quotes below throughout your partnership.
Read on for 50 funny marriage quotes and nuggets of witty advice.
Funny Wedding and Marriage Quotes From Movies, Books and Television
1. "The best thing you can do is find a person who loves you for exactly who you are: good mood, bad mood, ugly, pretty, handsome, what have you. The right person is still going to think the sun shines out of your ass. That's the kind of person that's worth sticking with." —Juno
2. "The first draft of my vows, which I wrote the day after we got engaged, clocked in at around 70 pages." —Parks and Recreation
3. "Look, you want to know what marriage is really like? Fine. You wake up, she's there. You come back from work, she's there. You fall asleep, she's there. You eat dinner, she's there. You know? I mean, I know that sounds like a bad thing, but it's not." —Everybody Loves Raymond
4. A wedding marks the first day of the rest of your life. You have been dead until now. Were you aware of that? You're dead right now. —Bride Wars
5. If you're thinking of getting married, you might as well learn right now that you have to let women be women." —Hello, Dolly!
6. "She's your lobster. C'mon you guys. It's a known fact that lobsters fall in love and mate for life. You can actually see old lobster couples, walking around their tank, you know, holding claws" —Friends
7. Honestly, if you're not willing to sound stupid, you don't deserve to be in love. —A Lot Like Love
8. You know your voice is kind of nice when your mouth isn't screwing it up. Yeah and you looks are kind of pretty. When your face isn't screwing it up. —The Goonies
9. "I'm looking for someone to share in an adventure that I'm arranging, and it's very difficult to find anyone." —J.R.R. Tolkien, The Hobbit
10. "Remember, we're madly in love, so it's alright to kiss me anytime you feel like it." —Suzanne Collins, The Hunger Games
11. "I love that you get cold when it's 71 degrees out. I love that it takes you an hour and a half to order a sandwich. I love that you get a little crinkle above your nose when you're looking at me like I'm nuts. I love that after I spend the day with you, I can still smell your perfume on my clothes. And I love that you are the last person I want to talk to before I go to sleep at night." —When Harry Met Sally
12. "Webster's Dictionary defines wedding as 'the fusing of two metals with a hot torch.' Well, you know something? I think you guys are two medals. Gold medals." —The Office
13. "But the thing is this, after a while, you just want to be with the one that makes you laugh." —Sex and the City
14. I'm not a smart man, but I know what love is. —Forrest Gump
15. When you love someone as much as I love you, getting married is the only thing left to do. So, will you, um, marry me? —Definitely, Maybe
16. If you're ever with a girl that's too good for you, marry her. —Valentine's Day
Funny Quotes About Marriage From Notable Figures
1. "I love being married. It's so great to find that one special person you want to annoy for the rest of your life." —Rita Rudner
2. "Love is an ideal thing, marriage a real thing." —Johann Wolfgang von Goethe
3. "I married for love but the obvious side benefit of having someone around to find my glasses cannot be ignored." —Cameron Esposito
4. "Getting married is like trading the adoration of many for the sarcasm of one." —Mae West
5. "We're all a little weird. And life is a little weird. And when we find someone whose weirdness is compatible with ours, we join up with them and fall into mutually satisfying weirdness–and call it love–true love." —Robert Fulghum
6. "A happy marriage is a long conversation which always seems too short." —André Maurois
7. "Marriage is a bond between a person who never remembers anniversaries and another who never forgets them." —Ogden Nash
8. "My most brilliant achievement was my ability to be able to persuade my wife to marry me." —Winston Churchill
9. "Love is blind; marriage is the eye-opener." —Pauline Thomason
10. "Who won in life? Me. Because I got to marry you." —Chip Gaines
11. "The trouble with some women is that they get all excited about nothing—and then marry him." —Cher
12. "I can't make you love me, but I can fill my pantry with your favorite snacks and offer you a weekly stipend of $75." —Rob Delaney
13. "Love is a two-way street constantly under construction." —Carroll Bryant
14. "Michelle's like Beyoncé in that song, 'Let me upgrade ya!' She upgraded me."—Barack Obama
15. "I'm married to a very unusual person, but maybe it took a very unusual person to be willing to marry me." —Fiona Shaw
16. "There are a hundred paths through the world that are easier than loving. But who wants easier?" —Mary Oliver
17. "Obviously, if I was serious about having a relationship with someone long-term, the last people I would introduce him to would be my family." —Chelsea Handler
18. "If you can stay in love for more than two years, you're on something." —Fran Lebowitz
19. "Love is a lot like a backache; it doesn't show up on X-rays, but you know it's there." —George Burns
20. "A marriage is always made up of two people who are prepared to swear that only the other one snores." —Terry Pratchett
Funny Marriage Advice From Notable Figures
1. "The secret to a good marriage is to be a little deaf." —Ruth Bader Ginsburg
2. "To keep your marriage brimming, with love in the loving cup, whenever you're wrong, admit it; whenever you're right, shut up." —Ogden Nash
3. "For marriage to be a success, every woman and every man should have her and his own bathroom. The end." —Catherine Zeta-Jones
4. "Marriage is a wonderful invention: then again, so is a bicycle repair kit." —Billy Connolly
5. "Marriage is not just spiritual communion. It is also remembering to take out the trash." —Dr. Joyce Brothers
6. "A successful marriage requires falling in love many times—always with the same person." —Mignon McLaughlin
7. "Keep your eyes wide open before marriage, half shut afterwards." —Benjamin Franklin
8. "The best way to get most husbands to do something is to suggest that perhaps they're too old to do it." —Anne Bancroft
9. "Spend a few minutes a day really listening to your spouse. No matter how stupid [their] problems sound to you." —Megan Mullally
10. "Before you marry a person, you should first make them use a computer with slow internet to see who they really are." —Will Ferrell
11. "Make sure you have date night even if it's once in a blue moon because most of the time you're just too tired and you'd actually prefer to sleep." —Chris Hemsworth
12. "Marriage is like a graph: It has its ups and downs and as long as things bounce back up again, you've got a good marriage. If it heads straight down, then you've got some problems!" —Julie Andrews
13. "I want to hear that you guys watch every episode of The Bachelorette together in secret shame, or that one got the other hooked on Breaking Bad and if either watches it without the other, they're dead meat. I want to see you guys high-five each other like teammates on a recreational softball team you both do for fun."―Mindy Kaling
14. "A good friend just told me that the key to a successful marriage was to argue naked." —LeAnn Rimes
Contributions by Lauren Rodrigue