33 Funny Marriage Quotes to Add Some LOLs to Your "I Do's"
Getting married? You're about to join the world's funniest club.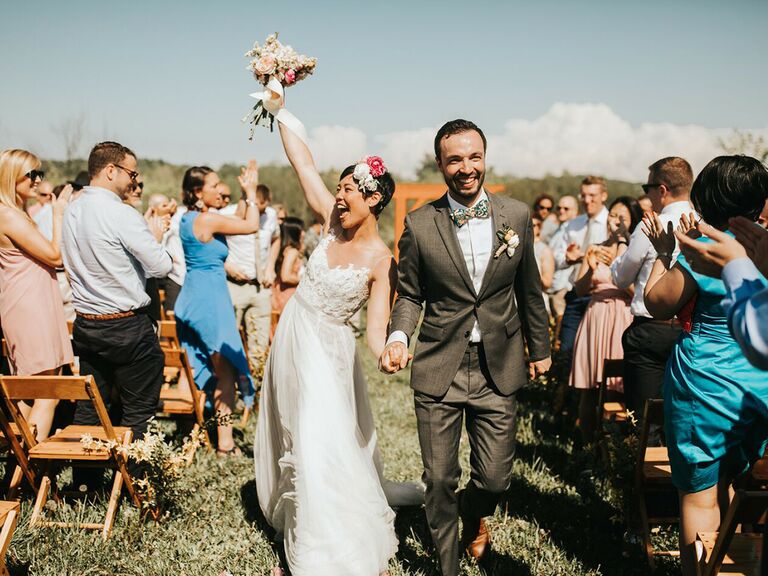 Tara Helene Photography
There are few things more monumental in life than your wedding day, but as these funny marriage quotes might suggest, there are also few things sillier than marriage. Because, let's be real, a happy marriage is usually far from perfect, and married life (hello, spending every waking minute with the same person and somehow still loving them!) is often riddled with hilarious moments.
So read through these funny quotes from our favorite famous folks (even throw one or two into your ceremony readings, vows or a wedding toast!) and take heart: One thing every good marriage has in common is that its participants know when to take a step back and share a laugh, for better or for worse. Yes — these quotes are as much relatable jokes as they are solid marriage advice!
1. "I love being married. It's so great to find that one special person you want to annoy for the rest of your life." — Rita Rudner, American comedian
2. "To keep your marriage brimming, with love in the loving cup, whenever you're wrong, admit it; whenever you're right, shut up." — Ogden Nash, American poet
3. " Some people ask the secret of our long marriage. We take time to go to a restaurant two times a week. A little candlelight, dinner, soft music and dancing. She goes Tuesdays, I go Fridays." — Henny Youngman, English-American comedian and musician
4. "Marriage is a wonderful institution, but who wants to live in an institution?" — Groucho Marx, American comedian and actor
5. "Marriage is not just spiritual communion. It is also remembering to take out the trash." — Dr. Joyce Brothers, American psychologist
6. "Women marry men hoping they will change. Men marry women hoping they will not. So each is inevitably disappointed." — Albert Einstein, German physicist
7. "When you see a married couple walking down the street, the one that's a few steps ahead is the one that's mad." ― Helen Rowland, American journalist
8. "Marriage has no guarantees. If that's what you're looking for, go live with a car battery." — Erma Bombeck, American comedian
9. "The most important four words for a successful marriage: 'I'll do the dishes.'" — Anonymous
10. "For marriage to be a success, every woman and every man should have her and his own bathroom. The end." — Catherine Zeta-Jones, American actress
11. "It's tough to stay married. My wife kisses the dog on the lips, yet she won't drink from my glass." — Rodney Dangerfield, American comedian
12. "Being a good husband is like being a stand-up comic. You need ten years before you can call yourself a beginner." — Jerry Seinfeld, American comedian
13. "Look, you want to know what marriage is really like? Fine. You wake up, she's there. You come back from work, she's there. You fall asleep, she's there. You eat dinner, she's there. You know? I mean, I know that sounds like a bad thing, but it's not." — Ray Barone, American Comedian
14. "My husband and I have never considered divorce ... murder sometimes, but never divorce." — Dr. Joyce Brothers, American psychologist
15. "Love is an ideal thing, marriage a real thing." — Johann Wolfgang von Goethe, German writer
16. "Getting married is like trading the adoration of many for the sarcasm of one." — Mae West, American actress
17. "The definition of eternity is two people and a ham." — Dorothy Parker, American poet
18. "Sometimes I wonder if men and women really suit each other. Perhaps they should just live next door and visit now and then." — Katharine Hepburn, American actress
19. "An archeologist is the best husband a woman can have. The older she gets, the more interested he is in her." — Agatha Christie, English writer
20. "Marriage is a wonderful invention: then again, so is a bicycle repair kit." — Billy Connolly, Scottish comedian
21. "The man who says his wife can't take a joke, forgets that she took him." — Oscar Wilde, Irish poet
22. "Keep your eyes wide open before marriage, half shut afterwards." — Benjamin Franklin, Founding Father of the United States
23. "By all means, marry. If you get a good wife, you'll become happy; if you get a bad one, you'll become a philosopher." — Socrates, Greek philosopher
24. "The best way to get most husbands to do something is to suggest that perhaps they're too old to do it." — Ann Bancroft, American actress
25. "A happy marriage is a long conversation which always seems too short." — Andre Maurois, French writer
26. "Marriage a bond between a person who never remembers anniversaries and another who never forgets them." — Ogden Nash, American poet
27. "My most brilliant achievement was my ability to be able to persuade my wife to marry me." — Winston Churchill, former Prime Minister of the United Kingdom
28. "Everyone is born equal in life, until they get married." — Anonymous
29. "We're all a little weird. And life is a little weird. And when we find someone whose weirdness is compatible with ours, we join up with them and fall into mutually satisfying weirdness–and call it love–true love." — Robert Fulgham, American author
30. "Never ever discount the idea of marriage. Sure, someone might tell you that marriage is just a piece of paper. Well, so is money, and what's more life-affirming than cold, hard cash?" — Dennis Miller, American TV personality
31. "Marriages are made in heaven. But so again, are thunder and lightning." — Clint Eastwood, American actor
32. "Husbands and wives are irritating. But without them, who would we blame for misplacing our socks?" – Janet Periat, American writer
33. "Marriage is like a game of chess, except the board is flowing water, the pieces are made of smoke and no move you make will have any effect on the outcome." — Jerry Seinfeld, American comedian