53 Anniversary Date Ideas More Unique Than Just Dinner
Celebrate your love with these out-of-the-box activities.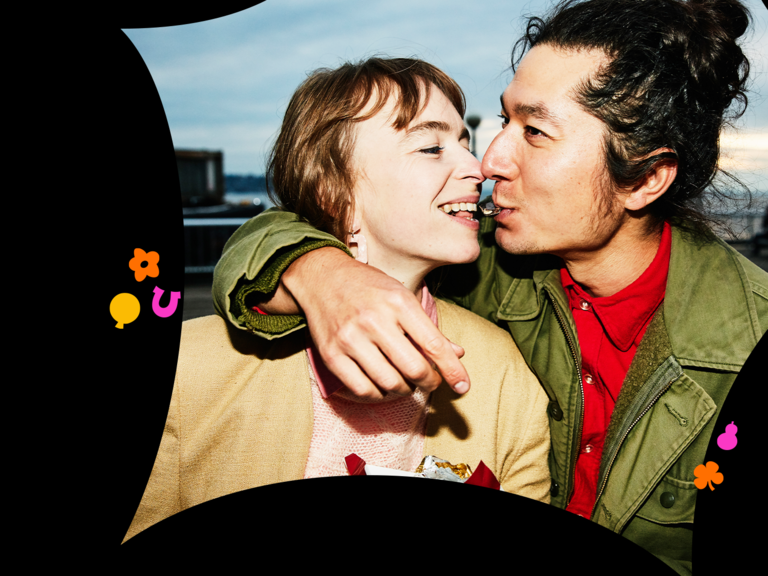 Photo: Thomas Barwick for Getty; Design: Tiana Crispino
Your anniversary isn't just about marking the passage of time; it's about celebrating the beautiful moments you've shared along the way—as well as making new memories you'll cherish down the line. Joyous, intimate and creative, these anniversary date ideas offer up the chance to create new shared experiences on your journey as a couple, appreciate how far you've come, and get excited for your future.
From pottery and cooking classing to thrift shopping and backyard camping, anniversary date activities can run the gamut, with options to fit every couple, relationship stage and budget. There are even free ways you and your partner can spend your day that still feel wholly special. Some anniversary dates can also become tradition and be replicated year after year. Seriously—how cool would it be to commemorate each anniversary by conquering a new hiking trail or exploring your local botanical gardens?
For more inspiration, scroll on to see 53 anniversary date ideas fit for celebrating your love story.
In this article:
The Best Anniversary Date Ideas
Want the TL;DR version? Then let's cut straight to the chase with the top five best anniversary date ideas. How did we possibly manage to narrow it down? The best anniversary dates should be affordable, widely enjoyable and a step away from the everyday. The ideas below all fit the bill.
1. Recreate Your Honeymoon at Home
You don't have to book a plane ticket to relive your honeymoon or another memorable trip you shared together. You can recreate that special destination at home: If you jetted off to Santorini for instance, whip up some tzatziki, pour some ouzo and cue up Mamma Mia!
2. Create DIY Homemade Gifts
There's no need to spend a ton on anniversary gifts. Spend a night crafting homemade gifts for one another. Think: painting wooden craft-store frames to house your favorite cute, couple-y pics.
3. Make a Couples Bucket List and Cross Something Off Every Year
From the big stuff (owning a home) to skinny dipping and learning how to salsa, jot down everything you wish to do together over the years to come—and then spend subsequent anniversaries crossing everything off your list.
4. Volunteer
Celebrate love by spreading it! Make it a tradition to volunteer each year on your anniversary. You can walk dogs at an animal shelter, put in a shift at a local soup kitchen—however you want to make a difference.
5. Book a Staycation at a Local Hotel
Cuddle up in a king-sized bed and a fluffy hotel comforter, hit the pool and indulge in room service for breakfast the next morning. (Be sure to scour travel sites like Trip Advisor for last-minute deals.)
Romantic Anniversary Date Ideas
After all this time, they still make your heart go all aflutter! Spend time thoughtfully planning a romantic anniversary date to make them similarly go weak in the knees.
6. See a Drive-In Movie
If you have the outdoor space, you can even create your own personal theater with a projector set-up!
7. Write Each Other Love Letters
Take inspiration from poets of the past and pen each other love letters over wine and candlelight. (This is a particularly sweet tradition you can do year after year.)
8. Take a Hot Air Balloon Ride
Your love has you floating on cloud nine—so now take to the literal clouds with this once-in-a-lifetime experience.
9. Go Stargazing or Visit a Planetarium
If your location allows for it, lay out some sleeping bags, get cozy and see what constellations you can spot. Alternatively, you can visit a local planetarium and take in the out-of-this-world exhibits.
10. Take a Dancing Class
Be it ballroom dancing, swing or salsa, you'll be able to hold your honey close, learn a new skill and have a ton of fun. (The ultimate trifecta!)
11. Book a Couples Massage
Indulge side-by-side with a set of relaxing rubdowns, before spending some one-on-one time in the spa's sauna or hot tub.
12. Watch the Sunset (or Sunrise!)
Find a rooftop bar or romantic viewpoint to say goodnight (or good morning) to another 365 days of love in all its beautiful, messy glory.
13. Renew Your Vows
It doesn't have to be formal: You can simply take a few intimate moments to recite your wedding vows to one another—or create new ones based on what you've learned the previous year.
14. See Live Theater
Get all gussied up for a night at the theater or opera. Tickets not in the budget? You can stream professionally filmed theater performances and musicals on services like BroadwayHD. Lower the lights, clasp hands during the romantic ballads, and you have an intimate theater experience right at home.
15. Go on a Romantic Boat Ride
Whether it's a dinner cruise or a ferry ride around your city, staring out into the water with your loved one is the stuff romance novels are made of.
Fun Anniversary Date Ideas
Ultimately, celebrating a relationship milestone should be joyful—so look to these fun anniversary date ideas for a guaranteed good time.
16. Go Camping (or Backyard Camping)
If you don't have time to hit the wilderness, pitch a tent in your backyard, make some stovetop s'mores and fall asleep together beneath the stars.
17. Visit the Zoo or Aquarium
Embrace your inner child and explore the exhibits. (You'll likely still get a thrill when you spot your favorite animal!)
18. Take a Cooking Class
Learn some new skills in the kitchen that you can put to use for date-night-ins to come.
19. Tour a Winery, Brewery or Distillery
Choose your favorite spirit collectively and then spend the day clinking glasses to your future.
20. See a Concert
If none of your favorite artists are in town, venture out to see a band you've never heard of before. You might just discover some local gems!
21. Paint and Sip
Head to a local studio that leads you through a painting class as you sip on glasses of wine (or your nonalcoholic beverage of choice). You'll both walk away with a unique piece of art as a souvenir from the night.
22. Go Skydiving
Up for a heart-stopping adventure? Take a leap of faith together and embark on this daring anniversary date.
23. Book a Photo Shoot
Score some fun pro pics of the two of you at this special point in your relationship. Book a local photographer and then unleash your inner models.
24. See a Drag Show
Enjoy a fabulous show and share the celebration with some local queens. (Remember to tip your performers well!)
25. Rent a Canoe or Kayak
Share an outdoor adventure—and get a bonus arm workout while you're at it.
26. Go Ice-Skating
Hand-holding on the ice and then cuddling up with hot chocolate, afterward? Yes, please.
27. Visit a Botanical Garden
Stop and smell the roses—both literally and figuratively. (You have much to reminisce on, after all!)
Cheap Anniversary Date Ideas
While these cheap anniversary date ideas may be inexpensive in cost, they're rich in thoughtfulness, proving you don't need to break the bank when planning a memorable night.
28. Breakfast for Dinner
Put on your PJs (or, better yet, a little bit less) and dig into stacks of pancakes, crispy bacon and warm waffles for your anniversary dinner.
29. Browse a Bookstore
Wander around the aisles and buy a book you'd think the other would like. If you want to make it a tradition, you'll have a whole library's worth after a few years!
30. Have an At-Home Spa Night
All it takes is some inexpensive sheet masks, a sensual bubble bath for two and some massage oil candles to transform your home into a bonafide spa resort.
31. Kitchen Table Wine Tasting
Secure a few bottles of inexpensive wine from a local grocery or liquor store, then play sommelier at the kitchen table as you sip, explore flavor profiles and find your faves. You can even theme the wine to the year you met or a special destination, like your honeymoon locale. (Spanish cava, anyone?)
32. Have a Game-Night Face-Off
Hold the ultimate game night with classic board games and card games specifically for couples. Winner choose this year's holiday card photo!
33. Throw a Party for Two
Pay a visit to a local party supply or dollar store and score balloons, noisemakers, inexpensive decor and party hats, and throw yourselves a silly little party for two. It is a celebration after all! (Just don't forget the ice cream.)
34. Wander Around a Museum
Local museums often offer discounts or free tickets to residents. (For example, New Yorkers can choose their own entry price at museums like the Metropolitan Museum of Art.)
35. Take a Hike
Explore a nearby trail, or plan for a more extensive excursion during a weekend getaway. A selfie and kiss overlooking a vista? We're lacing up our boots now.
36. Make a Time Capsule
Select a few mementos from the previous year (or from over the course of your relationship) and seal them in a box that can only be opened on an agreed-upon date.
37. Build a Blanket Fort
Rearrange your living room to build the cozy blanket fort of your childhood dreams. (Bonus points for string lights, a silly movie to watch inside and snacks to share.)
38. Plan a Picnic
Enjoy an alfresco meal for two on a budget by packing for a picnic. Sunshine, sandwiches, your partner—what more does one need?
39. Sign Up for a Virtual Airbnb Experience
From origami lessons taught in Japan to a virtual tour of a New Zealand sheep farm, you and your partner can share a far-flung experience for less than $20 per person with Airbnb's online global experiences.
40. Fast Food Face-Off
Choose a fast-food menu item, such as french fries or milkshakes, and then spend the day going from drive-through to drive-through as you rank each restaurant's noshes.
41. "Decorate" Your Dream Home at Ikea
Did we get this idea from 500 Days of Summer? Yes, yes we did. Wander around the store and role-play buying furniture and fixtures for your dream home together. End the day by splitting an order of Swedish meatballs. (Just be sure not to cause any inconvenience to employees!)
Creative Anniversary Date Ideas
This year, surprise them with an out-of-the-box activity as unique as your relationship. Look to the creative anniversary date ideas below for inspiration.
42. Rent Out a Movie Theater
Many cinemas allow you to rent out an entire theater for the ultimate movie night. Is it a little over the top? Perhaps. But the occasion certainly calls for it!
43. Choose Thrift Shop Clothes for Each Other for a Fancy Night Out
The more ridiculous the outfits, the better!
44. Road Trip Without a Destination
Gas up the car and go wherever the road takes you. With your love sitting in the passenger seat, it's bound to be an adventure.
45. Revisit Your First Date
Whether it was at that dive bar downtown or coffee at your favorite cafe, revisit the spot of your first date and prepare for the memories to come flooding back.
46. Order a Date Night Subscription Box
Feeling spontaneous? Let fate decide your anniversary date by ordering a date night subscription box. These packaged surprises come with everything you and your partner need for an evening of quality time.
47. Find the Quirkiest Tourist Attraction Within Driving Distance
The mermaids of Weeki Wachee, Florida? Seattle, Washington's gum wall? The petting zoo of plastic flamingos in Cedar Point, North Carolina? Wherever you go, just remember to hit the gift shop!
48. Plan a Scavenger Hunt
Have your partner find their way to a sentimental location using custom clues based on details from your relationship.
49. Recreate a Memorable Meal, Drink or Dessert You've Shared
Whether it was that fresh pasta you had in Italy during your first trip together or your signature wedding cocktail, try your hand at recreating that delish meal or drink in your own kitchen.
50. Get a Couples Tattoo
Is it a forever decision that shouldn't be made spur the moment? Absolutely. But once you've weighed the risks, go ahead and make your love permanent.
51. Go Axe-Throwing
Hit up an axe-throwing venue if you have one in your city and get ready for some friendly competition!
52. Do a Dessert Crawl
Go from bakery to ice cream shop, indulging in the very best sweets your city has to offer.
53. Take a Pottery Class
You may not be able to recreate that scene from Ghost, but you can at least celebrate your anniversary by learning something new together.