Every Milestone Anniversary Gift Theme by Year, From Traditional to Modern
Discover the yearly symbols and their meaning.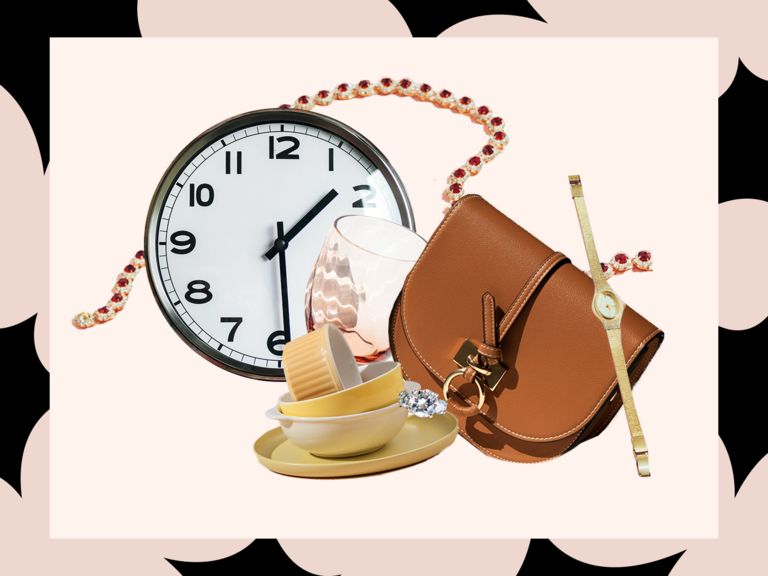 Stocksy | Design by Tiana Crispino
We have included third party products to help you navigate and enjoy life's biggest moments. Purchases made through links on this page may earn us a commission.
Every year of marriage is a unique achievement and, if you didn't already know, most years are also associated with unique gifting themes to help celebrate. But what exactly are the wedding anniversary gifts by year? And where did they come from? We're here to fill you in on everything you need to know about giving traditional and modern anniversary gifts by year. The idea behind anniversary year themes is pretty darn clever: With each year that passes, your relationship grows stronger—and so do the traditional materials. (Aww!) While these anniversary gifts may start out simple (paper for your first year and flowers for your fourth), their substance and significance increase as your investment in each other does. So, come 40 years and more, you'll be swapping precious stones and metals.
The practice of giving a special anniversary gift based on the number of years you've been wed dates back to the Victorian era (though there are theories that it was around as early as ancient Rome!). And nowadays, most years have a modern gifting material as well that reflects our contemporary lifestyles. There are also gemstones, colors and flowers that tie in with each anniversary's overall theme. Basically, you're spoiled for choice when it comes to finding the perfect present for your happy anniversary wishes.
In this article:
What are the milestone wedding anniversaries?
Before we dive right into the traditional and modern anniversary materials by year, let's answer another question that often causes confusion. What are the wedding anniversary milestone years? Like we said before, every year of marriage is a unique achievement. But there are certain years that carry a little more weight than others when it comes to celebrating a strong, successful marriage.
Milestone anniversaries occur every five years in the beginning, starting with five years of marriage and followed by the 10th, 15th, 20th, 25th and 30th anniversaries. After your third decade together, it typically switches to every 10 years (40th, 50th, 60th anniversary and so on). That said, many couples choose to commemorate their first anniversary as a special milestone, too. Really, it's up to you and your partner to decide how much you want to celebrate any given year of marriage. Naturally, our opinion is that every year is worth commemorating with a special date and a thoughtful present.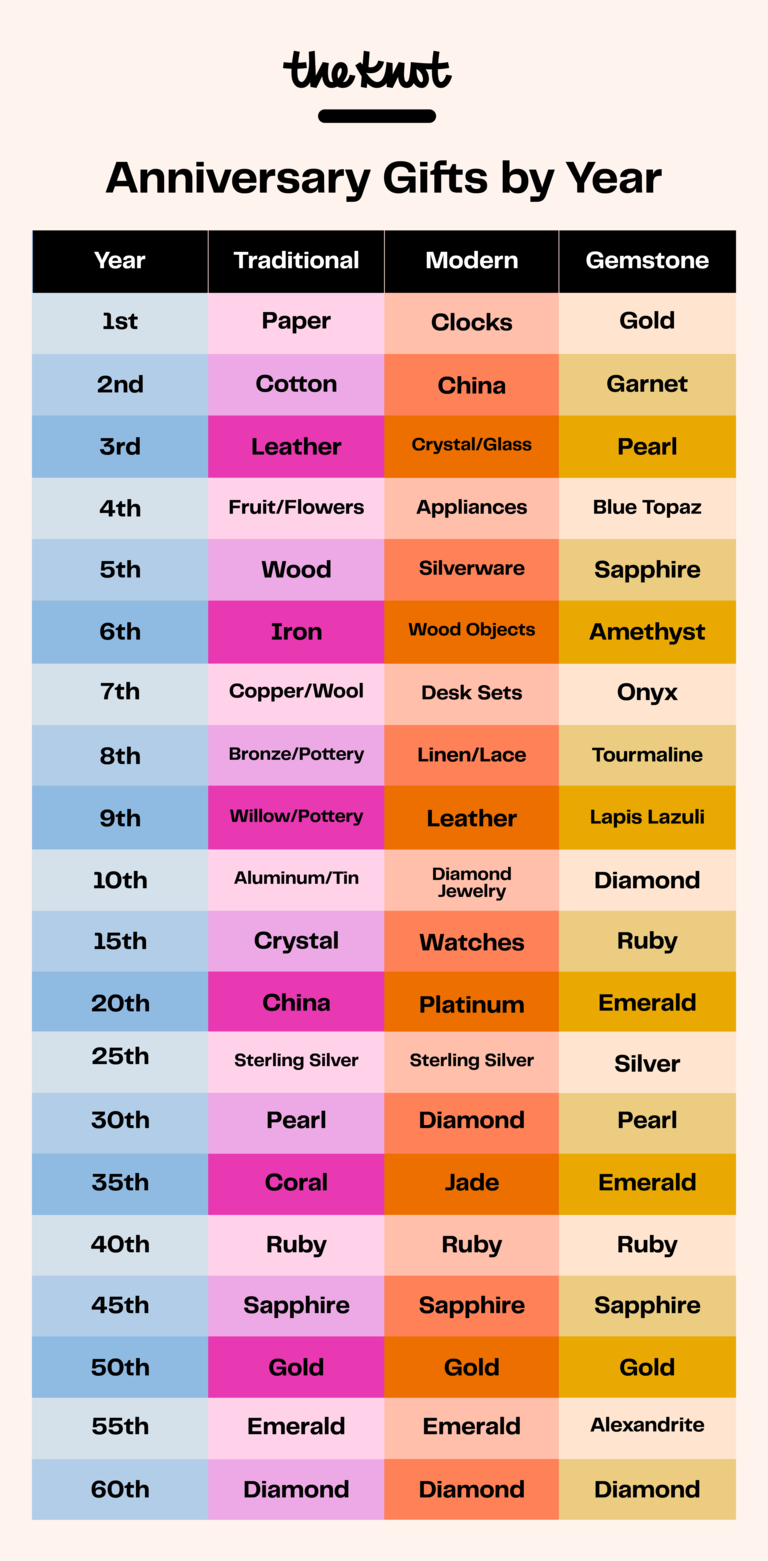 What are the traditional anniversary gifts by year?
Below, we've listed all of the wedding anniversary themes by year for anniversaries one through 20 and every five years from 20 through 60. (Yep, including the anniversary colors, flowers and gemstones by year.) Discover the meaning behind the materials, then take that inspiration straight to your favorite gift website. If you need ideas, check out our curated edit of Uncommon Goods anniversary gifts or browse Etsy for an array of on-theme presents. But first, check out our super-comprehensive and shoppable gift guides for each amazing year. We've linked them all below to make it easy!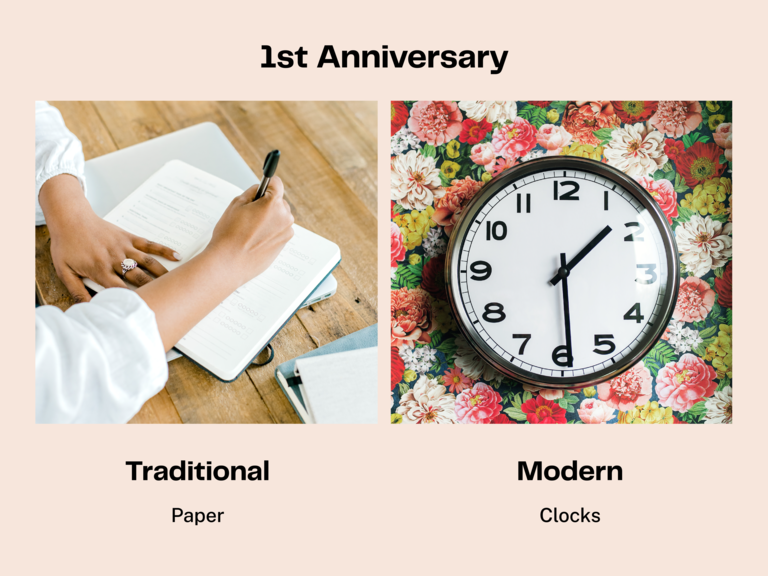 1-Year Anniversary Gift Themes
Traditional Gift: Paper
Modern Gift: Clocks
Color: Gold or Yellow
Metal: Gold
Flower: Carnation
Traditional anniversary gifts get stronger with every year, just like your relationship. That's why paper is a fitting starting point: It's fragile, like the early stages of your marriage, but when properly taken care of, it can last a lifetime. Clocks are the modern gift for this anniversary milestone, representing the passage of time and the change and challenges that come with it. While many years of marriage are associated with a gemstone, there are a few that are symbolized by a metal instead. This time it's gold, which lends itself to myriad gifting options (think: jewelry, cuff links, a watch (dual-meaning) or even a gilded picture frame). The carnation is the first anniversary flower, symbolizing young love.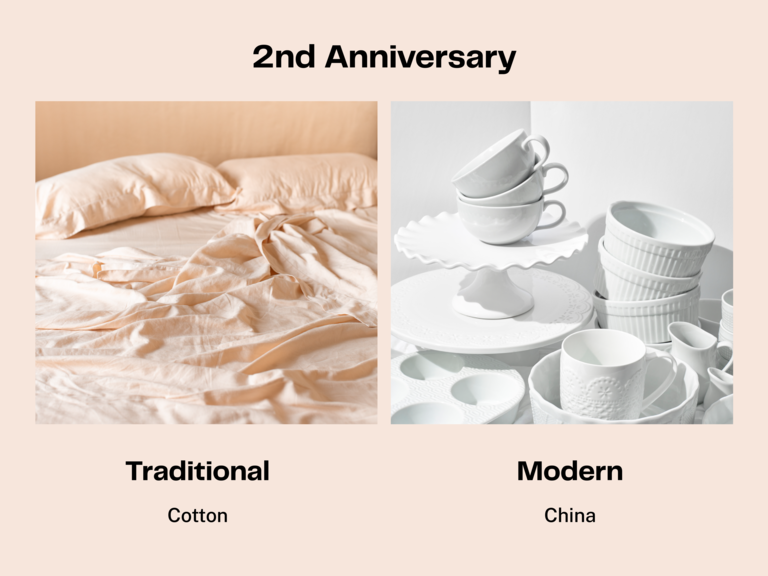 2-Year Anniversary Gift Themes
Traditional Gift: Cotton
Modern Gift: China
Color: Red
Gemstone: Garnet
Flower: Cosmos
The traditional anniversary theme for your second year together is ever-so-slightly stronger than the first: cotton. The material's woven threads symbolize interconnectedness in your relationship and how you've learned to be more flexible as a couple over time. On the flipside, the modern material (china) paints the juxtaposition of a young marriage. It's both strong and delicate, indicating the strengths and weaknesses of any relationship. The two-year anniversary color takes inspiration from the year's associated gemstone, garnet. Both are symbols of love and friendship—two things your relationship is built on. Lastly, the cosmos is associated with order and harmony. It's a sign of a marriage that strikes the perfect balance.
3-Year Anniversary Gift Themes
Traditional Gift: Leather
Modern Gift: Crystal or Glass
Color: Jade or White
Gemstone: Pearl
Flower: Sunflower
The third year of marriage lays claim to one of the most versatile wedding anniversary gifts of all. Leather represents the shelter and security you feel in your marriage. Almost the complete opposite of rustic leather is the three-year anniversary's modern gifting theme: crystal or glass. Both glass and cut crystal reflect light and beauty, signifying a bright future. This year is also associated with an elegant gemstone: pearl. These classic stones form layers over time, and the longer they form, the more beautiful they become (much like a marriage). The anniversary flower for this year is the sunflower. Its sturdy stalk is a symbol of your strong foundation and its bright yellow petals reflect the love that makes your marriage shine.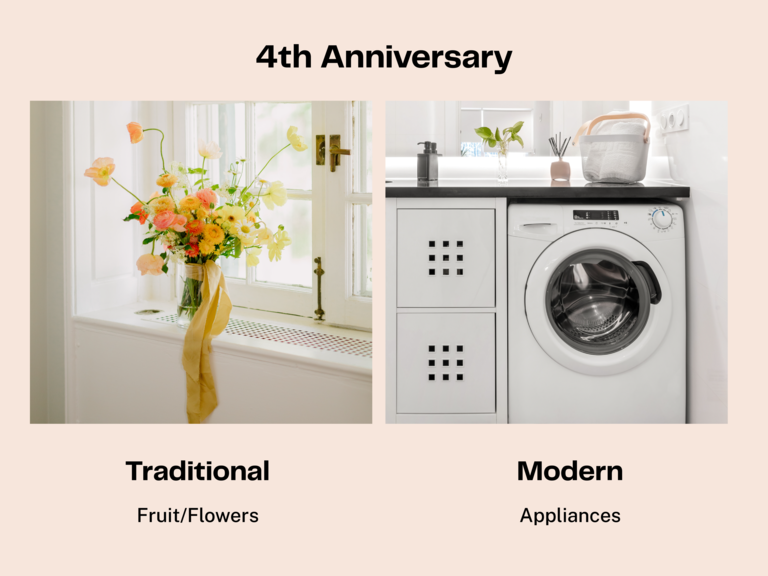 4-Year Anniversary Gift Themes
Traditional Gift: Fruit or Flowers
Modern Gift: Appliances
Color: Blue or Green
Gemstone: Blue Topaz
Flower: Geranium
Some years of marriage—like the fourth anniversary—are associated with two traditional gifts. Both fruit and flowers are accepted as traditional anniversary symbols for this milestone. They're a fitting gift for a relationship that's in full bloom. On a more practical note, the modern gift for this wedding anniversary is an appliance. Home staples embody how settled you feel in your relationship by the fourth year. Looking for jewelry gift inspiration? Find something with blue topaz, which has long been associated with love, romance and affection. Finally, feel free to take inspiration from the fourth anniversary colors (blue and green) or geranium flowers, which represent happiness, good health and friendship.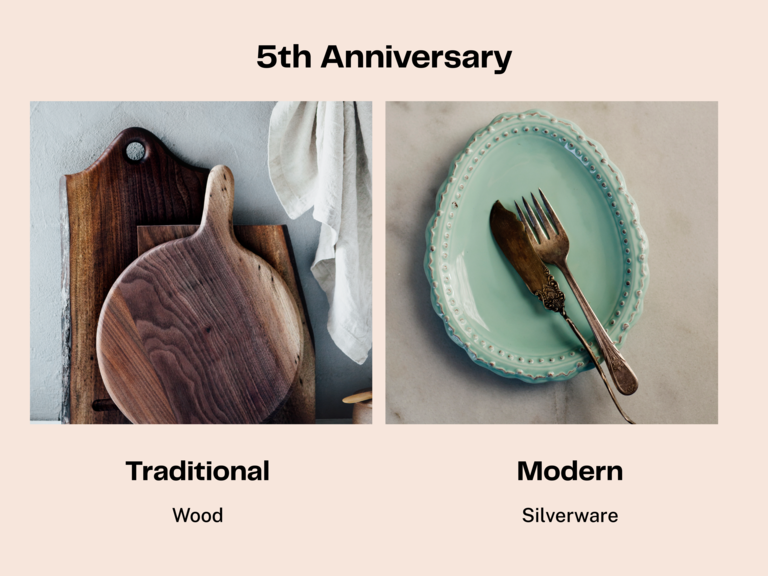 5-Year Anniversary Gift Themes
Traditional Gift: Wood
Modern Gift: Silverware
Color: Blue, Pink or Turquoise
Gemstone: Sapphire
Flower: Daisy
Your relationship is rooted deep in the earth by the time five years comes around. With that, sturdy wood is this year's traditional material. Silverware is the modern alternative (and the perfect tribute to all the meals you've enjoyed and will continue to enjoy together). This year's flower is the delicate, but beautiful daisy, a symbol of eternal love and faithfulness. Want a gift that sparkles as much as your sweetheart's eyes? Sapphire is the gemstone associated with this milestone. Similar to wood, it's a durable material that'll stand the test of time (just like your marriage). When it comes to colors, you're spoiled for choice. Blue, pink and turquoise have all been attached to this special year.
6-Year Anniversary Gift Themes
Traditional Gift: Iron
Modern Gift: Wood Objects
Color: Purple, White or Turquoise
Gemstone: Amethyst
Flower: Calla Lily
Even stronger than wood is the following year's traditional anniversary material. Six years together is celebrated with iron. Of course, if you're still enamored with wood gifts (or you missed out on them last time around), the modern theme for this year is actually wood objects. The calla lily is the wedding anniversary flower associated with this year. This elegant, slender bloom demonstrates the ways you've refined your relationship over the years. It's also been known to represent purity, fidelity and innocence. For a gift with a rich history, incorporate this anniversary's gemstone: amethyst. Historical accounts report that the patron saint of love and marriage himself (AKA Saint Valentine) wore an amethyst ring engraved with Cupid.
7-Year Anniversary Gift Themes
Traditional Gift: Copper or Wool
Modern Gift: Desk Sets
Color: Yellow or Off-White
Gemstone: Onyx
Flower: Freesia
Both copper and wool are accepted as traditional anniversary gifts for the seventh year. The metal helps create heat (much like the warmth you give each other) and wool is just plain cozy. The modern gift for this year is a little more unusual, but extremely practical. Desk sets and organization tools bring a touch of home to their workspace, and serve as a constant reminder of your love during long nights at the computer. The off-white color associated with this year reflects wool's natural hue, while yellow celebrates the light of your life. On the flip side, the seventh-anniversary gemstone is the dark and mesmerizing onyx, which is thought to protect marriages from trials and promote harmony.
8-Year Anniversary Gift Themes
Traditional Gift: Bronze or Pottery
Modern Gift: Linen or Lace
Color: Bronze
Gemstone: Tourmaline
Flower: Clematis
Bronze is another symbol of your strengthening relationship and one of the traditional materials for the eighth anniversary. The other traditional symbol for this year is pottery. This handmade material demonstrates how you've crafted your relationship into a functional and beautiful marriage. This year gives you plenty of gifting options, as there are also two modern themes: linen and lace. Each of these delicate materials showcases the beautiful intricacies of your love. Even more beautiful still is the eighth-anniversary flower. Clematis represents intellect and intelligence (i.e. the ways in which you've both grown wiser together). Tourmaline is this year's gemstone and has been associated with many qualities, including compassion and unconditional love.
9-Year Anniversary Gift Themes
Traditional Gift: Willow or Pottery
Modern Gift: Leather
Color: Terracotta
Gemstone: Lapis Lazuli
Flower: Poppy
Anniversary tradition dictates giving a willow or pottery gift to commemorate the ninth year of marriage. Willow wood is both strong and flexible, highlighting that the two can naturally coexist, just like in a successful marriage. Similar to the eighth-anniversary theme, pottery reflects how your love has been shaped into something beautiful over time. Another of the yearly anniversary gifts that repeats in year nine is leather. This enduring material was used by our ancestors to protect themselves. The ninth-anniversary flower is the poppy, which is a symbol of remembrance and imagination. The stone of honesty and protection, lapis lazuli is also associated with this year of marriage, as well as the earthy color of clay, terracotta.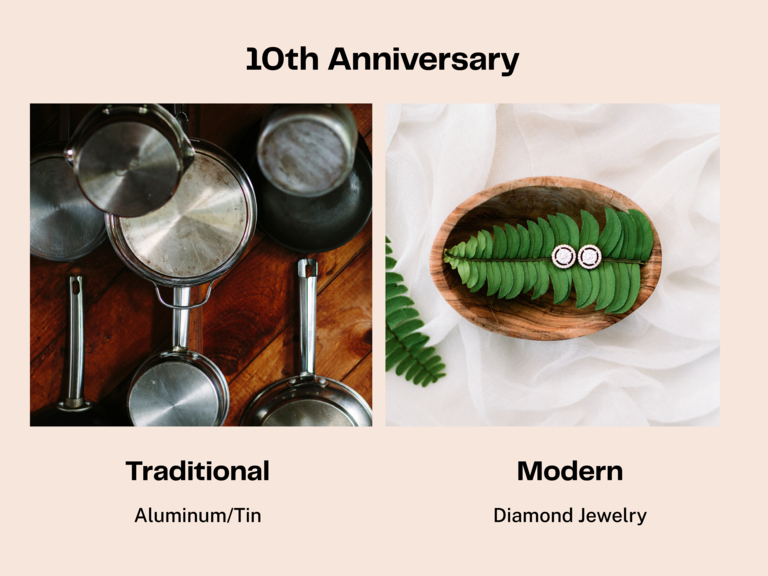 10-Year Anniversary Gift Themes
Traditional Gift: Aluminum or Tin
Modern Gift: Diamond Jewelry
Color: Silver or Blue
Gemstone: Diamond
Flower: Daffodil
If you're following the traditional anniversary presents by year, you could be waiting a long time to give or receive diamonds (another 50 years, in fact). But if you decide to take the modern route, you can lean into the diamond theme for the decade milestone. The traditional marriage anniversary gift for this year is actually tin or aluminum. These materials won't rust, meaning they can weather any storm—just like a marriage that's lasted 10 years. There are two anniversary colors for this special milestone: silver or blue. Finally, the flower for this year is the daffodil. Gift your S.O. a bunch of 10 bright yellow blooms—one for every year you've shared as spouses.
11-Year Anniversary Gift Themes
Traditional Gift: Steel
Modern Gift: Fashion Jewelry
Color: Turquoise
Gemstone: Turquoise
Flower: Morning Glory
While it may not call for a big celebration, 11 years of marriage is just as impressive as a decade. So, what are the anniversary gifts for this unique year? Traditionally steel (AKA one of the strongest metals on earth) was given as a gift, but in recent years fashion jewelry has become the modern alternative. What's fashion jewelry you ask? It's pieces that use base metals and simulated stones for affordability, but without compromising style. It's a great opportunity to give your other half personalized pieces, like a zodiac bracelet, birth-flower ring or necklace with your kids' initials. Turquoise is both the color and gemstone associated with the 11th anniversary. It's said to protect against evil and bring good health, fortune and peace. The flower for this year is morning glory, which fittingly symbolizes affection.
12-Year Anniversary Gift Themes
Traditional Gift: Silk or Linen
Modern Gift: Pearl
Color: Oyster White
Gemstone: Jade
Flower: Peony
The 12th year of marriage has two traditional gifting themes: silk and linen. Presents made from these home decor staples symbolize the life you've built together. If you're searching for jewelry wedding anniversary gift ideas, you're in luck. This year is also associated with two precious stones: pearl and jade. Pearls are hidden treasures, just like a love that's worth holding onto for 12 whole years. Meanwhile, the jade stone attracts love, protection and prosperity. Need more inspiration? Look to peonies, which celebrate reaching a point in your marriage where you're able to appreciate the finer things in life together.
13-Year Anniversary Gift Themes
Traditional Gift: Lace
Modern Gift: Textiles or (Faux) Furs
Color: White
Gemstone: Citrine
Flower: Chrysanthemum
This year, it's all about one thing: fabrics. The traditional gift for the 13th year of marriage is lace, which shows the elegance and beauty of the sanctity of marriage (and like we mentioned earlier, the intricacies of your unique relationship). Similarly crafted, the modern themes are textiles and furs, representing the comfort and warmth 13 years of marriage brings you both. The 13th year is also represented by the color white, the gemstone citrine and the flower chrysanthemum. Citrine is strongly linked to happiness just like chrysanthemums, which symbolize joy and friendship—need we say more?
14-Year Anniversary Gift Themes
Traditional Gift: Ivory
Modern Gift: Gold Jewelry
Color: Ivory
Gemstone: Opal
Flower: Dahlia
Ivory as a 14th-anniversary gift originates from Hindu mythology and signifies luck and protection. Look for elephant-themed gifts instead of actual ivory if you're going this route. You can also lean into ivory as a color instead. The modern theme for this year is gold jewelry, representing unification, eternity and perfection. When it comes to this anniversary's gemstone and flower, we can't decide which is more beautiful. Multicolored opal symbolizes love, passion and desire (romantic, right?), while vivid dahlias are bursting with excitement and uniqueness.
15-Year Anniversary Gift Themes
Traditional Gift: Crystal
Modern Gift: Watches
Color: Red
Gemstone: Ruby
Flower: Rose
Finding sweet anniversary gifts for each other is easy when it comes to the 15th marriage milestone. Crystal is an affordable alternative to diamonds and the traditional theme for this year. Both delicate and sturdy at the same time, it symbolizes clarity and transparency. Watches are the modern theme, signifying all the years you've spent together and the many more to come. Passion abounds for the rest of this milestone's gifting themes. Fiery red rubies commemorate a flame that's still going strong (and the color red feels inherently passionate anyway). The flower for this year is the romantic rose.
16-Year Anniversary Gift Themes
Traditional Gift: Wax
Modern Gift: Silver Holloware
Color: Silver or Emerald Green
Gemstone: Peridot
Flower: Statice
Wax might not sound like the most romantic wedding anniversary symbol, but hear us out. Like a lit candle, you and your S.O. have a spark that can't be extinguished. The modern anniversary gift for celebrating 16 years is silver holloware. That's pretty much anything related to the dinner table that isn't silverware (think: bowls, serving trays and gravy boats). It's a symbol of the unity you share in everyday life. This year's gemstone is peridot, a beautiful green stone that symbolizes undying love and devotion. Another shade of green the 16th anniversary is associated with? The color emerald, which represents harmony. Finally, the statice flower is often used for sympathy and remembrance, but it's also a sweet way to mark the memories you've made over the last 16 years.
17-Year Anniversary Gift Themes
Traditional Gift: Furniture
Modern Gift: Furniture
Color: Yellow
Gemstone: Carnelian
Flower: Red Carnation
Some years share the same material for both the traditional and modern anniversary gift. For the 17th, it's furniture. Gifting each other furniture represents the security, comfort and familiarity of a marriage that's been established for almost 20 years. Plus, it's a great time to upgrade the couch you've used since you first moved in together. (It's time.) The carnelian is this anniversary's gemstone. It's known as the stone of endurance, but also brings joy and warmth, just like the year's color, helping to keep a sense of humor in the relationship. Shopping for someone who loves flowers? Look out for red carnations specifically, which are tied to love, romance and affection.
18-Year Anniversary Gift Themes
Traditional Gift: Porcelain
Modern Gift: Porcelain
Color: Blue
Gemstone: Cat's Eye
Flower: None
Porcelain is the traditional and modern theme for this anniversary year. Elegant but delicate, it signifies the hard work you've put into your marriage to keep it going strong for 18 years without damage. A porcelain present serves as a reminder to continue handling your relationship with care. The 18th anniversary is associated with the unique gemstone, cat's eye. Named for its resemblance to an actual cat's eye, this stone keeps a watchful eye over both of you and removes melancholy from your lives. It also represents love, commitment and happiness. While the 18th anniversary is not associated with one particular flower, a bouquet is still a romantic gesture and you can find blue blooms to match the year's tranquil color.
19-Year Anniversary Gift Themes
Traditional Gift: Bronze
Modern Gift: Bronze
Color: Bronze
Gemstone: Aquamarine
Flower: Bronze chrysanthemum
Surprise, surprise—just like the traditional eighth-year gift, bronze as the gifting theme for 19 years indicates that your relationship has grown stronger another decade down the road. Additionally, it signifies health within your union even through tough times, since some believe it has healing properties. The 19th-anniversary flower is also a bit of a repeat, but who doesn't love the joy- and friendship-symbolizing chrysanthemum? For this milestone, look specifically for bronze-colored petals. Aquamarine is this year's designated gemstone. Known as the protection stone, it'll ward off bad things and protect good things (like your love).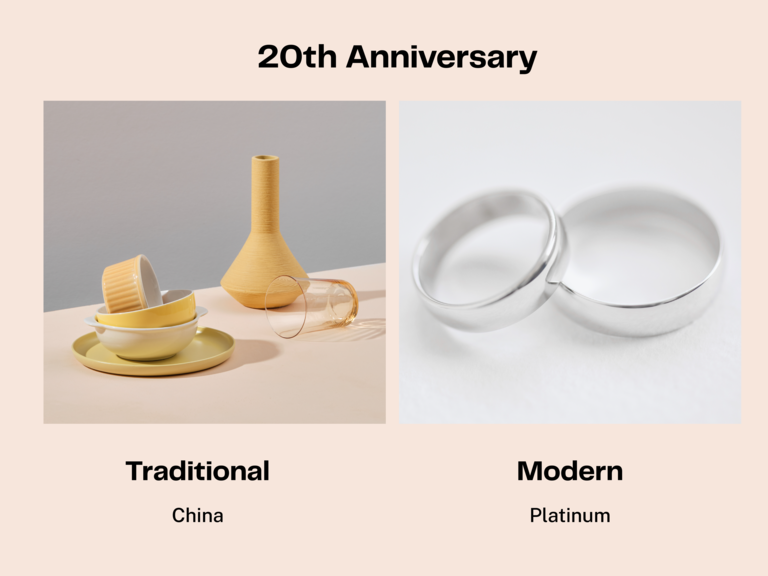 20-Year Anniversary Gift Themes
Traditional Gift: China
Modern Gift: Platinum
Color: Emerald Green
Gemstone: Emerald
Flower: Aster
Couples who've reached two decades of marriage have officially gone platinum—at least according to the year's modern gifting theme. Platinum can stick it out through thick and thin, and the lovebirds have proved they can do the same. The traditional anniversary gift for this milestone is china. Similar to porcelain, it shows the fragile nature of love. It needs to be handled with care in order not to break, much like a marriage. The sacred stone of Venus, the Roman goddess of love, also lends itself to this milestone. Emeralds are known to preserve love, so you can look forward to another 20 years together. As for the official flower, asters, they're normally considered weeds, emphasizing their representation of resilience.
25-Year Anniversary Gift Themes
Traditional Gift: Sterling Silver
Modern Gift: Sterling Silver
Color: Silver
Metal: Silver
Flower: Iris
Some years have a metal instead of a gemstone, and the 25th anniversary is one of those times. Silver defines the quarter-century—after all, it's called the "silver anniversary"— with sterling silver as the traditional and modern theme as well as the hue of the milestone's official color. We agree—a love that's lasted 25 years deserves to be celebrated with a precious and valuable metal. Of course, if you're not sold on silver, you still have the 25-year anniversary flower to inspire you. Irises symbolize wisdom, courage and faith—all traits that help a relationship flourish.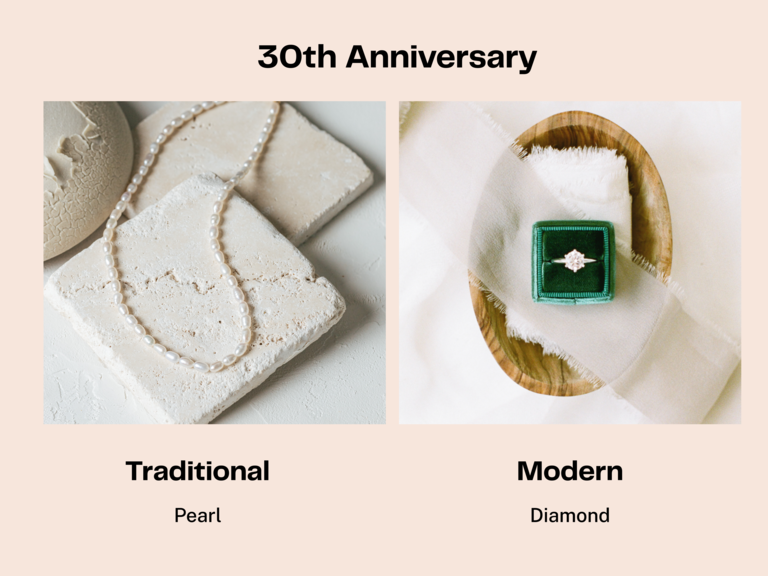 30-Year Anniversary Gift Themes
Traditional Gift: Pearl
Modern Gift: Diamond
Color: Green
Gemstone: Pearl
Flower: Lily
Pearls are the traditional theme (and gemstone) for three decades of marriage. They represent the hidden beauty of a long-lasting union with a maturity that reveals itself from within. Plus, they make for timeless pieces of jewelry to help with gift shopping. The 30th anniversary also presents you with another chance to splash out on precious diamonds. The stone's endurance, beauty and strength appropriately reflect the nature of a 30-year marriage. Lilies are this year's flower, symbolizing transition and rebirth. They're a fitting gift if you and your S.O. are embarking on an exciting new life stage. The color green is also associated with this milestone, paying tribute to how you've grown as a couple.
35-Year Anniversary Gift Themes
Traditional Gift: Coral
Modern Gift: Jade
Color: Coral
Gemstone: Emerald
Flower: Coral Rose
Looking at all of the anniversary materials by year, the 35th has one of the most unusual. Coral is this year's traditional gift (but it's also an important part of our marine ecosystems, so consider coral-inspired (or colored) presents rather than the real deal). It's believed to have magical healing powers that shield you from harm, similar to how the love you have for one another protects your union. Coral isn't the only precious material associated with this milestone. You have a choice of two green gemstones: Lucky jade is the modern material and love-preserving emerald is the associated gemstone.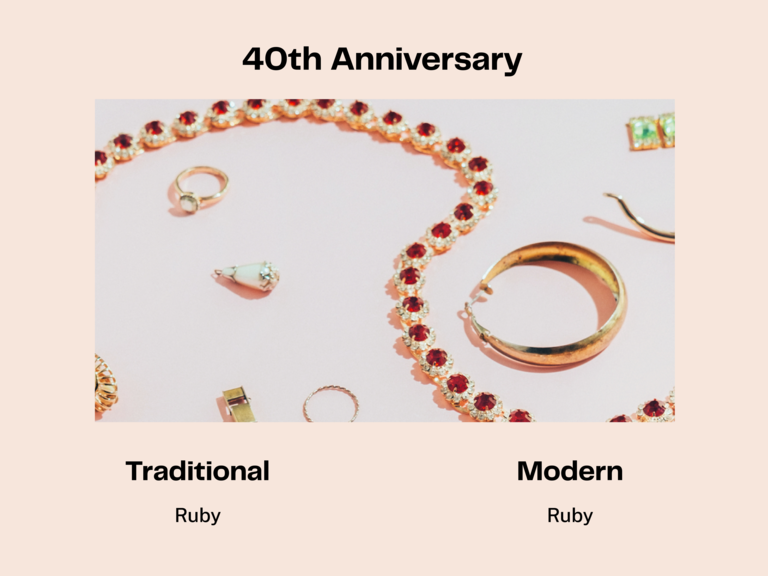 40-Year Anniversary Gift Themes
Traditional Gift: Ruby
Modern Gift: Ruby
Color: Red
Gemstone: Ruby
Flower: Gladioli
The 40-year anniversary is all about rubies. From the traditional wedding anniversary gift to the modern present, color and gemstone it's called the "ruby anniversary" for a reason. This fiery-red gemstone is thought to possess a flame that never burns out, much like your love and commitment. It's also been said to bring good fortune, courage and protection—all great things to bring with you into the future. Of course, this wedding anniversary milestone has a special flower, too. Gladioli blooms are bright and bold. Among other things, they represent infatuation, showing your spouse that you're still head over heels for them after four decades.
45-Year Anniversary Gift Themes
Traditional Gift: Sapphire
Modern Gift: Sapphire
Color: Blue or Red
Gemstone: Sapphire
Flower: Blue Iris
On to the sapphire anniversary. Sapphires are the traditional and modern material, and the gemstone. (Plus, it inspires the year's designated colors.) This stunning stone has long been associated with royalty. (Check out Kate Middleton's engagement ring.) In fitting royal fashion, sapphires are said to attract abundance. They're also associated with loyalty and sincerity, two pillars of a healthy relationship. Similarly, the 45th-anniversary flower (blue iris) symbolizes faith and devotion.
50-Year Anniversary Gift Themes
Traditional Gift: Gold
Modern Gift: Gold
Color: Gold
Metal: Gold
Flower: Yellow Rose and Violet
There's no question about what to get as an anniversary gift for the big five-o. Gold is this milestone's traditional theme, modern material, color and metal. Only something as desirable, classic and luxe as gold can represent such an important milestone (dubbed the golden anniversary). It shows the prosperity, wisdom, strength and significance of a time-honored union. Just in case you're looking for more options, this year is blessed with two different flowers: yellow roses and violets. Bright yellow roses and deep purple violets complement each other beautifully, just like you and your spouse.
55-Year Anniversary Gift Themes
Traditional Gift: Emerald
Modern Gift: Emerald
Color: Emerald Green
Gemstone: Alexandrite
Flower: "Green Goddess" Calla Lily
Emerald is the traditional and modern gift for the 55th year of marriage. It's no surprise why this precious gem is such a popular anniversary theme. It signifies true love as well as devotion and adoration. Surprisingly, the designated gemstone for this milestone isn't emerald, but alexandrite. You might mistake it for an emerald in direct sunlight, but this color-changing stone turns ruby-red under incandescent light. Known for dispelling negative vibes and bringing positive ones in, rare alexandrite brings good fortune and prosperity. When you look at the colors for anniversaries by year, green comes up time and time again. This year's color takes inspiration from the traditional theme: emerald green. Calla lilies, specifically (and unsurprisingly) the "Green Goddess" calla lilies, demonstrate how you've refined your relationship.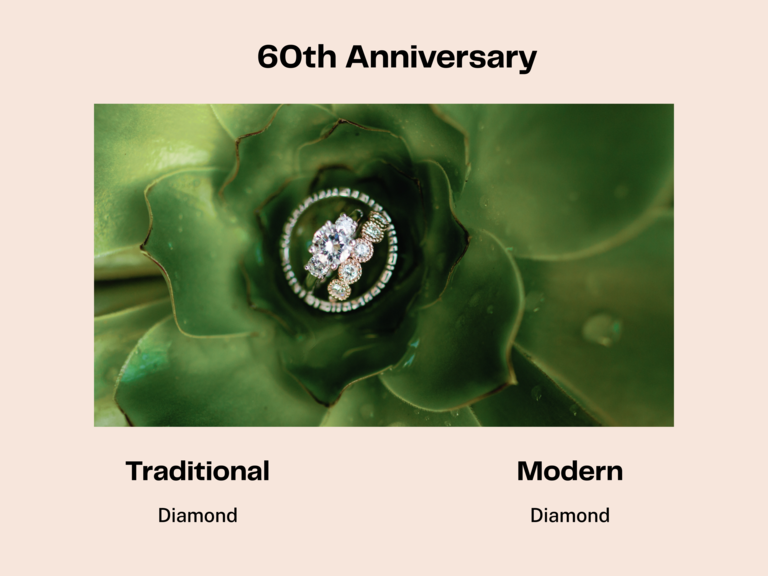 60-Year Anniversary Gift Themes
Traditional Gift: Diamond
Modern Gift: Diamond
Color: Diamond White
Gemstone: Diamond
Flower: Orchid
Last, but certainly not least, on our list of anniversary gifts by year is the diamond anniversary. A whopping 60 years together is celebrated with the toughest gemstone of all. Diamonds score a perfect 10 on the Mohs scale, meaning they're stronger than even rubies and sapphires. Celebrating a special anniversary like this one calls for a stone that represents unconquerable and enduring love. It's no surprise that the color for this incredible milestone is diamond-inspired, too. There's also a flower to take inspiration from. The elegant orchid symbolizes rare beauty—something a 60-year marriage has plenty of.
Looking for more wedding anniversary gift ideas?
Good news, our advice doesn't stop here! If you're looking for more gift ideas for your own, your friends' or your parents' upcoming marriage milestone, check out our guides below. While they stray from traditional gifts for anniversaries, they're still filled with excellent presents.