11 Harry Styles Songs That Need a Spot on Your Wedding Day Playlist
These picks are *golden*, if you ask us.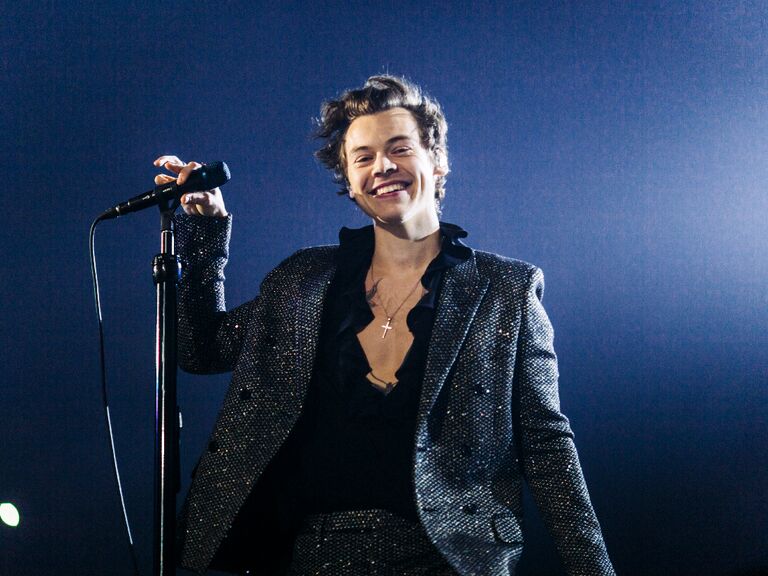 Handout/Helene Marie Pambrun via Getty Images
As you begin crafting your wedding music lineup, know this: There's a Harry Styles song for every moment of your wedding day. Whether you've been a One Direction stan since 2010 or you're simply loving his recent work, we're big believers that no playlist is complete without a few Harry Styles wedding songs, especially if you want guests dancing and singing all night long.
While the British Grammy-award winner is known for emotional breakup ballads and catchy tunes with cheeky innuendos (hi, Watermelon Sugar), quite a few songs on his discography lend themselves to wedding moments, like your walk down the aisle, the first dance, and the after-party. And with his third studio album, Harry's House, dropping on May 20, there's no shortage of Harry Styles wedding songs for your DJ or band to add to the queue.
"Sweet Creature," Harry Styles
Looking for a Harry Styles first dance song? "Sweet Creature" certainly fits the bill. This indie-pop ballad from his eponymous debut album seemingly tells the story of two people willing to put in the work to make their relationship last—a pretty nice message for your first day of marriage, if you ask us. Romantic lyrics like "Just two hearts in one home" and "Wherever I go, you bring me home" will make you swoon on the dance floor.
"Late Night Talking," Harry's House
Styles debuted this funky pop/rock selection from Harry's House during his headlining Coachella sets in April 2022, and it became an instant hit on social media. With catchy lyrics and a dance-worthy beat, this one is simply perfect for your late-night after-party.
"Treat People With Kindness," Fine Line
For an epic *last song of the night* moment, try using "Treat People With Kindness" to close out your nuptials on a positive note. (Seriously, the good energy in this song is contagious.) And if you and your spouse feel so inspired, learn the dance from the music video to surprise and delight your guests one final time.
"Kiwi," Harry Styles
If "Kiwi" isn't on your after-party music request list, it should be. Another pick from his first album, this rock song is simply perfect for couples who want to let loose and get a little wild at the end of the night. Need proof? Watch any of Styles' live tour performances of it, as it's impossible to not bop along with him.
"Adore You," Fine Line
Considering you most definitely adore your spouse, we recommend using this Harry Styles wedding song as your reception entrance tune—there's no better way to get the evening started.
"Golden," Fine Line
Picture this: It's the morning of your wedding, you have a mimosa in hand, and you're surrounded by your besties as you prepare to get ready for the big day. The only way to make the moment even more perfect is to have a great playlist of feel-good tunes blasting in the background. Make sure Fine Line's catchy opener "Golden" is on the list. You can thank us later.
"Sign of the Times," Cover by Steve Horner
In the Bridgerton and Harry Styles crossover of our dreams, an instrumental version of "Sign of the Times" played during Edwina Sharma's walk down the aisle in Season 2 of Netflix's Regency-era drama, and it gave us all the feels. Recreate the romantic moment by using this cover for your own wedding processional—we have a feeling there won't be a dry eye in the house.
"Watermelon Sugar," Fine Line
While Styles himself has said the true meaning of this song is rather saucy, there's no denying that just about all of your guests will know the lyrics. So, if you want loved ones on their feet during the reception, ask your entertainment pros to include this crowd favorite to keep the energy up.
"As It Was," Harry's House
The first single to be released from Harry's House is certainly a good Harry Styles wedding song in our eyes. While the lyrics have more of a serious undertone, the catchy beat is perfect for dancing, making it a great contender for your reception lineup.
"If I Could Fly," Made in the A.M.
Technically from his One Direction days, "If I Could Fly" is a superb option for walking down the aisle. Plenty of TikTok users have shared their affinity for the instrumental version of the song, which is downright angelic. If you want to use something that's a bit out of the ordinary, this Harry Styles wedding song is a perfect choice.
"Sunflower, Vol. 6," Fine Line
Don't underestimate the power of good music during cocktail hour. Most couples use this time to take photos while guests enjoy drinks and hors d'oeuvres in between the ceremony and reception. To keep loved ones from getting antsy, have a good playlist going in the background. This light-hearted pick from Fine Line has a fun, low-key happy vibe that'll keep spirits high.