Here's How To Propose at a Concert in 6 Steps
From Eras to Renaissance, there's no better proposal backdrop than your favorite artist and thousands of screaming fans.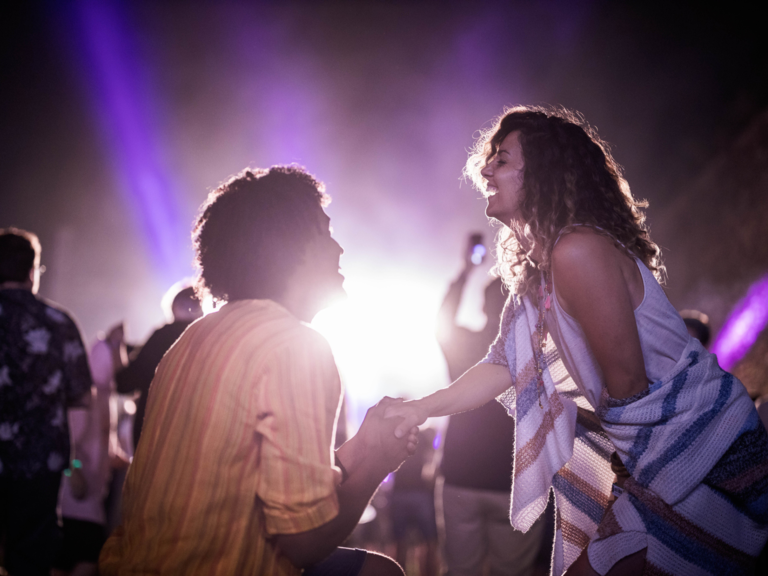 Photo: Skynesher | Getty Images
We doubt you've missed it, but Taylor Swift's Eras Tour has been making one headline after another. Not just for creating an earthquake and stimulating the economy…but for all of the love, too. Many couples are taking the opportunity to celebrate their own 'Love Story' by getting down on one knee and asking the biggest question of all. Though you may not be lucky enough to score tickets to this sold-out stadium experience, you can still make your musical dreams a reality by following our expert-backed advice on how to propose at a concert.
From the logistical details that will ensure the proposal goes off without a hitch to romantic, sweet ideas to really make your partner feel special—here's your step-by-step guide to one of our favorite fun proposal ideas—proposing at a concert.
In this article:
6 Steps To Propose at a Concert
First comes love, then comes marriage—but ahem, first, you have to ask for your partner's lifelong commitment. Proposing at a concert can be incredibly meaningful and even glamorous, but it requires more coordination than proposing at home with takeout. Here, our experts walk you through the proposal planning checklist that's essential for success.
Step One: Buy the tickets.
The first step to proposing at a concert is selecting the right one and buying tickets. And while this may seem obvious, don't let your heart get ahead of you before you have tickets in hand, says Anna Kimbro from the Twickenham House and Hall. As with our Taylor Swift example, many concerts sell out quickly, so you'll need to ensure you're ready to buy when tickets go on sale.
If you do have time to spare before making the mad Ticketmaster dash to score your seats, it's worth looking at the floor plan. As Twickerman says, you'll need to know if it's packed, if there is standing-room only, if reserved seats are available, and so on. Keep your ultimate goal in mind here: you'll need space to bend down and likely want photos, too.
Another option: If you know your partner is attending a concert with friends, you might buy your own separate ticket and make your very presence at the event—and your proposal!—a total surprise. In this case, you'll want to find out where your partner will be seated and book tickets that are not too close, but not too far away so you'll easily be able to get to them when it's time to pop the question.
Step Two: Check the song list.
Once you know you'll have the best seats in the house (or at least, some seats), now it's time to check two important things: the set list and the time of sunset, according to Janice Carnevale, the owner of Bellwether Events. "Maybe you want to propose during a favorite song, or maybe you want to propose during a particularly romantic song," she says.
Why does sunset matter? For the 'gram, of course. As Carnevale says, if having decent photos or videos of the proposal is important to you, you should select a song while the sun is still up.
Step Three: Consider the ring.
If you are offering your partner a ring as part of the proposal, you'll need to bring that with you into the venue. Since most stadiums, halls and arenas have strict security measures, you need to pack the ring in a way that won't get flagged by security, Carnevale says. This might mean taking it out of the ring box and putting it in your pocket, preferably a zipped one for safekeeping.
To be extra prepared, Kimbro says it's worth contacting the venue beforehand to let them know your plans, see if they can make any special accommodations, and ensure they don't have any rules or restrictions that might hinder your plans.
Step Four: Enlist a friend (or stranger).
Did you really get engaged if you don't have a photo to prove it? You will need to find a co-conspirator if you want photos or videos of the proposal. And if you don't have a friend attending the concert with you, you'll have to rely on a stranger. If you're going this route, Carnevale recommends looking around the seats near you and trying to identify someone who looks like they will be handy with a camera phone.
Then, to ensure your partner doesn't catch on to what is about to happen, Carnevale suggests having a pre-written note in your pocket to pass to your target. "Include your cell number in case their friends take additional photos and can later send it to you," she says. "Get a visual confirmation—like a nod—that they are down to help you. Just before the big moment, unlock and open your camera app, ensure the settings are correct, and hand it off."
Step Five: Pop the Question
If your partner is fully engrossed in the music, you might need a minute to get their attention but a quick tap on the shoulder should do the trick—or if you're attending the show with friends, enlist them to help. The music will likely be too loud for you to make a long proposal speech, so keep it short and just focus on getting down on one knee and pulling out the ring—your partner will know what's happening!
Step Six: Share the News!
Once you've popped the question and it has joyfully been answered, it's time to celebrate! Luckily, a concert creates an instant cheer squad as everyone around you realizes what just happened. Try your best to encourage those around you to pass the news forward until, hopefully, the artist realizes what just happened. You shouldn't count on getting a 'congratulations' from the musician, but it's okay to wish for it!
5 Romantic Concert Proposal Ideas
Since this is one of those moments that only happens once in a lifetime, you want it to be incredibly meaningful and memorable. To turn up the romance (and make your partner swoon), these ideas really set the stage. (No pun intended.)
Schedule some pampering.
If you can do this subtly—and if you are proposing to someone who would like these things—Carnevale recommends arranging pre-concert pampering, like a new manicure, fresh haircut or a professional makeup application. You might need to enlist their best friend to book and suggest these services, but they'll thank you for going the extra mile to ensure they felt their best.
Contact the band or venue.
If you can contact the artist's management team, and request that they dedicate the song of your choice to your partner, Kimbro recommends. Ideally, this is a slow song that holds meaning to your relationship. "This will not only be memorable for your future spouse, but it also signals that you put extra thought and care into your proposal to think about what's important to them," she says. "Slow songs are especially important because the crowd will generally be quieter, and it will make it easier for your soon-to-be-fiance to both hear you and focus on the joy of the moment."
Prepare your speech.
Think about what it's like at a concert: a big, loud crowd singing and dancing, flashing or strobing lights, overpowering audio and vocals. It's a sensory overload, and while you might enjoy this experience, it may stress you out when you're under the pressure to propose. That's why Carnevale recommends having a very short speech prepared: "Don't just wing it or let the musical act speak for you. The most romantic words come from the heart with a little forethought," she adds.
Reserve a private room.
Lastly, Kimbro suggests reserving a private room at the venue for use before, after, or during intermission. You can decorate the space—or get friends and family involved to help set up—beforehand with pictures, flowers, champagne, and candles. "This gives you and your loved one privacy for an intimate proposal but doesn't distract from the excitement of celebrating at a concert," she adds.
Bring on a pro photographer for a post-proposal photo shoot.
While having a professional photographer on hand during the concert is a big ask (you'd need to buy them a ticket to get into the venue), you can still get pro proposal pictures, albeit after the fact. Hire a photographer via The Knot Vendor Marketplace and stage a photoshoot outside or around the concert venue after the proposal takes place so you'll still have beautiful images where the big moment took place.