How Weddings Have Transformed in the Last Decade
We have the official data to back it up.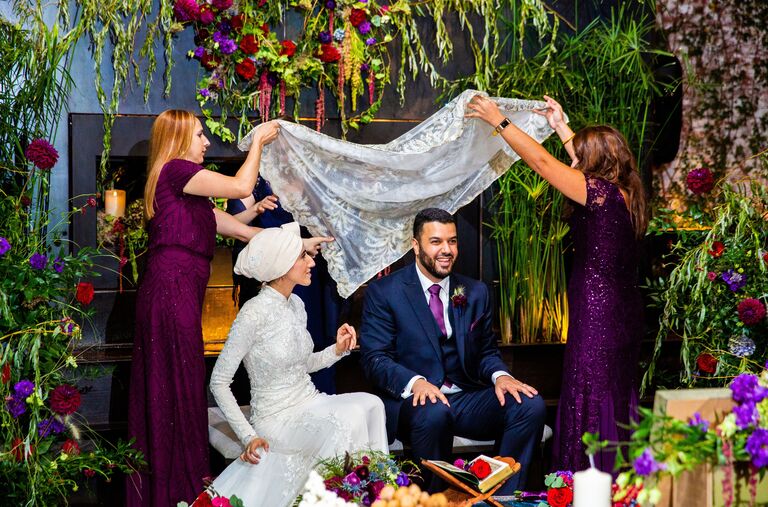 De Nueva Photography
The year 2010 was only the beginning of doughnut walls and signature cocktails at weddings. In the last decade, engaged couples have increasingly sought creative alternatives, replacing traditional decor with champagne flute escort display walls and decadent edible experiences (think: experiential hors d'oeuvres, coffee, margarita and late-night burrito bars), and only one industry report, The Knot Real Weddings Study, has officially captured couples' priorities year after year.
In the last decade, the marrying generation has embraced everything from evolving technology and lifestyles to the amalgamation of cultures and faiths. Overall generational prioritization has shifted, and therefore, weddings have changed significantly. As millennials continue to drive the market for weddings, Gen Z is trickling into the wedding planning fold. Daily social media usage is a reality for both.
"Today, it's about having that 'wow' moment," says event producer and designer Sandra de Ovando. "It's having that one decor element that takes everyone's breath away: the Instagram shot. Couples want to make sure their decor photographs beautifully and it has maximum impact in photos that'll last forever."

Josh Spiegel, President and Creative Director of Birch Event Design, agrees. "With everything posted online, couples face more and more pressure to be unique and creative with their wedding design," he muses. "Additionally, they now have all design information at their disposal and come into meetings with more knowledge than ever before."
The biggest takeaways from The Knot 2019 Real Weddings Study reveal an even greater emphasis on personalization. In part, for the 'gram and overall, for the guests. To-be-weds are reinventing weddings completely to make their own authentic experience. Long gone are the days of weddings for the sake of having a wedding. It's time to bring it back to the people. And, of course, the party.
In this article:
Who's Getting Married?
The Average Marriage Age Has Gone Up
Every year, the average marriage age of couples continues to climb. The last year was no different. According to a total of 27,000 respondents, the average age for females on their wedding day is now 30, up from 28 in 2010. A slightly greater contrast was seen for male respondents, who on average marry at age 34, up from 31 a decade ago.
Which Is Why More Couples Are Paying for the Wedding
Close to half of all couples are contributing to wedding costs today, up from 42 percent in 2010. In 2019, the average cost of a wedding was $33,900, nearly on par with the previous year's average, which of course, varies according to vendor category, regionality and type of wedding (casual vs. black-tie). However, more couples are contributing to the wedding today, and it's seemingly correlated to the average age of marriage.
As millennial couples are slightly more financially independent and savvy about how they choose to allocate their expenses, it comes as no surprise to even top financial advisors like Kathleen Entwistle, Senior Vice President at UBS, whose team has studied millennial planning habits. "When the average age of marriage increases, couples tend to take more ownership in both the details of the wedding, as well as the sharing of the expenses," Entwistle says.
Family members are still very much involved in the wedding budget conversation, but not to the same degree as previous years. About 39 percent of the parents of the bride are contributing to the wedding, down from 45 percent in 2010. In the last decade, not much has changed from the groom's parents financially supporting the wedding with 13 percent falling into this remaining category.
The Guest Experience Has Changed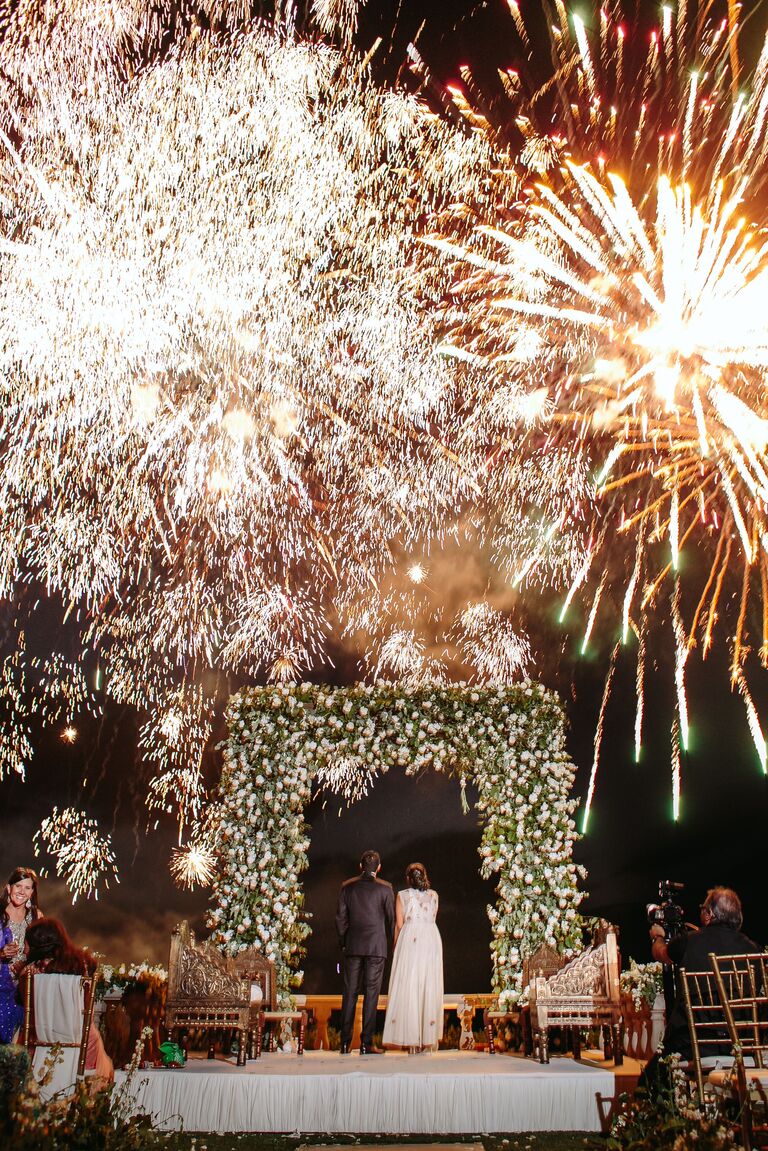 The Average Guest Count Has Gone Down
The average wedding size in 2019 was 131 guests, whereas in 2010, the average guest count was 141. Several theories exist in correlation to the data. Now a decade out from college, couples' close friend networks may diminish over time given proximity, more complex scheduling and conflicting priorities.
Another factor that could potentially impact average wedding size is the rise of more intimate-size weddings, whether that be elopements, microweddings or sequel weddings. To-be-weds today are placing an emphasis on their love story and their loved ones, meaning only those who truly champion them are welcome to attend.
But Couples Are Spending More Per Guest
The average cost of weddings has steadily increased due to numerous factors, ranging from inflation to higher premium vendors. And while the guest count has gone down in the last 10 years, the average spend per guest has gone up significantly.
In 2010, the average spend per guest was about $194, whereas the 2018 Real Weddings Study found the average spend per guest was $258. The number near doubled for couples hosting luxury weddings in the last two years with those to-be-weds spending $576 on average per guest. "It seems more reasonable to have families share in the cost of the wedding because everyone is hosting friends and family, and there's a cost to each guest," says Entwistle. "It's taking ownership in the cost of your guests."
Find your kind of venue
From barns to ballrooms, discover reception venues that feel like you.
Not to mention, weddings have become full weekend experiences for many couples. "They're seeking two to four days of curated, personalized experiences that will truly be memorable, as opposed to just one day for the celebration," says wedding planner and designer Jung Lee of Fête Events.
Because Their Loved Ones Come First
According to data, guests are treated to more experiences now than ever. Couples are being more thoughtful about their guests, including themed welcome parties, splashy swag bags and especially when it comes to catering. "We see more vegetarian and vegan options during cocktail hour, as well as for dinner," says Lee. "And they're super delicious."
In 2019, a whopping 47 percent of couples opted for additional guest entertainment, like hiring a haiku artist, providing hair and makeup touch-ups by the bathroom, or throwing an over-the-top after-party with a live band. For some, themes were included throughout the full wedding weekend. "Even the New York weddings we produce, where the couple may reside in the city, encompass three days of celebration," muses Lee. "Many friends and family members live elsewhere, so a couple's hometown like New York ends up being an amazing destination for their guests."
Entwistle agrees. "Guests are coming in from all parts of the country [regardless of your wedding location]," she says. "A splurge that can make a big impact on the wedding day is creating a weekend of gatherings."
How Has Wedding Style Evolved
One Wedding Dress Code Remains the Most Popular
Semi-formal has long remained the most popular dress code for weddings with about half of all to-be-weds requesting their guests attend in such attire. While the style has evolved in the last decade, think of semi-formal wedding-wear now as cocktail attire—with a glamorous twist.
Thankfully for guests, present-day retail options are endless, especially with the rise of subscription rental services like Rent the Runway and sustainable offshoots of fast fashion brands. Guests can explore their style and color palettes without involving too many monetary risks. "We're seeing more guests in off-the-rack collections," says Lee. "They're really enjoying this because some are able to repeat the outfit and still make it feel fresh."
Mikie Russo of Michael Russo Events says he's seen men add flair to their semi-formal wedding wear especially in the last decade. "A big trend is pairing a beautifully-fitted, tailored suit with a killer pair of tastefully-styled sneakers," says the celebrity event planner. "Many women, meanwhile, are making it all about the accessories. Plus, if you end up feeling overdressed upon arrival, a quick fix is to remove an item or two that can easily be placed in a purse."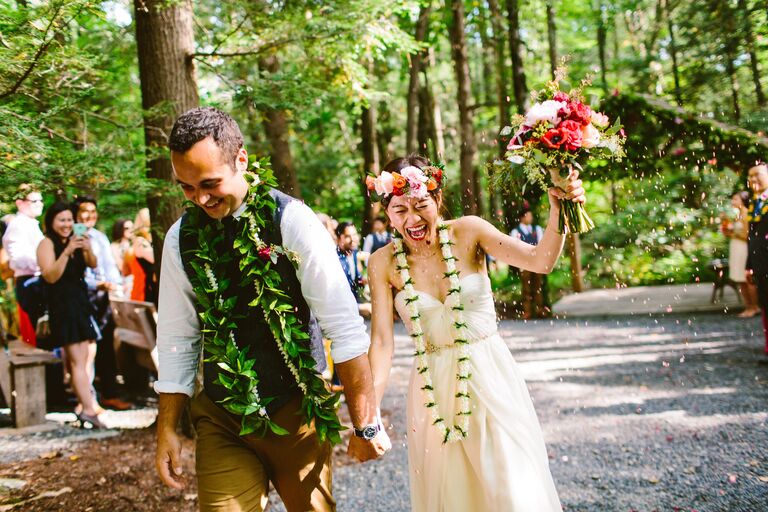 But Casual Weddings Are on the Rise
In 2019, nearly one in five couples (19 percent to be exact) opted for casual weddings, while only 14 percent of couples chose the same wedding style in 2010. With black-tie weddings on the decline (15 percent of all couples opted for this glam option down from 18 percent in 2010), casual weddings are to be taken seriously. Even the pros are keeping a watchful eye on the evolution of casual weddings, as it's taken on a different meaning in the last decade.
"Most of our clients want their wedding to be elegant, and have their guests fully dressed in gowns and formal attire," Lee notes. "However, they want the atmosphere to be super fun and not stuffy. It's okay to be in a tux with sneaks."
Along with dress code, atmosphere also influences whether a wedding is formal or casual. "More couples are asking for casual reception layouts instead of sit-down dinners," says de Ovando.
The Wedding Itself
There Is a New Wedding Season
In 2010, summer was officially dubbed "wedding season" with nearly a third of all weddings held in June and July. Whether it's the rise of the pumpkin spice latte, the internet's obsession with sweater season or overall weather patterns, there is a new predominant wedding season known as fall.
Nearly a third of all weddings are now being hosted between September to November. "Fall is best," says The Weather Channel Meteorologist Kelly Cass. "If you're looking forward to a nice outdoorsy wedding, that is really the [period] to go with."
Ultimately, Cass suggests researching historical temperature data in your local wedding venue area. "Check out the National Weather Service of the town where you're planning on getting married," she notes. "And when it comes to weather, you also have to think about where your honeymoon is going to be."
Event planners speculate proposal season is a big reason why fall weddings now rule. "In New York City, fall months have been coveted for the past decade; more than spring and summer months. Now we've noticed this trend picking up rapidly across the country," says Lee. "Reasons this has become a trend: many couples get engaged between Thanksgiving and New Years. So for many working professional couples, nine to 10 months is the ideal time frame for the planning process. They often do not want to wait more than a year."
This seasonality shift is also impacted due to couples' preference in types of venues. "They're now looking for ways to stand out from the norm, and that applies especially when choosing a venue and wedding season to marry," Spiegel notes.
Ceremony Venues Are Getting a Shake Up
In 2010, the majority of ceremonies or 55 percent of all weddings were held indoors. That's since been turned on its head with the majority of weddings (53 percent) now being held outdoors, according to the 2019 Real Weddings Study. A further breakdown from respondents found that religious spaces remain the most popular venue option for ceremonies, but have seen a significant decrease (down 15 percent!) in the last decade.
"I've noticed many of my clients needing to blend multiple cultures and religious aspects into their wedding ceremonies," says Russo. "So, finding a religious location or venue is a challenge, leaving most couple in search of outdoor locations. In doing such, they can have the ceremony that fits them as a couple without limitations and restrictions."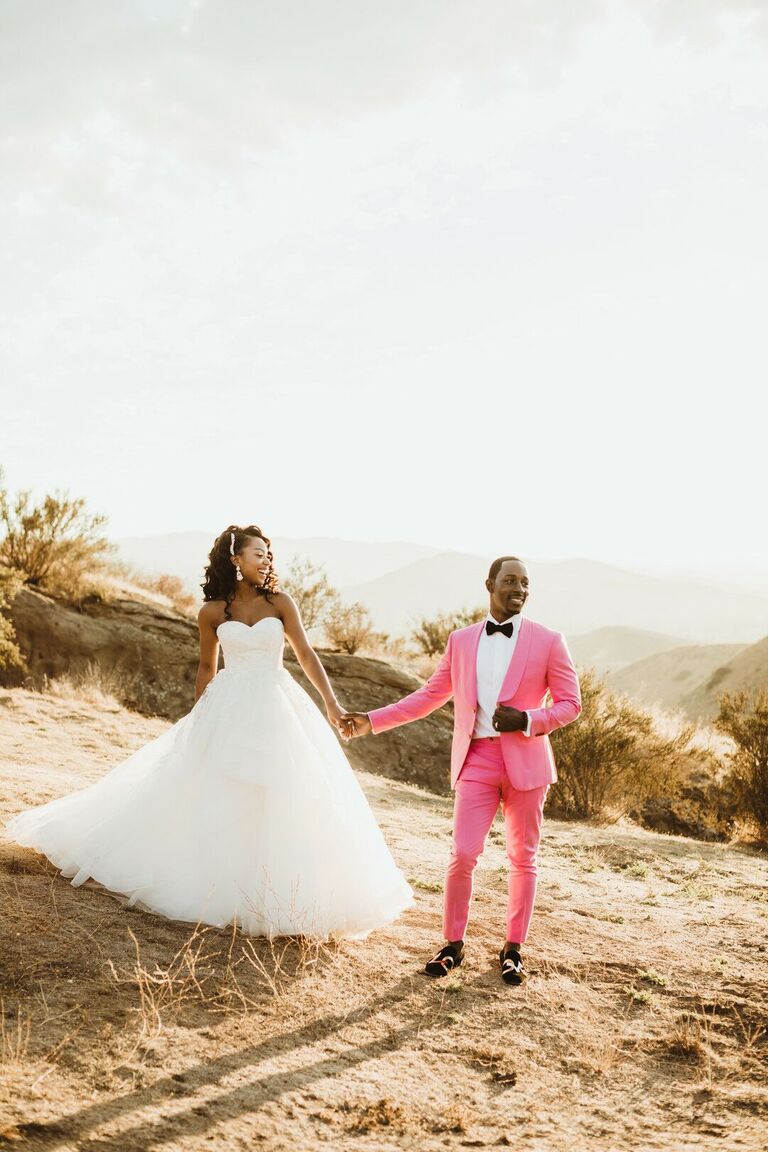 "We believe couples may be less likely to choose a religious venue as there is not as much flexibility to transform the space," says Spiegel. Adds Lee: "We've seen our couples seek unique venues with amazing views, clean spaces with good bones, whether that be modern spaces or classic spaces with great architectural details."
In or Out? How About Reception Venues With Both?
In the last decade, reception venues have also transformed. "Couples are now preferring to host the ceremony, cocktail hour, dinner and dancing all within the same venue," explains Lee. According to 2019 data, nearly a third of all couples hosted their receptions both indoors and outdoors, meaning a venue that offers both is preferred by most to-be-weds.
The reigning reception venue types still continue to be banquet halls (21 percent) and farms or barns (18 percent). The latter venue types especially are conducive to the dual-space concept.
Wedding Color Palettes Are Bold Again
It's like Taylor Swift said: "In screaming color." Wedding planners across the board are seeing a return to bold and bright pops of color at weddings. Whereas neutrals had its moment throughout the decade (dusty rose or millennial pink, serenity blue, dove gray), the most popular color in 2019 weddings was navy.
"In the last decade, generally couples wanted to do safe hues like whites and greens," Lee says. "Whereas this decade, we're seeing more individuality, such as bold colors and patterns."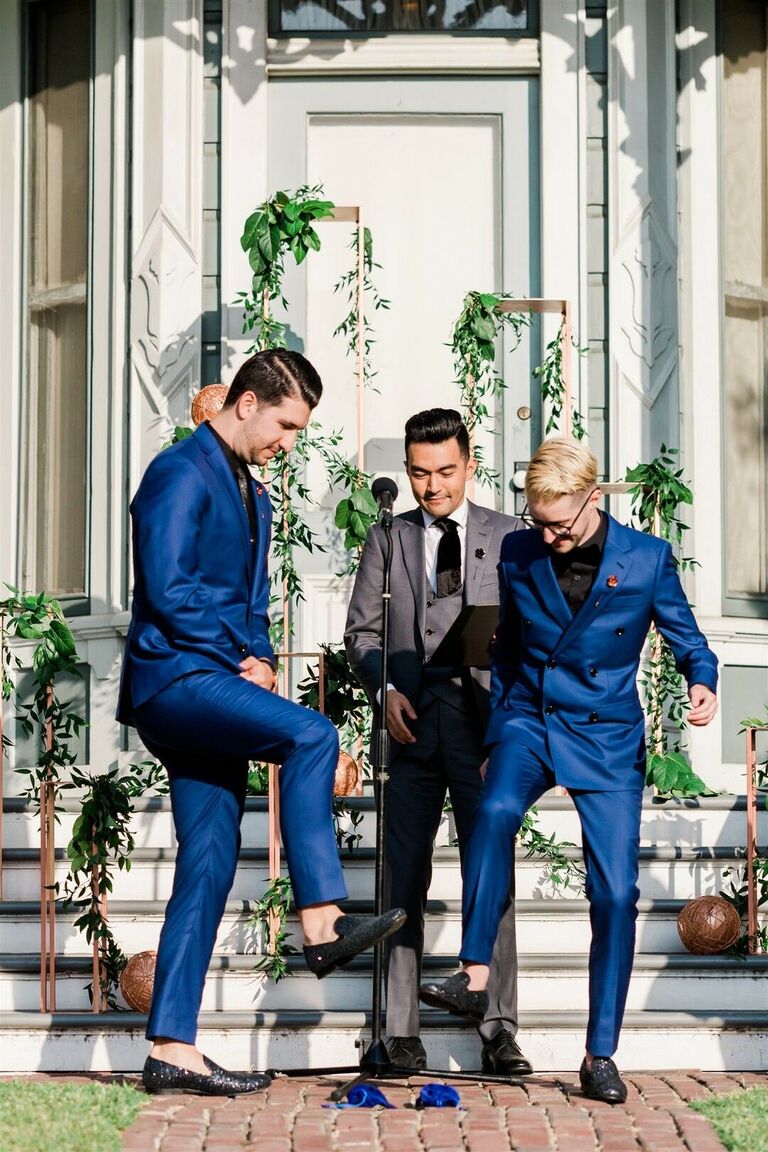 Personalization Is at Its Peak
Signature touches, especially with cocktails and libations, have near doubled in 2019. Beverages continue to be personalized with 30 percent of all couples now offering a signature cocktail, up from 15 percent in 2010.
Top wedding planners expect catering to receive star treatment starting now. "The next big personalization for our couples is food," says Jes Gordon of Jes Gordon Events. "Beverage has been a trend for the past few years, but now couples want to incorporate their favorite foods and restaurants that are meaningful to them. Whether it's their favorite pizza truck at the end of the night or a dessert from their first date."
Two out of every five couples incorporated ethnic, religious or cultural elements into their wedding ceremony. "One of our favorite weddings was where the bride was Indian and the groom Mexican," says de Ovando. "For the Sangeet, our couple wanted to highlight the groom's heritage. We created a taqueria in a Frida Kahlo-inspired blue with seating and signage. Mexican tokens purchased in the markets of Mexico City served as decor and favors. A mariachi band played throughout the evening… For the wedding, we created a mandap carved out of cherry blossoms. All the beautiful Indian customs were honored and woven into the celebration. It was truly wonderful honoring both cultures."
It certainly is a special moment for planners. "We love that couples are personalizing their weddings so that each event feels unique," Gordon says.
Photography Is Shifting
The Kardashians have also made one particular entertainment element hot: "The Mir Mir photo booth is everywhere because it's now made wildly popular by the family," Russo says. Indeed, photo requests are evolving with the rise of technology and celeb influence is everywhere.
About one in five couples (19 percent) requested specialty lighting projections, whether it was on the wedding cake, the dance floor, the walls and more in 2019, and about 13 percent of all couples are now requesting drones to capture wedding footage from above. Talk about a rising wedding trend, quite literally.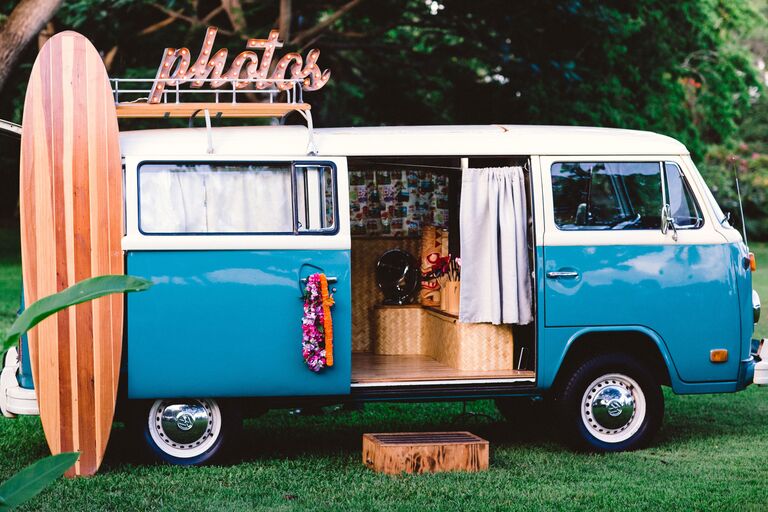 The mentality of preservation of the planet also coincides with a sense of nostalgia. "Couples now want more realistic photos. We see photographers incorporating film, and not just using digital," says Lee.
Hashtag, Social Media Is Everywhere
The last decade in weddings has been disrupted by one particular player: social media. Instagram has ruled the marrying generation, and the frequent use of the app has resulted in changes throughout weddings. Couples are now using Instagram to source vendors, find inspiration and enter meetings armed with information. (Even Meghan Markle sourced her wedding photographer Alexi Lubomirski first on Instagram.)
"We have couples approach us all the time from social media," says Spiegel. "They love how we share our process with our followers and often bring photos of previous events that we've posted."
"I've personally booked many events based on clients reaching out to me on Instagram," reflects Russo. "[For me], Instagram has become 'the new website.'"
While unplugged weddings and the concept of putting phones away for real life moments are encouraged, a wedding is a party. And what's a party without it playing out in real time on social media? About 12 percent of all couples have a custom SnapChat filter, something unheard of in 2010 weddings. The best part about sourcing potential vendors on social media is the ability to further research their professional styles and past services on marketplaces like The Knot. There, couples are able to review past ratings, explore real weddings and conduct inquiries in a timely and efficient manner.
Sustainability Is Here to Stay
As witnessed throughout the last decade, any shifts in wedding planning are oftentimes directly correlated to the state of society. More couples are now throwing eco-conscious, sustainable weddings compared to a decade ago, when the concept of zero-waste weddings had yet to be introduced. "Overall, we're so much more conscious of our earth. Hence, why, couples want to be as green as possible," Lee says of her clients. "Many are now going with electronic save-the-dates and then mailing their invitations."