8 Steps to Crafting Your Wedding Hashtag
Consider yourself officially enrolled in Wedding Hashtags 101.
by The Knot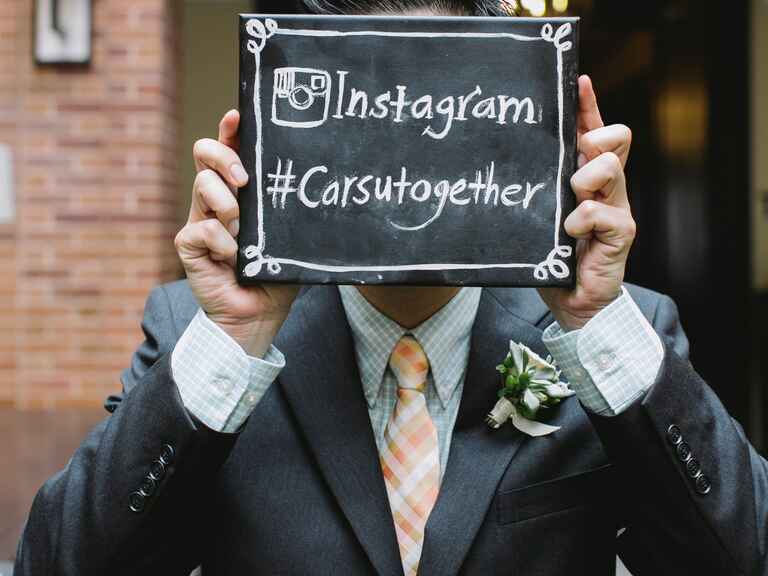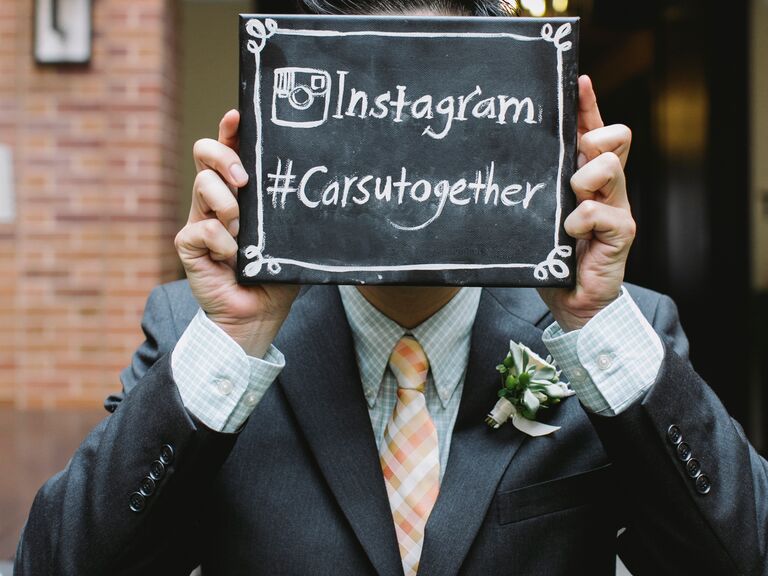 photo by
Love Me Do Photography
Unless you're having an unplugged wedding, we're betting that shortly after getting engaged, you started thinking of the perfect wedding hashtag. We don't blame you—it's one of the first fun things to start planning! Read on for the top tips from wedding planner Jesi Haack and social wedding concierge Sophie Pyle of Tweet the Bride for the scoop on how to create a successful hashtag.
Step 1: Start with your names.
This may be a bit obvious, but let's start with the basics. Use your first, last and nicknames as your starting point. Remember that cutesy mash-up name your friends gave you guys in college that stuck for some reason? Well, this may be the time you actually want to embrace it. "It makes it easier for the guests to remember, which means more people will actually use it," Haack says.
Step 2: Use numbers for a simple way to set your hashtag apart.
If you don't have any standout monikers or can't come up with anything quirky, using the year or date of your wedding is an easy way to make it your own. There might be a lot of #JackandJill in the world, but you'll probably be the only #JackandJill111717.
Step 3: Get punny.
This is one part of your wedding you can really have fun with, especially when it comes to word play. Look for alliterations, rhymes, synonyms and puns for a hashtag that's both clever and memorable.
Step 4: Avoid easy misspellings.
Read over your hashtag for any obvious ways it could be misspelled by your guests (especially when the drinks start flowing). For example, you may want to shorten longer last names or move words around if there are two of the same letters in different words next to each other. It could be as simple as flipping #saraanddave to be #daveandsara.
Step 5: Capitalize the first letter of each word.
Capitalizing the first letter of each word can help with readability if guests can see where each word starts and ends. Doing this will also make it more likely that everyone will get your joke or pun. With or without the capitalization, your hashtag will work the same either way.
Step 6: Check the hashtag.
Before you print those save-the-dates, do a quick check of the hashtag to see if there's already been something tagged to it and, if so, how many photos. If there's only a handful of other photos that don't seem wedding related, go ahead and use it, but if there's an entire other wedding with the same exact hashtag, you may want to switch a letter to a number or pick a different rhyme to avoid getting the photos mixed up. "Hijacking someone else's hashtag is no bueno," Haack says.
Step 7: Spread the word.
After you've decided on a hashtag, it's time to get the word out. Start early by telling your wedding party and putting it on your save-the-date and wedding website. At the wedding, you should also have reminders in case they forget. Pyle suggests using a cute sign that matches your décor. "Putting it on the menu is nice too," she says.
Step 8: Don't overthink it.
Will you remember your wedding hashtag forever? Maybe. Will you love the photos everyone took forever? Definitely. So if it turns out your couple nickname happens to be the word for a delicacy in another language and you start seeing food photos that aren't on your catering menu, just roll with it. "Turn it into a light joke," Pyle says. At the end of the day, it's the photos you'll really care about having, and that everyone had fun with it.
Find your perfect wedding hashtag template here.
Looking for ways to creatively display your wedding hashtag? Right here.