14 of the Most Sought-After Wedding Venues in California to Check Out Now
Planning to tie the knot in California? Consider these dreamy venues for your big day.
Shopping around to find the ultimate California wedding venue? Look no further. In this list, we've rounded up the very best California wedding venues—all of which are absolutely stunning. Whether you're looking for a venue that provides a wine country getaway for your guests, an estate with mountain views, a place to host your dream garden wedding, or a historic event space with iconic city views, you've come to the right place. In this list, we showcase a variety of indoor and outdoor wedding venues—each with something special and unique to share. No matter what you're looking for—whether it be a Northern or Southern California space—we feel confident that you'll find the venue of your dreams in this list of the best wedding venues in California.
Mountain House Estate in Wine Country, California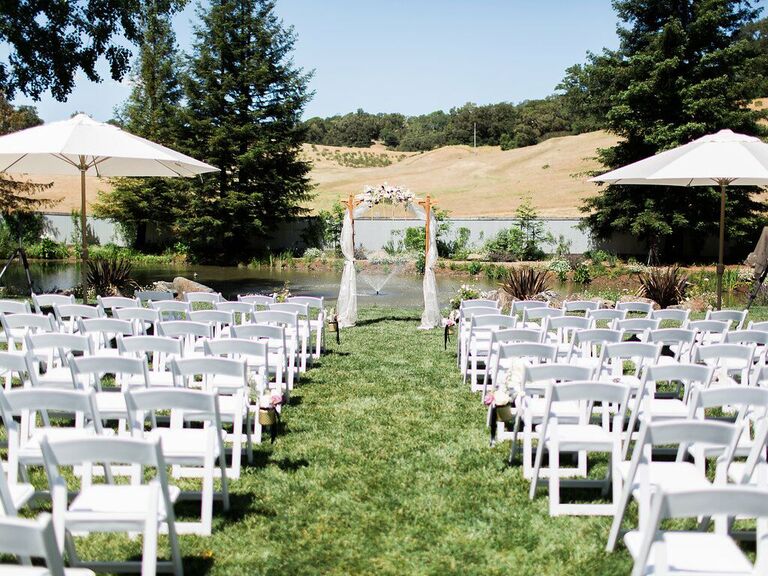 For the ultimate destination wedding, consider the Mountain House Estate. Perfect for small or large weddings, this venue offers multiple indoor and outdoor spaces for hosting your celebration. On this 40-acre private estate, you'll have access to the spacious lawn, which has a pond, redwood trees, and a barn as your backdrop. There's also the popular Oak Tree Terrace, sitting between two ancient Oak trees, which is perfect for an outdoor ceremony. Inside, there are two prep rooms, a fabulous bar made with redwood bar tops, and a ballroom, where you can host a dinner, cocktail hour, or dance floor space. Above all, if you want your wedding photos to be magical, this venue — which can accommodate up to 250 guests — is most certainly a place to consider for your big day.
Trentadue Winery in Geyserville, California
Located in Alexander Valley, Trentadue Winery is a stunning vineyard venue that will serve as a Tuscan-inspired backdrop for your wedding day. This ceremony and reception venue is surrounded by oak tree covered mountains — and it offers a variety of outdoor and indoor spaces. First, there's the Trentadue's Sala De Leon Pavilion indoors, which has French doors and high vaulted ceilings. Then, there's the outdoor spaces, which include the North Lawn and South Lawn. Not sure which space to choose for your special event? The helpful team at Trentadue Winery can help you to decide, depending on the size of your guest list.
Carneros Resort and Spa in Napa, California
Sitting on 28 acres of stunning vineyards, Carneros Resort and Spa is a luxury resort located in the heart of Wine Country. With endless picturesque views of rolling hills, this modern farm-inspired event offers an elegant — yet casual — event space for your big day. With multiple event spaces available — and a helpful staff of wedding coordinators available — you'll be able to plan the wedding day of your dreams. Whether you want to host a traditional indoor wedding or a unique outdoor ceremony, the possibilities are endless at the Carneros Resort and Spa.
Park Winters in Winters, California
Located on several acres of lush farmland, Park Winters is a historic event space in Northern California that overlooks the Blue Ridge Mountain Range. This private estate features picturesque gardens, a Victorian Inn, a sophisticated white barn (plus two rustic barns), and a pool and hot tub area. All of these amenities — plus all of the surrounding nature — make it a luxurious place to host your wedding day. At this event venue, you can choose to host your wedding either indoors or outdoors with over 300 guests in attendance. Additionally, you can host your rehearsal dinner and a farewell brunch onsite.
NOOR in Pasadena, California
If you want to host an upscale wedding that truly feels like an exclusive party, consider NOOR in Pasadena, California. This venue, which offers a collection of glamorous event spaces, is a place to host a lively celebration. Inside, you'll find the Ella Ballroom, which is fitted in Art Deco decor. This space can accommodate up to 140 wedding guests. Then, there's the Sofia Ballroom with antique mirrored pillars and dramatic chandeliers, which can fit up to 350 guests. Finally, there's the outdoor courtyard, NOOR Terrace, which has a stunning fountain and draping curtains to create the dreamiest of atmospheres. Choose NOOR for your wedding ceremony and reception — and you'll surely celebrate in style.
Palos Verdes Golf Club in Palos Verdes Estates, California
Tie the knot at Palos Verdes Golf Club — and you'll get a picturesque golf course wedding venue with everything needed to host a grand affair. At this event space, you can choose whether to have a sunny afternoon celebration or a romantic sunset wedding in the venue's classic Wedding Garden. There, you'll get to say your vows in front of a beautiful dark wood pergola with views of the Pacific Ocean in the background. For your reception, you'll have access to the dining room, which has floor-to-ceiling windows, exposed ceiling beams, and elegant chandelier light fixtures. As an added plus, you'll get to work with the talented catering team that can provide you with a wedding menu to suit your budget and preferences.
Malibu Solstice Vineyards in Malibu, California
For a scenic wedding, located on a stretch of pristine coastline, consider hosting your big day at the Malibu Solstice Vineyards. Surrounded by a breathtaking mountainous landscape, this is the idyllic location for couples to tie the knot. For your ceremony, you can exchange vows on a clifftop with picturesque views. As for your guest list, this venue can accommodate large celebrations of up to 200 guests. An added plus? If you and most of your guests are Los Angeles natives, they can easily get to this location via a short drive.
The Alexandria Ballrooms in Los Angeles, California
Since 1906, the Alexandria Ballrooms have been a Downtown Los Angeles staple. In this well-known historic building, presidents, celebrities, and other notable public figures have hosted luxury events — and so can you on your wedding day. This venue offers a variety of wedding packages and a coordinator will be onsite to help run your special event from start to finish. You'll have access to the available indoor spaces for the ceremony and reception, and if you want to host a larger wedding, this space can accommodate 300+ guests. Say "I do" at the Alexandria Ballrooms and you'll get to have the sophisticated, upscale wedding of your dreams.
Carondelet House in Los Angeles, California
For an Italian villa-inspired wedding, consider the Carondelet House, located just one mile from Downtown Los Angeles. Originally built in 1928, this romantic, rustic venue has expansive rooms, high ceilings, and exposed brick walls. Onsite, you'll get to enjoy fancy lounging vignettes, a stunning fireplace, two outdoor courtyards, and a beautiful bridal suite. To lighten your list of wedding to-dos, this event space comes fully furnished and has an in-house caterer and event coordinators available. If you want to host a dreamy, fairytale wedding in the heart of Los Angeles, the Carondelet House may just be the venue for you.
The Gardens at Los Robles Greens in Thousand Oaks, California
For a beautiful wedding that will provide lifelong memories, add The Gardens at Los Robles to your list of must-see venues. Located just 39 miles outside of Los Angeles in Thousand Oaks, this event space sits on a golf course with mountain views and small-town charm. At this event center, there's outdoor and indoor space available for both your ceremony and reception, including the Sunset Ballroom and The Gardens. Additionally, if you are trying to stick to a budget for your big day, this venue offers attractively priced wedding packages and referrals for preferred pricing on florals, decor, photography, and entertainment.
Golden Gate Club in San Francisco, California
If you want a wedding venue with iconic city views, look no further. The Golden Gate Club has floor-to-ceiling windows that look out onto the Golden Gate Bridge, San Francisco Bay, and Alcatraz. Originally built in 1949, this historic event space has seven indoor event spaces — plus an outdoor balcony and courtyard. To name just a few, the Presidio Chapel is the perfect site for your ceremony. And the Cypress and Hawthorn ballrooms open to the courtyard while the elegant smaller rooms serve as break-out spaces. As for your guest list, this event space can accommodate up to 300 guests — and the events team will make sure every single person in attendance has an unforgettable experience.
Fresno Fields by Wedgewood Weddings in Fresno, California
Located in Fresno, California, Fresno Fields by Wedgewood Weddings is an idyllic venue with classic interiors and beautiful scenic outdoor areas. Inside, you'll find multiple banquet halls, which provide enough space to accommodate up to 400 guests. There's also a well-kept garden ceremony site, an elegant ballroom, and a shaded outdoor terrace so that you can break up the day and host different parts of your party in different places. Additionally, Fresno Fields offers plenty of serene spaces to capture magical wedding photos, including lush gardens and an expansive field. To help you plan your day, the venue's events team will work with you every step of the way — and they offer customizable wedding packages, so that you'll get everything you imagined.
The Hollins House in Santa Cruz, California
If you've been looking for a venue in Santa Cruz, we found you a stellar option. The Hollins House is a historic event space with sweeping views of Monterey Bay and the Pasatiempo Golf Course. Originally built in 1931, this classic Golden Era home comes equipped with everything you need to celebrate in a big way. You'll get to work with an onsite wedding planner to coordinate every detail of the day, and you'll also get to choose from a variety of highly curated gourmet food menus — plus local and international wines — for your reception. For your rehearsal dinner, this venue waives the site fee, which means you can put that money back into making the big day that much more special.
Depot Hotel Restaurant and Garden in Sonoma, California
Depot Hotel Restaurant and Garden is located right in the heart of California's wine country. This historic stone building functions as a "country inn," which as you can imagine, means this space has a romantic and charming vibe. The glass-walled dining rooms are decorated with antique Italian china and tapestries — and there's also an Italian garden with a pergola, an outdoor fireplace, and reflection pool. This venue offers all-inclusive wedding packages and the catering team will help you to create a menu from their award-winning Italian, French, and Wine Country cuisine.