The Top Honeymoon Trends and Destinations for 2022
From boast-worthy excursions to wellness-focused getaways, newlyweds are making up for lost time.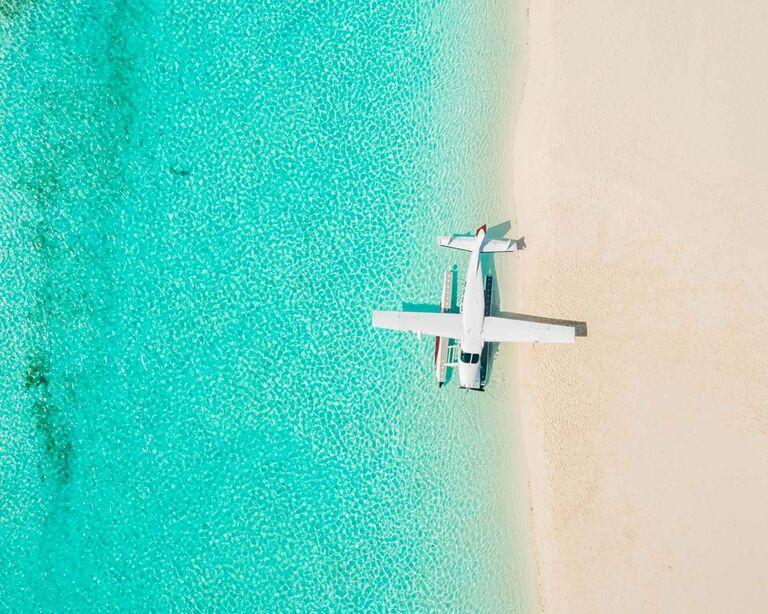 We have included third party products to help you navigate and enjoy life's biggest moments. Purchases made through links on this page may earn us a commission.
With the furious return of travel, the best honeymoon destinations of 2022 are ones that cater to bucket lists. Unlike previous years, an influx of bookings across the travel and hospitality industries signal most couples will enjoy their honeymoons in 2022. Getaway requests in the coming year involve a revitalized focus on cultural experiences, rooms with unparalleled views and enviable experiences. With that, the length of honeymoons is even longer to pre-pandemic days, especially after prolonged travel delays.
"After putting celebrations on hold for the past 18 months, honeymoons are now accounting for 37% of the celebration travel Virtuoso advisors are booking," says the luxury travel agency's Vice President of Global Publicity Misty Belles. "With couples clearly making up for lost time, 95% of Virtuoso advisors polled said they expect to see this trend continue in 2022."
Explore the best honeymoon destinations to consider as you embark on honeymoon planning with your S.O. for 2022. After all—the busiest year in weddings (ever) certainly coincides with the busiest year in honeymoons.
In This Article:
The Top Honeymoon Trends for 2022
There are travel trends and there are honeymoon trends. Like most wedding planning experiences, the stakes are often higher with the honeymoon because it's a sole experience of a lifetime. In 2021, couples turned to nearby pockets of paradise that were naturally socially distanced. Some of those trends have broadened in 2022, though couples are diving even deeper into details for their romantic getaway.
Wellness-Focused Getaways
Imagine fresh juices, a lush natural atmosphere and farm-to-table fare with naturally-sourced ingredients catered to your taste. Wellness-focused trips are only rising in demand, making it one of the top and enduring honeymoon trends of 2022. Some couples even choose to reset after the wedding, opting to abstain from alcohol and rejuvenating their bodies with spa treatments, vitamin drips and more. With gastronomic experiences, couples are seeking out chefs at properties who specialize in fresh, naturally-sourced fare.
Another noteworthy honeymoon trend is a renewed focus on wellness programming. Couples are seeking out resorts that offer health sessions, such as sunrise yoga on the beach, a nature walk, a seaside running club, or an outdoor spin class. Newlyweds are also turning to destinations that encourage active lifestyles through activities like snorkeling, kayaking, biking, and beyond.
The 'We Can't Recommend This Enough' Experience
If not your honeymoon, when would be most appropriate to attempt an unforgettable experience? Luxury travelers have long sought excursions to boast about upon the return home, but these rare opportunities are no longer limited to an elite crop of vacationers. Now, couples are raising stakes on various bookings during the honeymoon, like swimming through a bioluminescent cove, enjoying a custom truffle dinner, seeing active volcanoes via helicopter, and waking up in a glass hut to the rhythmic dances of the Northern Lights.
"The attention to detail and special touches are what really make a world of difference in a honeymoon," says luxury travel consultant Tracy Effron of An Avenue Apart. "This could include private romantic meals in a unique setting, featuring special touches incorporated in from their wedding… to helicopter tours over active volcanos in Kona or a special spa experience with sweet touches such as monogrammed robes and pillowcases. I often work with the honeymooner's wedding planner to get clued-in on details like their wedding cake, the wine that they served at their wedding, and the florals to see how we can tie that in throughout the trip."
The Elongated Honeymoon
After 18 months of rescheduling, pivoting and postponing vacations, most couples (if not general travelers) are enjoying extended getaways. "Most honeymooners still prefer resorts (72%)," notes Belles. "But they're opting to stay longer with more than 20% staying 10 to 20 days per trip."
Reasons for this involve demand and budget, or "longer savings windows," according to Belles. "Travel, including honeymoons, is something we all took for granted; it's always been available to anyone who wanted to go so long as they had the means," she notes. "The pandemic took away that opportunity and put so many celebratory aspects of life on hold. This is causing couples to rethink their honeymoon plans and instead of it serving as a much-needed respite after the wedding excitement, honeymoons are now resembling 'trips of a lifetime' and they're bigger, grander, longer, and more active."
Couples, however, should still book their extended honeymoons accordingly. "While the rest of travel seems to be booked very close to the time of departure, 45% of honeymooners are back to booking more conventionally at six to 12 months out," notes Belles.
Traveling Responsibly
Never before has our environmental footprint mattered more. Travelers have increasingly become conscious about their impact with the rising discourse around climate change and protecting wildlife. "Some of the trends with honeymoons and other celebration travel follow the overall pattern we're seeing as travel returns: a subtle migration from domestic back to international destinations, longer stays, single country visits, and a commitment to traveling more responsibly," affirms Belles. "Wellness and adventure are among the most popular travel motivations."
Traveling responsibly is different to each couple, but for most, this notion involves seeking out properties that reduce waste. A rising crop of newlyweds are also seeking education or volunteerism during their trip, turning to well-versed guides to shed insight about the land, resources, local artisans and the history behind a location. Many top luxury hotels are now incentivizing couples to volunteer, even, luring them with free-night stays.
Rooms With a View and Proximity
Most honeymooners have veered away from even considering the traditional garden view option when traveling. Instead, they'll splurge for their once-in-a-lifetime trip, opting for sultry, open-air suites against the sweeping Pitons in Saint Lucia. Well-versed travelers desiring only the best of accommodations will practically hear the Sound of Music soundtrack when they blink their eyes open in a suite elevated above Swiss rolling hills and Lake Lucerne.
Couples also want the advantage of simple convenience, whether it's waking up and walking directly into the Blue Lagoon, having transportation options all set with connecting travel, or having 24-7 concierge service to accommodate all needs. Convenience and splendor combined are desirable travel options for 2022 couples.
Splurging With a Purpose
Curiosity continues to drive the discourse among 2022 honeymoon trends. A nature-led hike, wonder-inducing swim with spinner dolphins, an 11-course, private, chef-led dinner, and luxury pool day inside a designer cabana have all been requested by honeymooners to agents—at the very last minute. "After everyone was cooped up, now more than ever, travelers want to make up for lost time and submerge themselves in different scenery," says Effron. "With hotels and resorts upping their creativity, it is driving curiosity among couples… Travelers are splurging with a purpose, but keeping an eye on cancellation policies, flexibility and COVID protocols to ensure that their safety is looked after."
If your splurge involves adventure or professional guidance, look to properties and resorts that have a devoted experiences team that can coordinate outings for you.
Registering for Romance
According to The Knot 2021 survey, the cost of a honeymoon was of utmost importance when determining a destination. About 60% of couples ended up paying for the honeymoon via personal savings, while another 55 percent of couples either used money gifted from their wedding or from their honeymoon registry funds to pay for their getaways.
'Off the Grid 'Til We're Home' Honeymoons
Social media certainly has its strengths, but the age of connectivity is being met with some fatigue by an emerging crop of honeymooners. "The most important part to remember for couples is it's their special time," explains Effron. "When the couple has open communication and is on-board together, then it's a recipe for success. I also highly encourage honeymooners to put their phones away. Save posting on social media until either the end of each day or after the trip. This keeps them attentive to one another and the trip without keeping their heads in their devices and allows them to truly unplug."
The Best Honeymoon Destinations of 2022
"The classic destinations of The Maldives and Tahiti, plus Bora Bora are still standing strong with restrictions easing and vaccination rates rising," notes Effron. "I think there will always be a strong demand for white sand and swaying palm trees while enjoying newlywed bliss in an overwater villa with a jewel box of tranquility around them."
Couples are, however, are still opting for domestic trips and minimoons closer to home. "They're staying at ultra high-end resorts and waiting to take their big trips until the timing is right," she adds. "Whether it is a few nights at the One & Only Mandarina in Nayarit, the Four Seasons Ocean Club in Nassau or the Rosewood Miramar Beach in Santa Barbara, couples still feel totally transported in the lap of luxury while remaining [relatively close to] their own backyards."
Hawaii has consistently secured its place among the best honeymoon destinations for couples. Despite easing restrictions, the six islands of Hawaii (Kauai, Oahu, Molokai, Lanai, Maui and Hawai'i) still land at the top of the list for honeymoons. Hawaii particularly speaks to couples seeking luxurious, off-the-beaten-path and tropical destinations (think: Bora Bora or the Maldives). The islands offer a cultural and sensory experience unlike anything else in the US with rugged volcanic terrain, rewarding hikes, culinary tastings and splendid opportunities for romance. For the purposes of honeymoons in 2022, set your sights on luxurious Maui and the lapping waves of both Ka'anapali and Wailea Beach. Just don't forget the pua (flower) on your left ear—since it signifies you're taken.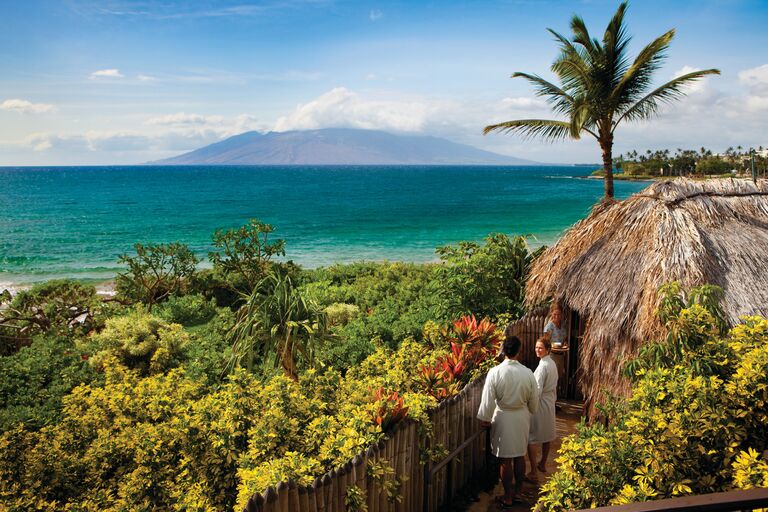 What to Do: Enjoy a sunset sail or a romantic helicopter tour; Visit the Seven Sacred Pools and the Road to Hana at Haleakala National Park; Walk the Wailea Beach and Kapalua Coastal Paths; Enjoy a day excursion to upcountry for Maui Wine or a self-guided tour of craft brewery Maui Brewing Company; Go shopping in Ka'anapali; Nab reservations for a romantic dinner at the famed Mama's Fish House in Maui.
Requirements: View updated requirements here.
Where to stay: The Westin Maui Resort & Spa (Maui); Four Seasons Resort at Wailea (Maui); Mauna Lani Auberge (Hawaii); Grand Hyatt Kauai Resort and Spa (Kauai); The Ritz-Carlton Maui Kapalua (Maui)
A morning drive in Big Sur along Highway 1 offers unparalleled views of the rugged California coast with looming Redwoods framed against the roaring Pacific. It's a peace seeker's paradise and the nature-loving couple will revel in all that the region has to offer. Drive a few hours north and you'll come across 17 Mile Drive, home to one of the world's most acclaimed golf destinations, Pebble Beach, and the charming cottages of nearby Carmel-by-the-Sea. After a few days of sightseeing, venture inland to Sonoma and further north to Napa Valley for fine dining and wine-tasting experiences to round out your honeymoon.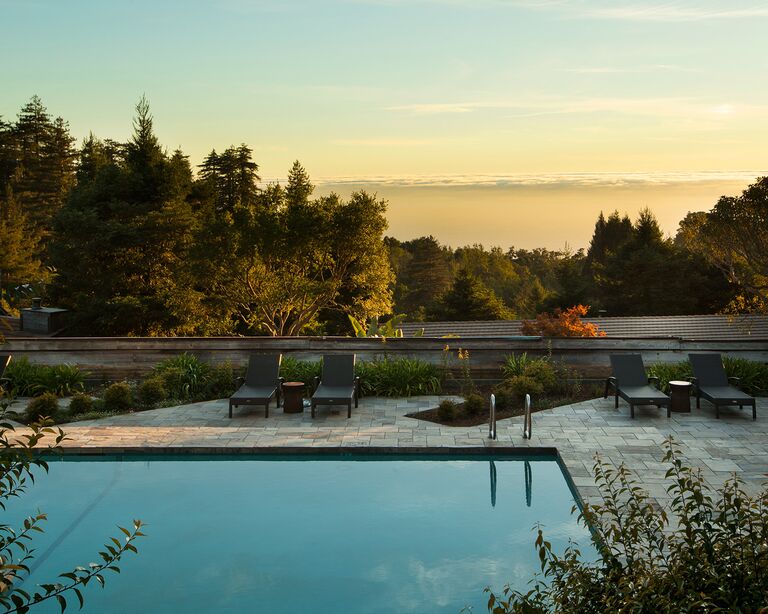 What to Do: Drive along the Pacific Coast Highway; Run along the bluffs of Pfeiffer Beach for a Big Little Lies experience; Tour renowned Napa Valley wineries like Domaine Chandon, Domaine Carneros, Pine Ridge Vineyards; Make reservations for world-class fine dining experiences.
Requirements: View updated requirements here.
Where to Stay: Andaz Napa; Ventana Big Sur; Carmel Valley Ranch; Ritz-Carlton, Half Moon Bay; Carneros Resort and Spa
A haven for luxury eco-tourism, the lush Central American country of Costa Rica is known for embracing "La Pura Vida" (the pure life). Featuring stunning beaches along both the Atlantic and Pacific, Costa Rica is also home to multiple active volcanoes, including Arenal, Poas and Tenorio. The land has diverse vegetation, steep changes in climates and landscapes, including cloud forests awaiting exploration. Romantic activities abound for to-be-weds, such as mineral volcanic massages, waterfall swims, surfing classes and swimming with dolphins. Luxurious tented experiences to five-star resorts offer a range of accommodations for all types of couples. Wildlife adorers will also be delighted by the range of flora and fauna with the country's abundance of hummingbirds, colorful macaws and over 15 types of sloths. For a full Pura Vida experience, book a property known for open-air suites facing the rainforest, indulge in the inland way of activity, then head to either coast to unwind. The country is also known for its top culinary offerings with organic, coursed meals offered at top resorts.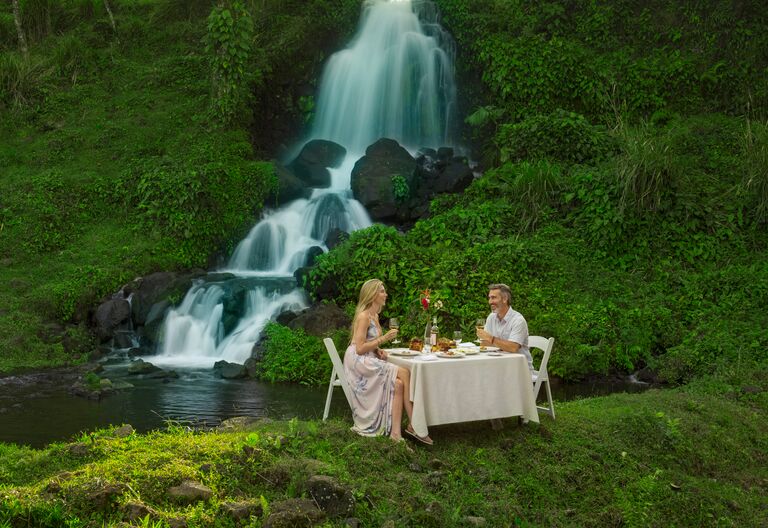 What to Do: Enjoy a day trip to Monteverde; Go horseback riding in the cloud forest and along the coast; See nesting turtles in Tortuguero National Park; Zipline above the Arenal or Tenorio Parks; Hike through the jungle to reach paradise at Manuel Antonio National Park; Swim at the base of the Rio Celeste waterfall; Visit the jade and gold museums in San Jose.
Requirements: View updated requirements here.
Where to Stay: ORIGINS Luxury Lodge by Mantis (Tenorio Volcano Park); Costa Rica by Four Seasons (Papagayo); El Silencio Lodge & Spa (Poas Volcano National Park); InterContinental Costa Rica (San Jose)
The Bahamas has a bit of everything for every kind of couple. Those seeking an all-inclusive, mega-resort experience will turn to the convenience and fun of Atlantis or Baha Mar (a massive development of three properties). Atlantis even offers its own honeymoon experiences at a fixed cost depending on the length of stay.
The more discreet couples will consider the more off-the-beaten-path "Out Islands" for a truly private and secluded getaway. "Eleuthera and Harbour Island boasts pink sand beaches," explains Freda Malcolm, Director of Weddings and Honeymoons for the Bahamas Ministry of Tourism. "Exuma is the perfect mix of adventure and relaxation, with some of the most beautiful waters in the world and Andros is the ideal quiet escape." The couples who want an even more exclusive honeymoon experience should head to the Southern islands including Cat Island, Mayaguana, as well as Long Island.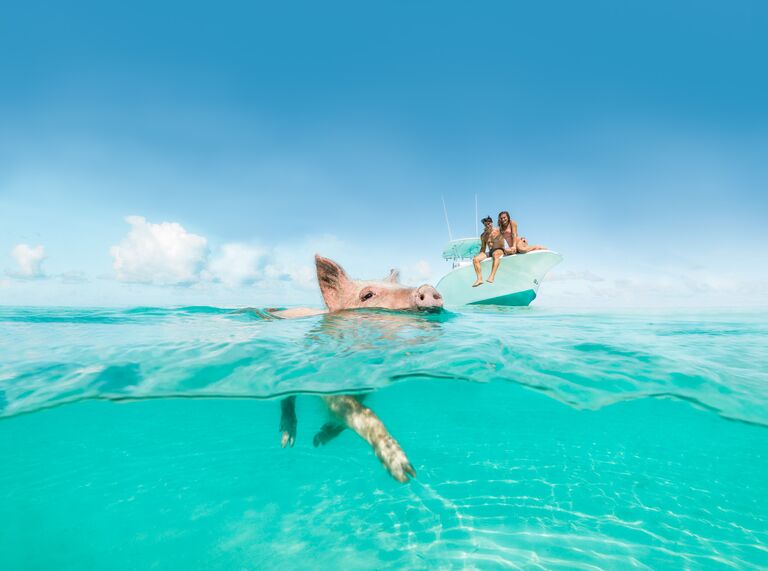 What to Do: Snorkel or dive through the Andros Barrier Reef; Get beachside massages in Eleuthera or Harbour Island; Relax on Cable Beach; Golf at the Jack Nicklaus Signature Golf Course in Baha Mar; Go biking on Harbour Island; Island hop by chartering boats for the day; "Flamingle" with flamingos at Flamingo Cay; Swim with pigs in Exuma.
Requirements: View updated requirements here.
Where to Stay: Caerula Mar (South Andros); The Dunmore Hotel (Harbour Island); Pink Sands Resort (Harbour Island); Rosewood Baha Mar (Nassau); The Cove at Atlantis; Grand Isle Resort (Exuma); French Leave Resort (Eleuthera)
Though seemingly far-flung from the states, Dubai is only a 12-hour direct flight from the East Coast. (Even better when booking seats on the acclaimed Emirates Business Class.) Already a layover city for the majority of couples en route to the Maldives or the Seychelles, Dubai has emerged as its own standalone destination for honeymoons in 2022. In fact, the Emirate is a romantic option for couples interested in exploring the Persian Gulf, the surrounding desert and more, especially during an elongated honeymoon. "A great honeymoon I've got clients out on right now began with a few nights at the Park Hyatt Dubai to include a sunset camel ride and desert dinner experience at Sonara Camp," says Effron. "Plus, sunset drinks at Sky View Bar at the Burj Al Arab and dinner at Atmosphere at the Armani Hotel located inside the Burj Khalifa, which is then followed by a week of pure bliss in an overwater villa at Gili Lankanfushi in the Maldives with copious spa days on deck."
Requirements: View updated requirements here.
Where to Stay: Al Maha Desert Resort & Spa; Atlantis, The Palm; Bab Al Shams Desert Resort; Burj Al Arab; Jumeirah Beach Hotel; The Ritz-Carlton Dubai
A haven for adventurous couples seeking a top-notch, all-inclusive resort, Jamaica is home to a diverse range of terrain. From mountainous and hilly regions to pristine sandy beaches along its southern coast, the country is also world-renowned for producing the likes of Bob Marley, Blue Mountain Coffee and Ian Fleming's 14 James Bond novels. Couples can enjoy everything from waterfall hikes to bamboo rafting and ocean water sports. Plus, it helps that multiple all-inclusive resorts, catering specifically to honeymooners, have prime, oceanfront real estate all around the country.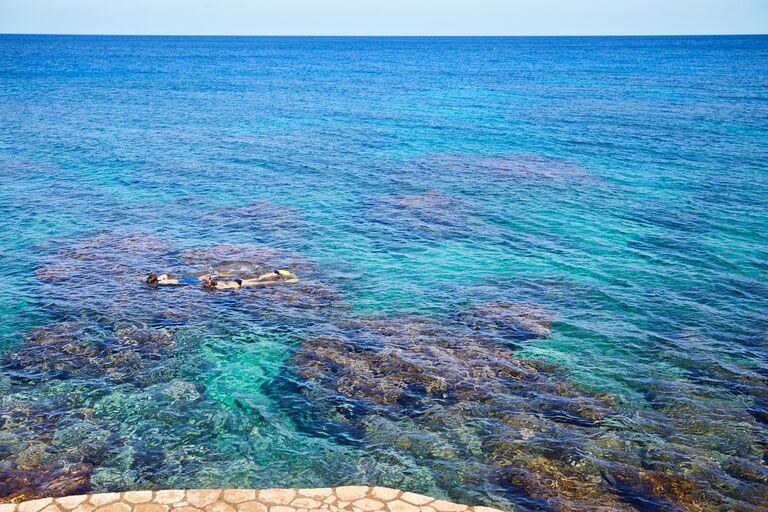 What to Do: Explore the Bob Marley Museum; Swim and hike Dunn's River Falls; Take in Seven Mile Beach; Explore a haunted house at Rose Hall Great Hall; Enjoy sunrise at Blue Mountain Peak.
Requirements: View updated requirements here.
Where to Stay: GoldenEye; Sandals Royal Caribbean, Hyatt Zilara Rose Hall, Half Moon
Welcome to "America's Paradise." A short boat ride or seaplane combination away, the US Virgin Islands remain a sought-after honeymoon destination. After back-to-back hurricanes slammed the region in 2017, islanders and local resorts quickly regrouped to bring the destination to its full splendor. Numerous resorts across the main islands (St. Thomas, St. John and St. Croix) have reopened and the water and wildlife sightseeing is still among the most pristine in the Caribbean.
What to Do: Lounge and relax at Trunk Bay, Davis Bay Beach and Buck Island; Hike along the many trails in Virgin Islands National Park; Snorkel with turtles and other wildlife; Reserve a sunset boat tour.
Requirements: View updated requirements here.

Where to Stay: The Ritz Carlton (St. Thomas); The Buccaneer (St. Croix); Marriott's Frenchman's Cove (St. Thomas), Gallows Point Resort (St. John)
Couples are reminded of Tahiti or another exotic, far-flung destination when they arrive in Saint Lucia, an eastern Caribbean destination that's secluded with just about the perfect number of upscale properties and adventurous activities. Its hulking volcanic Pitons provide a picturesque escape, while local luxury properties (think: open-air, three-walled layouts facing the Caribbean) make Saint Lucia one of the steamiest honeymoon destinations in the region. The island features everything from rainforests to pristine beaches to meet the activity needs of every type of couple.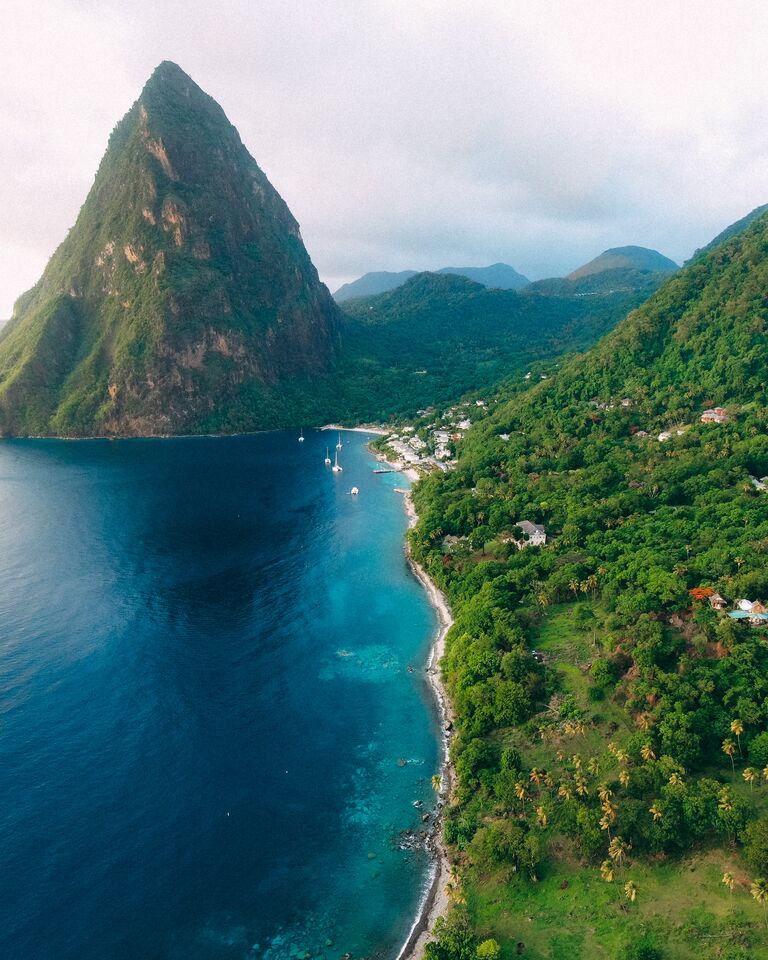 What to Do: Hike up Gros Piton Mountain and Petit Piton; Bike through the jungle; Unwind along Seven Mile Beach or Marigot Bay; Swim at the base of a rainforest waterfall; Bathe in the Sulphur Springs in Soufrière, the world's only drive-in volcano; Go rum tasting.
Requirements: View updated requirements here.
Where to Stay: Jade Mountain; Sandals Grande St. Lucian; Sugar Beach Viceroy Resorts; Windjammer Landing Villas
A slice of heaven in the Caribbean, Antigua is a reef island that has some of the most prized beaches in the world (imagine soft white sand, gentle breezes and crystal clear water). It's no wonder top luxury properties have set up shop on the island while artfully creating a relaxed atmosphere that any couple would appreciate after wedding planning.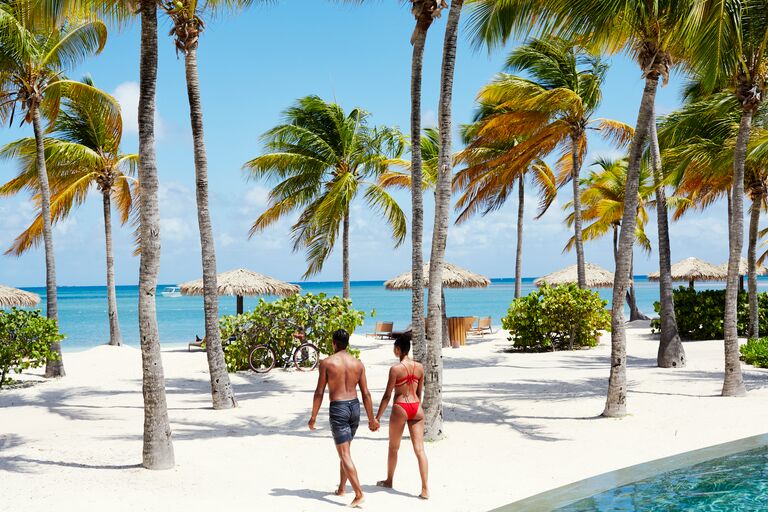 What to Do: Explore Fryes Beach, Darkwood Beach and Galley Bay Beach; Hole up at Dickenson Bay; Venture to Prickly Pear Island for an excursion day
Requirements: View updated requirements here.
Where to Stay: Jumby Bay Island; Sandals Grande Antigua; Hermitage Bay
Considered the most popular destination for honeymooning couples, Aruba is a Dutch island nation that's located directly off the coast of Venezuela. It's outside of the path of hurricane alley, making the odds of inclement weather a bit lower at this tropical haven. It also offers the most incentives to newlyweds through its honeymoon program.
What to Do: Swim in the Arikok National Park Natural Pool; Relax at the pristine Eagle Beach; Explore the desert by ATV
Requirements: View updated requirements here.
Where to Stay: Aruba Ocean Villas; Bucati & Tara Beach Resort; Hyatt Regency Aruba Resort & Spa; Ritz-Carlton Aruba; Aruba Marriott Resort
If you're looking for a slice of heaven within the Continental US, look no further than South Florida. The Florida Keys, a coral cay archipelago off the peninsula of the state, is a destination that offers adventure and beauty. Meanwhile, nearby Miami remains a vibrant destination for culture, shopping, art and luxury. Couples are invited to lounge poolside at their trendy boutique hotels or to partake in activities like swimming, snorkeling, scuba diving and boating. The culinary and bar experiences are also a reflection of the nearby Caribbean and Cuban cultures, where day drinking and lounging in the sun are perfectly acceptable activities for visitors. In Miami, evenings are sultry and unforgettable.
What to Do: Take a day excursion to Dry Tortugas National Park; Visit the Ernest Hemingway Home and Museum; Snorkel and see wildlife at John Pennekamp Coral Reef State Park
Requirements: View updated requirements here.
Where to Stay: Little Palm Island Resort & Spa (Florida Keys); The Faena (Miami); Bungalows Key Largo (Florida Keys); Eden Roc (Miami); The Setai (Miami)
Manicured lawns, dune-backed beaches and gorgeous shuttered homes are all part of the Nantucket and Martha's Vineyard experience. It's no surprise multiple former US presidents and dignitaries have called these two islands their vacation havens. The islands ooze lowkey luxury and a sense of escape off the coast of Massachusetts. The color of the water is an inexplicable blue especially during high season between Memorial Day to Labor Day. September is also an option for those who want to shy away from large crowds.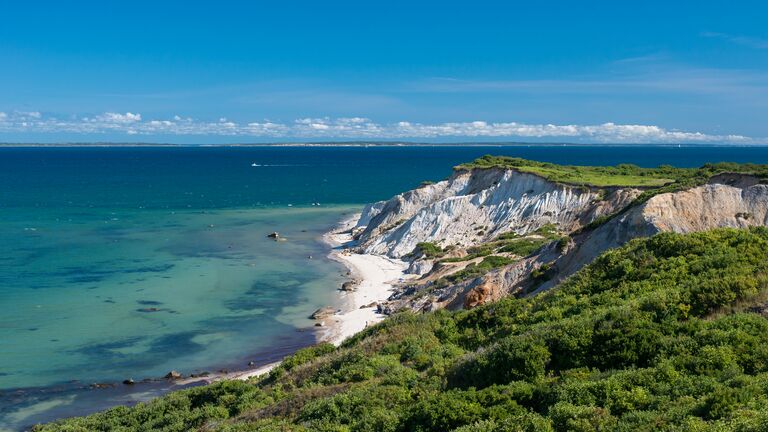 What to Do: Lounge on private, adults-only beaches; Enjoy dinner and an extensive wine list at Topper's; Explore the clay cliffs of Aquinas; Bike along the trails; Golf at Farm Neck Golf Course or Mink Meadows; Dig into seafood at Nancy's on the Vineyard; Play tennis
Requirements: View updated requirements here.
Where to Stay: Harbor View Hotel (Martha's Vineyard); The Wauwinet (Nantucket); White Elephant (Nantucket); The Nantucket Hotel & Resort; The Christopher at the Edgartown Collection (Martha's Vineyard)