How Long Is Too Long to Be Engaged?
The average length of an engagement is 14.5 months—but is it okay to be engaged much longer than that?
by Jessica Zaleski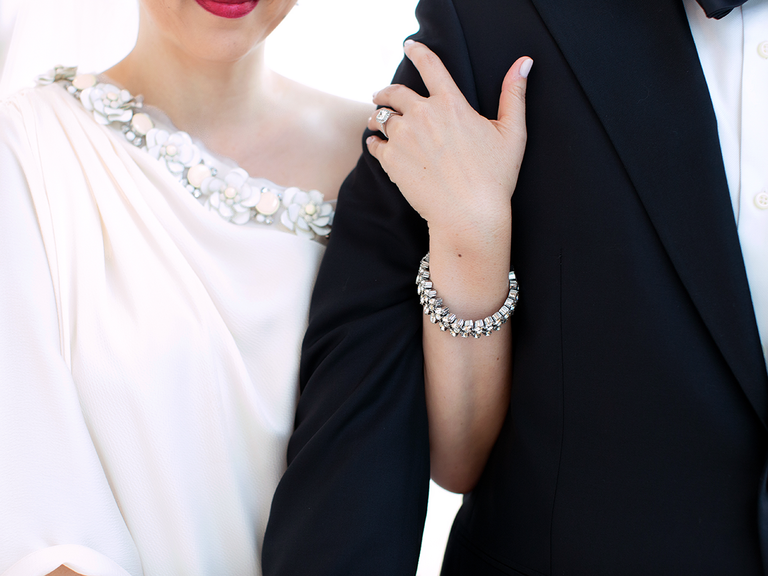 There's Nothing Wrong With a Long Engagement
"Long engagements are helpful when individuals are at significantly different places in their lives," says Scott Haltzman, M.D. So if you or your partner are still finishing school or living abroad at the moment, it might be better to start think about the wedding once you've completed those chapters in your lives. Then your marriage can signify the start of a brand new one. Scott also says that "a prolonged engagement also gets couples an opportunity to engage in premarital education, so that they can learn the skills that help improve marriage."
Why it May Be Better to Get Married Sooner Rather Than Later
A shorter engagement may be the better choice for you if you're eager to make big life decisions (like having children or moving in together) and want to make them after you're officially married. Another advantage to having a shorter engagement? You, your partner and your loved ones will be extra excited about your wedding. "One of the problems with an extended engagement is the level of excitation begins to diminish over time, not only with the person who is engaged to get married, but with the friends and families as well," Scott says. "Thus, your impending marriage becomes a bit 'stale'."
But what do you think? A few brides and grooms have been chatting in our community boards about long engagements, and here's what they have to say:
"I'm happy we're having a long engagement because it means lots of time to save up. We've been together for 11 years already so after waiting this long, we wanted a big celebration with all of our friends and family. The long engagement is the only way we could do that." – JCbride2015
"Having a longer engagement to me also meant I was much more capable of staying within budget since I had more time to plan and pick vendors." – birdybride2014
"I'm just not the world's most patient person, and it's difficult sometimes not to feel like we're getting 'lapped' and wonder if we're moving too slowly." – bostonbride2015
"We were happy to have the long engagement, because it meant that we got to do everything we wanted, exactly the way we wanted. It gave us time to save and plan, and instead of feeling rushed and stressed about wedding planning, we got to really take our time and enjoy it." – gmcr78
"I'm excited to be married quickly but I'd love to have more time for planning and enjoying the process more." – wandajune6
"From experience, I know that it sucks feeling impatient and wanting to get married sooner. It's also kind of frustrating when everyone else is getting married before you, and especially when people constantly comment on the long engagement." – hellohkb
"6.5 months was MORE than enough time to do everything we needed!" – cafarrie