The Complete Lake of the Ozarks Bachelor Party Guide and Itinerary
Grooms who enjoy adventure will appreciate this wild corner of Missouri.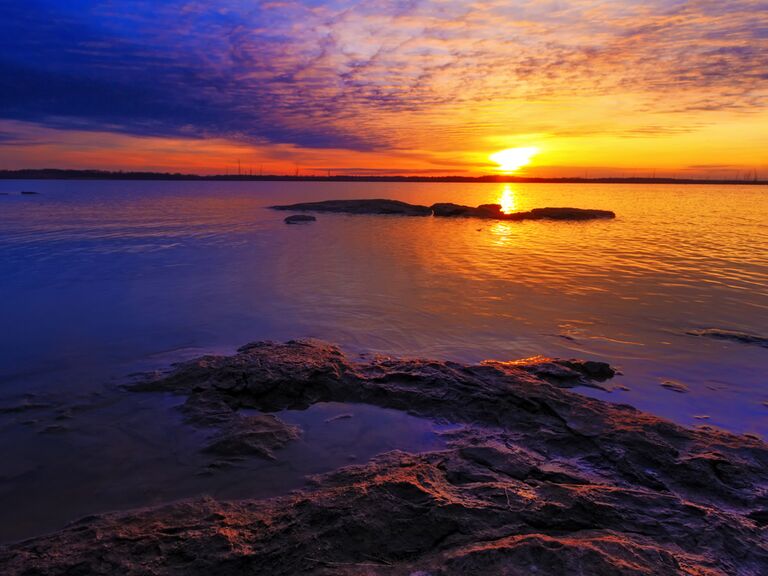 TommyBrison / Shutterstock
We have included third party products to help you navigate and enjoy life's biggest moments. Purchases made through links on this page may earn us a commission.
It may have been put on your radar for the eponymous Netflix show, but Lake of the Ozarks has a lot more to offer than its fictional seedy underbelly. During a Lake of the Ozarks bachelor party, you'll find plenty of ways to enjoy the weekend, including time on the water, on the golf course and dining and bar-hopping on shore. This is a low-key, budget-friendly getaway with plenty to offer to those who want a weekend in the great outdoors.
Lake of the Ozarks Bachelor Party Planning in This Article:
What Are Some Lake of the Ozarks Bachelor Party Ideas?
A bachelor party in Lake of the Ozarks is first and foremost about being on the water. But there's plenty more to do, including nearby breweries, on-shore dining, golfing and lakefront bars. (Don't forget to thank everyone for coming with gifts from The Knot Shop.)
For Boat People
It's all about boating in the Ozarks, so pick your poison: A party barge, wave runners, a pontoon, kayaks or otter watercraft. Plus, the area boasts water sports, pool parties and even a bar-hopping excursion by boat.
For the Beer and Spirits Enthusiast
There are a number of local breweries and distilleries to check out around the lake, so consider hitting as many as you can, including Ozark Distillery, Lake of the Ozarks Brewing Company and Bee's Knees Ale House.
For Active Types
On dry land there is plenty to do, and for golfers that means hitting the links. There are more than 13 golf courses in the Ozark area, and if you want to play more than one, there is what is known as the "Lake of the Ozarks Golf Trail," which you can follow to hit as many as you can.
What Do You Do at a Bachelor Party in Lake of the Ozarks?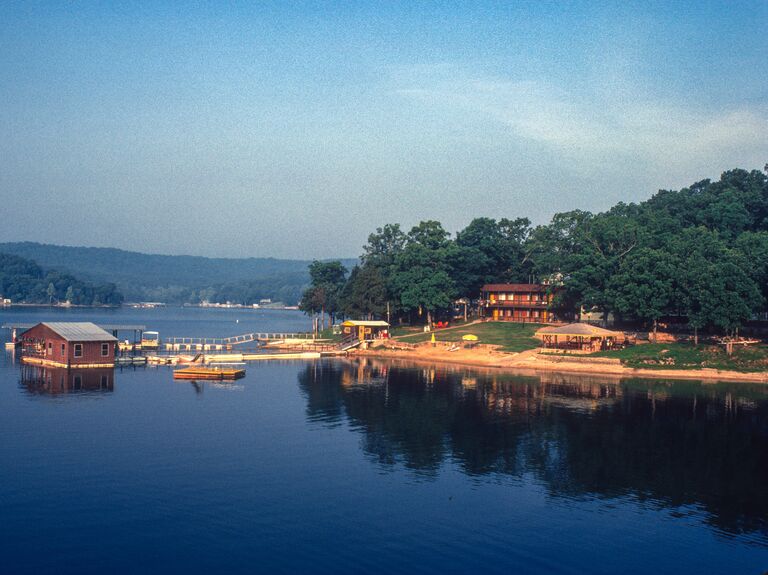 Want the ultimate on-land and on-water Ozarks experience? Follow our three-day Lake of the Ozarks bachelor party itinerary to make the most of your weekend here.
Day 1
Morning: Once you make it to the Ozarks, stop for brunch at The Rusty Rooster. This no-fuss breakfast spot offers tasty menu options that range from chicken and waffles or biscuits and gravy to Philly steak and eggs and caramel apple French toast. There are also Bloody Marys, mimosas, beers, cocktails and shots on offer.
Afternoon: Pick from two on-land activities today while you wait for the entire crew to arrive (don't worry, the rest of the weekend is water-based). You can either do a self-guided brewery tour of the area with stops at Lake of the Ozarks Brewing Company, known for its Osage River Red and Bagnell Dam Stout; Boat Town Brewing, where you should try the Perficle, an Imperial stout that is the brewery's flagship beer; Pappo's Pizzeria & Pub, the perfect stop for lunch and 32 beers on tap, including housemade craft brews; and Ozark Distillery, the first legal distillery in this county, specializing in moonshine, bourbon whiskey and craft beers like the Patio Pilsner and Mousekiller IPA.
If beer isn't your groom's thing, consider a round of golf instead. Among the 13 nearby courses, Old Kinderhook is an excellent choice for players of all abilities. Nestled in the Ozark Valley and designed by Tom Weiskopf, the player-friendly par 71 course offers stunning scenery including waterfalls, hills, trees and of course views of the lake.
Evening: Make your night at Shorty Pants Lounge, a great spot for both dinner and nighttime festivities. For dinner, this waterfront spot offers a taste of New Orleans in the Ozarks, with Cajun-inspired bites like fried oysters, peel-and-eat shrimp and po'boys. After you've had your fill, head to the outside tiki bar for drinks, live music and a lively scene.
Day 2
Morning: Start the day with a hearty brunch at JB's Boathouse, located right on the water. You'll find standard breakfast fare including pancakes and omelets to get you energized for the day.
Afternoon: While you may only think of the lake, there's a whole watery side to the Ozarks worth checking out. Rivaling the pool parties in Las Vegas, Coconuts Caribbean Beach Bar & Grill throws epic pool bashes with a live DJ, swim-up bar and good daytime eats. You can also lounge around under poolside umbrellas. If you can't get into Coconuts, equally as fun is Backwater Jacks, with a poolside bar and in-water chaise lounges.
Evening: Tonight, enjoy a steak and seafood dinner at JB Hooks where you can ask for patio seating to enjoy the lakefront views. Afterward, choose between two favorite Ozark nightlife experiences: At Dog Days you'll find a great rooftop bar that offers both frozen drinks and live music. Or check the events calendar at Shady Gators to see if you're there for one of their epic theme party nights, which range from foam parties to 90s nights.
Day 3
Morning: Grab breakfast at H. Toad's today, where you can opt for the toad scramble (hash browns, scrambled eggs, buttermilk biscuits, gravy and cheese) among other options like Belgian waffles, benedicts and breakfast burritos.
Afternoon: Finally, you're making it onto the lake today. Pick between water sports like jet skiing and wave runners rented from Dirty Duck Boat Rentals or a private pontoon with a captain from Anchor. Your other option is bar hopping from the water. The Bar Hop Cruise with Playin' Hooky at the Lake shuttles you to three bars for a day a boozy day on the water and at the Ozark's most lively spots, including Backwater Jacks (another pool party hot spot), Lake House 13, and the famous Franky & Louie's Beachfront Bar & Grill, where you'll likely find live music.
Evening: Have a casual dinner tonight at Tucker's Shuckers, where, as the name implies, oysters are on the menu. But you can also find other fare including buffalo chicken dip, crispy Korean wings, lobster rolls, and more. There's often live music that you can stay to enjoy, or make your way to Redhead Lakeside Grill for its outdoor bar and to catch a few Sunday night games on TV.
Where Should I Stay in Lake of the Ozarks for a Bachelor Party?
It's easy to grab a water taxi wherever you need to go, so don't pay as close attention to a central location, which can be hard to find around this sprawling lake retreat.
Best Lake of the Ozarks Bachelor Hotels
Margaritaville Resort Lake of the Ozarks: If anyone knows about being on the water, it's Jimmy Buffett. If you're up for a resort-style stay (featuring a pool, waterslides and in-hotel restaurants) book yourselves rooms at the Margaritaville.
Regalia Hotel & Conference Center: For a wallet-friendly option with luxe amenities—a large outdoor pool, lake views and a restaurant—stay at this property.
The Lodge of Four Seasons: Golf enthusiasts and those with a penchant for the finer things in life will love this five-star property. It boasts 36 holes of championship golf and an expansive luxury spa.
Pro tip: The Knot has partnered with Hotel Planner to help you secure the best group hotel rate and get free hotel advice from an expert travel planner.
Best Lake of the Ozarks Bachelor Party Home Rentals
There are plenty of housing options for a Lake of the Ozarks bachelor party, so check out TripAdvisor, VRBO, Airbnb, Expedia, and Hopper Homes.
Lake View Home: Smaller groups of outdoorsy lads should take advantage of this property, which offers rooms for up to 6 with beautiful lake vistas and an abundance of wildlife that roam freely on the grounds.
Margaritaville home: Larger groups of up to 20 will appreciate this stunning rental, which offers a hot tub, pool access, and close proximity to the beach and restaurants.
Five-Bedroom Home: This option is near Osage Beach and has plenty of interior space for groups of up to 12, plus a beach for swimming on the lake and access to two pools.
Lake of Ozarks Bachelor Party Nightlife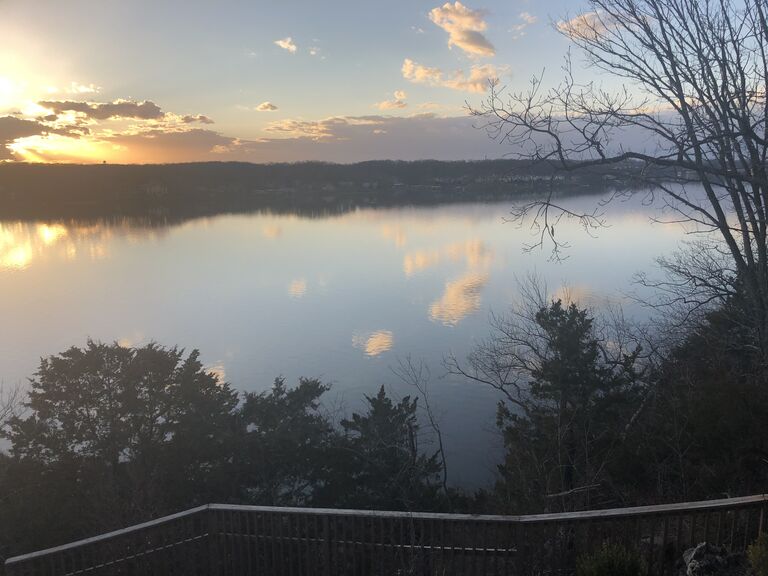 The Lake of Ozarks' bounty includes fresh crab, homemade pasta, and authentic Chinese dining. After dinner, bachelors will be ready to hit the town's best bars which range from whiskey and cigar lounges to rooftop patios overlooking the lake.
Best Lake of Ozarks Bachelor Restaurants
Yen Ching: You wouldn't expect the Lake of Ozarks to do Chinese food like the big West Coast cities, but at Yen Ching, it's the real deal. Rated in the top five of all Ozark restaurants on Tripadvisor, this is where to get your fix of Kung Pao Chicken and Beef & Broccoli, family style and generously portioned. A solid selection of domestic and Asian beers is also available.
Salvatore's Fresh Ristorante Italiano: Scratch-made pasta so tasty that you'll need seconds can be enjoyed the Salvatore's. Here, they're tailored exactly to individual tastes, because everyone can build their own. Simply choose pasta type, sauce, protein, and vegetables, and the team spins the dish of your dreams. Dietary requirements are therefore well catered to, and any of the pasta dishes can be turned gluten-free.
Big Al's Crab Shack: Big Al's is reopening with more seats, more specials, and of course, more crab. This is where to get those fingers wet on the sauce of a giant platter of snow crab, shrimp combos, and a heavy helping of sides. Don't miss the cheesecake, and always say yes when your server offers a beer.
Best Lake of Ozarks Bachelor Party Bars
The Encore Lakeside Grill and Sky Bar: In 2021, Ozarks' nightlife was transformed with the addition of The Encore. This huge entertainment complex is enough to keep a gang of lads partying all night. Start at the restaurant where you'll tuck into tasty burgers and steaks, then let the festivities commence-up on their sky bar which overlooks Ozarks' fabled lake. The venue also hosts a variety of events and gigs in the amphitheater, and there's an adults-only pool bar for those who want to party in their swim shorts.
1899 Bourbon & Cigars: Whiskey cocktails and cigars come together for a members club soiree at 1899. Situated behind Royal Catch restaurant, gents enter through discreet doors into a plush wood-paneled lounge where you'll chat through to the early hours. Open Thursdays to Saturdays from 6 pm. Private parties for large groups can also be arranged.
The Hideout: All that water will set anyone to island time, and the place to lie back and watch the day away is The Hideout. Your groom and his men have plenty of indoor and outdoor space to chat, play beach games, and fuel up on pizza. Between the hours of 11 am and 7 pm it's all a Caribbean motto: no worries, just come be happy.
Expert Lake of Ozarks Travel Tips
The best airport to fly into is Springfield, MO. This is serviced by airlines including Delta, United Express, and Allegiant. There are other airport options, but they come with limited services and direct national routes. From Springfield, it's a 1 hour 30 minute drive to the Lake of Ozarks. You'll definitely need a car to get around. May till September is the best time to visit for sunny skies and little rain. In a vast area spoiled with natural beauty, remember to be respectful of wildlife. There are bears in the mountains, so be sure to pack bear spray and seek local advice on areas you intend to hike.
—Allyson Johnson contributed to this article.