The Most and Least Expensive Cities for a 3-Day Bachelorette Party
Plus, the national average cost for a weekend of festivities.
by Maggie Seaver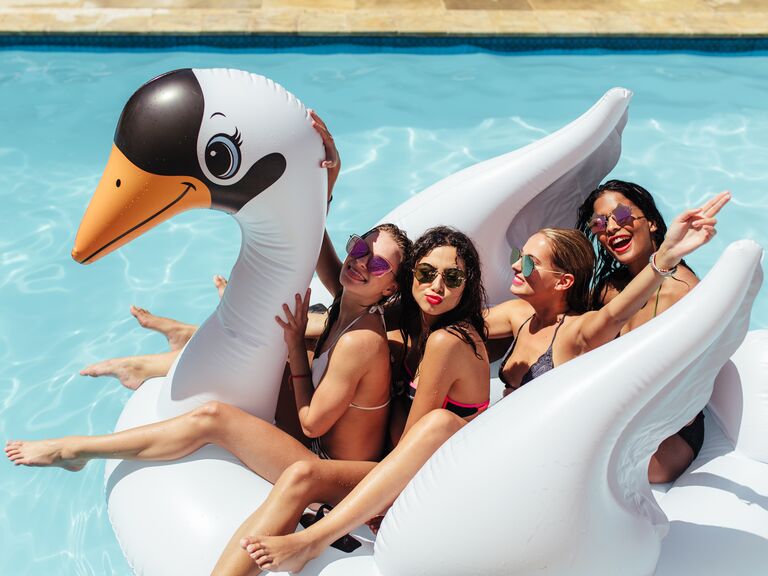 Extended weekend trips are the new one-night bachelor/ette party—and while a destination weekend guarantees more time celebrating with your favorite people in an awesome location, it also means you'll be spending more money. How much more, you ask? It all depends where exactly you're headed and what you plan to do. The total national average cost of a three-day bachelorette party trip is $1,400, according to research by Upgraded Points.
You won't be shocked to learn the priciest long-weekend bachelor/ette party destinations include big cities like New York City, San Francisco and Chicago. But it's a bit more of a surprise to find out Las Vegas is the second most affordable city for prewedding festivities. Who knew?
5 Most Expensive Party Cities:
New York City: $1,958
San Francisco: $1,815
Washington, DC: $1,599
Boston: $1,590
Chicago: $1,531
For a more affordable (but no less entertaining) weekend away, Milwaukee, Las Vegas, Phoenix and Memphis are your best bets.
5 Least Expensive Party Cities:
Milwaukee: $1,161
Las Vegas: $1,175
Phoenix: $1,198
Memphis: $1,211
Key West: $1,259
Upgraded Points also took a closer look at the price of airfare, hotels, food, drinks and entertainment in popular bachelor/ette party cities. Headed to Manhattan for the weekend? Be prepared to spend more than you would anywhere else on hotel rooms, food and show tickets. But Houston, Dallas and Charleston, South Carolina—while definitely more reasonable on the hotel, food and drinks front—take the cake for the steepest airfare. And we can't forget about drinks. Wedding parties hitting the town in Miami and Key West, Florida, tend to pay the most, on average, for cocktails ($260)—although you'll cut your drinks bill by more than half if you stick to beer in these Florida hot spots ($106).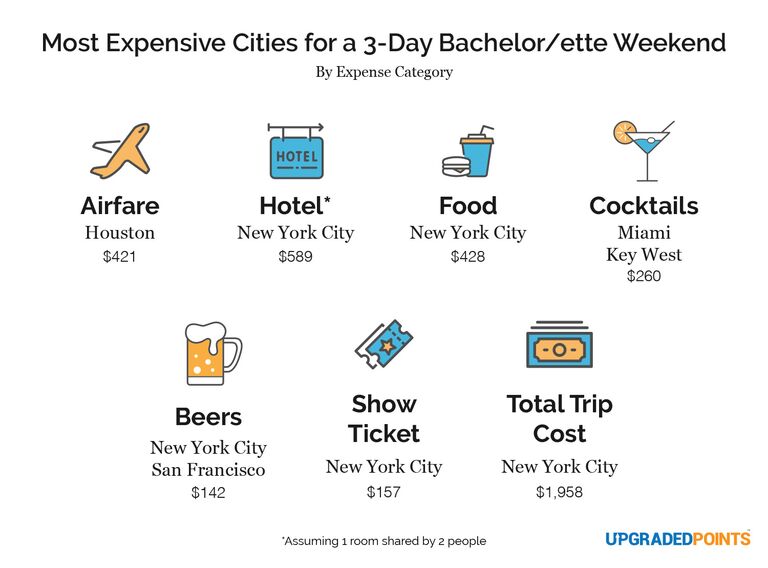 Before booking your bachelor/ette party weekend, make sure you know about how much the trip's going to cost your wedding party (they'll likely be footing both their bill and some of yours). And while a weekend away with your besties is pretty much always worth the price tag, it's good to know which locations will give you the most bang for your buck and which ones are made for full-on luxury.

Find the best party venues for your bachelorette weekend on The Knot Marketplace.